MELBOURNE -The Victorian Premier John Brumby (at left) has announced that the Victorian Government would lead a Harmony Walk next month to reaffirm to the world Victoria's strong support for multiculturalism.
Mr Brumby said the Sunday, July 12 Harmony Walk would bring together Victorian communities to recognise and celebrate the enormous contribution of ethnic, cultural and religious communities to the state.

"Victoria is the most multicultural, tolerant state in Australia and is recognised as a harmonious cultural centre, rivalling any of the multicultural centres of the world," Mr Brumby said.

"Successive waves of immigration from Asia, from Europe, from Africa, from the Pacific - continue to make our state a better place - and the best place to live, work, and raise a family.

"It is Victoria's tolerance and commitment to multiculturalism that has attracted more and more people from across the world to call this state home.

"The Harmony Walk will give Victorians an opportunity to come together to celebrate our rich multiculturalism - and to stand up and reaffirm our state's tolerance, diversity and multiculturalism."

Mr Brumby said in 2007-08 Victoria attracted 37.4 per cent of business migrants from overseas and 26.9 per cent of all skilled migrants.
"Victorians come from more than 230 nations, speak 180 languages, and follow more than 116 religions and we want to see everyone come together for the inaugural Harmony Walk," he said.
"We are a community built on the understanding that while we come from different races, follow many faiths and cultures - we are all equal.
"That's why recent isolated incidents of racially motivated crime have been so distressing and we condemn racially motivated crimes in the strongest possible terms.
"Attacking a fellow Victorian, be they an international student or a father going to the aid of a stranger in the street is anathema to the values and principles that make our state one
of the world's most successful multicultural communities and must not be tolerated.

"This was the message I relayed to the High Commissioner of India Sujathm Singh and Consul General of India Anita Nayar last week.
"We must not let the actions of a very small minority undermine one of the very tenets of our state. I encourage all Victorians to stand-up now to reaffirm that our tolerance and our multiculturalism are important to all Victorians
by participating in next month's Harmony Walk."
The Jewish Community Council of Victoria (JCCV) is encouraging all Jewish communal bodies to encourage their members to take part in the Harmony Walk
The Harmony Walk will begin at Carlton Gardens at 1.00pm on Sunday July 12 and proceed through Melbourne's central business district to Federation Square.


SYDNEY -Veteran Sydney Jewish community leader and activist Peter Wertheim (at left) has been appointed as executive director of the Executive Council of Australian Jewry (ECAJ).
He will leave his job as a consultant to law firm Slater & Gordon to commence his new position with ECAJ at the start of September.
Wertheim is a former president of the New South Wales Jewish Board of Deputies and a practicing solicitor for more than 30 years.
ECAJ president Robert Goot said: "Peter is a long-time and highly respected activist in the Jewish and wider communities and brings a wealth of experience to this position.
"It will enable the ECAJ to co-ordinate the community's advocacy efforts at the national level so as to strengthen the community's voice to government, the media and the wider community."
Wertheim's appointment comes after Goot promised to beef up the relevancy of the ECAJ when he replaced Grahame Leonard as president in late 2007.
Goot has been pushing the ECAJ as the primary representative and advocacy body for the community.
It is unclear what would happen to Wertheim, who will be based in Sydney, if and when the next ECAJ president is elected from Melbourne or elsewhere in Australia.


Israel to Gillard:Thanks
for standing by us


JERUSALEM- Before she even arrived in Jerusalem for the Australia-Israel leadership forum, Australian Deputy Prime Minister Julia Gillard (at left) had made a lasting impression on local powers that be.
In front of an elite audience of Israeli politicians, academics and cultural figures at a dinner at the landmark King David Hotel, senior Israeli minister Isaac Herzog paid a warm tribute to Ms Gillard for her support for Israel during the Gaza conflict in January.
"You stood almost alone on the world stage in support of Israel's right to defend itself," enthused Mr Herzog, an act of courage he said would never be forgotten by the people of Israel.
Ms Gillard was Acting Prime Minister when Israel launched a three-week offensive against Hamas that resulted in the deaths of more than 1300 Palestinians and 13 Israelis.
At the time, Ms Gillard condemned Hamas for shelling southern Israel, but pointedly refused to criticise Israel's response, although she did urge it to be "very mindful" of civilian casualties.
Mr Herzog, a personal friend of Australia's Prime Minister
Kevin Rudd and chairman of the Israel-Australia parliamentary association, also thanked federal parliamentarians for passing a motion last year in support of Israel's 60th anniversary.
In her remarks to the dinner, which also included the cream of Australia's Jewish community leaders as well as a handful of her parliamentary colleagues, including former treasurer Peter
Costello, Ms Gillard called for a different kind of conversation from world leaders trying to promote freedom and justice.
"If the root of democracy is conversation, then the true root of friendship is honesty," Ms Gillard said. "We should be honest about the difficulty of achieving a just and lasting settlement to the Israeli-Palestinian conflict.
"We should be honest about where we all fail to live up to our ideals. We should be honest about how, despite its importance, politics is only one small part of what shapes our lives and our
actions. We should be honest about what each of our nations still has to learn.
"And we should use honesty to make our exchanges and our differences more valuable and better appreciated."
Speaking on behalf of the Opposition, Mr Costello reflected on his own passionate support for Israel that dated back more than 30 years.
He said his position was shaped in part by the anti-Israel rhetoric of those on the left of politics.
Earlier, Ms Gillard met Israeli President Shimon Peres, Prime Minister Benjamin Netanyahu and Defence Minister Ehud Barak.
Ms Gillard and Mr Costello laid a wreath at the memorial to the 6 million Jewish victims of the Nazi holocaust. She also scheduled a meeting with Palestinian Authority Prime Minister Salam Fayyad. She will also visit a refugee camp in the West Bank.

Gillard calls for an
honest friendship
JERUSALEM- In her keynote address to the inaugural Australia-Israel Leadership Forum on Monday, June 23, Australian Deputy Prime Minister Julia Gillard extolled the virtues of honesty within friendships.
Speaking in Jerusalem, she told the audience, "the root of true friendship is honesty".
"We should be honest about the difficulty of achieving a just and lasting settlement to the Israeli-Palestinian conflict," Gillard said. "We should be honest about where we all fail to live up to our ideals."
Gillard, who is visiting Israel for the second time, refrained from making sweeping policy statements or politically charged remarks, choosing instead to emphasise the importance of dialogue.
She said conversation was "the true root of democratic freedom".
"While I have been privileged in recent days to speak with individuals who play a global role, we know that the choices and options available to leaders actually depend on a different kind of conversation," she said.
"A conversation that is happening in cafes and at school gates, in churches, mosques and synagogues, around dinner tables, in front of television screens and behind closed doors,
between teachers and students and across the internet."
She spoke of Australia's support and friendship with Israel and said the leadership forum, which she and other parliamentarians were participating in, would further develop country-to-country links.
"Our friendship has blossomed in so many different ways," she said.


New figure steals into
limelight of Jewish affairs.
From Melbourne Age, June 25, 2009

JERUSALEM—In the small but competitive world of Australian Jewish politics. the ultimate test of esteem in whether or not you have the ear of the prime minister of the day.
Today that position belongs to Albert Dadon (at left), 52, a hitherto obscure jazz guitarist, property developer and philanthropist who. after emigrating to Australia 20 years ago, is one of PM Kevin Rudd's most trusted kitchen cabinet advisers on Israel.

A French-born Moroccan Jew, Danon's entree to high society came through his marriage to Debbie Besen, daughter of Marc Besen, the billionaire chairman of the Highpoint Property Group and founder of the Susan clothing chain.

But Mr DaDon's rapid rise from the world of jazz to Canberra insider has left some of Australia's more credentialled Jewish leaders scratching their heads and wondering how they got left out in the cold.
At a recent lunch, before meeting with Israeli Opposition Leader Tzipi Livni, Dadon described himself as a "behind the-scenes-man" who had no wish to be quoted. Spotting Mr Rudd's potential soon after he entered Parliament in 1998, Dadon courted the future prime minister assidiously. In 2002 he hosted Mr Rudd on a visit to Israel. In 2005 he brought Mr Rudd back for second visit, this time with his now chief-of-staff Alastair Jordan.

A few days before the 2007 federal election, Mr Rudd took a break from the campaign for a Sunday brunch at Dadon's home.

After persuading the then Israeli and Australian foreign minsters Benjamin Natanyahu and Alexander Downer to launch the Australia-Israel Cultural Exchange back in 2002, Dadon watched the launch of his most ambitious project yet.
Last night, with Australian Deputy Prime Minister Julia Gillard
and Peter Costello by his side, he opened the first session of the inagural Australia-Israel Leadership Forum in Jerusalem.
The two-day talkfest has drawn 80 Australian and Israeli politicians, academics and business people together to dissectthe complex issues that surround Israel's existence, peace in the Middle East and bilateral relationships. The forum was modelled on the Australia-US Dialogue that is now an annual event.
When he invited Mark Leibler to the podium, the founder of the law firm Arnold Bloch Leibler, it was almost as if the leadership baton of the Australian Jewish community was being handed a new generation.

"The baton wasn't so much being handed to Albert, it was more like Dadon wresting it from the hands of others" said one Jewish leader in the audience. "I am sure that inside there is a closet maniac," was the wry observation of one Dadon confidant. "He knows how to win friends and influence people," he said.


Community urged
to support Gilad Shalit

MELBOURNE - Australians are being encouraged to mark the third anniversary of the capture of Israel Defence Forces (IDF) soldier Gilad Shalit (at right) by wearing blue ribbons and expressing their support online.
In Melbourne the Zionist Council of Victoria (ZCV), Hagshama, the Australian Friends of Hebrew University and the Jewish National Fund will also screen a documentary about Shalit, based on his mother Aviva's recollections.
"We have been moved and impressed with the level of activity, support and concern shown by Melbourne's Jewish community over this issue," ZCV executive director Ginette Searle said in the lead-up to the third anniversary.
"Despite the passing of time, we encourage community members to wear blue ribbons this coming weekend and continue to hope that soon the Shalit family will be welcoming their son home."
The documentary, produced and premiered last year, shows the impact the kidnapping had on Shalit's family, as well as providing an analysis of the strategic and diplomatic issues
surrounding the negotiations for his release from his Hamas captors.
In addition to the film screening, a page on social networking website Facebook has been created for people to express their solidarity with the Shalit family.
"We hope that, as well as raising consciousness among our own community, this event will be a way of showing solidarity directly to the Shalit family," Hagshama coordinator Sha'ron Haviv said.
"We will be producing a short DVD of the event to send to the family to convey our continued concern and support, even from far-away Melbourne."
Not-for-profit educational organisation The Israel Group also has an ongoing clock on its website measuring the days, hours, minutes and seconds Shalit has been in captivity.
Zionist organisations have maintained their blue ribbon campaign, launched at the time of Shalit's capture in 2006, with many of the original ribbons still displayed now faded, weathered and threadbare.


Australian senator calls for Gilad Shalit's immediate release

CANBERRA, June 26--Following are remarks by Senator Mitch Fifield from Hansard concerning the captivity of Gilad Shalit.

I very much endorse the contribution of Senator Forshaw, and
I suspect that he and I will be on the same page in relation to my remarks this evening. Today marks the third anniversary of the capture of the Israeli soldier Gilad Shalit by Palestinian
terrorists. On the morning of 25 June 2006, eight Palestinian terrorists crossed into Israel through underground tunnels from the Gaza Strip and launched an unprovoked assault on an Israeli defence force facility. They launched a series of
attacks on the facility, including a tank manned by four Israeli soldiers. Two IDF soldiers were killed in this raid and a further three were injured. One of the soldiers manning that tank
was a young man by the name of Gilad Shalit.

Gilad suffered minor injuries during the attack and was captured by the operatives associated with the terrorist organisation Hamas. He was taken back into the Gaza Strip, where it is believed he has been held captive ever since.
Captured at just 19 years of age, Gilad Shalit was fulfilling the obligation of all young Israeli citizens to serve their country.
Gilad Shalit was born on 28 August 1986 to parents Aviva and Noam Shalit. He has two brothers: Yoel, who is 25, and Hadas, who is 18. In breaks from his military service, Gilad would
help his parents run their bed and breakfast in Mitzpe Hilla in the Western Galilee. He graduated from Manor Kabri high school with a distinction in science. Gilad is a passionate basketballer and sportsman.

Hamas have made a number of escalating ambit claims in exchange for Gilad's release. As recently as January this year it was reported that Hamas demanded the release of 1,000 Palestinian prisoners held by Israel.

Gilad should be released immediately.He should be released without condition.
Those who kidnapped Gilad are terrorists. They are criminals. Gilad was defending his country, democracy and the rule of law. We should not forget that Gilad was defending his homeland ­ defending Israel from those who we know seek
its destruction. In July 2006 Israel was under attack from within territory which it did not occupy and over which it made no claim. It was attacked from territories from which it had withdrawn in a genuine effort to forge peace.
Israel was not the provocateur; it was Israel that was attacked. This young Israeli man does not deserve to languish as a prisoner of Hamas for a moment longer. His family does not deserve to spend another moment in torment. That is why supporters of Israel must remain resolute in their advocacy for Gilad's release.
I should acknowledge the tireless efforts of all who support Gilad and his family. I encourage them to continue. It is because of such efforts that his fate cannot be ignored. It is because of such efforts that we cannot forget Gilad and his
suffering. Gilad does not deserve to spend another day in captivity.
I take this opportunity to acknowledge that, while the parliament is in recess, a number of members of this and the other place will be travelling to Israel. At the moment, the Deputy Prime Minister, with the member for Higgins, is
leading the Australia-Israel leadership dialogue, which Senator Brandis, Senator Barnett and Mr Pyne are also participating in. Also during the break there will be an Australia/Israel and
Jewish Affairs Council delegation, led by Ms Julie Bishop, going to Israel. Senator Birmingham, Senator Ryan, Mrs Markus and Mr Billson will also be taking part in that. And I
will be going to Israel on a Yachad scholarship, to study disability issues and the role of women in the Israeli military.
These high-level exchanges are important. Australia and Israel share common values. Both Israel and Australia are great and robust democracies. Israel is a beacon of hope and
liberty in the Middle East. Israel needs its friends, and there are none more staunch than Australia.


A Jewish candidate
for Federal Parliament

MELBOURNE -Joshua Frydenberg is virtually assured a seat in the next federal Parliament after winning preselection in the safe Liberal seat of Kooyong in Melbourne.

It was second-time lucky for Joshua Frydenberg, who last weekend was preselected to contest the leafy Melbourne seat of Kooyong.
Frydenberg's success means he is likely to become the first Jewish Liberal to sit in the House of Representatives in Canberra.
A friendly congratulatory call from Liberal leader Malcolm Turnbull this week helped Frydenberg see his dream of having the opportunity to represent the area he grew up in become a reality.
Following recent changes to Liberal Party preselection procedure, Frydenberg had to lobby local party members hard in the lead-up to what became the Liberal Party's biggest ever preselection.
"It's a very humbling feeling to get the endorsement of the members at such a big conference -- there were over 530 people there," he said.
"Given the history of the seat, I am conscious of the responsibility to the electorate and to party."
Kooyong is what is known as a "federation seat". It has existed since the first parliament was formed in 1901. Amazingly, in that time only six men have held the safe-as-houses Liberal seat.
Frydenberg, if he wins the seat at the next federal election, will serve the same electorate as Australia's longest-serving prime minister, Robert Menzies, and long-time opposition leader Andrew Peacock.
He could also become the third Jewish MP in the next parliament -- after Labor's Michael Danby and Mark Dreyfus.
"I'm very conscious there have been some Jewish federal parliamentarians, each of whom have made a distinguished contribution to the parliament on both sides of politics," Frydenberg said.
"I'm very conscious of continuing in that tradition of that contribution and advancing Australia's interests."
Despite growing up in Kew, outside the "bagel belt," Frydenberg attended both Mount Scopus Memorial College and Bialik College, and continues to be a member of Kew Hebrew Congregation.
He also credits Australia's second Jewish governor-general Sir Zelman Cowan as a positive inspiration.
Sir Zelman, he said, sits alongside his former employers, John Howard and Alexander Downer, as inspirations, as well as Harvard Professor David Gergen.
Frydenberg met Prof Gergen, who was a senior adviser to presidents Richard Nixon, Gerald Ford, Ronald Reagan and Bill Clinton, while studying at Harvard University for his Master of Public Administration degree.
It was the second time Frydenberg has contested preselection - he suffered a resounding defeat in a gutsy 2006 attempt -- and, while he admitted the second preselection was a "high-pressured environment for a long period," he sees this as
"the end of one journey and the beginning of another."
He will continue in his senior role at Deutsche Bank for now, as he transitions to his new position as the candidate for Koooyong.
In his spare time he plans to work hard in the electorate of Kooyong as he seeks support in the lead-up to the next election.
"It would be a great privilege to follow in the footsteps of [current member] Petro Georgiou, who has made a significant contribution to both the Liberal Party and to Australia."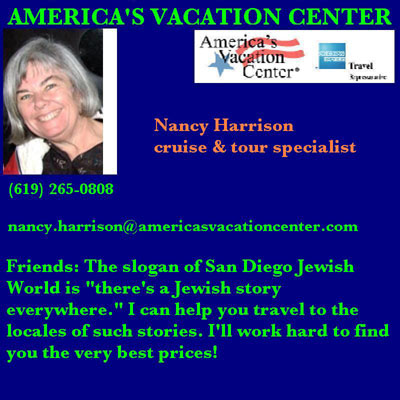 Call me at 619 265 0808 about cruises to Australia!