Reaction is mixed to Poizner plan to probe insurance companies
for possible investments in Iran
_____

Wiesenthal Center applauds Insurance Commissioner's plan

LOS ANGELES (Press Release)—The Simon Wiesenthal Center welcomed Monday's announcement by California Insurance Commissioner Steve Poizner that he will launch an effort to probe insurance company investments for ties to Iran and immediately direct California-based insurance companies to divest any direct holdings in the Iranian government.
"The California Commissioner's directive comes at a critical juncture. The world has stood by silently as the Mullahs brutally suppressed the Iranian people's peaceful protests against the rigged presidential elections and as Tehran continues its pursuit of nuclearization which will threaten the entire Middle East and beyond," said Rabbi Abraham Cooper, associate dean of the Wiesenthal Center.
"The only way to peacefully express our solidarity with the longings of freedom in Iran is by curbing the financial clout of the regime. The Wiesenthal Center also hopes that the state of California will review all of its relationships with companies who are currently aiding the Iranian regime," Cooper concluded.
The Simon Wiesenthal Center is one of the largest international Jewish human rights organizations with over 400,000 member families in the United States. It is an NGO at international agencies including the United Nations, UNESCO, the OSCE, the OAS, the Council of Europe and the Latin American Parliament (Parlatino).

Preceding provided by Simon Wiesenthal Center

_________________________________________

Here is a link to Commissioner Poizner's announcement, carried in Monday's edition of San Diego Jewish World
________________________________________


American Insurance Association says it intrudes on federal responsibility

SACRAMENTO, California (Press Release) – Supervision of insurers' foreign investments must be uniform and only administered at the federal level, says the American Insurance Association (AIA), responding to requests by California Insurance Commissioner Steve Poizner that California domestic insurers divest any direct investment in Iranian government holdings and require all insurers doing business in California to report all investments in companies that do business with the defense, nuclear, petroleum, natural gas or banking sectors of the Iranian economy.
"For matters, such as Iran, involving national security and extremely complex foreign relations, it is absolutely critical that the U.S. speak with one voice and act exclusively at the federal level," said David Snyder, AIA vice president and associate general counsel, public policy. "We are concerned with any action, however well-intentioned, that complicates or dilutes the efforts of the United States to effectively respond to international challenges – especially on matters of national security. The issue of Iranian assets is under the national jurisdiction of the Office of Foreign Assets Control (OFAC) within the U.S. Treasury Department."
"OFAC has responsibility for administering and enforcing economic and trade sanctions, based on U.S foreign policy and national security goals, against targeted foreign countries and regimes which represent threats to the national security, foreign policy or economy of the United States," said Snyder. "Insurers, and all American companies, are already subject to the oversight of OFAC."
"Any actions taken by the commissioner must be consistent and in concurrence with OFAC," said Ken Gibson, AIA vice president, state affairs. "Though the commissioner is reminding domestic insurers of a California statute that took effect in January, we encourage the commissioner to work with OFAC to ensure that his actions are consistent with federal policy."
"As always, we are available to work with Commissioner Poizner and we hope he will appreciate the magnitude and complexity of his directive," said Gibson.

The American Insurance Association represents approximately 350 major insurance companies that provide all lines of property and casualty insurance and write more than $123 billion annually in premiums. The association is headquartered in Washington, D.C. and has representatives in every state.

Preceding provided by American Insurance Association

Special July 29 for older adults considering moving to new home

SAN DIEGO (Press Release)—Older adults and their caregivers are invited to attend a free seminar focusing on moving and housing options for older adults. The free seminar, "On the Move: Housing Options for Older Adults," will be presented by Jewish Family Service of San Diego on Thursday, July 23. from 1:00-4:00pm. The seminar will answer frequently asked

Go to top of right column
questions including: Am I doing the right thing by moving? What are my housing options? When is the best time to move? How do I prepare myself? How much will it cost and can I afford it? It's all so overwhelming, is there anyone who can help me move?
The event will feature a panel of experts discussing various aspects of the moving process. Ben Barth, Owner of Del Cerro Manor, will discuss When to Move and What Options Are Available; Gail Arno, Senior Care Solutions Consultant, will discuss The Cost and Involvement of the Moving Process; and Craig Lambert, Director of Older Adult Services at Jewish Family Service of San Diego, will discuss The Emotional and Psychological Issues of Moving.
This free seminar will be held at the College Avenue Older Adult Center of Jewish Family Service located at 4855 College Ave., San Diego, 92115. Reservations are required by July 17. Space is limited. For more information or to RSVP, call (858) 637-3223 or visit www.jfssd.org.

Preceding provided by Jewish Family Service


Rep. Susan Davis, Judy Forman to lead Suffrage Parade Aug. 29



SAN DIEGO (Press Release) — U.S. Rep. Susan Davis (Democrat, San Diego, pictured at left) and Judy Forman, owner of the Big Kitchen in the South Park area of San Diego, will serve as honorary grand marshals of the 2nd Annual Suffrage Parade and Ball on Saturday, August 29, 2009 at the Balboa Park Club to celebrate Women's Equality Day. The event is hosted by the San Diego Women's History Museum and Educational Center to commemmorate the passage of the 19th Amendment, which gave American women the right to vote, and reflects on the "herstory" of San Diego and the United States.
Beginning at 4pm, the Suffrage Parade will meet and march from the statue of Kate Sessions on the 6th Avenue side of the Laurel Street Bridge across the bridge, through the park to the Balboa Park Club for lemonade on the grass. Davis andForman will lead the procession across the bridge, through Balboa Park, to the Balboa Park Club. The parade is free and the community is encouraged to participate by dressing in suffragist clothing of the day and carrying "Votes for Women" signs.
The Suffragist's Ball will take place in the Balboa Park Club from 6:00 – 9:00 pm. The theme of the "Thrifty Thirties" will include a look back in time, to the second decade in which American women were allowed to vote in Federal Elections as well as life during the Great Depression. Participants are encouraged to dress in "thirties" costumes, from railway riders and flour sack dresses to silver screen heartthrobs and music sensations.
The Sue Palmer Orchestra (San Diego's Queen of Boogie-Woogie) will set the mood with live musical entertainment focusing on music of the 30's. . Other activities include soup lines, marathon dance contests, costume contests, and classic cars from the 1930's. The Suffrage Parade and Ball is produced by the San Diego Women's History Museum and Educational Center in collaboration with many local women's organizations such as the AAUW, the League of Women Voters, the YWCA, and the United Nation's Women's Equality Council.
Tickets for the Ball will go on sale July 15th for $30 through the Women's History Museum's website, or by calling 619 233-7963.

Preceding provided by the Women's History Museum and Educational Center


Good news, bad news in Santee

SANTEE, California—SDJW editor Donald H. Harrison experienced some of that "good news, bad news" in Santee, California--a suburb east of San Diego.
The good news was that Danyell and Candice Means of Santee Collision Center were able to repair the Buick, which figured in Don's story that ran in Tuesday's edition about his family's misadventure en route to Los Angeles. Not only did the Means family repair the car, they even threw washed and vacuumed it for free!
The bad news--which Don's wife and daughter have known about for months, but which took our non-shopping editor by surprise -- was that Costco no longer features Hebrew National products at its takeout window, and the logo of "Hebrew National" is gone from its outdoor umbrellas. Instead, the discount warehouse is selling its house brand, "Kirkland" all-beef (but not kosher) hot dogs and Polish dogs.
"It was a sad moment, because seeing kosher hot dogs featured at Costco had always made me feel as if there were a special relationhip between Costco and the Jewish community," Don commented.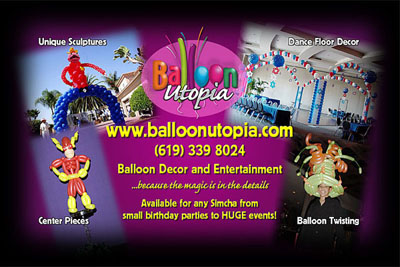 Click here to learn how you can add fun and whimsy to any occasion