Whispering Pines Announces Staff
Southwestern Jewish Press June 26, 1953 Page 2

Camp Whispering Pines, Julian, Calif. Under the direction of Albert A. Hutler and Maxwell Kaufman, proudly announces the completion of its 1953 staff, for its four week season, beginning July 20, 1953 to August 16.

Besides Hutler and Kaufman the staff will consist of Sheldon Lerner, cook and woodcraft expert, Don Stone, former swimming coach and field director for the American Red Cross, who had the responsibility of teaching swimming instruction to Red Cross swimming instructors, Mrs. Dick Raun, former nursery school teacher; Harvey Goodfriend, who will be in charge of hikes and trips; Michael Soule, nature-lore, and Bobby Beck, assistant swimming instructor.

Located a mile and one-half from Julian, on the Banner Grade Road, Camp Whispering Pines is in the heart of the pine and oak Cuyamaca country. A full program of camping, including nature-study, campcrafts, hiking, outpost camping, athletics, games, swimming, horseback-riding, outdoor cooking, rifle marksmanship and archery, all under top supervision is being offered.

Living quarters for the campers are the best, and include showers, wash-basins, and all sanitary facilities with each cabin. A maximum of eight campers and one counselor will live together as a cabin unit. Meals will be served in the spacious dining-room, overlooking the hills and peaks of the mountain range.

Registration for boys and girls between the ages of seven and fourteen are still being taken, but since the number of campers that will be accepted this summer is limited, parents are urged to register their children immediately. The fee is $160.00 for the four week period, or $40.00 a week any period from one week or more. Registration may be made by contacting Maxwell Kaufman or Albert A. Hutler.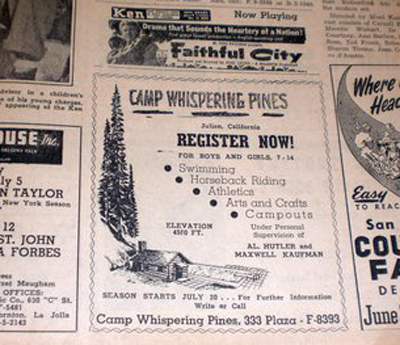 Society •Personals
Southwestern Jewish Press June 26, 1953 Page 3

Marriage Told
Mr. and Mrs. Max Goldman announce the marriage of their daughter, Merle Betty, to Merlin Lawrence Henry son of Mrs. Mary Henry of Long Beach. The ceremony took place on June 14 in Yuma.

After a honeymoon in Las Vegas, the young couple will make their home in San Diego.
Personals
The Benjamin Passels and daughter, Susan, left June 19 for a two week jaunt through some of the glamour spots of the west. Some of the spots they expect to visit are the Carlsbad Caverns, the Grand Canyon, and Dallas, Texas.
Bea and Bill Gettman's charming new home has been thoroughly broken in. They entertained 50 guests with cocktails and buffet as a surprise birthday party for Bea's uncle Sam Epstein, and just six days later, on June 13, Bea and Bill found it their turn to be surprised when a group of their friends descended on them for a house-warming.
Literary small-fry Robbie Gardner, a budding poet at the age of 7½, had one of his poems printed in his school annual. Robbie is the son of Mr. and Mrs. Arthur Gardner.
Anniversaries became a family affair when Sarah and Jack Wyner celebrated their 23rd anniversary and their children, Al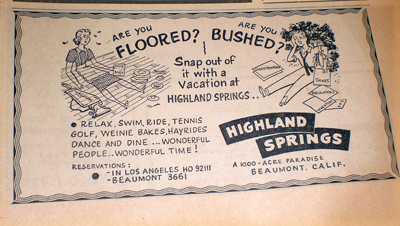 and Dee Tepper celebrated their 2nd, last week.
To honor their daughter, Nancy Joyce, on her graduation from State College, Mr. and Mrs. Robert Strauss entertained at an open-house on Sunday, June 21. Approximately 200 friends attended to wish Nancy success in all her undertakings.

Bob returned from New York, where he was visiting his parents just in time for his daughter's graduation. The Strauss' are now off on a motor trip to Bakersfield, and following that, Nancy will take time for a camping trip in the Cuyamaca's.
Mr. and Mrs. Lewis Solomon entertained at a cocktail party on June 21 in their new Del Mar home in honor of their son, Herbert J., who was graduated from State college.
Rabbi Morton J. Cohn gave the invocation at the State College commencement exercises last week.
Harry Slayen, son of Mr. and Mrs. Sam Slayen, was feted on June 14 at a family dinner in honor of his graduation from San Diego High School. His brother, Irvin, of San Francisco, was in San Diego for the occasion.
Golden Weddings
Mr. and Mrs. Solomon Kaplan will celebrate their 50th wedding anniversary at a family dinner on June 28 at the Beth Jacob Center. The dinner will be given by their children, Mssrs. and Msdames Fred Kaplan, Joseph Kaplan, William Kaplan, Jack Kaplan and Jack Brisker.

Guests will number about 150 with some coming from as far as Chicago. Rabbi Baruch Stern will officiate at a short ceremony.
Mr. and Mrs. Sol Stone of 4432 Utah St. were honored on their 60th wedding anniversary at a dinner party given by their children at the home of Mr. and Mrs. Harry Stone on Sunday, June 7.

Celebrating with the couple were their four children, Dr. R. M. Stone, Harry Stone, Arthur Stone and Mrs. Ben Baron and their families, all of this city. Mr. and Mrs. Stone also have 6 grandchildren and 8 great-grandchildren. Out of town relatives from Los Angeles and Southern California were guests for the occasion.
Leaving Monday to visit the old home town are Mrs. Morris Douglas and Mrs. Joseph Kaplan and son, Philip. This will be the first trip to Sacramento for both Lee and Clair since they left it as children. Philip, of course, will be seeing the birth place of his mother and aunt for the first time.
Flo and Morris Ackerman will be missed by all their friends during their two month absence from San Diego. They too, are visiting their old home town in North Dakota.
Father takes over—Dick Lustig and his three children, Nancy, Jeff, and Stevie, left June 20th for a ten day motor trip to the Brice and Grand Canyons.
Mr. and Mrs. Frank Hass have moved into their new home at 2136 39th St. and would like their friends to call.
Mr. and Mrs. Harley Hoffman were feted on the occasion of their 45th wedding anniversary with a champagne dinner-Dance in the Pacific Room of the El Cortez Hotel on Saturday, June 6th.
Mr. and Mrs. Harley Babbitz have as their house guests, Harley's mother and sister of Sioux City, Iowa. Mrs. Betty Babbita and her daughter Illene, are meeting young mast Russel (cq) for the first time.
Alan Douglas, son of Mrs. And Mrs. Morrie Douglas, last week gave a party for his graduating class from McKinley Grammar School.