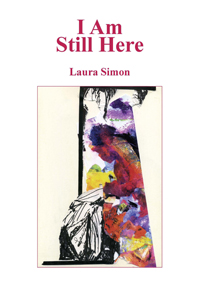 Editor's Note: Today San Diego Jewish World continues the-weekly serialization of I'm Still Here by Laura Simon, a San Diego resident who is still going strong at 103. She wrote this book to mark her 100th birthday.

We will maintain a list of links to the installments of her story on Laura Simon's archive page, which can be accessed any day of the week through the "authors" pulldown tab below our masthead. Laura, who once painted canvases in vivid colors, today is legally blind, so she is unable to read e-mail. However, she says anyone who wishes to contact her may do so through the e-mail of her son, New York playwright Mayo Simon at mayosimon@aol.com The book may be purchased via its publisher's website, www.montezumapublishing.com or via Amazon or Barnes & Noble's websites.



Link to previous chapters

Library ... Read more
Aunt Bessie ... Read more
Rosenfelds... Read more



By Laura Simon






Library

A few days later I'm in the milk-lady's kitchen. The Luther music recedes. "Kathy? Laura's here." The piano playing stops. "She came to see you," scooping milk into my jar, Kathy helping with the cover.

"Laura? Did you ever read fairy tales?"

I had the ten cents to give her. Where is it? A hole in my pocket?

"Did you ever read a book? With kings and queens?"
Pisha-paysha?

"In castles. The king has a daughter."

"Me? Like me?"

"Why don't you take her along to the library."

Kathy carrying the milk, we walk up and into the toilet stink in the hallway, already smelling soap and steam as we open our door, my mother washing clothes over a board in a washtub in the kitchen. Hardly looking at us, she is all steamy from the clothes boiling in a boiler, busy getting the stick to stir down the overflowing suds, the stove hissing from the splatter.

"Can Laura come with me?" Kathy is asking. "To the library?"

"She has to do her homework." Going back to washing on the board, taking a bunch of stuff, squeezing, twisting, dropping it then in a pail at her side. "She promised her teacher," as if I wasn't there and anyway I wanted to get away from all that steam. "She can't be in fourth grade forever."

And that's what my teacher said when I stood up before her remembering "we women have to fight for our rights if we want to get anywhere." A shiver going through me, afraid of a ruler slapping my hand, so afraid of her thick glasses as if to see right through me, already seeing the fight in me.

"Your crocheting isn't dry yet," the teacher said, "Go home and wash it."

My mother so angry, "What right to send you home like this freezing out," taking me and the crocheting back to her.

My mother saying again, "You have to do your homework."

That's what my teacher said so nicely, smiling at me. "You are speaking up very nicely for yourself," she said after I told her that all my friends passed into fifth grade and I was left out, still infourth grade.

"I want to go to fifth grade too."

"But you haven't been coming to school regularly, you see. I like the way you are trying to get ahead and saying so. I'll talk to the principal and see what I can do -- if you promise to do yourhomework, all that you have missed," giving me a hug.

"If you don't stay away too long," my mother is saying to Kathy.

"The lagoon in Humboldt Park is ice-water now. It's too warm to ice-skate so we're only going to the library." My mother too busy squeezing clothes from the washtub to notice when
Kathy said, "The library will be fun."

We pass the druggist's window, corner Western and Potomac, hurrying by those big glass bowls filled with colored water -- red, green and that golden moon.

"That new druggist is studying to be a doctor," my mother used to say. "Always in a back room with his books."

"The other kids get sick too," I told my teacher, "same as me and they passed. And the druggist gave me pills for my sore throat."

I was enchanted by the big library room, shelves and shelves filled with books, and I tried hard not to show how I felt so different, seeing younger children looking through and selecting their fairy tales all by themselves.

"Go on and get yourself a book," Kathy said. "I'm going over there. I read mysteries."

The librarian was filling out a card for me. My name, my address, and stamping it, she gave me the book to take home and read, so proud just to be walking with Kathy. She carried her book under her arm same as I. "Rumpelstiltskin? Weaving wax into gold and maybe having to give up her firstborn
son if she didn't know."

"But homework first," my mother said.



Go to the top of right column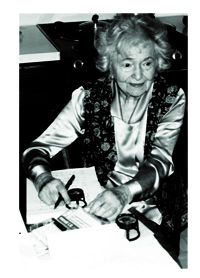 Aunt Bessie

At every turn there was always, "God, where is our better life?" That was always my Aunt Bessie's cry. Or "Eat, eat, eat. You kids want jelly bread again? All day long and can I help it if the
grocery was out of jelly?" Nobody in this whole world understood grief as she did -- at least she thought so. Every once in a while her ghost hovers over me. I keep pushing it away. In circles her ghost returns and I see her all over again.

To better our lives, we lived with this Aunt Bessie on the corner of Western and Potomac in a flat above the saloon. I had a cot bed near a window that was the joy of my life. Especially at night, when the trolley cars went by and all the lights on Western were lit up, I could watch those streetcars
clanging along into a different world that I longed to be part of.

"Lora-Lei," she would say to me, "Lily or Laura or whatever they call you, you go down and tell that miserable janitor lady that we are freezing and that she should stop throwing her bosom around to the coal peddler when he dumps coal into the basement. It's her job. We know that she has to be janitor in exchange for living in the coal bin with her kids sliding on mountains of coal. She can shovel some into the stove or we will die here. If all the women would strike, then where would the world be? Without sex. That's what I told Ikel if he doesn't bring home his pay. So I have to see the drunks they throw out of the saloon, who guzzle whiskey at her window, singing, 'After the ball is over, drink to me only with thine eyes.' And we're suffering from cold. It would be better for everybody if she had a better place to live and we had a real janitor. And your mother, Laura, she could go back to cigar rolling, not to be so high-toned and work in a dime store to be classy. And what am I here? A slave to you kids? And can I help it if there's no jelly on the shelf and your mother is out working all day long and is never home? And you Lily, Lora-Lei, Laura, you stop treating Peaches like a dog. He sits on my lap covering my face with kisses. He knows a friend when he sees one. He's the only one in the whole world who loves me."

Once Peaches and I surprised her in the parlor with another man. She let out a scream, "Laura, Laya, why aren't you watching the streetcars now? And tell your mother to take you out of here sometimes. To Humboldt Park to see the statue of Kosciusko. The lagoon is not the Titanic. You won't drown. You're all ears. Go into the kitchen and take care of your little sister." Nudging this new found-lover in her sweet voice, "Come on, sweetheart, we're going to the picture show."

Now I was alone in the dark at the window, my little sister asleep. I looked out to the
streetcars, people inside, blinking lights flying by.

There was no organ grinder down on the street singing Italian opera, mixing in a few Yiddish words so the monkey would start tipping his hat for
pennies. I understood butcher shop Yiddish, not the Polish sometimes mixed with some Russian. Gebenya Matra -- Go to hell. I knew that much.

I was dozing when my mother walked in. Finding us alone, she asked, "How did Aunt Bessie treat you? Did you have something to eat today?" What should we say? That we should go see that big bronze general in Humboldt Park? Or go to the bandstand Friday nights to hear the old hasbeen
opera star singing? She was all tears giving us candy from the dime store. We two kids fought for our share. She tried to help by singing, imitating the opera stars so that we would laugh. "School days, rule days, dear old golden rule days. Reading, writing and 'rithmetic, taught to the tune of thehickory stick. You were my beau in calico. I loved you so." For encore, "Come Josephine Up In My Flying Machine. Up We Go. Up We Go." Into sleep.

When the weather warmed up, Bessie shed her three sweaters, orange, red and green, those with the holes. And wore slippers instead of snow boots. She praised herself for keeping the truant officer away. "You see, Laura, how I take care of you? He came to say that you will never know anything. What does he know? If he knew something, he would be working for the Herald. Examiner too at a press like my brilliant Ikel who's supposed to bring me lemon cream pies but he is afraid I might get sick and I love lemon cream pies." Then bragging how she was teaching me about life.

"The Rosenfelds had a bad luck streak. Every one of them. Sarah, a bar mitzvah cooker, Sam always sick, Jennie marrying Goldblattal, who never had a penny in his pocket, and Harry who had a wife he bowed down to put on her boots. She was a queen. That's how you should be, Laura, when
you grow up. Instead of watching streetcars. I fell in love with my Ikel on a streetcar. Is that what you want out of life? A streetcar? When you will be a hundred years old, you will remember whatI'm telling you now. How can we survive in this world? By watching streetcars? We have to fight for
what we want in this life."


Rosenfelds

Too young to know then what the holiday was all about. My mother would dress us up and take us to the synagogue. When my father was around, he took us on the Sabbath. To this day, I turn stone-like when I hear such weeping on holiday, the women running to the curtain that separated them from the men, extending a kissed bible to the Torah. The men kissing their shawls, that very kiss to the golden symbols of God.

I also hear the tone of Torah in the kitchen of my grandparents. I have to sit and listen to the prayers of the Humash. My grandfather at the window of their corner alley flat, reading from hisprayer book behind the kerosene lamp. My grandmother weeping in a corner for the Mashiach to
come for the promises of miracles.

I had seen her clasped together with her eldest daughter Sarah.They were crying bitterly in each other's arms. Sarah soon on the way to the hospital, a tumor on her brain. When not at prayer, my grandfather once screamed at Schandel. "That man you're going with came here when he was 12 years old. If he had saved $10.00 a year, he would now have $100.00. You can't marry him."

He was a poor judge of character.