J*Company will present four
Rodgers & Hammerstein musicals

LA JOLLA, California (Press Release) – The award-winning J*Company Youth Theatre, a program of the San Diego Center for Jewish Culture at the Lawrence Family Jewish Community Center, Jacobs Family Campus, is pleased to announce its 17th season of family entertainment featuring four classic musicals by Rodgers & Hammerstein,

Selections include the 60th Anniversary production of South Pacific one of the biggest Tony Award-winning musicals of all time; the charming, autobiographical The King and I; the 50th Anniversary production of the ever-popular The Sound of Music and Cinderella, the first ever made-for-television musical. All productions take place at the David & Dorothea Garfield Theatre. Movie Musical Sing-A-Longs will also screen on the dates listed below.
"'Comfort Theatre,' a title I coined for our 17th Season, is the perfect description for the exuberant set of non-stop nostalgia shows we have in store for the San Diego community," said J*Company Artistic Director Joey Landwehr, who is directing all four productions. "Every show is a multiple Tony Award Winner, every show is a J*Company Premiere, and every show was written by the greatest American musical writing team; what more could one ask for?"

"Ever since I was a young boy I have loved these masterpieces and was aghast when I mentioned them to the youth in San Diego and found that many young people are unfamiliar with these shows," said Landwehr. "In a world of High School Musicals and Shrek: The Musical, I felt it was my duty to familiarize these young artists with the Golden Age of musical theatre. So come and experience these beautiful pieces again for the first time – through the eyes of your children."

South Pacific – Show dates: October 15-25, 2009: It all starts "Some Enchanted Evening" on an island paradise during World War II, where two parallel love stories are threatened by the dangers of prejudice and war. The natural beauty of the islands, the hijinks of the sailors, the danger of war, and the strength of true love are joined by a sensational Rodgers and Hammerstein score featuring such hits as "Bali Ha'i," "Younger Than Springtime," and "I'm Gonna Wash That Man Right Outta My Hair." Based on James Michener's Pulitzer Prize-winning Tales of the South Pacific, the musical was nominated for ten Tony Awards and won all of them, including Best Musical, Best Score, Best Libretto and all four awards for acting. J*Company will produce a gorgeous 60th Anniversary production for the entire family.
The King and I – Show dates: December 3-13, 2009
East versus West makes for a dramatic and ultimately uplifting visual and musical masterpiece. The King and I is the true story of an Englishwoman, Anna Leonowens, who comes to Siam as schoolteacher to the royal children of King Mongkut in the 1860s. Eventually, Anna and the King grow to understand and respect one another in a truly unique love story. With a dazzling score featuring such songs as "I Whistle A Happy Tune," "Getting to Know You," and the ever-popular "Shall We Dance?" this show won the Tony Award for Best Musical in 1951 and remains a delight for audiences of all ages.
The Sound of Music– Show dates: March 4-21, 2010
Based on the memoir of Maria von Trapp, the final collaboration between Rodgers & Hammerstein was destined to become the world's most beloved musical. When a postulant proves too high-spirited for the religious life, she is dispatched to serve as governess for the seven children of a widowed naval Captain. She gradually captures the hearts of both children and father. The family's narrow escape from the Nazis over the mountains to Switzerland provides one of the most thrilling and inspirational finales ever presented in the theatre. The musical includes some of the greatest musical theatre pieces ever created such as "Climb Every Mountain," "Sixteen Going on Seventeen," and "Edelweiss." Just like brown paper packages tied up with string, this J*Company 50th Anniversary production will prove to be one of your favorite things.
Cinderella – Show dates: May 6-16, 2010
The timeless enchantment of a magical fairy tale is reborn with charm and elegance. Originally presented on television in 1957 starring Julie Andrews, Cinderella was the most widely viewed program in history. Its recreation in 1965 starring Lesley Ann Warren was no less successful in transporting a new generation to the miraculous kingdom of dreams-come-true, and so was a second remake in 1997, which starred Brandy as Cinderella and Whitney Houston as her Fairy Godmother. The 2010 J*Company stage adaptation will continue to delight with great warmth and more than a touch of hilarity. The hearts of children and adults alike will soar as the slipper still fits.
Audition Information
Auditions times are listed below. All students age 7-12 must be enrolled in a J*Company class to be eligible for an audition appointment. Young artists should come prepared with a musical theatre selection of their choice with sheet music (an accompanist will be provided), a headshot/snapshot, and a resume (if available). No tapes or CDs may be used. Young artists who need help with song selection or vocal coaching can attend pre-audition vocal lessons with a professional voice coach, and use sheet music from J*Company's music library. For more information, call 858-362-1155.
For information on classes, go to www.sdcjc.org/jcompany. To reserve an audition time, call 858-457-3030, ext. 1200.
South Pacific: Auditions: July 21, 2009, 4:00-5:00 p.m. and August 18-19, 2009, 4:00-7:00 p.m. Ages 7-18 may audition
The King and I: Pre-Audition Informational Meeting: Tues., Sept. 2, 2009, 6:00-7:00 p.m. Auditions: September 22-23, 2009, 6:00-9:00 p.m. Ages 7-18 may audition
The Sound of Music: Pre-Audition Informational Meeting: Tues., Dec 8, 2009, 6:00-7:00 p.m. Auditions: January 5-6, 2010, 4:00-7:00 p.m. Ages 7-18 may audition
Cinderella: Pre-Audition Informational Meeting: Tuesday, Feb. 16, 6:00-7:00 p.m. Auditions: March 9-10, 4:00-7:00 p.m. Ages 7-13 may audition.


Movie Musical Sing-A-Longs—The public is invited to join J*Company cast members for a magical movie experience for the entire family. Dress up as your favorite character from your favorite Rodgers & Hammerstein movie musical and sing along with the film. A prize will be awarded for the best costume. The general admission price is $9, with half off for season subscribers. Come along and sing-along on the dates below:
South Pacific Sing-along: Thursday, October 22, 2009 at 7:00 p.m.
The King and I Sing-along: Thursday, December 10, 2009 at 7:00 p.m.
The Sound of Music Sing-along: Thursday, March 18, 2010 at 7:00 p.m.
Cinderella Sing-along: Thursday, May 13, 2010 at 7:00 p.m.
General Information
Season subscriptions and single tickets to J*Company's 17th Anniversary season of Rodgers & Hammersteins' South Pacific, The King and I, The Sound of Music and Cindarella are


Go to top of right column
currently on sale. All performances take place at the David and Dorothea Garfield Theatre at the Lawrence Family Jewish Community Center, Jacobs Family Campus, 4126 Executive Drive, La Jolla. Call 858-362-1348 or visit www.sdcjc.org/jcompany for more information.




AJE sponsors informational meeting Monday on Israel trip

SAN DIEGO (Press Release)—In March, 2010, a group of San Diegans will expand their Jewish educational experience by participating in an amazing study tour organized by the Melton Centre of the Hebrew University of Jerusalem. If you join them, this trip will take you to many of the places that are mentioned in the biblical, rabbinic and modern texts you have studied in the past. This time, however, when you read and discuss texts, you will be at the very spot referred to in those lines!

· Dates: March 15-24, 2010

· Places included: Jerusalem, Yavneh, Caesaria, Tiberias, Safed and more.

· Mode of transportation: Luxury 35 seat air- conditioned bus for a group no larger than 25 people.

· Hotels: Home base will be the boutique Prima Royale Hotel in Jerusalem. Others include the Rimon Inn in Safed, an old converted Turkish Inn with spectacular views.

· Meals: The Israel Seminar has gained a reputation for being a culinary introduction to Israel. All hotel breakfasts are Israeli style, i.e. excellent, fresh and massive. At least one additional meal at a local restaurant is provided every day. Shabbat dinner and lunch at the Inbal are Jerusalem musts!

· Price: $2459 - Includes accommodations (double), two meals per day, land arrangements, security, and all educational aspects of the program. Prices do not include airfare.

· Registration: A $250 non- refundable deposit is required.

· Eligibility: Open to students and alumni of Melton schools as well as to all serious Jewish learners.
Informational meeting time and date: Monday, July 13, 2009 at 7pm at the Lawrence Family JCC. If you are interested in joining this tour, contact Noah Hadas at noah@ajesd.org

Preceding provided by the Agency for Jewish Education


College Avenue Older Adult Center tells August special events
SAN DIEGO (Press Release)--Following are some of the special events planned in August at the College Avenue Older Adult Center, operated by Jewish Family Service at Beth Jacob Congregation, 4855 College Avenue in San Diego:
Are "Wii" Having Fun Yet?—A Wii Bowling Team is forming in August. We will have the Wii Bowling program set up for seniors to come in and learn how easy it is to play this fun game. Instructors will be available. A Wii Bowling Tournament will take place on Tuesday, August 18th and Thursday, August 20th at 1:00pm. Sign ups will be required for the Tournament We will have prizes and refreshments, so come and just be the cheering section, or step up to play and "make a strike" for your team!!

Summertime "Front Porch Stories" with Linda Whiteside, August 13th at 12:45 pm— We have a special afternoon program planned for young and old alike! Bring your family, friends, kids and grandkids to enjoy a unique storytelling event. Linda Whiteside received her Masters of Education degree in Storytelling Arts from East Tennessee State University in 1999.
She spins her tales to a wide variety of audiences in schools, libraries, museums, businesses and hospitals. Linda is the Storyteller in the Healing Arts Department at Children's Hospital in San Diego.

Annual Luau with the Pride of Polynesia at the College Avenue Older Adult Center, August 21st at 12:00 Noon. Join us for a Polynesian Style Lunch at 12:00 noon $3.50 for seniors & $6.00 for others. Entertainment starts at 12:30 pm
Authentic Polynesian Music and Dancing. Here's your chance to wear your favorite Hawaiian shirt!

Senior Social Pinochole Group, Tuesdays & Thursdays at 10:00 am This group is looking for intermediate level new members. If interested come by or call for more information.
The College Avenue Older Adult Center is a program of Jewish Family Service of San Diego. The College Avenue Older Adult Center also offers hot Kosher lunches served Monday - Friday at 12 Noon Seniors: Suggested donation of $3.50; All others: $6.00 fee.

Preceding provided by Jewish Family Service



Filner cheers passage of record budget providing care to veterans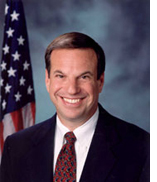 WASHINGTON, D.C. (Press Release)– House Veterans' Affairs Committee Chairman Bob Filner (Democrat, California) released the following statement on Friday upon House passage of H.R. 3082, the Military Construction and Veterans Affairs spending bill:
"Today, the House of Representatives passed H.R. 3028, a bill to fund the Department of Veterans Affairs for Fiscal Year 2010. The bill provides $108.9 billion, the same as the President's request and $14.5 billion above 2009, for veterans medical care, claims processors, and facility improvements. This is the third budget in a row that exceeds the request of the Independent Budget, which is formulated by a coalition of veterans' organizations!
"Unlike any veterans funding bill before it, this legislation provides funding for medical-related accounts for the next fiscal year one year in advance. Responding to 19 late budgets over the course of the last 22 years, this bill delivers adequate and timely funding for veterans' health care and offers a historic new approach to caring for our veterans.
"To be sure, great strides have been made to increase VA health care funding under the leadership of the new Congress - $17.7 billion provided over the last two years. Regardless of efforts to provide sufficient resources, veterans' funding continues to get caught up in the political wrangling of the federal budget process. H.R. 3028 provides $48.2 billion in advance appropriations for Fiscal Year 2011 for three medical accounts: medical services, medical support and compliance, and medical facilities. This is an eight percent increase over Fiscal Year 2010 and will allow VA officials to plan spending levels for the coming year, meet the continuing wave of new patients, and maintain operations at VA facilities.
"As Chairman of the House Committee on Veterans' Affairs, I am committed to assisting the VA in its goal of becoming a model 21st Century organization. I want to thank Chairman Edwards for crafting bipartisan legislation and Chairman Obey for his leadership, as well as their Republican counterparts. The House of Representatives join the Obama Administration's commitment to improving health care for all veterans, increasing access to mental health services, addressing and preventing homelessness among veterans, and honoring the veterans of previous generations. President Obama has proven that veterans are a top priority by requesting a record veterans' budget, and the New Direction Congress has answered."
Preceding provided by Congressman Filner