Southern Poverty Law Center warns of extremists in military

WASHINGTON, D.C. (Press Release)--The Southern Poverty Law Center on Friday urged Congress to investigate growing evidence that racial extremists are infiltrating the U.S. military and take steps to ensure that the armed forces are not inadvertently training future domestic terrorists.

In a letter to committee chairmen with oversight over homeland security and the armed services, the SPLC said it recently found dozens of personal profiles on a neo-Nazi website where individuals listed "military" as their occupation — the latest evidence of extremist infiltration gathered by the SPLC. It also cites FBI and Department of Homeland Security reports supporting the SPLC's concerns.

"Evidence continues to mount that current Pentagon policies are inadequate to prevent racial extremists from joining and serving in the armed forces," SPLC founder Morris Dees wrote. He added, "Because the presence of extremists in the armed forces is a serious threat to the safety of the American public, we believe Congressional action is warranted."

The letter was sent to the chairmen of the House and Senate committees on Homeland Security and Armed Services. The SPLC has raised its concerns with Pentagon officials since publishing a report in 2006, but no apparent action has been taken.

In recent months, SPLC investigators found approximately 40 personal profiles that listed "military" as an occupation on the Internet forum New Saxon, which is operated by the neo-Nazi National Socialist Movement. One individual, who claims to be serving in Afghanistan, lists as his favorite book The Turner Diaries, which was written by neo-Nazi leader William Pierce. The book served as a blueprint for the Oklahoma City bombing by Gulf War veteran Timothy McVeigh. Another individual said he was about to be deployed overseas and was looking forward to "killing all the bloody sand niggers." Still another spoke of his hatred for undocumented immigrants.

The SPLC has been involved with this issue for more than two decades. In 1986, the SPLC presented evidence to Defense Secretary Caspar Weinberger that Marines were participating in Ku Klux Klan paramilitary activities and urged him to prohibit all military personnel from being members of, or participating in, the activities of white supremacist groups. Although Weinberger issued a directive addressing extremist activity, it ultimately proved inadequate.

The SPLC again brought the problem to the attention of Pentagon officials in 1996, after three neo-Nazi soldiers stationed at Fort Bragg murdered a black couple in North Carolina in a ritualistic, racially motivated slaying. Pentagon regulations were strengthened following an investigation by an Army task force and hearings by the House Armed Services Committee.

But a decade later, military recruiters, under intense pressure to meet quotas for the wars in Iraq and Afghanistan, appear to have lowered recruiting standards, according to the SPLC's 2006 report. The report revealed that large numbers of neo-Nazi skinheads and other white supremacists were joining the armed forces to acquire combat training and access to weapons and explosives.

In 2008, the FBI released an unclassified report that supported the SPLC's findings. This past April, the Department of Homeland Security issued a report stating that right-wing extremists currently pose the most significant threat of domestic terrorism and expressing the concern that they may attempt to exploit the combat training and experience of returning veterans.

The SPLC letter notes that since 1994 the military has discharged more than 12,500 servicemembers simply because of their homosexuality. "It seems quite anomalous that the Pentagon would consider homosexuals more of a threat to the good order of the military than neo-Nazis and other white supremacists who reject our Constitution's most cherished principles," said Mark Potok, director of the SPLC's Intelligence Project, which monitors extremist activity.

The letter also says that "the overwhelming majority of U.S. servicemembers reject extremism and are dedicated to serving and protecting the highest ideals of our country" and notes that there will never be a fail-safe system to weed out all extremists. "But we owe it to our courageous men and women in uniform, and the American public, to remain vigilant to ensure that the ranks are as free of extremists as possible," Dees wrote

Preceding provided by the Southern Poverty Law Center


Naturalized Canadian convicted, imprisoned for aiding Al Qaeda

WASHINGTON, D.C. (Press Release)— A 35-year-old Minneapolis man was sentenced today in federal court on one count of conspiring to provide material support and resources to al-Qaeda.

David Kris, Assistant Attorney General for National Security, and Frank J. Magill, U.S. Attorney for the District of Minnesota announced that on July 9 in Minneapolis, U.S. District Court Judge John Tunheim sentenced Mohammed Abdullah Warsame to 92 months in prison and three years of supervised release.

Warsame, a naturalized Canadian citizen of Somali descent, was charged with one count of conspiracy to provide material support to a foreign terrorist organization – al Qaeda – in a Jan. 20, 2004, indictment returned in the District of Minnesota. A June 21, 2005, superseding indictment also charged Warsame with one count of providing material support to al-Qaeda and three counts of making false statements to the FBI. Warsame pleaded guilty to the material support count of the superseding indictment on May 5, 2009. The government has agreed as part of a plea agreement to dismiss the remaining charges.

"Mr. Warsame has admitted to providing material support to the al-Qaeda terrorist organization," said Magill. "Mr. Warsame's actions demonstrate that he was a member of the organization, that he believed in its cause, and that he was willing to violate United States law in support of al-Qaeda. The sentence imposed today shows that our battle against terrorism continues, including right here in Minnesota, and that those who knowingly provide support to terrorists will be held accountable for their actions."

According to the plea agreement, Warsame admitted that from about March 2000 through at least December 2003, he conspired with others to provide material support to al-Qaeda in the form of personnel, training and currency.

According to court documents, in March 2000, Warsame traveled through the mountains from Pakistan to Afghanistan, where he attended an al-Qaeda training camp outside Kabul. For the next three to five months, Warsame received training in physical fitness, the use of weapons and martial arts. Warsame also traveled to the front lines with the Taliban and observed combat between the Taliban and the Northern Alliance.

In the summer of 2000, he then traveled to the al Faruq training camp, where he received further military training and met Osama Bin Laden. Warsame described Bin Laden as "very inspirational." At this camp, Warsame was trained in the use of AK-47 rifles, Uzis and other weapons, as well as training in tactics and navigation. During this time, Warsame again fought for the Taliban and said he was exposed to heavy fighting.
Warsame returned to Pakistan, and while there, he was in contact via e-mail with al-Qaeda associates he had met in Afghanistan. In one of those e-mails, Warsame described his time spent at the camps as "one of the greatest experiences of my life. I will be going back there very soon."

In another e-mail dated Dec. 6, 2000, Warsame wrote, "If you have any news or important information please let me know, because I don't want to be late for the action, you know what I mean. We hear there might be an attack soon."

After a few months in Pakistan, Warsame returned to Afghanistan and to an al-Qaeda guesthouse. The guesthouse was used as a place of rest for people attending Bin Laden's camp. Warsame was assigned to guard the guesthouse and later met a variety of individuals who have been indicted and convicted of terrorism-related offenses in the United States, including Zacarias Moussaoui and Richard Reid.

Warsame attended an Islamic institute near the guesthouse that taught radical Islam and preached jihad to students and said, according to court documents, the institute's leader was a high-ranking al-Qaeda member. Warsame admitted that he approached this individual for money in order to bring his family from Canada to Afghanistan.

Warsame admitted that in March 2001, he traveled from Pakistan via London to Canada and continued his e-mail contacts with the al-Qaeda associates he had met in Afghanistan. In addition, he sent approximately $2,000 (Canadian) to one of his former training camp commanders. Warsame also provided information to an individual he met in Afghanistan about the process for entering Canada.

Warsame then relocated to Minneapolis. Throughout 2002 and 2003, he continued to exchange e-mail messages with and provide information to several individuals associated with al-Qaeda.

Preceding provided by U.S. Justice Department


Frank, Dodd say overinflating value of second mortgages hindering economic recovery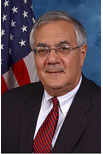 WASHINGTON, DC (Press Release)- Senate Banking Committee Chairman Chris Dodd Democrat, Connecticut) and House Financial Services Chairman Barney Frank (Democrat, Massachusetts, pictured at left) sent a letter to the heads of the bank regulatory agencies asking them to address whether banks are inflating the value of 2nd mortgages on their balance sheets, thereby discouraging proactive efforts to modify and restructure mortgage loans and crippling programs designed to prevent foreclosures.
Across the country housing prices have dropped and many Americans owe far more on their mortgages than their homes are worth.

Because they are "underwater," these homeowners are unable to refinance, leaving them unable to make payments. The HOPE for Homeowners program was designed to help Americans stay in their homes by adjusting their mortgages to
Go to top of right column
90% of the assessed value of their property while helping mortgage companies prevent larger losses they would face if the homes simply went into foreclosure.

The tough reality is that in areas where housing prices have dropped dramatically, 2nd mortgages may be virtually worthless. Regrettably, many banks are still unwilling to update their balance sheets to show these assets have dropped in value, and inflated values have made it virtually impossible for HOPE for Homeowners to work. These companies would rather deny reality today, even if it means more people losing their homes and the banks losing more money down the road with a further explosion of foreclosures.




Boxer, Davis team to protect
federal birth center funding



WASHINGTON, D.C. (Press Release)– U.S. Senator Barbara Boxer (Democrat, California, pictured at left) on Thursday introduced the Medicaid Birth Center Reimbursement Act to ensure that birth centers continue to receive Medicaid payments to provide care for pregnant women and newborns.

Senator Boxer said, "Many women rely on birth centers for care. In California, there are 13 birth centers that serve hundreds of patients each year. This legislation will help ensure that birth centers remain open and continue to provide quality and affordable care to mothers and their newborns nationwide."

There are almost 200 birth centers nationwide that provide quality and cost effective health care services, particularly for low-income families. Since 1987, birth centers have participated in Medicaid, but recently the Centers for Medicare and Medicaid Services (CMS) has begun to cut off access to these providers in several states – including Alaska, South Carolina, Texas and Washington state – claiming the agency lacks clear statutory authority to pay birth centers to care for Medicaid patients.

Although this problem has not yet affected California, if this policy is not reversed before the state begins to renegotiate its Medicaid plan, the same cuts will be forced on birth centers in California. Without reimbursement from Medicaid, birth centers in all states could be pushed to the brink of closure and thousands of low-income women could lose access to these vital services.



This legislation was introduced in the House of Representatives by Rep. Susan Davis (Democrat, California, pictured at left ) and Rep. Gus Bilirakis (Republican, Florida) in May 2009, and was included in the health care reform draft legislation proposed in the House.



Boxer bill would provide funds
for police in violent U.S. cities

WASHINGTON, DC (Press Release)– U.S. Senator Barbara Boxer (Democrat, California) on Thursday introduced legislation to increase the number of police officers in cities with the highest violent crime rates, including Oakland, California. U.S. Representative Barbara Lee (Democrat, Oakland) introduced the bill in the House of Representatives.

Senator Boxer said, "It is common sense – more police officers on our streets mean less crime. As cities with high violent crime rates deal with budget cuts, we must ensure that local law enforcement officials can fight crime and keep our communities safe. "

"This is about public safety and violence prevention - and what we know is that community policing works," said Congresswoman Lee. "Since its inception the COPS program has provided invaluable resources to my district and cities and counties across this country. So it's high time we provide the necessary help for our local law enforcement agencies to hire officers to help reduce crime rates."

The legislation would amend the Community Oriented Policing Services (COPS) Act to direct funding to the five cities with the highest violent crime rates according the 2007 Federal Bureau of Investigation's Uniform Crime Reporting statistics. Those cities are: Oakland, CA; Atlanta, GA; Baltimore, MD; Detroit, MI; and Memphis, TN. Specifically these cities would become eligible for hiring grants that could increase police forces byfive to 10 percent by adding officers to patrol areas affected by violent crime. The bill also authorizes the Attorney General to provide increased hiring grants to an additional 15 cities based on other crime indicators such as gang activity, drug trafficking, unemployment and poverty.

Earlier this month, the Oakland City Council approved $13.4 million in cuts to the Oakland Police Department's personnel budget, which would greatly impact a community that is still recovering from the tragic deaths of four Oakland police officers who died in the line of duty in March 2009.
The legislation is supported by Oakland Mayor Ronald V. Dellums, Acting Oakland Police Chief Howard A. Jordan, the Oakland Police Officers Association and the Peace Officers Research Association of California. U.S. Senators Debbie Stabenow and Carl Levin, both Democrats from Michigan, are original cosponsors of this legislation.

Preceding provided by Senator Boxer


Levin legislation lists Asian carp as injurious to Great Lakes health


WASHINGTON, D.C. (Press Release)—As Asian carp continue to wreak havoc on the native fish populations in the Mississippi and Missouri Rivers, Sen. Carl Levin (Democrat, Michigan) on Thursday introduced legislation to help guard against the fish from making their way into the Great Lakes.

The Asian Carp Prevention and Control Act, which Levin introduced along with Sen. George Voinovich (Republican, Ohio), would add the bighead carp species of Asian carp to a list of injurious species that are prohibited from being imported or shipped in the United States.

"Asian carp are a significant threat to the Great Lakes because they are large, extremely prolific, and consume vast amounts of food," Sen. Levin said. "As we've seen in the Mississippi and Missouri Rivers, bighead carp are a huge threat to native fish species, they're a hazard to boaters, and they damage property and cause injuries. We must do everything possible to stop these fish from reaching the Great Lakes and causing the damage we've seen in other waters across the country."

The Asian Carp Prevention and Control Act would list the bighead carp as injurious wildlife under the Lacey Act, which was originally passed by Congress in 1900 and amended in 1981. The Lacey Act Amendments of 1981 make it unlawful to import, export, transport, buy or sell fish, wildlife and plants taken or possessed in violation of federal, state or tribal law.

Listing the bighead species of Asian carp under the Lacey Act would help prevent the intentional introduction of the species by prohibiting the interstate transportation or importation of live Asian carp without a permit. This legislation would not interfere with existing state regulations of Asian carp, and it would allow states to issue permits to transport or purchase live Asian carp for scientific, medical or educational purposes. The Fish and Wildlife Service has already listed other species of Asian carp as injurious under the Lacey Act

Originally introduced into the United States as a management tool for aquaculture farms and sewage treatment facilities, Asian carp are voracious eaters that can grow up to six feet and 110 pounds. These exotic species were first used in Louisiana catfish farms in the 1970s to control snails and vegetation. In the mid 1990s, flooding allowed the Asian carp to escape from fish farms. They have spread to most of the Mississippi River watershed and the Missouri River, devastating the food resources and habitats of native and sport fish populations. The bighead carp, along with the other species of Asian carp, now account for the majority of fish in the Missouri River.

Because the Mississippi River is connected to the Great Lakes through a man-made sanitary and ship canal, Asian carp are now close to entering the Great Lakes. The Army Corps of Engineers is operating an electric dispersal barrier to prevent the carp and other non-native fish from moving between the Mississippi River and the Great Lakes.

In addition to Levin and Voinovich, other cosponsors of the Asian Carp Prevention and Control Act include Democratic Senators Charles Schumer of New York, Russell Feingold of Wisconsin, Kirsten Gillibrand of New York, Richard Durbin of Illinois, and Debbie Stabenow of Michigan.
Preceding provided by Senator Levin

Hodes wants milk subsidies
indexed to inflation


WASHINGTON, DC (Press Release)— Congressman Paul Hodes (Democrat, New Hampshire) on Thursday cosponsored legislation that would index Milk Income Loss Contract (MILC) program payments to inflation. The Dairy Fairness Act of 2009, originally introduced by Congressman Peter Welch (Democrat, Vermont), would increase the MILC payments to farmers on an annual basis.

The MILC program provides payments to farmers when milk prices decrease below a threshold. This increase in MILC payments would help farms remain in business during periods of intense market volatility.

"We must do what we can to support New Hampshire's dairy farmers while their industry struggles through a difficult economy," Congressman Hodes said. "This legislation would bring temporary relief while we move toward a long-term solution for New Hampshire's dairy industry. I will continue to work to provide New Hampshire's dairy farmers the relief that they need."

There are approximately 130 commercial dairy farms in New Hampshire – together they earn over $50 million in revenue annually from the sale of milk. Unfortunately, the costs of production exceed revenue at many of these New Hampshire farms. Since May of this year, four dairy farms have been forced to close their doors. This legislation would help dairy farms stay open during periods of depressed prices.

Preceding provided by Congressman Hodes