San Diego: Research Notes on San Diego Area Jewish History, made in San Diego, California, December 23-24, 1967
Material at the Serra Museum Library, Presidio Park:
Interview with Simon Mannesse, son of Moses Mannesse, who with Marcus Schiller was involved in operating a store in Old Town.
Interview by Edgar F. Hastings, Oct. 1, 1957. Simon was born June 24, 1874 at San Pasqual. His mother was Lucia Andrada, born at Sonora, Mexico. Joseph Mannesse was an uncle of Simon. Interview in 3.5 pages, double-spaced.
Mannesse looseleaf notebook filled with documents of the business, property, etc. Hyman, Joseph S, Simon, and Moses. Moses Mannesse was a cousin of Joseph. Mannesse and Schiller were the first to introduce installment buying to the San Diego area. Joseph Mannesse was known in Old Town San Diego as Chico or Mannessito (Little Mannesse). Hyman was 29 years old in 1860.
An Illustrated History of Southern California, Lewis Publishing Co., Chicago, 1890, pages 279-280, has good material on Joseph Samuel Mannesse.
The History of the San Diego Ranchos by R.W. Brackett, Union Title Insurance Co, San Diego, Calif., 1939, 5th edition 1960, page 39: In 1868 the rancho (Las Encinitas) was brought and stocked by Joseph S. Mannesse and Marcus Schiller, pioneer merchants of San Diego who did an extensive business with the rancheros of the district .
Smyth's San Diego History, Volume I, pages 278-279, gives material on Joseph S. Mannesse. He was born in Prussia, came to San Diego in 1853, was a partner of Marcus Schiller from 1856. He married Hanna Schiller, a sister of his partner.
Hyman S. Wolf material: arrived in San Diego 1905. Organized and was the first president of Tifereth Israel Congregation, the same year he arrived. He had come to the United States in 1892. He was an early president of the B'nai B'rith Lodge. It was he who suggested honoring Louis Rose, Jewish pioneer of San Diego, by named Rose Canyon for him. Also, he instigated the erection of the Louis Rose memorial plaque at the head of Rose Canyon.
La Jolla Year by Year by Howard S.F. Randolph, La Jolla, 1946 pages 136-138, tells story of the Louis Rose monument. The Louis Rose monument was located just north of the La Jolla junction, on Highway 101, now bypassed by the new freeway. It was a bronze plaque affixed to a block of granite, set into a cement base. The legend of the plaque is as follows:
Honoring
Louis Rose
1807-1885
Founder of Roseville
Pioneer of Rose Canyon
Brick-Maker-Tanner
Outstanding Citizen
Dedicated by
Congregations
Beth Israel
And
Tifereth Israel
And San Diego Lodge No. 55
F. & A.M.
May 30, 1934
On December 24, 1967, the monument and plaque were still there, but not for long, since new buildings being erected by the San Diego Campus of the University of California will force its re-location. We contacted Jim Reading, sites expert of the San Diego Historical Society and he promised to seek its re-location immediately. No one apparently, had remembered or known of the monument in San Diego. Lustig, now deceased, editor of the Beth Israel 75th Anniversary Book (1952) told us in 1966, that the monument was at the foot of the Rose Canyon and had disappeared. Actually it is at the head of the Canyon and he had never seen it.
Hilliard Loewenstein (Los Angeles merchant with relatives in San Diego) was age 39 on Aug. 15, 1866, naturalized on June 11, 1855 in Los Angeles. His relative, Max, arrived in Los Angeles in July 1896. Loewenstein and Co., corner 5th and D Streets, San Diego Daily World, Feb. 15, 1874, Dry goods, clothing, boots and shoes. Max Loewenstein in City Directories of San Diego from 1886.
Much Klauber family material, including a 25 page, double-spaced interview with Laurence M. Klauber by Edgar F. Hastings, May 12, 1960.
Louis Wolf, native of France, came direct to San Francisco in 1852, engaged in mining. Married Ramona Place of Santa Barbara. San Diego Union clipping, 9/15/1887 One of the oldest residents of San Diego County, died Temecula. In 1859 at that point, he began a trading post in a small adobe building. San Diego Union clipping, 11/2/1935 the old Louis Wolf store original Butterfield Depot for Temecula. Letter from Wolf, Jan. 10, 1884 to Mr. R.D. Butler, School Supt. San Diego County, on a teacher. Envelope was rubber-stamped return name of Louis Wolf, General Merchandise Temecula San Diego County, Cal. San Diego Union 4/27/1890 on Helen Hunt Jackson's Ramona. She remained longest at the World Hotel and store in Temecula, where Mrs. Wolf, and Mrs. Jim Hartsel of Ramona, told her of the eviction of the Temecula Indians San Diego Union, April 27, 1890 Notice. I will not be responsible for any debts contracted by Charles Wolf. Ramona Wolf .
San Diego City Directory collection, complete, beginning 1886. Directory for 1887-8, p. 210: L. Linoberg, cigars and tobacco, 545 5th, res. 1908. Business Directory of San Diego, Coronado, Old Town, National City, 1889, page 51: E. Loewenstein, com. Merchant, H, bet 5th and 6th.
Joseph S. Mannasse
Aug. 3, 1831
Dec. 26, 1897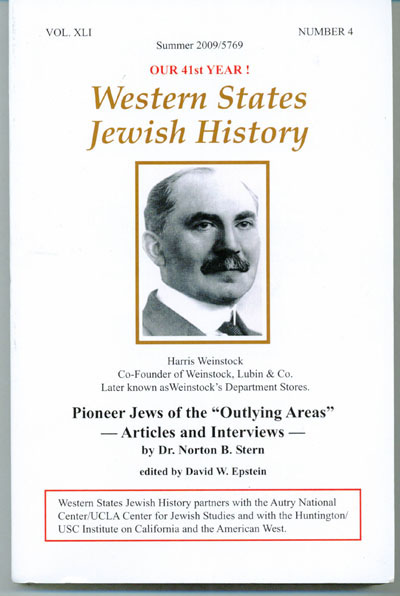 Home of Peace Cemetery, San Diego. Selected Tombstones:
Hannah Mannasse
Mar. 5, 1834
Sept. 9, 1913
Celita Mannasse
Died
March 18, 1924



Valeria Lowenstein
Beloved wife of
S. Wisekopf
Died Aug. 3, 1889
Aged 28 years.
Alice E. Klauber
May 19, 1871-July 5, 1951
Stella Klauber
Feb. 21, 1878 Apr. 27, 1942.
Toby
Beloved husband of
Minna Czerwinsky
Aged 64 yrs.
Died
Feb. 21, 1894
Marcus Schiller
Born
Wronka, Prussia
Oct. 2, 1819
Died March 19, 1904
Rebecca Schiller
1834-1921
Abraham Klauber
Jan. 24, 1831
July 23, 1911
Theresa Klauber
Sept. 16, 1841-May 13, 1921
Herbert Klauber
1875-1875
Arthur Klauber
1880-1884
Melville Klauber
Born S.F.
Died S.D.
Aug. 2, 1865-Nov. 23, 1932
Charles Lowenstein
May 15, 1860
May 22, 1930
Alice M. Lowenstein
Jan. 15, 1869
Apr. 20, 1962
Rudolph Schiller
Apr. 25, 1924


Next: Daniel Cave: First Doctor of Dentistry, San Diego, California, 1846-1936