Editor's Note: Among the greatest historians of the Jews of the American West was the late Norton B. Stern, whose papers are now the property of Western States Jewish History, the quarterly publication for which he wrote. In the current issue, pictured at right, are a collection of articles that Stern wrote about "outlying areas" of California—meaning cities and towns outside Los Angeles and San Francsico. In this issue are six articles dealing with the Jews of San Diego County, all of which San Diego Jewish World has obtained permission to reprint.


Report of an interview with
Mr. Sol Stone:
4026 Eagle Street,
San Diego, California,
December 23, 1967
Mr. Sol Stone was born at Warsaw, Poland on April 13, 1873. He came to the United States, landing in New York, in 1892. Then he joined his brothers who were in Cleveland. There he engaged in peddling for about six months. Later he spent a year to a year-and a-half in St. Louis, and some time at Buffalo, New York.
Mr. Stone's original name was Stotsky, which he changed to Stone when he arrived in Cleveland. In 1893 he married a distant cousin, who was then residing in Chicago. She was nee Pauline Goldstein and was about the same age as Mr. Stone. She died about three years ago.
During part of his stay in Cleveland, Sol Stone attended night school. He retained a definite accent, in spite of his long residence in the United States.
In 1910, Sol Stone and his family arrived in San Diego. His five children had all been born prior to that year. They were: Harold, now deceased; Lillian, who married a man named Williamson, and who is now deceased; Isabel, who married Ben Barron, and who now lives in San Diego; Arthur Stone, a resident of San Diego; and Dr. Robert M. Stone, a dentist, who lives in San Diego.
Stone had a sister in San Diego, which is what originally attracted him to that city. When he arrived, he opened a men's clothing store called the New York Clothing Store. He also operated a clothing store at Calexico in Imperial County for a time. He retired from business about twelve years ago and the firm was taken over by his oldest son Harold, who subsequently passed away.
Sol Stone became a naturalized citizen of the United States prior to his arrival in California.
Shortly after his arrival in San Diego, Stone was contacted by Samuel I. Fox, who brought him into Temple Beth Israel. Stone also soon joined the Lasker B'nai B'rith Lodge. The interviewee was full of praise for Fox, expressing the thought that he was a wonderful person, a fine Jew, a great leader, and that there will never be another Samuel I. Fox .
Stone was involved in running the San Diego Jewish Cemetery for a number of years. He was very active in the affairs of Temple Beth Israel and was an honorary Life Director. He was also an honorary Life Member of B'nai B'rith.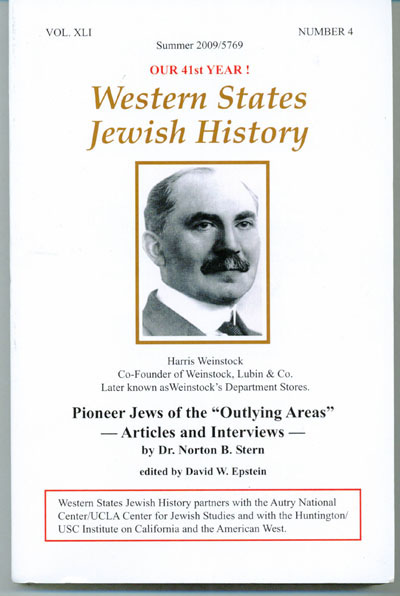 In 1933, in response to the situation in Europe and because of the refugee problem and the needs which this raised, the United Jewish Fund of San Diego was founded. Stone was one of the more important of the founders and became the Executive Director. This position he held for 13 years, until 1946. In that year a testimonial banquet was held for him, honoring him for his years of devoted service to the Jewish community.
Stone was also one of the founders of the Hebrew Home for the Aged of San Diego.

A son of Sol Stone, Dr. Robert M. Stone, served as a President of Temple Beth Israel. David Stotsky, an insurance broker in San Diego, is a nephew, who is a possible source of family and community history.
Stone was well-acquainted with the old pioneers of San Diego of Jewish background. In addition to Fox, mentioned above, he knew Adolph and Simon Levi, Jacob Weinberger, the Schillers, Pincus Blochman, and the Klaubers. Concerning the latter, Stone was always able to get a donation from them for the Welfare Fund, even though they did not participate in any Jewish affairs of community activities.
As expected because of his age of over 94.5 years, Sol Stone's memory was failing, and it was difficult to get specifics from him. Also, he was pleasantly noncommittal on any individuals he was asked about. It was the impression of the interviewer that he by nature would not utter any critical or analytical statement about those he knew and had worked with.
Mr. Stone passed away at 11:15 P.M. on the day of the interview. The interviewer had left him about 4:45, and his daughter Isabel had arrived to see him at 5:00 P.M. He was in excellent spirits through the interview, joking and laughing, and seemingly strong and vigorous.
The notice on page F-5 on December, 25, 1967 in the San Diego Union mentioned that he left 3 children, 6 grandchildren, 8 great-grandchildren, and 2 great-great grandchildren.