By Carol Davis



BURBANK, California—I was in Beautiful Downtown Burbank recently to see the Ted Dykstra, Richard Greenblatt Off Broadway hit 2 Pianos 4 Hands. The Los Angeles premiere is at the Colony Theatre, a honey of a theatre located next to the Burbank Town Center and parking is free. It was filled to capacity the Sunday I was there. This is their 35th season and my first time there. What a treat.
2 Pianos 4 Hands is the personal journey (billed as a fictionalized biography) experienced by both the younger Ted and Richard although they didn't even know each other as kids growing up. In fact the only three things they had in common were that they both came from Canada, they both took piano lessons, starting at around age seven, sometimes even sharing the same piano teacher, and they both had musical ambitions well beyond their reach of playing in Carnegie Hall.
Their stories (often leaving us with a chuckle or two) weave and intertwine like a tapestry up until and even after they meet, as they each recall their experiences growing up in households where their fathers become the dominant figures in all things having to do with their lessons while at home deferring only to their teachers when they enter the conservatory to continue their training. What it all added up to was "you practice for an hour and you'll be like everyone else who plays the piano. You want to perform in Carnegie Hall? You practice for four hours a day. Forget hockey, baseball and anything else".
Greenblatt, whose parents were secular Jews as well as active Communists, was born in Montreal, Canada in 1953. Dykstra, also a Canadian, born in Toronto has composed music across the country and has also directed productions in Toronto (Tuesdays With Morrie at the Harold Green Jewish Theatre Company). He is heralded as a composer, actor, writer, director, and producer. He is co-writer of 2 Pianos 4 Hands along with Greenblatt.

The show's stars, Roy Abramsohn as Richard and Jeffrey Rockwell as Ted, are as well qualified as any to take on the responsibly of not just acting (and they play multiple characters) but of being talented musicians as well. Abramsohn is a graduate of Oberlin College and Conservatory of Music where, "for the last two years he almost exclusively spent his time in the theatre, much to the dismay of his piano teacher." Jeffrey Rockwell began his formal piano training at age nine and ended in his twenties having done a stint at Juilliard as a drama student. While there he soloed with orchestras ranging from Mozart concertos to the Rhapsody in Blue.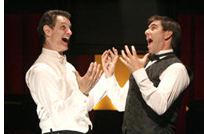 There's no denying that life imitating art imitating art imitating life is at work here with these two talented musicians and performers Jeffrey Rockwell (at left) and Roy Abramsohn playing two talented musicians and performers live in front of a live audience. In fact when I entered the theatre and noticed just two baby grand's on the stage, the first thought that entered my mind was where the music was going to be coming from. It took about a nano second after they both adjusted their tails and piano benches, sat down and both started playing Bach's Concerto in D minor, that I knew they were for real.
Throughout the entire production, which included one intermission, each of the actors played the piano while telling his own story, each becoming either parents or teachers or their younger selves and even as they grew older and circumstances in their lives changed. That said, no less that twenty or so pieces or parts of pieces from J.S.Bach to Hoagy Carmichael to Mozart to Chopin to Beethoven to Grieg to Liszt to Schubert to Lorenz Hart to and on and on filled in the gaps of their progress as students and as possible concert pianists.
In the end both changed course, Richard, as a Jazz musician playing in little venues or bars and Ted turned to classical. That neither gained recognition in those fields might have been b'shert. Just look at their successes now.
It was fascinating to hear the stories, which were entertaining and funny, but in between you could close your eyes and just listen to the playing, which was lovely. It takes a talented actor whose gifts include not only acting but also enough formal musical training to pull something like this off.
I can't ever forget my taking violin lessons as a girl in grammar school. Now I know the key to my never making it big; I never practiced long enough, but then again, I didn't have a possessed parent looking over my shoulder making sure that I was. While neither Greenblatt or Dykstra fulfilled their dreams of becoming concert pianists, surely no one can deny that they made it big time, Carnegie Hall or not.
Director Tom Frey's end result musical and comedy fit the bill for these two talents while Jeremy Pivnick's lighting was subtle and Alex Calle's simple set of two pianos in the foreground with restrained lighted frames hanging in the background never distracted.
The play closes on the 26th of this month.
For more information on the Colony Theatre and its upcoming seasonm, check www.ColonyTheatre.org
Davis is a freelance writer based in San Diego. She may be contacted at davisc@sandiegojewishworld.com