Classified
Southwestern Jewish Press July 24, 1953 Page 2

Room For Rent—In lovely home. Cooking privileges. ½ blk. to bus. Call R-6586 before noon or after 6 p.m.

Calendar
Southwestern Jewish Press July 24, 1953 Page 2

July
July 26th—B.J. Men's Club—Fun Nite—Beth Jacob Center — 8:00 p.m.

August
2nd—Jewish Labor com.—Picnic—Pepper Grove—12 noon.
16th—City of Hope—Anniversary Banquet—El Cortez Hotel—6:00 p.m.


Deceased (Mrs. Gertrude Aved)
Southwestern Jewish Press July 24, 1953 Page 4

Mrs. Gertrude Aved, 74, passed away on July 14. Mrs. Aved has lived in San Diego for the past two years, since she came here from Minneapolis. She was a member of the Tifereth Israel synagogue. Services were conducted by Rabbi Morton J. Cohn at the Lewis Colonial Mortuary on July 16. Internment was at the Home of Peace Cemetery.

Survivors include two sons and daughter of San Diego, Mrs. L. M. Sosna, and Ruben and Harold Aved; and two sons in Minneapolis, Al and Leo Ave; and nine grandchildren.

Fun Nite Set For Sunday, July 26
Southwestern Jewish Press July 24, 1953 Page 3

Joseph J. Kaplan and Julius Penn, co-chairmen, announce the Third Annual Fun Night of Beth Jacob Men's club will be held this Sunday, July 26th at 8:00 p.m. in Beth Jacob Center. A donation of $1.00 includes an opportunity to be the possessor of a $100.00 U.S. Defense Bond or a valuable portable radio.

As in the past the Men's club Promises an evening of gayety and excitement. Mr. Kaplan and Mr. Penn have gone "all out" to see that everyone attending this year's event will be kept entertained.

Refreshments will be served throughout the evening as well as cooling drinks.

All proceeds from this event will be directed toward the general treasury of the organization which is actively engaged in furthering progress of Beth Jacob Congregation. Mr. Bernard Godes, President, issues a cordial invitation to all to attend.

Local Vets to Attend
Bakersfield Meeting
Southwestern Jewish Press July 24, 1953 Page 4

Stanley Yukon, commander of San Diego Post 185, will lead a delegation consisting of Sam Rose, Ben Snyder, J. David Brooks and William Mintz to the Department of California executive meeting to be held at Bakersfield sometime in August.

American Legion County Council commander Robert B. James has appointed J. David Brooks as his Adjutant during his term of office.

Post and Auxiliary will meet August 3 at the War Memorial Bldg., Balboa Park. No other meeting scheduled during August.


Community Center
Teen-Age News
Southwestern Jewish Press July 24, 1953 Page 4

Since there have been big turnouts on Thursday nights, a few of the teen-agers have suggested having similar affairs on Monday nights. Last Monday quite a few kids were seen having a swell time dancing, playing ping-pong and watching a movie. Everyone of high school or college age is invited to come and have a real crazy time from 7:30 to 10:30 every Monday night for the duration of the summer.
Double Talk
Southwestern Jewish Press July 24, 1953 Page 5
By Janet and Susan Solof

Have there been parties—The answer is yes. And here's the news. Right off the press.

Yep, that's what it was. A bundle of fun packed all into one swell party givey by Georgette Lesser. Untying the package of fun were Moe Barancik, Charlene Solomon, Stan Camiel, Janet Solof, Gary Breitbard, Barbara Kahn, Ed Ruskin, Gary Cantor and Sharlene Stone. Instead of receiving birthday presents, each one donated to the City of Hope. Nice going Georgette, and best of luck.

Seen twirling in their lovely formals at the San Diego Club "Rhapsody in Blue" formal were Janet Solof 'n Stan Camiel, Sharlene Stone 'n Vic Lovell, Diane Fogelman 'n Alan Friedman, Susan Solof 'n Arthur Pogrell, Eleanor Cohn 'n David Roismamn and Geraldine DeNunzio 'n Barry Goldman. "It was fabulous" said all the kids.

Go to the top of right column

Leave your comfy bed behind, wipe the sleep out of your eyes and grab your bathrobe said the B'nai B'rith Women as they rang the doorbells at 8:00 a.m. (middle of the night on Saturday morning) of all the BBG members for a surprise

"Come as you are" breakfast. The bagel and lox woke everybody up and it was fun. (P.S. Now we know how all the gals look in the A.M.)

Congrats to the newly elected officers of T.Y.L. They are: President, Al Leener; V.P. Joyce Addleson; Rec. Sec., Jane Cohn, Corr. Sec. Natalie Veitzer, Donna Godes; Treas., Warren Glocco. Lots of luck and we are looking for big things next year.

Estelle Berwin is having a wonderful vacation in San Francisco.
"Dig that fun" at Eleanor Cohn's crazy Barbecue party. Digging deep were Jack Sharpe, Susie Hutler, Linda Zuckerman, Morton Cohn Jr., Susan Solof, Jerry Mendell, Dianne Fogelman, Allan Friedman, Sonyia Weitzman, Marjorie Lowitz., Neil Kleinman, David Reissman, Buddy Kader, Elaine Brandenberg, and Andy Leeds.

Paul Levine really celebrated his 7th birthday with a fabulous party for his friends. Clutching their space patrol men and yo-yo's were Mary Lynne and Howard Slayen, Bobby and Sherry Quint, Stevie Horrow, Shelley, Fay and Darreld Sarfan, Sheila Smith, Lynn Binder, John Ruden, Billy Ruben, Rochelle and Ronda Brand, Linda and Bobby Davis, Marc Breier, Marc Solomon, Harvey Smith, and Richie Einstein.

Attention all fun lovers: Don't miss the Y.P.L.'s "Aloha Leap." When: Sunday, July 26. Time: 6:00 p.m. (dinner). Dress: Hawaiian (skirts and blouses and lei). Dance to authentic Hawaiian music.

Expect to hear from ya—W.5-0679.

Jewish Labor Committee
Annual Picnic and Bazaar
Southwestern Jewish Press July 24, 1953 Page 4

Sunday, August 2nd, at Pepper Grove in Balboa Park starting at 12 o'clock noon will be the Jewish Labor Committee Annual Picnic and Bazaar. This year more than any other year our committees are making the greatest effort to make this affair a day of joy and lots of fun. A variety of home-cooked foods will be served, consisting of baked and Gefilte Fish, Borsht, Salads, and many other appropriate dishes for the hot summer weather.

The bazaar will have a large stock of new merchandise donated by our generous San Diego merchants and will be sold at bargain prices. A $25.00 U.D. Defense Savings Bond will be given away to the lucky ticket holder. This occasion gives a wonderful opportunity for the whole family to relax and enjoy a pleasant day for a worthy cause.

Come early and bring your friends!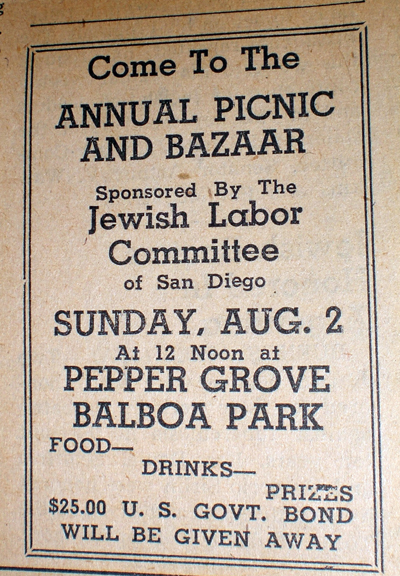 Camp Whispering Pines
Has Few Vacancies
Southwestern Jewish Press July 24, 1953 Page 4

Camp Whispering Pines at Julian, California last week opened its first successful session with a registration of 35 children.

Directors Al Hutler and Maxwell Kaufman along with a staff of qualified and experienced counselors have determined to give this first group of campers a unique experience in group living.

There will be a few vacancies for the final periods, beginning July 27, Aug. 3, and ending with Aug. 10. Those who have not registered as yet or have not sent their application in with a deposit are urged to do so immediately. Parents who have not paid the balance on their accounts are asked to call the office and speak to Berenice Soule, M-8-4353, our camp registrar. Mr. Kaufman will be in town every week and can be reached at the above telephone number.