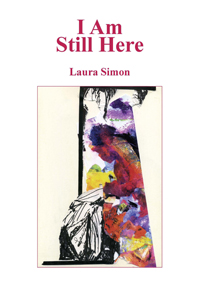 Editor's Note: Today San Diego Jewish World continues the-weekly serialization of I'm Still Here by Laura Simon, a San Diego resident who is still going strong at 103. She wrote this book to mark her 100th birthday.

We will maintain a list of links to the installments of her story on Laura Simon's archive page, which can be accessed any day of the week through the "authors" pulldown tab below our masthead. Laura, who once painted canvases in vivid colors, today is legally blind, so she is unable to read e-mail. However, she says anyone who wishes to contact her may do so through the e-mail of her son, New York playwright Mayo Simon at mayosimon@aol.com The book may be purchased via its publisher's website, www.montezumapublishing.com or via Amazon or Barnes & Noble's websites.

Link to previous chapters

______________________________________

By Laura Simon



Courtship

At sixteen and a half, already elevated to Paramount Pictures, Famous Players Lasky Corporation on South Wabash Avenue, as a secretary, making out contracts with film-exhibitors, I
was grown-up enough to meet Mannie.

The match-making took effect, my mother already knowing that he was in an accounting school, I holding my head up one step away from the movies. That made me feel like somebody, and briefly before that working for Becker Bros -- a skin-house for beaver and mink coats -- across the street of the county jail -- knowing all about the Loeb and Leopold case. I saw them walking into City Hall with their attorney, the famous Clarence Darrow.

I was discussing the murder with the typist next to me, when the boss looked over her shoulder. "How dare you," she said, "look down into my bosom," and she got fired right there and
then.

I was the center of worldly knowledge, not stopping to come up for air, all about my job at Paramount Pictures and how I got it by simply saying Northwestern on the form, leaving off
Business College.

During Prohibition I took film exhibitors into the little theater behind the office, Balaban and Katz, to see the first rate movies. They had to buy a block of forty inferior films if they wanted the better ones. I was meeting famous actors and actresses who stopped at our office when changing
trains in Chicago -- Richard Dix, Esther Ralston, Adolph Menjou with that twirling mustache.

Like a deflated balloon, my knowledge went up into thin air. There was a world out there I would never get to see. In my mind's eye I still didn't know anything, yet I kept up the pretense before Mannie and his mother.

To my surprise, Mannie brought me a Chanukah present -- ice-skates that fit, never mentioning the disappointment he must have felt when I turned down an earlier invitation to go
with him to see a play, Peter Weston, as I recall, simply because of my womanly importance. He already had the tickets without consulting me. How could he assume that I was available? So he took his brother instead.

We lived across the street from the newly flooded ice pond, a four-block-square of prairie, later the site of Roosevelt High School. Neither of us knew how to ice-skate. We slipped across the ice together, the experts ducking us for fear of falling, my long wool skirt helping to trip us, my wool stocking cap too big, kept slipping over my eyes, his jacket too small, too tight, his cap and ear muffs too skimpy to keep him warm. Soon we gave up skating to enjoy my mother's barley soup and to go
walking on Lawrence Avenue, the highlight of Albany Park, especially the lingerie windows artfully decorated with Christmas wreaths and the chemises in pinks and skin tones already cultivating a taste for the one-piece with lace tops and spaciously open bottoms, pretending not to notice the
luxurious underwear lest Mannie think me a scheming woman.

Then on to admire the men's furnishings, the felt hats and cuff-linked shirts and high-necked sweaters, heavy knitted, suitable for ice-skating. Millinery. Flowered hats already setting the fashion for the oncoming spring, a fish store coming up, the smell of carp, suckers and salmon detected a block away, the fish-man showing a worthwhile salmon to a customer, see? It's still shivering on the scale. Claiming it, cut into pieces, chop, chop on a wooden table, he dispenses pleasing chatter, just
as to my mother, "Oh, Mrs. Silverberg, she's your daughter? You look so young, I thought she's your sister." Wrapping the fish. Collecting his money, "When is she getting married? Invite me to the wedding. I'll take your order for fish."

We are already passing a shoe store window with enough galoshes to last a lifetime, a fruit store, the smells of a bakery -- cinnamon, nuts, raisins, rye bread 'good as New York.'

As I write this, memories long asleep awaken, Mannie and me at the drug store corner Kedzie, doctors' offices above, millinery next door, 'flowers and satin ribbons.' Spring already? A dress shop, the Purity delicatessen, the smells of hot corn beef, pickled beets too delicious to resist. Sensibly
suggesting we share a sandwich.

I do not know now, eighty years later, how to express those first moments of courtship, how the cycle of life works, how to renew those beginnings, a movie at the Terminal Theater growing into fifty years of marriage?

"How about bringing something home from the Piggly Wiggly?

Go to the top of next column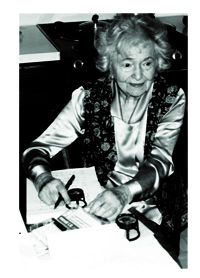 A new kind of grocery. Walk around with a cart and help yourself? Never!"

Will I go ice skating again with him? Considering his small talk only about Crane High School, and how he had to take forge and manual training to graduate this all-boys school, the instructor's idea of success: "Get married, raise a family, and build a house." And when he doesn't know how to hold a hammer? He had to put aside the building of tables at Crane, now having to hurry me past the Ravenswood "El" to get me home.

"I had a good time," I said.

Taking advantage of the great impression he must have made, kissing me and rushing off to catch the Kedzie streetcar to transfer at Division, end of line, to Western to walk a few blocks to Artesian, leaving me to myself.



The Chicago Theatre Opens

It seemed like ages, it was only two weeks when he called me again, mostly to talk about his responsibilities at home. His father was in the hospital now for one thing, and he had to help in the
store, trim fat off the corn beef, sell penny candy to a bunch of kids instead of cramming homework. He could hardly get away from Mrs. Blatz or Katz who wore a wig and sat herself down with a chocolate phosphate at the ice cream parlor table, "those son-of-a-bitches, my new in-laws,
fighting with our family" to give his mother a headache.

"And so, Laura," he finally said, "where would you like to go?" as if taking on another burden.

"Downtown," I said, "to the Chicago Theater, imported walls, murals from a chapel in a palace -- I mean palace in Versailles, somebody told me." Already seventeen and haven't been there
yet. "And what's Steuben glass I wonder, and hear the band on stage. You can't see the birds but you can hear them flying around. It's the organ -- a Wurlitzer, whatever that is…"

"The weather," he interrupted, "it could rain ice."

"We get off on State Street and we're there," I said, thinking, I'm not asking him to take me around the world. "Snow-slushy. We've had some spring days. No more icicles on trees."

"But the kids like bananas dipped in chocolate," moaning, adding more stuff to his burdens, giving me time to throw off a feeling of guilt. Is he trying to remind me of Peter Weston, that broken date?

"Chicago Theater is a work of art," still trying to prevail, "and I like to see all kinds of people if it's not too much trouble for you," I said, "too complicated."

"Oh, no," he said, "no, of course not."

I had enough feelings of guilt. I wanted to be free of all that. No money for myself, all going to my mother. Maybe to keep some for myself, perhaps.

"So where would you like to go?"

Being free I could go wherever I wanted, if I had the money that is -- suddenly my mother is poking me, advising me how to catch him.

"Invite him up for a cup of tea, after whenever. What's the matter with you?"

I thought I was doing a good job without her proddings, wanting me to take a chance and marry him. He was a nice person and could work out to be a good provider. My thoughts about chances were different. I didn't want to be tied to a railroad track, and wait for another cowboy to come riding on his white horse to rescue me, and again to be tied to the tracks. Again waiting for rescue? Like divorces? One after another?
Where I wanted to go circled about, and ended when I could hear his mother "Customers!"

The next time he called, two weeks later, was to tell me that his father had died, then the funeral, the shivah, the store, and he'll call again. "We'll have lots of dating to catch up," he said.
By the time he got rid of his many burdens, it was mid-February and I was invited to dinner at his mother's.

"I like this girl. I want to marry her."

I was the royal guest in the small off-room next to the kitchen, and a banquet was set before me. Florence Simon knew of my hearing problems, and the conversation, no matter which way it went, led to my doctoring, her hopes relying on the many tests that finally will clear my ears. "Say 'boy,' say 'Fred,' say 'winter,' say 'table,' so that I know how far down to whisper," the charts still showing the debris of Spanish Influenza. How he managed her approval I never did know, but there I was again in back of the store being courted by my lover by warming my bare feet in the oven next to his, where he reminded me of Crane Tech's formula for success -- have a wife, raise a family, and build a home -- so much to talk about.

He'd like a big family room, and an extra studio attached for
his mother, she is so worn out, and no plans yet for getting me home! A scramble for our shoes, my coat, your coat, galoshes, gloves, mufflers, hats, the package with the honey cakes and candy. We got our warm feet out to frozen pavements, Division Street to California to a Kedzie streetcar to
Lawrence, a long walk to my house, now he's reversing that same trip.