By Cantor Sheldon F. Merel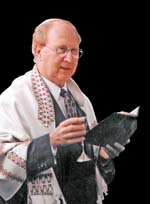 SAN DIEGO—In this column, we turn to Shnei Michtavim, (Two Letters) a tender exchange of letters between a mother in Jerusalem and her son in the Diaspora, sung by Cantor Jonathan Grant. The music is by Joel Engel (b. Russia 1868 - d. Palestine, 1927) and the text is by Avigdor Hemeiri (b. Russia 1890 –d. Israel, 1970). The attached audio file was recorded in concert March 9, 2008.
Cantor Grant, a baritone , is a native of Long Island, New York and since 1994 has served as Cantor for Temple Bat Yahm in Newport Beach, California, just after receiving investiture from Hebrew Union College - Jewish Institute of Religion. Prior to attending cantorial school, he served the historic Wilshire Boulevard Temple in Los Angeles as its first Cantorial Soloist (1986-1990). He was a Magna Cum Laude graduate of California State University at Northridge and studied voice with Natalie Limonick and renowned French baritone Martial Singher.

Cantor Grant's many musical credits include appearances with the Los Angeles Jewish Symphony, Opera Pacific, Deutsche Opera Berlin, Los Angeles Music Center Opera, Lake George Opera Festival, Eugene Opera and other regional companies.

He is a member of the American Conference of Cantors, and was chosen to open its 50th Anniversary Concert in New York City. Shnei Michtavim was included on the American Conference of Cantors at 50's commemorative CD. In addition to his cantorial duties, Cantor Grant is an active concert artist, and produces his own concert series at Temple Bat Yahm.
After my retirement from Congregation Beth Israel, (i.e. a busman's holiday) I had the pleasure of hearing Jonathan Grant conduct Holy Day services at Bat Yahm in Newport Beach. It was a treat to hear his glorious cantorial voice for the first time, and then, several years later to share a concert of popular music with him and Cantor Arlene Bernstein back at Congregation Beth Israel.

Jonathan is great talent and brings a rich and diverse background of music from opera, oratorio and Broadway to his congregation and community. I look forward to his first solo CD.
The text of Shnei Michtavim relates a tearful correspondence between a mother in the Diaspora and her son in Jerusalem. In just two stanzas, the poet confronts the feelings of an immigrant who is determined to stay in Israel despite the pain of being separated from family and homeland; feelings identifiable by immigrants of any time and place. The melody and accompaniment gracefully suit both the sadness and determination inherent in the following text.
On delicate paper as white as the dawn, came a letter from the Diaspora.
A mother is writing with tears in her eyes: "To my good son in Jerusalem: Your father is dead, your mother is sick. Come home, gentle son, we wait for you endlessly, from morning to evening. Come home for spring, gentle son."

On simple paper, as gray as ashes, a letter goes to the Diaspora. A pioneer writes with tears in his eyes, in 1924, in Jerusalem: "Forgive me, my sick mother. If you still love me, come hug me. I will be a wanderer no longer. I will never move from here. Never."

Merel is cantor emeritus of Congregation Beth Israel of San Diego. His email: merels@sandiegojewishworld.com