Herman Gadon, 85, business and management consultant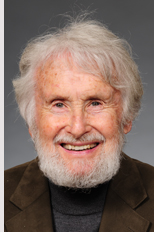 LA JOLLA, California—Herman Gadon (shown at right), born in Worcester, Massachusetts in 1924, passed away peacefully in his home, the White Sands of La Jolla (a retirement community) on August 8, 2009.
Known for his pioneering work in business and management, Gadon was graduated Summa Cum Laude from Dartmouth College in 1947 and got his Ph.D. in Economics from the Massachusetts Institute of Technology in 1953.
He served in the U.S. Navy for three years during World War II as a lieutenant (junior grade).
After an appointment to the Whittemore School of Business and Economics, University of New Hampshire in 1964, as one of the first four founding faculty, he was accredited as a member of the National Labor Panel of the American Arbitration Association and became a founding member of the Society of Professionals in Disputes Resolution (SPIDR). For the next sixteen years, until coming to San Diego in 1979, he served as an arbitrator and mediator for many private sector industrial and public sector disputes.
He was sent by Harvard Business School and M.I.T. to be a founding faculty member of IMEDE, International Management Development Institute in Lausanne, Switzerland, and a founding faculty member of business schools in Calcutta, Tehran, and Amsterdam.
Herman Gadon was on the faculty of the Graduate School of International Relations and Pacific Studies at the University of California, San Diego and Director of Executive Programs in the university's Division of Extension.
As a management consultant, his clients included companies in manufacturing, electronics, energy, healthcare, and pharmaceuticals among others.
Dr. Gadon introduced flexible working hours to the U.S., having done research in Europe and wrote the first article on it for the Harvard Business Review and a book, Alternative Work Schedules. He was the author or coauthor of numerous other professional articles and the books Effective Behavior in Organizations and Fitting In: How to Get a Good Start in Your New Job with his wife Natasha Josefowitz, Ph.D.
He served on many boards including the YMCA, United Fund, the Ecology of Work Conference, the Organizational Behavior Association, the UCSD Board of Overseers, and the Center for Organizational Effectiveness. He was also a member of Rotary Club 33 of San Diego.
He was gentle, compassionate and wise. He was loved, respected, and admired by all who knew him and will be missed by his wife, Dr. Natasha Josefowitz; children, Nicole Kelly, Dr. Margaret Gadon, and John Gadon; grandsons, Eliot and Nicholas Brown and Scott Kelly; and siblings, Irene Ozer, Harold Gadon, and Joe Gadon.


Go to top of right column

Leonard Kolker, 94, manufacturer

WYNDMOOR, Pennsylvania--Leonard Kolker, 94, died Wednesday, August 5, at Keystone Hospice here, and was buried at Roosevelt Memorial Park on Monday.
Kolker, who had been a partner with the manufacturing firm of Penn Handles, is survived by his children Merle of Philadelphia and Lionel (Cheryl) of San Diego, California; sisters Faye Levy of Del Rey Beach, Florida and Rebecca Sussman of La Mesa, California.

Kolker's three grandchildren—Danny, Jason and Matthew--
all were Bar Mitzvahed at Tifereth Israel Synagogue in San Diego. Two great-grandchildren also survive.
His son Lionel is a longtime San Diego resident, whose wife Cheryl is a teacher at San Diego Jewish Academy.
During World War II, Kolker worked for the Navy Yard in Philadelphia. His sister Rebecca recalls that he was responsible for reporting a German spy who lived across the street sending secrets over his radio in the cellar to the Germans.


Weizmann Institute colleague
remembers Nechemia Meyers

Editor, San Diego Jewish World

Never mind how astonished Nechemia Meyers would be, perhaps even a tad embarrassed, by these few words; the fact remains that for me, more than anything else, he will always be the prototype of the kind of immigrant from the West that this country so badly needs. I knew him for no less than 60 years and we worked together closely—if at times turbulently—at the Weizmann Institute for 30 of these so I am what might be considered an expert witness.

Nechemia's professional accomplishments are a matter of record. They include not only his very effective directorship of the Institute's far-flung public relations, his long-term impact on Israel's institutional PR in general and, perhaps above all, his meticulously-tailored syndicated columns that, for decades, appeared regularly throughout the US, turning him arguably into one of that continent's most widely read interpreters of life as it is experienced by Israelis in Israel.

In no way less important—at least for me – were his considerable personal achievements: his integrity, the modesty with which he lived and worked never demanding or expecting either fanfare nor applause, his sense of what was "fair" and what not, (a.k.a. social conscience) and the family he and Adeerah raised: three children, each a credit to them and, it must be said, also to this country.

Am I really writing about what amount to Nechemia's fundamentally Anglo-Saxon attitudes? Yes, I suppose I am. I only wish that there were many more like him brave and imaginative enough to take the plunge and join us in what is still a great adventure.

Till they come, in the long interim, it is no mere graveside cliché to say that Nechemia will be greatly missed.

Rinna Samuel
Rehovot

Jewish community members seeking to publish obituaries for farmily members may do so by contacting editor Don Harrison at editor@sandiegojewishworld.com or (619) 265 0808.There is no charge for this service.