By Cantor Sheldon F. Merel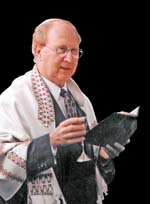 SAN DIEGO—Ben Steinberg chose three verses, both Hebrew and English from the 3rd chapter of the Book of Ecclesiastes, and arranged it for voice and piano. The biblical Ecclesiases is filled with maxims and advice how to properly conduct one's life, and perspectives on life and death.

I have sung La Kol Z'man many times during the Holy Days and in concert, and In 1992 was able to commission Ben to arrange it for tenor, chorus and symphony orchestra for an interfaith concert at the Copley Symphony Hall in San Diego. The text is quite popular and several folk songs have used its theme, but none has captured it as well as Steinberg did.

1To everything there is a season, and a time to every purpose under the heaven:
2A time to be born, and a time to die; a time to plant, and a time to pluck up that which is planted;
3A time to kill, and a time to heal; a time to break down, and a time to build up;
4A time to weep, and a time to laugh; a time to mourn, and a time to dance;
5A time to cast away stones, and a time to gather stones together; a time to embrace, and a time to refrain from embracing;
6A time to get, and a time to lose; a time to keep, and a time to cast away;
7A time to rend, and a time to sew; a time to keep silence, and a time to speak;
8A time to love, and a time to hate; a time of war, and a time of peace.

Go to the top of right column



The book of Ecclesiastes is traditionally identified with King Solomon, and contains 12 chapters of maxims and wise observations on the purpose of life.

It is one of the Five Megillot in the third division of the Bible, and is recited in the synagogue on the eighth day of Sukkot Festival. Its author, Kohelet, counsels patience, endurance, discretion, and reminds us that history and nature move in a circle, an ever-revolving and recurring cycle.

Here are a few other maxims, words to live by, from the Book of Ecclesiastes: How are we to gain happiness? Shall we follow wisdom or unrestrained pleasure? Although human existence may be monotonous, there is nothing new in the world. We should alternate wholesome work with reasonable pleasures of life while we can, since there is no telling when the end will come.

A lover of money will never be satisfied with his money. Sweet is the sleep of the worker, whether he eats much or little. A good name is better than precious perfume. Rejoice in your youth, young man. Remove all worries from your mind, and keep your body free from pain.

The book of Ecclesiastes concludes that it is wise to make use of what power we have for our own comfort, and not to oppress others with it. If men control their vanity of worldly honour and power and do not condemn oppression and persecution of their fellow men, they will answer to God.
A full biography of Ben Steinberg and a listing of his diverse musical contributions to the world of classical and Jewish Music may be found in a recent column which featured his Shalom Rav.

Merel is cantor emeritus of Congregation Beth Israel of San Diego. His email: merels@sandiegojewishworld.com