A change of heart saves hospital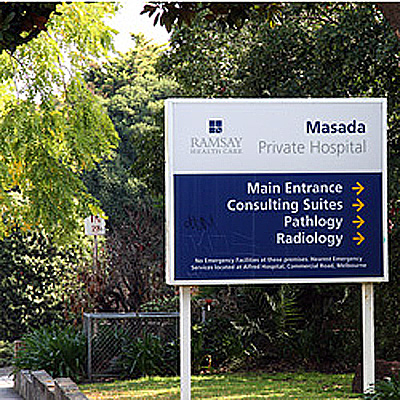 MELBOURNE, Sept. 7- A proposal to convert Masada Private Hospital in Melbourne to a maternity facility and oust around 20 doctors specialising in other medical services has been dropped, after strong community expressions of support for the current facility
The bid to end Masada's unofficial role as a major general hospital for the local Jewish community has been scrapped, after an emergency meeting this week between senior executives of the hospital's owners, Ramsay Health Care, and around 20 doctors, calling themselves the Save Masada Group.
Ear, nose and throat specialist Dr Michael Gordon, who has been at Masada for 15 years, said publicity in the local press last month, "played a major role in bringing about a resolution."
A copy of that week's paper was spotted in the CEO's office, and Masada executives were becoming increasingly concerned at the impact the changes would have on Jewish patients and their families.
The crisis was sparked when a group of obstetricians and anaesthetists at Masada proposed to Ramsay that the hospital be converted into a maternity facility using rostered obstetricians, based on a Queensland model.
Services that would have been lost to the local community included general surgery, haematology, orthopaedics, paediatrics, respiratory, ear, nose and throat, and dermatology.
A Jewish community campaign gathered pace, with Mizrachi's Rabbi Yaacov Sprung calling for the changes to be scrapped in a Shabbat sermon. The rabbi later phoned Masada CEO Petra Snelleman and Ramsay's Victorian senior operations manager Bronte Kumm, asking for the proposal to be urgently reviewed.
Dr Simon Braham, who led the Save Masada Group, described the result as "a win for everyone - the doctors, the hospital and our patients. I want to give credit to Ramsay for hearing our concerns, and to the media for alerting our patients to what could have been a serious problem".
A spokesperson for Ramsay Health Care confirmed that the group is likely to expand and redevelop its maternity facility but that existing services will now not be moved to other hospitals in the Ramsay group. The revised plan will involve a major capital investment in redeveloping Masada.

Previously one doctor had slammed the new obstetrics concept, claiming rostered obstetricians would not provide any additional help with deliveries because every birth at the hospital already required an attending obstetrician.
The change would merely ease the burden on obstetricians by ending night call-outs, he said, and would deprive patients who wanted their own obstetrician at a delivery.

The change would have meant an end to Shabbat-observant Jews walking to Masada to visit general patients.
Local MP Michael Danby said he supported Masada remaining as it is. A change would have cause "a severe loss of access to a variety of health specialists particularly for senior members of the community," he said.
While not a Jewish hospital, a substantial minority of patients at Masada come from within the Jewish community living in the surrounding suburbs of Caulfield and East St Kilda.

Changing rabbinic role leading
to new halakhic interpretations
By Yossi Aron
MELBOURNE, Sept. 4- A very important precedent was created even before the London Beth Din convened to hear the dispute between Rabbi Moshe Gutnick and Mizrachi Synagogue. It occurred when the secular courts ruled that a rabbinic contract matter should go to religious arbitration.
Rabbinic contracts are subject to both halacha and secular law. Note however, that in many contractual instances the Shulchan Aruch refers to minhag hamakom – the custom of the place, which means that locally applicable secular laws can often be applied within halachic frameworks.
The lesson from this dispute is that both parties to any potential rabbinical employment contract need to seek the appropriate advice before entering into any agreement. It may indeed be that just as rabbis are starting to insist on mandatory prenuptial agreements before officiating at a wedding, they themselves may need to sign a similar agreement before taking over a congregation, with clear-cut severance guidelines.
Also relevant, however, is that the role of a rabbi has changed irrevocably. Older appointments of a "Rov" were as posek and teacher and appointments were made largely on reputation. While this may still be the case in some very Orthodox settings, there is a different situation in most contemporary mainstream congregations.
Today, rabbinic job descriptions include pastoral, functionary, counselling and a host of other ceremonial roles. The question arising therefore is: Even from a purely halachic perspective does the role of a rabbi today equate to that of the Rov of old to the extent that employment arrangements remain the same?
Are the lifetime arrangements involving the chazakah concept – of the continuing right to a position – still really relevant in regard to these very different positions?
One thing is certain. A more professional approach to all rabbinic contractual arrangements with consideration given to all contingencies is now essential for all parties to such matters.

Yossi Aron is religious affairs editor for the Jewish press in Melbourne


Civic recognition for two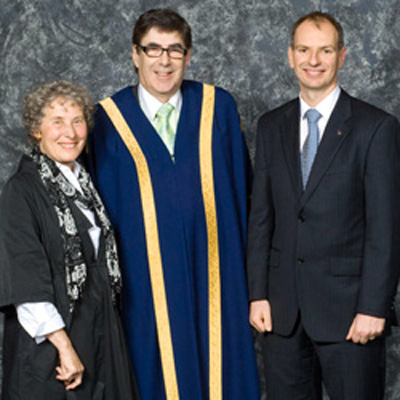 MELBOURNE, Sept. 4- Two members the Jewish community were recognised in the 2009 City of Stonnington Citizen of the Year Awards.
Presented at Malvern Town Hall recently, Eva de Jong-Duldig received an award for outstanding service to the community in the area of arts and culture and David Southwick for outstanding service to the community in the area of youth.
Director of public museum and art gallery the Duldig Studio, de Jong-Duldig works to promote art and culture in the local community, as well as to regional, national and international audiences.
"I am thrilled and proud," de Jong-Duldig said "It was very unexpected because I didn't even know I had been nominated. I received a call from the mayor congratulating me on my nominations and then informing me that I had won."
De Jong-Duldig aid she was pleased by the award because it reflects positively on the museum and the work done by the people at the museum.
Southwick, who was preselected as Liberal member for Caulfield last month, is president of the Adroch Youth Foundation with which he has been involved for almost two decades, as well being involvement with Try Youth and Community Services for over a decade.
"I felt very proud to receive this award and have my family attend the ceremony," Southwick stated. He thanked his father, who has been in ill health, for instilling in him the values of community service.
Southwick also said he plans "to continue and further this passion through politics."(
The Citizen of the Year Awards were presented in seven categories by the Mayor of Stonnington, Councillor Claude Ullin, at at a gala event.


Torah to be dedicated
to car crash victims

SYDNEY, Sept 7- The Tzemach Tzedek Community Centre will receive a new Torah scroll in commemoration of the lives of Sydney Chassidic couple Zev and Rochel Simons.
In a day of dedication and celebration, a new Sefer Torah will be ceremonially completed and inducted for use by the centre on September 13, in memory of the Simons. The parents of 10 were killed in a car accident on December 20, 2007, on the Hume Highway, on the way to a wedding in Melbourne.
"They were, and always will be, role models for our community," said Tzemach Tzedek's Rabbi Yossi Braun.
"The positive qualities that they have shown us will remain with us forever and will only improve over time."
As the Simons were former members of the South Head Synagogue, the dedication will begin at that synagogue, where the last 10 letters of the Sefer Torah will be auctioned off, and then completed.
Following its completion, the Torah will then be carried under a wedding canopy by a procession to its home at the Tzemach Tzedek Community Centre in Penkivil Street, Bondi.
"They dedicated their lives to the community, and with this Sefer Torah, they will continue to be a part of the community," said Rabbi Braun.
The Simons, who are survived by their 10 children and many grandchildren, were both involved in the Sydney Jewish community. Zev was the former head of primary and a Jewish studies at Kesser Torah College, while Rochel was a preschool teacher as well as an assistant at the woman's mikvah.
"Many thousands of people have been influenced [and] many children have had the opportunity to learn and grow through their relationships with the Simons," said Rabbi Braun.
Two of the Simons' daughters will be in Sydney to attend the dedication.


Islamic radical on track
to live in Australia
CANBERRA, Sept. 7 - Shadow Minister for Immigration Sharman Stone has asked immigration officials to reconsider their recommendation that an Egyptian with ties to the Muslim Brotherhood be allowed entry to Australia.
The Refugee Review Tribunal recommended a protection visa for the man – described as an "active supporter" of the radical Islamic group, Muslim Brotherhood – after he successfully
argued he would face persecution for his political beliefs if forced to return to Egypt.

The group, which has called for the destruction of Israel, is banned in several countries, including Egypt. Other splinter members of the group include Hamas in Gaza and the Islamic Action Front in Jordan.
The group, however, is not listed as a terrorist organisation by the Australian government.
The Department of Immigration and Citizenship had initially refused the applicant a visa, but the tribunal overruled the decision.

"The tribunal is of the view that the applicant's decision to abandon ship, insistence on his 'rights' not to return to Egypt for medical treatment, and behaviour towards his captain, if combined with his support for the Muslim Brotherhood, his low-level political activities and past expression of anti-government political views, would generate a profile that could attract the adverse attention of the authorities and focus their attention on his sympathies for the brotherhood," the tribunal said in its ruling.
"On this basis, the tribunal is of the opinion that there is a real chance that this could place the applicant at risk of facing arrest, detention and ill-treatment."
Shadow Immigration Minister Dr Sharman Stone said she has written to Immigration Minister Senator Chris Evans asking for the decision to be overturned.

"This person should be sent home to Egypt," she said. "Here we have a situation where an individual is using his membership of the Muslim Brotherhood to seek asylum. The tribunal found there was no evidence of him ever having being threatened or harmed in Egypt, yet he is using his membership of the group to claim asylum and hence permanent residency in Australia."
Minister Evans' spokesman stressed, however, that the applicant had not yet been granted a protection visa. "He's currently undergoing rigorous security checks before a visa can be granted. Should there be an adverse security assessment, the immigration department can't grant him a visa."
Jeremy Jones, director of international affairs with the Australia-Israel Jewish Affairs Council, said he wasn't familiar enough with the case to comment specifically. But he voiced concern over the group's activities, saying it was fundamentally opposed to liberal democracy and pluralism.
"The Muslim Brotherhood has many different manifestations in many different countries, but overall it's been banned in many countries for many sound reasons. They're dedicated to replacing existing regimes with theirs. You would not think that Australia would want to be a haven for people advocating extremist political doctrine which, in this case, is masquerading as a religious doctrine."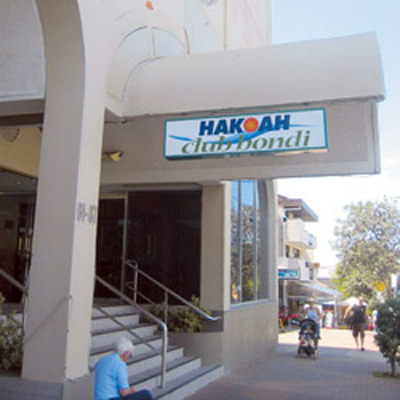 SYDNEY, Sept. 4— Hakoah Club Bondi confirmed this week that it will close the doors of its Hall Street premises when its lease runs out in November ­ marking the end of an era for the club, which has occupied the site for the last 35 years.
But despite a failed search to find a new home in time, Hakoah president Phil Filler stressed the closure doesn't signal the end of the club.
"People misinterpret that Hakoah's closing down. It's a misleading comment," Filler said. "The Hall Street premises' doors are closing. We told our members all along that there's a date – November 4. We've never deviated from that."
The search continues to find a new venue elsewhere in the eastern suburbs, he added. "Hakoah will live on," Filler said. "As we've always said, we continue to look and strive to find alternate premises."
In July, Hakoah failed to secure a deal to purchase White City Tennis Club in Paddington after the NSW Appeal Court ruled against tennis great John Alexander, who argued he owned the historic club.
It is understood that had the court ruled in favour of Alexander, he in turn would have sold the property to Hakoah for more than $12 million.
The failed bid comes at a time when Hakoah is reportedly losing money every week and eating into the $18 million windfall it received after selling the property to the Toga Group in July 2007.
Regardless, Filler said the club's board is committed to securing a better future for the club. A number of other venue options are currently being considered, he said, but declined to elaborate.
"At the moment, we're not in a position to advise either our members, or the Jewish community in general," said Filler.
With Hakoah's future uncertain, however, a group of loyal members aren't ready to bid farewell to the Hall Street premises without some fanfare. A group is organising a dance party billed as the "Final Big Bash" at Hakoah on Saturday, September 12. Entertainment will include stage performers Super Supremes and a mystery guest disc jockey.
"We're trying to get as many people to come, remember the old days and appreciate what the club was about," said organiser and long-term Deb Spicer, 52. "It's a shame we're going to lose the [Hall Street] club. They're still talking about finding another venue, but it's very hard to find something in the eastern suburbs at the moment."
Others remained hopeful. "We'd love them to find another venue. It would serve the community well," said Maccabi Rugby club president David Greenstein, who recently celebrated the Blues' Meldrum Cup win at the club with the team.
"The Jewish family needs something of that nature, not just for the older generation but for the youngsters as well. It's a sort of cultural and social hub for the community."

Shabbat decision
upsets tennis club
MELBOURNE, Sept. 4--The Victorian Maccabi Tennis Club has been forced to forfeit its grand final, after Tennis Victoria refused to accommodate the team's observant players by moving the Saturday fixture to a different day.
The club, which has played all of its other matches this season on a Sunday, has launched an appeal with the Equal Opportunity Commission in a last-ditch attempt to have the decision overturned.
Maccabi's opponent in the final, East Burwood, originally agreed to move the grand final, but later said it was unable to play on a Sunday.
Maccabi then appealed to Tennis Victoria to intervene, but the roof body upheld the decision.
Sonia Slonim, Maccabi Tennis Club secretary and the mother of one of the team members, lodged the appeal with the Equal Opportunity Commission and said she was confident of a decision in her club's favour.
"[East Burwood] refused to change it and Tennis Victoria said there was nothing they could do. I said 'you're discriminating against us'. The Equal Opportunity Commission said we have a case," Slonim said.
"We're going to fight it because it's really not fair. It's not a Saturday competition; it's a Sunday competition. If you play all year on a Sunday, the final should be on a Sunday."
Tennis Victoria competition coordinator Chris Larkin stated that the grand final could not be moved because of scheduling conflicts that might arise.
But Larkin admitted Tennis Victoria had not yet contacted Maccabi's opponent to determine if an agreement could be reached.
"I haven't even consulted the opposition to whether they would play it at another time in the next couple of weeks … I'm certainly happy to do that," Larkin said.
"The difficulty is that you start to get precedents set, where you set it for one scenario and then you're opening up a precedent that everybody then can start choosing when they're available to play and when they're not available to play."
Maccabi Victoria president Miles Clemans said Tennis Victoria needs to be more flexible when it comes to accommodating the needs of religious groups.
"We'd like to point out to Tennis Victoria, as we have to other sporting associations, that they should accommodate the needs of diverse religions," Clemans said.
"There are other sporting associations that have accommodated our special needs and we ask that Tennis Victoria do the same."


Scientific proposal based
on Israeli template
MELBOURNE, Sept. 7 - Two members of Melbourne's Jewish community are part of a group that used an Israeli template to prepare a proposal that may shape a new government program to commercialise scientific research in Australia.
David Langsam, editor of the online Biotech Daily, and Alan Finkel, chancellor of Monash University, are two of the eight signatories to the proposal for the Commonwealth Commercialisation Institute (CCI) to be submitted by the Biotechnology and Related Industries Leadership (BRIL) group in the coming days.
Included in the 2009 Federal Budget and announced by Minister for Innovation, Industry, Science and Research Kim Carr in May, the CCI will deliver a "radical new approach" to commercialising the best Australian research.
As well as supporting commercialisation of research, the institute will support commercial entities and help take their research and ideas to the marketplace.
Langsam said the group's proposal borrowed heavily from a working commercialisation model with proven success – that of the Office of Chief Scientists of Israel.
Langsam said the CCI addresses a major worldwide problem in scientific communities: How to fund the process of converting scientific ideas into research, and research into marketable solutions.
"Let's say you and I come up with a great idea," Langsam said. "We can do it on the bench in your garage, or my garage, and then we think, 'All right, let's see if we can get our cousins, and our family, to put up a million dollars so we can build the first of the prototypes'."
That is the easy part, Langsam said. But when the prototype doesn't work and the problems are worked out "We need money to go further," Langsam added, "we need to raise five or 10 million dollars".
A government grant promotes the idea to the venture capitalists.
They say, "We'll put in more money and we'll make money out of this deal. And that's basically how it works," Langsam said.
The CCI that the BRIL consortium envisions would be a "one-stop shop" for matching grants, and other funding, with Australian scientists.
In addition to Langsam and Finkel, the signatories on the BRIL proposal are AusBiotech CEO Dr Anna Lavelle, Bio-Melbourne Network CEO Michelle Gallaher and chairman Dr John Raff, Research Australia's CEO Rebecca James and director of philanthropy Dr Noel Chambers, and Dr Joshua Funder of GBS Venture Partners.