| | | | | |
| --- | --- | --- | --- | --- |
| | Volume 3, Number 72 | | "There's a Jewish story everywhere" | |
Today's Postings:

Thursday, March 26, 2009

{Click on a link to jump to the corresponding story. Or, you may scroll leisurely through our report}


INTERNATIONAL

Did Israel's Labor party trade principles for portfolios? ... by Rabbi Dow Marmur in Jerusalem
Has עבודה (with an ayin), the Labor Party that was the main force in creating Israel and that has ruled it for most of its 60+ years, become אבודה (with an aleph), lost, hopeless, gone when it decided Tuesday night to join the Netanyahu government? Or has it manifested its own versatility and relevance by acting for the good of the country? READ MORE

The Jews Down Under... a roundup of Australian Jewish news by Garry Fabian in Melbourne

Mystery of the missing Megillah READ MORE

The courage to respond READ MORE

Economic downturn puts Rabbi's future in doubt READ MORE

Hadassah Australia launches Jerusalem medical conference READ MORE

Two years jail for Jewish community leader READ MORE

Father and son garner medals READ MORE

JUDAISM

Animated Torah study... An introduction to Vaykira, the Torah portion for the upcoming Shabbat SEE VIDEO

ARTS/ LEISURE

Author believes social reformer and pioneer feminist Ernestine Rose's achievements under-appreciated ... by Phoebe Steele Telser in Carlsbad, California
Paula Doress-Worters, an author and social activist, contends that 19th century reformer Ernestine Rose—who fought for women's rights, the abolition of slavery and for religious free thought—has not been sufficiently appreciated by historians of her era. READ MORE

Thursdays with the Songs of Hal Wingard
#11, Lesson Latinium LYRICS AND SONG
#186, The Pirate LYRICS AND SONG
#269, Hillary's Lament LYRICS AND SONG

Lynne Thrope: What's Good to Eat in San Diego?
When Brian Malarkey, renowned Executive Chef/Partner of The Oceanaire Seafood Room, agreed to be the auctioneer at Temple Emanu-El's community fundraiser, I knew the event would be an automatic, unparalleled success. READ MORE

ADVENTURES IN SAN DIEGO JEWISH HISTORY
November 28, 1952; Southwestern Jewish Press
New Citizens Feted At Joint Dinner—250 in Attendance READ MORE

University of Judaism Founder's Day Dinner READ MORE

Hebrew Home for the Aged READ MORE

Jewish War Veterans READ MORE

City of Hope Aux. READ MORE

Beth Jacob Sisterhood READ MORE

Daughters of Israel READ MORE


JEWISH INTERNET FAVORITES
We continue our examination of Jewish entertainers

Eli Wallach is an observer in a shootout between Clint Eastwood and Lee Van Cleef in "The Good, The Bad and The Ugly"VIEW VIDEO

Mike Wallace interviews Ayn Rand VIEW VIDEO

Phil Silvers in "The Con Man Episode" of Sergeant Bilko VIEW VIDEO


Go to top of right column

Sylvia Sidney in "Thirty Day Princess" with Cary Grant VIEW VIDEO


Bonus: Vanessa Hidary recites "Hebrew Mamita 'VIEW VIDEO

COMMUNITY WATCH/ ADVERTISERS NEWS

Soille Hebrew Day's First Grade Class 'Visits' Africa READ MORE




TODAY'S ADVERTISERS
A&B Gefilte Fish see coupon
America's Vacation Center
Anti-Defamation League
Balloon Utopia
Carol Ann Goldstein
Congregation Beth Israel
Jewish Family Service
Lawrence Family JCC
San Diego Community Colleges
San Diego Jewish Academy
San Diego Jewish Chamber
Seacrest Village Retirement Communities
Soille San Diego Hebrew Day School
Tifereth Israel Synagogue
United Jewish Federation
XLNC-1 Radio


STAFF BOX

Larry Gorfine, a regular contributor, sends this video of def poet Vanessa Hidary's Hebrew Mamita ripping into anti-Semitism. Some of the language is R-rated.




DEDICATIONS
Each day's issue may be dedicated by readers—or by the publisher—in other people's honor or memory. Past dedications may be found at the bottom of the index for the "Adventures in San Diego Jewish History" page.


NOTE
PLEASE HELP US POLICE THIS SITE: If you see anything on this site that obviously is not in keeping with our mission of providing Jewish news and commentary, please message us at editor@sandiegojewishworld.com, so that we can fix the probem. Unfortunately, large sites like ours can be subjected to tampering by outsiders. Thank you!


EMAIL HEADLINE SERVICE


SEARCH THIS SITE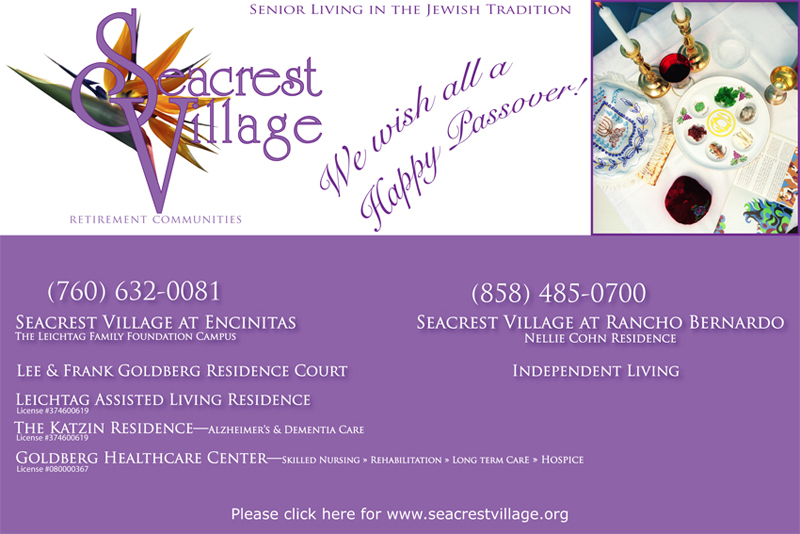 JERUSALEM—Has עבודה (with an ayin), the Labor Party that was the main force in creating Israel and that has ruled it for most of its 60+ years, become אבודה (with an aleph), lost, hopeless, gone when it decided Tuesday night to join the Netanyahu government? Or has it manifested its own versatility and relevance by acting for the good of the country?

58% of the party's central committee said that, for the sake of the economy and stability, and in the interest of peace with the Palestinians, it should accept Netanyahu's seemingly generous offer and make common cause with him. Because of his general undertakings and the ministerial positions that Labor members would have, we were told that the country will be saved from punitive economics and embarrassing politics.

Those who spoke in favor of joining, as well as those who opposed them, pleaded with logic and passion. Observers said that they haven't seen so much vitality in the Labor Party for years. Nevertheless, many find it difficult to accept the decision. For this is going to be a right-wing government with many concessions to Orthodox religious fundamentalists and radical political hotheads. It's not a place for social democrats.

How will the 13 Knesset votes of Labor neutralize the 65 (or a few less) votes of the others? Haven't the advocates of joining the coalition been blinded by their personal ambition and abandoned principles for portfolios? Only the future will tell. You don't have to be a natural pessimist like myself to have your doubts.

Netanyahu must be jubilant, despite some opposition within his own party. He'll now (a) have a comfortable majority in the Knesset (if the dissenting Labor members will vote with the others not to split their own party), (b) play out the right against the center in the cabinet and (c) give the impression to the world that his is a moderate team.

Ehud Barak, the leader of the Labor Party, is said to be a superb general and an accomplished pianist, but he has a very poor record as a politician. Avigdor Lieberman of Yisrael Beiteinu, on the other hand, is an extremely skilled political operator with a specific agenda. There's every reason to fear that Lieberman will outsmart Barak every time and often intimidate Netanyahu to secure his position as the really strong man of the new government. There may be truth in the rumor that Putin is Lieberman's role model.

In his recent blog Bernard Avishai, a keen observer of the Israeli political scene, has summed up Lieberman's political aims in four succinct points: (1) building more settlements

Go to top of right column


for the sake of "the greater Israel"; (2) exclusive Israeli sovereignty in Jerusalem; (3) further relegation of Israeli Arabs to second class citizenship; (4) the subordination of the judiciary to the imperatives of Jewish "security."

It's difficult to see how Barak and his colleagues will be able to neutralize this agenda that's bound to (1) incense the Americans and the rest of the world; (2) render negotiations with the Palestinians impossible; (3) humiliate the Arabs of Israel (20% of the population); (4) curtail the independence of the judiciary that hitherto has been the most steadfast protector of human rights and democracy in Israel.

Without Labor, the Netanyahu government might have been short-lived. But the new coalition partner assures it of indecent longevity and gives enough time for Lieberman to fuse his party with Likud to make him the leader and the obvious next prime minister of Israel. Yesterday's Labor vote made it all much easier, alas.






Please click on ad for easy to clip coupon











The Jews Down Under ... Roundup of Australian Jewish News by Garry Fabian


Mystery of the missing Megillah

MELBOURNE— An old megillah Esther on loan to the
South Caulfield Hebrew Congregation has travelled
a fantastic journey. It survived World War II, was lost for years in the Netherlands, and is currently on loan to an Australian synagogue.

The megillah was discovered by Hendrick Donselaar
in the streets of Utrecht during the Holocaust. Donselaar removed the scroll from a box discarded by Nazi soldiers, hoping to return it to its Jewish owners after the war. Donselarr married, had children and moved several times, but the megillah remained an important responsibility and
those close to him knew the story.

Unable to find the scroll following her husband's death in 2000, his wife feared it may have been stolen, And when she passed away late last year, her daughter Caroline Dixon who has lived in Australia since 1978, returned to the
Netherlands with her sister to empty their parents' home.
"When we moved a bookcase, we found the scroll wrapped in soft material" she told South Caulfield Hebrew Congregation Rabbi Yaacov Barber. "I promised to find the owners via the internet and have so far got a few leads".

A number of initial tips proved fruitless, with Dixon discovering that many of the possible owners had perished in the Holocaust, along with their entire extended family. Still hoping to honour her father's wish, Dixon has loaned the scroll to South Caulfield congregation in the meantime.
"My dad never managed to fulfill his dream to migrate to Australia himself. He visited many times. Strange that the scroll ended up where he would have loved to have lived himself," she said.

Perhaps a reader of San Diego Jewish World with connections with pre-war Utrecht may have some
information that could lead to the family of the original owners of the Megillah.

MELBOURNE - The B'nai B'rith Anti-Defamation Commission (ADC) was called to respond to an anti-Semitic name calling incident at a suburban Catholic school recently.

Rather than punish the students involved, De La Salle College deputy principal Peter Riordan opted to open the school to a Courage to Care visit, preferring to educate the students on the implications of anti-Semitism.

Over two days, more than 400 students participated in the exhibition, which included a film about anti-Semitism, a Holocaust survivor's testimony and activity sheets about the Righteous Among The Nations. The panels stressed the notion of morality and the importance of not being a
bystander to discrimination or bullying.

"Fortunately, the times we live in don't require the kind of courage displayed by the people you are hearing about, but each one of you can do something to make a difference in the playground, or when you are playing sport, or at the park", Tony Weldon, chairman of Courage to Care told the group.

ADC research director Deborah Stone, who was among the facilitators, said the exhibition was a textbook example of how responding to anti-Semitic incidents should operate,
particularly the culture and belief systems of the students.
"Punishing a couple of perpetrators does not achieve anything. It's about ensuring all the students understand that that anti-semitism and racism are not to be tolerated and have the moral courage to stand up to anyone who tries it on" she said.




Economic downturn puts
Rabbi's future in doubt

SYDNEY--With cash-strapped Bondi Mizrachi
Synagogue's future in doubt, the board has called an emergency general meeting to take stock of its finances and consider a proposal to make Rabbi Moshe Gutnick's position redundant, after more than 21 years of service.

The move comes after Mizrachi -- which is said to be running at an operational deficit -- failed to secure a merger deal with The Great Synagogue earlier this year.

"The shul is in deep financial crisis and our current cost structure will need to change in order for the borrowings required for our continued operation, to be serviced and reduced over time," Mizrachi president Mark Schneider said.

Adding to the shul's money woes is the steady slump in membership, with many of the shul's 300 seats remaining empty during services, spurring the board to offer half-price memberships to the end of June.

"The only way forward, as seen by the board of management after lengthy deliberations, is for the shul to continue to operate without any rabbi," said Schneider.

He said if the shul didn't make the rabbi's position redundant, it would be forced to sell its sifrei Torah and eventually the shul.

"That is not an option because they are assets
that are just too valuable and important," he said.

Rabbi Gutnick's performance wasn't a contributing
factor for his proposed redundancy, said Schneider.

"Redundancy is about a position, not a person," he added.

However, in a letter sent to congregants by the shul's board on Monday, the board stated there could be an argument made to dismiss Rabbi Gutnick -- rather than make the position redundant -- because of his performance.

"Were the rabbi satisfactorily performing the normal role of a congregational rabbi, the synagogue would not be experiencing its current difficulties," the board wrote.

"The synagogue's precarious financial position is related to declining membership which, in turn, reflects poor performance of the rabbi."

Complicating matters is a caveat, or legal order, that Rabbi Gutnick has placed on the shul property's title that seeks to protect his interest should the shul decide to sell its facilities on Old South Head Road.

Rabbi Gutnick confirmed that he placed the caveat on the property late last year, but declined to comment on the matter at the advice of his lawyers.

The shul's board is currently undertaking steps to have the order removed, said Schneider.

"The synagogue has obtained legal advice that the
rabbi has no right to support a caveat and that it should be removed," he said.

Meanwhile, it appears that many congregants are opposed to Rabbi Gutnick's proposed redundancy or dismissal.

Long-time congregant Dr Ron Weiser said the board's actions are "regrettable" and called comments issued in the letter on the rabbi's performance "possibly defamatory and not justifiable".

"This board, which was elected in December, gave not even a hint that this is what it wanted to do, nor did it seek a mandate from the membership for this antagonistic proposal, which is only pitting member against member and dividing the shul," he said.

"In my view, this matter can be resolved quietly and calmly in discussion between the board and the rabbi. To the best of my knowledge, the board has chosen not to attempt this course of action to date."

Congregant Daniel Lowinger, who has belonged to
Mizrachi since 1994, also scoffed at the board's proposal.

"A lot of people are blaming the rabbi. It's not the rabbi it's the membership," he said.

"Certainly, we would not be looking to join a shul with no rabbi. It's madness."




Congregants are expected to vote on the proposal on Tuesday, March 31.


Hadassah Australia launches Jerusalem medical conference

MELBOURNE - A number of Australia's leading medical researchers will link up with their Israeli counterparts when the first Australia Israel Medical Research (AUSiMED) Conference is held in Jerusalem in April

Hosted by Hadassah Australia, the two day conference aims to strengthen bilateral collaborations between doctors and medical researches in Israel and Australia. Leading clinicians and medical researchers from both
countries will present papers on the latest innovations in neurology, stem cell and regenerative medicine, and child and adolescent health.

AUSiMED, a Hadassah Australia initiative that commenced eight months ago, is currently receiving proposals for collaboration in child health. Those accepted are expected to receive program funding. Hadassah Australia is a national not-for-profit organisation that is part of Hadassah International, an international network presenting and supporting Hadassah Medical Organisation with branches in Melbourne, Sydney and Perth.


Two years jail for Jewish community leader

SYDNEY - Jewish community stalwart and former judge Marcus Einfeld, 70, will spend at least two years behind bars after he was convicted of lying before a court.

On Friday, Justice Bruce James sentenced Einfeld to three years prison for perjury and lying to pervert the course of justice. He has been given a non-parole period of two years.

In 2006, Einfeld was caught speeding in Sydney's north. He told police that he was not driving the car, a lie which unravelled when it was revealed the person he said was driving the car, had in fact passed away before the incident.

Einfeld is a former executive member of the NSW
Jewish Board of Deputies and the Executive Council of Australian Jewry. He has assisted with many Jewish causes, including the plight of Jewish people living in the former Soviet Union, and he was patron of the Sydney Jewish Museum and of an organisation for descendents of Holocaust survivors. He is also the son of former federal and state Labor MP Syd Einfeld.


Father and son garner medals


MELBOURNE- Jewish father-and-son duo John and
Daniel Gould have claimed three gymnastics medals
at the annual Australian Masters Games held in Geelong.

Another Jewish athlete, Jeff Stone, was also among the winners, claiming the gold medal in the 60-64 squash competition.

Competing in the 20-29 age group, Daniel, 22, won
the all-round gold medal and was a key contributor to his team winning gold as well.

In the individual competition, Daniel edged the same athlete who had beaten him in the Victorian championships four weeks earlier and turned the table on his opponent in a stunning performance.

He blitzed the field, executing a combination of floor routine, mini trampoline and vault, to produce a remarkable score of 33.4, more than two points clear of his nearest rival.

Returning to gymnastics after a 34-year absence, John, 54, competed in the 50-59 year age group, completing a successful comeback to the sport by claiming the bronze medal.

He scored 30.4 in the all-round composite competition, his routines on pommel horse, vault and mini trampoline enough to secure a hard-fought podium finish.

Father and son were both competitors in the 2005
Maccabiah Games in Israel, where John won gold in the teams event of the squash competition and Daniel contested the gymnastics.

Neither John or Daniel are returning to compete in Israel later this year.

Stone secured his first Australian championship by edging his opponent 9/7, 9/4, 9/1 in the decider to run out a convincing winner.

It was Stone's first gold medal at the Australian Masters, despite claiming gold at the World Masters Games -- held every four years -- in Melbourne in 2002.

Stone has contested the past four World Masters Games and has reached the final on all four occasions.




Please click the ad above




Please click the ad above



Please click the ad above




Animated Torah Study ....An advance look at Vayikra, to be read March 28 in synagogues



Parshat Vayikra from G-dcast.com More Torah cartoons at www.g-dcast.com G-DCAST newsletter sign up for our newsletter© 2009, g-dcast llc



.

Please click the ad above



Please click the ad above

Soille Hebrew Day's First
Grade Class 'Visits' Africa

GUEST COLUMN
Author believes social reformer and pioneer feminist Ernestine Rose's achievements under-appreciated
CARLSBAD, California—Paula Doress-Worters, an author and social activist, contends that 19th century reformer Ernestine Rose—who fought for women's rights, the abolition of slavery and for religious free thought—has not been sufficiently appreciated by historians of her era.

Rose was a Polish Jewish immigrant known as a compelling orator. Through her activism in diverse social movements, she drew attention to women as important voices for reform. Her eloquent and stirring lectures in 1836 addressed the wide range of issues of the day: global human rights, separation of church and state, free speech, anti-Semitism and racism, women's economic and political rights, and abolition – all still very relevant in today's world.

Doress-Worters, co-author of Our Bodies, Ourselves, has published an inspiring new book, Mistress of Herself: Speeches and Letters of Ernestine L. Rose, Early Women's Rights Leader. In this groundbreaking work, she has collected Rose's important speeches and letters, along with a perspective on the life of an inspiring, courageous, and controversial founding leader of the first wave of feminism.

Kahal Am: The Humanistic Jewish Community of San Diego is sponsoring a discussion buffet featuring Doress-Worters on Sunday, March 29th, 10:30 a.m. at the Woman's Club of Carlsbad, 3320 Monroe St., Carlsbad. Co-sponsors are the Brandeis National Committee, Rancho Bernardo Chapter and the Humanist Fellowship of San Diego.

There are interesting parallels between Doress-Worters and her subject. Both are from a Polish-Jewish heritage and Doress-Worter's role in the second wave was also intertwined with her activism in social movements (civil rights, welfare rights and anti-war), which parallels Rose's own pivotal role for women's rights during the first wave. Her presentation considers the relevance of Rose in the history of women's rights, the parallels between first and second wave feminism, and the social change dynamics in current movements and the future course of struggle for equality.


Doress-Worters is a resident Scholar at the Women's Studies Research Center of Brandeis University in Boston and founder of the Ernestine Rose Society to revive Rose's legacy. Paula has offered countless presentations at Colleges and Universities, on television and radio and to community groups across the nation and at the 2nd International Women's Conference in Copenhagen, 1980. In addition to two books, Our Bodies, Ourselves and Mistress of Herself, she has published many articles on a variety of topics. She taught Women in Contemporary Society and Women's History and Jewish History at Emerson College, has taught Sociology of Women's Health at Boston College and is a Women's Studies Scholar at Brandeis University.

Go to top right column




Ernestine Rose (left) and Paula Doress-Worters

Ernestine Rose was a pioneering feminist at the leading edge of the first feminist movement in the mid-19th Century and an activist in the Freethought and Abolitionist movements, whose legacy has been largely forgotten. She led the way for women's rights over a decade before there was an organized women's rights movement and was a profound inspiration to Susan B. Anthony, who joined the movement fifteen years later and toured with Rose in the Washington DC area and New York State.

Rose was one of the first to speak publicly in America on women's rights, and the first to petition a legislature for women' s rights. She became one of America's greatest speakers. After twelve years of activism, in 1848, New York State passed the first married women's property law in the U.S. (Other states followed.)

She was an active campaigner on the lecture circuit for 30 years, attending every National Women's Rights Convention between 1850 and 1869 and many state and local conventions. In a time when speaking in public to "promiscuous assemblies," (mixed audiences of women and men) was regarded as vaguely scandalous behavior for women, Rose was hailed as "The Queen of the Platform." She traveled to over twenty-three states, speaking in churches, barns and state legislatures and addressed new immigrants in languages such as German and French.

Though Rose's contribution to the women's rights is unquestionable, her social status may have contributed to the lack of recognition from historians. She was an immigrant in a period of nativist sentiment, a Jew in largely Protestant reform movements, and a freethinker and atheist in movements that often turned to the Bible for authority.

To attend the discussion buffet, please RSVP to Kahal Am at: info@kahalam.org or 858-549-3088.A potluck buffet lunch will follow Ms. Doress-Worters' speech. Guests $5, Kahal Am members, no charge. For more information, see www.kahalam.org.


Telser is an active member of Kahal Am


In this selection, Hal puts American politics (not to mention what might have been the politics of ancient Rome) under the microscope, and offers us three satricial tunes that bespeak our wariness for politicians.



#11 — Lesson Latinium
#186 —The Pirate
#269— Hillary's Lament


# 11, Lesson Latinium

Learn now a lesson latinium!
Whether you're drinking or dinium,
Whether you're yawning or snorium,
Latin can never be borium.

Ars gratia ars.
Fars arti fars.
Lesson latinium.

Down in the District Columbium
There stood a tree; 'twas a plumium.
Under the tree ran a squirrelium,
Chasing a squirreley-tailed girlium.

Ars gratia ars.
Fars arti fars.
Lesson latinium.

So fast the speed of the chasium,
Statesmen all stopped in their placium.
Standing transfixed at the sightium,
They dreamed up a scheme with delightium.

Ars gratia ars.
Fars arti fars.
Lesson latinium.

"Squirrels that can run so hell-bentium
Should run for the legislatentium."
And that's how the squirrels were selectium
Who last won the nation's electium.

Ars gratia ars.
Fars arti fars.
Lesson latinium.

(c) 2009 Hal Wingard; To Bud Creighton, Retiring Member of the California State Curriculum Commission, August 1, 1977



#186, The Pirate

Oh, I do my duty
For ransom and booty.
I serve for the glory of gold.
I ransack and ravage;
I'm brutally savage;
I'm dashing and dang'rously bold.
I'm dashing and dang'rously bold.

Yo ho, yo ho ho ho,
Yo, ho, yo ho ho ho.

I pilage and plunder
And seldom make blunder
In downing opponent or prey.
I'm tough and unbending,
Not known for befriending.
I'm proud to be pirate for pay.
I'm proud to be pirate for pay.

Yo ho, yo ho ho ho,
Yo, ho, yo ho ho ho.

No way of concealing
You find me appealing,
A person you never reject.
No wonder I'm gloating.
Whenever you're voting,
It's me who you always elect.
Me who you always elect.

Yo ho, yo ho ho ho,
Yo, ho, yo ho ho ho.

(c) 2009 Hal Wingard; May 9, 1985






#269, Hillary's Lament

You always sing the same song
Each time you cheat on me.
I've heard it now so many times,
I hate the melody.

The garden full of flowers
Exists for all to view;
But you believe that you can pluck
Each bloom that pleases you.

You sing your song so sweetly,
Yet hard as you may try
No sugar-coated clever verse
Can hide it's all a lie.

So, Willie, you can sing your tune
To others in your spell.
But me, I turn a deaf ear
To songs I know too well. . .

You always sing the same song
Each time you cheat on me.
I've heard it now so many times,
I hate the melody.




please visit nancy.harrison@americasvacationcenter.com




Please click the ad above



please visit




Click above to visit San Diego Jewish Academy's website


A pair of cool cooking guys give generously to Temple Emanu-El

SAN DIEGO—When Brian Malarkey, renowned Executive Chef/Partner of The Oceanaire Seafood Room, agreed to be the auctioneer at Temple Emanu-El's community fundraiser, I knew the event would be an automatic, unparalleled success. Even in these hard economic times patrons poured into this Del Cerro shul to be in the presence of this very-proud-to-be-Irish culinary superstar, for these San Diegans know Brian has the sechal and quick wit. Easy-going, funny, and master of superlatives, Chef Brian wowed the crowd with his knowledge of the sacred laws of kashrut and Jewish history.

Emanu-El's backdrop, the Shushan Shindig, recalled the story of Purim with all pertinent characters present primarily to raise money for its interfaith shelter and youth programs. Throughout the evening, the patrons were purposely agitated (in good fun) by that nefarious knave, Haman, so perfectly played by Jack Berkman. Together Malarkey and Berkman successfully raised the bidding until it was time for Chef Brian to auction off himself as the chef who would provide a picnic aboard a donated yacht for a 3-hour cruise. Enter Sam the Cooking Guy!

Sam Zien says he doesn't like to make public appearances of this sort, but one would never know it. He seemed to relish being in the limelight (he says only for a good cause). Truth is, Sam and Brian are best buds. As these two cooking guys kibitzed with each other, it was evident to all of us in the audience that they share great affection for one another. Sam auctioned off Brian and Brian auctioned off time with Sam. In the end, everyone got what they came for – the opportunity to get close up and personal with two very cool cooking menschen who do tikun olam just because it's the right thing to do…B'Tayavon

Lynne Thrope can be contacted at lynnesworld@mac.com

.
Please click the ad above



Adventures in San Diego Jewish History

New Citizens Feted At Joint Dinner—250 In Attendance
Southwestern Jewish Press, November 28, 1952, page 6

New citizens were honored last Sunday, November 23rd as "New Americans" in San Diego gathered at Temple Beth Israel Center for their annual Thanksgiving Dinner.

Among the 250 persons receiving their American citizenship last Friday were Mrs. Fannie Schauder and sons, Jacob and Paul; Mr. and Mrs. Paul Jacoby, Mr. and Mrs. Oscar Schloss, Mr. and Mrs. Walther Freund, Mrs. Blanka Bloch, Mr. and Mrs. Julius Mansbacher and daughter Hannah; Mr. Mike Zaks, Mrs. Baruch Stern and Mrs. William Rochocz. They came from Poland, Germany, Austria and China. Hannah Mansbacher, in a short message, expressed the feelings of the new citizens when she said, "Being an American is a wonderful thing and my parents and I are most happy to see our dreams realized."

The dinner of thanks is sponsored annually by the Émigré Committee of the United Jewish Fund of which Dr. Walter Ornstein is chairman and Mrs. Gabriel Berg is co-chairman and the San Diego Section, Council of Jewish Women, Mrs. R.R. Smith, President.

Servicemen in San Diego participated through USO-JWB in the Thanksgiving and joined with the New Americans in expressing their gratitude for the American way of life.
A traditional turkey dinner was served under the direction of Mrs. Harris Rubel, Chairman of the Council's Service to Foreign Born, with board members of the Council serving. Entertainment was furnished by Cantor Joseph Cysner of Tifereth Israel Synagogue who led some group singing and Alice Aufricht young violinist, who presented the beautiful solo, "Bless This House."


University of Judaism
Founder's Day Dinner
Southwestern Jewish Press, November 28, 1952, page 6

Dr. Louis Finklestein, Chancellor of the University of Judaism and the Jewish Theological Seminary, will be guest of honor and the principle speaker at the annual Founders' Day dinner which will take place at nthe Biltmore Hotel in Los Angeles, Sunday, November 30, at 6:00 p.m. This dinner marks the fifth anniversary of the establishment of the University of Judaism in Los Angeles as the West Coast Branch of the Jewish Theological Seminary.

The dinner also marks the opening of the campaign for the University for the year 1952-1953. Mr. Dore Schary, Cairman of the university Board of Overseers, has announced that Ben Platt has accepted the chairmanship of the University of Judaism campaign. Mr. Platt, who headed the last two years successful drives, will seek to raise $107,000 in support of the University and its many educational, religious and cultural projects, including the famed NBC Eternal Light radio program, and Frontiers of Faith television program.

Mr. Harry Zell, chairman of Tifereth Israel University of Judaism Committee, will head the delegation from San Diego which will attend the Founders' Day dinner. Among those planning to attend are Mr. and Mrs. Herman Tulchinsky, Mrs. And Mrs. MJ.S. Berlin, Mr. and Mrs. Ed Breitbard, Mr. and Mrs. Will Breitbard and Rabbi Monroe Levens.


Hebrew Home for the Aged
Southwestern Jewish Press, November 28, 1952, page 6

A Chanukah Party is being planned at the Hebrew Home for the Aged (by the Auxiliary) for the guests of the Home and any person over 65 in the community who would like to attend. The party will be on Sunday, December 14 at 2:30 p.m. at the Home. There will be no admission charge
Traditional favors and refreshments will be served—games and a program will feature the afternoon. Further plans will be announced in the next issue of the Press and anyone wishing to attend will please call any of the following numbers: W-3724, T-1-2929, J-5588, or the Fund Office. Mrs. Sidney Goldstein is General Chairman.

The next meeting of the Auxiliary will be Dec. 3rd at 10 p.m. at the Home. An interesting program is being planned following the business meeting.

Our new publicity chairman, Mrs. William Schwartz, is recovering from her recent auto accident and we wish her a speedy recovery.

There have been several birthday parties at the Home recently for the guests—and the Happy Old Timers meeting will be resumed for the coming year. Anyone wishing to join may do so by calling the Co-Chairmen, Mrs. David Greenberg or Mrs. Morris Fried.

Applications for admission to the Hebrew Home for the Aged may be made through the Jewish Welfare Society, 333 Plaza Bldg. F-1803.




Jewish War Veterans
Southwestern Jewish Press, November 28, 1952, page 7

Newly made American citizens of Jewish faith were proud to see flags of the Jewish War Veterans displayed when they took their oath of citizenship November 21st at the War Memorial Bldg. in Balboa Park. One of the new citizens was Mrs. Baruch Stern, wife of Rabbi Stern.

Post 185 just finished the football season when over 200 patients from the Naval Hospital were taken to all of the San Diego State College home football games. Between game halves coffee and hot dogs were served by the Post members.

A business meeting followed by a social will be held December 1 at the War Memorial Bldg., at 8:30. The meeting of December 15th has been cancelled.
The next regular meeting of the Jewish War Veterans Auxiliary No. 185 will be held on Monday, December 1st, at 8:30 p.m. in the War Memorial Bldg., Balboa Park. Members please attend.





City of Hope Aux.
Southwestern Jewish Press, November 28, 1952, page 7

Mrs. Jean Camiel, President, of the Senior Auxiliary of the City of Hope extends an invitation to the annual "Break the Bank" Luncheon to be held Tuesday, December 16that noon at Beth Jacob Center. The luncheon is free to those who will bring their City of Hope Blue Banks to be opened.

The newly elected officers of City of Hope for the coming year, to be installed in January are: Anmne Shelley, Hon. Pres.; Ruth Aronoff, Pres.; Sophie Himmel, 1st Vice Pres.; Becky Bard, 2nd Vice Pres., Fannie Addleson, 3rd Vice Pres., Jean Camiel, Treas., Esther Schwartz, Rec. Sec.; Goldie Schusterman, Corr. Sec.; Ruth Douglas,, Fin. Sec., and Betty Schwartz, Soc. Sec.


Beth Jacob Sisterhood
Southwestern Jewish Press, November 28, 1952, page 7

At a recent Board meeting, plans were formulated, and a working body selected for Beth Jacob Sisterhood's major fund raising event, their annual Spring Festival, to be held first Sunday in March at Beth Jacob Center. More will be written about it at a later date.

Mrs. Bernard Godes, President, informs members that there will be no regular meeting of Beth Jacob Sisterhood in December because of the Chanukah, Xmas Holidays.


Daughters of Israel
Southwestern Jewish Press, November 28, 1952, page 6

The Daughters of Israel will have their Chanukah Dinner December 7 at 5:30 p.m. at Tifereth Israel Synagogue. A delicious home-made chicken dinner with all the Chanukah trimmings will be served and prepared by Mrs. Mary Schwartz and Mrs. Fanny Addleson.

A beautiful diamond ring will be given away free to some lucky person. For reservations call Mrs. Anna Lipschitz, R-8755; Mrs. Anna Goldstein, M-5992; or Mrs. Jennie Siner, T.1-1136.




"Adventures in Jewish History" is sponsored by Inland Industries Group LP in memory of long-time San Diego Jewish community leader Marie (Mrs. Gabriel) Berg. Our indexed "Adventures in San Diego Jewish History" series will be a daily feature until we run out of history.

Return to top


Jewish Internet Favorites ... *




Eli Wallach is an observer in a shootout between Clint Eastwood and Lee Van Cleef in "The Good, The Bad and The Ugly"


Mike Wallace interviews Ayn Rand


Go to top of right column


Phil Silvers in "The Con Man Episode" of Sergeant Bilko



Sylvia Sidney in "Thirty Day Princess" with Cary Grant




< BACK TO TOP