By Carol Davis



SAN DIEGO—There's nothing like a little romp in the park with Shakespeare's Twelfth Night, especially if it's as enjoyable and well done as is this current production under the clever direction of Paul Mullins.

Mullins and resident artistic director Darko Tresnjak are both at the helm of this year Old Globe Summer Festival. It takes place outdoors on the Lowell Davies Festival Stage and includes Twelfth Night and Coriolanus byShakespeare and Edmond Rostand's Cyrano De Bergerac. Tresnak directs the latter two. All three plays rotate in repertory and play through Sept. 27th.
It's difficult to remember how many Twelfth Night's I've seen over the years, some good and some just OK. One of my favorites was an early production starring Marsha Mason of Neil Simon's The Goodbye Girl and others (she was married to Simon for about ten years.) It was done on the Main Stage indoors and, if memory serves, was directed by Jack O'Brien. It was charming and set in period costumes, etc. The two are back together again with a new play called Impressionism which opened earlier this year on Broadway.
Mullins has chosen to change the period to the somewhat present time of the '50's with killer costumes by Linda Cho on Ralph Funicello's functional set. It is set in Venice with pier pilings and floral arrangements covering the doors and wrought iron gates on the stage. The cast uses the two stairway entrances to exit and enter as needed. It always amazes me how fast they get up and down those stairs, but that's a whole other story on aging roaming around in my head!
Twelfth Night is said to be one of Shakespeare's most favored romantic (transvestite) comedies. It resembles Comedy of Errors in that both are plays about identical twins, separation and reunion, mistaken identity, and shipwrecks. What's new are the ambiguities and disguises in Twelfth Night. When Viola is washed ashore on Ilyria (after her ship is wrecked and broken up losing her twin brother, Sebastian) Shakespeare puts her in male attire so everyone thinks she is a man/boy in order for her to get around the island. Over time, this creates a love triangle among Viola/Cesario, Orsino and Olivia.
Now if it sounds complicated, consider Olivia in love with Cesario who is really Viola. Orsino is in love with the boy Cesario who is really a woman dressed as a boy, and Viola dressed as a boy is in love with Orsino, the macho Duke who shows signs of being attracted to Cesario as well.

It doesn't get much better than that. While cross-dressing was a common plot device in Shakespeare's time, homosexuals, like Jews, were considered to be beyond the pale in the Bard's time. Same-sex relationships were promptly terminated once the masquerader's true gender became known.
There were indications that Antonio was in love with his good friend Sebastian, but that was really a no no! The play is a sexual mess without saying so. Everything in time though gets somewhat cleared up, while questions about some of the characters still leave doubt.

In Twelfth Night, or What You Will, as mentioned above, the twins are Viola (Dana Green) and Sebastian (Kevin Hoffman shows up in the latter scenes). The other main players include Orsino, (Gerritt VanderMeer plays the cool duke as if he wasthe real thing) Duke of Illyria, Antonio, (Greg Derelian) friend or love interest to Sebastian, Malvolio, (Patrick Page) steward to Countess Olivia (Kate MacNichol), who happens to be the light and love object of The Duke. Would that she loved him back. It was not to be. She was in mourning for her deceased brother, which came to an abrupt end when she laid eyes on Cesario. MacNichol has that scene beautifully down to a science.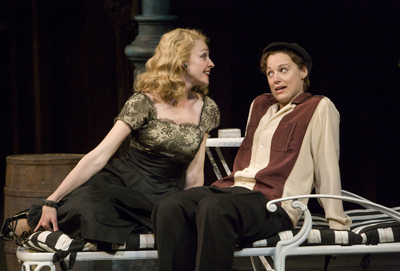 ISN'T S/HE ADORABLE—Katie MacNichol as Olivia and Dana Green as Viola/Cesario in The Old Globe's Summer Shakespeare Festival production of Twelfth Night, by William Shakespeare, directed by Paul Mullins, playing in the Lowell Davies Festival Theatre June 13 - September 27 in nightly rotation with Cyrano de Bergerac and Coriolanus; photo by Craig Schwartz.


Those in attendance and related to Olivia include Sir Toby Belch (Eric Hoffmann) her uncle, Sir Andrew Aguecheek (Bruce Turk) who also vies for the hand of Olivia and Feste (James Newcomb) servant and jester to Olivia, a rather somber, concertina carrying jester whose awareness in sensing everyone's mood (and planting red clown's noses on them) keeps him in good favor and pennies.
There isn't a weak link in the bunch and the play rolls along with one mistaken identity after another getting each of the players more deeply embroiled in their own mire, just as, I'm sure Shakespeare intended. All of the clowns, Sir Andrew, Belch and Feste kept the audience on their toes. Turk, who is the biggest clown without knowing he's funny, takes the prize for his silliness and idiocy. As Sir Andrew he fits the bill perfectly while working the audience taking his character to the limits. Eric Hoffmann is garishly loud both in dress and in person as Sir Toby. He doesn't miss many beats either.

In one scene Andrew and Toby pull a nasty trick on Malvolio (Patrick Page). Most would consider he deserved it for being so righteous all the time. Page dressed in all black with hair slicked down a la (well Hitler style) slim moustache, captains whistle in hand with notebook and pencil to document everything he considers wrong with the household guests, commands the attention he deserves in one of the most cherished roles in this play.
As the head honcho of Olivia's household he comes across with the holier-than-thou attitude making him the least liked character and an enemy of Belch, Sir Andrew and Maria (Aubrey Saverino) Olivia's housemaid. They can't stand the guy, so they hatch a ridiculous scheme and actually convince him that Olivia is in love with him. The contortions they convince him to go through to gain her attention and his pulling it off with panache is the true test of a real pro. He is that.
Dana Green is a walking contradiction as she weaves between her roles as confidant and page to the duke and love object to both countess and duke all the while a woman in a man's disguise. Watching her walk that tightrope and then seeing both duke and countess vie for her affection and attention is as convincing as can be and that's all the play requires. Both VanderMeer as Orsino and MacNichol are a hoot as they try, coolly enough without tripping all over themselves, to romance Green. All three are plusses in this cross gender, mistaken identity and highly improbable yet exceptionally well-done production of Shakespeare's comedy, Twelfth Night.
For more information and dates of productions, click here for the Old Globe website. (www.oldglobe.org)
See you at the theatre.

Davis is a freelance writer based in San Diego. She may be contacted at davisc@sandiegojewishworld.com