By Ira Sharkansky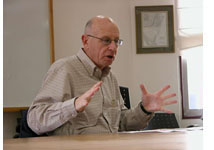 JERUSALEM—Friends who read my columns say that I have moved to the right.

I think that I am where I have always been. Perhaps it seems I am moving to the right because many of my columns are written against an American administration that has drifted to the left on an issue of importance to me. My centrist position now seems rightist.

American presidents have considerable power to move public opinion, not only at home but in other places that pay attention to the United States. This is especially true of presidents like Barack Obama and John Kennedy who speak well, and define extraordinary missions for themselves and their country. Charisma is a term overworked by commentators, but it may apply to them.

Speaking well with great vision does not necessarily signify wisdom or political skill. Kennedy is hard to judge, given his brief reign, but the record of accomplishment is not apparent. He still receives applause --deserved--for the Cuban Missile Crisis, but the Bay of Pigs was an embarrassment, the doomed escalation in Vietnam owes something to him, and it was Johnson who achieved significant movement on civil rights.

It is equally difficult to judge Obama. His term is too new. His actions on the economy follow those of Bush, involve some of the same people, and will be adjusted as time goes on. Success or failure depends on decisions by others in the American economy and elsewhere.

Obama's efforts in health policy are still in Congress. The going is not easy, but that was to be expected. No one should predict the legislative outcome or how that will affect indicators of well being. Whatever happens in Congress will influence, and be influenced by many players in medical care.


Go to the top of right column


All presidents inherit ongoing problems and programs, and it is never fair to assign too much credit or blame to one leader or administration. Obama promised a great deal in his campaign, and may have been perceived by supporters to promise even more than he actually said. His theme of Change lends itself to expectations, and his personal story increases the drama and the hopes.

The president and his cheer leaders see progress toward an end game in Iraq, but continued violence raises doubts. Heroic statements on Guantanamo have been reduced to something partial and postponed. Afghanistan is a sinkhole getting worse, and may prove to be his greatest embarrassment. Pakistan is a cousin of Afghanistan, but with nuclear weapons and implications for India. Iran is more complicated than a month ago by protests that may roll forward to something greater.

The president's policy toward Israel and Palestine strikes me as a farce, all the sadder on account of Jewish Democrats who have signed onto Obama as Messiah.

It is only on the issue of Israel and Palestine that I see a significant move to the left on the part of Obama and friends, and where my avowed centrism may appear to be a drift to the right. I have no firm position on the complicated issue of the economy, and am more to the left on health care than most Americans. But I am not investing much emotion in that issue since I enjoy an Israeli system better than what anyone can imagine for the United States. I see naivite in American actions and announced plans for Iraq, Iran, Afghanistan, and Pakistan, and hope that little of that spills onto me.

John Kennedy got my vote the first time I went to the polls. I stopped voting in the United States when I came to Israel 34 years ago. I view Obama as a thrilling demonstration of American opportunity. I wish him well on account of what he represents, and his status as the most powerful individual in the world. I fear that he is not wise or well informed about all that he found on his agenda, or all that he has put there. Although he is the most important, the rest of us also have something to say about what happens. That explains my continued optimism.
Sharkansky is professor emeritus of political science at Hebrew University. Email: msira@mscc.huji.ac.il