By Donald H. Harrison



SAN DIEGO--"What," I recently asked grandson Shor, betraying the fact that there are 55 years between us, "is Phineas and Ferb all about?"

Shor, 8, smiled indulgently.

"Phineas and Ferb invent something new every day," he said. "Their platypus, who is a spy, prevents Dr. Doofinschmertz from doing evil, but Doofinschmertz's inventions stop Phineas' and Ferb's inventions."

At Comic-Con on Sunday, as Shor sat smilingly besides me in an audience of several hundred, the plot was, how they say, "thickened" by co-creators Dan Provenmire and Jeff "Swampy" Marsh, who appeared on a panel along with the voice actors who play Phineas, Vanessa (Dr. Doofinschmertz's daughter), Karl the Intern, and the platypus, whose name is Perry—respectively Vincent Martella, Olivia Olson, Tyler Alexander Mann, and Dee Bradley Baker.

Provenmire voices the evil Doofinshmertz while Marsh is the voice of Major Monogram, who is the "handler" – in a spy sense – of Perry the Platypus, an operative for OWCA (Organization Without A Cool Acronym). That's a group whose agents are talking animals.

As the cast introduced themselves and their characters, we learned from Marsh that Monogram's voice was modeled after that of the late newscaster Walter Cronkite—sometimes called "the most trusted man in America" and that Martella like young Phineas –the talkative step-brother -- is someone who enjoys excitement. Stepbrother Ferb, on the other hand, rarely talks, but when he does, it is with a British accent.

With a heavy dose of facetiousness Olson said that she is just like her character Vanessa –"cynical and ungrateful." That may have been playfully aimed at her father, comedy writer Martin Olson, who was seated in the audience, rather than at the rest of us.

Karl the Intern is an enigmatic figure, whose presence as a TV crew member occasionally makes Phineas and Ferb something of a show within a show. Mann said Karl resembles him physically.

Self-deprecatingly, Baker suggested that like Perry , he didn't look like much, so he had to do something surprising. He thereupon belted into the microphone a series of animal sound effects – such a variety of growls, chirps, trills and other noises that the mixed crowd of youngsters and adults seemed momentarily stunned.

"That was weird," said Shor, meaning it, in this case, as a compliment.

Baker's talents are weird enough to have earned him prominent roles not only in television series but in numerous movies and video games. The television credits that caught Shor's attention were Sponge Bob Square Pants and Ben 10 Alien Force.

From elementary school aged students who lined up at the microphone came questions showing deep familiarity—even intimacy—with the series.

"When Will Phineas & Ferb find out that Perry is an agent?" asked one.

Marsh and Provenmire looked at each other, and grinned. "We dunno."

"Will there be an hour-long episode?"

The originators looked at each other again.

"Maybe."

"Will there be a Phineas & Ferb movie?

"Love it," Provenmire replied. "Is there someone you can talk to?"

I asked Shor if he wanted to ask a question.

He shook his head. Perhaps he felt it would be inappropriate, given that he was wearing the costume of the Incredible Hulk? "No, I just don't have a question!"

A mother at the microphone thanked Provenmire and Marsh for creating something that she enjoyed watching—both because it engages adults as well children, and also because there's nothing in the series that she, as a mom, would not want her children to be exposed to.

Marsh responded that he had an 8-year-old son himself.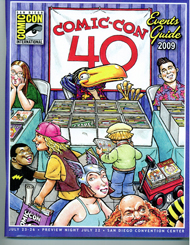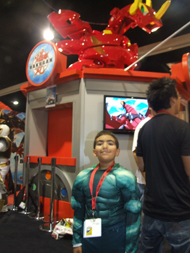 Go to the top of right columns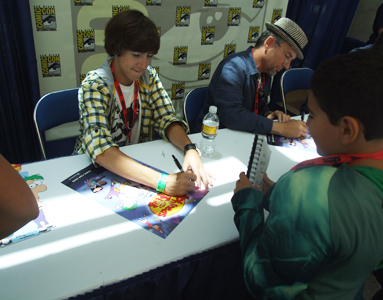 Among those introduced from the audience was Sara Goldberg, who does voice casting for the Disney Channel. She works not only on Phineas and Ferb but other Disney animated programs as well. Another "Jewish connection" to the program is actress Ashley Tisdale, who voices Candace, the older sister of Phineas. Tisdale also is known for her role in the High School Musical movies as the spoiled Sharpay Evans, and for her role as Maddie in the TV series The Suite Life of Zack and Cody.

Following the panel, audience members were invited to wend their way from Convention Center Conference Room DE to the autograph area under the Convention Center's trademark sails where all the panelists, less Baker who was needed at another gig, did a meet-and-greet.

Throughout the week, news media reported on the size of the crowds at Comic-Con. To go from one place to another in any direction meant walking in a series of half-steps, so as not to tread on the heels of the person in front of you. One needed to move one's shoulders and arms with agility, lest you bump into someone in the stream of people coming from the opposite direction.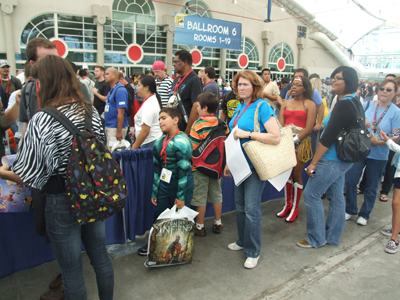 AUTOGRAPH LINE—A portion of the line waiting for autographs from cast of Phineas and Ferb. One fan wears a Wonder Woman costume.

At first uncertain where the autograph area was, we went downstairs, asked directions, and went back upstairs- a loss in time that put us at the back of an hour-long line. I was surprised how patiently Shor waited. We chatted with people near us in line, including one man who, during the four-day Comic Con event, had bagged autographs and photos with a variety of stars including Leonard Nimoy of Star Trek fame. He told us that Nimoy's autographs cost $60 apiece. Darn it, that's more than I'd be willing to spend, notwithstanding the fact that Shor and I together have watched every episode of the original Star Trek series (in which Nimoy played Mr. Spock, the Vulcan) and have now nearly completed on disk all the episodes of Star Trek: The Next Generation.

When, at last, we reached the autograph table, the panelists were most gracious, signing a Phineas and Ferb poster that had been distributed to fans as well as Shor's personal autograph book. "Hey it's Hulk, how cool!" commented Olson (Vanessa) as Shor approached her spot.

For the poster, the actors developed a written routine: Provenmire, pretending to be Doofinshmertz, urged Shor to "stay evil." However, Marsh as Monogram, wrote "No, Shor, be good." To this was added Martella's question, perhaps in reference to the Hulk costume, "Hey, where's Shor?" and Olson's comment, "Your Busted!"—a reference to "Busted," a popular song on the series that Olson recorded, or perhaps to her desire to "bust" her evil father.

Phineas and Ferb, the Panel, and Phineas and Ferb, the Autograph Table, took a major part of the day, but Shor, a devoted Bakugan collector, was determined to find that company's booth among the crowded stalls in the cavernous Exhibit Hall. Swimming salmon-like against the crowd—and feeling we might be turned into lox before we ever got there—we found the booth, only to learn that it only had display copies of the toy – none for sale. There was a booth all the way at the other end of the Exhibit Hall where we might buy some of the ingenious balls that unfold into little monsters with various powers. So shlep we did, to the far end of the Exhibit Hall, but to Shor's disappointment, he already had in his collection all the Bakugan figures there available. So he settled instead for some Pokemon figures.

Nearby was the Convention Center's small restaurant, but nothing on its limited menu appealed to the young Hulk. We decided to leave the convention, stop at McDonald's for a hamburger on the way home, and take a swim in the backyard pool. After Shor demolished a Kid's Meal, he turned to me in the car, and said something to the effect of "Grandpa, Going to Comic-Con and to McDonald's was better than wonderful; it was awesome."

Boy did I kvell. Who'd have thought my little Hulk could be such a great p-r man?

Harrison is editor and publisher of San Diego Jewish World.
Email: editor@sandiegojewishworld.com