By Carol Davis



SAN DIEGO—It's always fun and insightful to see what's new at Diversionary Theatre on Park Blvd. in Hillcrest. Because it's not considered 'main stream' theatre, most of what audiences will see at this venue is pretty much focused on gay issues. Founded in 1968 "to provide quality theatre for the gay, lesbian, bisexual and transgender communities," for the most part it carries out its mission with every show it mounts, and that is to produce themes with that population in mind both historically, contemporarily and with diversity. With that in mind Diversionary Theatre opened its 2009/10 season with the relatively new off-off- Broadway Musical, Twist with book and lyrics by Gila Sand, music by Paul Leschen and additional music by Sand and Garritt Guadan.
Blessed with an all-star cast, director James Vasquez et.al. are able to plow through an updated (if you will) version done completely in drag, of the Charles Dickens English Classic, Oliver Twist. Considering the fact that the story has been made into about a dozen movies (starting with the 1909 silent film), several mini series, Oliver Twist, The Musical and the Broadway musical Oliver, it would only be a matter of time when some clever playwright would come up with the idea of doing a musical about the little street urchin who spends the first nine years of his life in an orphanage in drag, and turning the Victorian era epic on its side.
The action still takes place in 1857 London where Victorian values still rule but not to worry. At this point it matters not, just sit back and enjoy what the creators of this romp have placed before you. Oliver or Twist (Jacob Caltrider) as he is now called is living in the workhouse but he's older and not quite so naïve. The Artful Dodger (Tom Zohar) has already claimed Twist as his own as have several others in the house. Twist is a willing participant and continues to suffer at the hands of all he comes into contact with…but in the words of our last president, he's content to 'bring 'um on'!
You will also recognize almost all the other characters from the Dickens' novel, if but a bit twisted, pardon the pun. Of course there's Fagin, who in the Dickens version represents the influence of anti-Semitic stereotypes of that day, but who in no way resembles that Dickens character in Sand's story save for the fact that he is pretty evil and he sends others out to commit crimes so all clues of felony or wrong doing lead away from him. It is played artfully; tongue in cheek and without reservation by David McBean.
Nancy (Amy Northcutt), the young prostitute who works for Fagin and is Bill Sikes' (Scott Striegel) girl, Lady Downlow, er Brownlow, and Mrs. Sowerberry (Jackie Cuccaro), Mr. Sowerberry and Constable (Andy Collins), Mr. Bumble (Tony Houck) and the assorted others who make up the dark side of the underbelly of Victorian streets including criminals, drug addicts, hustlers and thugs.

While you will know the characters and the story, this tale veers off into one of love, deceit and a set of twisted values involving Twist, The Artful Dodger and Fagin. All three want Twist and are willing to go to lengths to make sure they have
him. The only thing is Twist wants Lady Downlow. Zohar is menacing as The Artful Dodger dressed in his black leather pants (Jeannie Galioto), black boots, black leather jacket and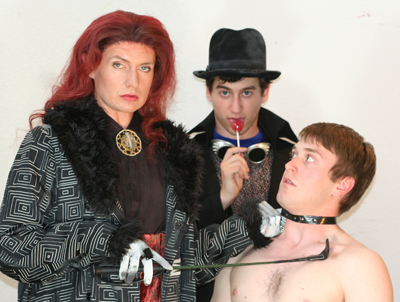 WHAT THE DICKENS--Tom Zohar is the Artful Dodger, David McBean is Fagin and Jacob Caltrider is Twist in Diversionary Theatre production. Photo credit: Daren Scott.

fishnet top sporting a Mohawk do and sucking on a lollipop. It's the blue eyes that pierce right through.
McBean is as comfortable in heels higher than I ever wore in my high-heeled days as he is in a wig, long flowing coat and smothered in lipstick. He's a perfect Fagin as he hoards his jewels and coin so no one will find them. He's a whip carrying dominatrix who will do anything to have Twist. Jacob Caltrider as Twist has the innocence of a baby while loving all the attention showered upon him. Don't even think of him as a victim. He's just happy in the arms of anyone who'll hold him.

The balanced cast fills in the gaps as the play moves from one location to the next with some hilarious looks and acting by Tony Houck, Andy Collins as the undertaker, Jackie Cuccaro and Amy Northcutt. Cuccaro is a howl as the manic shoe lover, Lady Downlow, coveting hundreds of pairs of shoes and Northcutt does well and is convincing as Nancy.
For the most part Sands' book is somewhat scattered but her lyrics and Paul Leschen's Cabaret type music stops the show with ballads as well as tunes to reflect the movement on stage; "Twist", "Clothing Makes the Man", "Whipping", ""Sucker", "Reflections" and a number of others all of which are played to perfection by the House Band made up of Tim McKnight (Keyboards), Nathan Hubbard (Percussion) and Jonathan Davis (Guitar).
Kristin Ellert's set design has the band seated behind what looks like chain link fences. There are seven or so poles on the multi level set and sliding panels that open to reveal other locations. Overall, with the exception of the shoe-lined wall in the background, the set is pretty utilitarian. Stephan Sakowski's lighting design works well as it spotlights locations and lends to the shifting tones of the play. Galioto's costumes can almost be counted as another character they are so impressive and creative. Kudos to the men wearing those stilettos, and the black leather pants weren't so bad either. And don't be surprise to see Twist in a pair of pink Baby Doll's.
The show is worth a look-see.
Twist, which was included as part of the Official Pride Festival, plays through Aug. 9th. For more information visit diversionary.org
See you at the theatre.
Davis is a freelance writer based in San Diego. She may be contacted at davisc@sandiegojewishworld.com