By Carol Davis



SAN DIEGO—I caught up with 15-year-old Hannah Kornfeld (at right) at my daughter Keri's hair salon, Gila Rut, in Hillcrest, as she was about to undergo a fashion transformation. Hannah is playing the title role in Annie in Starlight's last show as part of their summer season. As most will remember, Annie is a redhead. Hannah is/was a brunette. So in true theatre mode, Hannah is becoming a redhead. Hannah has been acting since she was four and this is the first time she's ever had her hair colored although she has been wanting to do it for a long time. Mom Lisa has been a little reluctant, but the show must go on and Annie director Dan Mojica wants Hannah's hair red, so red it will become.
Hannah stands about five feet tall if that, but she can belt out a tune as well as any seasoned adult, who may physically stand heads and shoulders above her. In fact her stage career goes back to when she "was little." when she "would do the occasional dance recital and things." But, she admits she didn't know what she really wanted to do until she was ten.
Hannah Kornfeld was born in San Francisco and lived there for three years until her brother Ian was born. The family moved to Mill Valley until her father Gregg's job took them to San Diego, more specifically, Coronado. Hannah's aunt, Elizabeth Rich, is a successful actress in the mid west. "My aunt was always someone who I have always looked up to," Hannah reflected. "She, like my Mom, are always there for me when I have questions or need help."
At ten, Hannah started taking voice and acting lessons and then "just other classes along the way." She still takes private lessons while attending COSA the Creative Arts School in Coronado, which she loves because when she moved down from San Francisco (not an easy move for a teenager) everyone acted like family and she quickly became best friends with her fellow students.

While in San Francisco, Hannah's 'career' took off when she appeared in the first Irving Berlin White Christmas musical. Lucky her, she got to go to New York to rehearse where she performed before a thousand people. She feels blessed for that opportunity. Other shows she did while she lived in San Francisco were Alice in Wonderland, at Marin Shakespeare, Blackbird at ACT, Mary in Secret Garden at the Willows Theatre, and Tina Denmark in Ruthless the musical at the Purple Onion.
Her resume doesn't stop there. While attending COSA she has been in Cole Porter's Anything Goes, and she played Dorothy at the Coronado Playhouse in the Wizard of Oz. Recently she played Rosie in her school's production of Bye Bye Birdie, the stage musical inspired by Elvis Presley's popularity and his stint in the Army. I can imagine if we peeked in on Hannah in about ten years what her resume might look like.
I asked Hannah about her thoughts on Judaism and if her Judaism taught her any lessons about how to act towards her fellow actors/parents/brother. Hannah told me that in San Francisco the family belonged to Sherith Israel Synagogue. After moving to Marin, the family then joined Rodef Shalom where she became a Bat Mitzvah. She also attended the Jewish private school, Brandeis Hillel Day School.
As to the lessons learned from her Jewish upbringing and committed background, she had this to say, "Judaism taught me about respect and generosity and I think they are a major part of theatre too. Respecting everyone including fellow cast members, Tech, Directors, Stage managers and everyone who is part of the show is really important. It is also important to be generous with your fellow actors on stage; to help support and focus the attention on them during their big acting moments as well as focusing on your own makes for really good theatre."
And what are her thoughts about the character, Annie that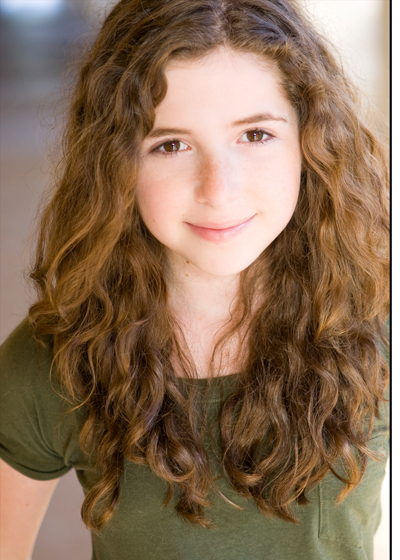 Hannah Rose Kornfeld

she will be morphing into next week? "Annie is a fun role to play but she also has such a great soul. She's very optimistic and can find the best in people. When she walks into a room she brings laughter and happiness and even though she has so much sorrow in her life she looks past it and thinks of the stuff she does have. The fact that she grew up without any parents didn't make her depressed and disturbed, she became strong and hopeful and really a glass half full kind of a girl."
And what future roles would Hannah like to play? Anne Frank. "I got attached to the book and her story. Her character is so mesmerizing and important historically that I think it would be a great experience." She has read the book, seen the movie and done monologues from the play but also feels a real connection to the character.
If this happens before college, fine but college is definitely on the horizon confirms Mom. Schools Hannah would like to shoot for include UCLA, Syracuse, Boston Conservatory and U. of Michigan all with a major in theatre and then of course grad school. Why doesn't that surprise me?
I asked her how she liked herself as a redhead and here's what she said, "I LOVE being a redhead. I hope to maybe keep it." I think she will if she's as convincing off stage as she appears to be on stage.
To get a glimpse of Hannah's talent, check these sites out.
http://www.youtube.com/watch?v=miwTE_h4YlE

http://www.youtube.com/watch?v=5dgIIHGv6P4

And just a little editorializing from this Jewish mother. What a punim and what neshumah this gal has. She deserves everything she has worked so hard for.
Annie opens on Aug 13 and continues through Aug. 30th in the Starlight Bowl located in Balboa Park
Check it out at www. starlighttheatre.org.
See you at the theatre.

Davis is a freelance writer based in San Diego. She may be contacted at davisc@sandiegojewishworld.com