By Carol Davis



SAN DIEGO—According to the stats that I have in my archived folders (updated in 2007) Starlight Musical Theatre has produced Annie in 1983, 1986, 2002 and now in 2009. I know I've seen it more than the four times (including this one) I have documented. I can say with conviction that this production is fresh, entertaining and has some unstoppable talent.
As Annie closes the 63rd Starlight Season, hopefully, it will pick up on the same optimistic note that the show ends on. Missing from all announcements and program notes was a 64th season lineup. More on that as we gather more information.
In a recent interview with this years Annie, Hannah Rose Kornfeld, she told me that one of the things she liked about her character was the fact that she had 'heart'. After the performance back stage I was stopped by another cast member Ralph Johnson, who played F.D.R. He also went on and on about how much heart the show has. That she and it have so much heart and optimism is what propels this show. I would be remiss if I failed to mention the six other young 'orphan' girls ranging in ages from 6 to 11 who are simply adorable as well as being talented and who also shared that optimism.
Based on the popular comic strip Little Orphan Annie by Harold Gray, the musical Annie with music by Charles Strouse, lyrics by Martin Charnin and book by Thomas Meehan, it ran on Broadway for nearly six years setting a record for the Alvin Theatre (1977) now the Neil Simon Theatre. It won the Tony Award for Best Musical, and the songs "Tomorrow" and "Hard-Knock Life" are among the most recognizable although there are several others, "N.Y.C." and "Easy Street" that are just as clever.
Set in the era of the Great Depression it highlights the conditions the country was forced to live in (Hoovervilles) while focusing in on a girl's orphanage located in the middle of Manhattan. Annie (we don't know her last name until the very end) is the eldest of the gals we meet at 11 and appears to be the titular head of the orphaned girls. Their warden, the mean, oft time drunk Miss Hannigan (Melinda Gilb) who runs the state institution or prison like surroundings as if they were incarcerated for heinous crimes against humanity, manhandles them barking out orders after blowing a gawdawfully loud whistle and dragging them by the ears.
It seems that when Annie's parents dropped her off at the orphanage as a little girl, they left her with a note saying they would be back and one half of a locket. Determined to find them Annie attempts several tries at escaping from the orphanage. On one of her escapades she finds Sandy the dog who was her constant side kick in the comic strip (Barney a rescue dog in reality) while living in one of the little shtetles,
("We'd Like To Thank You Herbert Hoover") if you will made of cardboard lean-tos and trash can fire pits. She of course is returned to the orphanage by the friendly cop on the beat.
After she is returned to the orphanage, Miss Farrell (Amy Fritche), secretary to billionaire businessman Oliver Warbucks (Gregory North), pays a visit to the orphanage wanting to take an orphan to the Warbucks' mansion for the Christmas holidays. You guessed it, Annie is chosen. From here everything comes up roses for Annie including a plea from Warbucks to let him be her 'Dad' ("You Won't Be An Orphan For Long") to an all out search including a handsome reward and with help of the FBI under FDR (Ralph Johnson), to find her parents.

Not to be outdone, Miss Hannagan and her no good scoundrel brother Rooster (Ryan Fahey) and his equally rogue girlfriend, Lily St. Regis (Lauren King) make an attempt to swindle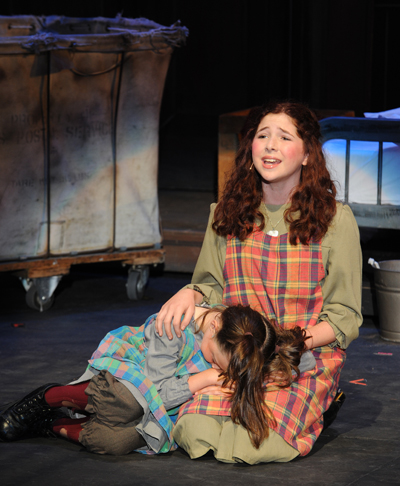 Warbucks out of the reward money. They even have the chutzpah to call themselves her parents. We know how that went down especially after the FBI discovers that Annie's real parents had died years before.
After they are all hauled off to the real prison, the girls get to have presents and spend the holidays at the mansion. To say they all lived happily ever after would be presumptuous if we were talking reality. But in the land of Annie's make believe, it's OK to say they lived happily ever after.
In the real world of Hannah Rose Kornfeld, whose performance was just as strong as I had anticipated, sun shines on her shoulders as her Jewish star continues to rise in San Diego. I took my seventeen-year-old grandson who was visiting from Israel and a guitarist and performer in his own right and he couldn't get over how talented and 'natural' she was. OK coming from a peer, what else can I say?
Under Dan Mojica's direction and choreography with Sparks Moeller and Tanya Bishop's costume designs (I loved the matching and colorful orphan dresses at the end), the easy scenery changes (Fullerton Civic Light Opera) and Palmer Fuller's conducting, no glitches occurred even the planes didn't seem as intrusive.
Strong support with kudos going to Gregory North for his fine portrayal of Daddy Warbucks, Melinda Gilb (one of our own local talents) for her comedic acumen in bringing us another look at Miss Hannigan. Amy Fritche is one of the more beautiful and colorful of the Daddy Warbucks secretaries and Ryan Fahey is the perfect Rooster Hannigan.
Having children in a show is no easy fete and these young gals performed without error. Hats off to Emma Rasse, Kayla Cruse, Celia Tedde, Lauren Desloge, Emma Mittleman, Lou Rasse and Ivanna Quiceno. Their "Fully Dressed" number really highlighted the cumulative talent of these youngsters. Honorable mention to FDR's look a like Ralph Johnson and (not to put them in the same category by any means), Barney who was the best behaved of the entire group.
Annie continues through Aug. 30th in the Starlight Bowl in Balboa Park.
For more information go to starlighttheatre.org
See you at the theatre.

Davis is a freelance writer based in San Diego. She may be contacted at davisc@sandiegojewishworld.com