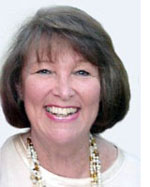 STUDIO CITY, California—Lucky you, San Diego! You'll soon have the opportunity to see the fabulous musical It's the Housewives!, thanks to Jeff Cotter, owner of the Tenth Avenue Theatre, and his wife Pam.

It's exactly a year, almost to the day, that I reviewed the Los Angeles production for the San Diego Jewish World, noting "There is nothing more delicious than a musical in which the music, the lyrics, the talent, the plot, and all the bits and pieces come together like a good home-made lemon meringue pie."

Ironically, I didn't know at that time that It's the Housewives! was a fictionalized account of an actual rock and roll trio that played in nightclubs all over the country and made regular appearances on TV for a period of 12 years. But Hope Juber, the creator of the group and chief songwriter, as well as the author of the hit musical, soon set me straight on that score. The trio, she said, consisted of "a blonde, a brunette, and a redhead. I was the redhead."

Sitting on a couch in her attractive Studio City home, which she shares with her Grammy Award-winning guitarist husband, Laurence Juber, three dogs, three cats, and two parakeets, (their two twenty-something daughters, both successful songwriters and singers, live elsewhere), Hope discussed the Housewives' style. "We were kind of like ' the Dream Girls meet Spinal Tap," she said.

The upcoming San Diego production, which will open on Friday, September 4th and play on weekends through September 27th, has been tweaked a bit since it played in Los Angeles, Hope said. The lead singer, Rebecca, who shares the stage with her songstress persona, Becca, has been morphed into just one character, played by original cast member, Jamey Hood. Almost all of the original cast, in fact, will reprise their roles for San Diego. And that includes the other two members of the trio, Corinne Dekker as Lynn and Jayme Lake as Lexie. "The musical was such a wonderful bonding experience," Hope says, "that the women get together socially nearly every week." And the results can readily be seen onstage. They all look like they're having a ball!
Because of a scheduling conflict, the role of the plumber to whom housewife Becca tells her story, originally played by Vince Cefalu, will be played by Tony Cicchetti, and the multiple roles of the cranky lady, the reporter, and the make-up artist will be played by his real-life wife, Lisa Cicchetti.

Also appearing for the first time in this show will be San Diegan O.P. Hadlock, whose resume includes everything from acting, set and lighting design, directing, writing (five plays, 15 screenplays, and three novels), to theatre manager and working

Go to top of next column
on the crew of more than 200 productions. Hadlock will play multiple roles in "Housewives." It figures. How could someone with that extensive a resume play only one role?
Hope Juber will direct the San Diego production. "It's my baby!" she says, although she gives lavish praise to her writing partners, husband Laurence and friend Ellen Guylas. Hope has a bachelor's degree in directing from California State University at Long Beach, and she has produced 15 CDs of Laurence's music. But perhaps the original motivation for her career came from growing up in a household headed by Sherwood Schwartz, creator of The Brady Bunch and Gilligan's Island and writer for radio and TV stars Bob Hope, Ozzie and Harriet, Alan Young, and Red Skelton, among others.

She began showing up on the sets of her father's shows from the time she was seven and tells a story from that time about a visit from her idol, Morey Amsterdam. He played "Buddy" on her favorite show, The Dick Van Dyke Show and she was ecstatic to see him in her own living room. With great excitement she asked her dad if she might ask "Buddy" for his autograph. He agreed, but told her she had to ask for the autographs of the other two men who were with him as well. She protested, "But I don't know those men, and I don't want their autographs!" Her father insisted, however, and so she dutifully collected all three signatures. It wasn't until many years later when she stumbled across her old autograph book that she discovered that the other two autographs were from Jack Benny and Henny Youngman.
And what was it like growing up amidst her father's Brady Bunch? "It was like having another family going on within my own family," she says. And it gave her a plethora of material to use when she and Laurence wrote the successful A Very Brady Musical. The two also spent some 18 years writing a musical of Gilligan's Island, which has been produced some 50 times around the country, including in San Diego Old Town in 1995.
Of working with her husband she says, "We bring out the best in each other and the combination is potent. We are fortunate to have found that kind of partnership." Meanwhile, she is working on a movie script with her brother Lloyd. "It's a Christmas story," is all she'll say about it, but adds wryly, "Who but Jews write the best Christmas movies and songs?"
But despite the fun of writing and producing music and lyrics in collaboration with her husband, and receiving rave reviews for their work, the best critique of It's the Housewives!, she says, was provided by her brother Ross, who ordinarily hates musicals. "It's a musical for people who don't like musicals!" he opined.
It's the Housewives! opens Friday, September 4th at 8 p.m. and will play Fridays and Saturdays at 8 p.m., with matinees on Saturday and Sunday at 2 p.m. through September 27th. The Tenth Avenue Theatre is located at 930 Tenth Avenue in San Diego. Call 888-66-DERBY for tickets.