By Ira Sharkansky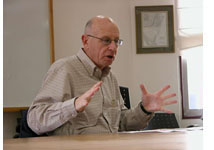 JERUSALEM—Has Israel insulted the United States by approving construction on some 500 new dwellings in the West Bank, and indicating that construction will continue on about 2,500 others? This against the president's plan for Israeli-Palestinian negotiations based upon a complete construction freeze, including neighborhoods of East Jerusalem.

Or is it a reasonable response to a naive American conception, that the settlements are a major obstacle preventing agreement between Palestinians and Israel?

Perhaps the Israeli response is appropriate, but presented in a way that is insulting. If Netanyahu was working with the Americans to agree on a conception of a freeze, what he has done seems far from that. And was it nice to announce new constructions a day before the long Labor Day weekend, when Americans would be away from their desks?

Those inclined to judge Israel should begin by noting that the decision has the backing of the Labor Party. It is the leader of that party, Ehud Barak, as Defense Minister with responsibility for the West Bank, who is signing off on the permits for new construction.

For those who think that Israelis' style is flawed might also consider the Americans' style. To begin the process by demanding the cessation of construction in East Jerusalem was a fatal error. It provoked ridicule as well as rejection.


Go to the top of next column



Arabs but not Jews could build in specific neighborhoods. The Americans were too close to the Palestinian demand that no Jews remain in what they see as Arab land. Denying Jews the right to live where they want does not play well in this society. It provoked intense opposition to any freeze, and may have led the settlers and their allies to increase plans for West Bank.

What Labor and the rest of the Israeli government have done reflects the frustration of the Israeli establishment with Palestinian responses to offers made by Barak (and Clinton) in 2000, and Olmert in 2008. The rejections did not come with a counter offer. Palestinians have not offered inducements for a better deal. They repeatedly demand actions that Israel cannot accept, most notably the swamping of Israel with untold numbers of Palestinians.

President Obama failed to obtain concessions from Palestinians and Arab countries that would make it easy for Israel to accept a settlement freeze.

Israel found itself under intense pressure to make the concession of a settlement freeze, without getting anything significant in exchange.

The President should know that business in the Middle East, and perhaps in the Middle West, does not work that way.

Explosions in Iraq and Afghanistan do not portend greater success in those places, and he may not be doing any better with his health plan in Congress.

A decade in Chicago politics and two years in the United States Senate may not have been sufficient preparation for the world's biggest job.

Sharkansky is professor emeritus of political science at Hebrew University. Email: msira@mscc.huji.ac.il