JEWS IN THE NEWS ... Scott Silverman is the subject of a feature in San Diego Magazine ... Adam Lambert stopped by the Hard Rock Hotel in San Diego where the costume he wore for the American Idol finale will go on display. San Diego News Network had the story. ... Chris Reed of the San Diego Union-Tribune takes Barbara Boxer to task for her committee's handling of purloined emails showing some scientists for political purposes are overstating the effects of global warming.


CYBER-REFERRALS—Bruce Kesler passes on a commentary by Jonathan Tobin about the Anti-Defamation League and critics of President Barack Obama. ... Len Gregory's father once lived in Harbin, China, where many Jewish families immigrated after the Russian Revolution to get away from the Cossacks. Today, the city in Northern China has become celebrated for its ice festivals, which features Disneyland-scale ice carvings. Here is a power point slide presentation on what they do. ... Julie Potiker, a fan of the Pardes Institute of Jewish Studies, recommends this video:



AROUND THE TOWN—Shari Schenk tells us that for the eighth straight year, San Diego Jewish Academy fed 250 needy families for Thanksgiving, distributing turkey and all the trimmings to poor families at the VIP Village Preschool in Imperial Beach. The entire student body, faculty and staff generously donated the necessary items for the dinners as well as funds to purchase the turkeys. Middle school students helped pack the boxes for each family, and 25 high school students traveled to VIP Village on the Tuesday before Thanksgiving to distribute the meals. " The scene when we arrived at VIP Village to distribute the meals is always the same-- preschool parents waiting patiently in line with their voucher to receive their meal. There are always 20-30 people in line when we arrive in the morning. The parents are not told that they are receiving the dinner because of their financial circumstances, but that they won a lottery for a free Thanksgiving meal! Without this help, most of the families would not be able to afford a proper Thanksgiving meal." ...


Laurel Corona, whose two published book, Until Our Last Breath and The Four Seasons, won first places in different categories at the most recent San Diego Book Awards, has three more book in various stages. An upcoming novel, soon to be published, is Penelope's Daughter, a retelling of the Odyssey from the point of view of the women left behind on Ithaca, Presently being marketed is The Laws of Motion, about 18th


Go to the top of next column
century French mathematician and physicist Emilie du Chatelet. And, the San Diego City College professor of humanities is just beginning a still untitled novel focusing on Jewish life in Iberia in the last decades before the expulsion of the Jews in 1492.
*
Chabad of La Costa is racing against the clock to match a $70,000 challenge grant from an anonymous donor. Rabbi Yeruchem Eilfort says if the congregation can raise the amount before the end of the year, it will be able to own its property free and clear at 1980 La Costa Avenue...

THEATRE SCENE—Brendan Milburn and Valerie Vigoda, the creators of Long Story Short, just won the Richard Rodgers Foundation New Horizons Award! They join lofty company in this honor. It couldn't have happened to two more excellent people! Long Story Short played at the San Diego Repertory Theatre and was reviewed by Carol Davis in the Oct. 18th edition. It was noted in the review that Vigoda is the daughter and granddaughter of two accomplished musicians. Her grandfather, a Hungarian Jew. was one of the last great European cantors of the Golden Age. ... Malashock Dance has posted on its website thank you;s to two Jewish couples who are well known for their philanthropy: Gary & Jerri-Ann Jacobs and Jeff & Sheila Lipinsky.

As reported Nov. 20 Danny Myers and Joey Landwehr decided to cut their hair to raise money for cancer in conjunction with the opening of The King and I. Members of J*Company's cast appeared on KUSI-TV, Channel 9, on Sunday, November 29. While costumed performers sang "Getting to Know You," a hairdresser shaved Landwehr's head and the result was proudly modeled by the recipient. The cast's appearance was duplicated on Tuesday, December 1, on XETV, Channel 6, but this time title character Danny Myer's head went under the shears. Both stations provided ample opportunities for Danny and Joey to ask for donations for cancer research at Rady Children's Hospital. Anyone who is interested in donating to this worthy cause is invited to visit www.lfjcc.org/miracle to make an online contribution. Fortunately, both Joey and Danny look great without hair.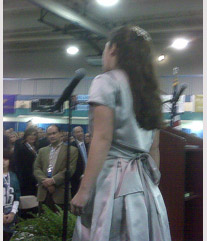 SAN DIEGO CONNECTIONS — Cantor Alisa Pomerantz-Boro and Steve Boro, formerly of San Diego, tell us that their daughter Rebecca, 13, sang the national anthem at the Sports Award Dinner at Katz JCC in Cherry Hill, NJ. The Sports Award Dinner recognizes sports figures from Pennsylvania, New Jersey and Delaware, as well as community leaders who serve as role models. "The keynote speaker was Donovan McNabb, in his 11th year as quarterback for the Philadelphia Eagles. Honorees included Lewis Katz, part-owner of the New Jersey Nets, and Leon Rose, sports agent representing Allen Iverson, LeBron James, and Israeli NBA player, Omri Casspi. Dinner proceeds were earmarked for Health and Wellness program scholarships and services for children, including those with special needs. Programs include youth sports leagues, nutrition counseling, wellness classes, obesity prevention, and adaptive activities for those with special needs. Rebecca is a recipient of these services as a participant in the JCC's Open Hearts, Open Doors program each summer at camp."