Pioneer Women Hold Western States Conference Here
Southwestern Jewish Press, November 14, 1952, page 1

Pioneer Women's Western States Regional Conference beginning Friday, Nov. 14th and ending Monday, Nov. 17th, with registration headquarters at Manor Hotel will have as its principal speaker Dr. Sara Feder, National President, who is also noted as a teacher and sociologist. Miss Aliza Shidlowsky, delegate from Israel's sister organization, Moetzet Hapoalot, will also address several sessions of the conference. Leaders of various sessions will include Bea Kuschner, Regional President from Los Angeles; Rabbi Monroe Levens, Albert A. Hutler and greetings to delegates will be extended by several City Officials. Welcoming out of town delegates will be the President of Negba club, Pauline Press and President of Shoshannah Club, Edith Gates and the General Chairman of the Conference, Florence Barach.

Other committees and Chairmen who are responsible for getting the Conference off to a good start are as follows: Jeanette Abrams, Dora Berner, Bessie Fink, Eleanor Gordon, Lillian Gordon, Goldie Kitaen, Rose Domnitz, Florence Lebb, Norma Schaffer, Anna Shelley, Phyllis Weisenberg, Zema Fromer, Alma Yaruss and Bess Borushek.

Among the entertainment features of the Conference will be Mr. Harold Zabrack, a noted concert pianist from Chicago, Ill. Other entertainment and a fine musical program will fill out several sessions.

The following outline of the schedule of events will be of interest to the Community as a whole, who are cordially invited. Of special interest will be Community night at Beth Jacob Center, Saturday at 8:30 p.m., Friday, Nov. 14, 6:00 p.m. — Dinner for out of town guests by San Diego Pioneer Women; 8:00 — Sabbath Services at Beth Jacob Synagogue, dedicated to Pioneer Women, with Rabbi Baruch Stern leading the services; Sat., Nov. 15, 2:00 p.m. — Oneg Shabbat, Garden Room at Manor Hotel, Theme: Policy and Attitude of Pioneer Women Organization to Jewish Education in America and the American Jewish Scene; 6:30 p.m. M'laveh Malkeh Session, Theme: Israel, Its Achievements, Problems and Economic Horizons. Open to Community; Sunday, Nov. 16th, 10:00 a.m., Conference Session, Manor Hotel, Theme: Motzet Hapoalot and Its Relationship to Other Funds: 2:00 to 5:00 p.m., Visit to Cottage of Israel and conducted tour for Delegates; 6:30 p.m. — Moetzet Hapolot Dinner at Hotel Manor, Theme: Assignment of Individual Projects in Meshek; Monday, Nov. 17th, 10:00 a.m., Conference Session, Manor Hotel, Organization and membership; 1:00 p.m. Closing Session, Manor Hotel, theme: Adoption of Recommendations and Resolutions.



Jewish Education Association Elects New Leaders
Southwestern Jewish Press, November 14, 1952, page 1

Julius Fligelman, prominent industrialist and community leader of Los Angeles, past chairman of the United Jewish Welfare Fund, was elected President of the Western States Region of the American Association for Jewish Education at the 5th annual meeting held in Los Angeles on Sunday, November 2, 1952.

The Western States Region serves the eleven Western states through a program of field service, educational coordination and guidance for schools and community agencies.

Dr. Philip L. Seman was re-elected Chairman of the Executive Committee, Alfred Karp of San Francisco, Dr. A. P. Nasatir of San Diego, Samuel Weinstein of Portland, and Jacob M. Alkow of Los Angeles were elected Vice-Presidents. Eli M. Levenson was elected to the Executive Committee.



UJF Board Sets Plans for Annual Meeting
Southwestern Jewish Press, November 14, 1952, page 2

Eleven sections of the By-Laws of the United Jewish Fund of San Diego will be submitted for change to the membership at the Annual Dinner Meeting to be held on Sunday, December 14th at the San diego hotel in the beautiful Continental Room, David Block, Chairman of the By-Laws Committee, announced today.

Section to be submitted for change relate to the Annual Meeting; the inclusion of the 3rd Vice President in those sections where it is necessary; the section on voting; number and powers of the Board of Directors, the term of members of the Board of Directors; qualification for membership and for holding office in the United Jewish Fund; the organization of the executive committee, and method of nomination by petition.

Other business of the Annual Meeting, according to Morrie Douglas, chairman of the Committee and Harry Mallen and Rodin Horrow, members, will include a report of the nominating committee to fill 20 vacancies caused by expiration of the terms of present members of the board ; awards to outstanding citizens of the community; and report of the President and Executive Director.

Dinner will be served at 6:30 p.m. in the Continental Room of the San Diego Hotel at the cost of $2.75 per plate. Those who do not wish to attend the dinner are welcome to attend the meeting which will start at approximately 7:45 p.m.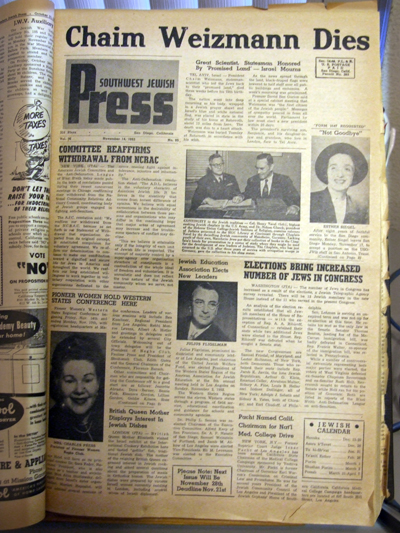 HISTORIC EDITION—Southwest(ern) Jewish Press carried the story of Chaim Weizmann's death in its edition of November 14, 1952.

"Not Goodbye"
Southwestern Jewish Press, November 14, 1952, page 3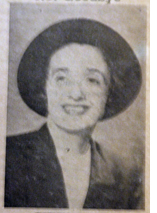 After eight years of faithful service to the San Diego community, Esther Siegel leaves San Diego Monday, November 17, to accept a position on the USO-JWB staff in San Antonio, Texas.

She will visit relatives in the East and also attend a special USO- JWB refresher course in New York before reporting to her new post. Esther first came to San Diego in June, 1944 as Program Director of the former USO-JWB Club on "C" Street. When USO terminated in December of 1947 she was associated with the Community Center Association and the Hebrew Home for the Aged.

In 1950 when the need again arose for USO services, she was asked by the United Jewish Fund to inaugurate a servicemen's program in San Diego. Under her leadership the program developed very rapidly until it became a USO-JWB designation which she served as its director.


Harriet L. Sosna to Wed Burton H. Nestor in Candlelight Ceremony
Southwestern Jewish Press, November 14, 1952, page 3

Miss Harriet l. Sosna, daughter of Mr. and Mrs. I.M. Sosna, will be joined in marriage to Burton H. Nestor, son of Mr. and Mrs. Paul Nestor, at 3 p.m. on November 16 at the Tifereth Israel Synagogue. The ceremony will be performed under a canopy of white flowers by Rabbi Monroe Levens.

The bride's gown is of embroidered and velvet appliquéd net over satin. The bodice and train is accordion pleated. A waist length veil falls from a seed pearl encrusted Juliette cap. She will carroy a white Bible covered with two white orchids.

Bridesmaids are Miss Elizabeth Sosna, cousin of the bride from St. Louis, Miss Sandra Schoenkopf, Mrs. Bernard Lewis, and Mrs. Joy Galloway. Their strapless wine colored gowns have velvet bodices, net skirts, and shoulder covering stoles. Matron of Honor, Mrs. Ben Press, sister of the groom, will wear aqua net over velvet.

Ushers are Bud Yorkshire of Los Angeles, Jim Galloway, Ben Press, and Bernard Sosna, brother of the bride, Bert Epstein will act as Best Man.

Immediately following the ceremony a reception will be held in the Riviera Room of the U.S. Grant Hotel for 400 guests.

Mrs. Sosna will receive her guests in a light blue net gown, the bodice of which is covered with light blue and brown iridescent sequins. The partially fitted skirt flares out in layers of tan and blue net. Mrs. Nestor will wear a rose colored sequin trimmed gown.

The new Mrs. Nestor will leave for her honeymoon in Las Vegas and Lake Arrowhead wearing a grey suit with matching cape. Navy blue accessories and a winter white cloche trimmed in mother of pearl will complete her outfit.
Upon their return the young couple will make their home at 3147 Adams Ave.

Out of town guests will include Mr. A. M. Sosna, Mr. Leon Sosna, and Miss Elizabeth Sosna, all of St. Louis; Mr. and Mrs. Al Aved of Minneapolis, and Mrs. A. Moinester of Cleveland.

YMCA Stages Annual Festival of Nations
Southwestern Jewish Press, November 14, 1952, page 4

The excitement of the holidays is already felt at the YWCA, 10th and "C," as plans for this year's colorful World Festival near completion. Each year the "Y" sponsors this Festival of Nations and some of the most lavish entertainment is put on by members of the YWCA's International Club, a group of native and foreign born persons interested in international relations. The festival will take place December 5th and 6th, 4:30 p.m. to midnight.

The now famous "side-walk café" booths this yesr will feture 22 different nationalities offering foods typical of their native lands. Gourmets will delight at the array of exotic dishes from China, Denmark, France, Finland, Greece Hungary, Italy, Israel, Mexico, Netherlands, Norway, Poland, Switzerland, and many others. For the more conservative guests, there will be more conventional fare in the U.S.A. booth—hot dogs and soda pop.

Swim shows, which attracted standing room only crowds last year, will transform the "Y" pool into a holiday snow scene with splashing Christmas water ballets. Elaborate modern dance productions will be offered each night of the festival. There will be a surprise auction event each might that will add excitement to the main floor Bazaar. Variety shows are planned for each night, too, with sparkling 'name' entertainers, songs, dances and holiday music.


"Adventures in Jewish History" is sponsored by Inland Industries Group LP in memory of long-time San Diego Jewish community leader Marie (Mrs. Gabriel) Berg. Our indexed "Adventures in San Diego Jewish History" series will be a daily feature until we run out of history.