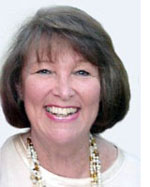 PASADENA, Califoria — A matron in Massachusetts has been obsessed for years with the fantasy of glamorous Brazil. So one day, on a whim, she takes off for Rio de Janeiro. What she is seeking is some solace for a recent family tragedy; what she is fleeing are her two children: a brusque no-nonsense daughter and a depressed alcoholic son.
So begins the saga of Harriet Easton, the central figure in Charles Randolph-Wright's new play, The Night is a Child.

Harriet is played by the usually dynamic JoBeth Williams, but in this strange play Williams doesn't have much opportunity to shine. In fact, in much of the first act her dialogue consists mostly of "I can't believe I'm really here!"

Meanwhile, back in Brookline, her two children, Jane and Brian, (Monette Magrath and Tyler Pierce) try to figure out where she has gone, while dropping cryptic hints about the family tragedy that might have driven her away. Brian, you see, had a twin, Michael, who has left the family to cope with the haunting details of his inexplicable death.

In Brazil, Harriet is befriended by a gracious hotel owner (Maceo Oliver) and by a free-spirited young woman who wanders the beach at Ipanema, continually dancing and spreading joy and platitudes. She, Bia, (Sybil Walker) a vividly costumed sprite

with the seductive moves of a pole dancer, presumably represents the spirit of Brazil. While you wait for the shoe to drop, Bia tries to cajole Harriet into loosening up and letting go of the anguish connected with Michael's death.

As is traditional in Brazil, there is a purse snatching, feebly executed and oddly inconsequential, and two mysterious voodoo practitioners who are accompanied by Michael's ghost. Harriet, of course, follows them to their secret hideaway and is sucked into a voodoo experience that is so poorly rendered that it evokes no emotion at all. Not fear, not wonder, not catharsis, and not a clue as to why it would have any effect on Harriet at all.

In fact, as it turns out, the main attraction in this metaphysical fable is Israeli designer Yael Pardess' beautiful staging. The mostly empty stage is dominated by two large screens that project scenes in Brookline in black and white and glorious beach and ocean shots of Rio in blazing color. In addition, designer Maggie Morgan has provided Bia with flamboyantly colorful costumes; the rest of the cast is dressed in nondescript clothing, with JoBeth Williams looking downright frumpy.

Under Sheldon Epps' rather lethargic direction the characters remain totally one-dimensional and unappealing, the plot unfolds slowly, in bits and pieces, and then completely unravels with an often-used plot twist that rivals the "And then I woke up…" denouement that generally leaves an audience both disappointed and dissatisfied. And so it is with "The Night is a Child." And I still can't figure out what that title means.

"The Night is a Child" will continue at the Pasadena Playhouse, 39 South El Molino Avenue in Pasadena, Tuesdays through Fridays at 8 p.m., Saturdays at 4 and 8 p.m. and Sundays at 2 and 7, through October 4th. Tickets can be reserved by calling (626) 356-7529.