| | | | | |
| --- | --- | --- | --- | --- |
| | Volume 3, Number 63 | | "There's a Jewish story everywhere" | |
Today's Postings:

Monday, March 16, 2009

{Click on a link to jump to the corresponding story. Or, you may scroll leisurely through our report}


INTERNATIONAL
Peace prospects gloomy on eve of Netanyahu government ... by Rabbi Dow Marmur in Jerusalem
In recent weeks it has been difficult to report good news from or about Israel. READ MORE

LIFESTYLES
Do I need to hyphenate my identity? Not me! ... by Sheila Orysiek in San Diego
My teenage son informed me that as a substitute teacher in high school I would be "meat for the jackals." But, I loved teaching the "jackals" and so I found myself in a performing arts high school in San Diego teaching a specialized class: ballet. READ MORE

SAN DIEGO
Tykes learn about Torah through games at SDJA ... by Donald H. Harrison in San Diego
It was "Torah fun day" yesterday at San Diego Jewish Academy, where some familiar games for pre-schoolers were played with a Torah twist.READ MORE

ADVENTURES IN SAN DIEGO JEWISH HISTORY
October 31, 1952; Southwestern Jewish Press:

Congregation Beth Israel READ MORE

T.Y.L. Club READ MORE

Beth Jacob P.T.A. READ MORE

Y.J.C. Club READ MORE



JEWISH INTERNET FAVORITES
We continue our examination of Jewish entertainers

Edward G. Robinson and Mary Astor in "Little Giant"VIEW VIDEO

Jack Albertson and Red Skelton in a "Clem Kaddidlehopper" skit in which a cow ad libs VIEW VIDEO

Joseph Schildkraut as "Otto" in The Diary of Anne Frank
VIEW VIDEO

Morey Amsterdam does vaudeville shtick with Art Carney VIEW VIDEO

TODAY'S ADVERTISERS

America's Vacation Center
Balloon Utopia
Beth Jacob Congregation
Carol Ann Goldstein
Congregation Beth Israel
Jewish Community Foundation
Jewish Family Service
Lawrence Family JCC
San Diego Community Colleges
San Diego Jewish Academy
San Diego Jewish Chamber
Soille San Diego Hebrew Day School
Tifereth Israel Synagogue
United Jewish Federation
XLNC-1 Radio

Go to top of right column

STAFF BOX

Joel and Arlene Moskowitz, occasional contributors to San Diego Jewish World, spotted a video that proves the maxim when the musicians are having fun, so is the audience. See if you don't agree.


Andre Rieu leads the orchestra in Hava Nagila above

DEDICATIONS
Each day's issue may be dedicated by readers—or by the publisher—in other people's honor or memory. Past dedications may be found at the bottom of the index for the "Adventures in San Diego Jewish History" page.


NOTE
PLEASE HELP US POLICE THIS SITE: If you see anything on this site that obviously is not in keeping with our mission of providing Jewish news and commentary, please message us at editor@sandiegojewishworld.com, so that we can fix the probem. Unfortunately, large sites like ours can be subjected to tampering by outsiders. Thank you!


EMAIL HEADLINE SERVICE


SEARCH THIS SITE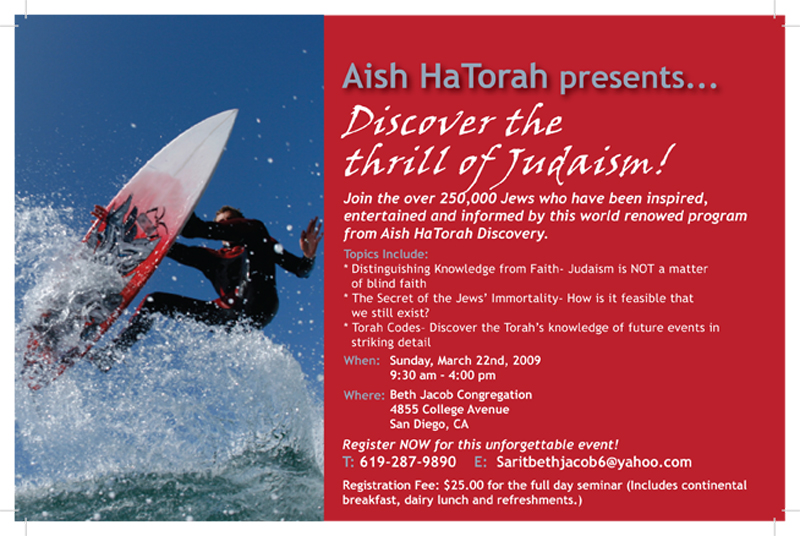 FROM THE SIDELINES


Peace prospects gloomy on eve of Netanyahu government

By Rabbi Dow Marmur

JERUSALEM—In recent weeks it has been difficult to report good news from or about Israel. Unfortunately, it's not likely that the current week will be different. Here are some of the reasons – with apologies for not being more cheerful.

The Netanyahu government that may take over before the week is out isn't likely to make things easier for Israel. His coalition may not spoil the so-called peace process, if for no other reason than that the outgoing Olmert government, for all the talking, didn't do much for it either. And there's little to suggest that a Livni government, despite the rhetoric, would have yielded more tangible results.

There are other valid reasons to regret that Netanyahu hasn't been able to form a centrist coalition with Kadima and Labor thus freeing himself from the need to make concessions to Shas, Yisrael Beiteinu and the other right-wing parties. They include: the economy, the status of the judiciary, the fate of Israeli Arabs and the danger of settlement expansion.

The narrow right-wing coalition that's now almost a done deal will present an even less favorable image of Israel abroad than its predecessor. The world will remember the previous tenure of Netanyahu as prime minister (1996-99) and is likely to find it difficult to take foreign minister Lieberman seriously, despite his ambition to pretend to be a nice guy. Not that our enemies need reasons for hating us, but they'll still get them.

If there's ever to be a breakthrough in peace negotiations, it's because the majority of Israelis across party political divides will be prepared to yield land and dismantle at least some settlements, which is the inescapable price for peace. The change may also come about as a result of intense American pressure; though there are signs of it already, it'll take some time before US envoy George Mitchell will show his cards and depart from diplomatic protocol. The various peace groups may still get their day.

Very important: it would be totally wrong to speak of the peace process as if it was only up to the Israelis. There's little evidence that the Palestinians are ready for it. Even if an agreement between Fatah and Hamas becomes a reality – and that's still an enormous if – there's little to suggest that a Palestinian unity government will be serious about peace negotiations. More likely, Israelis and Palestinians will continue to blame each other for not doing what neither wants to do.

And all concerned will blame everybody and anybody for not striking a deal to free Gilad Shalit. No Israeli offer seems to be good enough for Hamas and once a new Israelis government is sworn in, Israel will be much less prepared to release the number of prisoners "with blood on their hands" that the present administration is reported to be ready for. The presumed next minister of defense (Yaalon) has already said so.

Go to top of next column

Of course, the bad news listed above would improve considerably if (a) the recent secret talks between Likud and Kadima were to lead to a coalition, then perhaps also with Labor; (b) if a new Palestinian government could be formed with a leader strong enough to seriously negotiate with Israel (my candidate is still Marwan Barghouti who could be released from jail in a Shalit deal); and (c) if Gilad Shalit were brought home, as Ehud Olmert is promising before he leaves office. None of this may be impossible as the week progresses, but it doesn't look like that as I write.


Do I need to hyphenate my identity? Not me!
By Sheila Orysiek

SAN DIEGO—My teenage son informed me that as a substitute teacher in high school I would be "meat for the jackals." But, I loved teaching the "jackals" and so I found myself in a performing arts high school in San Diego teaching a specialized class: ballet.

On one particular occasion while supervising the last ten minutes of class, the eleventh graders were busy chatting among themselves in Spanish. It was quickly obvious to them that I am not conversant in Spanish (other than ordering from a menu at San Diego's many marvelous Mexican restaurants). The students proudly informed me of their Hispanic heritage calling themselves Mexicans and only peripherally Mexican-Americans. This self-identification came as no surprise but what was perplexing was their subsequent insistence on asking me: "What are you?"

My answer: "I am an American" was grossly unsatisfactory to them. They were insistent that I must be a "something-American." They kept repeating that I could NOT be "just" an American. Having been born within walking distance of the Liberty Bell in Philadelphia, I assured them I was "just" an American. But nothing I said convinced them - they insisted I had to be "something more" because if I wasn't "something more" then I was "something less." For me, being an American is a fully functional identity. However, this raises the question: why would I want to be a hyphenated American? What do I gain with a hyphen? Conversely, what do I lose?

Though born in Kiev, Russia, (Ukraine was subordinated to Russia at that time) my mother never considered herself a Russian-American. After spending six years waiting under a quota system to immigrate to the United States, the proudest event of her life was the day she swore allegiance to her beloved America. I remember it well when as a four year old I stood with her in line at the kosher butcher shop (World War II ration coupon in her hand) as she informed everyone in the shop of this transformative event. And everyone in her life understood the significance of the event and congratulated her. Most of them were either new citizens or working toward that goal.

My father was born in Philadelphia of immigrant parents from Russia, but he too, never considered himself a Russian-American. He told me that though he was a hard working man of limited means, his one priceless gift to me was my American citizenship. Though I didn't entirely understand his meaning when I was a child, with age has come greater understanding and appreciation of the heritage he gave me.

Even my grandparents who were immigrants never identified themselves as "Russian-Americans." They were happy to shed the previous Russian identity for the new American one. They didn't look backward; they didn't long for what was behind them. America had welcomed them, and they responded fully and completely, only bringing with them their Jewish identity - which is a religion, not a nationality.

Despite the dedicated patriotism and gratitude of my family to this country, should I still call myself a "something-American?" Is there such a thing as an American-Mexican? Or an American-Japanese? Why are we Americans busy, in fact proactively - Balkanizing ourselves? Is the subliminal message that America has no intrinsic culture? Or that being American is somehow less than functional?

How about identifying as a "Jewish-American?" Though some people consider Jews an ethnic/racial group - are we really? If so, how does a "Jew by choice" fit into that ethnicity? And while I am happy to be a part of Judaism's proud heritage, I'm not sure it's anyone's business but my own as to my religious affiliation. So if I hyphenate as a Jewish-American does that mean others need to identify as Catholic-Americans, or Hindu-Americans, Wicca-Americans, and on to atheist-Americans as well as agnostic-Americans? Should we go on slicing the pie thinner and thinner until the slices are so thin they are unstable?

Should I hyphenate based on skin color? What would I gain? Why would I want to do that? Why should anyone want to do that? Tan-American is just as valid as black-American. What happens if someone has a parent in one group with the other parent in another group: White-Black-American? Or is that racist and should be: Black-White-American?

Why a hyphen at all? Does that not turn our national motto "E Pluribus Unum" on its head? I heard this motto being discussed by a "pundit" on a television news show. When she announced it meant "From One, Many" rather than "From

Many, One" and then was corrected, she threw up her hands, rolled her eyes and declared "Whatever!" This all too easy a wave off of the true meaning of that motto turns the entire United States Constitution upside down. If we don't understand the import of "From many, One" (as opposed to "From One, Many") it puts the lie to the concept of equality before the law: the centuries long quest of humanity to govern itself with equality before the law as the goal toward which we are still striving.

Though America is certainly made up of people from many cultures, there actually is a vibrant indigenous American culture. This distinct American culture is often sadly overlooked in the process of promoting the celebration of the component parts. There are very few, if any, countries - cultures - which haven't been subjected to waves of immigration and/or military invasion or "other" cultural overlay. Every country to some extent is the product of a multicultural process. But only in America (as far as I'm aware) do we feel the necessity of hyphenating and therefore diluting the existence of an American culture. It's as if people don't see being an American as a full identity.

So, I could be a: Kiev-Russian-Philadelphian-San Diegan-Californian-senior-white-female-married-Ashkenazi-Jewish-American. Uh - no, thank you. I don't need a hyphen. As an American, I am quite complete without one.


.

Please click the ad above




Please click the ad above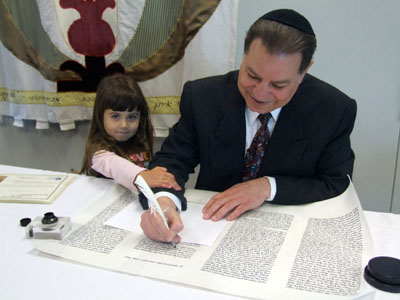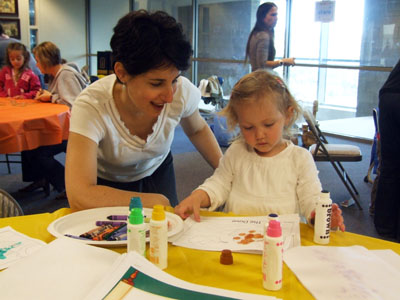 THE JEWISH CITIZEN


Tykes learn about Torah through games at SDJA

By Donald H. Harrison

SAN DIEGO—It was "Torah fun day" yesterday at San Diego Jewish Academy, where some familiar games for pre-schoolers were played with a Torah twist.

Have you ever heard of "pin the tail on the donkey?" At SDJA, little children were blindfolded and handed a sticky picture of a yad – the pointer one uses in Torah reading—and asked to "pin" the yad in the approximate location it would go if it were hanging on the outside of a Torah.


PIN THE YAD—Unidentified, blindfolded preschooler tries to pin the yad on the Torah as 5th grade volunteer Reut Baltinester, foreground, observes. Behind little girl, face obscured in another volunteer, Lily Katzeff.

Another activity nearby had pre-schoolers coloring a "shrinky dinky" design of a Torah, then waiting expectantly as a teacher put their efforts into a microwave oven and reduced them to small plastic Torah medallions, suitable for being worn as pendants.

A few stations away, children were coloring in a book with Torah stories, with the youngster I was observing working with great concentration on the story about Noah's Ark.


NOW WE'LL TELL YOU A STORY, GRANDMA—Sky Masori, middle, and Adam Markus, both 2, play with handpuppets as
Sky's grandma, Nancy Harrison, watches.

At Abraham's story-telling booth, children were invited to go behind the curtain themselves with a puppet and then to tell a story.




Children painted watercolors onto butterfly molds at another table. This wasn't really a Torah story, but it certainly was in the Jewish spirit. The butterflies, which are being affixed to
exterior walls all over the campus of San Diego Jewish Academy, are the school's effort to remember the 1.5 million children who perished in the Holocaust. For several years the school has been conducting a campaign to collect this extraordinary number of butterflies, and still has hundreds of thousands of butterflies still to go.

Dr. Daniel Sussman, principal of San Diego Jewish Academy's Golda Meir Lower School, said that obviously delivering a scholarly d'var Torah to the pre-schoolers wouldn't be age-appropriate. So, the intent of the day—in addition to recruiting new students--was to demonstrate to the children that Torah learning can be fun and to provide them with numerous pleasurable associations that they can recall when they hear the name "Torah."

If not for the children, then at least for their parents and teachers, excitement centered on the opportunity to "inscribe" a Hebrew letter in SDJA's Legacy Sefer Torah by touching sofer Alberto Attia's arm as he inked some letters onto the velvety parchment which later will be stitched to other panels of the Torah. The finished product will be put into the service of the Jewish people in time for this coming Shavuot.


SDJA Principal Daniel Sussman touches Torah scribe Alberto Attia's arm as he inscribes a portion of Exodus

Principal Sussman could not resist the opportunity to help write a Torah, nor for that matter could I. I shall long remember that I "helped" to write the word "Mitzraim" (Egypt) in the opening portion of the Book of Exodus in what SDJA officials hope will come to be considered as the Jewish community's Torah. My grandson, Shor, 7, a second grader at Soille San Diego Hebrew Day School—in some ways considered an SDJA rival—also was cordially invited to fill in a letter—a "shin," which is also the Hebrew letter that begins his name.

Grandson Sky, just turned 2, was still too young for inscribing a letter, so he wandered over to a different part of a room, where, with the help of Grandma Nancy and encouragement from SDJA volunteers, he found an ink pad just waiting for him to press his hand into. Then he walked over to a drawing of a Torah on a large sheet of paper tacked up onto a wall, and firmly, resolutely, and with great glee, added his handprint to those of other children of preschool age. That was his and their way of signing the Torah, another way in which they and Torah could be linked.


Harrison's email is editor@sandiegojewishworld.com


Please click the ad above

Go to top of right column



__________________________________________

Nancy Harrison
cruise & tour specialist



(619) 265-0808

nancy.harrison@americasvacationcenter.com

Friends: The slogan of San Diego Jewish World is "there's a Jewish story everywhere." I can help you travel to the locales of such stories. I'll work hard to find you the very best prices!
______________________________________
Please click the email above


Carol Ann Goldstein provides the following services:


Web Developer-information and ecommerce sites

Database programmer

Math Tutor -- all ages (San Diego, CA.)

Call 858 452 0386 or email cag_92122@yahoo.com





Adventures in San Diego Jewish History
Congregation Beth Israel
Southwestern Jewish Press, October 31, 1952, page 7

Temple Youth Groups Active—Temple Teens, the junior high school age youth group at Congregation Beth Israel, will hold its opening dance of the new season on Saturday evening, November 8th, from 7 p.m.to 10 o'clock. All boys and girls of this age group are invited to attend but must be called for at the Temple by their parents promptly at 10 p.m.

On Saturday, November 22nd, Temple Teens will have a "Turkey Trot" dance at the Temple. Details will be announced later.

The Temple Youth League , the high school and college age group will meet at the home of its president, Dick Godes, Sunday evening, November 9th, at 8 p.m. An interesting program in recognition of the 35th anniversary of the Balfour Declaration will be presented by Rabbi Cohn and Cantor Miller, and Israeli Folk dancing will be led by our TYL Campers who attended the Jewish League Conference this summer.

All young people of high school and college age are invited to attend this pleasant evening and participate in TYL affairs.

Sabbath Services at Temple Beth Israel—At worship services in the Temple this Friday evening, the Sabbath before election day, rabbi Cohn will discuss the national issues confronting the American people in his sermon, "Test for Candidates."

Friday evening, November 7th, is Shabbos Shalom, the Sabbath preceding Armistice Day. Rabbi Cohn will preach on the subject. "Peace, It's Wonderful!"

Temple Attendance Month—Congregation eth Israel is joining her 450 sister Congregations of the Union of American Hebrew Congregations in designating November as Temple Attendance Month.

Kick-off of the drive will coincide with the November "Religion in American Life" campaign, but the project will continue throughout the year. Among the interesting special services to be held at Temple Beth Israel are Shabbos Shalom, the Sabbath preceding Armistice Day) on November 7th, and New Members Sabbath on November 14th. Slogan of the project, which is being coordinated with all branches of the Congregation, is "Fill the Temple This Week."


T.Y.L. Club
Southwestern Jewish Press, October 31, 1952, page 7

Learn Israeli dances and songs at the home of Donna and Dick Godes, 4876 49th St. on November 2.

The Balfour Declaration will be the interesting subject on which Rabbi Morton J. Cohn will speak. Cantor Julian Miller will sing for us with Linda Solof and Aaron Kolkey demonstrating Israeli dances.

The program will be followed by a social hour. We hope to see all you guys and gals at 7 p.m.


Beth Jacob P.T.A.
Southwestern Jewish Press, October 31, 1952, page 7

Mr. Philip Mollick, President of Beth Jacob P.T.A. is extending a cordial invitation to the entire community for the night of November 8, when the group's 3rd Annual Cabaret Night will be held.

Mrs. Marvin Bobrof and Mrs. Alfred Bobrof are Co-Chairmen and they have an energetic committee hard at work dreaming up an entertaining floor show and many other surprises for the guests.

Checked cloths will cover each candlelit table and guests will be served by handle-bar mustachioed waiters in a gay 90s mood.

Your one donation at the door includes delectable refreshments as well as an opportunity to take home a door prise.

Mike Alesis' orchestra will provide music for dancing, which will begin at 8p.m. in the Beth Jacob Center, 4473 30th St.


Y.J.C. Club
Southwestern Jewish Press, October 31, 1952, page 7

"No trick but a wonderful treat!" That is what the young Jewish Couples Club is offering to its members and their friends at their

Go to top of next column




Halloween Party, Sunday, November 2, at 8:00 p.m. at the Tifereth Israel Synagogue.

Black cats and pumpkins, skeletons and ghosts will be on hand to help the members have a spooky, butbewitchingly good time. And how will they drive the spooks away? No, not with DDT or insecticide, but rather in the true Halloween spirit, with dancing and luscious refreshments of course.

Costumes are not required. Friends are cordially invited," say the Herman Hornsteins and the Bert Goldbergs, social chairmen.


"Adventures in Jewish History" is sponsored by Inland Industries Group LP in memory of long-time San Diego Jewish community leader Marie (Mrs. Gabriel) Berg. Our indexed "Adventures in San Diego Jewish History" series will be a daily feature until we run out of history.



Please click the ad above



Please click the ad above





Please click the ad above




.
Please click the ad above
Return to top


Jewish Internet Favorites ...
Edward G. Robinson and Mary Astor in "Little Giant"



Jack Albertson and Red Skelton in a "Clem Kaddidlehopper" skit in which a cow ad libs






Joseph Schildkraut as "Otto" in The Diary of Anne Frank


Morey Amsterdam does vaudeville shtick with Art Carney








< BACK TO TOP