| | | | | |
| --- | --- | --- | --- | --- |
| | Volume 3, Number 64 | | "There's a Jewish story everywhere" | |
Today's Postings:

Tuesday, March 17, 2009

{Click on a link to jump to the corresponding story. Or, you may scroll leisurely through our report}


INTERNATIONAL
Attorney demands Sweden return Nazi-looted art ... by David J. Rowland in New York
Ten years have passed since the Conference on
Holocaust-Era Assets took place in Washington in December 1998. The 44 Nations who signed the eleven principles at the Washington Conference have dealt with this self-commitment and the responsibilities tied to it in different ways. Sweden was also amongst the signatory countries.READ MORE

Jews Down Under ... Australian Jewish news roundup by Garry Fabian in Melbourne

New life for Holocaust Museum READ MORE

Zentai takes lie detector test READ MORE

Turnbull urges immediate withdrawal from Durban II READ MORE

El Al direct Australia link still a possibility READ MORE

Divided opinion about hosting Israel critic READ MORE

No welcome by Jewish community for Iran's former president Khatami READ MORE

LIFESTYLES
Here's to St. Patrick's Day, Purim and Ekpo Masquerades! ... by Donald H. Harrison in San Diego
San Diego County Sheriff Bill Kolender and Christopher J. Murphy, director of the California Office of Safety—a Jew and an Irishman—have sent warnings through media outlets urging people to remember not to drink and drive on St. Patrick's Day today, but instead to designate "a sober driver before heading to a local celebration or pub." READ MORE

ART
Charles Davidson's variant on the Kiddush ... by Cantor Sheldon Merel in San Diego, with audio recording
So far, on this website, I have tendered a wide variety of Jewish music: "chazzones" (Eastern Europe cantorial style), Ladino folk songs, Holy Day selections, Chanukah songs, Oratorio, orchestral music by Ernest Bloch, Opera (La juive), and Blues/ Jazz (Charles Davidson). READ MORE

Sugar Syndrome audiences left pondering addictions ... by Carol Davis in San Diego
In my Weight Watchers class, addiction is a word never mentioned out loud. It's the eight thousand pound elephant in the middle of the room. No one wants to carry that baggage around. READ MORE


ADVENTURES IN SAN DIEGO JEWISH HISTORY
October 31, 1952; Southwestern Jewish Press:

Temple Teens READ MORE

City of Hope Jrs. READ MORE

Realism (filler) READ MORE

Beth Israel Sisterhood Sunday Night Supper READ MORE

Dwight Eisenhower political ad READ MORE

Pioneer Women Negba Club READ MORE


JEWISH INTERNET FAVORITES
We continue our examination of Jewish entertainers

Joe Besser's life and comedy career retold on St. Louis television station KETC. VIEW VIDEO

Go to top of right column

Leon Askin as General Albert Burkhalter in French-dubbed Hogan's Heroes episode also featuring Werner Klemperer as Colonel Klink.VIEW VIDEO

Melvyn Douglas in Ninotchka with Greta Garbo VIEW VIDEO

Milton Berle does some shtick with Elvis Presley and Debra Paget VIEW VIDEO


COMMUNITY WATCH/ ADVERTISERS NEWS

Lawrence Family JCC: Art Survives: Expressions from the Holocaust READ MORE

TODAY'S ADVERTISERS

America's Vacation Center
Balloon Utopia
Beth Jacob Congregation
Carol Ann Goldstein
Congregation Beth Israel
Jewish Family Service
Lawrence Family JCC
San Diego Community Colleges
San Diego Jewish Academy
San Diego Jewish Chamber
Seacrest Village Retirement Communities
Soille San Diego Hebrew Day School
Tifereth Israel Synagogue
United Jewish Federation
XLNC-1 Radio




STAFF BOX

Hillel Mazansky, a frequent contributor, provides this link to a video urging the U.S. to condition its aid to Gaza on the release of Israeli prisoner Gilad Shalit. A former South African, Mazansky also found this PowerPoint presentation of African animals so beautiful a singer suggests "You're God's final creation... on the eighth day!"


DEDICATIONS
Each day's issue may be dedicated by readers—or by the publisher—in other people's honor or memory. Past dedications may be found at the bottom of the index for the "Adventures in San Diego Jewish History" page.


NOTE
PLEASE HELP US POLICE THIS SITE: If you see anything on this site that obviously is not in keeping with our mission of providing Jewish news and commentary, please message us at editor@sandiegojewishworld.com, so that we can fix the probem. Unfortunately, large sites like ours can be subjected to tampering by outsiders. Thank you!


EMAIL HEADLINE SERVICE


SEARCH THIS SITE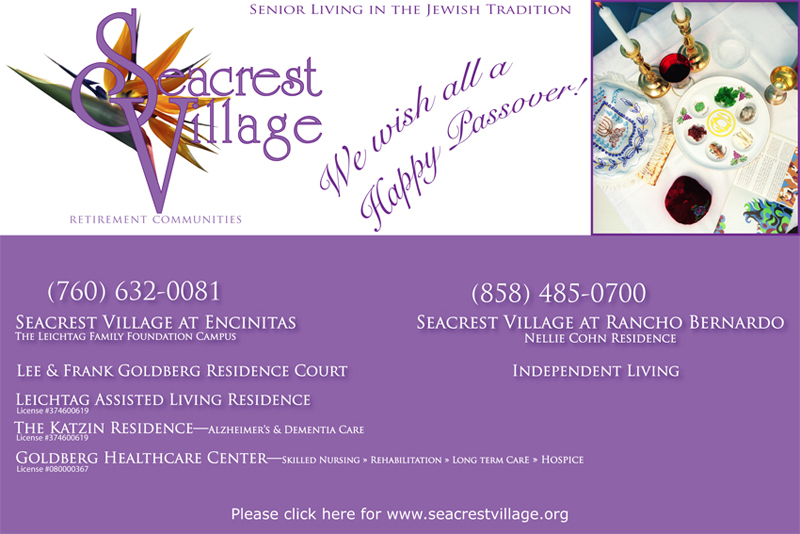 NEW YORK— Ten years have passed since the Conference on
Holocaust-Era Assets took place in Washington in December 1998. The 44 Nations who signed the eleven principles at the Washington Conference have dealt with this self-commitment and the responsibilities tied to it in different ways. Sweden was also amongst the signatory countries.

International standards for dealing with Nazi-Era claims were established on the basis of the 11 principles of the Washington Conference. These moral guidelines and principles even go beyond what was agreed to at the close of the Washington Conference in an effort to account for the atrocities of the Holocaust.

In light of these developments, it is unfortunate that the
dispute regarding the return of the painting (pictured below) by Emil Nolde "Blumengarten (Utenwarf)" (Flower Garden at Utenwarf) which is currently still in the Moderna Museet is still
ongoing.


Internet photo from the Moderna Musset


In 2002 the heirs of the former owner, Otto Nathan Deutsch,
who died in exile in the Netherlands, approached the
museum for the first time. Five years later - in 2007- the
Swedish government gave the Moderna Museet the task
to end the dispute and to find a fair and just solution on the
basis of the Washington Conference principles. On June
20, 2007 the Moderna Museet announced to the
international press that the painting would be returned to
the heirs.

Almost seven years after the heirs first approached the
museum, the painting has still not been returned.

As demonstrated in numerous international restitution
cases, an artwork that is determined to have been lost due
to Nazi persecution is to be returned to the former owner
(victim of that persecution) without further conditions. It is
undisputed that the Blumengarten painting was lost due to
Nazi persecution, and that Otto Nathan Deutsch was the
victim of that persecution. According to international
restitution standards the Blumengarten painting is thus to
be returned to the heirs of its former owner. Only after the
painting is returned and only if the institution is interested,
should it be discussed under what conditions the painting
might remain in the museum.

Despite these international restitution standards, the
Swedish museum (Moderna Museet) has demanded as a
condition for the return of the painting that the Deutsch heirs
loan the painting to the museum for a long period of time.
Later, they further defined the duration of the requested

Go to top of right column





loan term to be 20 years. To require such a long term loan
as a condition for restitution is not only unduly burdensome
and extortionate in view of international restitution
standards, but in view of the history of the family and the
provenance of this painting, is also highly insensitive. The
family had to flee from Germany in order to escape
persecution. Some of the family was arrested in the
Netherlands and killed in concentration camps. Two of the
claimants had to experience the atrocities in the
concentration camps personally when they were children.

Their father was killed in a concentration camp. Both
claimants are over 80 years old today and would not live
through the 10, or even less likely, the 20 year loan period
demanded by the museum.

Alternatively the museum required the condition that a
sponsor be found who would buy the painting and loan it to
the museum for a certain amount of time. After the museum
was not able to find such a sponsor, the heirs found a
sponsor who was willing to acquire the paining and loan it
to the museum for a term of 3 to 5 years. Now the museum
demands a sponsor that would loan the painting for a
period of 10 to 20 years to the museum. This demand is
not only unrealistic, but it enforces the impression that the
museum is not concerned with finding a solution, but is
trying to prevent finding a solution.

The national press in Sweden and the international press
already reported two years ago that Sweden would
comply with the restitution request and returned the
painting to the Deutsch heirs. Unfortunately reality tells a
different story. In the 11th year after the Washington
Conference and on the eve of the Prague Conference in
June 2009 the return of the Nolde, Blumengarten painting
is long overdue.

Nations like the Netherlands, Great Britain, France and
Austria have complied with the principles of the
Washington Conference and are following the
self-imposed duties in dealing with artworks lost due to
Nazi persecution, in particular to independently research
the provenances and, if the requirements are met, to return
these artworks without any conditions.

In connection to the case at hand there is only one
solution: Sweden and the Moderna Museet must promptly
restitute the painting. This is what the heirs request. And
the question of whether they will agree to leave the
painting in the museum will be decided after the painting
has been returned.

In the recent exhibition at the Jewish Museum Berlin
entitled "Looting and Restitution. Jewish-Owned Cultural
Artifacts from 1933 to the Present", the following can be
read in the catalogue:

The understanding of restitution as the restoration of the
rule of law that had been destroyed would, in terms of
cultural property and museums, mean not to understand
restitution as "giving away" of a work of art but as
"not-wanting-to-have" an object obtained illegally, i.e. the
obligation of the unlawful possessor to return it and not the
obligation of the victim to reclaim it.

The Swedish museum which is holding a painting lost due
to Nazi persecution has the obligation to return the
painting. This obligation, be it legal or a mere moral
commitment, must be fulfilled and the Deutsch heirs expect
this.


Rowland is a New York based attorney who has been representing Nazi victims since 1990


Jews Down Under ... Australian Jewish news roundup

By Garry Fabian

New life for Holocaust Museum

MELBOURNE - The Jewish Holocaust Museum is
getting a $1 million make-over in a bid to appeal to the "iPod generation."

Thousands of photographs, documents and text will
be removed from the current premises and replaced
with inter active technology such as digital displays, touch screens, videos and "story pods".

The upgrade is part of its 25th anniversary celebrations at the museum. Curator Jayne Josem said museums have moved on in the way they presented information. "The whole idea was to combine the traditional story telling of the
older generation with the modern iPod generation".

The museum opened in March 1984, to keep the memory of the victims of the Holocaust alive. Work will start in December 2009, with a new look museum opening its doors in February 2010. Ms. Josem said the technology was essential to keep survivor stories alive. The story pods are
interactive screens with digital "objects" such as letters and photographs visitors can touch to learn more about someone's plight.

Accounts of non-Jewish people who risked their
lives to help Jews would also be available. Centre spokesperson Frankie Pinch said the building's interior would also be ungraded. A fundraising campaign involved
applying to philanthropic trusts and seeking grants. A "sizable grant" from the Ian Potter Foundation (which is not a Jewish foundation) has already been received.


Zentai takes lie detector test


Perth - Accused Nazi war criminal Charles (Karoly) Zentai -- who is fighting extradition to Hungary on charges relating to the alleged wartime murder of a Jewish man in Budapest -- has taken a lie detector test in an effort to prove his innocence.

Zentai took a polygraph test last week and claimed it found there was a 96 per cent likelihood that he was telling the truth
regarding his alleged involvement in the death of
Peter Balazs, 18, on November 8, 1944, in Budapest.

Zentai, 87, told the ABC's PM program he understood that polygraph tests were not admissible as evidence in court, but said it was something he needed to do.

"Everybody was throwing accusations at me. I was
just getting tired of it all and I thought I had to do this," Zentai said.

The European-born Australian appeared before Justice John Gilmour in the Perth Federal Court on March 10 to appeal the court's previous finding that the Magistrates Court has
jurisdiction to conduct his extradition trial.

His lawyers argued that murder was not considered
a war crime in Hungary when Zentai was alleged to have killed Balazs.

His legal representative was reported to have argued that Hungary could apply to have the law enacted retrospectively, but had not done so.

Perth magistrate Barbara Lane ruled in 2008 that Zentai's case met the requirements of the Extradition Act and that he was eligible to be extradited to Hungary to stand trial.

But Zentai's lawyers argued the Magistrates Court
did not have the jurisdiction to make the ruling on the Extradition Act.

Zentai's family have said, despite the cost of continuing legal proceedings fighting the extradition, they would continue to appeal the judgement.

The final decision on extradition is in the hands of federal Minister for Home Affairs Bob Debus.

After investigations through Israel's Simon Wiesenthal Centre, Australian authorities located Zentai in Perth in 2005, after which he was arrested and charged. The Hungarian Government consequently requested his extradition.

The Perth hearing is currently ongoing.



Turnbull urges immediate withdrawal from Durban II

CANBERRA - Australian opposition Leader Malcolm
Turnbull has urged the federal government to
immediately announce Australia's withdrawal from
next month's Durban Review Conference.

Turnbull told around 1100 guests at the United
Israel Appeal's (UIA) Victorian appeal launch at
Crown Palladium on Thursday night that the
conference lacked any credibility and that Australia should take no part.

"[Foreign Minister] Stephen Smith should not be
going to Geneva and Kevin Rudd should not be sending him there," Turnbull said.

The federal Government is waiting to see the final wording for the draft outcome document before making its final decision on whether to attend. It is not expected to make the decision until at least Tuesday.

Smith met with Executive Council of Australian Jewry president Robert Goot and Zionist Federation of Australia president Philip Chester this week to discuss the conference's latest draft outcomes document, which some observers
believe to believe more toxic than the motions passed at the first conference in 2001.

Turnbull said the conference would again cast a poor light on the United Nations. "It will be an appalling example of anti-Semitism and Israel bashing, tragically under the auspices of the UN."

"The United States has already decided that the conference is not salvageable and has decided not to attend. We in the Liberal Party agree and believe that Australia should withdraw immediately."

The Opposition has lambasted the Government's hesitation to make a decision. Shadow Minister for Foreign Affairs Julie Bishop asked Smith in Parliament on Wednesday why the
Government has not yet withdrawn.

Smith replied: "As I have indicated publicly and privately over recent days and weeks to those people who have raised it with me, unless we see qualitative improvements made to the [draft outcome] text Australia will not be attending either".

"If we form the view that the text is going to lead to nothing more than an anti-Jewish, anti-Semitic harangue, and an anti-Jewish propaganda exercise, Australia will not be in attendance," Smith said.

Meanwhile, Turnbull also took the opportunity at the UIA function to lambast the federal Government for voting against Israel in a pair of UN resolutions late last year. He expressed concern that it was part of Australia's bid to
win a seat on the UN Security Council in 2012.

"It has been tradition for Australian governments of both persuasions to solidly support Israel in every forum, which is why we haven't supported the one-sided motions that are presented in UN forums," he said.

"We hope that this change, which we were very disappointed with, does not have anything to do with the current effort by the Prime Minister to garner support for us winning a seat on the UN Security Council."

"Let me be very clear about this: Australia should never get into the business of trading on principle our support for Israel to win the support of those who favour we seek to win a seat on the Security Council."


El Al direct Australia
link still a possibility

SYDNEY - EL AL, Israel's national airline, will beef up its Asian service from the end of March, but according to El Al's regional manager for Asia and Oceania, Yair Berrebi, there are no short-term plans to fly direct and return routes to Australia.

Berrebi, who was in Australia for a brief visit to meet El Al representatives and travel industry executives, said El Al sees the local Jewish community as its "core business" in Australia.

Long-term hopes for direct flights from Sydney or Melbourne into Ben Gurion Airport in Tel Aviv remain high, after El Al recently announced direct flights to Israel from Sao Paolo, Brazil, which has a sizeable Jewish community.

However, Berrebi said the Brazil connection was planned before the current economic downturn, and the airline would wait to see how the global picture developed before planning any new direct routes.

"I don't think it's a disconnect from reality that one day El Al will be in Australia," Berrebi told The AJN, citing the size and level of support for the airline nationally.

Meanwhile, Australian travellers can take advantage of a comprehensive network of connecting flights to Hong Kong, Beijing, Bangkok and Mumbai, with outbound carriers including Qantas (which has a frequent-flyer partnership
with El Al), Cathay Pacific and Thai Airlines, he said.

A fifth weekly El Al flight from Hong Kong will commence from the end of this month.

Berrebi said a code-share agreement with a major
airline is being negotiated, with El Al set to make an announcement soon.

When the Gaza conflict flared up in December, El Al's Asian division was hit with more than 2000 cancellations in 72 hours from some 16 countries.

Although the Gaza crisis has now subsided, the impression in Asian markets is that "tourists, pilgrims, and some from the Jewish community feel too uncomfortable to come to Israel".




In 2008, El Al recorded a rise of 60 per cent in Australian passenger volumes over the previous year's figure.

"I see it as a salute to Israel to have this kind of support from this community."

El Al's general manager for Australia Romy Leibler said support from Jewish organisations was a vital element of the relationship.

"We don't have a moral exclusivity, but we make sure we do our best to be seen as the airline of the community and the airline of Israel."

Business and trade travel between Australia and Israel is becoming a growing part of the passenger mix, he said.



Divided opinion about
hosting Israel critic

SYDNEY—A synagogue has cancelled a March 23
appearance by an Israeli academic who described
the Israeli-Palestinian conflict as "a countdown to apartheid."

American-born Professor Jeff Halper, who condemned Israel as a country of "nefarious ideologies," is coordinator of the Israeli Committee Against Housing Demolitions (ICAHD).
The organisation was set up 12 years ago to oppose the practice of house demolitions.

Emanuel Synagogue executive director Allan Glazerman said on Thursday the decision to withdraw Prof Halper's invitation was made at a special executive meeting on Tuesday this week.

The synagogue had planned to make a decision at its scheduled executive meeting on Thursday, but Glazerman said the shul's management wanted an early resolution of the matter.

Prof Halper had been invited by Rabbi Jeffrey Kamins, Emanuel's senior rabbi, to address a Torah class of about 12 people who study the weekly parshah and related issues.

"I guess people in that class who are maybe connected with [Prof] Halper ... somehow wanted to open it up as a community forum. We never had any interest in that," Glazerman said.

"Our rabbi thought that for a regular class to hear his views about the demolition of Palestinian homes was important. He certainly never intended it as a forum for the community."

Jews against the Occupation spokesperson Vivienne
Porzsolt said the synagogue's reversal was due to "the noxious culture of silence, fear and suppression that dominates the organised Jewish community in relation to Israel" and said the organisation would set up an alternative meeting between Prof Halper and the Jewish community.

She also slammed a decision by The AJN not to publish an advertisement listing Prof Halper's speaking engagements. The newspaper's management said it acted within its legal right to refuse to publish the advertisment.

Prof Hapler is on an Australian speaking tour. During his Sydney and Melbourne visits, he will speak at several universities, the title of one of his lectures is "Countdown to Apartheid in Israel/Palestine".

Supporting his visit are Jews Against the Occupation, Independent Australian Jewish Voices, Australians for Palestine, and the Coalition for Justice and Peace in Palestine.

No welcome by Jewish community
for Iran's former president Khatami

MELBOURNE - The Victorian Jewish community is
critical of a former Iranian president's visit to Australia, as expressed in the letter by the president of the Jewish Community Council of Victoria responding to an invitation during Khatami's visit to Melbourne.

13 March 2009


The Archbishop Philip Freier
The Anglican Diocese of Melbourne
209 Flinders Lane
Melbourne VIC 3000

Dear Archbishop Freier

I write to thank you for your kind invitation to attend the Anglican Diocese's morning tea to honour HE Seyed Mohammad Khatami, presumably for his supposed commitment to dialogue. I must decline, however, and I wish to take this opportunity to advise you why I do so.

As you would know, Khatami was the president of Iran from 1997 to 2005 and is a candidate for this position again. You may not be aware, however, that Iran became less democratic and free during his presidency. From 1997 to 2002, for example, more than fifty newspapers were
closed, internet services were banned and satellite dishes confiscated. The Government continued to harass and kill intellectuals, students, and dissidents. Public executions
increased and Iran's Jewish community and other
minorities were harassed and intimidated.

Khatami's anti-democratic ways have not been confined to his own people. He resembles his successor, President Ahmadinejad, in his public hatred of Israel, describing it, amongst other things as a "plague" and "the greatest enemy of
Islam and humanity." In a televised address on 24 October, 2000, he declared, "In the Koran, God commanded to kill the wicked and those who do not see the rights of the oppressed... If we abide by human laws, we should mobilise the whole Islamic World for a sharp confrontation with the Zionist
regime... If we abide by the Koran, all of us should mobilise to kill." And only last year, this supposed champion of dialogue called Israel "an old, incurable wound on the body of Islam, a
wound that really possesses demonic, stinking, contagious blood."

It is also noteworthy that Khatami has often expressed his support for Hezbollah and for terrorist Palestinian factions - including Hamas and Islamic Jihad - which not only oppose peace with Israel, but are blatantly and proudly antisemitic.

I respectfully suggest to you that a person with this track record could not have a commitment to honest dialogue nor to peace. You may respond that Khatami may have changed his views since 2005. Given the nature of Iranian society,
however, I would argue that this is impossible.

Quite simply, Iran is a totalitarian theocratic state. In 2008, Amnesty International reported the following:

The authorities continued to suppress dissent. Journalists, writers, scholars, and women's rights and community activists were subject to arbitrary arrest, travel bans, closure of their NGOs and harassment. Armed opposition, mainly by
Kurdish and Baluchi groups, continued, as did state repression of Iran's minority communities. Discrimination against women remained entrenched in law and practice. Torture and other ill-treatment were widespread in prisons and detention centres. A security clampdown announced
in April was marked by a sharp rise in executions; at least 335 people were executed, among them seven child offenders. Sentences of stoning to death, amputation and flogging
continued to be passed and carried out.

It is also common knowledge that Iran is developing a nuclear capacity and has threatened on numerous occasions to wipe Israel off the map. In 2007 its Jew-hating Government sponsored both a conference debunking the Holocaust and a cartoon competition that mocked it.

This is the country that Khatami wishes to lead.

Iran's mullahs forbid dissent. If Khatami did not support such heinous policies and ideologies, he would not have been president before and certainly would not be permitted to be a
candidate again. While he may spout pious words of coexistence, his actions certainly belie them.

Frankly Archbishop, our community finds it inconceivable that the Anglican diocese would choose to host such a man or even to meet with him. On behalf of the Victorian Jewish community, I respectfully ask that you reconsider.

I look forward to your response.

Yours truly, John Searle. President

Australia bureau chief Fabian's email is fabiang@sandiegojewishworld.com

________________________________________


Click above to visit San Diego Jewish Academy's website


_______________________________________




By Donald H. Harrison

SAN DIEGO—San Diego County Sheriff Bill Kolender and Christopher J. Murphy, director of the California Office of Safety—a Jew and an Irishman—have sent warnings through media outlets urging people to remember not to drink and drive on St. Patrick's Day today, but instead to designate "a sober driver before heading to a local celebration or pub."

"St. Patrick's Day is supposed to be a time to celebrate Irish heritage and gather with friends, but it can quickly end in tragedy due to impaired driving," said Kolender in the press release. "If you plan on drinking don't rely on luck to keep you safe or to keep you out of trouble. Be responsible and take appropriate precautions."

No doubt some of Kolender's and my fellow Jews may consider St. Patrick's Day just a day for the Irish and the would-be Irish to get drunk , and almost as certainly there are some of Murphy's fellow Irishmen who may consider Purim an excuse for Jews and would-be Jews to get into the hooch.

The other evening Nancy and I visited San Diego Jewish World Assistant Editor Gail Umeham and her husband, Okoronkwo, who comes from Arochukwu in Eastern Nigeria. He showed us some videos of a Ekpo Masquerade that occurs during the New Yam Festival—a harvest holiday—that we Jews and our friends the Irish might consider simply another fine occasion for lifting a glass and one's spirits.

In all three cases—St. Patrick's Day, Purim and the Ekpo Masquerade-- we'd be wrong, and cheating ourselves of some fascinating cultural story telling if we simply wrote off these festivals as alcohol fests.

In considering people's holidays and celebrations, I try to follow a rule that I learned on a trip to Beijing, China, from a very wise guide who served as a docent at the art museum.

He said that there are many westerners who do not like Chinese paintings simply because they do not know where to look. When you look at most western paintings, the key subject is in the middle of the painting. Your eye is drawn to that first, and from that point you begin to widen your gaze until you take in all four corners of the arts work.

Not so with a Chinese painting. Sometimes, in fact, the exact middle of the painting may be nothing but sky, snow or other blank space. Confused that there is nothing or little of interest at the center of the painting, the uninitiated westerner soon despairs of the picture and moves to the next one hanging in the gallery.

Our guide told us not to look at the center, but to look at one side of the painting, and to "read" the painting—sometimes from right to left, sometimes from left to right, or sometimes from top to bottom, or perhaps from bottom to top. Don't hurry, the guide instructed us, take your time. See what the artist is saying about life in this area of China. Study all the vignettes and visual anecdotes that he or she has painstakingly placed in the picture.

Knowing how to look at something makes a very big difference.

Imagine someone not Jewish coming to a Purim carnival, or to the reading of the Megillah, and seeing everyone in costume, even the rabbi. Imagine the stranger watching as the rabbi starts to read a scroll, and seeing everyone in the congregation booing and making noise every time some fellow named Haman's name is mentioned. And imagine what that first-time visitor's reactions might be if he saw a bunch of people in costume calling themselves "Queen Esther," "Mordecai," "Vashti," "King Ahasverus" and even "Haman" drinking with abandon and incoherently repeating some saying about not being able to tell the difference between Haman and Mordechai. What would that visitor think?

We Jews know, of course, that we're just retelling in somewhat boisterous fashion the story contained in the Book of Esther, when a plot to kill the Jews by the evil Haman was foiled by the beautiful and secretly-Jewish Queen Esther.
Return to right column

If you had watched the video with us at the Umeham's house, you would have seen men whose bodies were rubbed dark black with charcoal and wearing huge, frightening masks come running out of the brush and scaring some people, and dancing in front of others, not stopping until someone threw money at him, which was promptly collected by his attendants.

Not long after one masked man passed, another would come, and then another, each dancing a rhythm called out by an accompanying drummer. Typically an event for men, village women would stay inside their homes when these frightening creatures would appear. When they arrived at the city center, however, women watched from back benches along the parade route, careful to take cover should the masquerader come too close.

The longer the dancing and money-throwing went on, the more alcohol spectators consumed, leading in some cases to altercations.

So what was going on? Among various people's of Eastern Nigeria, including our friend Okoronkwo's Igbo people, the masqueraders represent spirits and the ghosts of ancestors—some good, some evil—who come back to admonish the villagers to follow the right moral path. The money thrown by observers goes to support the secret societies who sponsor the dancers.

And St. Patrick's Day? Well, the story is told that Patrick started life as a slave and ended up a bishop, and was the man generally credited for converting the Irish people from their Celtic religion to Christianity. Not unlike the Virgin of Guadalupe, in Mexico, whose origins seem to incorporate pre-existing Aztec belief, the legends about St. Patrick apparently harken back to Celtic times.

In Celtic mythology, spring time trailed in the wake of the Goddess Brigit. Where she walked, flowers would spring to life and, of course, all the lawns and trees and shrubs would turn green. Nowadays, St. Patrick turns the world green—even its beer and its bagels!

Some Irish legends consider Brigit to have been the sister of the Virgin Mary; others say that she was either the mother, or bride, of St. Patrick. In the Celtic pantheon, the snake represented the earth and also, because of its shape, male virility. So the legend of St. Patrick driving the snakes from Ireland is layered with meaning.

Whether the cause of merrymaking be St. Patrick chasing away the snakes, the evil spirits warning people against their evil inclinations, or the people hanging Haman, as the evil incarnate, as in these folktales, we should "harken" to the safety tips of Sheriff Kolender and state Traffic Safety Director Murphy.

These include:
—"Plan a safe way home before your celebrations begin.
—"If you plan to get a ride home with someone else, designate a sober driver before any drinking begins.
—"If you're impaired, use a taxi, call a sober friend or family member, or use public transportation so you are sure to get home safely.
—"If you happen to see a drunk driver on the road, don't hesitate—Call 9-1-1.
—"If you know someone who is about to drive their car or ride their motorcycle while impaired, take their keys and help them make other arrangements to get where they are going safely."

In the traditional toasts of the Irish, the Jews, and the Igbo:

May the luck of the Irish
Lead to happiest heights
And the highway you travel
Be lined with green lights.

L'chaim! To Life!

Nduoma! Long Life





MUSIC OF OUR PEOPLE


Charles Davidson's variant on the Kiddush
To hear Cantor Merel perform this chant, please click here


By Cantor Sheldon MerelSAN DIEGO—So far, on this website, I have tendered a wide variety of Jewish music: "chazzones" (Eastern Europe cantorial style), Ladino folk songs, Holy Day selections, Chanukah songs, Oratorio, orchestral music by Ernest Bloch, Opera (La juive), and Blues/ Jazz (Charles Davidson). While I love to sing the old time "chazzonos," I am also eager to introduce music of our contemporary Jewish composers.

The immortal words of Psalms 96 and 98 to "Sing unto the Lord a new Song" has been the driving force for generations of Jews to constantly enhance worship with new music. Many contemporary Jewish composers have responded by writing new music, and revitalizing older liturgical music with new harmonies and accompaniments to reflect the sounds of our times. The process of creativity has been going on for centuries, from the days of the Levitical choruses and orchestras in the ancient Jerusalem temple to the full orchestral Sabbath Services. The search for relevance of our prayers by every generation is eternal.

My family and I chant the Kiddush each Shabbat evening in our homes with a familiar melody. Still there can be appropriate and exciting opportunities in every synagogue calendar to perform the Kiddush and other new works in completely different styles, rhythms and with an assortment of instruments.

Now, in a completely different mode, here is a Kiddush written by Cantor Charles Davidson, for cantor, choir and Jazz Quintet, from his service, "And David Danced Before the Lord". Davidson melded traditional nusach with jazz to provide people of all ages with easy and appealing music.

Go to top of right column




KIDDUSH: "Blessed is the Lord our God, ruler of the universe, creator of the fruit of the vine. Blessed is the Lord our God, Ruler of the universe, who hallows us with His Mitzvot and takes delight in us. In His love and favor, He has made His holy Sabbath our heritage, as a reminder of the work of creation. It is first among our sacred days, and a remembrance of the Exodus from Egypt. O God, You have chosen us and set us apart from all the peoples, and in love and favor have given us the Sabbath day as a sacred inheritance. Blessed is the Lord, for the Sabbath and its holiness."

Merel is cantor emeritus of Congregation Beth Israel in La Jolla. His email is merels@sandiegojewishworld.com




Please click the ad above



Please click the ad above



__________________________________________

Nancy Harrison
cruise & tour specialist



(619) 265-0808

nancy.harrison@americasvacationcenter.com

Friends: The slogan of San Diego Jewish World is "there's a Jewish story everywhere." I can help you travel to the locales of such stories. I'll work hard to find you the very best prices!
______________________________________
Please click the email above


Carol Ann Goldstein provides the following services:


Web Developer-information and ecommerce sites

Database programmer

Math Tutor -- all ages (San Diego, CA.)

Call 858 452 0386 or email cag_92122@yahoo.com






By Carol Davis

SAN DIEGO—In my Weight Watchers class, addiction is a word never mentioned out loud. It's the eight thousand pound elephant in the middle of the room. No one wants to carry that baggage around. But addicts we are and our goal is to break the cycle of what caused it. I wouldn't even venture to say how many self-help groups there are out there to help as many addicts. In fact, most addicts cover their tracks fairly well.

Aside from the Good Body play by pioneer Jewish playwright (The Vagina Monologues) Eve Ensler that deals with the stomach and body image theme, not much in the way of the addiction epidemic is written about in play form, at least not to my knowledge. Moxie Theatre recently mounted The Sugar Syndrome by British playwright Lucy Prebble (Her first play out of the chute), that deals not only with eating disorders such as anorexia and bulimia but she throws in pedophilia for good luck. It's a riveting, funny and eye-opening account of how the now generation deals with disconnected families, broken systems, addiction and unlimited and instant communication via the Internet.

The play centers around four characters, Dani (Rachel Van Wormer), Lewis (Jessie Allen Moore), Tim (Sean Cox) and Dani's mother (Jan) played by Terri Park. Dani is seventeen and wise beyond her years, She has just arrived home after a stint in an upscale eating rehab center. She suffers from bulimia (eating and purging). She sometimes goes to her classes but most of her time is spent in chat rooms on the Internet. There she meets Lewis, a rather gullible seventeen year old virgin who is a shy and lonely boy looking for a girlfriend to fulfill his sexual fantasies. She also chats with an older man in his thirties who thinks she is an eleven-year-old boy. Dani's mother knows nothing of her activities. Her father, a newspaper editor, is absent from the home and lives with his mistress in a separate apartment. Dani is left to fend pretty much on her own.

Prebble, still in her twenties and wise beyond her years, writes into the dialogue of this generation chapter and verse. She won a newspaper competition for her writing and while Sugar Syndrome is her first it is not by a long shot, her last play. She's won awards including England's George Devine Award for Outstanding Debut Play and the TMA award for Best New Play. Moxie Theatre is only the third company in the country to stage this award-wining play and it is done meticulously under the direction of Jennifer Eve Thorn.

The play unfolds effortlessly as we watch Dani (an amazingly mature performance from Van Wormer) check out her e mail, hook up with and make friends with both Lewis, with whom she has sex and Tim whom she befriends even knowing that he has been in prison and has taken classes for his pedophilia tendencies. The bond between Tim and Dani is especially interesting to watch as two flawed people looking for a common denominator to encourage that friendship.

The action goes back and fourth between the three with Dani as the sort of go between. While she still shows signs of her bulimia (as witnessed in a scene with Tim when she chows down cake and pizza and then gives herself some kind of cocktail to throw it up in a very graphic and moving scene) she still appears to be the healthiest of the three. She has all kinds of good advice for Tim, even an affinity, while she tends to blow off Lewis.

Both Cox and Moore are convincing in their portrayals of the two men in Dani's life each showing a tendency toward the obsessed with Moore's Lewis more on the mean spirited and revengeful side than Cox's quiet, more penetrating side. While Dani is off helping Tim stifle his feelings, Lewis is on track to expose the pedophile even showing up at Dani's house and involving her mother. Terri Park is quite convincing as the ditsy out of touch parent who hasn't a clue of either her daughter's habits or her friends or how to get a grip on her own shattered life.


All four are convincing to us that they are interested in the greater good, but there is something troubling about Tim, who still yearns for young children knowing that he can go back to prison if he attempts it again but is willing to chance it. And while we want to believe that in the end, when he gives Dani his computer with his 'child file' complete on it, something doesn't ring right that this is the end for him. As for Dani, she is a survivor, street smart and will learn.

VonWormer is perfect as Dani, true to life, sweet, clever with all the right answers and ever growing in her credits as an actor to watch. Jessie Allen Moore's character is typically the what's in it for me character and it was interesting to watch as his facial expressions said more than any of his lines. Park, a convincing force to be reckoned with, did evoke some degree of compassion for her character even though I hate to admit that she did look a bit anorexic to me. I guess everyone's idea of thin is different— just take a look at some of the top models.

Amy Chin's industrial looking background set along with Mia Bane Jacobs spot on lighting created a 21st century cold chat room, bedroom and living space about as informal a setting as we can imagine.

An interesting side note came about when, in a movement of camaraderie, Jan tells Dani that during the war (in Europe, more specifically in England) when there was wartime rationing, people used to save their coupon rations on a quick sugar fix rather than purchasing staples like eggs and meat. It's all about The Fix. Lest we forget as well, it extends to our advertising industry that encourages everyone to look young, sexy and on the prowl. Moxie is to be congratulated for bringing this important show to San Diego.

Sugar Syndrome ended its run at Diversionary but keep your eyes open for more exciting news from Moxie Theatre.

See you at the theatre.




Adventures in San Diego Jewish History

Temple Teens
Southwestern Jewish Press, October 31, 1952, page 8

By Susan Solof

Temple Teens is starting the year off with a terrific dance Nov. 8th at Temple Beth Israel, Third and Laurel. Thie dance is from 7:00 to 10:00 p.m., dressy sport. Refreshments, dancing and loads of fun are in store for all of you. Please have your parents pick you up promptly at 10 o'clcok. We hope to see all of you there.

Temple Teens new board members are Sharlene stone, Gary Cantor, Bobby Cohen, Breda Heiman, Jack Felson, Alan Friedman, Susan Hutler, Terry Kitaen, Elaine Brandenburg, Jack Scharpe, Susan Solof, Jerry Mendell, Shelley Haffner, Morton Cohn Jr. , Bobby Spiegel, James Elden. Presiding over the group is Nelson Buyer, President. Mrs. Wise, Uncle Goerge Martin and Mrs. Cohn are our wonderful advisors.

Watch for more details about our Turkey Trot coming up November 22 on Saturday with Bill Finch and his music makers.


City of Hope Jrs.
Southwestern Jewish Press, October 31, 1952, page 8

The next meeting of the City of Hope Junior Auxiliary will be held Tuesday, November 11 at 8:00 p.m. at Landis Street Center. A most interesting meeting is planned.

Rosalie Reisman, president, and Sally Lieberman, first vice president, spent the whole night of October 25 to 26 at KFMB-TV helping with the san Diego pledges that came in during the City of Hope Marathon.


Realism (filler)
Southwestern Jewish Press, October 31, 1952, page 9

"Dad, I've got my first part in a play," said the young actor. "I play the part of a man who has been married for 20 years."

"Splendid," replied his father. "Maybe one of these days they'll give you a speaking part."


Beth Israel Sisterhood Sunday Night Supper
Southwestern Jewish Press, October 31, 1952, page 9

Temple Beth Israel Sisterhood extends an invitation to the public to bring the entire family for a home-cooked meal on Sunday, Nov. 2 at the Temple Center, 3rd and Laurel Sts. Food,w hich will be prepared by the membership, will be served between the hours of 408 p.m. adults, $1.85, children under 12, 85c.

Serving as co-chairmen with Mrs. Louis Bickman, who is Ways and Means Chairman, are Ms. Leo Greenbaum, Mrs. Nathaniel Ratner, Mrs. Abe Bronstone.

Assisting the Supper Committee are Mesdames Victor Selton, Victor Schulman, Louis Steinman, Lewis Solomon, Charles Kronick, Ben Baron, Jane Drexsler, William Gordon, Ray Platt,Al Byrock, Harry Epsten, M. Goldfarb, Leonard Linn, Abe Siner, Oscar Ravin, Ed Bland, Robert Stone, Ben Golden, Abe Sklar, Jack Gross, David Rubenstein.

On Nov. 12 Temple Beth Israel Sisterhood will have its luncheon meeting at 11:45 a.m. in the Temple center at 3rd and Laurel sts. This has been changed from the regular meeting date, Nov. 26.

Luncheon Captains are Mrs. Irving Hertz, Mrs. Murray Samuels. A much anticipated program will feature Mrs. Ida Nasatir who will review the current book "The Old Man and the Sea," by Ernest Hemingway.

For reservations, phone Mrs. John Ruskin, Mrs. J. Alweis.

Dwight Eisenhower political ad

October 31, 1952 Southwestern Jewish Press advertisement for Ike by local Jewish community members. Click to enlarge


Pioneer Women Negba Club
Southwestern Jewish Press, October 31, 1952

At the next regular meeting of Negba Club on Thursday, Nov. 6th a Book Review of "Tongue of the Prophets" by Robert St. John will be presented by Florence Barach. A report on the progress of the Souvenir Program Book for the Regional Conference in San Diego will be given by Rose Brooker, Chairman.

Plans are being completed for the J.N.F. Blue Box Collection and free luncheon on Thursday, Nov. 20th. Jeanette Abrams, chairman, asks all members to reserve this date. Florence Barach, chairman of the Regional Conference on Nov. 14-17 and her capable Committee Chairmen from Shoshanah and Negba groups are hard at work completing plans so tha thte ocnferrence will be remembered as the outstanding event of Pioneer Women achievement.

Pioneer Women's Western states regional Conference being held at Manor Hotel in San Diego on November 14-16 is only one of the many being held in centrally located cities within the nine geographic areas making up the regional districts.

The appearance of Miss Aliza Shidlowsky, Delegate from Israel and Dr. Sara Feder, National President of Pioneer Women, will highlight the Conference in San Diego. Dr. Feder is one of America's outstanding Zionist leaders and one of the ten founding members of Pioneer Women.

"Adventures in Jewish History" is sponsored by Inland Industries Group LP in memory of long-time San Diego Jewish community leader Marie (Mrs. Gabriel) Berg. Our indexed "Adventures in San Diego Jewish History" series will be a daily feature until we run out of history.




Please click the ad above


Go to top of right column




Please click the ad above


.
Please click the ad above


Please click the ad above


Art Survives: Expressions from the Holocaust

SAN DIEGO (Press Release) – The Gotthelf Art Gallery, part of the San Diego Center for Jewish Culture at the Lawrence Family Jewish Community Center, JACOBS FAMILY CAMPUS, is pleased to announce the new exhibition Art Survives: Expressions from the Holocaust, running March 18, – May 21, 2009. The exhibit is proudly sponsored by the Leichtag Family Foundation.


"With many artistic figures from whom to draw, Helstein does well to avoid a mere static series of talking heads. As Seen Through These Eyes is a living, moving representation of the art and the time during which the art was produced. Unfortunately, it also marks the passing of many of these inspiring figures, including towers of humanity like famed artist and Nazi-hunter Simon Wiesenthal, Gypsy artist Karl Stojka and artist Willi Groag." – Elliot V. Kotek, Moving Pictures Magazine

This is the third and final exhibit of the 2008-2009 season. This extraordinary show highlights Holocaust survivors who use art as a means to approach all that they witnessed and experienced. Colorful artwork created on the walls of the barracks with coal and pieces of colored pencils helped those living within to endure. This exhibit offers a rare opportunity to view the art of Samuel Bak, Alfred Benjamin, Alfred Kantor, Judith Goldstein, Dina Gottliebova Babbitt and Ela Weissberger

Presented in conjunction with the Holocaust Education Program, Astor Judaica Library.

The work of the following artists will be featured:

Samuel Bak was born in 1933 in Vilna, Poland, a vibrant cultural center known as the "Jerusalem of Lithuania". He was recognized as a small child of possessing extraordinary artistic genius. When Vilna was liberated in 1944, Bak was one of only 200 survivors from a once thriving community of over eighty thousand people. Bak immigrated in 1948 to Israel. He studied art at the Bezalel School in Jerusalem and at the Ecole Nationale des Beaus-Arts in Paris. He currently lives in Boston, MA.


Alfred Benjamin was born 1916 in Hamburg, Germany. In 1936 he was actively documenting Nazi rallies and such, was arrested by the Gestapo, in the act of photographing the destruction of a synagogue. He managed to get away, on condition of leaving the country within 24 hours. Benjamin is the lone survivor of his father's family. After the Second World War he re-emigrated to the United States where he has worked as a medical photographer and photography teacher for half a century. Painting has been his hobby since his young years. He resides in Los Angeles, CA.

Judith Goldstein was born in 1932 in Vilna, Poland, now the capital of Lithuania. Germany invaded the city in 1941, and several months later all the Jews were placed in a Ghetto. Seventy thousand people were murdered by gunshot in the nearby Ponary Forest, within two years. By many miracles, she and her mother and her aunt survived and they were sent to a Displaced Persons camp in Germany, and in 1949 she finally made her way to the United States. Goldstein says; "I paint the images of my childhood... I feel very lucky to have survived and have been given the opportunity to turn to my experiences of horror into works of art..." She lives in New Rochelle, NY and travels extensively as her art is exhibited all over the world.


Dina Gottliebova was born in Brno, Czechoslovakia in 1923. She painted Disney pictures on the walls of children's barracks in Auschwitz to keep up their spirits. SS officers saw her work and brought her to the attention of Joseph Mengele, the Nazi physician who earned the moniker "Angel of Death" for the cruelty he visited upon prisoners. Mengele ordered Dina to paint portraits of the Gypsies before they were gassed. These portraits and her commentary provide a profound record. Dina currently calls Felton, CA home.

Alfred Kantor was born in 1923 in Prague, Czechoslovakia. In 1941 at age 18, he was forced to quit art school and soon after was sent to Theresienstadt, a ghetto the Nazis used as a staging point for the death factory, Auschwitz-Birkenau. During imprisonment, Kantor began to make sketches. He memorized scenes during the day and sketched them at night. However, he destroyed most of his work, fearing that the Nazis would find it and kill him. At the end of the war in 1945, Kantor re-created new pictures from memory and together with the original camp sketches created a bound book. "The Book of Alfred Kantor", published in 1971, contains over 120 images of what life and death were like in each camp. Kantor passed away in 2003 at age 79, in Yarmouth, Maine.


Ela Steinova Weissberger was born in 1930 in Czechoslovakia. In 1942, she and her family were deported to the Ghetto Theresienstadt which was a unique place in that it was Hitler's showpiece. With it, he wanted to show the world that he was treating the Jews well. In reality it was just a transit stop on the way to Auschwitz. Weissberger created many pictures in 1943 and 1944. She also performed the role of the "Cat" in the children's opera, Brundibar, 55 times during her imprisonment. In October 1944, the last transports left for Auschwitz; Weissberger is one of 100 children out of 15,000 who were left in Theresienstadt at the end of the war. She lives in Tappan, NY.


The Gotthelf Art Gallery is devoted to expanding and enriching cultural life in San Diego by presenting the finest in Jewish artistic expressions, encouraging the preservation of Jewish culture and heritage, and nurturing new creativity in the arts.

The Lawrence Family Jewish Community Center, JACOBS FAMILY CAMPUS, is located at 4126 Executive Drive, La Jolla. Gallery hours are Sunday-Friday, 9 a.m.—5 p.m. For more information about the Gotthelf Art Gallery and other programs of the San Diego Center for Jewish Culture, visit the web site at www.sdcjc.org.
Return to top


Jewish Internet Favorites ... *





Leon Askin as General Albert Burkhalter in French-dubbed Hogan's Heroes episode also featuring Werner Klemperer as Colonel Klink.
(The irony of the clip above was that both men playing these Nazi officers were Jewish community members.)


Milton Berle does some shtick with Elvis Presley and Debra Paget:




Go to top of right column



Joe Besser's life and comedy career retold on St. Louis television station KETC.




Melvyn Douglas in Ninotchka with Greta Garbo







< BACK TO TOP