| | | | | |
| --- | --- | --- | --- | --- |
| | Volume 3, Number 85 | | "There's a Jewish story everywhere" | |

Today's Postings:

Sunday, April 12, 2009

{Click on a link to jump to the corresponding story. Or, you may scroll leisurely through our report}


INTERNATIONAL
Palestinian moderates want peace—with Hamas, not Israel ... by Barry Rubin in Herzliya, Israel
To see what's happening--and what's wrong—with Palestinian politics, consider Muhammad Dahlan. READ MORE

Those conflicting thoughts at my Passover seder ... by Joel A. Moskowitz, M.D. in La Jolla, California
One of my daughters sent me a note that it 'seems that everyone is celebrating Passover this year.' She was referring to the First Seder in the White House and other Pesach observances by celebrities.READ MORE


LIFESTYLES
Imagine if we did all the things we 'should' do .. by Natasha Josefowitz in La Jolla, California
If you read newspapers, magazines, watch TV ads, and listen to advice from friends and family, then there are probably too many "shoulds" in your life. READ MORE


ARTS
For families of two plays, sitting shiva could have helped ...by Carol Davis in Solana Beach, California
What are the chances that yours truly would see two plays in one weekend dealing with the loss of a family member, among other things? READ MORE

SPORTS

His doctor's advice led to his becoming a champion ... by Donald H. Harrison in San Diego
Saul Snyder, a retired real estate broker, did not welcome his cardiologist's assessment that his age and weight and worrisome cholesterol level mandated taking medicine to lower his cholesterol. READ MORE

A bissel Jewsh sports trivia with Bruce Lowitt ... in Oldsmar, Florida
Who died at age 28 after suffering a heart attack while playing left field for the San Diego Padres? READ MORE

THE CO-PUBLISHERS' MAILBOX


College Avenue Older Adult Center lists May M-F activities READ MORE

Contest for Jerusalem is topic for Tifereth Israel scholar in residence READ MORE

ADVENTURES IN SAN DIEGO JEWISH HISTORY
January 9, 1953; Southwestern Jewish Press

Community Leaders Attend Fresno Parley READ MORE

Pay Pledges Before January 31st Is Fund Appeal READ MORE

U.J.A. Board Meeting Scheduled for Jan. 12 READ MORE

Samuel I. Fox Installs Its Fifth President READ MORE


JEWISH INTERNET FAVORITES

Charlotte Rae as Edna Garrett in "The Facts of Life" TV seriesVIEW VIDEO

Paul Newman plays a romantic scene with Elke Summer in "The Prize" VIEW VIDEO

Tony Randall (and Jack Klugman) in an "Odd Couple" episode VIEW VIDEO

Vic Morrow is an adult role model in a Bonanza episodeVIEW VIDEO

Bonus:

The Passover Symbols Song VIEW VIDEO

STAFF BOX
Theatre reviewer Carol Davis passes on this Passover parody on a familiar song:



TODAY'S ADVERTISERS

America's Vacation Center
Anti-Defamation League
Balloon Utopia
Carol Ann Goldstein
Congregation Beth Israel
Jewish Community Foundation
Jewish Family Service
Lawrence Family JCC
San Diego Community Colleges
San Diego Jewish Chamber
Seacrest Village Retirement Communities
Soille San Diego Hebrew Day School
Therapy in Motion Inc.
Tifereth Israel Synagogue
United Jewish Federation
XLNC-1 Radio

DEDICATIONS
Each day's issue may be dedicated by readers—or by the publisher—in other people's honor or memory. Past dedications may be found at the bottom of the index for the "Adventures in San Diego Jewish History" page.

NOTE
PLEASE HELP US POLICE THIS SITE: If you see anything on this site that obviously is not in keeping with our mission of providing Jewish news and commentary, please message us at editor@sandiegojewishworld.com, so that we can fix the probem. Unfortunately, large sites like ours can be subjected to tampering by outsiders. Thank you!



EMAIL HEADLINE SERVICE




SEARCH THIS SITE

By Barry Rubin

HERZLIYA, Israel-To see what's happening--and what's wrong—with Palestinian politics, consider Muhammad Dahlan. In him is embodied theideological and strategic straitjacket, preventing Palestinians from making peace and getting a state of their own.

Dahlan, 48, is one of the two most able young Fatah leaders, the other being Marwan Barghouti. Dahlan, an architect of the first intifada in the late 1980s, became PLO and Palestinian Authority (PA) leader YasirArafat's favorite proteges. A decade later, however, Dahlan brokewith Arafat because he thought his boss was letting Hamas get too strong.

If Arafat had heeded him, Fatah and the PA would be far better off today.

For many years, Dahlan was the key PA-Fatah 'general' battling Hamas in the Gaza Strip. So when Hamas totally defeated Fatah in a 2007 coup and seized control there, Dahlan was responsible for the debacle. Now he's back as special advisor to PA leader Mahmoud Abbas.

Aside from his anti-Hamas credentials, Dahlan has been considered a relative moderate on the peace process. But what does this mean in practice? Dahlan told al-Sharq al-Awsat that the second (2000-2005) intifada and terrorism against Israeli civilians harmed Palestinian interests. His critique, though, was based not on moral considerations butbecause such acts hurt the Palestinian image and made Israel react more toughly.

He also complains that the uprising lacked a clear goal. Yet Dahlan never defines what that objective should have been. Here's the movement's fatal flaw. Neither he nor the PA nor Fatah tell Palestinians to accept Israel's existence and build their state alongside it in permanent peace. Such a notion is outside the actual Palestinian debate.

Next, Dahlan talks of his hatred for Hamas but not because it blocks any deal with Israel. He accuses Hamas of murdering hundreds of Palestinians; being an Iranian tool, a gang that is building a radical Islamist state in Gaza.

So what's his solution? Merely that Hamas and the PA unite. Yet, given what Dahlan says about Hamas, what possible joint strategy and activities could such a coalition pursue?

Clearly, peace with Hamas is more important for Dahlan than peace with Israel. And make no mistake: these two alternatives are mutually exclusive.

Indeed, Dahlan is ready to do anything to cooperate with Hamas, as long as it accepts the PA and Fatah as leading partner. He explains the PA won't ask Hamas to recognize Israel's right to exist. Fatah isn't bound either to any PA recognition of Israel and, "as a resistance organization" can continue attacking Israel whenever it chooses.

Why, then, has the PA agreed to accept Israel's existence? Dahlan says: only to get international aid money and support. If this is how Dahlan thinks, his comrades' views are more extreme. The inescapable implication is that if the PA ever signs a peace treaty with Israel--though don't hold your breath--and gets a Palestinian state whose capital is east Jerusalem this would not block Fatah or Hamas from continuing armed struggle. This attitude fits perfectly with the fact that even today the PA does nothing to prepare its people for peace and compromise.

The claim that a Palestinian state should and will some day encompass all of Israel is maintained by schools, sermons, leaders, and media. It is contained, too, in the demand for a

Go to top of right column


'right of return;' flooding Israel with several million Palestinians --as more important than getting a state where refugees can be resettled in a country of their own.

No wonder every poll shows overwhelming Palestinian support for armed attacks on Israeli civilians and little backing for a compromise peace that would end the conflict forever.

Of course, there won't be a Fatah-Hamas unity deal since Hamas won't give up control over the Gaza Strip and neither faction will accept the other's rule. But Dahlan is saying that on anything concerning Israel, Fatah is ready to accept Hamas's view rather than demand the Islamist group moderate.

The idea that the world should encourage a PA-Hamas merger is one of many ridiculous notions connected to the fantasy that Palestinian leaders are ready for comprehensive peace with Israel. If there's unity, Dahlan, Barghouti, and others will join Hamas in launching new waves of armed struggle.

The PA's current rulers tell the West (but not their own people): We want a two-state solution based on peace with Israel. In contrast, Hamas says: We will only accept total victory and Israel's destruction. Dahlan and Barghouti have another viewpoint. They advocate armed struggle to force Israel from the West Bank and back to pre-1967 borders. At that point, they say, they'd make a peace deal in which they imposed their own terms. Of course, if they were to win such a victory who can say they'd stop there? And even if they accepted a two-state solution, they would leave the door open for a two-stage solution in which Israel would disappear.

This doesn't mean Israel can't work with the PA and Fatah on immediate issues. The basic deal is that the PA gets international funds and Israel's support for keeping power on the West Bank in exchange for reducing anti-Israel terrorism to the minimum and keeping Hamas at bay. If there's a PA-Hamas deal, Israel has no further interest in cooperating with the PA.

There will never, however, be a comprehensive peace agreement ending the conflict as long as Hamas's motto is: "Today the Gaza Strip and today all of Israel" while Fatah and the PA say, "Today, the West Bank and Gaza Strip, and tomorrow Israel."

If even Muhammad Dahlan can't go visibly further than that, any overall peace process is, unfortunately, a mirage.

Barry Rubin is director of the Global Research in International Affairs (GLORIA) Center and editor of the Middle East Review of International Affairs (MERIA) Journal. His website is http://www.gloria-center.org


Please click on ad above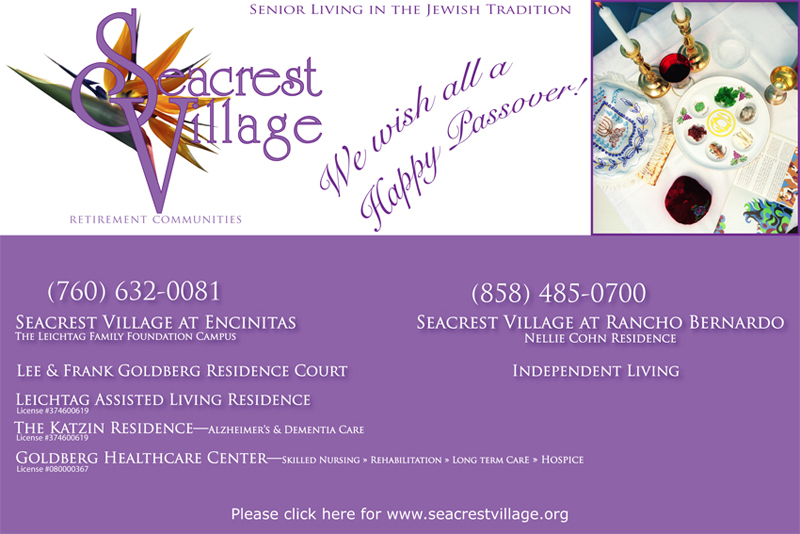 LA JOLLA, California--One of my daughters sent me a note that it 'seems that everyone is celebrating Passover this year.' She was referring to the First Seder in the White House and other Pesach observances by celebrities.

To this I will add that the Today show and others have presented demonstrations of how to make a brisket. Martha Stewart's expert also advocated a sandwich on rye bread (Pesach?) of tasty brisket. That many Churches have taken to celebrating Passover with a seder annually is part of this.

When we visited Checkloslovokia (now the Check Republic) in Prague there was a museum of Torah Scrolls and other religious artifacts of the Jews part of Hitler's plan to 'memorialize,' he hoped, an 'extinct' religion. I have heard there is a resurgence of Klezmer music in Europe (performed not by Jews) in parallel with the reported rise of Anti-Semitism. The U.N. doesn't shrink from labelling Israel a 'terrorist state' guilty of apartheid.

The maxim, "If you don't learn from history, you are doomed to repeat it" may be the way to appreciate reporting that Boston's baseball team has requested that its schedule be changed to allow for the celebration of Passover and other appreciations of this holiday.

If the world is becoming, half a century later, aware of their participation in murdering Jews— i.e. Poland is planning a museum next to the former Warsaw ghetto— it is 'nice'.
Confessing to a national mistake some 50 years later is 'nice' but doesn't make up for their actions under Hitler. Note: Bulgaria had a museum showing that they stood up to the Nazi demand that they turn over their Jews and didn't. To be fair, Poland, today, is an ally of Israel.

Perplexing is the reaction of left wing Jews who are enraged when presented with reports that our current administration may be leaning to far to coo over Saudi leaders and Cuban tyrants, and about Iran's call for the annihilation of Israel.

"Garbage," they call it. "I heard this during the election campaign." "Stop sending this dirt." Are these the postures of two dumb birds: Ostrich and Turkey - one who will hide his head in the ground to make threat 'go away' and the other who will look open mouthed into the falling rain till they drown! Why the 'overreaction' I wonder.

Are these left wingers so mesmerized that, like Orthodox Jews, they won't tolerate hearing anything that questions their faith? Energetic students of history will find that
the Jews have had periods of peace and even prosperity, which seems almost to generate a reciprocal 'fall from grace'.' I used to have a book which described the
painful history of a cyclic love affair, which the Vatican has had with the Jews through the ages.

How can Jews escape their historical fate? If not Israel, Madagascar? Or the Moon? Or maybe a non-Christian

Go to top of right column


country like India? (Remember Mumbai!) Simply there is no where to hide. Sure there is 'Spin' where politicians and the

media hope to pull the wool over their readers' eyes. Mark Twain is reputed to have said, "If you don't read the newspapers ... you are uninformed. If you read the newspapers, you are misinformed."

What remedy do I suggest? We need a campaign to educate the public to think...to be able to tolerate the torrent of information and misinformation...but to critically and logically reflect on the data presented. It is only in the minds of men and women that the Jews will ever achieve freedom and peace.

"Pass the gefilte fish but light on the horseradish please."
LA JOLLA, Califonria—If you read newspapers, magazines, watch TV ads, and listen to advice from friends and family, then there are probably too many "shoulds" in your life. These are some of mine — I'm working at reducing some and eliminating others.

I should do power walks, swinging my arms to burn extra calories, or use a treadmill so that I maintain my cardiovascular efficiency.

I should be working out with weights for strength training so that I can carry my own grocery bags

I should do tai chi or yoga in order to be flexible and prevent falls.

I should eat right—less sugar, less salt, less fat, less caffeine, less red meat—which more often than not results in less taste. So even if I don't live longer it sure will seem longer.

I should floss and drink enough water to stay hydrated. I should get regular check ups and sleep between six and eight hours a night.

I should be environmentally responsible and not throw a cherry pit out of the car window.

I should be politically aware and read even the boring stuff about the economic policies of foreign countries.

I should be financially prudent and not invest in the latest exciting-sounding research my friends are all talking about.

I should clean out my closet and give away all those clothes I've held on to the past ten years but that may fit again after I lose weight (I plan to do this for sure every morning as I wake up, but it gets postponed by lunch time.)

I should throw out all those files that I will never need again until the day after I have thrown them out.

I should meditate everyday even though I'd rather do anything else but.

I should see my friends more often, because I believe that friendships should be nurtured, and at the same time spend quiet evenings at home, because time alone is necessary for refueling.

I should go to the opera, the theater, the symphony, the chamber-music series, the museum openings, the fundraisers; sit on boards; attend committee meetings; and still have time for the above-mentioned friends and family.

I should read Consumer Reports, National Geographic, the Harvard Health Letter, the Tufts Nutrition Letter, Newsweek, Time Magazine, Psychology Today, the Wall Street Journal, the New York Times, the Union-Tribune, all of which I subscribe to, plus have time for the latest novel.

I should e-mail the grandchildren on a regular basis, call the children every weekend, visit sick friends, go to all the weddings, baby namings, anniversaries, birthday parties, celebrations, outings, and have quality time with my husband.
I should be wearing the latest fashions; have a good haircut, polished nails; and be thin with good muscle tone, a washboard stomach, and buns of steel; while being committed to the simple values that give meaning to life.

I should reprioritize my life, rethink my goals and objectives, and make sure that I'm always on track.

I should be productive, lead a meaningful life, be there for others while taking time for myself.

I should not care what others think about the way I look, sound, or live my life.

I should be true to myself and do the necessary things in terms of my values but also do the fun and pleasurable things to boost my immune system.

I should find something challenging to do, such as learning new programs on my computer, in order to increase the number of neurons in my brain, which will decrease my chances of getting Alzheimer's disease.

I should do crossword puzzles and play word games to keep stimulating my brain to in order to make new synaptic connections.

Go to top of right column



I should refocus, regroup, and send reaffirming messages to my brain that I'm confident, peaceful, and happy.

And finally, I should be confident, peaceful, and happy instead of anxious, exhausted, and running in circles.

So, now it is your turn. First, list all your "shoulds." Then think of the following categories.

Enhances my life.

Gives meaning or pleasure.

Detracts from my life.

Is a burden but necessary.

Is a carryover from earlier life injunctions from parents, teachers, religious leaders, or other authority figures, and therefore dispensable.


Neither enhances nor detracts—so do it only if there is available extra time and energy and it provides some benefit.

Doing the above exercise falls under the category of simplifying one's life. Getting rid of some of your shoulds may just save you from being anxious, exhausted, and running in circles.

Josefowitz's column also appears in La Jolla Village Voice. She may be contacted at natashajo@gmail.com



Please click the ad above
SOLANA BEACH, California—What are the chances that yours truly would see two plays in one weekend dealing with the loss of a family member, among other things? It's true that sometimes plays do follow certain themes and can be playing concurrently in a one four to six week cycle, but about grief and dying, that's almost a stretch.

Cases in point:

The North Coast Repertory Theatre in Solana Beach is currently mounting David Lindsay-Abaire's Rabbit Hole and New Village Arts Theatre in Carlsbad is staging Annie Weisman's Be Aggressive. On the surface and comparing the staging, content and outcome they couldn't be more at opposite ends of the spectrum save for the one similarity; dealing with the death of a family member.

For those of us who frequent the theatre often, and I certainly include you our readers, Lidsay-Abaire (Who, by the way comes from Boston) has written some pretty different plays on subjects we don't often talk about, at least not out loud, that have been produced at several of our local theatres over the years. His Fuddy Meers (or funny mirrors) is about an amnesiac mom who gets up each morning and has no memory of the day before. Her husband and teenage son have to remind her about her life. Her wacky and wild escapades take her and the audience on a fantastic journey that seems impossible to comprehend, but who knows?

On the other hand, his Kimberly Akimbo, which won him the Pulitzer Prize in 2000, is about a lonely teenager suffering from a disease that causes her to age four and a half the times as fast as is normal. It looks a lot like progeria where this teenager is literally trapped inside the body of an elderly woman. He received commissions from The South Coast Repertory Theatre in Costa Mesa that enabled him to write both Rabbit Hole as part of the Pacific Playwrights Festival in 2005 and Kimberly Akimbo in 2000. This is where I first saw the play.

Weisman's Be Aggressive premiered at the La Jolla Playhouse in 2001 and this is the first local revival of it since it premiered here. Rabbit Hole opened on Broadway in 2006 and starred Tyne Daly (I just missed that one by a day on one of my NY excursions). It won the 2007 Pulitzer and will soon be made into a movie. Both theatres deserve Bravos for mounting these contemporary jewels.

In Rabbit Hole Howie (Brendan Ford) and Becca Corbett (JoAnne Glover) have just lost their four-year-old son as a result of an automobile accident. The young driver, Jason (Ryan Kidd) is a high school senior who just happened to be driving down their street the very moment the family dog ran into the street with their four-year-old son Danny in pursuit. It was an accident, but that doesn't make their loss any easier.

When we meet up with the Corbetts at the North Coast Repertory Theatre, Becca and her sister Izzy (Jessa Watson) are deep in conversation about an incident involving Izzy and an encounter she had at the local bar. Everything seemed so normal, so real. Two sisters, seemingly from different social positions engaged in conversation. Becca is upwardly mobile; Izzy still looking for herself, yet their connection is deeper than their social position. Everything seemed well, so typical, when suddenly the you know what hits the fan. Izzy announces to Becca that she is pregnant. The idea of the loss of one child and the birth of another changes the equation and puts a whole new spin on family relationships. Silence!

Before we know it, however, Howie comes home with the girl's mother Nat (Sandra Ellis-Troy) and off we go on another tangent about the Kennedys. All of a sudden the energy shifts to Nat and her wacky ideas about the black cloud hanging over the Kennedy family. She goes on chapter and verse about each of the tragic Kennedy deaths. It's just brilliant writing funny, snappy, true, witty, insightful and sad all in the same scene. We also learn that Nat had lost her son to a drug overdose when the girls were younger — something Becca doesn't seem to think has any connection to her loss so she puts the breaks on Nat every time her brother's name is mentioned.

But the elephant in the room doesn't get acknowledged until their guests leave and Becca and Howie are left to themselves. It's been eight months since Danny's accident. Howie is in grief counseling but Becca is not. She can't identify with anyone in-group just as she's not able to accept that Howie wants things to go forward. He wants to remember little things about their son; she's taken all the artwork off the refrigerator door. He's set up a romantic evening to get closer to her; she's not ready. He asks if she's heard from former friends he still sees; she's angry that the wife never called her. They are worlds apart and worse, she won't talk about it. And the distance between them grows.

Everyone tries to fix the hurt but it doesn't seem to get better until Jason makes a visit to see Becca. He has written a short story for his sci-fi project and dedicated it to Danny. It is about parallel universes and rabbit holes discovered by a scientist. After the scientist dies his son goes through the rabbit holes in search of his father and finds that everyone is in other universes including her whole family. This seems to satisfy Becca for a moment. But it isn't until Jason tells Becca about his senior prom night that Becca finally breaks down and realizes the reality that neither she nor her son will ever have this moment together.

Director Stephen Elton has gathered a strong cast to pull this comi-tragedy off. I don't use this description of the play lightly. Abaire has given us an onion with transparent layers of alternating smiles and tears. Between the loud and seemingly oblivious Nat to the somewhat bizarre and ever changing Izzy to the over wrought Howie to the distant and cold Becca, family members grieve each in their own way but seemingly never at the same place at the same time.

Finally when Becca acknowledges her brother's death she asks her mother if the pain ever goes away. In a stripped away moment of truthfulness as opposed to her usual dismissiveness and ramblings of not knowing which rules she needs to play by, Nat confesses that it doesn't, it just hurts a little less. It's an honest, moving and real turn of events.

Brendan Ford is solid as Howie. His bursts of anger compared to the tenderness he shows his wife as opposed to the hate he shows Jason are a sampling of his emotional range. His is a very strong presence and a most convincing performance. Jo Anne Glover is the strong silent grieving mother who would rather do it alone than share her emotions with anyone. She plays the stoic beautifully clenching her fists, pursing her lips with just enough of a grip on herself not to let the tears actually start to flow. It's a complex issue involving layer upon layer of grief both real and then some. This along with a collective guilt that reigns upon the family seems too pervasive and no doubt, prolongs the grieving.

Both Ellis-Troy and Watson provide the lighter side of the coin but always veering toward the serious. There are lessons to be learned even in the humor department and both women are pros in their own particular view of it. Watson is spot on as she changes from an irresponsible spoiled little sister to one who shows maturity over the course of the evening and Ellis-Troy is always a larger than life presence on the stage. Here she succeeds in being the brash mother as well as the consoling and caring parent.

We know that there will be reconciliation but only when everyone is ready. Fortunately or not, it just won't happen all at once in this fragile family scenario.

Marty Burnett's beautifully appointed set lets you know from the get go that Becca and Howie live in an upscale neighborhood and that their house is no ordinary run of the mill house. With beautifully appointed cabinets, running

water in the kitchen, a well stocked refrigerator and food for every occasion, a comfortable living room and a child's room on another level, again complete with furnishings, this is a house anyone would feel comfortable living in. Burnett has worked his magic again. Michelle Hunt Souza's costume design is pretty much Gap or Banana Republic and Matt Novotny's lighting design is perfect for change in places and Howie's mood changes.

* *

A few miles north in Carlsbad at New Village Arts Theatre, Annie Weisman's Be Aggressive plays out with lightning rod speed under artistic director Kristianne Kurner. Like Rabbit Hole it deals with coping with death, this time, of a parent and spouse. In Weisman's Be Aggressive, Laura (Rachael VanWormer) and Hanna's (Amanda Sitton) mother was killed in a bizarre accident by a hit and run driver along a cherished ocean view way she jogged every day. What's so freaky about it is that the other cheerleaders (Greek Chorus?) on the team make up a cheer about what happened to her in exaggerated terms.

But unlike Howie and Becca, Laura is seventeen and Hanna is eleven and they are left to fend for themselves because their father Phil (Darren Scott) is completely wrapped up in his own project as a development consultant fighting an anti growth group about a new road his company is planning to build through their precious little burb.

Laura's cheerleading is where she looks to heal her pain over the objections of her distracted father. She has worked hard to get on the cheerleading squad and nothing, not even her father, is going to change that. This dark comedy takes many twists and turns through the gated communities of comfortable Southern California (Weisman was a cheerleader at Tory Pines High School and lived in Del Mar) that names and places sounds all too familiar throughout.

Phil refuses to get anyone to help out with the girls or housework insisting instead the Laura takes over the duties of cooking and taking care of Hanna. When Phil lists the jobs he now wants Laura to assume: taking Hannah to Hebrew ('he didn't even know the words of the Kaddish', laments Laura) lessons; soccer practice; making the same meals the mom made and using the same ingredients, etc he busies up every one of her days and that includes her working part time making smoothies at the local strip mall,. Laura befriends one of her fellow cheerleaders, Leslie (Amanda Morrow) whose dad abandoned her family, and the two plot to be the best cheerleaders on the team.

The story weaves back and fourth between the cheerleading rah, rah, sis boom bahs, cartwheels, and catchy cheerleading phrases we've all grown to recognize with a cheerleading group, but buried underneath all the pressures of growing school work, body changes, and hormones is the struggle to overcome grief.

In order for them to be aggressive, the best, to have an outlet, Leslie and Laura hatch a plot to take off to South Carolina to the "Spirit Institute of South," where there is a cheerleading camp that produces champions. It becomes an odyssey that, contrary to what it might have started out to be, its results are more positive than negative.

They haggle about credit cards and money (how they are going to get the tuition) whose Lexus to drive (as only can be discussed by some spoiled upper middle class adolescents with little parental supervision), what food they're going to eat and what clothes to take and of course, they never tell their parents (Dana Case is Judy Leslie's mom) that they are leaving. When the single parent of each finally does connect, it seems they too are struggling, on different levels, with the same loneliness and discontent their children are encountering.

There are two cathartic moments that stand out in my mind during the production and both come in the second act. One occurs when Laura and Leslie's aborted trip which was based on information printed years ago comes to an end and Laura cries that she no longer has her mother here to guide her in the necessary things girls and their mom's talk about like how to make cookies so the middle isn't soggy or how does it feel when your water breaks? But in the end it comes when Laura and Hannah are at the water's edge and water washs away words that they had written with their toes in the sand. They will survive.

Once again Rachael Van Wormer, who has a proven track record for outstanding work in San Diego, is a standout as Laura. Her boundless energy is in such sharp contrast to Amanda Sitton's slow moving but extremely bright younger sister Hannah's that one could imagine the two of them coexisting in the same house. Both are bright young starlets who give it their all in this moving production. The entire cast is just bursting with energy from the ever-cheering squad of Caitlin Kunkle, Rachel Robinson and Alyssa Schindler, to both Morrow and VanWormer. I was wowed by their moves.

Tim Wallace's moveable set works well on the long NVA stage setting different locations for the action to change in the slide of a screen. Joshua Everett Johnson's sound design sets the mood, Amanda Sitton's costumes, especially the cheerleading ones look right and Amanda Morrow's choreography with Hip Hop Choreography by Ramon Ivy is right on target.

These productions beg the question, "could a Shiva minyan have helped these grieving families?" Shiva is a week long period of grief and mourning. Traditionally it takes place in the home of either the deceased or a close family member surrounded by family and friends. Visitors are received; prayers are recited and stories are told about the deceased and food, an integral part of any Jewish experience, is eaten.

As I watched both these plays unfold and saw the isolation and loneliness of these grieving parents and children, my immediate thought was that they needed a Shiva in their lives. They needed that cathartic moment together where, as a family, they could bond and share their collective stories, memories and fears. It's not all encompassing, but for those of us who have lost dear ones, it does help the healing. I realize these are plays, but art does imitate life.

Be Aggressive plays through April 26th at the New Village Arts Theatre in Carlsbad and Rabbit Hole continues at the North Coast Repertory Theatre in Solana Beach through April 26th.

Both required seeing. See you at the theatre.

By Donald H. Harrison

SAN DIEGO – Saul Snyder, a retired real estate broker, did not welcome his cardiologist's assessment that his age and weight and worrisome cholesterol level mandated taking medicine to lower his cholesterol.

"Is there an alternative?" Snyder asked.

"Proper diet and exercise," Dr. Richard Katz responded.

Neither man knew that this brief exchange 25 years go would launch Snyder on a tennis career that today finds Snyder, 76, reigning as the United States Tennis Association's defending national champion in singles competition for men between the ages of 75 and 79 on both hard courts and clay courts.

Snyder already had been playing some tennis when he received the health warning from Katz. Carrying 214 pounds when he was only 5'6 made it difficult to chase balls around the court. So Snyder decided to pay strict attention to the doctor's advice. He stepped up his tennis playing from occasional games with an old wooden racket he had since childhood to competing three to five times a week with a new racket.

Additionally, he eliminated most sweets from his diet and laid off the red meat.

Intensely studying some books on nutrition, Snyder decided that a typical day's diet should consist of "fruit, yogurt and maybe orange juice and coffee" for breakfast; and "maybe a couple of pieces of turkey and a couple slices of bread, with tomato and cucumbers" for lunch, and for dinner any of a "wide variety of foods" that are specialties of his wife, Sonia, such as "something soy-based with tofu or fish or some Mexican dish that she is particularly adept at."

Also, "I don't eat the volume that I used to."

While he will occasionally eat meats, he does so rarely "because of the saturated fat that I don't want to ingest. It can contribute to heart disease."

Snyder, a longtime member of Tifereth Israel Synagogue, took his exercise regimen as seriously as his diet.

"I stretch every day," he said. "It is a warm up regimen where instead of going out cold and playing tennis, I'll exercise different groups of muscles for maybe 15-20 minutes and sometimes I'll walk around just to warm up. And of course, we warm up for a while before we actually play the game. We hit the ball back and forth, rallying, and I do that 3, 4, 5 times a week. I play regularly with the same people" at the Lake Murray Tennis Club, a public-use club where Snyder is a past president.



Today that former 214 pounder is a trim 167 pounds.

Of course, exercise and diet aren't the only components of Snyder's success—talent also is important – but Snyder believes if he hadn't followed his doctor's advice, he never would have had the thrill of winning a golden ball, symbolizing a national championship, and most certainly not two of the coveted awards.

One of the regular players at the Lake Murray Tennis Club is Glenn Dorroh, who had served as the physical education coach at nearby Lewis Junior High School for a quarter century.

"Saul and I started playing together when he was about 50, I think, and he hadn't really taken up the game seriously until that stage in his life," Dorroh said. "I played all through high school and college and had all the wear and tear on your body over those years. And then we went to the senior Olympics a couple of times and we came in third once, and we got beat once. So his game has progressed—and he hasn't any of the ailments that we who have played over the years have."

Snyder's doubles partner, Don Neuman, suggested that while almost everyone can improve their game, Snyder "has improved 100 percent – and he is self taught."

Bill Duckworth, another Lake Murray player, said that Snyder "moves well and he has a nice drop shot. I played him in singles once in a tournament and he dropped shot the hell out of me."

Agreed David Gee: "He has an all around game that is very deceptive."

Duckworth added, "The only thing he does wrong is foot faulting." Turning to Snyder he asked, "Do they ever call you on that in tournaments."

"Yes," replied Sol modestly. "I have been called on that."

"All you have to do is stand back further when you're serving."

Snyder thanks his friends for the advice.

Asked for his own assessment of his game, Snyder responded, "I have a very good drop shot, I can lob well, and recently I have been able to get more stick into the serve. I can serve a harder ball and a more accurate one. I can place it right, where I want it to go, and I've got good wheels. I can run and chase down a ball.

Go to top of right column




As a spectator I was impressed by Snyder's high level of concentration on the court especially when he was on defense. "That is the last thing that Sonia says to me when I go out to play tennis is 'focus.' I try to watch the ball as it is coming to me. There was a local tennis coach who … said, 'watch the ball and bend your knees; that will be $50 please."

As for his fabled drop shot, he explained, "I am softening and undercutting the ball and trying to get it just over the net, with a spin on it so that it bounces back towards the net. At our age, it is a tough shot for other players to get to –it is tough for them to recover. And if they do, and I get the ball, I just lob it and it is a sure point."

Last year's national hard court championship at Morgan Run in Rancho Santa Fe included a finale in which he was behind in the third set, 3-love, "with my opponent serving in the finals. I just decided to change the game, to be more serve and volley and be more aggressive and that changed the tide—that and the fact that my opponent wasn't as fit. He had some long matches before me – and he was tired. I won that set in seven games; I prevailed and got the gold ball. "

A few months later, Snyder was playing in the clay court championships in Virginia Beach. "In the finals I came up against the No. 1 player in the United States in my age category, George McCabe, and surprisingly I beat him 2 and 1," Snyder remembered.

In the grass court competition in Orange, New Jersey, Snyder stumbled somewhat, claiming the bronze medal.

The competition is relentless. Just a few weeks ago, Snyder played in a national indoor quarter-final against Russell Seymour, "who as a younger person played Davis Cup for South Africa. I lost to him 6-4 and 8-6."

In doubles, he and Neuman are ranked either fifth or sixth in the United States.

Chosen to team with other players in an international competition in Turkey, Snyder got into an all-American final doubles match. He and Chuck Nelson were defeated by McCabe and Jack Breedevelt.

Snyder will be defending champion at the national hard court championship, which will played again at Morgan Run this May. In August, he plans to defend his clay court championship.

Nervous?

"Championship games are "just another match," he responded. "When I first started playing tournament tennis I was nervous until I got a dozen tournaments under my belt. Then I began to relax and treat it as another match."

What advice does he have for other seniors wanting to remain healthy?

"I would say keep trying, exercise 3-4 times a week, at least a half hour. Walking is great exercise, swimming is another great exercise, and tennis too, if that is a sport that you like. But, take care of yourself. You will live longer and give a gift of a few extra years to your grandchildren!"



please click the ad above




Please click the ad above




Q: Who died at age 28 after suffering a heart attack while playing left field for the San Diego Padres?

(a) Herb Gorman
(b) Sid Gordon
(c) Jake Goodman
(d) Jonah Goldman

Background: He had one major-league at-bat with the St. Louis Cardinals on April 9, 1952. He began the next season with the Padres, then a team in the Triple-A Pacific Coast League. During the game on April 5, 1953 he complained of not feeling well. The game was stopped and he was being taken to a hospital when he died in the ambulance.

Go to top of right column







The Co-Publishers' Mailbox...
College Avenue Older Adult Center lists May M-F activities

SAN DIEGO (Press Release)-- Following is a list of regularly scheduled activities during May at Jewish Family Service's College Avenue Older Adult Center, 4855 College Avenue. Please Join us - for additional information, refer to www.jfssd.org or call us at: (619) 583-3300. Many of our classes are offered through the San Diego Community College District and are free. We will be closed on May 15th & 29th

Mondays:
Aerobics at 8:30 am (Also offered Wed. & Fri.)
Drawing at 8:30 am
Private Computer Lessons at 10:30 am and 12:45 pm by appointment. (Mon -Fri.)
"Feeling Fit" Exercise at 10:00 am (also offered on Wed. & Fri.)
Meditation at 11:15 am
Musical Comedy Group at 1:00 pm
Bridge Club at 12:45 pm
Movies - New Releases at 1:00 pm Free for members / $1.00 non-members.

Tuesdays:
Walking for Fun and Fitness at 9:00 am
Tai Chi at 9:00 am
Arthritis Exercise at 10:30 am (also offered on Thurs.)
Film Class from a Social & Historical Perspective at 1:00 pm
Ballroom Dance Class from 2 to 4 pm
Beginning Spanish at 2:00 pm (class continues on Thursdays also)
Afternoon Yoga at 4:00 pm (also offered on Thurs.)

Wednesdays:
Watercolor Painting at 12:30 pm
Bingo at 12:45 pm
True Stories Writing Class at 12:45 pm (May 6 & 20)
Music Experience at 1:00 pm
Line Dance at 2:30 pm (May 6& 20)

Thursdays:
Painting at 9:00 am
Blood Pressure Check 10:00 am
Mah Jongg at 10:00 am
Pinochle at 10:00 am
Meditation at 2:30 pm
Laughter Yoga at 10:30 am

Fridays:
Acting Workshop at 9:30 (May 1st, 8th & 22nd) $5.00 members/ $7.00 non-members


Go to top of right column

Yoga at 10:45 am $5.00 members/$7.00 non-members ( no class on May 15th or 29th)

The College Avenue Older Adult Center also offers hot Kosher lunches served Monday - Friday at 12 Noon. Seniors: Suggested donation of $3.50; All others, $6.00 fee.

The preceding was submitted by Marsha Howe of the College Avenue Older Adult Center




Contest for Jerusalem is topic for Tifereth Israel scholar in residence

SAN DIEGO (Press Release)— "Earthly or Heavenly: Will the Real Jerusalem Please Stand Up?" is the "Scholar in Residence" topic on Friday, May 15th at 6:00 p.m. during Kabbalat Shabbat services.

Rabbi David Golinkin will discuss the tension between "The Holy City" and the city in which people live and work and fight, using texts such as Psalm 48, Rabbi Ovadia of Bartenura, Heschel and Amichai.

Immediately following services plan to join us for a delicious Shabbat Dinner catered by Golden Bagel Cafe. Dinner will include a Mediterranean Tilapia (with a special children's menu, featuring fish sticks, for kids 12 and under). Pricing is a follows: Adults $20.00, $7.00 for youths (ages 6-12) and $3.00 for children (ages 3-5). Children 2 and under are free.

Your payment is your dinner reservation and must be received by Wednesday, May 6th. Click here to make your reservation online or call the Tifereth Israel office at 619 697-6001.


"Wanted: a Jewish Education Revolution in the State of Israel" will be Golinkin's topic Saturday, May 16th at 9:15 a.m. during Shabbat morning service. This lecture will focus on why most Israelis are so secular and what we can do to restore Jewish Literacy to the Jewish State. An extended Kiddush will follow.

"Judaism and Ecology: Some General Principles and a Case Study" will be his topic on Sunday, May 17th at 10:00 a.m.

This lecture will examine some general principles related to the Jewish attitude towards ecology and includes a halakhic study of air pollution in Arad.

A lovely brunch, catered by Golden Bagel, will accompany this last opportunity to hear our guest. The cost of the brunch is $13.00 per person and your paid reservation is required by Wednesday, May 6th. Click here to make your reservation online or call the office at 619 697-6001.


The preceding was submitted by Tifereth Israel Synagogue



Adventures in San Diego Jewish History

Community Leaders
Attend Fresno Parley
Southwestern Jewish Press, January 9, 1953, page 1

Outstanding community leaders will be key participants in the far reaching 1953 Western States Regional Assembly of the Council of Jewish Federations and welfare Funds, to be held January 9-11 at the Californian Hotel in Fresno, it was disclosed as final plans for the vital assembly were made known this week.

Representing San Diego at the three-day meeting, set up to analyze and act on problems currently confronting Jewish communities will be Mrs. Gabriel Berg, Morris Douglas, Murray D. Goodrich, Albert A. Hutler, Eli H. Levenson, Morey S. Levenson, Harry Mallen.

Morris Douglas, member of the Board of the San Diego United Jewish Fund, will serve as discussion leader in the workshop on "'Selling' the Beneficiary Agency." Albert A. Hutler, Executive Director of the San Diego United Jewish Fund, will be the consultant in workshop on "Campaign Techniques." Eli H. Levenson is President of the Western States Region, CJFWF, and will preside at the business session. Morey S. Levenson, chairman of the San Diego Community Relations Committee, will be a discussant in the meeting on "Community Relations—Past and Future."




Pay Pledges Before January
31st Is Fund Appeal
Southwestern Jewish Press, January 9, 1953, page 1

Please pay pledges before January 31, 1953, the end of the Fund fiscal year.

Contributions to the United Jewish Fund are tax-deductible. Please make payment immediately to the Fund office as cash is vital in order to meet the commitments which our community has made ot national, overseas and Israel aid.

If you have any questions concerning the amount due, do not hesitate to call M-5172 and you will be given the information.

Please pay your 1952 pledges to the United Jewish Fund now.



U.J.A. Board Meeting
Scheduled for Jan. 12
Southwestern Jewish Press, January 9, 1953, page 1

The January board meeting of the Directors of the United Jewish Fund of San Diego will be held on January 13 in the El Cortez Hotel. Board members who will be taking seats in the deliberations of the Fund for the first time include M.S. Berlin, George Burnett, Zel Camiel, Mrs. Saul Chenkin, Leonard Drogin, Mack Esterson, Albert Krasnow, Jerome Niederman, Dr. Joshua Rittoff, Lewis Solomon, Mrs. Bernard Veitzer and Harry Wax.

Among the major items of business which confront the new Board of Directors will be the election of a president, three Vice-Presidents, a Secretary and a Treasurer as well as seven members of the Executive Committee. A discussion of the campaign plans for 1953 is also on the agenda.


Go to the top of right column






Samuel I. Fox Installs
Its Fifth President
Southwestern Jewish Press, January 9, 1953, page 1

Samuel I. Fox B'nai B'rith Lodge No. 1747 will hold its annual installation of officers o Sunday, January 25 at 8:00 p.m. in the Main Auditorium of Beth Jacob Synagogue.

A repeat of the wonderful installation of last year is promised to all B'nai B'rith members and their friends and the community at large to attend and enjoy themselves. A fine evening consisting of an impressive installation, entertainment and dancing is promised by the chairman, Dave Sugerman and his staff. A seven course dinner for $2.50 per person will be held prior to the installation to honor the incoming and outgoing officers at 6:00 p.m. The dinner will also be a grand sendoff to the incoming President Sol Randall, who plans to go into business at 5th and E Sts. Under the name of Randey's. Reservations can be made by calling Joseph Gelman or J. David Brooks, F-8513, Stanley Yukon, R-5362; Dave Sugerman, H-9-3376, or contacting any lodge member.

Installing officials will be Eddie Breitbard, Grand Lodge Executive assisted by Past Grand President Henry Weinberger.

Officers for 1953 to be installed are as follows: Sol Randall, President; David Sugerman, First Vice President; Joseph Spatz, Second Vice President; Joseph Schloss, Financial and Recording Secretary; P.P. Ernest Green, Treasurer; Jr. P.P. Stanley S. Yukon, Chaplain; J. David Brooks, Warden; Calvin Green, Guardian; Joseph Gelman, Sanford Sack, Sanford Goldman, Henry Cohn and Nathan Raitzas, trustees, and P.P. John Kluchin, Grand President's Representative.


"Adventures in Jewish History" is sponsored by Inland Industries Group LP in memory of long-time San Diego Jewish community leader Marie (Mrs. Gabriel) Berg. Our indexed "Adventures in San Diego Jewish History" series will be a daily feature until we run out of history.





Jewish Internet Favorites ... *




Charlotte Rae as Edna Garrett in "The Facts of Life" TV series


Paul Newman plays a romantic scene with Elke Summer in "The Prize"




Tony Randall (and Jack Klugman) in an "Odd Couple" episode


Vic Morrow is an adult role model in a Bonanza episode




*We include those with at least one Jewish parent and those who have converted to Judaism as Jewish community members, Copyright 2007-2009 - San Diego Jewish World, San Diego, California. All rights reserved.

< BACK TO TOP