| | | | | |
| --- | --- | --- | --- | --- |
| | Volume 3, Number 103 | | "There's a Jewish story everywhere" | |
Today's Postings:

Sunday, May 3, 2009

{Click on a link to jump to the corresponding story. Or, you may scroll leisurely through our report}


INTERNATIONAL

Economist paints grim picture of Gaza life under Hamas ... by Ira Sharkansky in Jerusalem
The Economist's description of Gaza three months after Israel's invasion makes difficult reading. The slogans of "collective punishment" and the "world's largest prison" seem accurate. READ MORE

61-year-old Israel debates particularism vs. universalism ... by Rabbi Dow Marmur in Jerusalem
When Israel was proclaimed in May 1948, a joke was making the rounds "explaining" why, despite their deep sense of history, the founders didn't restore the monarchy. Answer: because Ben Gurion could settle for being the first Prime Minister, he couldn't bear the thought of going down in history as David the Second.READ MORE

Israeli combat veteran brings recovery message to U.S. vets ... by Donald H. Harrison in San Diego
Haran Yaffe has been described as the Israeli soldier who survived the most severe wounds of any who fought in the second Lebanon war. As he puts it in his characteristically blunt manner of talking about himself, "they compared me to 'roadkill.'"READ MORE

Former Prime Ministers attend Richard Pratt's funeral ... by Garry Fabian in Kew, Australia
Richard Pratt was described as a "hero" by his son Anthony at his packed funeral at Kew Hebrew Congregation on Wednesday. Political leaders, Jewish community leaders and figures from the world of sport and entertainment were there, alongside the Pratt family's many friends, to bid farewell to the business leader and philanthropist who died on Tuesday evening from cancer.READ MORE


JUDAISM
Christian students seek Jewish view of the afterlife ... by Rabbi Leonard Rosenthal in San Diego
Last Wednesday afternoon I had my annual visit from students studying at Christian High School in El Cajon. I gave them a tour of the sanctuary of Tifereth Israel Synagogue, showed them the Torah, explained our rituals, and answered their questions.READ MORE

Was it a sin to abandon kashrut in concentration camps? ... by Rabbi Baruch Lederman in San Diego
"Holy shall you be for I am holy." (Leviticus 19:2) We are a people of unparalleled holiness and purity as the following true story illustrates: In 1945, the Jews who were now liberated from the camps began the challenging process of getting their lives back together. READ MORE


THE BIBLE IN POP CULTURE
Watch our Bible come together with Biblical names and modern images

Ephraim, Joseph's second son, Genesis 41:52 VIEW IMAGE

CO-PUBLISHERS MAILBOX
San Diego celebrates Yom Ha'Atzma'ut at SDJA today READ MORE
Here's an antidote to those Boycott Israel campaignsREAD MORE
Israelis from San Diego sister region to attend Camp Mountain ChaiREAD MORE
Soille San Diego Hebrew Day School celebrates Yom Ha'atzma'ut READ MORE


SPORTS
A bissel Jewish Sports Trivia with Bruce Lowitt... in Oldmar, Florida
After he was dealt by Washington to the Boston Red Sox during the 1927 season, Senators owner Clark Griffith called it "the dumbest trade I ever made," and gave up five players to get him back in 1929. Who is he?READ MORE


ADVENTURES IN SAN DIEGO JEWISH HISTORY
February 20, 1953; Southwestern Jewish Press

Letter to the Editor READ MORE
Tifereth Israel to Join In Fourth (sic, Fortieth) Anniversary of United Synagogue READ MORE
Daughters of Israel Plan Purim Dinner READ MORE



New Hotel Offers Fun At Elsinore READ MORE
Harris Lipinsky Passes At Home READ MORE
Birdie Stodel B'nai B'rith READ MORE
Personals READ MORE

JEWISH INTERNET FAVORITES
We continue our examination of Jewish entertainers

Albert Brooks as Mr. Miller in 'Defending Your Life 'VIEW VIDEO

James Caan as Axel Freed in "The Gambler" VIEW VIDEO

Nell Carter sings "Amazing Grace" in Gimme A Break. ( Yes it's a Christian song, but she was a Jew by choice) VIEW VIDEO

Richard Belzer as Detective Munch predicts the electronic futurein Law and Order, Special Victims Unit VIEW VIDEO

Bonuses: HaranYaffe sings "Boker Tov, Tel Aviv." VIEW VIDEO

Before you boycott Israel produts, here's what you'd give up.VIEW VIDEO

STAFF BOX

Our rabbinical writers deal with some interesting questions in their columns today. Rabbi Leonard Rosenthal tells of students from Christian schools asking what Jews believe about the afterlife. And Rabbi Baruch Lederman tells about concentration camp survivorswho felt guilty for violating kashrut.



TODAY'S ADVERTISERS

America's Vacation Center
Balloon Utopia
Congregation Beth Israel
Jewish Family Service
Lawrence Family JCC
Math Is Easy
San Diego Community Colleges
San Diego Jewish Chamber
Soille San Diego Hebrew Day School
Therapy in Motion Inc.
Tifereth Israel Synagogue
United Jewish Federation
XLNC-1 Radio

DEDICATIONS
Each day's issue may be dedicated by readers—or by the publisher—in other people's honor or memory. To see today's dedication, please click here. Past dedications may be found at the bottom of the index for the "Adventures in San Diego Jewish History" page.

NOTE
PLEASE HELP US POLICE THIS SITE: If you see anything on this site that obviously is not in keeping with our mission of providing Jewish news and commentary, please message us at editor@sandiegojewishworld.com, so that we can fix the probem. Unfortunately, large sites like ours can be subjected to tampering by outsiders. Thank you!



EMAIL HEADLINE SERVICE




SEARCH THIS SITE

By Ira Sharkansky

JERUSALEM—The Economist's description of Gaza three months after Israel's invasion makes difficult reading. The slogans of "collective punishment" and the "world's largest prison" seem accurate.

Numerous families are living rough due to their homes being destroyed. Diets are limited due to continued blockades of all but essential foods and medicines. The Israeli press reported recently that pumpkins were not allowed in because they were not on the list of essential foods.

The Economist is not widely recognized as a Zionist newspaper, but this article is fair in putting most of the onus on Hamas. Its inflexible ideology brought the destruction, and has provided little opportunity for finding a way out of the blockade. An inability to reach an accord to produce a unified Palestinian leadership not in the hands of those defined as terrorists by numerous governments has created a situation where most of the aid promised has not been delivered. There has been no movement about freeing the Israeli prisoner, if he is still alive, or even allowing contact with international humanitarian organizations for close to three years.

The Economist quotes Gazans who curse Hamas for their fate while sitting amidst the rubble, and complaining about overcrowded tents.

The article avoids suggesting that Gaza is the future of Islamic extremism, but it might be worth thinking in that direction.

Other trouble spots are not much better. Afghanistan may support continued war with its poppies, but not an attractive life style for the population. Likewise areas of Pakistan occupied by the Taliban, and the villages of Somalia that send little boats to capture big ships. Iran is much less than a paradise despite oil revenues that support angry Muslims in several places, moving to the edge of nuclear power as well as long- and medium-range missiles. There is double digit



Go to top of right column


unemployment and inflation, and insufficient refining capacity to produce enough gasoline for its own consumption.

Those who accept the Bush and Obama spins may view Iraq as a coalition success and the emergence--almost--of a stable indigenous government. Skeptics cite more than 1,000 civilian deaths due mostly to sectarian violence so far in 2009, and perhaps 100,000 civilian deaths since 2003.

Judgments about Lebanon depend on what you read. Hizbollah and Iranian sources are upbeat. A USAID website carries pictures of a bridge that Americans are rebuilding. Others describe recovery from 2006 as far from complete. They emphasize the lack of stability in a country always on the verge of ethnic conflict and religious euphoria, and tied in one way or another to Iran or Syria, neither of which are political or economic garden spots.

North Korea is not a Muslim country, but provides a model along with a number Muslim countries for the consequences of being enthusiastic outliers.

With great efforts at self-justification based on ideology and/or theology, and outsized investments in weapons of aggression, these countries are not ideal for the rest of us, but they have been manageable. The rogues are contained, at an expense far less than total war, and it is their own residents who suffer the most from fanaticism.

For those of us with modest aspirations and little expectation of heaven on earth, the glass is half full.

Sharkansky is professor emeritus of political science at Hebrew University in Jerusalem. His email: msira@mscc.huji.ac.il



Please click this ad for festival information


Please click the ad above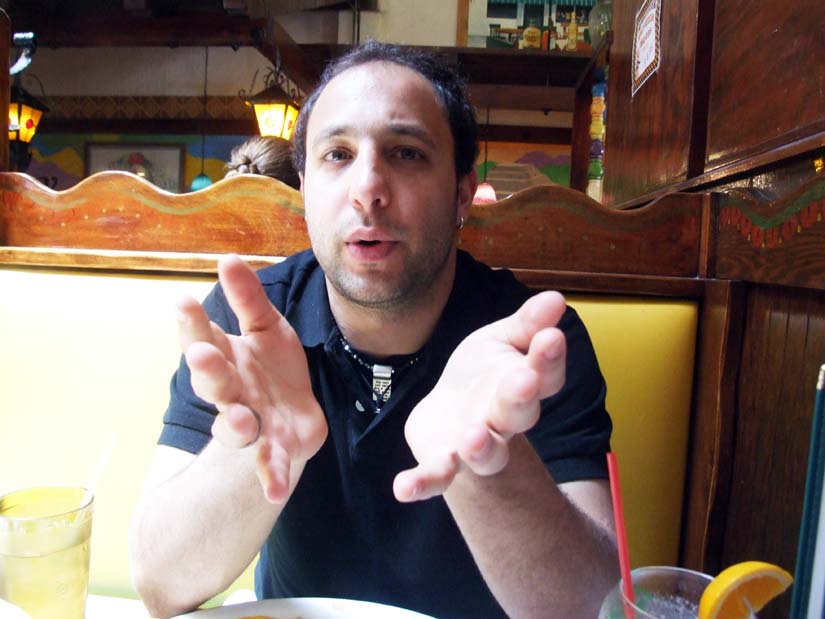 Haran Yaffe at Old Town Mexican Cafe

THE JEWISH CITIZEN

Israeli combat veteran brings recovery message to U.S. vets


By Donald H. Harrison

SAN DIEGO—Haran Yaffe has been described as the Israeli soldier who survived the most severe wounds of any who fought in the Second Lebanon War. As he puts it in his characteristically blunt manner of talking about himself, "they compared me to 'roadkill.'"

Twenty four transfusions and 17 surgeries later—with more to come—Yaffe, 26,is trying to resume his career as a pop music performer while also serving as a source of inspiration to other wounded soldiers. He has met with almost every Israeli soldier who sustained major wounds in the more recent Gaza War, and he was in San Diego last Thursday to tell his story—and deliver his message of recovery—to U.S. veterans being treated at the Veterans Village.

I met Yaffe for lunch at the Old Town Mexican Café prior to his appearance at the Veterans Village, which for reasons of confidentiality for American veterans was closed to the media. He recounted for me some of his experiences on the battlefield and in rehabilitation that he planned to share with the U.S. veterans.

After the Second Lebanon War began, Yaffe was a civilian helping to book fellow performers for appearances "for the kids in the shelters" in northern Israel. He also was putting the finishing touches on "Boker Tov, Tel Aviv" ("Good Morning Tel Aviv) as both a single and as a music video (See below).



When he heard news that a Lebanese Katyusha had hit a house in his home village of Amirim in Northern Israel—a home close to that of his parents, Roni and Dina Yaffe—the entertainer decided that "I wasn't doing enough."

"You don't mess with my mom—you can write that down," declared Yaffe.

A former staff sergeant, he volunteered for assignment with his old combat engineering unit. The unit's commanding officer said no more soldiers were needed, but Yaffe who considers "defiance" one of his strong points, reported for duty anyway. On August 10, 2006, Yaffe was in an armored personnel carrier in the vicinity of Marjaayoun, Lebanon—perhaps 10 kilometers northwest of the Israeli border.

An Israeli tank had been disabled and the men inside were pinned down, so Yaffe and comrades in the armored personnel carrier along with other members of the unit went to rescue the trapped Israelis—"never leaving anyone behind" being a strong credo of the Israel Defense Forces.

Before the Israelis could render assistance to the tank crew, they witnessed the tank blown up by Lebanese rocket fire. Realizing that the armored personnel carrier could be the next target, most of the men inside were able to clamber out and take cover. But two soldiers – Yaffe and Duby Genish -- were unable to evacuate in time. A missile smashed into their vehicle and exploded while they were still in it. Somehow, they weren't killed, but both were seriously wounded. Genish lost a leg.

With artillery shells still raining down and the armored personnel carrier on fire, a soldier by name of Uri Lerner jumped into the armored personnel carrier and pulled his comrades to safety—an act of bravery for which he later was awarded Israel's second highest medal of honor, according to Yaffe.

"I don't know if it was the shock or something but I was telling everyone,' relax, it's okay,' Yaffe recounted. With Israeli helicopters unable to land on site in the midst of a battle, Yaffe's colleagues put him on top of another tank and drove like maniacs to the Israel border. "We hit a bump , and I fell from the tank onto the ground," he said. Lerner pulled him back onto the top of the tank, then held him steady for the rest of the ride. On that ride, he was told, the whites of his eyes "turned green."

There is a psychological phenomenon well known to Israeli soldiers that those who are severely wounded will try to somehow stay alive, at least until they reach Israel where they can die on their home soil. Yaffe didn't die upon reaching his "eretz," but he went into a coma. He remembers nothing of being treated by paramedics inside Israel nor of an urgent helicopter flight to Rambam Hospital in Haifa—a flight on which , he was told later, "everyone thought they were transporting a corpse."

He recounted that he had been hit on the right side of his body, with shrapnel piercing several organs. There was so much internal bleeding that any application of pressure on his skin would cause blood to ooze to the surface. His diastolic blood pressure was down to the teens. When doctors opened him up, it was such a mess inside, they did not know where to start. He was given experimental surgeries, drugs and other procedures in the attempt to save his life.

For ten days, Yaffe lay in a coma, but people outside the hospital did not give up on him. At one point a mass prayer session was organized; at another point, a local disk jockey decided to play Yaffe's "Boker Tov, Tel Aviv" over and over, while saying "Get up, Haran, get up."

The story has been repeated that Yaffe awakened the moment that

Go to top of right column





he heard himself singing on computer radio next to his bed in the Intensive Care Unit. This "sounds cheesy" and is not quite correct, Yaffe said. He opened his eyes when the music played, but soon feel back asleep, and does not remember the incident. But later that day, he did awaken.

"I was sure that I was a captive. For me it was a matter of a minute before I got hit. A nurse came over to me and said 'relax you are in Israel, at Rambam; you are alive. Relax ' Then they started telling me what had happened . I was sure that something had happened to my leg, and then I see that my stomach is open. I have a colostomy, my intestines are out …I have burns…"

Not long after he awakened, Yaffe was given a medallion that he has worn on his neck ever since. On it is engraved the motto "You only live once, but if you live right once is enough."

And so Yaffe began a long course of physical rehabilitation — one that still continues. There are still more than 100 pieces of shrapnel within his body.

The Yaffes enjoy roughneck humor, and despite his condition, Yaffe was delighted when his father came to his bedside and told him: "If you had died I would have killed you!" Once when he started to hemorrhage he saw that a male nurse was beginning to panic. "Don't worry, I'm going to make it," Yaffe reassured him.

A streak of defiance was Yaffe's constant helpmate in the hospital. When hospital attendants said he wasn't ready to get out of bed, he rolled himself out of bed anyway, and crawled on the floor until they lifted him back onto the bed. This became a nightly routine as Yaffe kept pushing himself to do more—even against the advice of doubting medical attendants.

"F—k 'em, I'll show them!" became Yaffe's watch phrase.

I asked Yaffe how he expresses that thought in his presentations to school children.

"If you will it, it is not a dream" he responded with a smile. This, of course, was Zionist Theodor Herzl's famous expression about the inevitability of a Jewish state being reestablished. Hard to imagine the two phrases being equated, but, as Yaffe puts it, his recovery and Israel's Jewish establishment were accomplished against all odds.

Another time in the hospital, Yaffe got a walker and held onto it until he collapsed, and they put him back into bed. "It became a ritual… from standing ….to walker… to crutch … to cane … from a cane it turned into a surfboard!" Yaffe said.

He was under the hospital's care and later under close outpatient supervision for 18 months. Once believed to be dead, and later believed likely never to get out of bed again, today he is fully ambulatory, and only limps if he has to walk for long periods.

More than about other parts of his body, Yaffe worried about the hands with which he makes music. His left hand was unaffected, but wounds to the nerves in his right arm left him initially unable to strum his guitar or perform right handed parts on his piano.

At first his fist remained clutched, so he found a way to insert a pick into it so that he could strum the guitar. When his right hand finally opened up, he used his left hand to painstakingly place his right fingers on the proper keys of the piano. He re-taught himself how to play.

He didn't care about the tempo of the music at first, "it was the sound I was after."

About six months ago, Yaffe moved to New York City to explore music opportunities there. He said that he was suffering composer's block in Israel—new lyrics simply refused to come to his head.

I asked what other psychological impacts his ordeal had on him.

He responded that he usually dreamed about the battlefield, though not particularly about the incident in which he was wounded. And, he said, in every dream he sees Uri Lerner, the man who saved his life.

"Civilians would never understand," he said. "What gives you the courage to go into battle is being shoulder to shoulder with those guys. You know that no matter what happens to you , they are there…"

When the Gaza War erupted at the end of last year, Yaffe was trying to make emergency arrangements to fly back to Israel when his telephone rang.

"Don't you do it!" he heard his mother screaming over the phone. "I know exactly what you are thinking! You are an idiot!"

As it was, Yaffe's younger brother saw action—finding after one battle that a bullet had hit his helmet.

The Consulate General of Israel in Los Angeles "wanted to share Haran's story because it is one that truly touches the heart," said Shahar Azani, the consul for Culture, Media and Public Diplomacy. "It is a story of hope and inspiration. It depicts the strength of the human spirit – a quality which is synonymous with Haran's home country of Israel.

"His words and music touch those who are fortunate enough to encounter them and offer light to those who think there is only darkness left in this world. Haran, in spite of his injury in the course of defending the Homeland, was able to overcome near-death and emerge far stronger than he ever imagined he could be, with a zest for life, a trademark of Israel."

Harrison's email: editor@sandiegojewishworld.com

KEW, Australia--Richard Pratt was described as a "hero" by his son Anthony at his packed funeral at Kew Hebrew Congregation on Wednesday.

Political leaders, Jewish community leaders and figures from the world of sport and entertainment were there, alongside the Pratt family's many friends, to bid farewell to the business leader and philanthropist who died on Tuesday evening from cancer.

The traditional Orthodox Jewish service, held at the synagogue where Pratt was a long-time member, was led by Rabbi Levi Wolf from Sydney's Central Synagogue and included moving tributes from Anthony, daughter Heloise and long-time friend Sam Lipski.

Lipski, CEO of the Pratt Foundation, called Pratt
"a great Australian, amongst the greatest", but also a grateful Australian.

He described how he met Pratt when they were both students at University High School. Pratt at the time was a prefect, a champion sportsman and a performer in the school play, and Lipski said he was surprised to find that he also had a "yiddishe kopf" -- a Jewish head.

Pratt is a former owner of the Australian Jewish News.

In his eulogy, an emotional Lipski also referred to Pratt's recent legal battles, explaining that the latest criminal charges, which were withdrawn on Monday, were "unjustly conceived and unjustly pursued." History will vindicate his honour, Lipski said.

Anthony, who will take over the helm at Visy, called him "my hero" and said his father taught through his actions that it was important to value family first and work second.

"He was the quintessential Aussie success story," Anthony said of his father, a Polish migrant who became a self-made billionaire.

Anthony recalled advice his father had given to
one of his grandchildren recently: "Be strong, be honest, work hard".

Heloise Waislitz, Pratt's daughter and chair of the Pratt Foundation, read a letter she had penned to her father following his death.

In it, she recalled how as a 10-year-old she thought her father looked like 1960s and 1970s Hollywood movie star Rock Hudson, particularly when he dressed in a tuxedo.

She also spoke of the many occasions when father and daughter sang together, including at Visy functions. She declined to name the tunes they sang, saying it would be too emotional for the family.

Among the estimated 1000 mourners at Kew Hebrew
Congregation were former prime ministers John Howard and Bob Hawke, Victorian Premier John Brumby and Opposition Leader Ted Baillieu, former NSW premier Bob Carr and many politicians past and present.

Pratt's lifelong friend and former head of the Returned and Services League Digger James was amongst mourners, as was America's Cup skipper John Bertrand.

Plenty of AFL dignitaries were present as well, including AFL chairman Mike Fitzpatrick and CEO Andrew Demetriou.

Collingwood Football Club president Eddie Maguire
was in attendance, and of course a large contingent from the Carlton Football Club -- one of Pratt's greatest passions -- was there.

Entertainment identities also paid their respects to the former performer, who once trod the boards of Broadway and London's West End.

After the funeral service the family made the journey to Lyndhurst Chevra Kadisha for the burial service.


Richard Pratt: A life well lived

1934: Born in the Free City of Danzig, Poland.

1938: Immigrates to Australia, moves to Shepparton.

1952: Joins Visy Board, the company his uncle and
parents founded and developed in 1948.

1953: Wins the Morrish Medal for the best player
in the Victorian Football League under-19 competition.

1957: Tours London and New York with Ray Lawler's
Summer of the Seventeenth Doll.

1959: Marries Jeanne Lasker.

1969: Succeeds his father Leon as head of Visy.

1980: Purchases Raheen, the former home of the
Catholic Archbishop of Melbourne. The family
spends the next 15 years renovating the home.

1985: Becomes an Officer of the Order of Australia.

1987: Purchases the Australian Jewish News.

1990: Awarded an honorary doctorate of engineering by Monash University.

1992: Becomes foundation chancellor of Swinburne University of Technology.

1993: Becomes president of The Victorian Arts Centre Trust.

1995: Becomes chairman of The Australian Foundation for Culture and Humanities.

1998: Named Environmental Visionary of the Year
by the Keep Australia Beautiful campaign. Awarded
a Companion of the Order of Australia (AC).

2000: Awarded Philanthropy Prize from Israeli
prime minister Ehud Barak. Awarded honorary
doctorate by Swinburne University of Technology
for services to education and the community.

2004: Awarded honorary doctorate of laws from The University of Melbourne.

2007: Presented with the Woodrow Wilson Award
from the Woodrow Wilson International Centre for
Scholars of the United States Smithsonian
Institution. Named president of the Carlton
Football Club. Fined $36 million for Visy's role in a price-fixing cartel.

2008: Opens the Park of the Australian Soldier in
Be'er Sheva. Charged with four counts of
presenting false evidence to the Australian
Consumer and Competition Commission (ACCC).

2009: Criminal charges withdrawn.

May 28, 2009: Richard Pratt dies at home.

Following, in alphabetical order are just some of the written tributes were the following.

Ehud Barak, Defense Minister, Israel: My friend Richard Pratt was a great man, a great Jewish leader and a great supporter and fighter for the cause of Israel. Richard cared passionately about contributing to a better world and he was a true mensch. His passing is a great loss for the State of Israel.

Charles R Bronfman,Chairman of the Andrea and Charles Bronfman Philanthropies: Richard Pratt was a great leader, both in Australia and Israel. I well recall his

Go to top of right column


founding of The Jerusalem Report, in which I had the privilege of working with him. World Jewry and I, personally, have lost a true patriot and friend.

Premier John Brumby of Victoria: Richard Pratt was a remarkable Victorian and a remarkable Australian. I always got on with Richard very well indeed. Richard was a stunning success story, one of the great Australian success stories of someone who came to this country with not much and made a lot of it -- he built a huge business, a very successful business and importantly, he put back into the community.



Robert Goot, President of the Executive Council of Australian Jewry: Richard Pratt was a remarkable and outstanding Australian and Jew. He was a man of vision, commitment and great munificence. His legacy will permeate throughout the community. So expansive and generous was his philanthropy.We have all been privileged to have benefited from his lifetime of achievements. He will be sorely missed.

Bob Hawke. Former Prime Minister of Australia: I believe Dick Pratt has been a truly remarkable Australian, outstanding sportsman, actor, businessman, philanthropist. A man who showed a profound interest in issues of environmental importance to the future of Australia, particularly the question of water. He was personally very supportive of my attempts
to reach some basis of agreement for a resolution to the Israel/Palestine dispute. I salute him for his enormous contributions to our country.

John Howard, former Prime Minister of Australia: His contribution to Australia spanned many decades and many pursuits. He never forgot his Jewish heritage, or the circumstances that brought his parents and their young family to Australia.He was a generous and engaging host. Janette and
I greatly enjoyed the company of Richard and his wife Jeanne on many occasions. We salute Richard's ­contribution to our nation.


Premier Jeff Kennett of Victoria: Richard was very much big picture, in terms of the arts, as well as a very generous patron of the arts community. He had a degree of independence and who was not caught up, or captive of the arts politics.He was, therefore, able to see a very clear arts' priority established for arts in Victoria. He brought in a fresh assessment of priorities and moved the arts community to a slightly different place.


Prime Minister Binyamin Netanyahu of Israel:Richard Pratt's devotion to Israeli and Jewish causes was renowned. Whether it was by generously supporting higher education, investing in integrating new immigrants into society or helping care for the country's disadvantaged, Richard Pratt left his mark on countless Israeli lives. Israel and the Jewish people have lost a great friend and supporter.

President Shimon Peres of Israel: Richard Pratt was known for his exceptional energy, his mature wisdom, his kind heart and his outstanding contribution to the State of Israel.

Prime Minister Kevin Rudd of Australia: " Richard Pratt will be deeply missed by many Australians from all walks of life. With his wife Jeanne, he was one of Australia's leading philanthropists over a long period of time. Richard Pratt not only made a significant contribution to the state of Victoria, his generosity in helping younger generations fulfill
their potential is also reflected right across the nation.

John Searle, President of the Jewish Community Council of Victoria: Dick Pratt was a hugely honoured and respected leader of the Victorian and Australian Jewish communities. Hard work, initiative and the giving of charity are traits greatly admired by our community and Dick Pratt had these in great abundance. Dick Pratt has left behind a wonderful legacy and will be greatly missed by many people from so many diverse backgrounds within Australia and beyond.

Malcom Turnbull, Federal Opposition Leader: Lucy and I were saddened by the news. Mr Pratt was a great Australian. Through tireless enterprise and dedication, he built a vast business from nothing -­ employing thousands of Australians. His generosity and public spirited support of the community were justly and widely admired. Our thoughts and prayers are with his family as they grieve the passing of a husband, a father, and above all, a true mensch.

Fabian's email: fabiang@sandiegojewishworld.com









By Rabbi Leonard Rosenthal

SAN DIEGO—Last Wednesday afternoon I had my annual visit from students studying at Christian High School in El Cajon. I gave them a tour of the sanctuary of Tifereth Israel Synagogue, showed them the Torah, explained our rituals, and answered their questions.

One of the most difficult things for these students to grasp is that Judaism does not have a definitive view on the afterlife. There is, however, is a definite view on hell. Jews do not believe in eternal damnation. Some sources suggest that there is a purgatory where people suffer after death to make up for their sins, with rare exception, they go to heaven after no more than one year. But when it comes to heaven and questions about the afterlife in general, there are many theories that Jews can accept or reject.

When the students asked me what I thought would happen to me after I died I replied that I did not know and it did not concern me. My concern was this world. I would leave it to God to take care of anything that comes afterwards.

"Then why," they pressed me, "should you observe all of the commandments in the Torah if you will not be rewarded?"

"I follow the Torah," I replied, "because it reflects the will of God and following God's will is reward enough for me. Furthermore, following the Torah helps me become not only a Godlier, but a better human being."

I was glad when the class' teacher added that Christians believe the same. Christians should also walk in God's footsteps to bring

Go to top of right column


themselves closer to God and closer to humanity rather than to earn a place in heaven.

One of the sharpest divisions between Judaism and Christianity, however, is the question of salvation. Whereas these Evangelical Christian students believe that only people who believe that Jesus died for their sins will get into heaven, Judaism believes that "the righteous of all nations have a share in the world to come." We do not believe that one has to be Jewish to be acceptable to God. We instead believe that one has to act in a Godly manner to please God.

This open and pluralistic understanding of Judaism's acceptance of others is not a function of modernity, but rather can be found far back in Jewish tradition.

In Parashat Acharei Mot God told the Israelites: "You shall keep My laws and My rules, by the pursuit of which man shall life: I am the Lord." (Lev. 18:5)

Rabbi Meir said: "How do we know that a non-Jew who studies Torah is deemed of equal status to the Kohen Gadol (High Priest)? Because the Torah says: 'You shall keep My laws and My rules, by the pursuit of which man shall live...' The Torah does not specify Kohanim, Levi'im (Levites) and Yisraelim (other Israelites) but rather it says "man." From this we learn that a non-Jew who studies Torah is deemed of equal status to the High Priest."

Thus we see that even the sages of Israel were more concerned with non-Jews following God's laws and rules rather than with their ethnic origins or personal beliefs. As long as non-Jews act in open, loving, tolerant, and generous ways, we believe they are doing God's will.

Rosenthal is spiritual leader of Tifereth Israel Synagogue in San Diego. His email: rabbi@tiferethisrael.com
By Rabbi Baruch Lederman

SAN DIEGO— "Holy shall you be for I am holy." (Leviticus 19:2) We are a people of unparalleled holiness and purity as the following true story illustrates:

In 1945, the Jews who were now liberated from the camps began the challenging process of getting their lives back together. There were many physical challenges. They couldn't go back to their original homes. Where were they to go? What were they to do once they got there?

There were many emotional challenges. Many had lost their families. They had been exposed to inhuman inconceivable experiences. They were emotionally shattered and drained.

A group of young men who had survived the Holocaust met the renown Vizhnitzer Rebbe. The Rebbe went out of his way to comfort and console the countless Jews who had lost
their families, friends, and possessions as the result of the horrible war.

With great sincerity and heartache, the Jewish men told the Rebbe that they felt guilty for having eaten non-kosher food throughout their time in the camps. "Perhaps we should

Go to top of right column




have been stronger," said one of the young men with remorse. "Perhaps we could have survived without eating the food from their kitchens. What should we do to repent for our sins?"

The Rebbe was touched by their sincerity. He was quiet for a few moments and then he began to cry. He took the hand of one of the young men and clasped it warmly in his own
hands. "The only reason you and your friends ate the treif (non-kosher) food was so that you should survive, is that not so?" The young man nodded yes.

"Surely the reason you felt you had to eat the food was because of the commandment "And you shall live by them [the commandments] (Leviticus 18:5)," said the Rebbe. Again
the young man nodded. (The Torah commands us to violate all but three types of mitzvahs in order to save a life.)

"The Germans did not give anyone a morsel of food more than what they needed for survival," said the Rebbe. "Thus in fulfilling the commandment [of saving your lives], you
fulfilled it to the exact specifications required in Halachah (Jewish Law). In Heaven you will be rewarded in full measure for your observance of this sacred mitzvah."

"I only wish," cried the Rebbe, "that the eating and drinking that I do for the purposes of a mitzvah (such as eating matzoh on Pesach, or challah on Shabbos) should be as perfect
and as holy as your eating was!"

Dedicated by Zalman Ozer.

Rabbi Lederman is spiritual leader of Congregation Kehillas Torah in San Diego. Email: rbl613@nethere.com



Genesis 41:52

And the name of the second son he called Ephraim for, "God had made me fruitful in the land of my suffering."

Melanie Rubin photographed this license plate in San Diego
in March 2009


Please share your photo showing a biblical reference in pop culture —Please send your jpg photo for posting to editor@sandiegojewishheritage.com. If possible, please send it at 72dpi resolution and 400 pixels wide. Please include the name of the photographer, the date and place the photo was taken, and any other relevant caption information.

For our growing "Pop Bible" collection please see

The Co-Publishers' Mailbox...


San Diego celebrates Yom Ha'Atzma'ut at SDJA today


SAN DIEGO (Press Release)--Israel Independence Day Festival, sponsored by the United Jewish Federation of San Diego County's Israel Center will be held today (Sunday) on San Diego Jewish Academy's campus,11860 Carmel Creek Road, San Diego from 11 a.m. to 3 p.m . The celebration will bring together thousands of people from all over San Diego County for a day of fun and learning.

The keynote speaker at this year's festival will be Shahar Azani, the new Israeli Consul for Culture, Media and Public Affairs, from the Israeli Consulate in Los Angeles. San Diego team members from Bike Israel 2009 will ride in to the San Diego Jewish Academy campus to join San Diego's community celebration of Yom Ha'atzma'ut.

Yom Ha'atzmaut is a unique, once a year opportunity for the Jewish community to come together in celebration of Israel. With more than 55 participating organizations and vendors, the day will be filled with activities for children and adults, and lectures and interesting educational programs for the entire family. This year there will also be many Israeli interactive programs specially designed for children, teens and adults, and real-time communications with the Federation's sister city, Sha'ar HaNegev.

This year's event will feature A Star Is Born,Kochav Nolad Shelanu,, an Israeli version of the popular American Idol television show. The event will showcase talent from around the county singing songs in celebration of Israel.

Preceding submitted by United Jewish Federation of San Diego County


Here's an antidote to those
Boycott Israel campaigns

SAN DIEGO—Weary of Arabists and hardline leftists constantly wanting to boycott Israel in one form or another. As in the video below, perhaps we should encourage such boycotts--so long as the boycott is not selective, but includes all Israeli products and inventions:



Israelis from San Diego sister region
to attend Camp Mountain Chai


ANGELUS OAKS, Caliornia (Press Release)—An important part of the Camp Mountain Chai experience involves learning about Israel - about the historic, religious and cultural connection between the Jewish people and Israel; and about the life and culture of Israelis. An essential element of the Israel program is the participation of several Israeli campers, all residents of Sha'ar HaNegev, San Diego's sister city in Israel.

The Israeli children come to Camp Mountain Chai for a two week session at no cost to their families. These kids enjoy a much needed respite from the regular rocket fire on their communities from Gaza while our American campers benefit greatly from the direct interaction with their Israeli counterparts. Their presence at Camp, and as an integral part of camp life, makes Israel come alive putting a real and personal face on all Israel related programming.

Earlier this year we were informed that due budgetary cuts, the UJF of San Diego would no longer be able to participate in the funding our Israel Program.

We are very excited that the Leichtag Family Foundation felt that the Camp Mountain Chai Israel Program was an educational priority and awarded us a very generous grant to support it. The Grant has enabled us to continue to offer this special opportunity to the children of Sha'ar Ha'Negev and to our entire camp community.


Station#7: The Tel Aviv Beach- Students enjoyed "A day on the beach" getting a feel for what really happens on the beach in Israel. The students played smash ball, ate popsicles and wrote the name Tel Aviv with pebbles.

Station#8: the Falafel- Israel's national food that was generously provided to the whole school by our wonderful PTA.



Station#9:Habima-Israel's National Theater. The students watched a performance of the Declaration Of Independence that took place in the city of Tel Aviv 61 years ago. This wonderful performance was presented by some of our seventh grade students. At the end of each performance every student got a chance to take part in history and sign their name on Israel's Declaration of Independence.

The event was concluded with a great military march of our 8th grade boys, symbolizing the first Israeli army parade to walk the streets of Tel Aviv in 1949.

The march then led the entire school with the singing of Hatikva- Israel's national anthem, and at the end of it the release of balloons, carrying our students wishes for the state of Israel to the sky.

This was a great event, helping our students understand and learn more about the life in Israel and to strengten their connection to the state of Israel!

Preceding was provided by Soille San Diego Hebrew Day School



Please click the ad above






Please click the ad above

Adventures in San Diego Jewish History

Letter to the Editor
Southwestern Jewish Press February 20, 1953, page 2

Dear Mr. Kaufman:
With great interest and slightly raised eyebrows I have read the news item in the general press that the "San Diego Council of Temples" will sponsor a circus in the near future. I have been a resident of the community for many years, and this is the first notice I've seen of the existence of such a "Council."

Furthermore, I have always been given to understand that the local Orthodox and Conservative congregations—up to now—have always called themselves Synagogues. The term "Temple" as used locally, has always referred to Congregation Beth Israel, which evidently is not among the circus sponsors. Apparently then, the suddenly-born "council of temples" is only a two-ring circus. Can you or the congregations involved enlighten me further?

Sincerely,
A Beth Israel Member


Tifereth Israel to Join In Fourth (sic, Fortieth) Anniversary Of United Synagogue
Southwestern Jewish Press February 20, 1953, page 2

The national celebration of the Fortieth Anniversary of the United Synagogue of America will take place on the weekend of February 20th. Special meetings, dinners, and Sabbath Services will be held in hundreds of communities throughout the county (sic, country)

At Tifereth Israel synagogue, special Services on Friday night, February 20th, will make the event siginificant. Guest speaker for the organization will be Mr. Aaron Gordon of Los Angeles, who is a National Vice President of the United Synagogue, and former President of the Southern California Region. He will be introduced by Mr. Al Newman, a Vice President of the Region.

The Service will be conducted by Bernard Berwin, son of Mr. and Mrs. Elias Berwin, who will celebrate his Bar Mitzvah on this Sabbath. Mr. and Mrs. Berwin, honoring their son, will serve as hosts at the Oneg Shabbat.

Bernard will also participate in the conduct of the Sabbath Morning Services on February 21st, and will chant the Haftorah, and address the congregation.

All are cordially invited.


Daughters of Israel
Plan Purim Dinner
Southwestern Jewish Press February 20, 1953, page 2

The Daughters of Israel Purim Dinner and Package Party will be held March 1 at the Tifereth Israel Synagogue at 5:30 p.m. A delicious chicken dinner with all the traditional trimmings will be served.

Following the dinner an auction of beautiful merchandise will be held. Be on hand for the food and the fun.

Make your reservations now by calling Mrs. Anna Lipsitz, R-8755; Mrs. Anna Goldstein, M-5992; or Mrs. Jennie Siner, T.1-1135.



New Hotel Offers Fun At Elsinore
Southwestern Jewish Press February 20, 1953, page 2

The new Lake Elsinore Hotel, Mineral Hot Springs, Elsinore, California, 72 miles south of Los Angeles and 73 miles north of San Diego, has arranged for a carefree Easter week vacation for the hotel's guests according to an announcement by the hotel's owners, Doctor and Mrs. William Schwartz of Beverly Hills, California.



Carefree, because there will be specially trained youth counselors to take the children off parents hands at intervals with supervised hikes., rides, swimming parties and a myriad of planned outings.



Harris Lipinsky Passes At Home
Southwestern Jewish Press February 20, 1953, page 2

Harris Lipinsky, 84, a resident here 25 years, died Wednesday at his home, 5018 Marlborough Dr. He was a member of Tifereth Israel Synagogue an B'nai B'rith. Mr. Lipinsky is survived by his wife, Ida; three sons, Bernard, William and Lewis Lipinsky all of San Diego; two daughters, Mrs. William Wolff and Mrs. Julius G. Barkin, both of Los Angeles; eight grandchildren and five great-grandchildren.

Services were held Friday at Lewis Colonial Mortuary, will burial in Greenwood Mausoleum.


Birdie Stodel B'nai B'rith
Southwestern Jewish Press February 20, 1953, page 2

A beautiful initiation was held at our meeting on February 9. The big surprise of the meeting was that our "Mothers" (sic), Birdie Stodel, came to welcome the initiates. The Southern California conference Degree Team and Choral Group conducted the beautiful ceremony.

We urge all our members and friends to attend our next meeting which is being held Monday evening, February 23rd, in conjunction with the Bay City B'nai B'rith Chapter. This meeting will be held at Tifereth Israel, at 8:15 o'clock. The winner of the elementary school essay contest will be present.
For those who have no transportation and wish to attend, please call the Transportation Chairman, Mrs. Mitzi Orenstein, T-2911.



Personals
Southwestern Jewish Press February 20, 1953, page 3

Betrothal Announced—Mr. and Mrs. Sam Tepper announce the engagement of the daughter, Roann, to Sam Krasner, son of Mr. and Mrs. Irving Krasner. The joyous news was told at a dinner party for 32 given by the Teppers on Feb. 10th.

Sam arrived home on Feb. 8th from Kentucky where he is attending a U.S. Army Leadership school and was given a Welcome-Home party by his parents that evening. He left to return to school just four days later.

Before entering the service, Sam attended State College and is a member of the Zeta Beta Tau Fraternity. Roann is also a student at State College. The young people are planning a spring wedding.

*
Flo and Morrie Ackerman returned Feb. 16th from a two week flying trip to Mexico City, Taxco, and Acapulco. Meeting them in Mexico City were Morrie's brother and sister-in-law, Ben and Ruth Ackerman, of Watertown, S.D.

*
Mr. and Mrs. Harry Mandell have left for a 10 month trip around the world. They sailed from San Francisco for Hawaii this week on the first lap. Then to Japan and the long voyage to Marseilles. Most of their time will be spent in France where Mrs. Mandell has three sisters, and Mr. Mandell four sisters.

*
The George Borusheks entertained at a dinner party on Feb. 15th in honor of Mrs. And Mrs. Bernard Veitzer's 25th wedding anniversary. Among the guests were Mr. and Mrs. Sam Kronick, cousins of the Veitzers who are making their annual winter visit from Toronto, Canada.



"Adventures in Jewish History" is sponsored by Inland Industries Group LP in memory of long-time San Diego Jewish community leader Marie (Mrs. Gabriel) Berg. Our indexed "Adventures in San Diego Jewish History" series will be a daily feature until we run out of history.



OLDSMAR, Florida—Q: After he was dealt by Washington to the Boston Red Sox during the 1927 season, Senators owner Clark Griffith called it "the dumbest trade I ever made," and gave up five players to get him back in 1929. Who is he?

(a) Buddy Blattner
(b) Buddy Groom
(c) Buddy Myer
(d) Buddy Peace




Background: After batting .304 in 1926, his first season as Washington's regular shortstop, Griffith wanted a better fielder and sent him to Boston on May 2, 1927 for Topper Rigney, who played only 45 games for the Senators in the last of his six seasons. In 1929 he returned to Washington and batted over .300 eight more seasons – including .349 in 1938 to win the American League batting title - before retiring after the 1941 season.








Jewish Internet Favorites ... *




Albert Brooks as Mr. Miller in 'Defending Your Life'





James Caan as Axel Freed in "The Gambler"







Richard Belzer as Detective Munch predicts the electronic future
in Law and Order, Special Victims Unit


Nell Carter sings "Amazing Grace" in Gimme A Break. ( Yes it's a Christian song, but she was a Jew by choice)



*We include those with at least one Jewish parent and those who have converted to Judaism as Jewish community members,

SPORTS TRIVIA ANSWER: (c) Buddy Myer



TODAY'S DEDICATION: Today's issue of San Diego Jewish World is dedicated with happy birthday wishes to Professor Lawrence Baron of San Diego State University


Copyright 2007-2009 - San Diego Jewish World, San Diego, California. All rights reserved.

< BACK TO TOP