| | | | | |
| --- | --- | --- | --- | --- |
| | Volume 3, Number 67 | | "There's a Jewish story everywhere" | |
Today's Postings:

Friday-Saturday, March 20-21, 2009

{Click on a link to jump to the corresponding story. Or, you may scroll leisurely through our report}


INTERNATIONAL
Vote for Diaspora Jews would be counterproductive ... by Rabbi Dow Marmur in Jerusalem
In my book, The Star of Return, published in 1991, I suggested that to become true partners with Israel, Jews in the diaspora should seek Israeli citizenship under the Law of Return and thus fully involve themselves in the affairs of the Jewish state. READ MORE

Can Israel's worldwide image problem be corrected? ... by Ira Sharkansky in Jerusalem
JERUSALEM—Israel has an image problem. It has worsened due to the use of massive force against Gaza, the foreign minister designate said to be a racist, and the prime minister designate who speaks out against the idea of a Palestinian state widely held to be the key to peace. READ MORE

In Ethiopia, they're 'Jews'; in Israel, they're 'Blacks' ... by Laurel Corona in Coronado, California
Gadi lives in the bus station in Tel Aviv with several other young Ethiopian Jews who have turned its basement into a makeshift home. He wants nothing more than to go back to Ethiopia, and dreams of eating his mother's ngera, a traditional bread. READ MORE


NATIONAL
Hospital CEO applies Jewish values in recession ... by Sara Appel-Lennon in San Diego
You may wonder why Beth Israel and Deaconess are in the same name for the medical center in Boston. READ MORE

ARTS
A globe-hopping program of pleasing musical fare ...by David Amos in San Diego
It is always rewarding to present a concert where every work is accessible, fun to hear, and at the same time laden with musical values.READ MORE

Won't somebody help John Dillinger get out the door? ... by Cynthia Citron in South Pasadena, California
A motley crew of "misunderstood" celebrities showed up at the Fremont Centre Theatre in South Pasadena on Sunday night to whine about their plight and make impossible requests of the audience. READ MORE

ADVENTURES IN SAN DIEGO JEWISH HISTORY

Council of Jewish Women READ MORE

New U.S.O. Worker to Replace Miss Siegel READ MORE

Center Group Annual Meeting To Be Held Sunday READ MORE

Jr. Charity League READ MORE

"The Dybbuk" Next On Film Series READ MORE

J.W.V. Auxiliary READ MORE

Temple Teens READ MORE


JEWISH INTERNET FAVORITES
We continue our examination of Jewish entertainers
Jean Pierre Aumont in "The Cross of Lorraine" (trailer) VIEW VIDEO

John Banner as Schultz in Hogan's Heroes. He "knows nothing!"VIEW VIDEO

Martin Balsam in "Twelve Angry Men"VIEW VIDEO

Mel Blanc demonstrates his many famous voices for Johnny CarsonVIEW VIDEO


COMMUNITY WATCH/ ADVERTISERS NEWS

Carol Ann Goldstein: Is your website search-engine friendly? READ MORE

Lawrence Family JCC: Violinist Zina Schiff in concert READ MORE

Go to top of right column

San Diego Jewish Academy: SDJA college acceptances are rolling in READ MORE

Soille San Diego Hebrew Day School: Kindergarten studies planets at Soille Hebrew Day READ MORE

TODAY'S ADVERTISERS
A&B Gefilte Fish See Coupon!
America's Vacation Center
Anti-Defamation League
Balloon Utopia
Carol Ann Goldstein
Congregation Beth Israel
Jewish Community Foundation
Jewish Family Service
Lawrence Family JCC
San Diego Community Colleges
San Diego Jewish Academy
San Diego Jewish Chamber
Seacrest Village Retirement Communities
Soille San Diego Hebrew Day School
Tifereth Israel Synagogue
United Jewish Federation
XLNC-1 Radio


STAFF BOX

Melanie Rubin has been keeping watch for Jewish-interest license plates, which we keep in an on-line collection. So with this one below, now we need to find one that says "Manashe" and another that says "Joseph."




DEDICATIONS
Each day's issue may be dedicated by readers—or by the publisher—in other people's honor or memory. To see today's dedication please click here. Past dedications may be found at the bottom of the index for the "Adventures in San Diego Jewish History" page.


NOTE
PLEASE HELP US POLICE THIS SITE: If you see anything on this site that obviously is not in keeping with our mission of providing Jewish news and commentary, please message us at editor@sandiegojewishworld.com, so that we can fix the probem. Unfortunately, large sites like ours can be subjected to tampering by outsiders. Thank you!


EMAIL HEADLINE SERVICE


SEARCH THIS SITE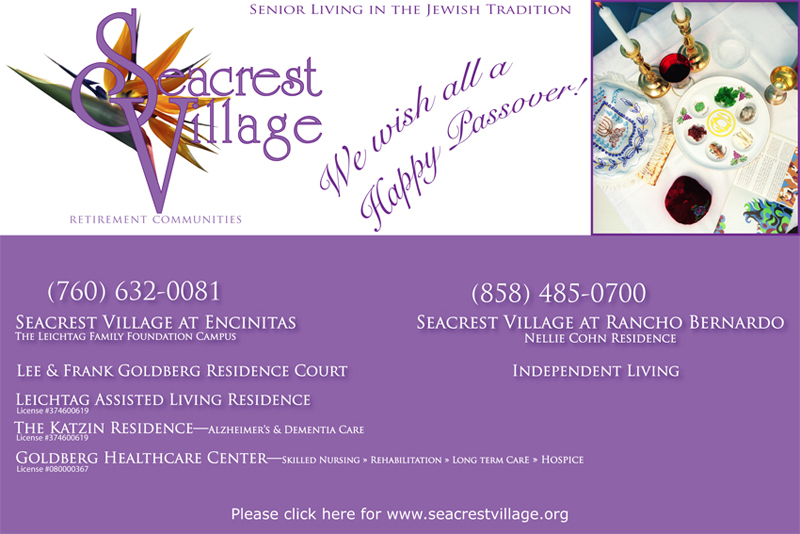 By Rabbi Dow Marmur

JERUSALEM—In my book, The Star of Return, published in 1991, I suggested that to become true partners with Israel, Jews in the diaspora should seek Israeli citizenship under the Law of Return and thus fully involve themselves in the affairs of the Jewish state. After all, citizens of many democracies around the world can vote in elections in their counties whether they live there or not. Why shouldn't the same apply also in Israel, which has always wanted to be the state of the entire Jewish people?

The good news is that the government about to be formed in Israel may take up a version of this idea. The bad news is that its implementation may (1) unduly burden Israeli democracy and (2) make life for the Arabs in Israel even more difficult.

( 1) The right-wing of the next government that seems to be interested in making it possible for all Jews to vote abroad assumes that most diaspora Jews support right-wing politics in Israel. Also many existing Israelis citizens live abroad. Though Jews may vote Democrat in America, Liberal in Canada, or Labour in Britain, they're much more likely identified with conservative and reactionary Israeli politicians than with their centrist and leftist counterparts. Likud and parties to the right of it tend to have strong support in Jewish communities around the world.

To include Jewish votes from outside Israel may, therefore, strengthen the present right-wing grip on the government of Israel. Though some Israelis abroad have become obnoxious attackers of Israel, many diaspora Jews are at times no less

Go to top of right column


obnoxious defenders of Israel. The latter would now have a say as to who shall govern there.

(2) An even stronger right-wing government in Israel in the future would further weaken the situation for almost 20% of its resident citizens, namely the Arabs. As it now stands, the strong man of the new Israeli regime, Avigdor Lieberman, wants to test the loyalty of Arabs in ways calculated to further restrict and intimidate them.

Israelis are understandably preoccupied with making sure that there's a Jewish majority in Israel. For this reason, even reactionary Israeli politicians aren't keen on annexing the West Bank. The best remedy hitherto has been to get as many Jews as possible to immigrate. One of the main reasons for the Israelis' interest - some say, preoccupation - with anti-Semitism in the diaspora is that it may prompt Jews to "make aliyah." By allowing Israeli citizens living abroad to vote in elections, they could immigrate to Israel, as it were, without leaving their countries of residence.

Should the above proposal be implemented, it'll have a profound impact not only on the balance of power in Israel but also on the status of Jewish communities around the world. For such a change is bound to bring about a shift from philanthropy, which hitherto has been the main diaspora identification with Israel, to party politics and advocacy for what many may see as extremist views. This in turn will give our enemies cause to describe Jews as a fifth column in the countries in which they live. Which, of course, will breed more anti-Semitism.

As so often in life, a good idea once thought through in its practical implications isn't that good after all. Had I known 18 years ago when I only lived in Canada what I know now spending many months a year in Israel, I wouldn't have written what I wrote then. My consolation is that few people have read the book.





LETTER FROM JERUSALEM

Can Israel's worldwide image problem be corrected?

By Ira Sharkansky

JERUSALEM—Israel has an image problem.

It has worsened due to the use of massive force against Gaza, the foreign minister designate said to be a racist, and the prime minister designate who speaks out against the idea of a Palestinian state widely held to be the key to peace.

The foreign minister of the European Union said that it would reconsider its relationship with Israel if it did not remain committed to establishing a Palestinian state.

Israeli officials are worrying about a leftward tilt in the American administration. Liberal Jewish Democrats are unhappy with what they saw in Gaza, and what they see in the new government.

Nervous officials of Israel's Foreign Ministry have budgeted $2 million to improve the country's image by sending artists and intellectuals abroad to present a positive image, distinct from the country's concern to defend itself with a strong army. An even more nervous professor says that $100 million may be necessary for the job.

Israel does ugly things.

So do other countries faced by violence.

One question is, Does war have to be as ugly as it is?

We are reading in our own newspapers about the killing of Palestinians and property damage in Gaza that may not have been justified by what the military needed to do. The IDF will investigate.

No doubt there are undisciplined individuals in Israeli uniforms, who should not have passed through the training meant to weed them out.

Other armies are also imperfect. Note the charges against human rights violations at Guantanamo, the sadists at Abu Ghraib, and My Lai.

Another question is, Will music, art, well-spoken writers and academics overcome the negatives from Gaza and government offices in Jerusalem?

Some of the charges against Israel come from extremists who long ago accepted Palestinian stories of Israeli oppression. Nothing may penetrate strongly held beliefs about the injustice of Israel's existence or its actions.

Some will appreciate the art, music, and literature of Israel, the fruit of its orchards, and what comes from its laboratories, industries, and medical facilities. They show the creative, humane, and tasty sides of a culture that reflects more than two millennia of learning and probing the nuances in its problems. Demonstrations of diversity and outright disputes may produce understanding and appreciation of what Israel is, even if it does not increase support for all of Israel's actions.

Israelis have explained the sequence of events behind its military operations. The history includes acceptance of compromises offered by others going back to the 1930s, as well as Israeli proposals since 2000 met by Palestinian rejection and violence. Thousands of rockets aimed at civilians preceded the most recent Gaza operation. The selection of Benyamin Netanyahu as prime minister and Avigdor Lieberman as foreign minister reflect the workings of democratic politics, and the frustration of efforts to produce a Palestinian state since the 1993 Oslo Accords.

There are people who do not notice Israeli explanations, are not convinced, or are more impressed with Palestinian explanations. Americans and Europeans have their own concerns. The Middle East is over the horizon and troubling. Officials who aspire to world leadership must appear even handed. People who have suffered attacks by Muslim extremists hope for a key that will lessen the threat of more violence.

Israel's future depends, in part, on cultural outreach and dispassionate explanation. Neither alone will assure continued survival or prosperity. Both together are not likely to be enough.

Armed force is the ultimate defense of any nation faced with enemies who speak about destruction. Gaza shows what Israel may do when faced with seven years of rocket attacks, and little more than sympathetic words from foreign visitors. The continuing blockade against the import of material to repair the damage shows persistence in the face of Hamas' refusal to back away from its sworn commitment to destroy Israel.

What some see as unpleasant or reprehensible, others see a tough country doing what is reasonable. The most recent demonstration came in the government's refusal to free all the prisoners demanded by Hamas in exchange for the release of one Israeli prisoner. The refusal also demonstrated the limitations of public relations. The Schalit family came close to monopolizing the media with a campaign to build support for paying whatever price is necessary to gain Gilad's freedom. Numerous ministers in the government, members of Knesset, and other public figures visited the tents across the street from the prime minister's residence, and expressed support for Schalit's campaign.

Those who opposed the deal being offered by Hamas were quiet, especially during the intense period surrounding the most recent negotiations.Noam Schalit, the prisoner's father, said that the family would end its stay in the tents this week
as Gilad's imprisonment reaches 1,000 days. They will go home and "wait for a miracle."


Go to top of next column

Along with the sadness felt for a task not accomplished is the regard for officials who considered numerous sides of a moral quandary, and defend a decision that is less than ideal.

We hope for the time when persuasion and public relations will solve our problems.

For information, visit www.sdja.com, or to schedule a tour of the campus, interested parties should contact Renee Sherman, Admissions Director, at 858-704-3716 or rsherman@sdja.com.

Return to top of page

By Laurel Corona

CORONADO, California—Gadi lives in the bus station in Tel Aviv with several other young Ethiopian Jews who have turned its basement into a makeshift home. He wants nothing more than to go back to Ethiopia, and dreams of eating his mother's ngera, a traditional bread. There, as everywhere in the world, it seems that no one cooks like mama.

He manages to make a trip home, and upon his return to Tel Aviv, he is asked if he had enjoyed the taste of his mother's bread. "Are you out of your mind?" he replies. "You can't eat their food - you could get a disease."

Uri Ben-Eliezer, Senior Lecturer in Sociology and Anthropology at the University of Haifa, began his March 18 lecture, "The Destiny of Ethiopian Jews Living in Israel," at the Coronado Library, with that story. Taken from Israeli documentary film maker Daniel Waksman's Menilek: Black Jewish King, Gadi's story illustrates the disturbing situation now faced by Israel's Ethiopian Jews.

Approximately 60,000 Ethiopian Jews live in Israel today. Often referred to as "Beta Israel," they deal with the same dilemmas of assimilation faced by immigrants elsewhere. Though not all yearn to return to what Ben-Eliezer called "an imagined Africa," many do worry deeply about how to adapt to their new country without losing their cultural identity.

Professor Ben-Eliezer's lecture was part of the Mandelbaum Coronado Lecture Series sponsored by the Agency for Jewish Education.

Ben- Eliezer said two additional factors compound the problems in Israel of Ethiopian Jews.

The first is a negative official reaction to them as Jews. Their isolation from other Jews since medieval times caused them to retain a form of Judaism uninfluenced by the Talmud and rabbinical works that have shaped how Jews live elsewhere. As a result, in Israel they have been treated, both officially and unofficially, as less than true Jews. The second is painfully familiar to Americans. One cannot go to Israel without noticing that Black Israelis tend to be disproportionately poor and undereducated, falling into what Ben-Eliezer called "the bottom class on the ladder."

Ben-Eliezer's lucid and thought-provoking analysis made it clear that these two factors are inextricably linked. Treating Ethiopian Jews as if they are not fully Jewish is essentially the same thing as treating them as if they are not fully equal, and as Americans, we know what that means and where it leads. In Israel it has led to an unemployment rate of 25 percent for Ethiopian Jews, more than double the national rate of 10 percent. The difference in crime statistics is equally sobering.

Second-class citizenship has left the new Israeli-born generation poorly positioned to advance educationally and economically, as well as creating greater than average problems with self-destructive behaviors such as drug and alcohol abuse.|

Professor Ben-Eliezer spoke of how he had been "exposed to the agony" of Ethiopian Jews through his work with university students in Haifa. Their lives, and those of their parents, have been scarred by treatment one would have hoped could not

Go to top of right column

occur among a people with a history saturated with evidence of the high price of being marginalized. Ben-Eliezer said that starting in the airport during the air lifts, emigrating Ethiopian Jews were given Israeli names ostensibly to help them fit in when they got to their new country.

Upon arrival, children were taken away from their parents and sent to religious boarding schools akin to those for Native American and Australian Aboriginal children, with a curriculum intended to alienate them from their history, community, traditions, and language by teaching them to observe Judaism in a manner consistent with Ashkenazic and Sephardic traditions. "This still stands as an open wound," Ben-Eliezer explained, since the practice continues today with approximately half of new arrivals.

Air-lifted Ethiopian Jews were stunned to discover that, far from being safe from discrimination based on their religion, they were now, as Eliezer put it, "under a cloud of suspicion" that they weren't really "full Jews" at all. Many were forced to undergo full conversions, or symbolic ones in the form of a mikvah they felt implied they were tainted and in need of purification. Though they were officially declared Jews in the 1970s, the implication that they are somehow less Jewish remains part of the reaction of other Israelis to them. This is a source of great psychological pain for people who consider their practices to be as legitimately Jewish as those of the people among whom they now live.

"All that was missing from an outburst was a cause," Ben-Eliezer stated. That cause presented itself in January 1996, in what became known as"The Blood Affair." Word had leaked out that Ethiopian Jews' donations to Magen David Adom's blood bank were not being used, for fear of AIDS contamination. "We Are Black But Our Blood Is Red," was sprawled across placards at demonstrations. "We Are Jews Like You! Stop the Racist Apartheid."

The "R" word had entered the national discourse. "In Ethiopia we were Jews," one of Ben-Eliezer's interviewees told him. "Here we are Blacks." In a manner reminsicent of the Black Pride movement in the United States, many Ethiopian Jews, particularly the young, have begun forging their own identity, seeing themselves as Jews first, Ethiopians second, and Israelis third.

Today many young Ethiopian Jews are reclaiming their traditional family names, studying Amharic, and dancing to Ethiopian popular music in their own night clubs. Though they do their army service, they are noticeably less willing than other Jewish immigrant groups to serve in combat roles as a means of asserting their identification with their new country. They model themselves after blacks in Britain, Jamaica, and the United States in their enthusiasm for Bob Marley's concept of Zion, which for Ethiopian Jews is not Israel, but an Africa rooted in distant or even mythical memory.

This new identity is being forged from an "us versus them" mentality that does not bode well for the country as a whole, and the audience of approximately 75 was clearly concerned.

"We are supposed to set an example," one man said. "This is very disappointing to hear." Another asked what American Jews could do to help. As a scholar whose focus is research, Professor Ben-Eliezer had not come prepared with specific suggestions, but he pointed out that Ethiopian Jews are by nature private and reluctant to interact with outsiders they do not know. The most effective approach, he felt, would be to find programs and agencies already providing assistance to this community and put effort into strengthening the services they offer.




By Sara Appel-Lennon

SAN DIEGO—You may wonder why Beth Israel and Deaconess are in the same name for the medical center in Boston. Deaconess Hospital was built in Boston in 1896 and twenty years later Beth Israel Hospital was built a few blocks away. In 1996 the two hospitals merged to focus on giving better care to terminally ill patients. Both hospitals were Harvard teaching hospitals.

Lately the news coverage has been layoffs, crime, and war, but occasionally an uplifting newsworthy event appears which validates the goodness in the world. I came across a heart-warming story in the Boston Globe which is a testimony of how one person can make a positive difference during trying times.

The story centers on Paul Levy, CEO and President of Beth Israel Deaconess Medical Center. He wrote a letter to his staff about the upcoming budget cuts. He shared that there were fewer hospital patients and that other patients were reducing the length of their hospital stays, thus decreasing hospital revenue.

Levy had a dilemma because he knew that the hospital budget wouldn't allow for pay increases and benefits without forcing lower wage earners to lose their jobs. He observed that many of those lower wage earners were interacting with the patients and smiling while working with them. They treated the patients as human beings instead of medical problems. This was, in fact, an important part of practicing medicine. He knew that he wanted them to keep their jobs because they were important to the hospital, and they were already struggling to make ends meet. He developed a blog where staff could voice their opinions and give suggestions.

He discussed his dilemma at a meeting with his staff at which he suggested forgoing salary increases and benefits, so these lower wage earners could keep their jobs. especially since many of them were immigrants working two jobs. The staff voted unanimously that they would give up salary increases, vacation pay, and bonuses so no one would lose their job. Levi, also agreed to cut his own salary by 10% in addition to passing on any bonuses for himself this year. As the Boston Globe reported it, "He is trying to convince the people who work for him that the E in CEO can sometimes stand for empathy."


I respect and admire Paul Levy as an effective Jewish leader. He is an outstanding role-model for conducting his work life in accordance with Jewish values. He treats his staff with

Return to right column


Return to top of page

respect and compassion. In turn, his staff models his example by treating their patients with the same consideration. According to the newspaper article, Levi's staff realizes "that everybody's in the same boat and that their boat doesn't rise because someone else's sinks."

Author's note: Here is a link for learning more about how Levi made budget cuts, please see


Columnist Appel-Lennon may be contacted at appels@jewishsightseeing.com










SAN DIEGO—It is always rewarding to present a concert where every work is accessible, fun to hear, and at the same time laden with musical values.

This is the case with the upcoming concert of the Tifereth Israel Community Orchestra, which will be held at the synagogue's Cohen Social Hall on Tuesday, March 31, 7:30 p.m. (The same concert will be played two days earlier, on Sunday, March 29, 3:00 p.m., at the Coronado High School Auditorium).

What makes this program especially interesting is that it has an internationally flavored variety; by a master plan or by sheer coincidence, there will be music from other lands and other times.

Mikhail Glinka's overture to Russlan and Ludmilla is among the musical jewels of early 19th Century Russia. It is dynamic, brilliant, virtuosic, and has been a perennial concert favorite for nearly 200 years.

Georges Bizet's incidental music to L'Arlesienne is one of the crowning creations of the French master, composer of the opera Carmen. The melodies are enchanting and memorable. One of its movements is scored for solo flute and harp, (performed by Steve Hardy and Sylvia Lorraine Hartman, respectively), and the Second Suite's conclusion, the popular Farandole, brings the work to a frenzied conclusion. Another interesting aspect to this suite is that it marked one of the first times we heard the saxophone as part of a symphony orchestra. The instrument had just been invented.

As we frequently do in TICO, we will present a new work, this one composed by a member of the orchestra, Mark Donnelly. An experienced composer and arranger, Mr. Donnelly created a symphonic suite titled "Amarna," a musical portrait of ancient Egypt. Its three movements ( City of Aten, Nefretiti -Beautiful Has Come, and Insurrection), depict the changing religious beliefs of the times, about 1300 BCE, with colorful orchestrations and sensuous melodies. This will be a world premiere.

One of the ongoing "themes" for TICO during this season has been to present in each concert a substantial composition that was initially written for concert band, but is being introduced to concert audiences as a newly arranged work for symphony orchestra. Earlier in the season, we presented


music by Gustav Holst and David Ward-Steinman. For these concerts we will hear Bernard Gilmore's Five Folk Songs for Soprano and Band, which will be re-titled Five Folk Songs for Soprano and Orchestra.

These delightful adaptations are sung in Irish, English, Greek, Spanish, and Yiddish. Each has catchy tunes, sentiment, pathos, and a healthy dose of humor. Gilmore, a respected composer and performer in Southern California, drew his inspiration from the folk song renaissance of the 1960's spearheaded by Theodore Bikel and the Limelighters.

Performing these songs will be mezzo-soprano Victoria Robertson (pictured at left.) She has several years of experience singing classical music, musical theatre, and patriotic music. She recently won the La Jolla Symphony Young Artist Competition, the National Association of Singers Competition, and the Carlsbad to Karlovy Vary Vocal Competition. Her talents extend to modeling, dance, acting, and recording, and she has made her mark in San Diego as Miss San Diego in 1998 and Miss USO, San Diego in the year 2000.

To add even more variety to this eclectic concert, TICO will play the tone poem Emek, by the Israeli composer Marc Lavry. In the 1980's, while I was recording and traveling in Israel, I heard the Israel Philharmonic, under Zubin Mehta play this composition in concert. I was intrigued and delighted by its charm, that after a bit of research, I found out that that work is performed frequently in concerts, was presented by Leonard Bernstein during the Philharmonic's tour of Russia, but had never been recorded!

This was my cue. In my series of recordings with London orchestras in the early 1990's, I included Emek, and, as far as I know, the London Symphony recording I conducted is still the only one commercially released.

Marc Lavry, originally from Riga, was an immigrant to Palestine in the early 1930's. He was inspired by the pioneering spirit of the emerging Jewish state, its industry, farming, its music, and the blend of so many cultures and traditions. The result was this tone poem, (Emek means Valley), which translates into an epic 13 minute composition which takes us through the arid desert, the work ethic of the kibbutzim, a love song, and the culmination, a fiery Hora.

For information on both concerts, call the Synagogue, (619) 697 6001. Tickets can be purchased on line, at www.tiferethisrael.com/TICO.

Amos is the conductor of the Tifereth Israel Community Orchestra and has been a guest conductor of orchestras the world over. He may be contacted at amosd@sandiegojewishworld.com



Won't somebody help John Dillinger get out the door?

SOUTH PASADENA, California—A motley crew of "misunderstood" celebrities showed up at the Fremont Centre Theatre in South Pasadena on Sunday night to whine about their plight and make impossible requests of the audience. It was "Inside Private Lives," a wildly lunatic Sunday night at the Fremont that has been running since September and, hopefully, will run forever.

There are some 17 controversial figures in the lineup, and six of them take the stage each week to interact with the audience, answer embarrassing questions, and plead their case. It's improv at its very best!
Leading the lineup and serving as mistress of ceremonies is Christine Jorgensen (Kristin Stone, who is also the creator and producer of the show and took it to its world premiere at the Edinburgh Fringe Festival in 2007 and a subsequent engagement off-Broadway). Jorgensen is anxious to convince everyone of her successful transition from a male to female figure, so she sashays through the audience stroking the men, sitting on their laps, and planting kisses on their bald pates.


Next up is Timothy Leary (Fred Cross), former Harvard professor known for his "experiments" with LSD in the 1960s. Now doing a 95-year sentence in Folsom Prison, he begs the audience to help him convince the warden to let him perform LSD therapy on his fellow prisoners. He is convinced that the therapy will be beneficial to the prisoners, even though, he admits, on his own psychedelic trips he "needed his own stewardess."

The third performer, however, is the one who stops the show. She is Leona Helmsley, the "Queen of Mean," played by a spot-on Silvie Zamora. Helmsley, who has just completed a jail term for tax evasion, is trying to get the audience (who, she claims, are "all employees of hers") to take over the 750 hours of community service that accompanied her jail sentence. She gives names and identities to members of the audience and distributes cards to them that tell them what their community duties will be (wrapping Christmas presents, serving meals at a soup kitchen, etc.) It isn't hard work, she insists, and won't take more than a few hours a day before work, or after work, or even on weekends. With no extra pay, of course. She herself is off to Arizona to "take care of Harry," her ailing husband, and she is so bitchily convincing that she moves a man in the audience to sob, "I love you, Leona," and the rest of the audience to join her in singing "I'm Just Wild About Harry…"

After a brief intermission, Molly Hagan takes the stage as 1920s Evangelist Aimee Semple McPherson. Soon to be tried for perjury, she urges the audience to join her the next day for a major press conference. She claims that on May 18, 1926 she was kidnapped and chloroformed by three thugs named Mexicali Rose, El Jefe, and Steve. Actually, she had disappeared with a married man, presumably her radio engineer, but she says to the audience defiantly, "God accepted my remorse, so who are you to judge?" Which prompts the man who loved Leona to cry out, "Praise Jesus, I love you, Sister!"

Julia Phillips, the first woman to win a Best Picture Oscar (for "The Sting") is played with angry contempt by Leonora Gershman. In her scene she is confronting Columbia studio bosses who are trying to fire her for her drug use and erratic behavior. Currently producing "Close Encounters of the


Third Kind," she defends herself by maligning everyone else connected with the film. Including "stupid Steven Spielberg"
who "spent four hours shooting a pile of mashed potatoes." Fired anyway, she had her revenge later in her tell-all autobiography, "You'll Never Eat Lunch in This Town Again."

And finally, we are joined by John Dillinger, Public Enemy #1, (Jade Carter) as he tries to find the doorway out of the bank he has just held up. Discombobulated and spewing garbled clichés, he urges the audience to 1) help him out by leaving en masse and allowing him to get lost in the middle of the crowd, or 2) swap clothes with him, which would involve getting shot as they leave the building as the bank is surrounded by police. His monologue strikes closest to home as he talks about The Depression, how he takes the time to burn all the mortgages he can find when he robs a bank, and how he is a modern Robin Hood, helping the poor. He also reminds everyone that "the FDIC guarantees every cent I take." I was waiting for the sobbing man in the audience to cry out, "Yes! I love you, Johnny!" but, inexplicably, he remained silent for this one.

Perhaps he'll show up at future performances to express his love for Billy Carter, Ann Landers, King Edward VIII, Elia Kazan, Marge Schott, the Duchess of Windsor, and the others before the show closes on May 24th. Try to see it before then, although chances are, with its current popularity and rave reviews, "Inside Private Lives" will be extended for many more Sunday nights at 7 at the Fremont Centre Theatre, 1000 Fremont Avenue, in South Pasadena. Call (626) 441-5977 for reservations.






Please click the ad above



please visit nancy.harrison@americasvacationcenter.com



Please click the ad above



Kindergarten studies planets at Soille Hebrew Day


.



please visit

Is your website search-engine friendly?



Please click the ad above

Violinist Zina Schiff in concert
Monday, March 23 - 7:30 P.M. San Diego Jewish Music Festival
Classical Gems from the Jewish Folk Music Society of Russia
Violinist Zina Schiff has been lauded for "Shining a light on this under-represented corner of musical history." – Gramophone Magazine. Her program will feature works by composers from Russia's Jewish Folk Music Society.
Co-sponsored by Hadassah
$25/JCC Member; $30/Non-member

Adventures in San Diego Jewish History
Council of Jewish Women
Southwestern Jewish Press, November 14, 1952, page 5

On November 21st at 10 a.m. members of council will witness the Naturalization ceremony for immigrants who will receive their citizenship. This is San Diego's largest class ever to participate. Judge Arthur Mundo will preside over the 300 applicants. Serving on this committee is Mrs. David Jaffe, third vice pres., Mrs. Sam Waldman, naturalization chairman, and Mrs. Harris Rubel, service to foreign born.

Some of the groups participating in the program are the D.A.R., the "Fighting Bob" American Legion Auxiliary and the Adult Education Department.


New U.S.O. Worker to Replace Miss Siegel
Southwestern Jewish Press, November 14, 1952, page 5

Abraham Friedman, USO National Jewish Welfare Board (JWB) director at the Tomah, Wis., U.S.O. Club, has been named USO-JWB director for the San Diego area. The new director will have responsibility for directing recreational activities for personnel at Camp Pendleton and a number of Naval installations in the San Diego area.

Before coming to JWB, Mr. Friedman served as director of activities of the Reading, Pa. Jewish Community Center, one of the more than 300 Jewish Community Centers affiliated with JWB. He also served in a professional capacity at the Washington Heights, N.Y. YM-YMHA and the Bronx House Play School, N.Y. Fr. Friedman is a graduate of Temple University, Philadelphia.

Center Group Annual Meeting To Be Held Sunday
Southwestern Jewish Press, November 14, 1952, page 5

The Jewish Community Annual Meeting, to be held at Beth Jacob Center, Sunday, November 16th, 8 p.m. promises to be a vital and stimulating community event. Harry Mallen, Chairman of the Annual Meeting Committee added that this Annual meeting will be the opportunity for the community to participate in the center plans for the future.

The guest speaker will be Julius Bisno, Executive Director of the Los Angeles Jewish Community Council. Mr. Bisno is a member of the national B'nai B'rith Youth Commission; Vice President of the Llabor Zionist Arts and Professional Group and a member of the Los Angeles Zionist District; and is a member of Temple Israel of Hollywood. During World War II he served on the Federal Youth Advisory Committee. From 1941-1943 he was Executive Chairman of the National Conference of Jewish Youth Organizations.

Featuring the entertainment will be the Los Angeles Jewish Centers Association Halevi Chorus under the direction of Ben Pollock. This chorus recently returned from Israel where it won top honors in a worldwide choral festival.

Eli Levenson, President of the Center, will preside and give the annual report of center activities. Sidney Posin, Center Director, will present program plans "Looking Toward the Future." At the business session the By-Laws will be revised to enlarge the board membership and election will be held.
There will be no solicitation of funds. Refreshments will be served.


Jr. Charity League
Southwestern Jewish Press, November 14, 1952, page 5

Here we go again! And not a moment too soon for telling you about it. The Valentine Party, of course! Jr. Charity League's one big party of the year Thursday, Feb. 5 is the day so save it. We'll be seeing you.

In the meantime, the clothes for Israel project goes on and assisting in shipping this month is our good friend, Ida Nasatir, who will direct proceedings. With her knowledge of the need of Israel, the package will go directly to the most needy.





Members met at the home of Mrs. Jerome Cohn this week cut and sewed garments for children, which will go into the packages for Israel.


"The Dybbuk" Next On Film Series
Southwestern Jewish Press, November 14, 1952, page 6

"The Dybbuk," S. Ansky's world famous Yiddish classic, will be the next film in the Yiddish film series, and will be shown at Beth Jacob Center at 8 p.m. on Thursday evening November 27th. The film has English subtitles. It is a famous Chassidic tale of an individual's battle with the evil forces within his soul.

The entire community is cordially invited to attend this showing which is a free community service of the Jewish Community Center.


J.W.V. Auxiliary
Southwestern Jewish Press, November 14, 1952, page 6

The Jewish War Veterans Auxiliary 185, and the Post, will have their social meeting on Monday, November 17th, at 8:30 p.m. in the War Memorial Building, Balboa Park.

Mr. Sidney Poisin, Executive Director of the Jewish Community Center of San Diego, will be guest speaker, and his message promises to be of interest to the entire Jewish Community. All members and friends are asked to attend.


Temple Teens
Southwestern Jewish Press, November 14, 1952, page 5

By Susan Solof

Temple Teens presents "Turkey Trot"—November 22, Saturday, at the Temple Center, Third and Laurel. Bill Finch's "Music Makers" will provide wonderful music from 7:00 p.m. to 10:00. Parents please pick up the guys and gals promptly.

Wear your best "dressy dress" clothes and come prepared for a wonderful time. Don't miss the chance to have "fun."

"Adventures in Jewish History" is sponsored by Inland Industries Group LP in memory of long-time San Diego Jewish community leader Marie (Mrs. Gabriel) Berg. Our indexed "Adventures in San Diego Jewish History" series will be a daily feature until we run out of history.






Please click the ad above


.
Please click the ad above


Return to top


Jewish Internet Favorites ... *



Jean Pierre Aumont in "The Cross of Lorraine" (trailer)



John Banner as Schultz in Hogan's Heroes. He "knows nothing!"

Martin Balsam in "Twelve Angry Men"






Mel Blanc demonstrates his many famous voices for Johnny Carson







Today's Dedication
—

< BACK TO TOP