| | | | | |
| --- | --- | --- | --- | --- |
| | Volume 3, Number 126 | | "There's a Jewish story everywhere" | |
Today's Postings:

Sunday-Monday, May 31-June 1, 2009

{Click on a link to jump to the corresponding story. Or, you may scroll leisurely through our report}


INTERNATIONAL
North Korean nuclear test makes Israel edgier about Iran ... by Ira Sharkansky in Jerusalem
North Korea is a long way from Israel. It is not among the countries that have fought against Israel, or figure in Israel's plans of defense. It may sell weapons to Israel's enemies, but I did not think about that when I saw the cartoon in Ha'aretz shortly after North Korea's most recent test of a nuclear weapon.READ MORE

Editor's Mailbox
USAID, Arab environmental network team to conserve water READ MORE
Contractors accused of bribing Egypt Air Force settle with SEC READ MORE
ZOA says Obama must as tough on Iran as he is on North Korea READ MORE

Is U.S. penalizing Israel for Hamas war crimes? ... by Shoshana Bryen in Washington D.C.
It was a pro forma notice by the Defense Security Cooperation Agency (DSCA) notifying Congress of a possible Foreign Military Sale to Egypt. Taken from the www.defense-aerospace.com website, the notice reads: READ MORE

JUDAISM
Kibbutz emphasizes agricultural aspects of Shavuot... by Ulla Hadar in Kibbutz Ruhama, Israel
One thing that is certain every year is that the holidays returns as usual and exactly on the Hebrew date that they are supposed to.READ MORE

The Bible in Pop Culture
..great luminaries, Genesis 1:16

NATIONAL
Editor's Mailbox
Sanders seeks decree to prevent speculators from hiking oil prices READ MORE
Nadler says bailed-out banks must start lending more money READ MORE
Weiner urges 'balanced approach' on cyber-security READ MORE


STATE, LOCAL, MISCELLANEOUS
Adult students exult with their deeper Jewish knowledge ... by Sandy Golden in San Diego, with poem by Ruth Gach
The big blue and white cake was both beautiful and significant. It was adorned with mortarboard and the word "Congratulations." READ MORE

Pinocchio—hardly a Jewish story—proves pathway to Torah ... by Donald H. Harrison in San Diego
It was clear that my grandson Shor had been thinking about Pinocchio the night following his field trip to Fallbrook.His second grade class at Soille San Diego Hebrew Day School had traveled to the Bob Burton Center for the Performing Arts on the campus of Fallbrook High School to see a Christian Youth Theatre production of the famous fairy tale. READ MORE

Editor's Mailbox
Media Watch aka 'Here's the link' READ MORE
Cottage of Israel lawn program to be held this Sunday afternoon READ MORE
Rabbi Hersh Visits Soille Hebrew Day Middle SchoolREAD MORE

ARTS
Litwin tells upbeat story of post-Holocaust recovery ... by Sheila Orysiek in San Diego
Naomi Litwin uses the voices of five of her family members to tell the story of their journey from Transylvania (Hungary /Romania), through the Nazi killing machines of the concentration camps and slave labor to eventual freedom. The voice of the interviewer/author is silent and so the reader hears only the tale from those who lived through it – much like a stream of consciousness spoken into a tape recorder. It brings a sense of immediacy to the story; there is no filter.READ MORE

SPORTS

A bissel Jewish sports trivia with Bruce Lowitt ... in Oldsmar, Florida
"Harry the Horse," the name of one of Damon Runyon's characters in a short story? READ MORE



Go to top of right column

BOOK SERIALIZATION
I'm Still Here ... by Laura Simon in San Diego

The Ruby Vase READ MORE
Fighting for Life--To Death READ MORE
The Doctor Takes a Call READ MORE
The Dispensary READ MORE

JEWISH HISTORY
Adventures in San Diego Jewish History
April 17, 1953, Southwestern Jewish Press
Temple Teens by Susan Solof READ MORE
Lasker Lodge B.B.Runs Own Circus READ MORE
A.Z.A. Plans Spring Dance Sat., April 25 READ MORE
Jolly 16 News READ MORE
Personals READ MORE

JEWISH INTERNET FAVORITES
We continue our examination of Jewish entertainers
Henry Goodman is chef Felix Limb in comedy "Out on a Limb" VIEW VIDEO
Steve Guttenberg plays Cadet Mahoney in "Police Academy"VIEW VIDEO
Mary Hart interviews the Obamas and Bidens during 2008 campaign VIEW VIDEO
Amy Irving sings with Willie Nelson in "Honeysuckle Rose" VIEW VIDEO

INSIDERS' SDJW
Publisher's Note: As we did last week, we are combining the Sunday and Monday editions of San Diego Jewish World as both a labor-saving strategy and as a way to give readers more time to peruse such features as the centenarian's memoir by Laura Simon currently being serialized and the weekly column of Sheila Orysiek. Both these features have been running on Mondays. In the event that there is breaking news on Sunday that cannot be held over until our Tuesday edition, we will revise the Monday edition to include it.


TODAY'S ADVERTISERS
America's Vacation Center
Balloon Utopia
Congregation Beth Israel
Jewish Community Foundation
Jewish Family Service
Lawrence Family JCC
Math Is Easy
San Diego Community Colleges
San Diego Jewish Arts Festival
San Diego Jewish Chamber
Soille San Diego Hebrew Day School
Therapy in Motion Inc.
Tifereth Israel Synagogue
United Jewish Federation
XLNC-1 Radio

DEDICATIONS
Each day's issue may be dedicated by readers—or by the publisher—in other people's honor or memory. To see today's dedication, please click here. Past dedications may be found at the bottom of the index for the "Adventures in San Diego Jewish History" page.

NOTE
PLEASE HELP US POLICE THIS SITE: If you see anything on this site that obviously is not in keeping with our mission of providing Jewish news and commentary, please message us at editor@sandiegojewishworld.com, so that we can fix the probem. Unfortunately, large sites like ours can be subjected to tampering by outsiders. Thank you!


E-MAIL NOTICES
To receive San Diego Jewish World's daily or weekly headlines, click the blue box below:




SEARCH THIS SITE

JERUSALEM (Press Release)--North Korea is a long way from Israel. It is not among the countries that have fought against Israel, or figure in Israel's plans of defense. It may sell weapons to Israel's enemies, but I did not think about that when I saw the cartoon in Ha'aretz shortly after North Korea's most recent test of a nuclear weapon.

It shows Prime Minister Benyamin Netanyahu turning his head back in forth in confusion over weapons testing in North Korea and Iran. My reading is that the cartoon associates the two countries as able to develop apocalyptic weapons undeterred by the feeble efforts of the United States and other powers. Iran's missiles can reach Israel. The impotent efforts of the United States and others, and the empty condemnation by President Obama of North Korea's nuclear test, suggests that the western powers will not succeed in keeping Iran from something similar.

During the Bush and Obama administrations, American officials said that Iran will not be allowed to develop nuclear weapons. While President Bush was almost explicit in threatening Iran with military action, President Obama emphasizes diplomatic engagement and persuasion. American military leaders have indicated that on account of commitments to Iraq, Afghanistan, and Pakistan, there are not sufficient resources to open another front.

Israeli officials, during both the Olmert and Netanyahu governments, have indicated that they would not permit Iran to develop nuclear weapons.

Public discussions by retired and active military figures and other commentators have made the following points with respect to direct Israeli action.

In contrast to Iraq's installation, destroyed by Israel in 1981, Iran is further away than Iraq. Its sites are well protected underground, and dispersed to several locations.

An Israeli action is not likely to destroy all of the components.

Israel might be able to destroy key elements of Iranian nuclear facilities, but the costs would be widespread international condemnation and, more importantly, an attack on Israel of conventionally armed missiles capable of doing more damage that attacks from Iraq in 1991 or Hizbollah in 2006. Israel's attack would inflame Iranian antagonism as well as broaden the hatred of Israel in Iranian society. It would spur the Iranians to renewed efforts in developing nuclear weapons as well as seeking to damage Israeli or Jewish targets via its own agents or allies, both in Israel and overseas.

Israel would prefer that the United States use its greater military resources to deal with Iran's nuclear program, even if an American attack would provoke Iranian retaliations against Israeli and Jewish targets.

Mutually Assured Destruction (MAD) worked during the Cold War when the nuclear armed Soviet Union faced the

Go to the top of right column

destructive power of the United States, Great Britain, and France. So far MAD has worked between India and Pakistan, despite several waves of combat since both countries have had nuclear weapons. It might also work in the context of Iran versus Israel. Israel is said to have at least 200 nuclear weapons, and means of delivery including aircraft, land based missiles, and missiles launched from submarines. Even if Iran were to strike Israel with nuclear weapons and do great damage to a small and densely populated country, Israel would be able to make a second strike and produce catastrophic damage.

Relying on deterrence would save Israel the retaliation that would come from a pre-emptive strike. It would also provide time for moderate elements in Iran to gather strength and perhaps gain control.

Against a deterrence doctrine that worked in the Cold War and so far in South Asia, is the extremism of the Iranian regime. President Mahmoud Ahmadinejad has said that Israel is illegitimate and will disappear. These comments, as well as denying the existence of the Holocaust, suggests a regime of madness not restrained by rational calculation about the costs of all out war.

Iran's evasion of international efforts to curtail the development of nuclear weapons, despite its avowal of peaceful intentions, has produced discussions in Israel that make a pre-emptive military strike a serious possibility.

An example is Retired General Amnon Lipkin-Shahak. He was chief of the IDF general staff who joined a left of center political party after his retirement, and put himself in the camp associated with accommodation. He is a leading member of the "Geneva initiative," a non-governmental activity joining Israelis and Palestinians who have produced the outline of a peace agreement. Lipkin-Shahak has said that an Iranian nuclear weapon would be intolerable.

Before North Korea's recent nuclear test, the probability I assigned to an Israeli military strike was substantially less than 50 percent.

I can make no firm assessment. Without being able to say by how much, I have moved the probability upward.

The reason is not so much North Korea as the inability or unwillingness of the United States and other powers to stop that rogue from acquiring nuclear weapons and means of delivery. Helplessness with respect to North Korea means helplessness with respect to Iran. It leaves Israel alone with the quandary of hoping that deterrence will work, or acting against the threat.

One does not have to be an enthusiast of citing the Holocaust, and the allies' abandonment of Jews during the 1940s, in order to appreciate the analogy in the case of Iran. The analogy is widely used, and one should not underestimate the power of the Holocaust in Israel's culture.

I would still wager against an Israeli attack, but I would not put much money on the table.

Sharkansky is professor emeritus of political science at Hebrew University. His email: msira@mscc.huji.ac.il







USAID, Arab environmental network team to conserve water


RABAT, MOROCCO (Press Release)- The U.S. Agency for International Development (USAID) and the Arab Network for Environment and Development (RAED) announced today a strategic partnership working to increase regional capacity and awareness in the Middle East and Northern African (MENA) region. Both organizations share a vision to promote awareness, build capacity, share best practices and develop joint approaches to address the critical water issues of the region.

USAID and RAED recognize the importance of positive change gained by exchange between civil society organizations, governments and the private sector. By connecting a regional network of 200 environmental and civil society organizations with a strategic partner network of experts - including water utilities, professional associations, donors and the private sector - the two groups can create sustainable solutions at the local, national and regional levels.

This dialogue is particularly relevant in the Middle East and North Africa as this region already faces a water crisis that affects its people, the environment and economy. In this arid region, supplies of renewable water are limited while demand is rapidly rising due to population growth, agricultural use, and increasing industrialization and urbanization. Climate change increases stress on an already scarce resource. Daily per capita water consumption is low throughout the region and the cost of supplying water continues to increase. In response, pressures on water operators to improve capacities are growing and a need for pro-active dialogue is crucial in finding a balanced approach that works for all.

To address these critical challenges, USAID and RAED are joining forces to advocate, educate and partner in water resource management and access to clean drinking water and sanitation. In doing so, each party brings unique and valuable assets to the table.

Implementing this partnership is USAID's Advancing the Blue Revolution Initiative (ABRI), a regional program which seeks to transform the culture and governance of water in the Middle East and Africa. This requires building awareness of the water crisis and promoting activities of multi-stakeholder networks. By increasing dialogue, mobilizing new financial and nonfinancial resources and building the capacity of strategic organizations, progressive initiatives can be sustained. USAID's contacts with international donors, water associations, water experts and regional institutions provide access to expertise and funding, making international best practices and methodologies available to the RAED network. Key ABRI strategic partners such as the International Water Association (IWA) and the Arab Countries Water Utilities Association (ACWUA) have already begun collaborating with RAED on the topic of climate change.

RAED provides ABRI access to over 200 civil society organizations, offering valuable perspectives to the regional dialogue. RAED is active in implementing the UN agenda especially in the area of the Millennium Development Goals (MDGs), specifically to help the poor achieve sustainable livelihoods. Under the umbrella of its network, RAED member organizations have collaborated in implementing projects including solid waste recycling, renewable energy, water conservation and protection of endangered species on both regional and national levels - all top priorities for the region's water utilities.

Last week USAID and RAED officially launched their first jointly programmed national climate change workshop for the MENA region. This workshop, held in Rabat, Morocco from May 28-29, 2009, emphasized the mutual objectives of the overall partnership.

Preceding provided by US AID


Contractors accused of bribing Egypt Air Force settle with SEC


WASHINGTON, D.C. (Press Release)--The Securities and Exchange Commission on Friday filed a settled enforcement action in the United States District Court for the District of Columbia against Thomas Wurzel, the former President of ACL Technologies, Inc. (ACL), formerly a subsidiary of United Industrial Corporation (UIC), which provided aerospace and defense systems.

The Commission's complaint alleges that Wurzel authorized illicit payments to an Egyptian-based agent while he knew or consciously disregarded the high probability that the agent would offer, provide, or promise at least a portion of such payments to Egyptian Air Force officials for the purpose of influencing these officials to award business to UIC related to a military aircraft depot in Cairo, Egypt. The Commission charged Wurzel with violations of the anti-bribery, books and records and internal controls provisions of the Foreign Corrupt Practices Act (FCPA), and with aiding and abetting UIC's violations of the anti-bribery and books and records provisions of the FCPA.

The Commission's complaint alleges that in late 2001 to 2002, Wurzel authorized three forms of illicit payments to the agent: (1) payments to the agent ostensibly for labor subcontracting work; (2) a $100,000 advance payment to the agent in June 2002 for "equipment and materials;" and (3) a $50,000 payment to the agent in November 2002 for "marketing services." Furthermore, Wurzel later directed his subordinates to create false invoices to conceal the fact that the $100,000 "advance payment" in June 2002 was never repaid. As a result, UIC, through ACL, was awarded a contract with gross revenues and net profits of approximately $5.3 million and $267,000, respectively.

Without admitting or denying the allegations in the complaint, Wurzel has consented to the entry of a final judgment permanently enjoining him from future violations of Sections 30A and 13(b)(5) of the Securities Exchange Act of 1934

("Exchange Act") and Exchange Act Rule 13b2-1 and from aiding and abetting violations of Exchange Act Sections 30A and 13(b)(2)(A) and ordering him to pay a $35,000 civil penalty.

In a related action, the Commission also instituted, on May 29, 2009, a settled administrative proceeding against UIC. The Commission's Cease-and-Desist Order finds that beginning in late 2001, and continuing through 2002, UIC violated Sections 30A, 13(b)(2)(A) and 13(b)(2)(B) of the Exchange Act. Without admitting or denying the Commission's findings, UIC agreed to a Commission order requiring it to cease and desist from committing or causing violations and any future violations of the foregoing provisions and ordered UIC to pay $337,679.42 in disgorgement and prejudgment interest.

Iran is in violation of the Nuclear Nonproliferation Treaty, of which it is a signatory, lied about its program in the past and has defaulted on every deadline demanded by international negotiators for stopping its program.

"ZOA National President Morton A. Klein said, "We have here a flat contradiction in President Obama's attitude and approach to the respective Iranian and North Korean nuclear threats. On the one hand, President Obama has no trouble naming the illegality of the North Korean act and calling for massive international pressure and isolation of North Korea. Yet, when it comes to Iran's serial violations of the Nuclear Non-Proliferation Treaty and international deadlines, we hear only of negotiations and engagement, not pressure and isolation. This is all the more surprising as North Korea has not publicly threatened to use its missiles or destroy an existing state, whereas Iran has called repeatedly for Israel to be wiped off the map and several Iranian leaders past and present have spoken of wiping out Israel.


"Ayatollah Khomeini once said, 'I say let this land [Iran] burn. I say let this land go up in smoke, provided Islam emerges triumphant in the rest of the world.' Ahmadinejad's predecessor, Hashemi Rafsanjani, said, '[using] an atomic bomb would not leave anything in Israel, but the same thing would just produce damages in the Muslim world.' And Ahmadinejad never misses an opportunity to say that Israel must be wiped out.




Please click the ad above



Please click on this ad to learn more about donating



Return to top

WASHINGTON, D.C. (Press Release)-- It was a pro forma notice by the Defense Security Cooperation Agency (DSCA) notifying Congress of a possible Foreign Military Sale to Egypt. Taken from the www.defense-aerospace.com website, the notice reads:


" The Government of Egypt has requested a possible sale of 12 AH-64D Block II APACHE Longbow Helicopters, 27 T700-GE-701D Engines, 36 Modernized Targeting Acquisition and Designation Systems/Pilot Night Vision Sensors, 28 M299 Hellfire Longbow Missile Launchers, 14 AN/ALQ-144(V)3 Infrared jammers, and 14 AN/APR-39B(V)2 Radar Signal Detecting Sets. Also included: composite horizontal stabilizers, Integrated Helmet and Display Sight Systems, repair and return, transportation, depot maintenance, spare and repair parts, support equipment, publications and technical documentation, U.S. Government and contractor technical support, and other related elements of program support."


That's a lot of equipment for a country not at war. The notice continues, "Egypt will use the AH-64D for its national security and protecting its borders. The aircraft will provide the Egyptian military more advanced targeting and engagement capabilities. The proposed sale will provide for the defense of vital installations and will provide close air support for the military ground forces."

It includes the required verbiage:


This proposed sale will contribute to the foreign policy and national security of the United States by helping to improve the security of a friendly country, which has been and continues to be an important force for political stability and economic progress in the Middle East...The proposed sale of this equipment and support will not alter the basic military balance in the region.

In a decidedly NOT formal notification, MENL reports that the Obama administration has held up Israel's request for six AH-64D Apache Longbow attack helicopters. Sources told MENL the request was undergoing an "interagency review" to "determine whether additional Longbow helicopters would threaten Palestinian civilians in the Gaza Strip. 'During the recent war, Israel made considerable use of the Longbow, and there were high civilian casualties in the Gaza Strip,' a source close to the administration said."

So Egypt can protect its borders and can provide close air support for its ground forces, but Israel cannot defend its citizens from rockets and missiles launched by a terrorist




organization? Israel's operation in Gaza was a limited response to an increasingly lethal Hamas threat. The deaths of Gaza civilians - while regrettable - are entirely the responsibility of the Hamas leadership that located rocket launchers in civilian areas and hid behind human shields. To blame and penalize Israel for Hamas (and Hezbollah) war crimes would be outrageous.

The good news is that DSCA concludes: "This notice of a potential sale is required by law. It does not mean that the sale has been concluded." Congress will have an opportunity to vet the sale to Egypt and while doing so might consider whether the defense interests of the United States are best served by providing more capability to Egypt while withholding it from Israel.



Return to top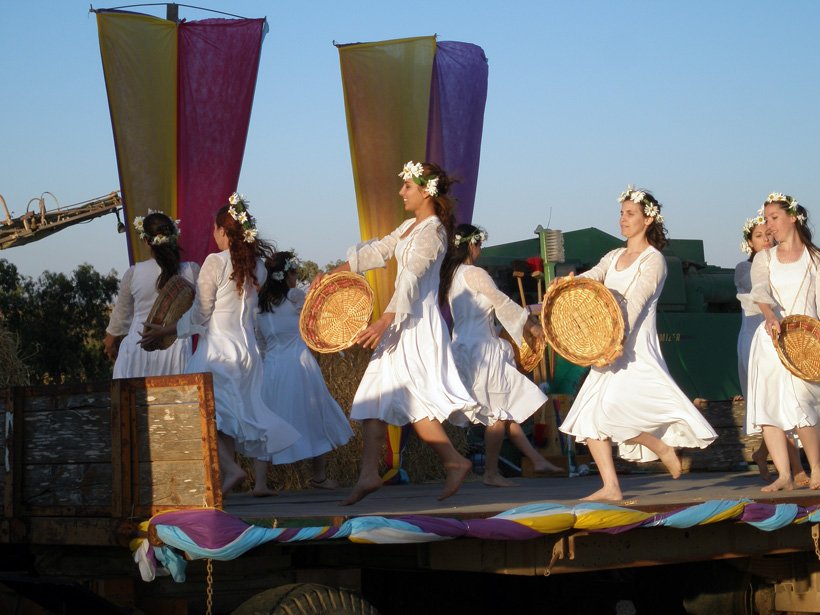 FOLKLORIC DANCE—A dance troupe invokes biblical of women gleaners, perhaps like the biblical Ruth, during Shavuot program
at Kibbutz Ruhama in the Sha'ar Hanegev municipality. Below the seven species symbolizing the fertility of Israel: barley, dates, figs, grapes, olives, pomegranate, and wheat.


FROM THE GATES OF THE NEGEV

Kibbutz emphasizes agricultural aspects of Shavuot
KIBBUTZ RUHAMA, Israel--One thing that is certain every year is that the holidays returns as usual and exactly on the Hebrew date that they are supposed to.

They are celebrated over and over again, with families getting together with happiness and joy.

Some of the holidays are more preferable than others depending on the nature of each individual.


Shavuot (Festival of the Weeks) occurs on the sixth day of Sivan, typically falling in late May or early June. It marks the conclusion of the counting of the Omer (Shavuot is celebrated exactly seven weeks after the second evening of Pesach) the day the Torah was given to the Jewish people at Mount Sinai. It is one of the shalosh regalim, the three Biblical pilgrimage festivals. As well as being called Shavuot this holiday is also known as, Hag ha-Katsir (the Day of the First Fruits) Yom ha-Bikkurim (Festival of Reaping) and Hag Matan Torah (The Gift of the Torah). The seven species are the agricultural theme of Shavuot. The products symbolize the fertility of Israel. The seven species are wheat, barley, grapevines, figs, pomegranates, olives and honey (from dates).

In Kibbutz Ruhama the agricultural department (Gesher – Giduli Sadot Ruhama) is in charge of this event.

Ori Levi as head of the kibbutz agriculture department runs the planning and is active throughout the entire ceremony, together with his devoted team of agricultural workers. Everyone is proud to show off the capabilities of the huge farm machinery utilized on the kibbutz.

The ceremony started out with an airplane from the "Chim Nir" company flying low over the crowd. These airplanes are used in the process of spraying the fields.

Then a folkloric dance greeting the harvest is followed by the traditional harvesting of the wheat done with scythes by Ora Koenigsfeld and Ami Ferdman-an honor given to them because they are two of the first children born in Kibbutz Ruhama.

This year there were greetings from the brush factory, and the stables brought along a newborn foal only three months old.

The agricultural machines were then driven round the crowd with narrations over the public address systen telling of their abilities. A demonstration of how today the irrigation systems are laid out was performed quickly in front of the eyes of the entire crowd. Some observers reached out to touch the water from the irrigation sprinklers!

A new event this year was a performance by portions of the Ruhama bike group. It began with juvenilie and adult bikers riding over the fields together, and eventually forming a circle to create in a bit of choreograhpy.

Alon Schuster, mayor of the Sha'ar Hanegev municipality which includes the kibbutz, participated throughout the entire ceremony, offering congratulations to the local agricultural workers for their valuable and excellent work.

After a final dance a small speech was made expressing hopes for a better agricultural year following this past year's near disastrous drought and perilous water situation. We can only hope, wish and pray that next season will bring us lots of rain.

Hadar's email: hadaru@sandiegojewishworld.com





SHAVUOT CELEBRATION—From top to bottom: large farm machinery of Kibbutz Ruhama is displayed in the fields; Ami Ferdman and Ora Koenigsfeld, eldest kibbutz members born in Ruhama, harvest the wheat with scythes; Oren Hadar (son of correspondent Ulla Hadar) drives the "Alice," the oldest tractor (now retired) in the kibbutz fleet; and a bike dance in which Alon Berlinsky at far left keeps an Israeli flag aloft.


REFLECTIONS
Litwin tells upbeat story of post-Holocaust recovery


We Never Lost Hope, a Holocaust memoir and love story by Naomi Litvin, booksurge.com, 2008, 226 pages, paperback

By Sheila Orysiek

SAN DIEGO—Naomi Litvin uses the voices of five of her family members to tell the story of their journey from Transylvania (Hungary/Romania), through the Nazi killing machines of the concentration camps and slave labor to eventual freedom. The voice of the interviewer/author is silent and so the reader hears only the tale from those who lived through it – much like a stream of consciousness spoken into a tape recorder. It brings a sense of immediacy to the story; there is no filter.

The main voice is that of Edith Festinger Litvin, surrounded by the chorus of her siblings, husband and brother-in-law – and it is Edith about whom the story revolves. Born in 1926 in Transylvania which changed hands between Romania and Hungary, she thus had problems after the war with establishing a national identity for travel as a displaced person. As the youngest of nine siblings, she brings to life the pre-war world her immediate family inhabited, surrounded by extended family, community, customs, religion and outlook.

This world was disrupted by the oncoming war with tales from travelers of what the Jewish population in Western Europe was suffering. Much like the rest of the world, it was unbelievable – and then it came into their community and tore them from all they knew. Edith relates the horrors of being transported in freight trains, sorted upon arrival at the concentration camps and the realization that her parents were most likely immediately murdered.

As a Holocaust memoir the details are familiar, but Edith's story is as much about joy as it is about horror – if not more

Go to top of right column

so. She doesn't linger in the mire of her bad experiences. She not only has youth on her side, but a naturally upbeat personality. Upon liberation she takes up the life of a young woman, eager to go forward, meeting young men - and they certainly seemed interested in meeting her. She was also fortunate to find a number of her relatives had survived.

A Jewish American soldier, who landed at Utah beach as part of the US Army Amphibian Task Force, falls in love – goes back home to Michigan to work on the logistic/legal details to bring her to America and then returns to Europe for her. She becomes the first European bride brought to America under the War Bride Act.

The book is well planned out, bringing together several voices, but weaving a single story. Occasionally the reader notices the unusual use of a word, the change of tense in the middle of a paragraph, or an incomplete thought. But since these voices are (for the most part) those of non-native English speakers, one soon realizes that this is the end product of naturalistic speech. However, the occasional typo or error of grammar in the non-voice text might have been avoided.

This is another memoir of the Holocaust – all of them necessary to our understanding of the human experience and it is an engaging story.

Orysiek is a freelance writer based in San Diego. Her email: orysieks@sandiegojewishworld.com







Editor's Mailbox: National news of Jewish interest


Sanders seeks decree to prevent
speculators from hiking oil prices

BURLINGTON, Vermont (Press Release) – As crude oil prices jumped to the highest level in six months, Senator Bernie Sanders (Independent, Vermont) on Fridy urged federal regulators yesterday to stop speculators from artificially driving up prices.

Sanders said the Commodity Futures Trading Commission should use its emergency powers – which include the authority to impose speculation limits, increase margin requirements, and suspend trading – in order to ensure that oil prices accurately reflect supply and demand.

"I hope you will seize this opportunity to redefine the CFTC as a strong regulator that will do everything within its power to benefit consumers," Sanders said in a letter to Gary Gensler, the commission's new chairman.

The price of crude oil rose to more than $65 a barrel yesterday. The price has vaulted 70 percent higher since mid-January. The run up in prices is happening despite dropping demand for gasoline, jet fuel and other oil products. According to the federal Energy Information Administration, demand for gasoline over a four-week period that ended May 22 averaged about 9.2 million barrels a day, down 0.4 percent from the same period last year. The International Energy Agency predicts global demand for oil will drop this year to its lowest level since 1981.

Last summer, the commission that oversees commodity markets failed to exercise its powers to oversee energy markets as oil prices soared to a record $147 a barrel and the pump price of gasoline rose to more than $4 a gallon. Experts said speculation accounted for about 50 percent of the price of crude oil last year as consumer prices skyrocketed for gasoline, heating oil and diesel fuel.

"The failure of the CFTC to take strong steps to limit speculation was one of the contributing factors to the current financial crisis, and played a significant role in precipitating not only the present economic recession, but also the largest taxpayer bail-out in the history of the world," Sanders wrote.

Preceding provided by Senator Bernie Sanders


Nadler says bailed-out banks
must start lending more money


NEW YORK (Press Release) – At a Troubled Asset Relief Program (TARP) Congressional Oversight Panel field hearing held in his district last Thursday, Congressman Jerrold Nadler (Democrat, New York) testified on the absolute necessity for TARP-funded banks to start lending money and for more stringent oversight of those banks that have received federal bailout funds. The field hearing, held at the Kimmel Center at New York University in Manhattan, focused on commercial and industrial business lending in New York City and the federal policy which guides it.


"If financial institutions are saved by the federal bailout but families and businesses continue to founder, then the TARP legislation will have been a failure," said Rep. Nadler. "It is unconscionable that the banking industry should be the recipient of billions in taxpayer assistance without directly providing benefit to consumers. What's more, we need comprehensive regulatory reform in order to stave off the next financial catastrophe. We need to take away from this experience the lesson I had thought the nation learned in 1929: sound regulation in markets is necessary to maintain stability."

Preceding provided by Congressman Jerrold Nadler


Weiner urges 'balanced
approach' on cyber-security


NEW YORK (Press Release)- Representative Anthony Weiner (Democrat, New York), vice-chair of the Communications, Technology and Internet Subcommittee of the House Energy and Commerce Committee, released the following statement on Friday regarding President Obama's plan to provide the National Security Agency and other military departments with wide-ranging powers over cyber security.


"Cyber attacks - both foreign and domestic -are real and demand immediate action. But we need a balanced approach. It is important that we don't give too much authority to a government agency that collects information and rarely shares it."


Last month, Weiner's committee held a hearing to develop a plan to respond to the growing cyber security threat. Nationwide, the number of known breaches increased 40% from 2007 to 2008. That came on top of an 80% increase in breaches from 2006 to 2007.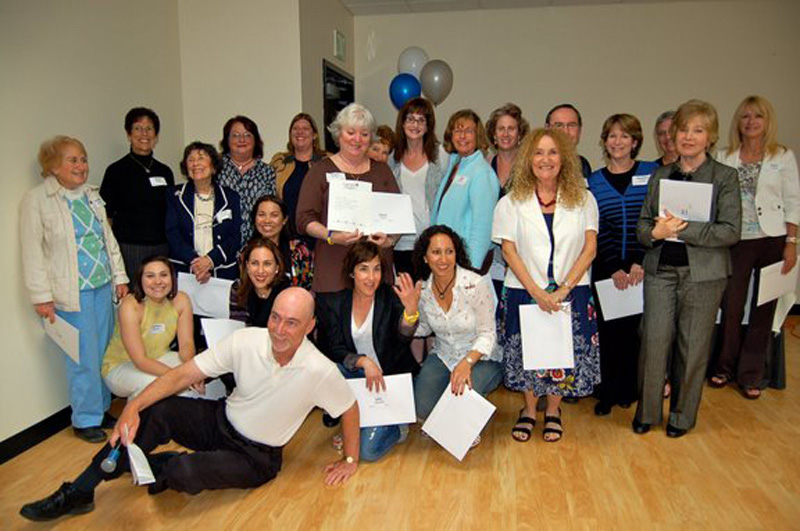 Adult students exult with their deeper Jewish knowledge
SAN DIEGO--The big blue and white cake was both beautiful and significant. It was adorned with mortarboard and the word "Congratulations."

The large multi-purpose room had been made ready for a very special celebration.

The room was buzzing with excitement with the arrival of more and more enthusiastic students accompanied by family and friends.

The teachers were beaming, proud of their students' accomplishments.

What was all the fuss about?

It was Wednesday evening, May 27th, "Erev erev Sha-vou-Ot", as indicated by Rabbi Lenore Bohm, who was one of the three very learned and passionate teachers present. at the Lawrence Family JCC, and the reason for the joyous celebration was the culmination of one to two years of study for 57 adult learners.

As students in the Florence J. Melton Adult Mini-School, these San Diegans had adjusted their life schedules to come to class once each week from October through May, for 2 and ½ hour sessions, during which time they participated in a unique and dynamic international program sponsored locally by the San Diego Agency for Jewish Education.

The students who had made this commitment came from diverse backgrounds and initially had different reasons for coming to participate in the reading, studying and discussion of Tanach, and relevant texts. They were adults of all ages, who soon found a common ground –their love for Torah, learning, and Israel. Based on curriculum developed by scholars at the Hebrew University in Jerusalem exclusively for the Melton Program, students were guided through Biblical texts, and relevant first-person accounts, to read, understand, discuss and analyze concepts in Jewish history and ethics, as presented through perspectives of Orthodox, Conservative and Reform Judaism. As the courses came to a conclusion, students came to the realization that Torah is as relevant today as it was in ancient days. In both the fields of history and ethics, lessons were replete with examples of how Torah teaches us to live our lives Jewishly. Each of us began to define what that means to us personally. What a wonderful segue to Shavuot.

And now, it was Graduation Day, 2009 for The Meltonians!

During the course of the evening, seven students from both the first-year and the second-year classes had an opportunity to tell the audience what the Melton Experience had meant to them. The presentations reflected each person's views and further defined the breadth and depth of the Melton program, including the extraordinary opportunity to continue our educations with a seminar in Israel.

Deborah Hertz, who holds UCSD's Herman Wouk Chair of Modern Jewish Studies, gave a lecture based on her book Masquerades and Secrets, and other speakers were AJE's Adult Education Director Noah Hadas, and Rabbi Ralph Dalin.

Following is a poem written by one of the very creative students, Ruth Gach (pictured below), who has just completed her first year as a Meltonian, and with a little help from Dr. Seuss, managed to sum up the feelings of all of the 57 student participants in the audience.


Bereshit!

By Ruth Gach

To Melton we came
One bright, sunny day
From all walks of life
Gave up work and play
For two hours each week
To study the Torah
A gift to ourselves-
A joy- kinahorah.

Some Jews by birthright
Some Jews by choice
Some young and some older
But we all had a voice.

To learn from the wise ones
To study the Torah
We listened to Rabbi
We listened to Noah.

Each AHA! moment
Revelation—
Elation!
We wanted to give
Them a standing ovation!

Rabbi Dalin
Kept us sailin'

Go to top of right column


Through the seasons of the year.
Rosh Hashana and Yom Kippur,
Ram's horn sounding in our ear.
Succot and Simchat Torah
Celebrated in good cheer
Autumn season's over
And soon winter will appear.

Chanukah and Tu B'Shvat
And let us not forget Shabbat,
Purim schpiel- a joyous pleasure,
Then Pesach, a chag to treasure.

Yom Hashoah, with its sadness
Yom Ha'Atzmauot, a time of gladness
Then Shavuot and Ruth's story,
Receiving Torah, what a glory!

------ La'asok b'divrei Torah!

Noah

Next in tag-team fashion,
(The class enraptured by your passion)
Navigated us through the schisms
Of our beloved Judaism.

Finding Torah Text 1,
Then finding Text 2
Was not always very easy to do.

But the rewards were great,
As our history was revealed
And no longer stayed concealed.

The Orthodox rebbes
Conservatives,too,
Humanistics,
Reformers
All gave us their view.

Legendary
Commentary
From Rabbi Akiva to Rav Zeira
From scholars and sages
Great minds of all ages
Understanding came nearer and clearer.

To Shammai and Hillel
We will always give nods
Though their schools of thought
Were often at odds.
And because there was Heschel
We know why Jews are special
And rejoice in believing in G-D.

-----La'asok b'divrei Torah!

SO-what else did we learn as
People of The Book?

The joy that G-d chose us
Gave us Torah through Moses
The purpose of Jewish giving,
The purpose of Jewish living
Through mitzvot and Torah teachings.


AND ALSO THAT:
You can read the Torah
On a plane or on a train,
In a car, near or far,
Eating lox or in your socks,
Here or there
In fact, you can read Torah ANYWHERE!
(But it's truly fun at Melton!)

So I thank my colleagues
All movers and shakers
Snack bringers, book schleppers
And hamantash bakers.

And I honor my teachers-
Noah Hadas, Rabbi Dalin
(I'm ever so grateful
It was not Sarah Palin!)
Your leadership helped us to seek
and to find
Answers to questions we had in our minds.

My thanks go to Melton
Florence had a great vision
To keep adults learning-
A terrific decision.
But let's not forget
To whom we're most grateful of all,
Hashem, Adonai.
We all heard the call
To study Tanach
And to practice, as well,
To hasten Mashiach
For Am Yisroel.



Genesis 1:16

And God made the two great luminaries, the greater luminary to dominate the day and the lesser luminary to dominate the night; and the stars.


The idea of luminaries dominating their fields has been cleverly seized upon by "Literary Luminaries," a novelty company in Purcellville, Virginia, that offers coffee mugs, playing cards, umbrellas and other items bearing caricatures of the people who were big lights in various fields. The illustration at the left is on that company's website.

Do you have a photo that you think illustrates how a biblical verse has worked its way into pop culture. Please send it to us for possible publication in this series, "The Bible in Pop Culture."

You may send your jpg photo for posting online to us at San Diego Jewish World, emailing it to editor@sandiegojewishheritage.com. If possible, please send it at 72dpi resolution and 400 pixels wide. Please include the name of the photographer, the date and place the photo was taken, and any other relevant caption information.

For our growing "Pop Bible" collection please see Bible in pop culture index

Editor's Mailbox: Local, state and miscellaneous news

Media Watch aka 'Here's the link'
San Diego Union-Tribune in its Friday editions reported that President Obama is pressing both the Palestinians and the Israelis to make peace. Here's the link. ... The newspaper reported in Saturday's editions that record producer Phil Spector had been sentenced to 19 years in prison for the murder of Lana Clarkson at his home. Here's the link. A Steve Breen cartoon shows what kind of rock legend he is now. Here's the link.

Links from readers

Amnon Markusfeld in Oviedo, Florida, passes along a Comedy Netwok pardoy on the YMCA song, "Matzo Man." Here's the Link.




Cottage of Israel lawn program
to be held this Sunday afternoon

SAN DIEGO (Press Release)—The Cottage of Israel presents a lawn program from 2 p.m. to 3:30 p.m. on Sunday, May 31 (today) in Balboa Park, across the interior road from the Organ Pavilion. Entertainers will include Kol Hakavod, the San Diego Jewish Men's Choir; songwirter Yael Noemie, Israeli singing and dancing directed by Eric Kragenbrick, and the KlezMeds band.

The Cottage of Israel will also be serving food to reflect Israeli cuisine. On the menu are shwarma, humus, Israeli salad and baklava.


Go to top of right column

The entertainment is free, with a per item charge for the food. Membership dues for the House of Israel are $18 annually.

SAN DIEGO (Press Release) —Rabbi Aubrey Hersh, Director of Educational Programmes at the JLE London, came to San Diego to celebrate the Bar Mitzvah of Liam Aron, a student at Soille Hebrew Day. He graciously agreed to address Hebrew Day's Middle School students and spoke of the unique essence of Jerusalem as a City of Peace and the place for all who seek truth.

His engaging style and vivid illustrations were very well received by the students and were the perfect segue into Yom Yerushalayim.

Soille San Diego Hebrew Day School serves children from infants through eighth grade and offers generous financial aid grants to families to make a Jewish day school education affordable to all. For more information on the school, visit the web site at http://www.hebrewday.org/ or contact Audrey Jacobs, Director of School Advancement at 858-279-3300 ext. 106 or ajacobs@hebrewday.org




By Donald H. Harrison

SAN DIEGO—It was clear that my grandson Shor had been thinking about Pinocchio the night following his field trip to Fallbrook.

His second grade class at Soille San Diego Hebrew Day School had traveled to the Bob Burton Center for the Performing Arts on the campus of Fallbrook High School to see a Christian Youth Theatre production of the famous fairy tale. I was a driver for Shor and three other students on a roundtrip ride of nearly 100 miles. With a picnic lunch stop at Live Oak County Park in Fallbrook preceding the play, the outing took most of the school day.

"I liked that Pinocchio (played by Stephen Lawrence, 16) did a mitzvah," Shor declared.

"What mitzvah?" I inquired.

"Offering himself as firewood to create the smoke to make Monstro the Whale sneeze so they could get out of its belly," Shor responded. "He put his father, Geppetto (Troy Hussman, 15), first."

"Mitzvah means both 'commandment' and in common usage, 'good deed,'" I noted. "Which one do you think Pinocchio did?"

"Both," said my 8-year-old chacham. "It was a good deed. And there is a commandment to honor your mother and your father."

If you are familiar with the Disney version of the 19th century fairy tale by Carlo Collodi, you may not remember Pinocchio making that particular selfless offer. The animated film version skipped over the problem of finding the dry wood inside a whale's belly to get to the action sequence in which Monstro sneezes them out, then furiously swims after them to try to swallow the back up.

Christian Youth Theatre's version, directed by Andrea Justice Lee, obviously couldn't parallel the cartoon version—at least not without a multimillion dollar special effects budget.

Shor's second grade secular studies teacher, Katrina Taft, had told me that her students loved to make connections between secular studies and Judaic studies, and Pinocchio's performance of a mitzvah was one that Shor had made.

I decided to pursue the idea of cross-connections. "Wasn't there a story about a whale or a big fish in the Tanach (Hebrew Bible) too?"

"They really weren't alike," said Shor, immediately knowing what I had in mind. "First of all, Jonah was in his whale all alone. Pinocchio had company—Geppetto. And Jonah prayed to Hashem (God) to get out; Pinocchio and Geppetto built a fire."

Geppetto prayed several times in the stage production, but not inside the whale. "Did you notice how Geppetto prayed?" I asked.

"He started 'dear Sir!" responded Shor, remembering how Geppetto addressed God.

The kindly puppet maker also sank to his knees and made a tent of his hands—a Christian, rather than a Jewish mode of prayer—but that didn't make much impression on Shor.

Prior to heading to Fallbrook, Miss Taft had completed reading aloud to her class the story of "Aladdin" and I found myself pleased that children at an Orthodox Jewish school in one case were learning a story that took place in a Muslim land, and, in another case, were watching a production of the Christian Youth Theatre. There are those who imagine that the Orthodox are rigidly insular but it is not so. One of the reasons that Soille San Diego Hebrew Day School typically does very well in the Greater San Diego Science Fair, for example, is because there are few, if any, bars to secular knowledge.

Taft told me that teaching children about fairy tales is part of the school's emphasis on literature. In the genre of fantasy, she said, her students are exposed to fairy tales, folk tales and fables. They learn that fairy tales typically begin with "Once upon a time," often take place in a foreign land, have villains or forces of evil which have to be overcome, and are resolved with the hero living happily ever after. Often the number "three" appears in fairy tales, as in the "The Three Little Pigs."

Yes, they learn about pigs, too, at the Orthodox School.

Lessons are designed to incorporate mathematics, art and other

Go to top of right column


skill sets to engage the students on many planes. One assignment that second-graders had was to pick out a fairy tale character and write a friendly letter to him or her. 'Dear Peter Pan, I read your story today. Do you think Captain Hook will take revenge on you?" was one example that the teacher cited.

In Judaic Studies meanwhile, a linkage is made by having the students write a fairy tale in Hebrew– either by translating one from English, or making one up.

Taft suggested that I sound out Shor and his classmates on the ride from the theater home to get their reactions.

Shor and his friend Ori said they didn't like the part when the coachman (Rhett Jaramillo, 16) turns naughty little boys into donkeys. "It freaked me out," said Ori.

Well, what parts of the play did they like?

"When Pinocchio turned into a real boy," said Shor. "That was a happy ending."

"When Pinocchio got the idea to make the whale sneeze," said Ori.

"When Pinocchio froze and wouldn't do anything that the puppet master, (Stromboli played by Ben Ellis, 18), wanted him to do," declared Ethan.

"When Pinocchio tied up the puppet master," said Jacobo.

Pinocchio tying up Stromboli was another departure from Disney's animated version, in which the blue fairy let Pinocchio and his "conscience," Jiminy Cricket, out of a bird cage in which Pinocchio had been imprisoned. There was no Jiminy Cricket in the stage version, but there was a blue fairy (Alison Madera, 17) who was also the very excitable narrator.

How did you like the dialects? I asked the boys.

"The what--?" they asked back.

"Dialects," I responded. "Foreign accents. For example, what accent do you think Geppetto spoke in?"

"German?" asked one boy.

"Italian" said another correctly.


"Did you hear any other accents?" I asked. "How about Honest John (Mickey Hike, 14)."

"Australian?" asked one youngster, perhaps familiar from television with the Wiggles.

"I think more like Cockney—a kind of British accent," I said.

Eventually the boys tired of discussing the play, and broke instead into a chorus about the "Little Red Hen," whom none of the animals wanted to help with the bread—except to eat it.

It was a great ride home.

One of the nice things that the Christian Youth Theatre did was to invite some of the second graders up on stage during the intermission to meet the actors and ask questions. With a little prompting, the students asked the actors their ages, and inquired how many years they had been acting.

After the production, the actors in costume came out into the foyer of the Bob Burton Center and mingled with the students.

Learning went both ways.

"Do they always wear those?" asked a parent volunteer usher, pointing to the kippot on the boys' heads.

"They do at school, and those whose families are Orthodox also will wear them at home," I said. "Others whose families are affiliated with other movements in Judaism may take them off after school. Soille San Diego Hebrew Day School reaches out to all Jewish children regardless of their families' levels of observance."

Harrison's email: editor@sandiegojewishworld.com
A bissel sports trivia with Bruce Lowitt



OLDSMAR, Florida —Q: Who was affectionately known as "Harry the Horse," the name of one of Damon Runyon's characters in a short story?

(a) Harry Kane
(b) Harry Rosenberg
(c) Harry Danning
(d) Harry Shuman


Background: He spent his 10-year career catching for the New York Giants, was a four-time All-Star (1938-41) and hit for the cycle – single, double, triple, home run – against the Pittsburgh Pirates in 1940.


To see answer, please click here




Go to top of right column

Editor's Note: Today San Diego Jewish World continues the-every-Monday serialization of I'm Still Here by Laura Simon, a San Diego resident who is still going strong at 103. She wrote this book to mark her 100th birthday.

We will maintain a list of links to the installments of her story on Laura Simon's archive page, which can be accessed any day of the week through the "authors" pulldown tab below our masthead. Laura, who once painted canvases in vivid colors, today is legally blind, so she is unable to read e-mail. However, she says anyone who wishes to contact her may do so through the e-mail of her son, New York playwright Mayo Simon at mayosimon@aol.com The book may be purchased via its publisher's website, www.montezumapublishing.com or via Amazon or Barnes & Noble's websites.


The Ruby Vase

March 26th, year 2001. I'm at my tape recorder, remembering how I felt about oatmeal when I was six years old and, at four, when my mother was crying in the kitchen bitterly. It was my
father's fault. It was a ruby red vase and he didn't pack it right in the box. It smashed on the floor in a million pieces.

"No," she said, "don't call it a bottle. It belonged in a fancy museum!"

"What do you know about fancy?" he said.

She tore open a big box and threw a shoe at him. "Unpack your own rags."

"So what do you want? Blunt? I did a heavy moving job to get you all this furniture, twisting my insides."

"And I'm sitting on a chair with servants. They carry the money, too heavy for me. And I carry the bedspring down to the yard. Full of bed bugs you brought me from those people. Look,
look at my hands all scratched, burned up from the chinicks to boil out the bed bugs from every coil."

"Instead of money that's how they paid me." A heavy sob while clumsy at a box of dishes, spoons, plates falling from a sideboard, bouncing, rolling all over the floor, both of them crawling around to gather.

"Go, go back to your mother -- my supper not good enough for you. And stand at her wall with your tallis."

"You can daven too. Who doesn't let you? A policeman?"

Standing with a broom, mimicking his mother, "'Arcona, to me you are my whole living. I hold your hand -- what hurts you? My son!' She made you weak. She carried you on her back."

Wiping away her tears, sweeping, "Go -- go and stay there."

I go into the bedroom to jump on the bed to kill bed bugs. The bed caves in.

The next thing I know the druggist is sitting at my side, one hand comforting me, the other to his head like the picture in his drugstore, a worried doctor at the bedside of a little girl, her parents standing unhappily behind him.

"The whole iron bed fell on top of her," my mother saying to the 'doctor.' "He can't even put together a bed."

My father bending gently back and forth in prayer stopped for a moment to look up the shaft as if to find some sky or God or the sunshine he promised to give her. Especially now as she stood
crying her heart out over me and watching the druggist select a medicine from his folding case and explaining instructions, his hand to her shoulder and I didn't know where I was in the world that was turning around me. My father smiling tenderly down at me while unwinding the tefillin from his arm and taking the little black box from his forehead.

"Look, Chaya," he is saying to my mother. "The sun. I told you it comes through."

"When the Meshiach comes."

When the druggist left, my mother said, "Tomorrow if she sits up, take her to the doctor on Western."

"Why? She's four years old – she'll heal up before her wedding."

"And you're here with God," my mother said. "Whatever you touch breaks into pieces. You can't even hold a vase in your hands. To me, it was like holding a shiny red apple."

"In Russia," he said, "you had a whole orchard. You're in America now."

"All I want is a flat with some fresh air."

Throughout the years, I have learned from what I have seen and heard from other womenhow terrible it is to live with a man that you hate. I could understand as the years went by why my
mother hated him. Now that I'm ninety-six, in reflection, I don't think my father was that bad. For both of them, the problems of poverty and their environment were difficult and they weren't
capable of rising above them.

Go to top of right column




                                  


Fighting for Life – To Death

When I was five, I remember the storm in our kitchen because the laundry was strung up from the night before, dripping wet. My father was trying to roll cigars at the table.

"Why don't you take all of that wet underwear and hang it up in the yard?"

"It's winter! They'll freeze stiff!"

And that's what happened when she brought in a pile of frozen underwear. They sounded likea bunch of wood when she threw it on the floor.

And he yelled, "We had that shoe store. You robbed me. You gave all the shoes away to yourfamily. Your sisters, they hated you. And you robbed me. Now what I've got—clothes lines and
pishing underwear right over my head."

They had a fight over that stiff underwear. And one frozen arm and two frozen legs hit him in the face. The boarder comes rushing in with his English book, "Flour to bake a challah? Flower that grows in the pot? How can anybody learn English?"

My father says, "By going back to Odessa, and you can take her with you."

The neighbor in the rear is opening our door. "I was in the toilet. I heard."

"Look, his face is bleeding! Come in to my house in the rear and I'll wash it off for you."

I'm watching my mother crying. They fought over whether she's going to get a divorce or not until summertime.

The heat is unbearable. And now he's complaining that she spends all of his money on flypaper instead of buying bread for the table. And she'll never get that divorce. "When am I going
to get off that washboard," she moans, "off the floor, wiping up, scrubbing up." The dirt and sand from the yard was always blowing in.





The Doctor Takes a Call

As I write this, I think of a doctor in Chicago. A patient of his called him from an outsidephone, a young man of about thirty-five, saying he felt sick. The doctor answering, "Get in a cab
and come right to my office." Getting there, he dropped dead immediately from a heart attack. The doctor himself suffered by this. "Why didn't I send him to the hospital instead?"





The Dispensary

I'm seven years old. My mother takes me to a dispensary to have my tonsils out. It's pouring.

We're soaked wet when we get into that crowded waiting room, into smells of soup and medicine. A man on a balcony above is sweeping a pile of dirt down on us. Nobody, I thought, will ever do that to me again. I touch my sleeve. It feels slippery, muddy.
Everybody smells damp. Young women with white aprons are running around. And those must be doctors with white jackets. And we wait.

At last, we're in a little room. A doctor examines my throat.

"A neighbor told me that dispensary hospitals have the best doctors," my mother says, giving me a hug.

"We do our best," he said. He looked like a little boy to me. "You can come for her in the morning. Her tonsils will be out."

My mother is hesitant. "You'll be fine," she says to me, rather sadly, I thought. "In a few hours I'll be back for you," patting my head and talking to me like a puppy.

All I know is I awoke to the taste of blood and before me there were a lot of people.

Somebody cleaned me up. Somebody else dressed me. And I felt like I was being dragged into a big noisy place. People were sitting, eating from food on a long table. I just sat there.

When my mother came, I could see the horror on her face. She didn't seem to know what had happened to me. I could hardly drag along with her. I saw a little boy near me being dragged off thesame way. He was so pale. He looked so sick, and he could hardly move a foot. That must have been me.

Throughout my childhood, I was to get a good education in student doctors and nurses and they got their education too, in more ways than one. I began to get tough and hard to handle. I
began to learn how to fight away anybody who tried to step on me.

Next: Diptheria