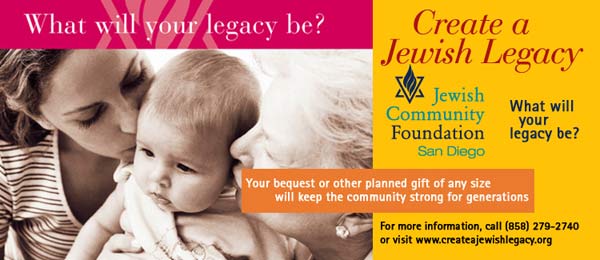 THE JEWISH CITIZEN

Half-Russian story explores love and dance

By Donald H. Harrison


SAN DIEGO—One of the entries in the 18th Annual San Diego Jewish Film Festival has the English title Love and Dance. But in Hebrew, the 2006 film by Eitan Anner is called Sipur Hatzi-Russi, meaning "The Half-Russian Story." Both titles accurately provide a foretaste of this remarkable, multi-level movie in which child actors carry the action.

Chen (Vladimir Volov) is the gentle child of a beautiful but depressed Russian mother (Oksana Korostyshevskaya) and a loutish Israeli father (Avi Kushnir)
Donald H. Harrison
in the Israeli port city of Ashdod, home to many Russian immigrants. In imitation of his photographer father, Chen carries a video camera wherever he goes, including to the community center where classes are conducted in subjects as diverse as judo and dance. Although he is supposed to be enrolled in the former, he is attracted to the dance class after watching a beautiful girl, Natalie (Valerie Voevodin) practicing in front of the mirror.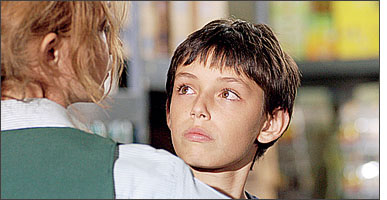 Smitten by her grace, Chen starts to video the class, taught by a dancer once well known in Russia (Evgenia Dodina) and her philandering husband (Kirill Safonov). The teacher tells him he can participate in the class, if he will be a partner to Sharon (Talya Raz), who is not nearly as flamboyant as Natalie, but who has a sweetness and a gentleness matching Chen's own.


Vladimir Volov with Evgenia Dodina (above) and Talya Raz (below)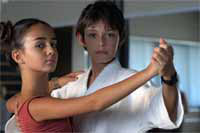 Although Chen accepts, his eyes are only for Natalie, not for the worthy Sharon. Natalie, however, already has a partner, Arthur (David Kogen), who is a bully. Chen's determination to separate Natalie from Arthur may mirror his desire to rescue his mother from his father's constant verbal abuse.



The love triangles formed by Natalie, Chen and Sharon and by Natalie, Chen and Arthur bespeak the "Love and Dance" story line in the 95-minute movie that will be screened at 4 p.m., Sunday, Feb. 17 at the UltraStar Poway. Russian actress Evgenia Dodina, who stars not only in this English-subtitled movie but in two other festival selections, will appear at this and other presentations of her movies.

The "half-Russian" subplot is expressed in the overlapping stories of the failing relationships between Chen's parents and the Chen's dance teachers. What drives both couples apart are feelings of inadequacy and displacement: Israel is not Russia. Those who could be artistic and cultural successes in Russia, owing to language problems, are relegated to clerking jobs and other menial positions in Israel. And when they express their feelings of loss, they are derided by Israelis as "whiners," who think they are too good for unglamorous jobs. In this, the movie offers a remarkable portrait of a fraying social fabric.

Women's liberation is another theme in this movie. Chen's mother needs to assert herself and establish an identity independent of her crude, domineering husband. Likewise, Chen's dance teacher must put her foot down and establish for herself a life rooted in the present, not in the past glorified by her husband. Similarly, the next generation, as represented by Natalie and Sharon, must take the future in their own hands.
This is a movie that can and will appeal to diverse audiences.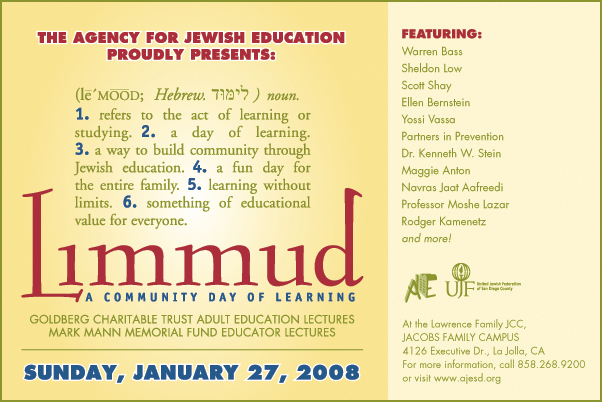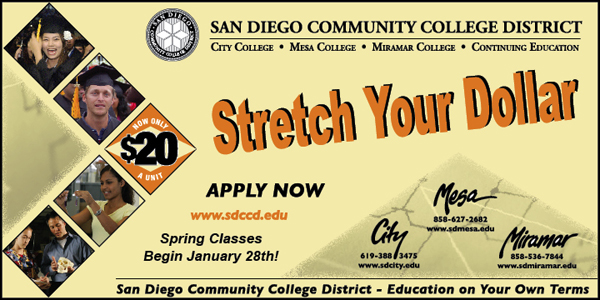 TITLE BOUT—Joe Louis (Dion Graham) jabs at Max Schmeling (Rufus Collins) in Old Globe production of
ARTS IN REVIEW
Globe scores 'KO' with In This Corner

SAN DIEGO—According to the rumormongers, heavyweight boxer Max Schmeling was in Hitler's pocket, and was assumed anti Semitic. After all, he was part of Hitler's propaganda machine; was in the Luftwaffe; was feted in Germany, especially by the Nazis, and was vilified in this country. From the German Press: "They trumpeted him as the perfect specimen of the Aryan superiority –beating the black American."

On the other hand, if you believe everything you read, Max Schmeling, the German heavyweight boxer who knocked out Joe Louis, the 'Brown Bomber' in round 12 of their historic heavy weight-boxing match in 1936, really was not anti Semitic or a pawn of Hitler's but someone who actually saved the two teenaged sons of a Jewish friend by hiding them out in his Berlin Hotel room protecting them from the SS and Gestapo on Kristallnacht, eventually helping them escape Germany. As an extra topping on the cake, his agent in America was Jewish and he defied the German machine on more than one occasion
All of these assumptions are played out, including highlights and lowlights of both boxers' careers in a new play currently being mounted on the Cassius Carter Stage of the Old Globe Theatre Complex in Balboa Park. In This Corner, written by Steven Drukman and directed by Ethan McSweeny, is a fast paced, fascinating look into the life styles and vicissitudes (if you will) of both boxers and as an integral part of that subject, an inside look at the sporting world of boxing, which I found intriguing. Is it all true? No. Has the playwright taken liberties? Of course. But it does make for good theatre.
Furthermore, you don't have to be a sports enthusiast to enjoy this piece. Druckman's language is melodic, rhythmic and fun. It highlights the essence of an era, warts and all. As the young man sitting next to me commented on the way out, "When do you think this will become a musical?" If you are a student of history, however, it will take you back to the days when one of he biggest sporting events, set against a backdrop of an impending world war, captured a nation and "elevated Louis from an African-American hero to an All-American icon". Given the times, however, the nation was still in racial denial and social inequity. Unfortunately, Louis was never able, in his lifetime, to overcome these prejudices.
Under the new management team of CEO/Executive Director Lou Spisto and Co-Artistic directors Jerry Patch and Darko Tresnjak, Druckman's world premiere production takes place ringside (Lee Savage and Tyler Micoleau, lighting) with all the accoutrements (ringside tables with microphones, typewriters, three legged stools, period telephones and a convenient place for the characters to change costumes (Tracy Christensen) to paint a boxing fan's dream of the action to follow. The main 'event', if you will, is the rink where all the action takes place, ropes and all. Getting in and out between the ropes became a little hazardous at times, but it worked in that theatre.
Five actors, playing multiple roles, over a period of forty years, make the whole picture believable, even though, in some cases, we know better. Their talent runs that deep. But fancy or fact, legend or truth the overall production is greater than the sum of its parts. No question, some of the wonderful dialogue gets bogged down with the rat-tat tat delivery, the rhyming verse and the overambitious need by the playwright to include too much gets wearisome and after a while you stop listening, but the play's the thing, and this one scores a KO by evening's end.
Dion Graham who bears a resemblance to Joe Louis has embraced his role to a tea. His is tall, lean and while not muscle bound, could be mistaken as a heavy weight boxer by his movements and gait. At first I found him understated, not engaged or focused but as the play wore on and his story of Louis' life intensified, he had it right and it paid off in the end. Louis' story plays like a rags to riches to rags saga. From his humble beginnings, his becoming the world heavy champion to his decline into drugs, a bout in a mental ward of a VA hospital to his recovery, it's like a soap opera. It is so skillfully portrayed by Graham, who is so soft spoken at times, that one wonders if Louis was actually that calm.
Rufus Collins is a perfect Schemling, confident and reassuring. From his first appearance as the young German athlete ready to claim the heavyweight title at any cost, to his rematch with Louis to his disgust with the Third Reich and finally his last gestures helping a down trodden Louis, Collins carries himself with confidence, defiance at times, and with genuine sympathetic acts to a fallen comrade.
T. Ryder Smith, who was fêted by the San Diego Theatre Critics Circle last year for his performance as Abe Lincoln in the Globe's "Lincolnesque" is no less outstanding as he takes on the roles of ringside announcer, referee and Hitler among others. His calling of the rematch bout in 1938 couldn't have been any more authentic sounding had you been there at the time. Al White is credible as Louis' trainer, Jack Blackburn, and David Deblinger is right on target as Schmeling's Jewish manager and 'others'. Katie Barrett is 'all the females' and she is a standout as each and every one of them from Schmeling's wife to the nurse in the VA Hospital to the USO blues singer to the Gal Friday news reporter to the German movie star. Rounding out the cast is John Keabler 'The Boxer' a little added value to the evening. Keabler, who played all the boxer fill ins, did some pretty fancy footwork jump roping while the audience eyed with envy, his stamina.
With the departure of Globe's longtime artistic leader, Jack O'Brien (emeritus), who will be making New York his permanent home, and the new troika steering the Globe's ship. I expect we will see a lot more innovative and new productions reflecting their point of view on these stages. I'm excited.
In This Corner continues through Feb. 10th.
See you at the theatre.
A starchy white shirt quickly gave me the rules of the closet and a little information on my new owner. The white starchy type said there was to be no fraternizing between the shirts and skirts and I was not to try to shoulder additional space for myself. Our owner was fourteen years old and her name was Annie. She's a nice kid but everyone said to watch out for her mother because she had a habit of yanking old clothes out of the closet, dumping them into a bag and no one was quite sure what happened next – but it was not pleasant. Other than that no one spoke to me. In fact everyone was horrified at my presence because I buttoned on the wrong side. I learned that I was really a man's shirt. It soon became apparent I had only one asset, I went well with blue jeans and Annie wore blue jeans a lot.
The first time Annie put me on I was thrilled. At last I could really begin my life as a shirt. However, my joy was a bit tempered by the fact that she had aligned my buttons and button holes wrong and so one side hung lower than the other. It gave me a painful twist, but I made the best of it and curled around a bit this way and that so she wouldn't notice. I did want to get out of that closet! And, I had such a wonderful time! Annie let me hang free over her jeans and we got on her bike and rode around the streets. Such sights! I had never seen anything like it; sunshine, and a lovely breeze whipped by. She munched a cookie and I got some crumbs. I can't say that I enjoyed that part – but otherwise I loved it all. We were both damp by the time she got home.
Annie really seemed to like me, she wore me a lot and one day she put me on with a skirt - it was the fist time I'd ever touched a skirt. She wanted to wear me to Sabbath services that Friday night. I don't know what Sabbath services are, but her mother was not pleased. She said a shirt that had buttons on the wrong side can't be worn at the synagogue - I was not only "wrong" - I was also too casual. Annie said I was the right color - blue and white - but mom was not convinced. The white starch got to go.
Next I ended up in a basket and then in a metal tub. Hot water and powdery stuff hit me and I can tell you this laundry thing is tortuous. It twisted me about every which way and then spun me unmercifully. Nobody in the closet had warned me about this! My popularity there had plummeted since Annie seemed to like me so much. Some clothes didn't like to go out and did their best to hide, but most wanted to get worn. Anyway, I survived the washing machine and I got lucky because I was hung out to dry. I had heard screams coming from that torture chamber of a dryer. Even though I had to spend the day upside down on the clothesline I liked it; the birds sang in the trees and nearby was a rose bush for me to look at. The flowers were beautiful but I have to admit I had some doubts about those ugly thorns. Luckily the clothes pins held and I was okay.
However, I was totally unprepared for the next event. Annie patted me smooth on a narrow table and I thought this was nice, but oh my goodness that steam iron was a horror I'll never forget. Fortunately, Annie hated to iron and I never had to go through that again.
One day I had a real scare when Annie fell off her bike and one of my buttons got ripped off. She looked and looked for it while I prayed fervently she'd find it; after all it was a part of me. Well, my prayer was answered and later Annie's mother sat beside her on the sofa and using me, taught her to sew the button back on. It wasn't easy because there were several unnecessary jabs with the needle through my checks and Annie pricked herself, too. But I was glad to help out with the lesson.
Annie and I had a lot of good times together. One summer she took me to a picnic by a wide creek in a beautiful park. Inner tubes from tires were blown up and the kids sat in them in the middle of the stream and floated and splashed each other. We had a merry time. I got to go because Annie's bathing suit did not protect her from the hot sun so I kept her from getting a nasty burn on her shoulders and arms. My hem trailed in the water and got wet but that was okay because I was hot too, and the water was refreshing.
Afterward the kids all had platters of hot dogs and beans. Annie took hers and sat under a huge maple tree. A young man sat down beside her and she looked happy. They talked and laughed, he teased her a bit. Then before I knew what was happening he leaned over and kissed her. I think it was her first kiss because she got excited and giggled and the plate tipped and mustard dripped down on my front lapel. The mustard stung me a bit, but I didn't want to spoil Annie's first kiss and the good time she was having. The mustard never came out completely and there is still the faintest stain after all these years. I never told anyone in the closet how I got stained. It was our secret – Annie's and mine.
There was a lot of jealousy in that closet. Not only did I get to go out a lot, but even when another shirt was chosen, Annie would stuff that one in her jeans and then wear me on top. So that way I got to see more, too. The polyesters were an especially snobby bunch. They looked down on us cottons. However, when Annie snuggled down into a chair and held a telephone between her head and shoulder the phone didn't slip half as much with me as with those polyesters. I got to hear those teenage phone conversations, all the giggling and gossip.
The first few years I didn't fear the mother very much when she went through all the clothes, after all I was still rather new. The worst that would happen is I would get tossed in the wash. One time after I had been there a number of years Annie herself came by and straightened all of us out. She wanted a neater closet, guess she was growing up.
Then came the day a lacy pink number showed up in the closet. She flaunted all those frills, ruffling about on her hanger. I wasn't too upset because I didn't think she'd go well with jeans. One day Annie and I came home in the late afternoon and she took me off and tossed me on the bed. She spent the next few hours arranging her hair and patting on makeup. I got the feeling she was getting ready for a really big evening. I kept hearing the name "Tom." "Would Tom like this" or would "Tom like that" she kept asking her mother. As I lay on the bed Annie pulled out the snooty pink lace blouse and put it on. That snob would be even more difficult to live with now. Well, I lay on the bed a long time until well after midnight. Suddenly Annie came running in. She fell across the bed and laid her head in her hands and cried. Then she reached for me and I wiped her tears away. The pink number looked rumpled, almost bedraggled. Annie tore her off and continued to cry on me. I was glad to be of use.
The snobbery of that pink blouse was nothing compared to a long taffeta thing with beads on it. I had no idea what it was until a white shirt (a new one, the original white shirt was long gone) told me the new comer was a formal gown. Needless to say that gown never said a word to any of us shirts. The only good thing about that episode was the gown was only worn once and then was gone which was a relief to the entire closet.
Finally came a day when it seemed every time I got worn Annie was with a guy named Jimmy. I began getting crushed a lot as they sat on the sofa. She was a good girl though and I did my part and stayed buttoned up. Next thing I knew Annie was packing some of us in things called suitcases. The rumor in the closet went around that it was for a trip with Jimmy. I was lying on top of one of these suitcases when good ole mom came by, grabbed me, threw me in a bag with some other old clothes and put us outside the front door. Uh Oh! I thought, this is it, I'm getting thrown out. A man came by and picked up the bag and was carrying us off when suddenly I heard Annie's voice. Her hand reached in the bag and pulled me out, right in the nick of time. I was so glad to be back in that old closet! The next time I left that closet it was for a much happier occasion.
It was quite a turning point in my life when along with some newer clothes I was put into a big packing box. When we finally got out we were in a new closet in a different house. Across the way were men's shirts. That sure seemed strange. At first they were convinced I was on the wrong side of the closet since I buttoned like they did. But, no, I assured them, regardless of how I buttoned, I belonged on Annie's side.
Once several months later while Annie was wearing me, a baby she was feeding got a bit sloppy and a new stain settled in next to the old mustard stain. Annie didn't wear jeans much anymore but she and I were still together quite a lot.
Then one day many years later when she passed a mirror I could see I had faded quite a bit, my blue checks were barely visible though that old mustard stain was still there, wouldn't you know. What surprised me was that Annie had faded too. Her hair had always been dark brown, but now when I looked up I could see it was white. Her skin was paler and her shoulders seemed rounder. I should know I've sat on them for enough years.
These days when I lose a button she doesn't seem able to sew it back on. Her hands tremble too much. In fact she has a bit of trouble buttoning me at all. But that's O.K. I am frayed around the edges, too; with tears here and there, especially at the elbows and my hem is no longer straight either. We are still great friends though. We sit a lot by a window and we both like to hear the birds sing, and then we nod off together. I am sure even after all these years; I am still Annie's favorite shirt.

SAN DIEGO JEWISH WORLD THE WEEK IN REVIEW

Thursday, January 17, 2008 (Vol. 2, No. 15)

Norman Greene in San Diego: 2 mothers experience tragedy, resilience
Donald H. Harrison in San Diego: Speakers at citizenship ceremony glamorize U.S. history; gloss over mistakes of the past
Fred Reiss in Winchester, California: The clash of science and fundamentalism

Wednesday, January 16, 2008 (Vol. 2, No. 14)

Sheila Clapkin in Tarzana, California: Pilgrimage to Uman: Searching for absolution at Rabbi Nachman's grave
Donald H. Harrison in San Diego: Making Trouble will make you laugh

(Vol, 2, No. 13)
Donald H. Harrison in San Diego: The Jewish Americans: 3-part PBS series offers 'history commenting on history'
Alexa Katz in San Diego: Into the Wild: A movie that delivers its title
Gaby Maio in San Diego: A ride into San Diego Jewish history
David Strom in San Diego: PTSD also affected survivors of the Shoah

Monday, January 14, 2008 (Vol. 2, No. 12)
Dov Burt Levy in Salem, Massachusetts: Jewish "angles" in the presidential primaries
J. Zel Lurie in Delray Beach, Florida: Did Bush have a vision or just a dream?
Norman Manson in San Diego: Dreams in Torah—where are they today?
Sheila Orysiek in San Diego: How Fiddler on the Roof keeps his balance

Sunday, January 13, 2008 (Vol. 2, No. 11)

Shoshana Bryen in Washington: Just what did Bush say in Israel?
Rabbi Baruch Lederman in San Diego: How our shortcomings can unite us
Rabbi Leonard Rosenthal in San Diego: Mitzvot easier done than other obligations
Ira Sharkansky in Jerusalem: Is Olmert only play acting for Bush



< BACK TO TOP