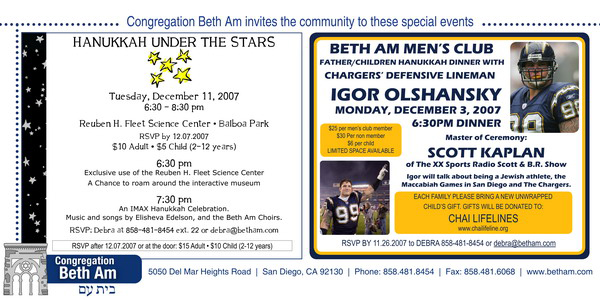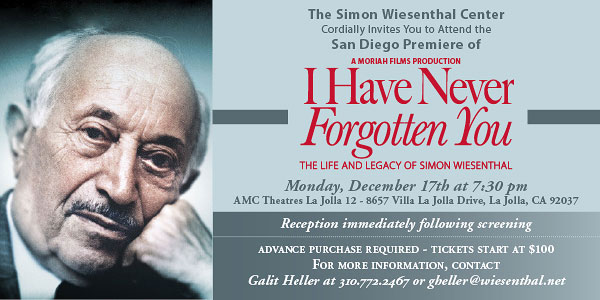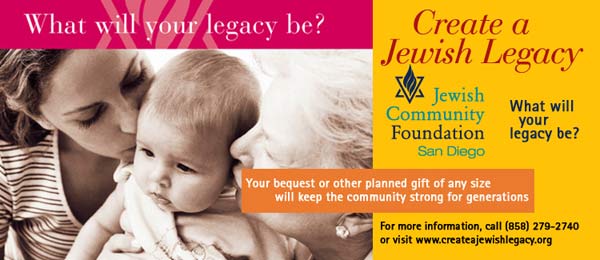 THE JEWISH CITIZEN

A call for reinvigorating Thanksgiving

By Donald H. Harrison

SAN DIEGO—Mayo Simon, a playwright, was telling me that nearly a week before Thanksgiving, he saw merchants putting up Christmas decorations in New York City. "Hey, aren't you a little bit early?" he remembers calling to them. "No," came the response.

Thanksgiving has become "just a speed bump" on the race track to Christmas, Simon suggested in a conversation following Shabbat services at Chabad atUniversity City. Simon is in town to celebrate the 102nd birthday on Monday of his mother, Laura Simon.

It is a pity that so many people, and especially merchants, fail to appreciate Thanksgiving. Potentially it is one of the most important holidays that we have for understanding American history. If I had my druthers, the holiday would be so widely celebrated that Thanksgiving songs would be in the repertoire of every American recording artist.

We associate Thanksgiving today with family dinners, with the Macy's parade in New York City, and with football on television. But as laudable as all these are, in my opinion, Thanksgiving needs to be reinvigorated with meaning. To do that we need to extrapolate from and modernize the story of the first Thanksgiving in 1621.

Many of us remember the tale from our elementary school days, when perhaps as children we dressed up as Pilgrims or as Indians, and had a feast. The Pilgrims had come to this land from England seeking religious freedom. They suffered coming across the Atlantic Ocean. Once here, their crops did poorly. Members of the Wampanoag tribe, good and kind-hearted people, shared their food with these new arrivals.

Freedom, and sharing, those were the original promises of America. Mindful, of course, of how many times we strayed from, or even willingly abandoned, those ideals in our national history, we nevertheless, as a nation, need to return to and celebrate those founding principles. Thanksgiving should be a day when the nation appreciates its moral roots and renews its national ideals. In the Jewish idiom, it should be a day of civic Teshuvah.

I believe that two groups of people ought to be honored every Thanksgiving: Native Americans and immigrants. All of us are descended from one group or the other, so this would be an inclusive holiday.

This does not mean that we should forget or make light of the uglier parts of U.S. history. We must solemnly remember the wrongs that were done to entire groups of people: the Indians of many tribes, who were slain and whose lands were stolen; African-Americans, brought here as slaves and kept in subjugation; Asians, who were made the subject of exclusionary policies and who, in the case of the Japanese, were imprisoned during World War II; Jews, who were denied refuge in the country notwithstanding the raging Holocaust in Europe; Latinos, who were made to feel as strangers in the Southwest, even though their families had lived on the land for centuries; and Muslims, who especially since 9-11, unfairly have been regarded as potential threats to our nation regardless of their personal ideologies.

Oh, yes, the United States has been far from perfect. But Thanksgiving each year can help us remember and strive for the realization of our collective ideals. The pain of our maturation process makes all the more sweet the pleasure we should take in realizing how important ultimately we became to each other in the forging of a single nation from many peoples.

What are some possible steps?

We all should make a point to learn more about the culture and history of Native Americans, by studying history, visiting museums, watching more programs, and reading more books. Here in San Diego, where Indian lands have been reserved since the 19th century, we have opportunities to deepen our appreciation of Kumeyaay culture—and I don't simply mean by visiting local gaming casinos, as fun as that can be. Studying the newspapers and the calendars of cultural organization reveals that there are numerous opportunities to attend lectures, demonstrations, museum exhibits and even food fairs sponsored by the Kumeyaay and by members of other tribal groups.

This last Thursday, as I looked over the Harrison/ Zeiden/ Masori family's Thanksgiving table, I saw members who had come from San Diego, Carlsbad, Oceanside, Irvine and Modesto. The group included my Israeli-born son-in-law Shahar, who recently was naturalized as a U.S. citizen, and his two American-born sons, Shor and Sky. Additionally, we had the pleasure of the company of members of the Schwartz-Hebron family, who also had hailed from Israel. Missing from the table were my daughter and daughter-in-law, Sandi and Hui-Wen, who respectively were traveling in Israel and Taiwan. Sandi was teaching a class in balloon sculpturing in Eilat; Cathy was visiting her parents in Taipei.

Nancy and I feel very grateful to our children Sandi and David for their choices in marriage partners. Our international family every day adds cultural riches to our lives, as indeed, immigrants do for the collective life of our country.

The thought took shape that Thanksgiving also should be a time when our nation celebrates the successive waves of immigrants who helped to build the United States. I think it would be wonderful if it could become a tradition over the long Thanksgiving weekend to hold a nationally televised naturalization ceremony for some of the newest "Pilgrims" casting their lots with ours—a ritual in which the President of the United States, whoever he or she may be, would personally welcome the immigrants.

The four-day holiday also could be a time of ethnic food fairs; a time to learn about the cultures that the diverse peoples of the world brought with them to America, adding to, reshaping, and strengthening our mix.

Let Thanksgiving be the day when we celebrate the immigrants among us, thanking them for adding their talents to ours.

Let Thanksgiving be the day when we honor the Native Americans, from whom we have so much to learn—especially in this era of growing environmental consciousness.
Let Thanksgiving become a synonym for America's growth and spiritual maturation.
And let it be the occasion for many new songs.

SAN DIEGO—An object? An object that was important to me? Oh yes.
The night we were expelled from our town in Germany ... it was October 1938 ... my parents delayed long enough to fill two suitcases with valuables. I was 9. My brother was 10. My sister, 7 1/2 or 8.
We went from camp to camp. Like everyone else who had valuables, we sewed them into our clothes. Then came the camp where they smelled our affluence and forced us into uniforms. I realized that the jacket I was wearing concealed my father's gold chain, the one from his pocket watch.
Somehow I managed to wrap it in tape, industrial tape, so that it made a small ball. It looked like soap. (Takes ball of masking tape out of pocket.)
When we went to the delousing showers, it was in my hand. It went back and forth between my brother and me, in a hand, a pocket, a shoe. Somehow it stayed with us. And we stayed together.
In 1944, we wound up in a camp in Dresden. Some of the inmates were German murderers they wore insignias (point to chest) ... if the diamond went up it meant one crime, if it went down it meant another ... And I was scared.
The camp had stations of machinery. You go to work every day and you have this to do and that to do. And here I am, age 15, and I'm a drill press operator. A drill press in those days had water going into the drill, from a tank of water attached to the machine. The tank was not very large, maybe this big (gesture showing box used to store office files). The water was muddy, somewhat yellowish ... like the tape ... and I put the chain in the tank. We were in such close quarters, and I was scared (Looks around, sees no one is looking, rolls up sleeve, plunges hand into water) My brother and I checked on it all the time.
We never thought of selling it. All we thought of was "Survive, survive, survive." The chain gave us hope.
Now, the factory gets bombed. We lived ... our "accommodations" were on the top floor, the factory was below, and there was an air raid shelter underground. On the way down the stairs, people got trampled and killed. My brother fell into that pile. We were lucky to be able to pull him out ... he lost only a toenail. It must have caught on something.
And then the bombing was over. The factory was half destroyed. And we were out in the open. We could have escaped. It was February 1945, there was lots of commotion ... but I made my way back into the factory. I went because I was always more aggressive. He was reserved. It was an obligation that I decided I had.
It was dangerous ... We probably consulted ... you look this way, I'll look that way. For the next three months, I kept the chain on me ... in my hand, in my shoe, in a pocket. (Put ball of tape in pocket) Those months were ghastly.
Before the war ended ... May 8, 1945 ... we went on a two-week forced march, from Dresden to Theresiendstadt. After liberation, I guess my brother was in better physical shape than I, and he wanted to take revenge. He went out of the camp, into the villages, and he did a little bit of plundering. He came back with a can of sardines. I ate a bit, he ate a bit ... and we both came down with typhoid fever. My father died while we were ill. No one told us. The condition I was in, I was sick. I had no control. I knew I couldn't take care of the chain. He was stronger. So that chain, I put it around his neck,
(Pause) Yes, I remember. He was lying in a bed with white bed sheets. I put the chain around his neck and I said, in Yiddish, "You have it and you take care of it."
He wore it for a couple of years in England. Then, when we were in a hostel to prepare us for immigrating, he gave it to me. "You'll have better use for this than I will."
I was eighteen or nineteen. I accepted it, and I was very appreciative that he would do that. Maybe he was thinking, "Since you had it in the camps, for all that time, you were really responsible. You were the guy who rescued it."
I gave the chain to my wife. We're about to celebrate our 50th wedding anniversary. We gave it to our daughter when she was 18. She wears it all of the time.
Schindler, a congregant of Tifereth Israel Synagogue of San Diego, is a member of the New Life Club of Holocaust Survivors. This oral history was read into the "California State Record" on May 1, 2000 during the State Senate's Yom Hashoa observation as Resolution #153..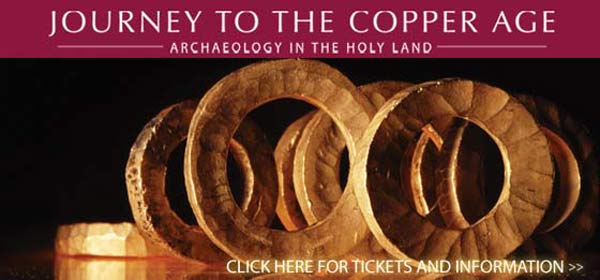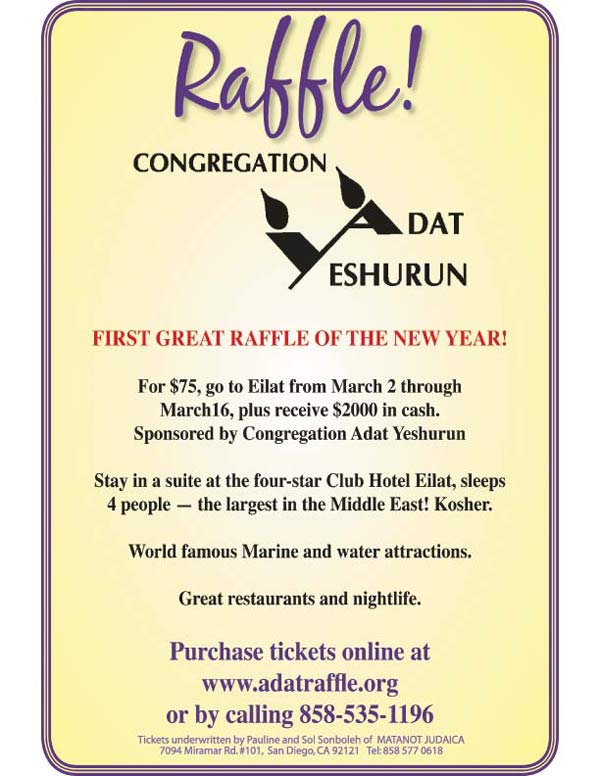 SAN DIEGO JEWISH WORLD THE WEEK IN REVIEW

FRIDAY-SATURDAY, NOVEMBER 23-24

Natasha Josefowitz, PhD in La Jolla, California: Why I chose a retirement community
Dov Burt Levy in Salem, Massachusetts: ADL actions in Armenian controversy suggest leadership delusions of grandeur
Lynne Thrope in San Diego: Jewish community turned out en masse for San Diego Bay Wine and Food Festivalwish community turned out en masse for San Diego Bay WLarry Zeiger in San Diego: Gay love bubbles among Mideast rivals

Shoshana Bryen in Washington, D.C.: Rice should be in Baghdad, not Annapolis
Rabbi Wayne Dosick in Carlsbad, California: 'Who by fire'—when the words of our liturgy crackle beyond our doorsteps
Donald H. Harrison in San Diego: Appreciating all our Rembrandts

Garry Fabian in Melbourne, Australia: * Orthodox dispute poll indicating most New South Wales Jews favor gay unions ... * Victorian Premier praises Jewish volunteerism ... *ZFA funding safe—at least for now ... * Journalists must make truth again the priority, Carl Bernstein tells Australian Jewish National Fund
Donald H. Harrison in San Diego: Eve was superior to Adam, biblical scholar Shalom Paul asserts
Judith Apter Klinghoffer in Cherry Hill, New Jersey: Now let us give thanks for Judith, a Jewish female prototype found in the Apocrypha
Ira Sharkansky in Jerusalem: The pros and cons of Annapolis
Isaac Yetiv in La Jolla, California: Mr. President, please cancel conference

TUESDAY, NOVEMBER 20
Donald H. Harrison in San Diego: Rabbi at interfaith service denounces tactics of Minutemen against migrants
J. Zel Lurie in Delray Beach, Florida: Calling Israel a 'Jewish state' a misnomer
Melanie Rubin in San Diego: Another Jewish license plate: 2Nudnix
Dan Schaffer in San Diego: Look! Look! Dick and Jane's new authors
practice a vicious brand of partisan politics
Isaac Yetiv in La Jolla, California: Three reasons for saying no to the Palestinian 'right of return' demand

MONDAY, NOVEMBER 19
Peter Garas in Canberra, Australia: Jewish knowledge and information on the web: can it be indexed for researchers?
Donald H. Harrison in San Diego: TV Phenomenon personality materializes at Soille San Diego Hebrew Day fundraiser
Joe Naiman in Lakeside, California: Is Ryan Braun baseball's first Jewish rookie of the year? It depends...
Sheila Orysiek in San Diego: 'What could not sustain them but the spirit of G-D and His grace?'



< BACK TO TOP