By Donald H. Harrison



SAN DIEGO—Melinda Bates says that when she was a brand new student at Georgetown University, she met a fellow freshman who would change her life. No, it was not her future husband. It was her country's future president, Bill Clinton.

The two became friends in college, stayed in touch after graduation, and she worked in his campaign office when he ran for president. Having previously handled VIPs for the National Gallery of Art, and special events for Macy's
Donald H. Harrison

Department Store, Bates was drafted by Clinton to serve as director of the White House Visitors Office.

Last Thursday night, Bates told a combined meeting of the Men's Club and Sisterhood of Tifereth Israel Synagogue that she not only had a front seat to history, but also, in a Guinness Book of Records sort of way, she had made history herself. She said her service from the beginning of Clinton's administration in January 1993 to its conclusion in January 2001 was the longest any single person has served in that post. And, yes, if former First Lady Hillary Clinton, now a U.S. senator, is elected president, she'd love to go back and serve on her staff.

Bates now lives in the Calafia resort area in the south of Rosarito Beach in Baja California, where Men's Club President Phil Snyder and wife Sharyl have a getaway condominium. Snyder persuaded Bates to share some of the stories which she currently is compiling into a book about her experiences.

She related numerous anecdotes from the lecturn, as Steve Ense, her boyfriend of some nine years standing, projected slides from Bates' White House years. Besides arranging for the morning public group tours of the White House, which she said were taken by 1.5 million people in Clinton's first year in office alone, Bates also conducted VIPs through the White House, typically before or after their meetings with the President.

Among the celebrities she mentioned were two who are Jewish, actor Mike Douglas and author and sex therapist Dr. Ruth Westheimer.

Douglas was fairly familiar with the White House, having visited it extensively prior to the production of The American President, a movie in which he portrayed a fictional president. When he returned on a visit, Bates suggested to him that there was perhaps one White House experience that might be new to him: lunch in the White House 'mess,' or staff dining room. He said he would be delighted to return to the White House to join her there a few hours later.

"So I escorted him out and ran to the phone, called the chief steward of the mess, and said, 'chief, I need two really big favors from you today: first a table for two on a day when I know you are severely booked and because my guest will be Michael Douglas, the second favor is, it can't just be any table in a corner somewhere, it has to be a table in front so everyone else will see that I am having lunch with Michael Douglas!"

The chief steward complied, and during lunch, one of the stewards brought to their table a telephone. Bates assumed it was for her, but no, it was Hillary Clinton and she was calling Douglas. Having heard from a staff member that he was in the dining room, the First Lady invited him to drop by the East Wing to meet her and her staff, which he did.

After meeting Westheimer at the White House, Bates was invited by the author to join her at the Jockey Club, which Bates described as "one of the snootiest, snobbiest places for social ladies to have lunch. It is not a place I spend a lot of time in. And they are so sophisticated at the Jockey Club that they never even turn around or bat an eye when a celebrity walks in, including in this case, Dr. Ruth."

"… And so there we were, in this very sophisticated place, and Dr. Ruth turned to me and said, 'So Melinda, I have a new book coming out: it is called Art of Arousal.' .. And when she said, Art of Arousal, I am telling you, every head in the room snapped around, and I was so surprised that no one got whiplash."

Westheimer has a high-pitched voice and the accent, modified over time, of her native Frankfurt, Germany, childhood refuge in Switzerland, and career in France and the United States. It is so distinctive that when Westheimer once left a message on Bates' answering machine at home, she kept it as a souvenir—"until my boyfriend, sitting here, erased it!" Steve grinned and pretended to hang his head.

One souvenir that Bates still possesse s may be a unique item: The program of the September 1993 peace treaty signing on the White House lawn between Israel's Prime Minister Yitzhak Rabin and Palestinian Liberation Organization Chairman Yasser Arafat, complete with a misspelling of the name "Israel," which Bates blamed on the State Department being in a rush.

"I was able to get on the cover the signatures of Prime Minister Rabin, Mrs. Rabin, Yasser Arafat, Bill Clinton and Hillary Clinton, and as far as I know it is the only one in existence to have all those signatures. It is a really special thing."

Bates noted that the Clintons were quite fond of the Rabins—some have said the former Israeli general was the father figure Clinton never had in his own life. "Part of my job was to coordinate the helicopter departures of the President, and I remember with great clarity the day the President and Hillary left to go to his (Rabin's) funeral. … These were two heart-broken people: they were just devastated by his death."

Harrison is editor and publisher of San Diego Jewish World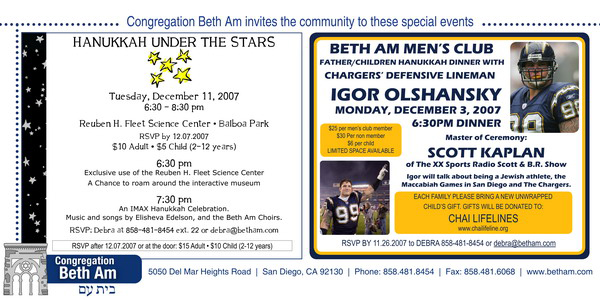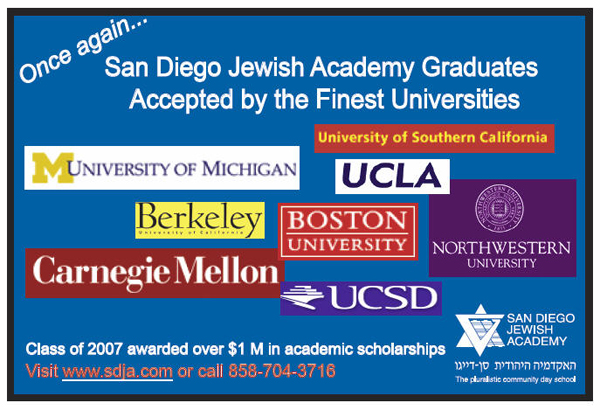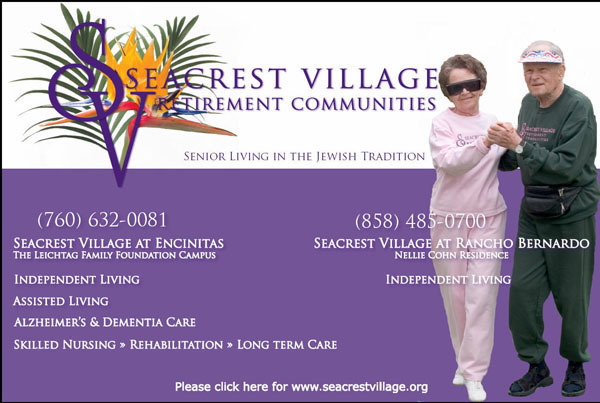 AMAZING STORIES OF JUDAISM

A Chanukah miracle in post-war Poland

By Rabbi Baruch Lederman

DVAR TORAH: Chanukah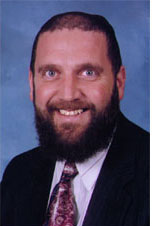 SAN DIEGO—When we light the menorah we instill the light of Yiddishkeit into the hearts of those outside and of those inside, as the following true story, heard from Yichel and Baila Lederman, illustrates:

The German Invasion of Poland began on September 1, 1939. Jews fled from the city of Warsaw searching desperately for safe haven. David and Sarah Abramowitz and their two
small children made their way to a forest trying to stay out of sight of the Nazi invaders. They eventually found an isolated spot to sleep for the night.

The next morning they were rudely awakened by a Polish farmer. "Halt trespassers," said the farmer, rifle in hand, "Do not move or I'll shoot."
Rabbi Baruch Lederman

The Abramowitzes were frozen with terror as the farmer approached. The farmer slowly walked closer and closer. "Wait," proclaimed the farmer, "You are Abramowitz the teacher
from Warsaw. I once attended a lecture of yours. I see you are running from Hitler. Leave the children with me. They will never make it."

"I cannot do that. My children are coming with me into the Russian interior."

"Take the boy, but the little girl will never survive. Leave her," insisted the farmer, still pointing his rifle.

"I will leave her," said David, "We will pick her up from you when we return."

"Of course," replied the farmer, "Now hurry and go."

David and Sarah tearfully caressed their daughter, "Be a good girl Chana'le. Tatty and Mommy will return for you when it is safe."

The now three Abramowitzes traveled into Russia where they eventually wound up in Siberia. The harsh freezing cold winters proved too much for Sarah and her son. After a time
they perished. Only David survived.

By December 1945, the war ended and David finally was able to return to Warsaw to retrieve his daughter and rebuild their shattered lives. The thought of her was the only thing
that kept him going. As he approached the farm, his mind was flooded with memories of Warsaw - both happy and sad.

He knocked on the door. The farmer answered and he blurted with excitement, "It is me, David Abramowitz. I have come back after six harrowing years to pick up my daughter
whom you took in your care."

"I don't know what you're talking about," said the farmer.

"What do you mean," shrieked David.

As the two men were arguing, a nine year old girl came to the door. "Father, who is this man," she said to the farmer.

"It is just some crazy man Hilda, don't pay any attention to him, "replied the farmer, "Go away stranger, don't bother us again."

Although she had changed, David clearly recognized 'Hilda' to be his daughter. "I am your father. Surely you remember me and your mother and brother!" cried David.

"I don't know you at all," she declared. "You are not my father, he is." she said pointing to the farmer, "Listen to him and go away."

David was at his wits' end. He knew the farmer was lying, but his beloved daughter was so young that she remembered nothing of her true past, and believed that the farmer was
her real father. David was about to lose his daughter forever. Losing her again would be too much to bear.

As he was being pushed away he called out to her, "Do you remember Chanukah in our house. Do you remember how I let you choose a candle and put it in the menorah?"

Something suddenly stirred within her as though David had struck a chord. She stood there churning for a few minutes. She finally exclaimed, "Yes! Yes! I chose the pretty pink one.
I remember! I remember!" Chana'le ran to David with outstretched arms, "Take me home for Chanukah Tatty. Take me home."

At this point the farmer had no choice but to relent. David held Chana'le tightly. She was truly his special Chanukah miracle.
Zina Schiff plays Bloch


Available through all Borders Books, Barnes & Noble in Encinitas, Escondido, Mira Mesa, Otay Town Center and via Amazon.com



A wonderfully cohesive program brilliantly executed ... Zina Schiff is a first rate violinist fully up to the music's tremendous technical challenges ... who can get inside the soul of Bloch's extravagantly expressive music

—James Leonard, All Music Guide


TORAH ON ONE FOOT


Vayeishev teaches thou shalt not have favorites among thy children


By Rabbi Leonard Rosenthal


SAN DIEGO—Jacob's life was filled pain and suffering. Because he had tricked Isaac into giving him Esau's blessing he had to flee from Eretz Yisrael to Haran. There he was tricked into marrying Leah instead of Rachel, and later in life was told his beloved son, Joseph, was killed by wild beasts.
Perhaps the greatest tragedy of Jacob's life was that he did not learn from his father, Isaac's, mistakes. We do not know much about Isaac's life. The Torah does not go in to detail and what we know about Isaac seems to be a repetition of his father, Abraham's, experiences. Isaac is a rather marginal character. Perhaps he lived a diminished life due to the trauma of being bound up for sacrifice, even though he was ultimately spared.

The one thing that does stand out about Isaac is that he favored his older son (by a few minutes!) Esau, over the younger son, Jacob: "When the boys grew up, Esau became a skillful hunter, a man of the outdoors; but Jacob was a mild man who stayed in camp. Isaac favored Esau because he had a taste for game; but Rebekah favored Jacob." (Gen. 24:28-29) Although the Torah does not inform us, we may well theorize that it was Isaac's favoritism of Esau which led Jacob to dress up as his brother and trick his father into giving him Esau's blessing.
One would think that Jacob learned from Isaac's mistake and that he would work extra hard not to repeat his error. Unfortunately he did not. Jacob also played favorites. He favored Rachel over Leah, and Joseph over his other sons: "Now Israel [Jacob] loved Joseph best of all his sons, for he was the child of his old age; and he made him an ornamented tunic." (Gen. 37:3)
The feelings of Joseph's brother towards him is no surprise: "And when his brothers saw that their father loved him more than any of his brothers, they hated him so that they could not speak a friendly word to him." (Gen. 37:4)
Rabbi Chama bar Guriyah said the name of Rav: "A parent should never make distinctions between his children. Because of the minor distinction in the material that Jacob used for Joseph's coat as opposed to his brothers' coats, they grew jealous of him. Their jealously led to hateful actions which led to our ancestors' enslavement in Egypt." (Babylonian Talmud, Shabbat 6)
Sibling rivalry is normal and inevitable in any family. Parents cannot prevent it, but they can be careful not to exacerbate it.
Rav taught that our enslavement in Egypt was a direct consequence of Jacob's favoring Joseph. Let us prevent similar tragedies in our own lives.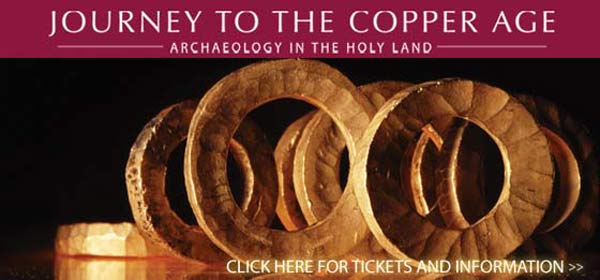 WHAT'S GOOD TO EAT IN SAN DIEGO

Chef Arturo Kassel to convert La Jolla Fresh to Whisknladle early next year

By Lynne Thrope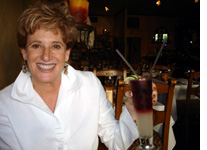 LA JOLLA, California—It's no surprise that in my leisure time, being the proud foodie that I am, that I read the profiles of today's prominent chefs, such as those about Daniel Boulud, Alain Ducasse, and Eric Ripert, to mention a mere famous few. What I have gleaned from them and others in their rank is that their love of food is an affair that began in early childhood. Food is native to their souls, you might say, the sustenance of their beings. And as a result of their prize-winning passions, their respective restaurants are run

Lynne Thrope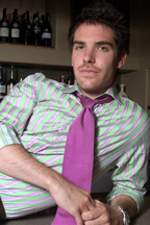 with perfection from food, to service, and ambiance. So it is with the young Arturo Kassel, owner of La Jolla's Fresh[er] Seafood Restaurant & Bar located at 1044 Wall St. That's the feeling he exudes when you talk to him about this restaurant that brought him back home. Today he's freshening up the place with a new name and menu.
This native son was weaned on the much envied produce grown in California's freshest farms. An alumnus of The Jewish Academy and the La Jolla Country Day School, Kassel set off to Manhattan to learn what he could from New York City's sophisticated culinary scene. With him was packed the knowledge of the farms that proved to open more than a few doors.

Before the age of 26, Kassel successfully managed four well-known New York City restaurant properties, Kittichai Restaurant, Ocean Grill, Blue Water Grill and Isabella's. What is most noticeably intoxicating about Kassel is his vision of what a restaurant should be. So, in keeping with that vision, he brought to Fresh[er] Seafood Restaurant Ryan Johnston to oversee the kitchen operations. This young and promising executive chef is a graduate of the prestigious Culinary Institute of America and a protégé of internationally renowned Chef Thomas Keller of The French Laundry and Per Se. Remember Johnston when he was the executive chef of Blackhorse Grille in Del Mar? What this La Jolla team has done in short order is to create a dining experience worth talking about and one to repeat multiple times.
But dine there before January 1 because that's when their doors are closing for remodeling. Whisknladle will be open for business in the middle of the first quarter 2008. To celebrate their success at Fresh[er], Arturo and Ryan will be throwing a New Year's Eve Dinner Gala to countdown their final meal served as Fresh[er]. A three course prix-fixe menu will be served along with a preview of Whisknladle's Signature Wine program. The entire wine collection will be retail priced. Guests will be invited to dance the night away to the stylistic jazz of the Joanna Royal Band.