Scholar-in-residence

● Rabbi Ari Kahn, director, Foreign Student Programs,
Bar Ilan University, Israel, Feb. 22-23

Presentations are free; kosher meals moderately priced

Call us for details at (619) 287-9890, Please reserve Shabbaton meals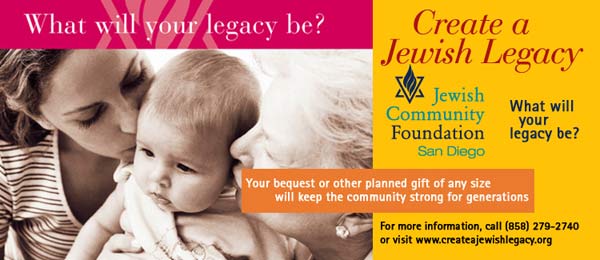 LETTER FROM JERUSALEM

Is terrorist's assassination worth price?

By Ira Sharkansky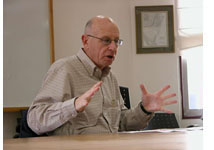 JERUSALEM—Who did it?
The issue is the assassination of Imad Mugniyah, a ranking operative of Hizbollah, and high on the wanted lists of Israel, the United States, and numerous other countries.
He was credited with the bombing of the Marine base in Beirut that killed more than 200 Americans, explosions in Israeli and Jewish facilities in Buenos Aires that killed more than 100, plus assorted plane hijackings and other abominations.
People like him do not surrender at the local police station. Someone went after him, close to the center of Syria's capital, and got him with a bomb placed in or under his car.
Initial Israeli responses were said to be denials. More recently the commentators have been reading closely the official statement. They now find ambiguities as well as coyness in the expressions of key ministers. Whoever did it, Hizbollah and Iranian sources say that Israel was responsible and will pay the price.
The price may be heavy. It is conventional to say that the bombings in Buenos Aires came in response to an earlier Israeli attack that killed a Hizbollah leader and his family.
It is no surprise that Israelis are already arguing if the most recent killing was worth the price that may have to be paid. Insofar as the price may come from overseas Jews, they should ponder the consequences even if their representatives were not let into whatever forum decided about this. It will not be pleasant if a community center in Minneapolis, a synagogue in Britain, or a senior citizens' residence in Miami Beach comes tumbling down on its clients. Those kinds of facilities are less likely to be protected than Israeli installations here or abroad, and morality is not a prominent trait of Hizbollah, Hamas, Iranian, or Syrian operatives.
The argument of its worth turns on the importance of the figure. Israelis, Americans, and others are saying that he was not well known to the general public, but had been a key figure in planning details that took hundreds of lives. That somebody got to him in central Damascus will also shake the prestige of Syrian authorities, and may lead other figures like him to spend more time protecting themselves and less time working on their plans to destroy others. Mugniyah's colleague Hassan Nasrallah will be addressing his funeral via a large video screen, and not risking his own presence on a public platform.
Advocates of peace will concern themselves with the cycle of violence. Whoever did this will add a significant push to that cycle, and almost certainly cause harm to Israelis and/or overseas Jews. That harm will make its own contribution to continued cycles. All this is sad, but seems inevitable if we take seriously the frequent proclamations of Iran, Hizbollah, Hamas, and others that Israel must be destroyed. I recall one cease fire that the Palestinians and Israelis declared as of 6 AM. The Israelis withdrew their tanks from Gaza, but the first rockets landed in Israel before 11 AM. As long as rhetoric of hatred and destruction continues at its present intensity, Israel (if it did this) has few alternatives other than persuading its enemies that violence has a price. Insofar as they glory in their images of death and destruction, a bomb may be the best way of communicating with them.
There is also pride in accomplishment. Numerous Israelis seem to believe that this was our work. Doing it in Damascus adds to the appeal. Does it make up for the killing of an aged physicist in Dimona, or the leg of the young boy from Sderot? It is not in the same league as the rescue from Entebbe, but it is something that we need every once in a while.
Sharkansky is professor emeritus of political science at Hebrew University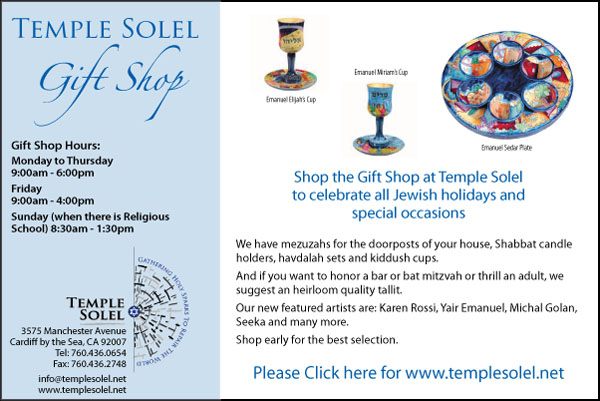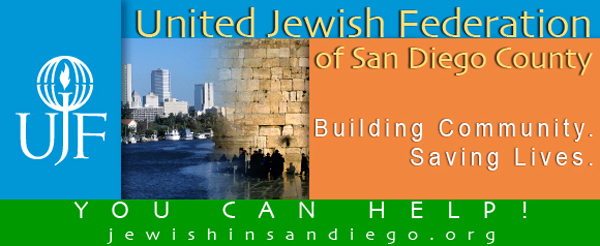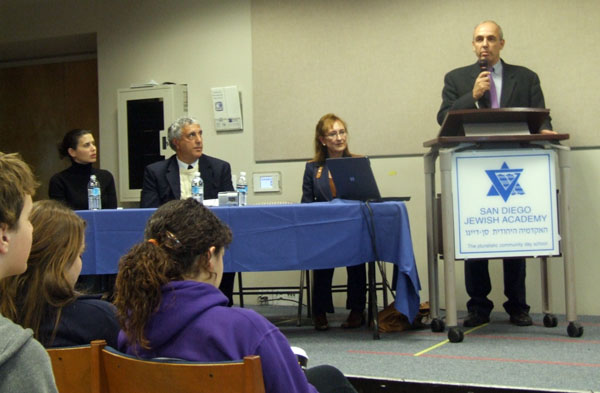 PEACE DISCUSSION—Yoni Peres, top photo, considers his next point during a discussion about the cooperative program sponsored by the San Diego-based Hansen Institute for World Peace and the Peres Peace Center in Israel during a forum at San Diego Jewish Academy as from left SDJA teachers Jill Quigley and Don Harrison and Hansen Institute executive director Bonnie Stewart listen. In bottom photo, from left, are student questioners Eitan Frysh, Ben Schenk, Charly Jaffe and Alexa Katz. Photos by Tibi Zohar


THE JEWISH CITIZEN

Son of Israel's president salutes SDSU's Middle East trust-building program

By Donald H. Harrison


SAN DIEGO—It can be good to have a "cover story" to advance the cause of international peace. But it is even better when such fabrications are unnecessary, two close observers of the Middle East Peace Process told students at San Diego Jewish Academy yesterday.

Speakers on a panel at the school yesterday were Dr. Yonatan "Yoni" Peres, a veterinarian who is the son of Israel's President Shimon Peres, and Dr. Bonnie Stewart, the executive director of the Hansen Institute for World Peace, a San Diego State University Research Foundation-based institution that partners with the Peres Peace Center in Israel to promote cooperative agricultural projects among Israelis and Arabs.

Peres related that his father was recruited by Israel's founding prime minister, David Ben-Gurion, to go to the United States during U.S. President Harry Truman's Administration. Ben-Gurion "wanted to send him over to the U.S. in order to help get weapons to Israel and create the aircraft industry," he said. "The cover story was that he was going to study... political science in New York, but actually the true story was at that time he was negotiating with the U.S. authorities for weapons—tanks and airplanes."

In a personal aside that delighted a full auditorium of SDJA students and faculty members, Peres added. "That was in 1950 to 1952 when he (Shimon) was in the U.S. (with his wife Sonia). I was actually 'manufactured' here in the U.S. but I was born in Israel." He quipped that he has his own personal label, "Made in the U.S."

Stewart, discussing Hansen Institute-sponsored meetings between Israelis and Arabs in Morocco—a country with which Israel still does not have full diplomatic relations—recalled that "when the Moroco project started in 1992, the Israelis who were participating and traveling to Morocco had to stop in France to get an identity card to say that they were born somewhere in Morocco. It was the only way to get them in. And a few years later, Israel started having tour groups (going to Morocco)!"

Stewart and Peres were questioned about the Middle East peace process for 20 minutes by a student panel consisting of Eitan Frysh, Alexa Katz, Charly Jaffe and Ben Schenk, and for nearly as long by students in the audience. I was privileged to co-moderate the discussion along with Jill Quigley, who heads the Judaic Studies Department at SDJA Maimonides Upper School.

Asked whether cooperative agricultural programs were fostering a peace of economic cooperation, or a peace of acceptance, Stewart responded that one can lead to the other. "When you build partnerships based on economics, you both have a vested interest in it," she said.

"I will give you an example of a meeting that we had in Jordan a few years ago: The Palestinians were sitting there and we had the head of the Israeli (Agricultural) Extension Service and he made an excellent presentation... I walked up at the break (to the Palestinians) and I said 'wasn't that great?' and they said 'yes, but they are not giving us all the information.' I said 'no, they are giving you all the information.' So I brought the head of the Israeli Extension over and I said 'they have some questions' and so he personally invited them to come to the research station and said he would take them all around the country and he gave them all of his materials.... I watched the change, from then and there. They never looked at Israelis the same way...

"Whatever the problem is," Stewart continued, "you meet, you talk, you go to a trade show together; you become friends. You begin to know the people at a different level. Economics... is apolitical for the most part. You are not focusing on the conflict. And gradually you realize that you have a friend sitting next to you."

The process of conciliation is neither one way nor confined to agriculture. Peres made clear. "I just met a few weeks ago with the mayor of the Regional council of Gilboa—the place where Jonathan and Saul (of the Bible) fell. In May they are going to have a festival where they are going to have arts and crafts and music and dance together with Israelis, Arab Israelis and Palestinians," he said.

"When you think about th Arab Israelis, it is also a big problem because sometimes they have identity crises. Are they Israelis? Are they Arabs? What are they? Sometimes I talk to them and they say, 'What do you think I feel when we sing Hatikvah (the Israeli National Anthem). You are talking about a Jewish nation, not an Israeli nation. How am I, as an Israeli Arab, supposed to feel? You talk about a Jewish nation; it is my nation as well, so how come the anthem talks about Jewish and not Israeli?' So you know it is a conflict that you have to bridge over. But again the way is to talk and talk and meet again and again and discuss it, and not to ignore it, and not to let the extremists take over..."

The speakers were surrounded by students in the lunch hour that followed their formal presentation. Peres told one that some people in Israel are now raising the question whether there should be discussions between Israeli government officials and Hamas, on the theory that to make peace one cannot talk only to friends, one must talk to enemies. Peres did not take a position on whether he favored such discussions.

Harrison is editor and publisher of San Diego Jewish World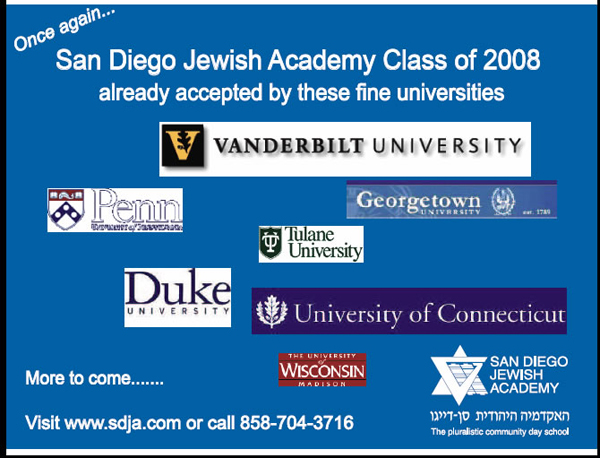 Treasure of our ancestors' remembrances

By Peter Garas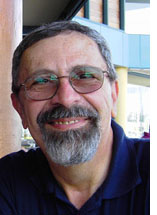 CANBERRA, Australia —Jewish families light candles to remember loved ones who have passed.

There are usually photos of those who have gone before and sometimes there are more extensive memories preserved not only in photo albums, but more recently on sound or video tapes and perhaps even on DVDs.

Once upon a time, when the technology and the money did not exist, it was traditional for teenagers to try and keep some memories of their developing years by creating and keeping a "Remembrance Book."

The tradition no doubt still continues and through things like "year books" and the like and by means of links though "facebook" or similar social web offerings, people can preserve the here and now for the future.

All of these records enable the reunification, years later, of people whose lives have transcended childhood and the high school years and now have taken root in adulthood.

They also enable us nostalgically to look back on the past when life seems to have been different and somewhat unbelievable.

For those who remember the "good old days" it's nostalgia. For their children and grandchildren - whether they realise it or not, they are priceless memories and a valuable contribution to their inheritance and their links with the past lives of their family members.

What is missing from much of this tradition these days, appears to be highly developed sense of creativity and personal handicraft that was evident in the past. These days there does not appear to be much need for creativity - after all the electronic cameras, etcetera, do all the work for us or do they?

Some precious documents that remain after the Holocaust can attest to happier times in the lives of those who went through that awful period.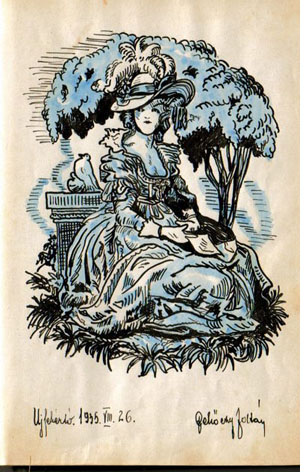 Instead of gathering dust in some obscure corner of a descendant's attic or on a shelf - it is now possible, with the advances in technology, to preserve these wonderful pieces of memorabilia, so that generations of descendants can also marvel at the creativity of their forbearers and at the same time speculate on what life might have been like in another time and in another place and all without waiting for those memories to crumble into dust.

Recently I wrote about finding joy in being able to assemble some of the pieces of the lives of some of my own ancestors and I admitted to being a closet genealogist.

I would like to introduce you dear readers to a few further excerpts from those investigations, from a time way back in the 1930's, where my mother's friends, in the town of Nyiregyháza, a rural town in the North East of Hungary, close to the current Ukrainian border, unaware of the horrors to come, were able to record their memories and through their skills leave behind them expressions of themselves and memorabilia for the future

In her "Remembrance Book" my mother did not keep pictures of herself or fellow students, nor a listing of academic achievements. What she has preserved, are a series of pages in and on which, those in her immediate circle were able to demonstrate their creativity and express their emotions.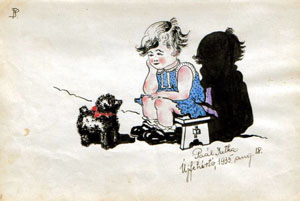 I hope that my readers will find the above two examples I have brought to attention as awe inspiring as I have found them and perhaps think of their own forebears, then ask whether, somewhere in the attic or somewhere lost on a shelf, there are similar memorabilia that these days, can not only be once again brought into the light of day, but displayed more usefully in either open or closed galleries on the Internet for the benefit of their entire extended family.

These days we have so many things to occupy us that there does not appear time to reflect and to develop the skills that are shown by some of the people in the lives of those who came before us.
Garas is a freelance writer and commentator based in Australia's capital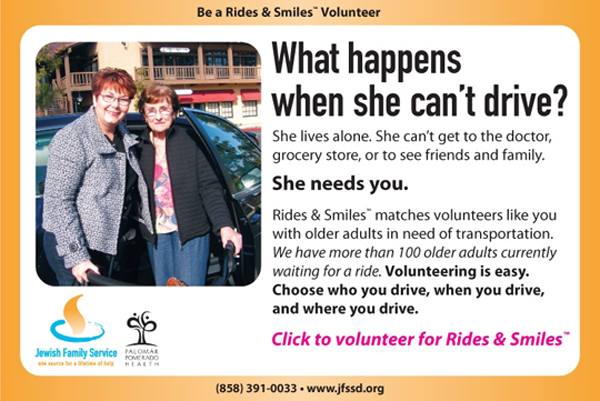 We Jews should 'accentuate the positive'

By Dov Burt Levy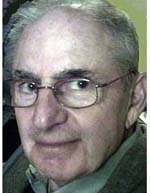 SALEM, Massachusetts— Why, if the Jewish community is doing so well in America, do we seem to accent the negative, the lurking anti-Semitism, the fear of the future?
First, what do I mean by doing so well?
Some great evidence could be seen in the recent PBS's six-hour documentary, "The Jewish Americans" about the history of Jews in America. The thesis: Jews, a historically persecuted minority, struggled successfully over 350 years for full integration as Americans, while maintaining their Jewish identity.
Five million Jews live in America, less than two percent of the population. Yet, the 435 member House of Representatives has 30 Jews. Of 100 United States Senators, 13 are Jewish, as are two of the nine Supreme Court Justices.
We all know the names of many individual Jews occupying important positions, making remarkable contributions, as college presidents, government officials, business honchos, and acknowledged heroes in medicine, science, literature and the arts.
We also know that rich and famous Jews constitute far less than one-quarter of one percent of the Jewish American population. The rest are working people. Butchers, teachers, social workers, computer geeks, small business owners, painters and plumbers, doctors and dentists, are really just plain old-fashioned working people.
Yes, Jews suffer along with all Americans from the Iraq War, the current economic fiasco and all the rest. But we no longer endure blatant discrimination in education, employment and housing.
Since the end of World War II, major shifts in government, economic and social practices have produced advancement opportunities for every American and opened up for Jewish Americans an even-playing field in areas of former discrimination.
Joseph Aaron, editor of the Chicago Jewish News, checked every name in Vanity Fair's October 2007 article, "The New Establishment" and turned the raw data into a great column with important implications. (www.chicagojewishnews.com) Among his data were 51 Jews in the magazine's listing of the 100 most famous and influential Americans.
That is an incredible statistic when seen in print but not a complete surprise. Didn't we all know this stuff before Vanity Fair? Just read the annual Forbes listing of the wealthiest Americans to find that far more than two percent are Jewish.
Aaron concluded with significant criticism of the lingering negativity in the Jewish American mindset: "We are such a part of this society, have such impact on this society and yet we're always unhappy, always feel victimized, always kvetch about this and that. It's always another Holocaust around the corner, there's always the next Hitler on the scene, Israel is always embattled, we're always worried, always scared, always sure the end is near. Well, who the hell wants to join that little party?"
Two important parts of the Jewish community have been turned off by our pessimism, not fully joining the party, according to Aaron.
First, there are the secular young Jews who don't relate to, understand or wish to identify with the old, woeful script.
Second, the wealthiest Jews, generous contributors to hospitals, universities, museums and the arts, but who are contributing much less, in many cases not at all, to Jewish institutions.
The mindset of woe and victimization exists but it is only one part, although a powerful part, of the Jewish mantra. It springs from my own generation's (the Medicare Bunch) unchanging memory, mirrored in programs and writings of many national Jewish organizations, abetted by many Jewish newspapers and columnists (sometimes including me).
Check the programs and press releases of the ADL, ZOA, and AIPAC over the past 50 years. So many enemies, so much gloom. Not much change over half a century or, at least, not enough.
The positive side of the Jewish psyche is all around, on the national level in organizations like Hadassah and ORT.
On the local level, Jewish community centers are happy places for uplifting education, childcare, fitness and other programs. No dismal people there.
Synagogues and temples are joyously filled with prayer, good deeds, and efforts to help the community.
The point is that the Jewish community is basically healthy and yet we seem to be obsessing over illness. To quote that old Johnny Mercer ditty, we should "Accentuate the positive, eliminate the negative..."
OK, I will agree to keep just a tiny bit of pessimism. Just in case.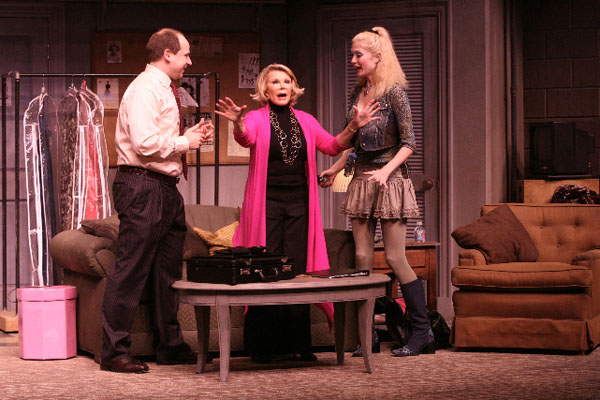 NOW PLAYING—Adam Kulbersh, Joan Rivers, and Emily Kosloski in Joan Rivers A Work in Progress by a Life in Progress


L.A. BEAT


'Joan Rivers' describes her play, and for that matter herself, 'a work in progress.'

By Cynthia Citron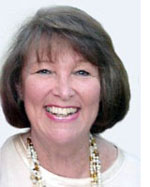 LOS ANGELES---At 74, Joan Rivers, the Queen of Kvetch, is still rude, crude---and funny as hell. She brings her story, and her shtick, to the Geffen Playhouse in Westwood Village this week in the world premiere of a play she calls Joan Rivers A Work in Progress by a Life in Progress.

Written by Rivers, Douglas Bernstein, and Denis Markell, the seven-person autobiography is set in a backstage dressing room as Rivers prepares to interview stars on the red carpet on a major awards night. She is joined in her dressing room by a gigantic Russian makeup woman and an angst-ridden producer, both of whom are new to her and substituting for her regular long-time assistants, who are now attending to her daughter Melissa in the "star" dressing room. Plus, "they" didn't send a car to pick her up, and when she arrived at the theater the guards wouldn't let her in because they didn't recognize her without her makeup. And so the kvetching begins.

Oddly, as one comic disaster follows another, she mellows out. As her assistants become more frantic, she quits insulting them and becomes a soothing mother figure. Or, at least, a mother figure with a more subtle forked tongue.
Meanwhile, the play proceeds on another track, as the stage darkens and she steps into a spotlight to tell the audience poignant stories from her life. In a dramatic monologue she talks about the emotional decline of her husband Edgar, and of his eventual suicide. And she talks about the aftermath, when nobody would hire her because "who wants to laugh at a woman whose husband has just committed suicide?"
She also tells "her side" of the Johnny Carson story. Because he considered her his protégé, Carson considered it a betrayal when she left to host her own show on Fox Television, and after that he never spoke to her again. She tells of her many unsuccessful attempts to contact him, and the bitterness and pain she still feels is very apparent.
She talks frankly about her efforts to reestablish her career (and her life) after the failure of her Fox show, her husband's death, and the subsequent alienation of her daughter Melissa. She started all over again, she says, playing every gig she could get, from grungy clubs to supermarket openings to funerals. And finally, "the job that nobody else wanted": interviewing stars on the red carpet. It was her way back into the spotlight, triggered by the line that became her byword: "Who are you wearing?"
These melancholy monologues are something of a digression, however, as the pseudo-play proceeds through some of her famously bitchy one-liners, a reprise of the first show she ever did, and the jibes she directs at the hapless makeup woman and the panicky producer.
And, of course, no Joan Rivers appearance would be complete without her observations on being Jewish, being fat, plastic surgery (she claims her grandson calls her "Nanny Newface"), sex, the ravages of age, and sagging body parts. In direct contradiction to her derisive commentary, however, is her own amazing surgically enhanced form. She displays a curvy, size 1 figure, a tightly lifted face, and an agility that is astonishing. She also bounces around on a killer pair of spiked heels.

Joan Rivers A Work in Progress by a Life in Progress is directed by Bart DeLorenzo, and features Emily Kosloski, Tara Joyce, Adam Kulbersh, Dorie Barton, Leo Marks, and Melissa Rivers. The rather tacky dressing room set was designed by Tom Buderwitz, and the costumes ("who are you wearing?") were designed by Christina Haatainen Jones.
Joan Rivers and her cohorts will perform at the Geffen Playhouse, 10886 LeConte Avenue, in Westwood, Tuesdays through Sundays until March 30. Call (310) 208-5454 for reservations, or go online to www.geffenplayhouse.com.
Citron is Los Angeles bureau chief of San Diego Jewish World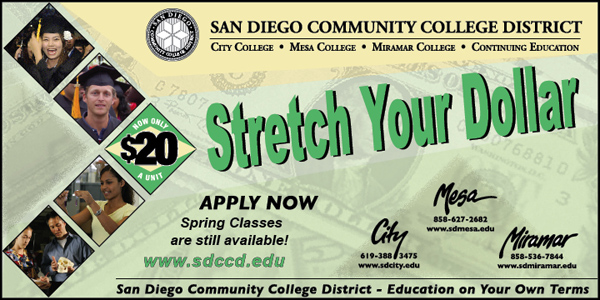 JEWISH GREEN

The Morning After: What should be done with all those Valentine greeting cards?

Editor's Note: Valentine's Day is hardly a Jewish holiday, but can we help it if people find us adorable and send us cards? Our environmental writer suggests some ways we can relieve the global warming guilt!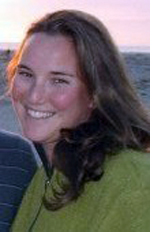 SAN DIEGO—The morning after is always the awkward part. Here you are, back to your normal every day routine. No more flowers and chocolates, no more romantic dinners, no more grandiose romantic gestures. Life has continued on as normal. Except for the cards. Life has gone on, but now you're left with a pile of Valentine's Day cards, many of which only have "Love, Name" written on them. What are you supposed to do with them? For the pack rats like me, you'll tie them up and put them in a box. After all, you may need them one day!

For the non-pack rats, you'll keep them for a week or so, and then you'll throw them out. A select few will recycle them, but most will end up in the trash can. The environmentalist within is cringing just from the thought. All that paper! All those beautiful trees! It's giving me shivers. So here's my contribution to Valentine's Day 2008. Mother nature, this valentine is for you. I present to you… the top five ways to re-use your Valentine's Day cards!

1. Desk Decoupage – You all have that old piece of furniture, that old wooden desk or table lying around. There's never been a better time to spice it up. Grab a couple of bucks and run over to your nearest Michael's or Wal-Mart and pick up some decoupage glue and a paint brush. Cut out your favorite parts of your cards, it can be the cover, the message, the little flower on the back, whatever your little heart desires. Cover the rough surface of the wood with some glue, place the card pieces on top, and cover again with another layer of glue to gloss the surface. Let dry, and voila! You have transformed that old piece of furniture into a contemporary expression of personality.

2. Wallpaper – One of my favorite memories growing up was of our bathroom. My mother got an urge one day to wallpaper our bathroom in National Geographic covers. It was the best room of the house! I would spend hours in the bathroom, just looking at the pictures. Why not do the same with card covers? Pick your favorite ones and cover a wall in your bathroom, laundry room, office, even bedroom. The wall will become a symbol of all the people that care about you. What better way to decorate your house?

3. Thank you cards – Many of you are going to send out thank you cards one of these days. Even if not for Valentine's Day, there are always birthdays and Hanukkah. Why spend money on more cards? Cut out two of your favorite card covers. Match the white sides together, so the pictures are facing out. Punch two equal holes in each card, and thread a piece of yarn or ribbon through each hole to fasten the two covers together. Piece of cake! You now have a new card.

4. Placemats – Tape your favorite card covers together into a decent placemat size. Bring the creation over to Kinko's to be laminated. You now have a placemat to use for next year's Valentine's Day dinner, not to mention a great reminder of all the people who love you! You can even put the pictures on one side and the messages on the other, so all you have to do is flip over the placemat and receive constant reminders.

5. Litter-Box Liner – This one is for all you animal lovers out there. Why use newspaper when you can use cards? You can even tape the cards together to make for easier cleanup. Share some of the Valentine's Day wealth with your pet. They need to know they are loved also!
So there you go folks. Five easy ways to re-use your Valentine's Day cards. When in doubt, or a time crunch, you can always recycle or save paper completely by using e-cards. Share some of that Valentine's Day loving with Mother Nature!

Palin is a freelance writer and environmentalist based in San Diego




.





SAN DIEGO JEWISH WORLD THE WEEK IN REVIEW

Thursday, February 14, 2008 (Vol. 2, No. 39)

Judy Lash Balint in Jerusalem: Terrorist feels victims' pain in last moment
Shoshana Bryen in Washington, D.C.:The avenger, the minion and the protector
Donald H. Harrison in San Diego: Youth, not a time of life; a state of mind
Sheila Orysiek in San Diego: It was no ordinary walk

Wednesday, February 13, 2008 (Vol. 2, No. 38)

Rabbi Michael Berk in La Jolla, California: What kind of plague is darkness?
Carol Davis in Coronado, California: This 'Dolly' is bound to improve with age
Peter Garas in Canberra, Australia: Writer has 'out of this world' name
Donald H. Harrison in San Diego: Aviva, what part of you would you sell?


Congressman Bob Filner in Washington, D.C.: The nation mourns death of Congressman Tom Lantos, a champion of human rights
Donald H. Harrison in San Diego: A Love to Hide refers to two relationships
J. Zel Lurie in Delray Beach, Florida: Hillary Clinton will be our next President
Ira Sharkansky in Jerusalem: Most Israelis favor strong retaliation against Gaza for rocket attacks


Monday, February 11, 2008 (Vol. 2, No. 36)

Peter Garas in Canberra, Australia: Human Rights Watch targets Israel's power cutoff to Gaza, but ignores actions by others
Donald H. Harrison in San Diego: An imaginative Israel trip for preschoolers
Sheila Orysiek in San Diego: Civil Rights Act of 1964 - Forgotten Facts
Plus: Our Australia bureau chief, Garry Fabian tells, story of his childhood in Theresienstadt, immigration to Australia

Sunday, February 10, 2008 (Vol. 2, No. 35)

Shoshana Bryen in Washington, D.C. : Gaza crisis threatens Mubarek's rule
Donald H. Harrison in San Diego: Paying attention to Paying for Justice
Rabbi Baruch Lederman in San Diego: A Shmitah miracle in a banana orchard
Sheila Orysiek in San Diego: A letter to Margot—19 years wasn't enough
Rabbi Leonard Rosenthal in San Diego: The more you study, the more to learn
Lynne Thrope in Encinitas, California: The buzz about Firefly Grill & Wine Bar



< BACK TO TOP

Copyright 2008 - San Diego Jewish World, San Diego, California. All rights reserved.