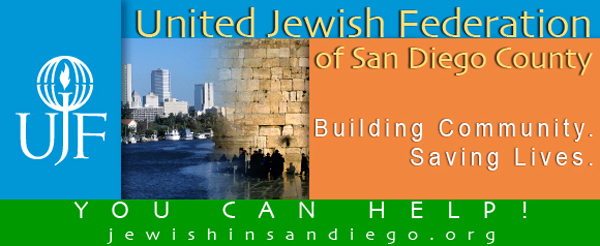 Please click on the ad above to visit the United Jewish Federation website and learn how UJF helps Jews at home, in Israel and all over the world.






Murray Galinson succeeds Sheila Potiker as Jewish Community Foundation chair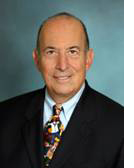 SAN DIEGO (Press Release)-Community leader and philanthropist Murray Galinson (shown at left) assumed the chairmanship of the Foundation in July, succeeding Sheila Potiker, who served with distinction for two years. "The Foundation brings together a community of givers to address a myriad of needs and wield significant philanthropic impact," stated Galinson. "I am honored to take on the leadership of this important community organization that does so much good."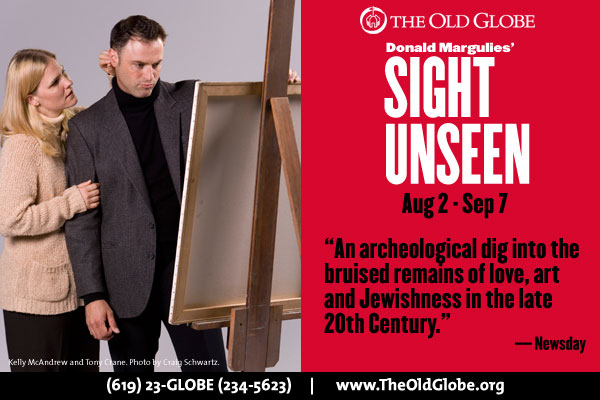 Please lick on the ad above for details of this and other productions of the Old Globe Theatre
in Balboa Park





FRIDAY, AUGUST 8 Temple Adat Shalom~Prospective Member Shabbat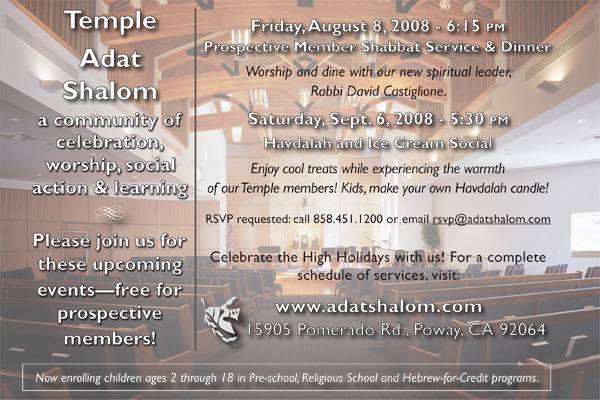 Temple Adat Shalom announces open registration of
award-winning Hebrew-for-high-school-credit program

POWAY, California (Press Release)—Enrollment is underway for Temple Adat Shalom's Hebrew for Credit Program. Students in the San Diego Unified, Poway Unified, Ramona and San Dieguito school districts can take Hebrew at the Temple to fulfill their public high school language requirements for the 2008-2009 school year. According to Susan Cohn, Education Director, the Hebrew for Credit class is open to students in grades 9 – 12. "Classes are taught entirely in Hebrew," says Cohn, "and we limit the size to 12 students." Classes meet on Tuesday and Thursday from 5:15 – 7:30 p.m. Students learn to speak, read, write and understand modern spoken Hebrew and prepare to take the SAT II Modern Hebrew exam. This program offers the option of studying four years of university level language and fulfilling their high school requirements.
Hebrew is both an ancient and a modern language. Cultural components of the course include understanding Biblical history, learning about the culture of the Middle East, and exploring current affairs. Projects, films, special programs and other audiovisual experiences are part of the course, which is UC approved.Cohn adds, "All Hebrew for Credit teachers are native Hebrew speakers who are experienced in teaching American students." There is a fee for the program; Cohn notes that a limited number of scholarships are available.






FRIDAY, SEPTEMBER 12, 2008 Temple Solel S'more Shabbat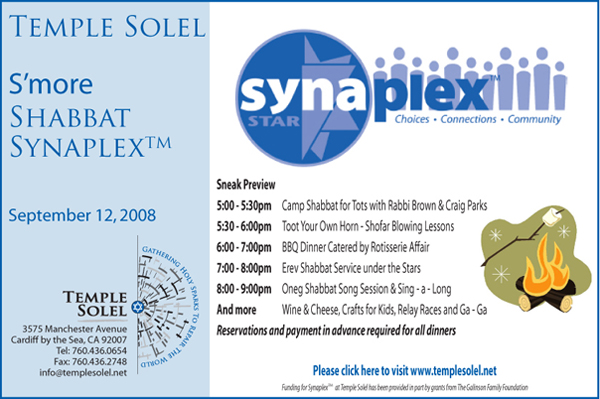 ___________________________________________________________________


MON., SEPT. 29-THURS., OCT. 9 Congregation Beth Israel High Holiday Services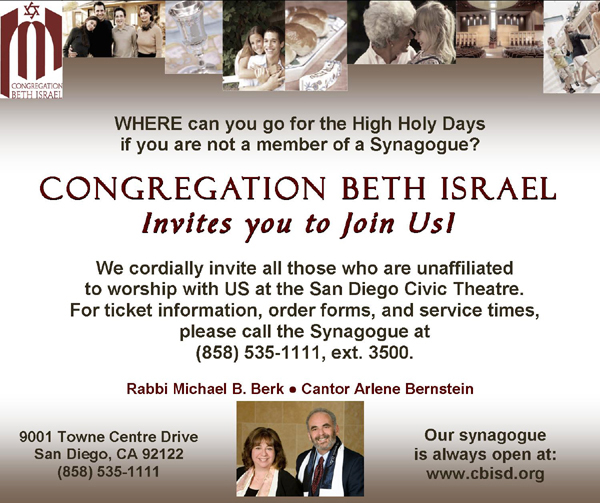 Please click above to visit Congregation Beth Israel's website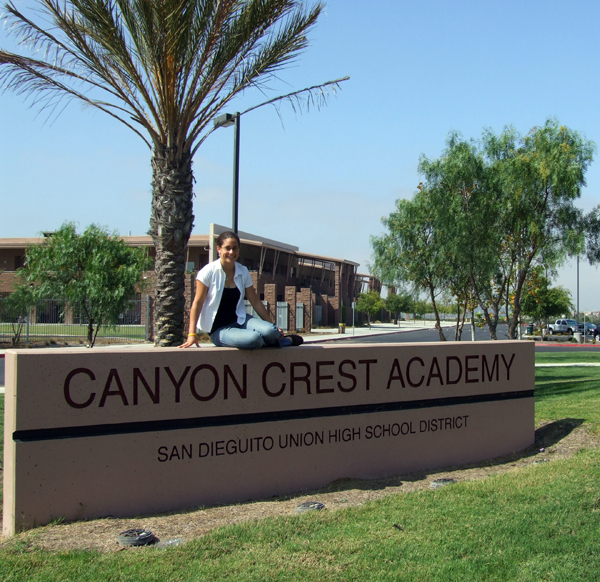 THE JEWISH CITIZEN
Abramson is helping to preserve the earth one diatom and polar bear at a time
SAN DIEGO—Ronit Abramson is establishing a reputation in the scientific community as a knowledgeable researcher and speaker about various kinds of life forms, ranging from the smallest unicellular diatoms to polar bears, the largest predators on land.
Recently, in recognition of her accomplishments—and the seemingly unlimited future ahead of her—the San Diegan was awarded a $36,000 cash prize as a winner of the 2008 Diller Teen Tikkun Olam Award funded by the Helen Diller Family Foundation through the a fund of the Jewish Community Federation of San Francisco, the Peninsula, Marin and Sonoma Counties.
Yes, "teen," is part of the title award. Abramson, 17, will be entering her senior year at Canyon Crest Academy in the Carmel Valley area of San Diego.
In citing why she was among five teens chosen from throughout California for a scholarship, the Diller Family Foundation spoke of two milestones in Abramson's career as a researcher. One was her trail-blazing Science Fair project that helped create a way of measuring how much pharmaceutical residue is working its way into our fresh water system. The other was her work as an "Arctic Ambassador" for the San Diego Zoo, explaining to audiences of many ages how global warming is affecting the polar bear population in Churchill, Manitoba—"The Polar Bear Capital of the World"—a few degrees below the Arctic Circle.
I had the opportunity to interview Abramson on Thursday, July 31, in a conference room of Canyon Crest Academy, where she plans to donate a portion of her winnings to create a grant program to help other students obtain the supplies they might need for science projects.
"That is how I started out," she explained. "I used a microscope from the school and some of their giant bins and did a project in my back yard, and it has taken me so far."
Additionally, she said, she wants to help sponsor a student this summer to spend a week in Churchill, with the polar bears, "because that was such a life-changing experience for me."
Is she going to give away all the money, or will perhaps some go toward her college education?
"Yes, I think some of it will go toward my college education," she responded. "My parents (Joel and Dr. Carole Roth-Abramson) would be a little disappointed if I didn't at least contribute to my education, because that will be a great foundation for me to do lots more in my life."
She's not sure to what college she will go; she has visited Dartmouth and Brown, but says that UC Davis with its environmental studies programs is perhaps the most intriguing. Ever practical, she also notes that it has the advantage of "in-state tuition."
Our interview could not have been done next week because that is when the Abramson family—who are active congregants at Congregation Shir Ami in Encinitas--will supervise the swimming programs of the JCC Maccabi Games that will see thousands of teens from the United States, Mexico and Israel compete in a variety of sports. Ronit is a former Maccabi swimmer herself, continuing to specialize both in school and club competitions in the butterfly stroke, in medleys and as an individual event.
Her love of water, she told me, probably is what got her involved in her scientific research in the first place. She said the teachings of her Conservative congregation's spiritual leader, Rabbi Mel Libman, about the necessity for humanity to be good stewards of the globe, and to participate in tikkun olam (healing the world) undergirded her determination to make a positive contribution.
"I am a swimmer," she said. "I live in the ocean. I love to surf, go to the beach, so water quality has always been important to me and pharmaceutical runoff was an issue that had really not been addressed (in 2006, when she submitted her first study of the phenomenon)."
In a nutshell, the problem is as follows: the drugs that we take pass through our bodies and wind up in our water system, including our drinking water. The chemical compounds are so tiny, they cannot be kept within sewage systems, but instead seep into streams and aquifers. As a tenth grader, Abramson decided to study the effect of Tylenol on diatoms—which she describes as a "kind of unicellular algae; they are basically the gold-brown gunky stuff that you find on rocks."
She created an outdoor laboratory in her back yard, growing diatoms in those big tubs she borrowed from the school. Then she introduced to these mini-ecosystems some Tylenol, and observed the effects the common medicine had on the simple organisms. "The most obvious physical change is this stuff (Tylenol's main ingredient is acetaminophen) discolors the water, which causes changes in the photosynthesis and the general production of the ecosystem," she said. Meanwhile, she observed that some kinds of diatoms were able to survive the introduction of Tylenol to their environments, but other diatoms perished.
In the eleventh grade, Abramson's project became more sophisticated, measuring the impact of three common antibiotics that pass through the bodies of humans—and in some cases through the bodies of animals—into the water sources. These antibiotics were ampicillin, tetracycline and kanamycin.
As with the Tylenol, she said, a large percentage of the pharmaceuticals is "excreted unchanged" by the body. Compounding the danger, she said, is that tetracycline is a drug often used in veterinary applications, and animals "excrete it and we use their manure to fertilize our fields, and how easy it is for rain runoff to wash right into the streams."
Abramson said as diatoms are at the bottom of the food chain, the changes caused by medicines getting into the water supply can be magnified through higher life forms. Typically the diatoms are eaten by small invertebrates like bottom-dwelling crabs, which in turn may be eaten by larger forms of animal life.
Abramson said her research helped develop a methodology, using diatoms, to determine whether or not the pharmaceuticals are present in the water supply. Since that time, she said, the subject has received attention from such federal agencies at the United States Geological Survey (USGS) and the Environmental Protection Agency.
The Canyon Crest Academy student believes that pharmaceutical companies must be required to develop drugs that are totally absorbed by patients, rather than ones in which as much as 90 percent of the active medicine is excreted. She said whereas government agencies require pharmaceutical companies to analyze the effect of drugs while they are within the human body, no research has yet been required by the companies to detail the drugs' cumulative impact on the environment after they have been passed through bodies. "It's as if it's someone else's problem, not theirs," she said.
While doing her 11th grade project, Abramson worked as a researcher at Scripps Institute of Oceanography, enabling her to draw upon more sophisticated laboratory equipment than had been available through Canyon Crest Academy.
Her Science Fair project won eight special awards from such institutions as the San Diego Museum of Natural History, the San Diego Zoo and the City of San Diego's Environmental Services Department.
As groundbreaking as her project may have been, Abramson said that her passion for the subject may have propelled her in the Science Fair past equally creative and scientifically original competitors.
"I really think in the Science Fair (held every April) the most important thing is to know your stuff and to present it confidently," she explained. "I beat out some amazing projects; they did great research, but it is all about communicating it, because unless the judges understand what you are saying they are not going to appreciate all the work that you put into it."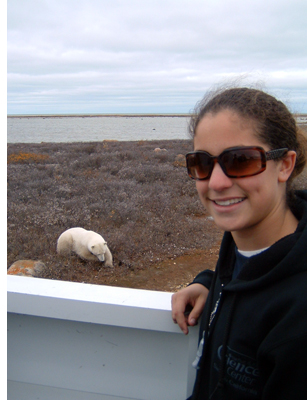 She said she believes that her ability to explain science so a layman can understand it was a factor in her selection to be the San Diego Zoo's "Arctic Ambassador." Under this program, the Zoo pays for the flights and Polar Bears International pays for the living arrangements for students from the United States, Canada, Denmark and Australia to study the polar bears under the guidance of internationally renowned scientists and naturalists, then to return home and tell audiences about their experiences.
The students and scientists rode on trucks that had beds 10 feet above the ground, higher than a polar bear could reach while standing on its hind legs. Thus the students were able to observe the polar bears up close, yet still be a safe distance from the predators.
Among the students were "animal lovers who were completely passionate about the polar bears themselves; people like me who were more on the science-y side, and people who are more involved in the political side of it, and it is really this combination of passions that made it such an effective group and such an amazing experience," Abramson said.
She postulated that a polar bear is a great representative for promoting understanding of the problem of climate change: "It is a huge animal, it is something that you can relate to and, if you see the face of a polar bear, there is this connection between mammals—between humans and bears—so it really is an effective way to connect people to the problem," she said.
"Because this is the largest land predator—the top of the food chain in the Arctic—they are being affected the most," Abramson said. As global warming causes the ice to retreat, the polar bears have less of a platform from which to conduct their hunting for seals, a primary food source.
Typically, a polar bear will only eat for two months and then fast for ten months, according to Abramson. If they are unable to store enough food in their bodies during those two months, it can result in weight loss for the polar bears. In the case of the females, this has caused fewer cubs to be produced in litters—instead of having three babies per pregnancy; mother polar bears are having only one or two. This means that over time the population is diminishing.
The high school student is familiar with the argument that global warming is cyclical, that it occurred before humans ever came on the scene, and that what is occurring now may simply be a repeat of a natural process. Even if that's the case, she said, "we are exacerbating the problem. The earth would be able to better manage it if there weren't so much production of greenhouse gasses, so much deforestation, so much development of land. We are just hitting her (Mother Earth) too many times and in too many places."
As a result of her studies and travels, Abramson has made changes in her own life style. She doesn't use plastic water bottles anymore, explaining "if you think of how many plastic water bottles we go through, and even if you recycle them—and they say that less than 10 percent are recycled, more like 3 percent actually –recycling requires so much energy … and it requires gallons of water. There are so many things that we can do that are small and yet are magnified so hugely when you consider the entire nation, the entire city, the entire world."
Does she take Tylenol? "Not nearly as much as I used to," she responds. "I am very concerned… and so even when I have a terrible headache, it makes me think about it, and that is really important. Consumer demand is what will make these pharmaceutical companies make these drugs more effectively used in the body."
Like many older Americans, I take medicine to control my cholesterol and blood pressure. Should I worry about that which passes through my body and eventually into the water system?
"The issue," she replies, "is ethically we can't deny people their medications; it is such an improvement in standard of living. I definitely am not advocating that you don't take medications. What I am advocating is that we go back to the source and figure out how to chemically make these drugs more effective."
She does believe that local pharmacies should have collection days for unused or outdated medicines so that they can be recycled by the pharmaceutical companies. She said whereas people once were urged to flush unused medicines down the toilet, as a way to keep them out of the mouths of infants or animals, recycling is a more environmentally-friendly, enlightened approach.
Has she made any other life style changes?
"I have actually switched swim teams," she responded. "I now swim at one that is right around the corner from my house so that I can bike to it. I also bike to school every day, although I was already doing that before I went to the Arctic.
"We just need to make it understood that you should make the least environmental impact as possible," she added. "There needs to be societal change, and even just talking about these issues can be very important."
A recent study at UC Santa Barbara concluded that "America needs to learn from tolerant Israel regarding homosexual soldiers, officers; you can be a very brave, creative officer and be gay at the same time," a former IDF was quoted as saying. And according to a Florida newspaper, the St. Petersburg Times, a brigadier general from this country saw the studies and said that Israelis show a great tolerance for homosexual soldiers.
Was it always this way? Not at all. It wasn't until 1983 that the IDF permitted gays to serve but banned them from intelligence and top-secret positions. The Knesset overturned that in 1993. That same year the US Congress implemented its infamous "don't ask, don't tell policy." This debate goes on and on and everyone asked has an opinion.
During WWII there was no policy regarding gays in the military. In fact with both the Germans and the Japanese threatening to destroy the world, there were more important issues to fight about. That doesn't mean however, that gays got a 'get out of jail free pass' in the military by any stretch of the imagination. You just stayed in the closet, or if caught in the act, went to the brig. For reasons we won't explore in this review, if you were known to be gay, you were thought of as a security risk among other things.
In their new musical, Yank! A New Musical by David Zellnik (book and lyrics) and brother Joseph Zellnik (music) the two creators honor those young men and women who served bravely in the Armed Services during WWII under the most adverse conditions, not just because of the war, but also because of what their 'buddies' might learn about them. Many died along side their comrades.
But the musical Yank! isn't just about gays in the military. It is about the military mentality, the bonds of friendship and the obstacles faced by two young men, Stu and Mitch (Tom Zohar and Tom Doyle) who are sent to the Pacific to fight the 'Japs', but find fighting off the attraction they felt toward each other and keeping it a secret was more difficult within the confines of boot camp and beyond than facing the enemy.
It's a bitter sweet valentine to those who took risks and those who put them at risk and it's all pretty much done in song and dance. On the official Yank! site it refers to the musical as a love song to Hollywood's "It takes one of every kind" platoon flicks and to 1940's Broadway. It pays tribute to the era of the big band sounds, swing and boogie-woogie. At Diversionary under Igor Goldin's direction and with the recreation of Jeffry Denman's original choreography Yank! has hit written all over it. It's easy to understand why.
Yank! A New Musical has a couple of firsts going for it as well. It's the first show of the 2008/'09 season, it's the first full-fledged musical production Diversionary Theatre on Park Boulevard. has staged and it is making its West Coast premiere here through Aug. 17. In June 2005 Yank! was at the New York Musical Theatre Festival where it had a completely sold-out run and won an audience award for Best Musical. Finally, the New York creative team chose Diversionary for their first regional production.
Yank Magazine was the name of a popular publicaiton during the war, staffed entirely by enlisted military and intended for the enlisted. Unlike its rival propaganda magazine Stars And Stripes that catered to the government's point of view, this one zeroed in on the foot soldier. By the end of WWII Yank the magazine was said to have reached a circulation of over two million readers and realized a profit for the war department of over one million dollars.
With the war as a backdrop, the magazine is the catalyst, which allows our protagonist Stu to be both on the staff and privy to more situations than the boot soldier in the Pacific as well as a pivotal character in the Zellnik musical. The story starts off innocently enough in present day San Francisco with the discovery of an old worn out diary. A young man who discovers it, imagines the circumstances of Stu, the diary writer. That much we do know. Much of it what happens to Stu however is written in code. The story takes us back to boot camp and unfolds with our meeting the platoon, their backgrounds and their prejudices.
Met with a well rounded cast headed by the extremely talented Tom Zohar the show develops a life of its own as song, dance and musical numbers take off and carry us on a journey both heartfelt, funny and eye opening. Zohar, who has been seen in many local theatres across San Diego, shows us a new side to him, that of song and dance man. And man, is he good! With convincing acting, singing and, with what looks like an easy tap dancing gig, his presence though slight in build, is as powerful as if he were body builder.
The show boasts about sixteen musical numbers (Amy Dalton and Nathan Hubbard on piano and percussion) and another special talent, Amy Biedel, plays all the female roles when she isn't singing the blues, or crooning with the guys, or lost in lovely ballads. She wears Jennifer Brown Gitting's costumes and Missy Bradstreet's wigs well, and when she sings we listen.
Other fine support comes from the rest of the ensemble Sarge, (John Whitley) Tennessee (Zachary Bryant) Stu's adversary, Czechowski (Justin Harlin) the token Pole, and Artie (Eric Dowdy) the overtly gay newspaper guy who enlists Stu into the rank of staff photographer to keep him out of the fighting, just to mane a few. Igor Goldin designed the sets (four or five rolling Army color issue, canvas screens) and sound design.
The mission of Diversionary Theatre is "to produce plays with lesbian, gay, bisexual and transgender themes that portray characters in their complexity and diversity both historically and contemporarily."
With the sweet smell of success hovering around the stage of Diversionary, this is a good choice for any one looking for a bouncy, poignant new musical with ties to the past that connect to the now. It's definitely worth a try.
See you at the theatre.
Critic Davis may be contacted at davisc@sandiegojewishworld.com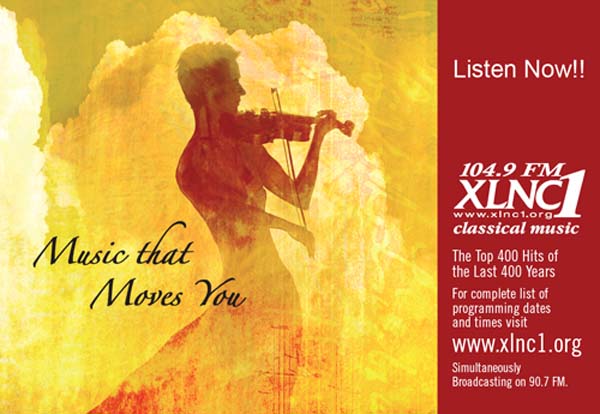 Please click the advertisement above to hear some of the world's most beautiful music.






L.A. BEAT

Assassins: Creepy subject, yet good musical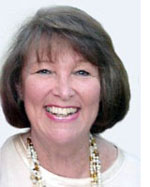 HOLLYWOOD—You'd think with all the anger, frustration, and incivility in America today, this wouldn't be the best time to reprise Stephen Sondheim's 1990 musical, Assassins. This brilliant play, with book by John Weidman, based on an idea by Charles Gilbert, Jr., chronicles the motivations and justifications that led nine troubled individuals to assassinate---or attempt to assassinate---the president of the United States. And even though it's clever and entertaining, and the music is terrific, the whole concept is more than a little creepy!
It begins with Shannon Stoeke, as the Proprietor---a sort of Evil Instigator---urging the others, like a circus barker, to buy a gun, shoot a president and gain immortality. With all the assassins gathering around him, he sings "Everybody's Got the Right"— to have a gun, to have a dream. Stoeke has a beautiful, powerful voice and he uses his role to bind the show together and keep it moving forward through history. Seconding him is Dana Reynolds as the Balladeer who, with her quiet solos, elaborates on the personal stories of each of the assassins.
Principal among them, of course, is John Wilkes Booth (Christopher Davis Carlisle), considered the "pioneer" who led the way for the assassins who followed. In his long black silk coat and blacker moustache Carlisle even looks like Booth as he keeps returning to the stage to inspire and urge on the others. He considers himself a hero for having shot Lincoln, blaming Lincoln for tearing the country apart and for the subsequent "blood on the clover."
Next, the attempted assassination of Franklin Delano Roosevelt by a man named Giuseppe Zangara, in which the then-mayor of Chicago, Anton Cermak, stepped in front of the president and took the bullet in his stead, is remembered by the crowd of bystanders in a rousing chorus of "How I Saved Roosevelt." Likewise depicted off-stage is the assassination of William McKinley at the Great Pan-American Exposition in Buffalo in 1901 by Leon Czolgosz (Larry Lederman) and of James Garfield by Charles J. Guiteau (Steven Connor), a disappointed office-seeker who wanted to be appointed Ambassador to France.
Comic relief, of a sort, is provided by Squeaky Fromme (Darrin Revitz) and Sara Jane Moore (Beth Lane) in their botched attempt to kill Gerald Ford; but Revitz is far more menacing in her love song to her personal god, Charlie Manson. And then there is the angry assassin-wannabe, Samuel Byck (John O'Brien) who makes plans to fly a small plane into the White House to kill Richard Nixon.
Sondheim, as always, fills the production with gorgeous music and lyrics and a festive air that is difficult to reconcile with the grisly subject he is illuminating. Especially in the climactic number "November 22, 1963," in which Booth and the others urge Lee Harvey Oswald to become "a force of history" as they commiserate with his desire to be "appreciated and valued and loved."
Directing this West Coast Ensemble production is Richard Israel, who has the cast moving in and out of Set Designer Stephen Gifford's deceptively simple wooden fence that opens as doors and reverses to form different backdrops. The music is well handled by Johanna Kent, music director, Richard Berent, who provided the orchestral realizations, and Cricket Myers, sound designer, and A. Jeffrey Schoenberg provided wonderful costumes---some timely, some quirky, but all appropriate to the characters wearing them.
The major irony of Assassins is that, while everyone remembers that Julius Caesar was killed by Brutus and Lincoln by John Wilkes Booth, the immortality that Booth promises the later assassins has never been fulfilled. How many people remember the names of Leon Czolgosz, Giuseppe Zangara, Samuel Byck, or Charles J. Guiteau? Or, for that matter, James Garfield, William McKinley, or Anton Cermak?
Assassins will continue at the El Centro Theater, 804 N. El Centro Avenue in Hollywood Fridays and Saturdays at 8 p.m. and Sundays at 3 through August 31. Call (323) 460-4443 for tickets.

Los Angeles Bureau Chief Citron may be contacted at citronc@sandiegojewishworld.com






MENTORS NEEDED—Jewish BIGPals urgently needs male volunteers to be matched with the 14 boys waiting patiently for a Big Pal. A Big Pal is an adult role model and friend, ages 19 and up. Little Pals are children 6-16 years old from single parent or non-traditional families and in need of an additional adult role model. Big and Little Pals meet two times each month to participate in recreational, educational, or community activities they both enjoy. All interested volunteers are invited to attend a Jewish BIGPals Information Night on Thursday, August 28, 2008 from 6:00-8:00pm at the Jewish Family Service Turk Family Center located at 8804 Balboa Ave, San Diego, 92123. For more information contact (858) 637-3090.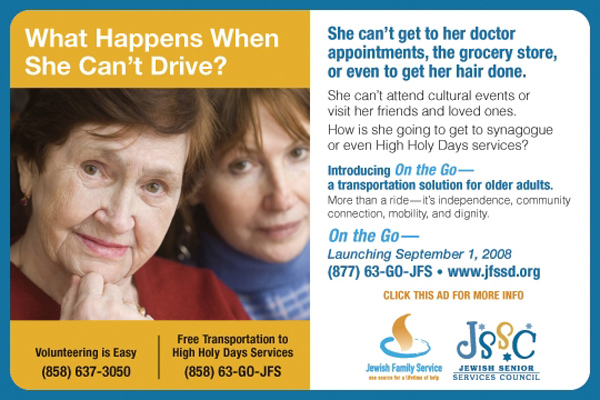 Please click the ad above to learn more about JFS "On the Go" program for seniors. To read a San Diego Jewish World story on the program, please click here.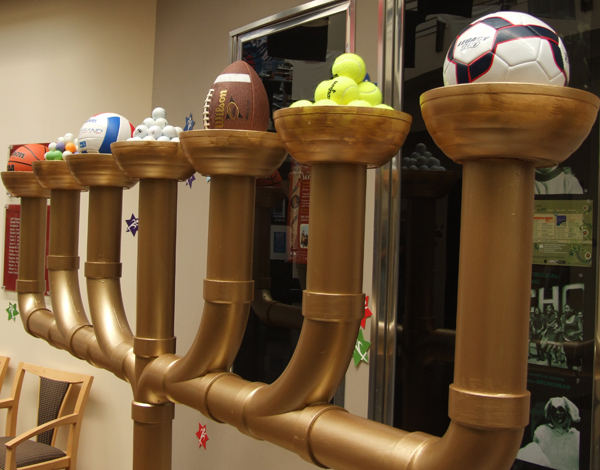 MACCABI MENORAH—Free-standing menorah in lobby of Lawrence Family JCC is "alight" with
the balls of various games in which competitors will participate August 3-8.


THE JEWISH GROTTO


Backroom hums as Maccabi Games near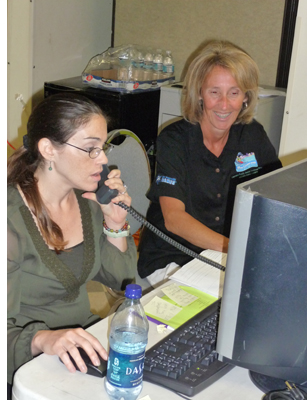 LA JOLLA, California —The hub of activity in the week preceding the JCC Maccabi Games is in the back of the Lawrence Family JCC, behind the Garfield Theater. Here you will feel the real energy about the upcoming Games. In what is usually the Rehearsal Room is now located Maccabi Central.
This office is the place for picking up credentials, information on housing, distribution of the official Games Guide, and a host of other services. Staffed from morning until evening, volunteers and key JCC staff come together to troubleshoot situations and respond to questions both in person and over the phone.
According to Ruthie Warburg, Co-Chair of the JCC Maccabi Games, and a stalwart in Maccabi Central, the most frequently asked questions involve volunteer assignments and the location of the different events. "We are still in need of volunteers," noted Warburg. Volunteers are needed at the Canyon Crest Academy athletic venue, as transportation assistants at the various locations and ashelpers at the Maccabi Cares community service project. A call to Maccabi Central will connect you with these volunteer opportunities.
Another frequent question fielded in Maccabi Centraby volunteers and staff like Gillian Argoff-Treseder, JCC director of membership, (shown above on phone as Ruthie Warburg looks on), involves attending the opening ceremonies, planned for Sunday at Cox Arena. "The more the merrier! We can accommodate up to 10,000 people," noted Warburg. Spectator passes are free with the application available at www.sdmaccabi.org. If you are a JCC member, your membership card is your ticket to the Opening Ceremonies as well as to any other venue throughout the Games. A spectator pass is not needed.
Maccabi Central will be in full swing even once the competition begins on Monday. "Hopefully, it will quiet down. We hope that this is the busier week. But I am sure that we will continue to be busy issuing credentials as well as replacing lost credentials, "added Warburg.
For questions regarding the San Diego delegation or pertaining to a competitor, Heather Barbash, Local Delegation Head, and Dan Wagner, JCC Maccabi Games Delegation Head, are still the "go-to" people. Maccabi Central can be reached by calling (858) 362-1128 between 9 and 6 through Friday and reopening on Sunday morning 8:30am.
Columnist Rotto may be reached at rottog@sandiegojewishworld.com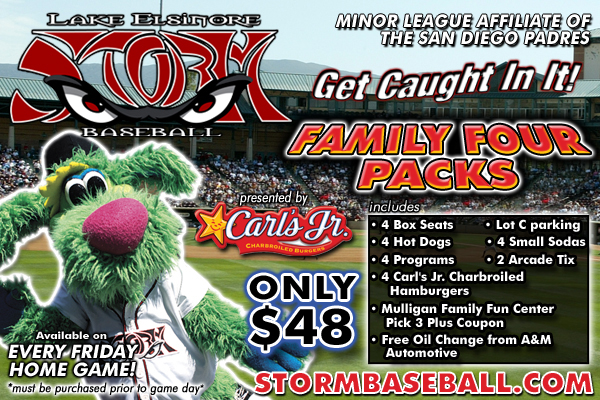 Please click on the ad above to visit the Storm website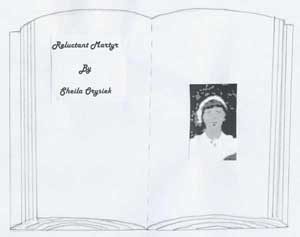 Editor's Note: This is the 19th chapter in our serialization of Reluctant Martyr, a historical novel by our columnist Sheila Orysiek. It is based on the experiences of her aunt. In each Friday-Saturday edition of San Diego Jewish World, we will run another installment of the 21-chapter book until its conclusion. We thank Sheila for granting us first publication rights to her book. Comments to the author are welcome at orysieks@sandiegojewishworld.com
Chapters 1 2 3 4 5 6 7 8 9 10 11 12 13 14 15 16 17 18 19 20 21

Reluctant Martyr—Chapter 19

Hannah did return many times to Etah's house. She made it very clear that her only reason to go there was to see her mother. She always chose a straight backed chair and she sat primly on the edge of the seat, her legs crossed and her lips pursed. Everything about the household upset her. Bernard sat quietly on the sofa, endlessly reading a newspaper. She saw his preoccupation as unfriendly when it was actually his way of ignoring the tensions in the household.
Eight year old Sarah was very much aware of the tensions about her but she was also busy with her child's world. Etah, pregnant again, was feeling the strains of trying to care for and please her increasingly ill mother. She was entirely aware of and dominated by Hannah's obvious bitterness. Hannah also made it clear that she was quite sure that Sharona could not possibly be receiving the kind of care only her own love could provide. In spite of this Etah made an effort to improve the relationship with her sister. She knew the friction between them upset Sharona.
.......................................................
Outside the City of Philadelphia lies some of the richest farm land to be found anywhere. For two hundred years or so this land has been farmed by a religious group of German descendants; the farms having passed from generation to generation. Erroneously called Pennsylvania Dutch, these people pursue an ancient way of life changing as little as possible from the past. They glory in their independence from the modern world. Indeed, theirs is a world apart; green rolling hillsides, lush tilled fields, corn twenty feet and more high. All the labor is done by man or beast, hand or hoof. The soft jingle of harness, the lowing of cattle, the call of a farm bell, were the gentle sounds to be heard if one took the time to listen. But most people speeding by on the highway missed the peace of this special world. One must stop, walk a bit and savor the air and view.
When Etah and Bernard bought their first car they began to explore the environs outside of the city and often drove through the gorgeous countryside of Lancaster County. Sarah was fascinated by the children in the Amish clothes; black overalls, suspenders and shirts for the boys, neat dark dresses and aprons for the girls. Families in their carriages behind a horse or two, clipped clopped along the highway trailing a wake of impatient automobiles behind them. Sharona enjoyed it, too.
Etah invited Hannah to join them on a ride and surprisingly Hannah consented. It was a warm spring day, the trees were all in new leaf; the sky polished bright blue. Etah had packed a lunch and Bernard put it in the trunk of the car. Sarah squeezed into the back seat beside Hannah and Sharona. It was uncomfortable but Etah was pregnant and couldn't hold the eight year old on her lap. Hannah was not pleased. She took Sharona's hand and held it. When she turned her face toward her mother she smiled into Sharona's eyes but when she turned away she pursed her lips with displeasure.
It was a two hour drive to reach Lancaster County as they bumped along a country road. Young shoots of corn thrust up boldly from the moist earth on farms that stretched away on either side. Carefully kept houses and barns, white painted picket fences, large front porches across which flapped the family laundry gave a glimpse of a way of life so different and yet so familiar and recognizable. There was a sense of strength, of family, tradition and belief.
Into the City of Lancaster they rode and passed the red brick Central Market building with its quaint and distinctive towers. Bernard parked the car a short distance from the Central Market on King Street and they walked over. The interior of the market was brightly lit and a beehive of activity and yet so orderly. So many stalls! So many things to look at and buy! Counters filled with fruits, vegetables, meat, baked goods, homemade candy, handicrafts and dried flowers. Sharona chose a bench along the wall and sat down. She was already too fatigued to walk about. Promptly Hannah sat down beside her and announced she would stay there. Etah grimaced but elected to walk around with Bernard. Then she turned to Sarah and gave the child a quarter to spend.
"Buy something nice, Sarah," she told her, "like some fudge or an apple."
Sarah took the quarter feeling wealthy. She methodically walked up and down all of the aisles. The ladies in their traditional head caps smiled at her as she carefully inspected each counter. After quickly passing the meat and poultry she hesitated in front of the cookies and tarts. The homemade crullers and candies were tempting, too. Then in a corner she saw a small table with tin cans carefully arranged on top of it. Each can had been painted in a gay color and inside were newly sprouting plants. Most of them were ivy but in the corner of the table was one tin can with a tiny plant with a lovely single purple and white fuchsia. Behind the table was an Amish girl just about Sarah's age, and even though she was attracted to plants, Sarah was eager to see someone of her own age; and yet so different.
The two young girls gazed at each other as if across a chasm. Sarah imagined how wonderful this other girl's life must be. To be around horses and cows all the time! What a treat! To run across green fields and live on a farm! She imagined a peaceful home and how she longed that this might be her life. She quickly purchased the tin can with the fuchsia. The Amish girl smiled her thanks, said nothing and turned away. How Sarah envied her.
Sarah loved the purple and white flower admiring not only its color but marveled how it hung downward from such a delicate stem. She carefully carried the tiny plant and ran over to her grandmother to share with her the joy of this lovely flower. Sharona, too, had a lifelong love of plants. "Look, Grandma, look at this beautiful flower!" she said excitedly. Sharona smiled and started to speak but Hannah interrupted.
"Oh, Sarah! What a silly thing to spend your money on. It'll only die. You should have bought some candy or a roll. Now that would be smarter."
The child's face fell and she looked from her grandmother's smiling eyes to Hannah's critical ones. Sarah looked at Hannah with great sadness and then she turned around and started to walk away still clutching her plant. Suddenly she stopped and looked back at Hannah. "Aunt Hannah, you always spoil things. You never let anyone enjoy anything." Hannah was shocked and quickly glanced at Sharona, but her mother was fumbling with a handkerchief, twisting it around her fingers.
Bernard and Etah returned, Sarah behind them, and they all left the Central Market and walked slowly back to the car. "It's time to eat," Etah said. "I'm sure everyone is hungry." They drove about looking for a place to stop and sit in the shade, but everywhere they went there were fences and signs saying "private property." Bernard drove outside of the city, up and down country roads. Finally, hunger making them impatient, he simply pulled to the side of the road.
"We'll just stop here," he said. "I'll open the car trunk." Everyone except Sharona got out. Etah handed out the sandwiches she had made and poured lemonade from a bottle into small paper cups. Hannah took a sandwich to Sharona.
"I know you really need a hot lunch," Hannah declared to her mother, "but this is all we have." She then turned to Etah. "How can you expect mother to stay well like this? She needs a good hot lunch. And not eating it in a car."
Etah was furious. "Hannah," she exploded, "the union where Bernard works is threatening a strike any day now and we can't afford restaurants. This is all we can afford. And, what's so wrong with a sandwich?" Sharona's fingers were searching in her purse for her heart medication. She hated to hear her daughters constantly arguing.
"Look," Hannah said, "you are upsetting her. See what you are doing?" She then turned back to Sharona, "Mother, you should come live with me. It would be so much more comfortable and I would look after you and then...."
"What are you saying?" Etah cried. "Are you saying I don't look after her? Is that it? I spend my days cooking, cleaning and taking care of her. And, I'm home. You aren't, Hannah. What would she do all alone in one tiny room while you are at work? Tell me that!"
Sharona found the bottle of medicine and placed a few drops on her tongue. "Hannah," she said weakly, "Etah, please don't, I beg of you, both of you, don't fight anymore."
Bernard was still standing at the back of the car eating. Sarah had been sitting in the front seat finishing her sandwich and quietly listening to the anger about her. She got up and walked on the new spring grass along the roadside. She went a short distance until she came to a small stream. Two Amish boys just Sarah's age were sitting on the gentle stream bank, their bare feet on the grass. Each held a stick from which dangled a line into the water. They were fishing.
Sarah was struck by the quiet of the scene before her. Behind her was the car, the turmoil, the constantly raised voices and anger of her family. How she wished she could join the two children, sit beside them and just listen to the water gurgle past in the stream. She longed for peace.
A shrill call summoned Sarah back. They all got into the car. There was now an ominous silence. Sarah looked from one adult to another. Her grandmother was pale. Hannah's lips were pursed tighter then ever. Her father kept his eyes steadily on the road, willing himself unconscious to the anger around him. Etah's eyes welled with furious tears.
A road construction detour took them off the main highway and Bernard quickly became lost amidst the farm roads. The sun was setting when finally he found his way. As they turned onto the main road, Sarah saw a large white farm house with a deep porch that ran around two sides of it. A man and a woman sat on slatted wooden rocking chairs. They rocked and watched the sun set. Before them on a lawn three young children played. The scene was so full of tranquility and certitude. It became etched in Sarah's mind. How she wanted to be part of such a place!
When they finally reached home it was quite late. Both Etah and Hannah helped Sharona into the house. As Etah took Sharona up the stairs she called back over her shoulder, "Bernard, drive Hannah home." But Hannah had already turned around and run out of the front door. Etah, unable to let go of Sharona, yelled again after Bernard, "Run out and find my sister and drive her home!"
Bernard walked away toward the kitchen. "No!" he shouted back. "She ran out and I'm not chasing after her!" Then he muttered to himself, "That woman causes nothing but trouble wherever she is."
Sarah had gone up to her bedroom. She listened to the angry shrill voices and shrank from it all. She carefully watered the little plant in the tin can and placed it on the window sill. But, Hannah was right. There was a frost that night and the tender plant turned brown and died.
When Hannah left Etah's house she ran all the way down the hill to the bus stop, boarded the bus and began walking the several blocks home. The events of the day were a jumble in her mind. She was not sure what had gone wrong. She truly felt her mother should have had a hot lunch and that the entire excursion had been too tiring for Sharona. Why was everyone so angry with her? She had only spoken the truth. And, the truth also included the fact that the rest of the family were together and she, only Hannah, was alone, living in a tiny, dingy room. Her footsteps directed themselves toward home and she was startled to find herself at the entrance to the rooming house. Her mind had been so occupied with her troubles.
"Well," said the landlady as she blocked Hannah's progress. "All day that phone has been ringing for you. Do you have any idea how many times I've had to answer it? I ought to charge you extra."
"Who has called me?" Hannah asked.
"Some man. That man I sometimes see you walking with." The woman waited expectantly for Hannah's response. At that moment the phone rang again and the landlady picked it up and shouted into it. "Who is this? Oh, yes, she's finally here." She handed the receiver to Hannah. "See what did I tell you - all day long!"
Hannah put the receiver to her ear and waited to see if the woman would leave and when she did not, Hannah kept her voice very low. "Hello, who is this?"
"Hello, Hannah," Sam said. "It's me. All day I've tried to reach you and I've been worried. Where have you been? Are you well?"
"Yes, yes, Sam I'm fine," Hannah said impatiently, "Sam it's late and I'm very tired, can't we talk tomorrow?"
"Hannah, listen, I have such exciting news! It won't wait. Can I come over?"
"Now? Sam, it's just too late."
"But, Hannah, this news is so wonderful," he insisted. "I know it'll make you happy and I can't wait to tell you - to ask you..."
Hannah was very still. There was only one thing that would make her happy. Could it have come at last? Could this be the moment that Sam would ask her to marry him and her dream would come true?
"Hannah?"
"Yes, Sam, I'm here. Well, O.K., yes, come over then." She hung up the phone and climbed the stairs, leaving the very curious landlady behind her. Hannah quickly took off her coat, combed her hair, washed her face and set the kettle on to boil.
Sam was indeed excited when he entered the room. He positively glowed. The tea cups were set out and he sat down. "Well, Hannah, my plans are coming together, a new life, a new start, all fresh and rosy. A great future."
Hannah waited, her heart was hammering and her breath was short. "It does sound good, Sam."
He looked puzzled. "I haven't told you yet."
"What haven't you told me?"
"New York," he said.
"New York?" It was Hannah's turn to be perplexed.
"Yes, I've been called by a newspaper in New York to be a chief typesetter. Isn't that wonderful?"
Hannah was incredulous. This was the news that couldn't wait? "What did you want to ask me?"
"Oh, I wanted to ask you if you thought I should take the job. It's more money and a good opportunity but also things are more expensive in New York. What do you think?"
Hannah could barely think above the beating of her heart. Not only had he not proposed, but he was contemplating moving away. "Sam, it's very late," she managed to say. "I don't know what you should do. Do whatever you want." She stood up. "I'm very tired. I want to go to sleep."
"Hannah, what's wrong?" he asked with concern. Her face looked so strained.
"Nothing, Sam. I'm tired that's all."
When the door closed behind him, Hannah collapsed on her bed. She felt so bereft. Not even tears would come, but eventually sleep did and she awakened in the morning as tired and heartsick as when she went to bed.
.........................................................
When Sam told her two days later that he had decided not to take the position in New York, it was anticlimactic. Of course, she was happy that he would still be around, but it was not the fulfillment of her dream. Things were merely the same as they had been before.

(c) 2008 Sheila Orysiek. The author may be contacted at orysieks@sandiegojewishworld.com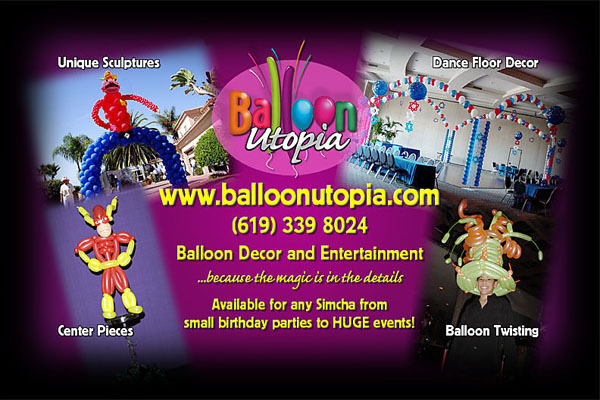 Please click the ad above to visit the Balloon Utopia website





ADVENTURES IN SAN DIEGO JEWISH HISTORY


| | | |
| --- | --- | --- |
| Robinson-Rose House | Old Temple Beth Israel | Lawrence Family JCC |
Editor's Note: To create a permanent and accessible archive, we are reprinting news articles that appeared in back issues of various San Diego Jewish newspapers. You may access an index of the headlines of those articles by clicking here. You may also use the Google search program on our home page or on the headline index page to search for keywords or names.


San Diego Lasker Lodge B'nai B'rith News
From Southwestern Jewish Press, September 1949, page 11

By Morrie Kraus

Coming Event—One of the most important events this year is the coming money-raising affair to be held this month. Tickets for the Admiral Television set can be obtained from any member.

It is an established fact that the Lodge, with all its projects and varied activities, cannot operate successfully from dues alone, three-fifths of which go directly to the District Grand Lodge. Of the $6 that remains locally, when you get through with A.D.L., A.Z.A., Hillel, Boy Scouts, rent, stationery, fees, special events, contributions, postage, refreshments and worthwhile causes that continually come up, you can readily see that it becomes increasingly difficult to stay out of the red, and becomes more necessary to have a successful money-raising affair to supplement our funds and financially break even.

No one wants to see the activities of S.D. Lasker Lodge curtailed. Therefore, a strong appeal is being made for members to sell or buy their tickets and the money sent in as soon as possible.

The officers, board of directors, and committee of fifty, would appreciate cooperation from the community in the sale of television tickets. In this way, and this way only, will the Lodge be able to maintain its activities in the community which accrue not only to the benefit of the Lodge and its members, but to the Jewish community as well.

On the Beam—It's a little late appearing here, but it's never too late to give kudos to members who continually give of their time and efforts in the Lodge's behalf.

At the recent So. Calif. B'nai B'rith Council meeting held last month at the Hotel del Coronado, the following members were on hand either to sell television tickets or to participate in the meeting: Henry Weinberger, Bill Schwartz, Eli Levenson, Eddie Breitbard, Jerry Freedman, Nate Schiller, Hy Kobernick, Ralph Feldman, Morrie Douglas, Abe Olf, Harry Wax, Al Hutler, Gil Shatz, Abe Sklar, Nat Gerston, Bill Goldy and Morrie Kraus.

Hillel Night—A big treat is in store for the members, the Chapter, and the community at large on Monday, Nov. 14, which is an open meeting.

Hillel will present a full and very entertaining and interesting program. Plans are in progress for Hillel Players to present a play, and there will be musical and oratorical presentations, as well as other interesting events. The regular social evening will follow, with plenty of good refreshments. Everyone is cordially invited to attend. Remember the date, Monday, Nov. 14.

Lint Off the Cuff—Let's hope Otto Rosenbaum is up and around soon…. Harry Wax is the new trustee to replace Jack Dembo's vacancy and still knocking them dead with A.Z.A. … fame of our degree team has already spread and now the boys are asked to put on an initiation at Long beach… good luck fellows… If it's half as good as your last presentation here they'll go crazy with pleasure … any freshman due for State College this Fall would do well to look up Hillel on campus …their big Get Acquainted Party is set for Sept 26 at Scripps Cottage… the new bowling league is getting down to business…. Plans are simmering for a B'nai B'rith Halloween affair pretty soon which will be exclusive for S.D. Lasker Lodge members… dining, dancing, drinks, show lots of fun, etc., etc… word to the wise—it won't hurt to have your 1949 dues paid up if you'll want to get in … a Happy New Year to everyone.


Samuel I. Fox Lodge No. 1747, B'nai B'rith
From Southwestern Jewish Press, September 1949, page 11

The Samuel I. Fox Lodge No. 1747, B'nai B'rith is making final arrangements for its huge Fun Night and Card Party to be held on Sunday, October 23, 1949, in Temple Center, 3rd and Laurel Streets.

As this is the first community-wide affair the Lodge is sponsoring, a big evening is in store for all attending. Refreshments will be available throughout the evening.

Proceeds from this Fun Night and card Party will be used for the many and varied activities of B'nai B'rith, among them the local Boy Scout Troop sponsored by this Lodge, as well as DDL, Hillel and other projects.

Tickets may be purchased from any member of the Lodge or at the door.


Kaufmans Return From Two Year European JDC Work
From Southwestern Jewish Press, September 1949, page 14

Mr. and Mrs. Maxwell Kaufman and son, Paul, have returned to San Diego after spending two years in Europe with the Joint Distribution Committee. Before leaving San Diego in 1947, Mr. Kaufman was head of the Jewish Welfare Board in San Diego and was very active in communal activities here.

While in Europe working with D.P.'s in the various camps of Germany and Australia (sic, Austria), he was the area director of Wurtten-Baden, a province of Germany, in charge of 15 Displaced Persons Camps and four German Jewish "Gemiende." He was also in charge of a children's nutrition center near Stuttgart.

While Mr. Kauffman was traveling throughout Europe in his various duties, Mrs. Kaufman spent several months working for the J.D.C. headquarters in Paris, france, while their son, Paul, was in school in Switzerland.

As soon as the Kaufmans are able to find suitable accommodations the will settle permanently in San Diego where Mac will enter the insurance business as a representative of the Aetna Life. (Any help in getting located would be appreciated—Ed)

Those who heard Mr. Kaufman on the radio at various meetings, on television, or who read his articles in the local daily newspapers, will be happy to hear that he will write a column in the Jewish Press starting in the October number telling of his first-hand experiences on the European scene.


Esther Weitzman Given Signal Honor
From Southestern Jewish Press, September 1949, page 15

Miss Esther Weitzman, daughter of Mr. and Mrs. H.H. Weitzman of Ray Street, who has been at the Brandeis Camp Institute for the past nine weeks, returned home Labor Day.

Miss Weitzman, who won a four-week scholarship to Brandeis from the local affiliated organization, was notified of an additional five weeks scholarship which was awarded her from the National Organization.

An outstanding pupil majoring in music, Miss Weitzman is a student at State College.








Nancy Harrison


cruise & tour specialist

(619) 265-0808






Not only better prices, but excellent, caring service!




SAN DIEGO JEWISH WORLD THE WEEK IN REVIEW

Thursday, July 31, 2008 (Vol. 2, No. 183)

International
Peace negotiations produce little news by Ira Sharkansky in Jerusalem
Temple Solel travelers inspect soldiers' quarters as part of 'Project Kibbutz' by Ulla Hadar in Kibbutz Ruhama, Israel
National
How kosher was the U-T's meat coverage? by Gary Rotto in San Diego
Arts
Thursdays with The Songs of Hal Wingard
—#37, Growing Old
—#293, As People Grow Old
—#303, Home for the Aged
A literary giant emerges from self-exile by David Strom in San Diego
Basic Jewish concepts to our children—and perhaps to Chinese workers too by Donald H. Harrison in San Diego
Adventures in San Diego Jewish History
—September 1949: Make Fall Plans For Community Center
—September 1949: Closing Program Climaxes Day Camp
—September 1949: Jacobson to Be Honored at N.Y. Presentation
—September 1949: Men's Club of Temple Beth Israel Holds Election of Officers

Wednesday, July 30, 2008 (Vol. 2, No. 182)

International
Average Americans more resolute than Congress in responding to gasoline crisis by Shoshana Bryen in Washington, D.C.
Amid such beauty, once was such horror by Ulla Hadar in Meina, Italy
Germans paying compensation to survivors who worked in ghettos run by the Nazis by Donald H. Harrison in La Jolla, California
The Jews Down Under, a roundup of news in the Southern Hemisphere by Garry Fabian:
—Jewish delegation greets Pope Benedict XVI in Australia during World Youth Day fete
—Warm feelings flow from World Youth Day
—Pope entertained by Jewish singers
—Community move against bogus collectors
—Educator honoured by former teacher
—Early immigration records now on line
—National Rabbinic Conference held
—Youth Movements Unite in South Australia
—The Jewish and Kosher Community of Fiji (News from 'halfway down under')
Sports
San Diego teen athletes ready to host and to compete in JCC Maccabi games next week by Gary Rotto in San Diego
Adventures in San Diego Jewish History
—August 1949: Nu by Red Borscht
—August 1949: Beta Tau
—August 1949:Hear About Brandeis by Sid Stokes
—August 1949: Solomon Attends Youth Conference

Politics
Hanging conservative in a liberal closet by Sheila Orysiek in San Diego
Arts
Chance meeting leads to one-day, one-woman show for Israeli-born Shosh Ernst by Donald H. Harrison in San Diego
Adventures in San Diego Jewish History
—August 1949: San Diego B'nai B'rith Women
—August 1949: Birdie Stodel Chapter B'nai B'rith by Jeanne Camiel
—August 1949: J.W.V. Auxiliary by Binnie Brooks
—August 1949: J.C.R.A. by Anna B. Brooks
—August 1949: Yo-Ma-Co News by Alice Solomon

Monday, July 28, 2008 (Vol. 2, No. 180)

International
Senator Obama in the Middle East: Part III by Shoshana Bryen in Washington D.C.
Judaism
Bearing false witness: a compassionate lie by Sheila Orysiek in San Diego
California
Two emotional rites in the land of the free by Donald H. Harrison at Camp Pendleton, California
Arts
Play is searing indictment of Roosevelt and his 'accomplices' Wise and Rosenman by Cynthia Citron in Los Angeles
Adventures in San Diego Jewish History
—August 1949: JWV and Auxiliaries Convention Held
—August 1949: Awards Given at Hillel Banquet
—August 1949: A Miracle Conceived and Born Can Yet Become A Mirage
—August 1949: Senior (Negebod) Pioneer Women

Sunday, July 27, 2008 (Vol. 2, No. 179)

International
Senator Obama in the Middle East: Part II by Shoshana Bryen in Washington, D.C.
China: A link in the Jewish diaspora by Cynthia Citron in Los Angeles
Judaism
A biblical lesson in setting priorities by Rabbi Leonard Rosenthal
Arts
'Phantom' is ba-a-ack, and she's loving' it by Carol Davis in San Diego
How love conquers even humongous birds by Donald H. Harrison in San Diego
Sports
A bissel sports trivia with Bruce Lowitt in Clearwater, Florida
Adventures in San Diego Jewish History
—June 1949: Ladies' Auxiliary S.D. Post No. 185 J.W.V. of the U.S.
—June 1949: Tifereth Israel Sisterhood
—June 1949: Women's Chapter, Samuel I. Fox Lodge
—June 1949: Registration Opens for Day Camp
—June 1949: Alpha Phi Pi

Friday-Saturday, July 25-26, 2008 (Vol. 2, No. 178)

Middle East
Senator Obama in the Middle East: Part I by Shoshana Bryen in Washington D.C.
Israel's embarassments: Katsav, Olmert by Ira Sharkansky in Jerusalem
San Diego/ Sports
Maccabi Games: 'portals' for Jewish youth by Donald H. Harrison in La Jolla, California
San Diego Jewish Trivia: Sports by Evelyn Kooperman in San Diego
Arts
Chapter 18 of Reluctant Martyr, a serialized novel by Sheila Orysiek
Adventures in San Diego Jewish History
—June 1949:Welfare Society Adds New Service
—June 1949: J.C.R.A by Anna Brooks
—June 1949: Daughter Born to Rabbi and Mrs. Stern
—June 1949:Ida Nasatir on Speaking Tour
—June 1949: Poale Zion
Link to previous editions

< BACK TO TOP

Copyright 2007-2008 - San Diego Jewish World, San Diego, California. All rights reserved.