SUNDAY, SEPT 14 Temple Emanu-El dedication service.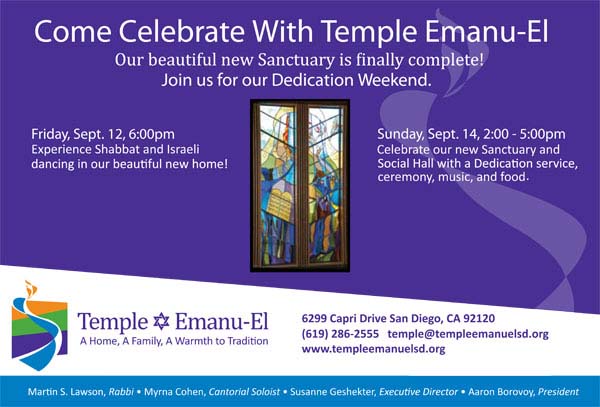 Please click on the advertisement above to visit Temple Emanu-El's website.







SATURDAY, SEPT. 20 Congregation Beth Am Musical Selihot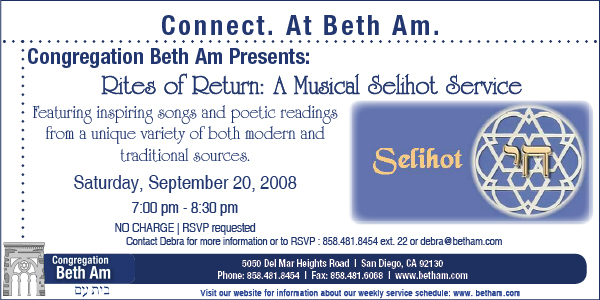 Please click on the ad above to visit the website of Congregation Beth Am



MON., SEPT. 29-THURS., OCT. 9 Congregation Beth Israel High Holiday Services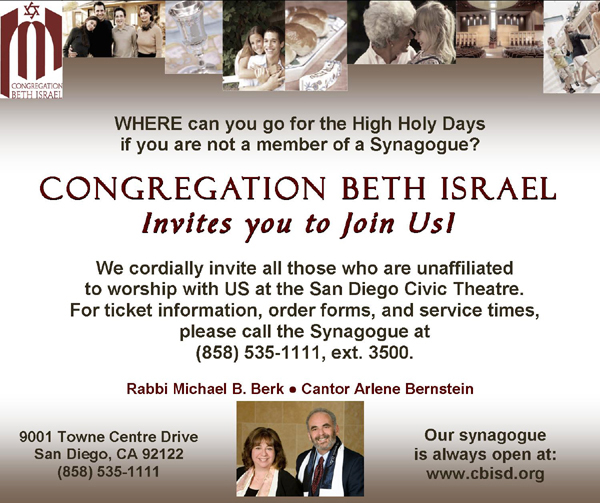 Please click above to visit Congregation Beth Israel's website






CAMPAIGN 2008


Jewish auxiliary groups of Democrats and Republicans in battle to define Sarah Palin

Editor's Note: The Republican Jewish Coalition and the National Jewish Democratic Council are
battling in the media over how Republican vice presidential nominee Sarah Palin should be perceived by Jewish voters. The Democrats tend to focus on her stands on domestic social
issues while Republicans stress her foreign policy positions on Israel. Today we will start with the Democrats and go on to the Republicans

The Democrats:

WASHINGTON, D.C. —There is a great deal of information and rumors circulating throughout the Internet and the mainstream media concerning Governor Sarah Palin. The Jewish community deserves to know the facts. Is Senator John McCain's pick for Vice President a reformer or a pork barrel spender? Is Palin a maverick or a right wing conservative? Is Palin an extremist or does she share our values?

Bridge to Nowhere

Question: "Would you continue state funding for the proposed Knik Arm and Gravina Island bridges?"

Palin: "Yes. I would like to see Alaska's infrastructure projects built sooner rather than later. The window is now--while our congressional delegation is in a strong position to assist." - "Did Palin Really Fight The "Bridge To Nowhere"?" The New Republic, 8/29/08

"A new ad from John McCain's presidential campaign contends his running mate, Alaska Gov. Sarah Palin, "stopped the Bridge to Nowhere." In fact, Palin was for the infamous bridge before she was against it." – "Fact Check: Palin and the Bridge to Nowhere," Associated Press, 9/8/08

Creationism being taught in public schools
"Healthy debate is so important and it's so valuable in our schools. I am a proponent of teaching both. And you know, I say this too as the daughter of a science teacher. Growing up with being so privileged and blessed to be given a lot of information on, on both sides of the subject--creationism and evolution. It's been a healthy foundation for me. But don't be afraid of information and let kids debate both sides."
- "Palin in Her Own Words," The New Republic, 8/29/08

Virtually all abortions illegal
"Veteran leaders in the anti-abortion camp say they have never before seen the degree of enthusiasm that greeted Palin's selection as John McCain's Republican running mate. She opposes abortion even in cases of rape or incest."- "Palin's nomination adds fuel to abortion debate," Associated Press, 9/9/08

Banning books
"It's true that Palin did raise the issue [of removing books from the library] with Mary Ellen Emmons, Wasilla's librarian... Emmons reported that Palin pressed the issue...Wasilla resident Anne Kilkenny, who was at the meeting, corroborates Emmons' story, telling the Chicago Tribune that "Sarah said to Mary Ellen, "What would your response be if I asked you to remove some books from the collection?"… According to the Chicago Tribune, Palin did not list censorship as a reason for Emmons' firing, but said she didn't feel she had Emmons' support."- "Sliming Palin," FactCheck.org, 9/8/08

Global Warming Not Manmade
""A changing environment will affect Alaska more than any other state, because of our location," [Palin] said. "I'm not one though who would attribute it to being man-made."" - "Palin Not Convinced on Global Warming," The Washington Post, 8/29/08

Pat Buchanan, Ron Paul, and Jews for Jesus
Numerous observers correctly draw attention to Palin's associations with former presidential candidate Pat Buchanan, her praise of anti-Israel Congressman Ron Paul, and her attendance at a Jews for Jesus speech in her church as indications that she supports their viewpoints. To be objective, the National Jewish Democratic Council has no reason to believe that Palin shares the values of Jews for Jesus or the opinions of Buchanan or Paul when it comes to the subject of the Jewish community or Israel.
Keyak is a spokesman for the National Jewish Democratic Council in Washington, D.C.

The Republicans:

WASHINGTON, D.C. —In his September 11, 2008 interview with Republican Vice Presidential Nominee Gov. Sarah Palin, Charlie Gibson of ABC News asked: What if Israel decided it felt threatened and needed to take out the Iranian nuclear facilities?

Her response: "We cannot second guess the steps that Israel has to take to defend itself."

Here is that portion of her interview with Gibson:

GIBSON: Let me turn to Iran. Do you consider a nuclear Iran to be an existential threat to Israel?

PALIN: I believe that under the leadership of Ahmadinejad, nuclear weapons in the hands of his government are extremely dangerous to everyone on this globe, yes.

GIBSON: So what should we do about a nuclear Iran? John McCain said the only thing worse than a war with Iran would be a nuclear Iran. John Abizaid said we may have to live with a nuclear Iran. Who's right?

PALIN: No, no. I agree with John McCain that nuclear weapons in the hands of those who would seek to destroy our allies, in this case, we're talking about Israel, we're talking about Ahmadinejad's comment about Israel being the "stinking corpse, should be wiped off the face of the earth," that's atrocious. That's unacceptable.

GIBSON: So what do you do about a nuclear Iran?

PALIN: We have got to make sure that these weapons of mass destruction, that nuclear weapons are not given to those hands of Ahmadinejad, not that he would use them, but that he would allow terrorists to be able to use them. So we have got to put the pressure on Iran and we have got to count on our allies to help us, diplomatic pressure.

GIBSON: But, Governor, we've threatened greater sanctions against Iran for a long time. It hasn't done any good. It hasn't stemmed their nuclear program.

PALIN: We need to pursue those and we need to implement those. We cannot back off. We cannot just concede that, oh, gee, maybe they're going to have nuclear weapons, what can we do about it. No way, not Americans. We do not have to stand for that.

GIBSON: What if Israel decided it felt threatened and needed to take out the Iranian nuclear facilities?

PALIN: Well, first, we are friends with Israel and I don't think that we should second guess the measures that Israel has to take to defend themselves and for their security.

GIBSON: So if we wouldn't second guess it and they decided they needed to do it because Iran was an existential threat, we would cooperative or agree with that.

PALIN: I don't think we can second guess what Israel has to do to secure its nation.

GIBSON: So if it felt necessary, if it felt the need to defend itself by taking out Iranian nuclear facilities, that would be all right.

PALIN: We cannot second guess the steps that Israel has to take to defend itself

San Diego Jewish World welcomes commentary from Democrats, Republicans and independents exploring all sides of how the presidential candidates would impact issues of Jewish community concern. Submissions may be sent to editor@sandiegojewishworld.com

Return to top



TEMPLE SOLEL High Holy Day Greetings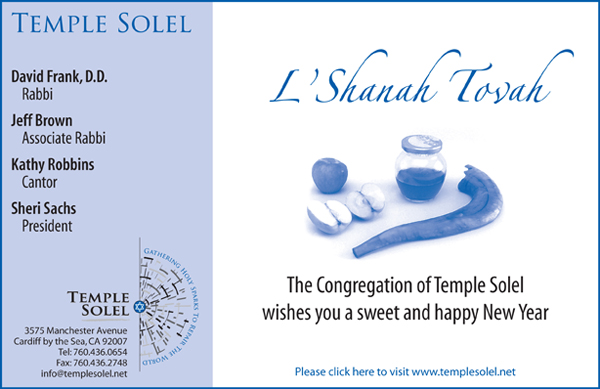 Please click on the advertisement above to visit the website of Temple Solel



TIFERETH ISRAEL SYNAGOGUE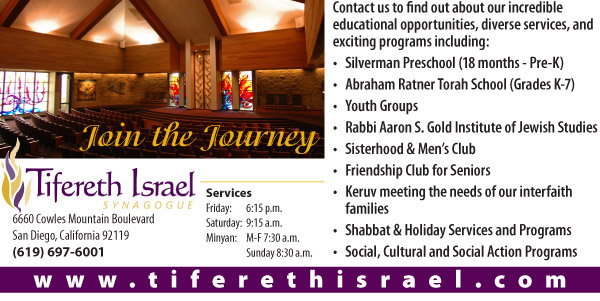 Please click on this ad to visit the website of Tifereth Israel Synagogue







SAN DIEGO JEWISH ACADEMY

Students pay Labor Day tribute to San Diego Jewish Academy's silent heroes
Please click on advertisement at right to visit website of San Diego Jewish World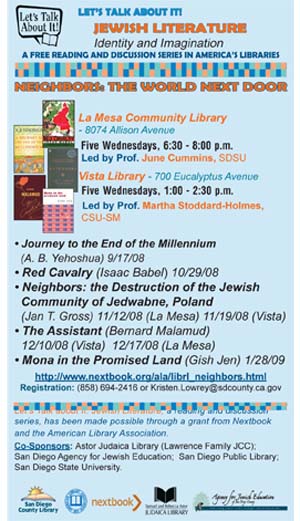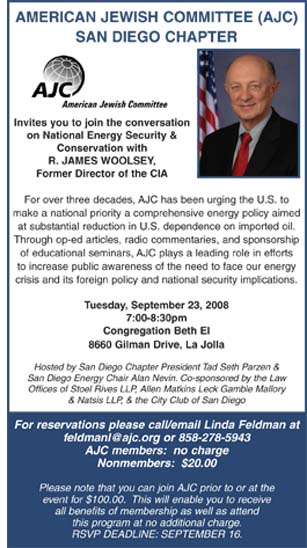 SOILLE SAN DIEGO HEBREW DAY SCHOOL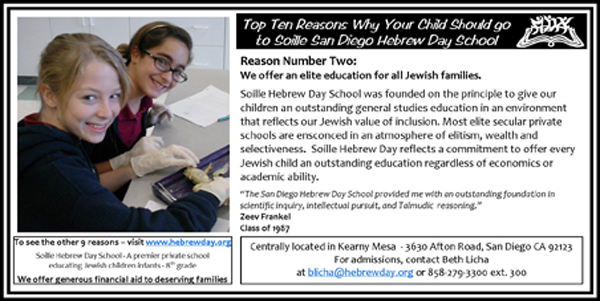 Please click the ad above to visit the website of Soille San Diego Hebrew Day School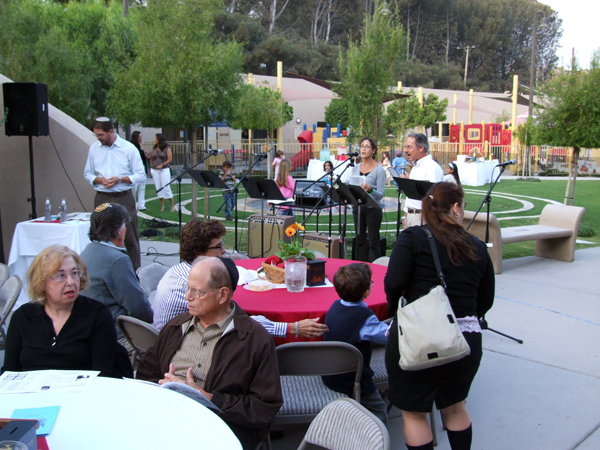 COURTYARD SERVICE—Rabbi David Frank, right, and Cantor Kathy Robbins are at microphones
and Rabbi Jeff Brown is at left as blessings before dinner begin at Temple Solel service in its
courtyard. Nearby children enjoy the Reform congregaton's playground.

THE JEWISH CITIZEN
Solel offers variety of Jewish choices

By Donald H. Harrison



CARDIFF-BY-THE-SEA, California—As congregants and guests entered the campus of Temple Solel on erev Shabbat, September 12, they were handed either a red paper bracelet or a green one to wear. The bracelets indicated whether they should be served vegetarian burgers or meat burgers when they reached the caterer's barbecue station. The Reform temple wanted to accommodate both preferences.

And so it was not only for the dinner, but in the programming for "Synaplex" – a concept modeled after a multiple-theatre movie complex in which patrons have many choices in what they will view. "For some Jews the pathway of connection is study; for others it is something in the arts; for others it is social; for others it is prayer," explained Rabbi David Frank, the congregation's spiritual leader. "So the idea of a Synaplex is to try to offer a multiplicity of venues for Jews—whether members or non-members—who walk through the gates of the synagogue and find their points of connection."

Temple Solel has eight Synaplex evenings per program year, each with a different emphasis. A scholar might be the main attraction one night; a social occasion might be the major event another night.

Beginning at 5 p.m. on this most recent Friday, congregants and visitors began exercising their different preferences. Some went upstairs into the "Tot Shabbat" service led by Associate Rabbi Jeff Brown and song leader Craig Parks. Rabbi Brown covered his eyes then prayed over the Shabbat candles, and then Parks in dramatic fashion announced to the children in his audience: "I feel something up in my keppy," a lead-in to the lyrics of "I've Got That Shabbat Feeling" a song which pictures the happiness of Shabbat being located "up in my head…down in my toes…deep in my heart…all over me."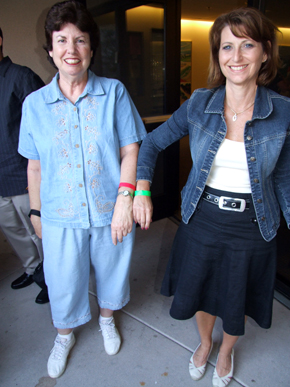 SOLEL SIGHTS—Elaine Gottesman wears a red bracelet and Judy Bricker a green one to
indicate their preferences repectively for a meat dinner and a vegetarian one. At right,
Hillel Robbins, takes front and center as his mother, Cantor Kathy Robbins, and songleader Craig Parks provide backup.

Parents then were led in the Friday night blessings that they may bestow upon their children, with Brown instructing them to put their hands on the children's heads or shoulders. ""It's not official unless you seal it with a kiss," he told the parents, about 40 percent of whom are not Temple members but have their children in the pre-school and are drawn to such activities as this one.

Thereafter, Brown told a Jewish folktale about a man who had risen from poverty to wealth, and who refused to ever give tzedakah, so determined was he to hold on to his money. One icy cold day when the wind howled—here Rabbi Brown had the children make a howling sound of the wind for dramatic impact—there was a knock at the man's door, and it was the village rabbi asking for tzedakah for those who didn't have warm homes like the rich man, but who had to live on the street. The man pretended not to be able to hear the rabbi because of the blowing wind. (The children again imitated the sound.) The man asked the rabbi to come in, but the rabbi insisted the man come outside. Reluctantly he did so, only to complain how very cold he was. (More wind sounds). The rabbi quickly made his point: if you, who have a warm house, feel so very cold, imagine what it must be like for those who do not. The man realized the error of his ways, and gave money for their welfare.

While the story was being told, some adult congregants took advantage of the beit café—Hebrew for "coffee house"—in a downstairs portion of the synagogue complex where they could enjoy wines set out at belly tables and also view on the walls scenic Israeli art for sale.

Others congregants gravitated to a landing on the second floor where congregant Dan Neipris demonstrated how a shofar is blown. "I was a trumpet player when I was a young child growing up in Palos Verdes, (a suburb of Los Angeles)" he said. To make a sound come out of the shofar, "you have to create an embouchure, just as you would on the mouthpiece of a trumpet or a trombone or anything like that."

An arts and crafts station had been set up on another portion of the second floor balcony for children to make various Judaic creations.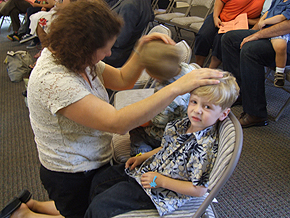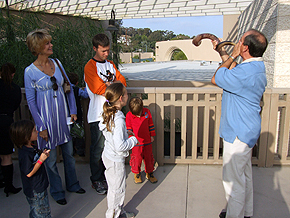 BLESSINGS AND BLASTS—Debbie Hertz pronounces blessings over her sons Zack, 3, facing
camera and Mason, 2, turned away during Tot Shabbat services. At right, Dan Neipris sounds
a long note on the shofar on Temple Solelwalkway.

Down in the courtyard around which Temple Solel's three-year-old complex is built, teens watched Hillel Robbins—son of Cantor Kathy Robbins—tune up his guitar for a hootenanny that would follow the 6 p.m. dinner and a 7 p.m. Shabbat service under the stars.

Meanwhile, Dr. Harriet Seldin, a member of the Jewish community who is running for the Encinitas City Council with the slogan "Dr. Seldin for a healthy Encinitas" sought out congregants who might want to hear her views on a new desalinization plant (she's for it) and legislation to ban from Encinitas plastic bags and non-native vegetation (she's against both these ideas, considering them unwarranted intrusion into private life by government). She was appointed three years ago by Gov. Arnold Schwarzenegger to the State Dental Board and is a past president of the San Diego County Denta Society.

Elsewhere, other adults at tables bearing table settings and tzedakah boxes were engaged in conversations that ranged—as I passed by them— from business affairs to civics to religious life to the challenges of child rearing.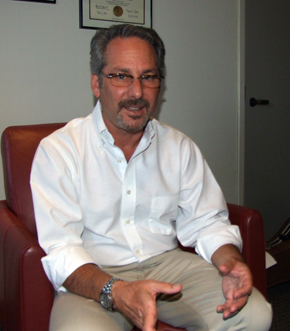 Rabbi Frank (at left)said the Synaplex concept was devised by Conservative Rabbi Haim Hering in response to observations that the familiar fare of a Friday night prayer service followed by a social hour was not attracting worshipers to synagogues the way it did back in the 1950s and 1960s.

"This is not to say that prayer doesn't matter because we always have a service as part of Synaplex, but it is not going to be the sole thing to reach people or inspire people," Rabbi Frank said. "There are many different expressions of the Shabbat experience. It can come through study, through singing, through social gathering and relaxation, through enjoyment of our community."

At the same time as Temple Solel looks for new pathways for Judaism, it also is returning to some traditional ones. The kitchen at the Reform congregation is kosher. Many congregants place kippot on their heads while on the temple grounds. The Saturday morning services are almost all in Hebrew, save for two English readings. Some daveners wear tallisim during the morning service.

Frank said he thinks of Temple Solel as a "laboratory for Judaism." When the congregation moved from its home in Encinitas to Cardiff-by-the-Sea (a town that chose to become part of the City of Encinitas), "we had the opportunity to build a kosher kitchen. What I suggested to the leadership and what the congregation was able to embrace was…that if we are not offering all these possibilities for experimentation and expression, then we are saying these options are off the table."

For the Reform movement to say—as it has recently—that kashrut is a legitimate option for Jewish observance (a turnabout for the Reform movement, which once considered kashrut outmoded and unnecessary) and then not to provide some mechanism for congregants to experience kashrut would be analogous, in Frank's view, "to saying that we really believe in prayer but we don't have services here."

Having a kosher kitchen required the adoption of some rules familiar to Orthodox and Conservative congregations. All meals prepared in the kitchen must be kosher, regardless of whether it is for an official synagogue function or for a private party. But there are some aspects of "Reform kosher" that some traditional Jews might not recognize: congregants are free to bring to the synagogue complex their own dairy meals, provided they are not eaten in the kitchen.

In time, more meals may be exported from the synagogue than are imported. Frank explained that a new program offers boxed Shabbat dinners for congregants to eat in the courtyard in the social hall or in the courtyard before regular Friday night services. Or, suggested the rabbi, the congregants can take the boxed dinners, complete with Shabbat candles and printed prayers, to their homes, or to a park, or to the beach and enjoy an outing under the stars prior to services.

After most people had finished dinner, Rabbis Frank and Brown and Cantor Robbins took places behind the band's microphones and led the congregation in well-known Friday night melodies and prayers "under the stars." There was no sermon this evening, as entertainment in the form of an old fashioned singalong would soon follow. Frank said that back in the 1960s he was a song leader, and, turning to the band, told its members that one never knew, their musical inclinations might lead them into the rabbinate. The first song played was the Peter, Paul and Mary version of "If I Had a Hammer" and I saw at least two people raise their fingers in peace salutes.

Harrison may be contacted at editor@sandiegojewishworld.com




AGENCY FOR JEWISH EDUCATION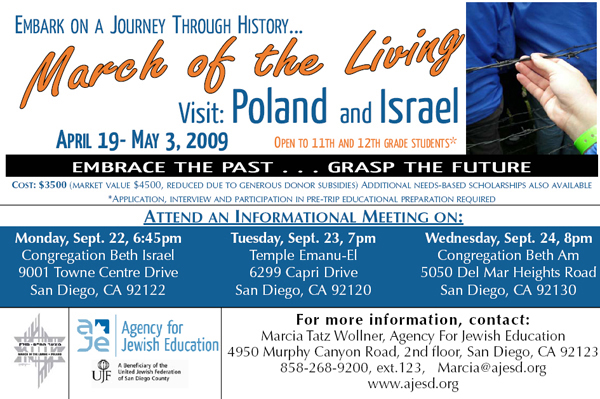 Please click on the ad above to visit the websit of the Agency for Jewish Education



JEWISH COMMUNITY FOUNDATION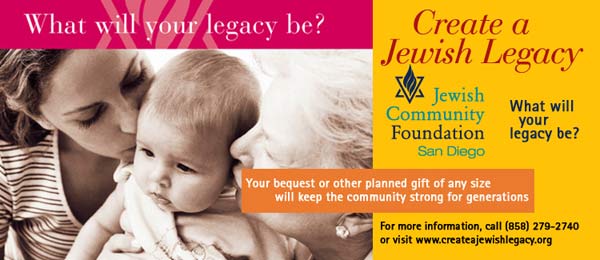 Please click the ad above to visit the Jewish Community Foundation website.






TORAH ON ONE FOOT


By Rabbi Leonard Rosenthal

Torah demands accurate weights, measures

SAN DIEGO—Parashat Ki Teitzei contains laws pertaining to commerce, among them: "You shall not have in your pouch alternate weights, larger and smaller. You shall not have in your house alternate measures, a larger and a smaller. You must have completely honest weights and completely honest measures, if you are to endure long on the soil that the Lord your God is giving you." (Deut. 25:13-15)

In a day of digital scales we sometimes forget that in ancient days the only way to weigh produce or other commodities was with the use of a manual balance scale. The commodity would be put on one side of the scale and its weight determined by placing fixed weights on the other side. There was often no way to know if the fixed weight being used was accurate and, and therefore, sales depended on the honesty of the seller.

In Sefer D'varim (Deuteronomy) the Torah warns against having two weights in the house which are marked the same but in truth are not. A business owner "must have completely honest weights and completely honest measures."

We find a similar law in the Sefer Vayikra (Leviticus): "You shall not falsify measures of length, weight, or capacity. You shall have an honest balance, honest weights, an honest ephah, and an honest hin." (Lev. 19:35)

The rabbis noted that the word hin, an ancient measure, is similar to the ancient word hein, which means "yes." From this they learned that not only should a person's weights be honest, but so should their word. Their "yes" should mean "yes" and their "no" should mean "no." It is just as important to keep your word as it is to use honest weights.

Rabbi Leonard Rosenthal is spiritual leader at Tifereth Israel Synagogue. He may be contacted at rabbi@tiferethisrael.com

Return to top


RHODES MARKETING GROUP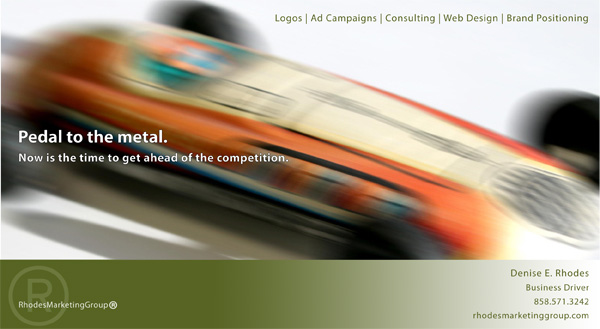 Please click on the advertisement above to visit the website of the Rhodes Marketing Group




JEWISH-AMERICAN CHAMBER OF COMMERCE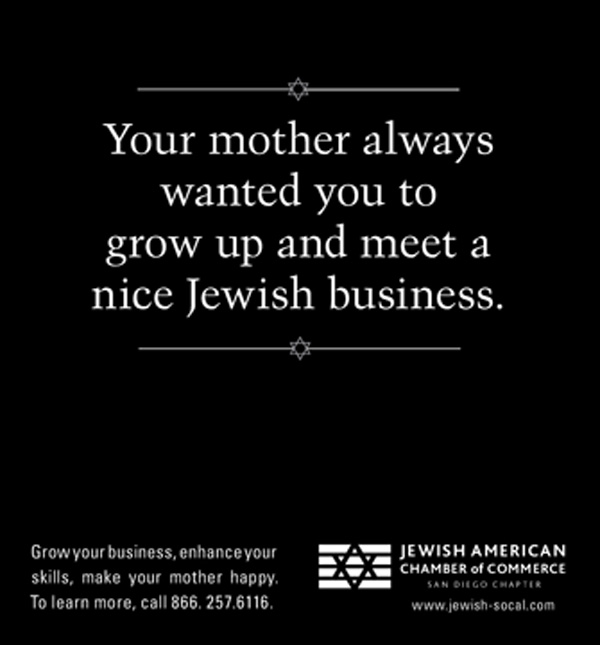 Please click on the advertisement above to visit the Jewish American Chamber of Commerce,
of which San Diego Jewish World is a member

AMAZING STORIES OF JUDAISM Dvar Torah: Ki Saitzei


When the kind lady was locked out

By Rabbi Baruch Lederman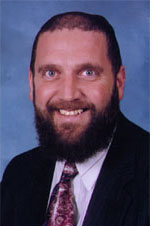 SAN DIEGO—The Torah commands us to treat each other with kindness, consideration and dignity. Chesed (loving kindness) is one of the pillars of the world. Sincere acts of kindness can have amazing unexpected results as the following story illustrates:

Shoshana Rosenberg (not real name) was a pillar of chesed. There were no bounds to what she would do for anyone or any institution. She helped with a smile and an open hand. If a guest was in her community, she didn't have to be asked to provide hospitality - she would seek them out. Living in Chicago, there were usually plenty of "customers."

She would always ask her husband to scour the shul to see if there was anyone who needed a Shabbos meal. Sometimes a guest might stay for a Shabbos, a whole YomTov, or several weeks.

People criticized her for being too giving. She was already a devoted wife and mother. To care for her growing family was a full time occupation. How could she spend so much of her precious limited time and energy on total strangers? She just saw this as the way to be. This was the way of the Torah - of Avraham and Sarah. There was just no question in her mind.

One day, she was busy cooking in her kitchen. Her baby daughter was sleeping in her crib, so this was a good opportunity to get some uninterrupted work done.

Just then, the doorbell rang. It was a gentleman raising funds door to door for a yeshiva. She and her husband had a maaser (charity) account. She wrote a check from this account and of course offered the man some food and drink. She saw him out and walked out of the house with him to see him off, as her family did with all their guests.

She turned around to go back inside her house. When she tried to open the door she discovered that she had locked herself out. The door must have been in the locked position, and when she closed it behind her it locked her out.

She saw that no neighbors were around to help her. Horror was creeping up on her as she realized that she was stuck outside while on the inside were her baby, food cooking, and her phone. She couldn't even call her husband. Even if she had a phone, he was in St. Louis on business and couldn't just pop home. On the one hand she dare not leave to find a phone for how could she leave a sleeping baby alone in the house with a lit oven? On the other hand, she couldn't just stay there and do nothing.

At that moment the mailman walked up with a registered letter for her to sign for. She had no interest now in signing forms. She was desperate to get in her house and told the postal worker of her plight. The mailman told her there was nothing he could do for her but he did have her sign for the letter so he could complete his job and he left her alone and bewildered. She sat down to cry, not knowing what to do. She opened the registered letter just to give her mind something to focus on. Here is what the letter said:

"Dear Mr. & Mrs. Rosenberg,

Thank you for the amazing gracious hospitality you gave me when I was visiting Chicago last month. I was afraid of imposing; but your kind family acted as though there was not enough they could do for me. I never spent time with an orthodox family before, yet I never felt so at home in my life. You had a profound effect on me. I wish I could do for you a fraction of what you did for me.

Sincerely,

Jonathan Lederberg (not real name)

P.S. - While I was staying with you, you gave me a spare key to your home and I forgot to return it when I left. I enclosed the key, taped to the inside of this envelope."

Hachnosas Orchim means inviting people to enter your house. Shoshana's hachnosas orchim allowed her to enter her own house.

Dedicated by the Gombos Family in memory of William & Ida Laufer and Bela Gombos.

Rabbi Lederman is spiritual leader of Congregation Kehillas Torah. He may be contacted at rbl613@nethere.com

Return to top


XLNC-1 RADIO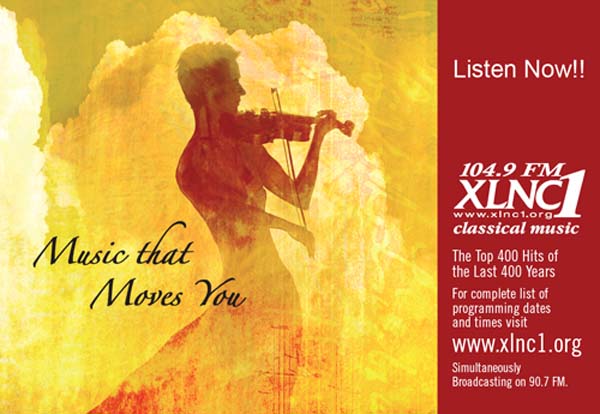 Please click the advertisement above to hear some of the world's most beautiful music.



UNITED JEWISH FEDERATION OF SAN DIEGO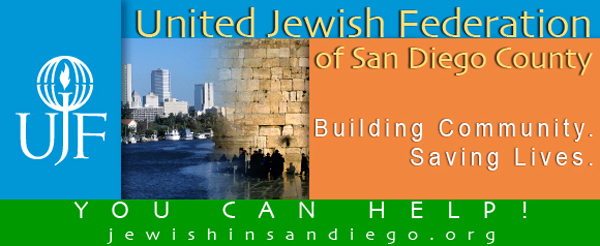 Please click on the ad above to visit the United Jewish Federation website and learn how UJF helps Jews at home, in Israel and all over the world.






DOING IT BETTER


My Money, Your Money, or Ours

By Natasha Josefowitz, Ph.D.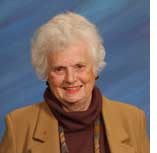 LA JOLLA, California—When a woman's main responsibility was homemaking and the man's was bringing in the paycheck, he controlled the decision-making around lifestyle and spending. Although most couples discussed large expenses, it was he who knew how much they could afford.

Today, with the ever-increasing number of two-income couples, the situation is getting more complicated. If one of them is paying alimony, supporting children from a former marriage, or receiving child support, a joint account is fraught with potential problems. I know of very few wives who easily share their earnings in order to participate in the alimony payments of a former spouse.

Where there are children from former marriages, how much money to spend on their birthday gifts or vacations with them can become thorny issues. This is where, if there is disagreement, separate accounts for this purpose may be useful. If John has a teenage daughter from a former marriage and wants to pay for her trip to Europe while his current wife Mary is dreaming of going to Paris someday, using part of her income for his daughter's trip may not make her very happy. However, if they agree that each has a certain amount of freedom to do with their salaries as they see fit, it will cause less friction.

Expectations of a specific lifestyle must also be thought through. If one of them has a very visible job where clothes, cars, and home entertaining are part of the professional image, but the other works in a lab coat all day, they may have difficulties in deciding who is to spend how much on what. Again, separate accounts may be the answer if she needs a $1,000 suit and he needs the latest computer.

If couples can agree on lifestyle and money management, then a pooled income allows for more flexibility. If one of them is out of work, more time can be spent looking for the right job instead of grabbing whatever is offered next for fear of wage losses. There is more money available for mortgages, special purchases, and holidays.

Spending money is like washing dishes. One of them washes out each cup as it is used, and the other is content to let dishes stack up in the sink. One of them pays bills as they arrive, while the other lets them stack up and waits until the last day to pay them. In both cases, each is likely to be irritated by the spouse's ways, seen as either too compulsive or too lackadaisical.

The tightwad and the free spender married to each other will have to budget carefully the money allotted to each as personal expenditures. The generosity of one may be viewed as extravagance by the other, and the prudence of one may be ridiculed as miserliness by the other.

Couples need to talk about their dream lifestyles and whether they are realistic. Also, how they perceive the future, so that they can plan for long-term goals. They also need to assess what they have and how to manage it. Some people want to enjoy life today; others worry about that proverbial rainy day. One person wants to spend the money on vacations, the other prefers new appliances.

Some working couples have three bank accounts: his, hers, and theirs. Most seem to have only one joint account unless it's a remarriage, then the tendency is to have separate accounts. As with everything else in a marriage, talking to each other honestly is the answer. Each partner will need to compromise.

How to spend money is not a one-time decision; it needs to be renegotiated constantly. Just as couples should be checking with each other as to whether each is satisfied with the amount of time the other is spending on household chores, they should be checking on whether each is satisfied with the way their money is being spent. It is said that "time is money." I say, "Take the time to talk about money."

Alimony
She wishes
her first husband
would pay her alimony
She wishes
her second husband
would not pay alimony
to his first wife

Josefowitz's column also appears in the La Jolla Village News. She may be contacted at josefowitzn@sandiegojewishworld.com

Return to top



SAN DIEGO COMMUNITY COLLEGES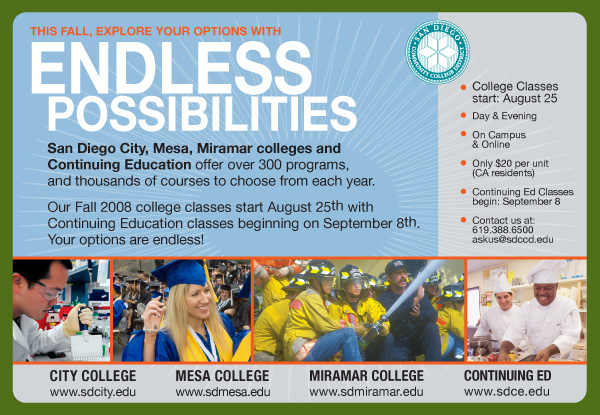 Please click on the above ad to learn about the many programs of the San Diego Community
College District



LAWRENCE FAMILY JCC, JACOBS FAMILY CAMPUS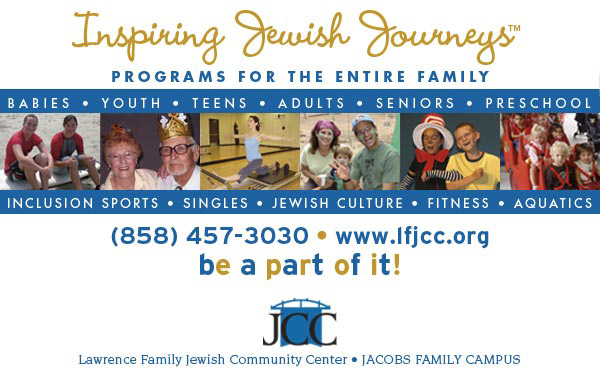 Please click on the ad above to visit the website of the Lawrence Family JCC



BASEBALL

A bissel sports trivia with Bruce Lowitt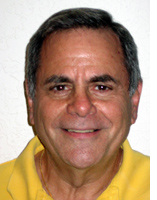 OLDSMAR, Florida-- Q: Which major-league catcher played for Detroit, was traded to Houston, was traded back to Detroit and then traded back to Houston?

(a) Ryan Braun
(b) Brad Ausmus
(c)Bill Freehan
(d) Roy Campanella

Background: Baseball America wrote in 2004: "Which is more impressive: going from the 48th round to the All-Star Game, or completing a degree in government at Dartmouth after turning pro? (He) did both."

Please click here for answers

Return to top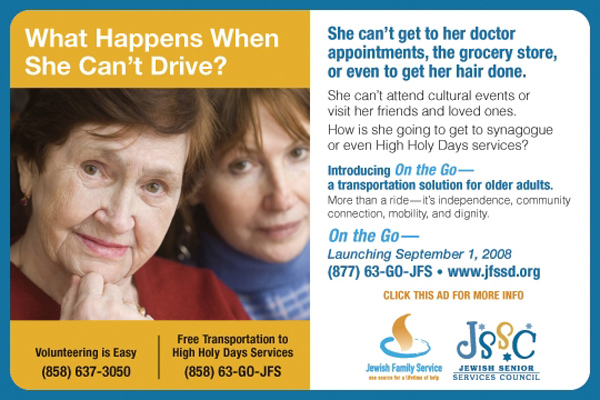 Please click the ad above to learn more about JFS "On the Go" program for seniors. To read
a San Diego Jewish World story on the program, please click here.



BALLOON UTOPIA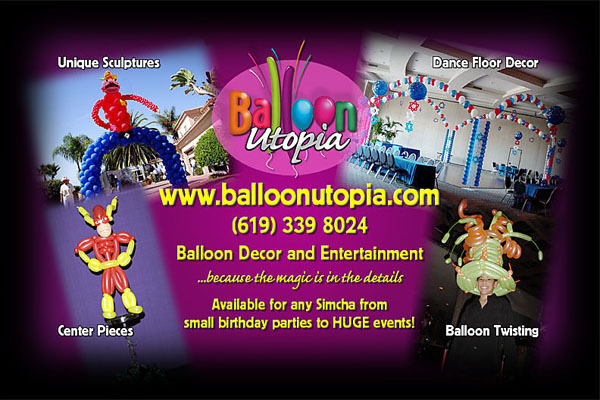 Please click the ad above to visit the Balloon Utopia website






AMERICA'S VACATION CENTER




Nancy Harrison


cruise & tour specialist

(619) 265-0808

nancy.harrison@americasvacationcenter.com




Not only better prices, but excellent, caring service!
.





ADVENTURES IN SAN DIEGO JEWISH HISTORY

Editor's Note: To create a permanent and accessible archive, we are reprinting news articles that appeared in back issues of various San Diego Jewish newspapers. You may access an index of the headlines of those articles by clicking here. You may also use the Google search program on our home page or on the headline index page to search for keywords or names.


Temple Beth Israel Sisterhood
From Southwestern Jewish Press, January 13, 1950, page 8

Temple Beth Israel Sisterhood, members and their guests, will be treated to a stimulating program this coming Wednesday, January 18th. Mrs. Sam Friedman, program chairman, has arranged for Mr. Maxwell Kaufman, publisher of the Jewish Press, to speak at the regular monthly meeting of the Sisterhood.

Mr. Kaufman will share with his audience knowledge gained by working with the American Joint Distribution Committee in Europe during the post war years. Having been director of displaced persons camps, Mr. Kaufman is well qualified to bring first-hand information of interest to San Diego Jewry. Mr. Kaufman titles his talk, "Light and Dark Impressions of My Experiences in Europe."

A delightful musical interlude will be provided by Miss Alice Couchman, talented young singer. Mss Couchman, although only 14 years of age, is becoming well known in the city. She has sung before various groups where she has been very well received. She is a sophomore at Hoover High School and is soloist with the Cappela Choir there. Accompaniment at the piano will be provided by Miss Virginia Bennett.

Luncheon will be served at 11:45. Mrs. Abe Sklar, well known for her delicious luncheon menus, is general chairman, for the Beth Israel Sisterhood. Mrs. Marvin Gray and Mrs. Rodin Horrow are hostesses for the day. Assisting with preparation and serving are Mmes M. Ackerman, Florence Corwin, Dave Rubinstein and M. crone.

It is requested that reservations be made with the hostesses no later than Monday, January 16th. Please call Mrs. Horrow at B 2-2453 or Mrs. Gray at B. 2-2105.

The public is invited to attend and enjoy the luncheon and program planned. The meeting will be held in the Temple Center this Wednesday, January 18th at 11:45. Mrs. Murray D. Goodrich, president, will preside.


Temple Beth Israel
From Southwestern Jewish Press, January 13, 1950, page 8

Annual Meeting—The annual Meeting of Temple Beth Israel Congregation will be held Thursday, January 19th at the Temple center at 8:00 p.m.

In addition to reports on achievements of the past year and plans for the New Year, there will be an election of six members to the Board of Directors and the adoption of revised By-Laws. Mrs. Nathan Schiller, President, will preside.

As an interested member of your Congregation, you can't afford to miss this important meeting.

Sabbath Service—The local chapter of Hillel at San Diego State College will sponsor and participate in the regular Sabbath evening service of Temple Beth Israel this Friday, January 13th. The sermon will be delivered by Larry Solomon, Past President of Hillel and the Temple Youth League. Assisting Mr. Solomon will be Edith Schertzer, Sylvia Winicki and Bruce Witte.

On Friday, January 20th, Rabbi Morton J. Cohn will resume his series of sermons on the subject, "These Things We Believe." The second sermon in this series will discuss "Israel, A Peculiar People."

Temple Senior League—Why not get out of your rut and become a square. It's s-m-o-o-t-h the way Harry Hakam, dance instructor, calls those square dances.

The Temple Senior League, in cooperation with the Jewish Community Center, will hold another Square Dance Date on January 26th in the Temple Center at 8:00 p.m. Won't you join us then?


Tifereth Israel News
From Southwestern Jewish Press, January 13, 1950, page 8

A special service will be held Friday evening, January 13th, at 8:15 p.m. at Tifereth Israel Synagogue, at which the Installation ceremonies of the Young People's League will take place. Members of the group will participate in the conduct of the Service and in the program of the evening. A Youth Oneg Shabbat will follow the Service, and will include dancing and refreshments. It is hoped that this Youth Oneg Shabbat will be the forerunner of others that will be geared specifically to the youth level.

At the Sabbath Morning Services on January 14th, 9 a.m., Laurence Schiller, son of Mr. and Mrs. Ted Schiller, will be called to the Torah as a Bar Mitzvah.

At 7:30 p.m. that same day the Junior Young People's League of the Synagogue will hold its next meeing. Allyoung people of Junior High School age are cordially invited.

The next meeting of the Daughters of Israel is scheduled for Thursday, January 26th, at noon. Mrs. Rose Neumann, President, announces an interesting afternoon and a most delicious luncheon.

All hearts will be young and gay, as they thrill to the show, "Our Hearts Were Young and Gay," to be presented at the Globe Theatre at the Sisterhood Theatre Party, Thursday night, January 26th. Special refreshments will be served the guests that evening. Proceeds from this Theatre Party will go to the Tifereth Israel Building Fund and its Youth Activities Program.

Committee members in charge of tickets are Mrs. Lawrence Cantor and Mrs. Sam Addleson. Mrs. Its Penter and her committee will serve homemade delicacies during the intermission. Remember the date… January 26th!


Congregation Beth Jacob
From Southwestern Jewish Press, January 13, 1950, page 8

Rabbi B. Stern wishes to announced that during the month of February the Congregation is expecting a visit from the Torah Tour. The Tour is being made by a team of three young Rabbis who will present information regarding the functions of the Rabbinical Council of California in connection with modern Orthodoxy.

More information will be released when further details are received.

Hebrew School—The second term of the Beth Jacob Talmud Torah has started and registration for classes is still open. The week-day Hebrew School classes consist of courses in modern Hebrew reading, writing and speaking, and also a study of the Bible and Prophets. Registration is open to children seven years of age and up.

Parents who desire to give their children a thorough Hebrew background are urged to call the Congregation Beth Jacob, R-9523, or Rabbi b. Stern, R-1706, for further information.


"Adventures in Jewish History" is sponsored by Inland Industries Group LP in memory of long-time San Diego Jewish community leader Marie (Mrs. Gabriel) Berg. Our indexed "Adventures in San Diego Jewish History" series will be a daily feature until we run out of history.


Return to top





SPORTS TRIVIA ANSWER: (b) Brad Ausmus






SAN DIEGO JEWISH WORLD: THE WEEK IN REVIEW


CAMPAIGN 2008
The choice between Obama and McCain could be this generation's most important by Howard Wayne
Jewish access to Palin in government
by Gary Rotto in San Diego


LETTERS TO THE EDITOR
Add Haym Salomon to list of important Jews from Sheila Orysiek in San Diego
Seven years after 9/11, what's Bush's legacy? from Dr. Norman Mann in San Diego

ADVENTURES IN SAN DIEGO JEWISH HISTORY
—January 13, 1950:
"What's Cookin'" At Troop 99?

—January 13, 1950:
Council of Jewish Women

—January 13, 1950: Inside AZA by Leonard Naiman
—January 13, 1950:
Jewish Youth Council

—January 13, 1950: Tifereth Israel Young People's League
ARTS
Night Sky audience experiences aphasia by Carol Davis in San Diego

LIFESTYLES
16-year courtship finally reaches chuppah by Norene Schiff-Shenhav in Fallbrook, California

NEWS FROM OUR ADVERTISERS
—Adoption Alliance of Jewish Family Service: Upcoming Events
—Bronfman Youth Fellowship Awarded to San Diego Jewish Academy's Jack de Tar
—Tifereth Israel Synagogue schedules Selichot showing of Iraq documentary



Remembering 9/11/2001

Does government need 'back door' authority to break encryption codes? by Martin Charles Golumbic in Haifa, Israel.
'Ordinary' citizens demonstrated grace in an extraordinary disaster by Sheila Orysiek in San Diego

National
Who were 3 most important U.S. Jews? by David Benkof in New York

Campaign 2008—Letters to the Editor
—Matthew Brooks column draws rebuke from Carol Davis in San Diego
— Obama didn't protest Wright for 20 years; how would he act towards bombastic leaders of anti-U.S. nations? from Donald A. Moskowitz in Londonderry, New Hampshire

Adventures in San Diego Jewish History
—January 13, 1950: San Diego Jr. Pioneer Women
—January 13, 1950: Labor Zionists
—January 13, 1950: Junior Charity League
Arts
Thursdays with the Songs of Hal Wingard.
—#243, Mary Had a Little Lamb
—#244, The Itsy Bitsy Spider
—#246, The Little Star


News from Our Advertisers
—Mental Illness: Coping Strategies, Current Treatments, & Paths to Wellness from Jewish Family Service
—San Diego Jewish Academy focuses on academics, athletics and arts

International

Don't trivialize the Shoah by making light of it, or using it for partisan ends by Dvir Abramovich in Melbourne, Australia
The Jews Down Under, a roundup of Australian Jewish news by Garry Fabian in Melbourne:
—World No Safer after 9/11—Juval Aviv
—Tough opening game for peace team
—Submission highlight campus bias
—Community Security Group first public appeal
—A remarkable musical milestone
—Jewish Community welcomes new Premier
—Outrage over Arab leader's remarks
—A grave situation in Brest, Belarus
—Something in lighter vein - The Jewish Car
National
Campaign 2008: Democrats' attacks on Palin lack merit by Matthew Brooks in Washington D.C.


Adventures in San Diego Jewish History

—January 13, 1950: Senior Pioneer (Negba) Club
—January 13, 1950:Yo-Ma-Co News
—January 13, 1950:Guardians
—January 13, 1950: J.C.R.A.


Arts

It's a Hit! It's the Housewives! by Cynthia Citron in Sherman Oaks, California

Sports

Will Spitz legend survive Phelps? Book review by Donald H. Harrison in San Diego


News from Our Advertisers

Musical Selichot at Congregation Beth Am
San Diego Jewish Academy Unveils New Gymnasium & Sports Complex

International
How much of a criminal is PM Olmert? by Ira Sharkansky in Jerusalem
Budgetary caution saves lives in Georgia by Donald H. Harrison in San Diego
National
Campaign 2008: Palin opposes abortion, evolution, sex ed by J. Zel Lurie in Delray Beach, Florida
Judaism
Florida rabbi questions why some areas have many synagogues, only one mikvah by Bruce Lowitt in Palm Harbor, Florida

Songs of Our People: Eylu D'Vorim—Torah study prelude by Cantor Sheldon Merel in San Diego

Adventures in San Diego Jewish History

—January 13, 1950: 1950 {Editorial}
—January 13, 1950: Former Major Israeli Army In San Diego
—January 13, 1950: Who's New
—January 13, 1950: Samuel L. Fox Lodge by John L. Kluchin
—January 13, 1950: Hadassah

Arts
Memphis: Racism and rock n' roll by Carol Davis in La Jolla, California
Message from Our Publisher

—Please actively support San Diego Jewish World
Monday, September 8, 2008 (Vol. 2, No. 216)
International
Israeli professor worries over course his native United States is taking in world by Ira Sharkansky in Jerusalem


Judaism

Non-practicing vegetarian chooses to make a kosher compromise by Rabbi Dow Marmur in Toronto, Canada

Undeterred by vandals, Ner Tamid leaders predict bright future for the congregation by Donald H. Harrison in Poway, California

A new daughter embraces the Covenant by Sheila Orysiek in San Diego


Sharing a meal at Chabad of La Costa by Gerry Greber in Carlsbad, California


Adventures in San Diego Jewish History
—January 13, 1950: Fund Ends Year With Over $207,000
—January 13, 1950: Institute to Feature Course in Mental Hygiene
—January 13, 1950: Youth Aliyah To Present Film
—January 13, 1950: There's Room For You {Editorial}
Arts
Picking right shows for teenage grandkids by Carol Davis in San Diego

News from Advertisers & Our Publisher

—Please actively support San Diego Jewish World
—Upcoming events of the Jewish American Chamber of Commerce
International
Are olim more prone to child-murder? by Ira Sharkansky in Jerusalem
Israelis trust IDF and the media more than they trust their politicians by Dorothea Shefer-Vanson in Mevasseret Zion, Israel
Campaign 2008: Obama worries some Israel supporters by Michael Goldblatt in Huntington Valley, Pennsylvania
Judaism

Christian saints and Jewish tzaddikim: what is the meaning of graveside prayers? by Rabbi Leonard Rosenthal in San Diego
Does medical treatment interfere with G-d's will? Akiva had the answer for that one by Rabbi Baruch Lederman in San Diego
Zipping into learning at Beth Israel by Donald H. Harrison in San Diego
San Diego County

Adventures in San Diego Jewish History

—January 13, 1950: Late Flash
—January 13, 1950: Hutler and Levenson to Attend Conference
—January 13, 1950 Rabbinical Assembly To Meet Here
—January 13, 1950: Israel Representative Talks on Investments

Sports
A bissel sports trivia with Bruce Lowitt in Oldsmar, Florida


Messages from Advertisers and Our Publisher

—Gotthelf Art Gallery opens exhibition of emerging Jewish artists
—October activities offered at College Avenue Senior Center
—Please actively support San Diego Jewish World
International
Tales of squill, wagtails and sunsets by Ulla Hadar in Kibbutz Ruhama, Israel
A lightning tour through South Italy's numerous Jewish historical sites by Karen Primack in Trani, Italy

Judaism
'Prayer isn't boring... You are' by David Benkof in New York
San Diego County
In tribute to Marie Berg and other community leaders who came before us by Donald H. Harrison in San Diego
Adventures in San Diego Jewish History:
—December 30, 1949: Episcopalian Rector Invites Cantor To Participate in Midnight Mass
—December 30, 1949: S.D. Lasker Lodge Bnai Brith Installation Set For January 8
—December 30, 1949: Congregation Tifereth Israel
Link to previous editions
< BACK TO TOP