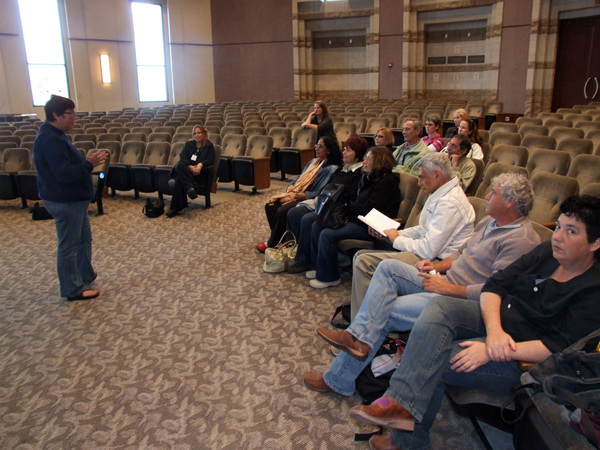 BRIEFING—Tammy Vener, early childhood education director of Congregation Beth Israel,
briefs educators and communal workers from Sha'ar Hanegev about her Reform congregation

THE JEWISH CITIZEN

Sha'ar Hanegev citizens familiarize themselves with Reform Judaism

By Donald H. Harrison

LA JOLLA--Teachers and communal workers from Sha'ar Hanegev on Tuesday sat in the sanctuary of Congregation Beth Israel, where early childhood educational director Tammy Vener gave a history of the congregation, which now is occupying its third home.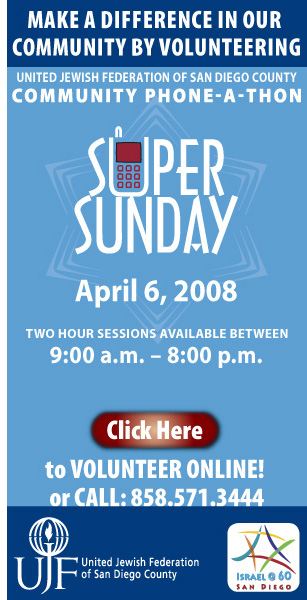 She said before the sanctuary in La Jolla was built, architects spent a lot of time in Israel, envisioning a place about which the congregation's children upon visiting Israel could say, "That looks just like my synagogue."

The dome of the 500-seat room is supposed to convey a sense of the Tent of Meeting; designs on the windows invoke the memories of the patriarchs and matriarchs; portals convey a sense of the guard posts protecting Israel's walled cities, and the stone behind the bima suggests the building materials of Jerusalem.

While the sanctuary is inspired by Israel, its Israeli visitors are in the process of weighing whether American-style Judaism -- particularly that practiced by the Reform movement--might fill the wide gap between Israeli secularism and Israeli Jewish Orthodoxy.

During their eight-day tour the educators and communal workers from Sha'ar Hanegev will visitnot only Congregation Beth israel but Temple Solel and Temple Adat Shalom as well.

One questioner asked Vener if there were doctrinal differences among Reform congregations.

She responded that all four Reform congregations which have their own buildings in San Diego County--the fourth being Temple Emanu-El--are affiliated with the Union for Reform Judaism, which is presided over by Rabbi ERic Yoffie in New York City.

Whereas Congregation Beth Israel, as the oldest and largest congregation in San Diego, draws its membership from throughout San Diego County, Vener said it was her impression that the sister congregations were more neighborhood-based. Adat Shalom is located in the suburb of Poway; Solel is in the Cardiff-by-the-Sea section of Encinitas, and Emanu-El is located in the San Diego State University area of San Diego.

Another questioner pointed to large chairs built into the back wall of the bima and inquired whether people paid to sit there--as is the custom in some shuls.

Vener said that the seats were typically used by the people officiating at the service and were not sold.

Alon Schuster, mayor of Sha'ar Hanegev, before returning to his city had attended a Shabbat service at Beth Israel last week and commented that perhaps the members of his kibbutz of Mefalsim and the other kibbutzim and moshav of Sha'ar Hanegev might find more connection to Judaism, as practiced around the world, if they were to have such a congregation.

Schuster's thoughts were echoed Tuesday by a member of the delegation of communal workers and educators who arrived in San Diego in his wake and who will continue their visit over a total of eight days.

One of them, Zvi Fajerman, a psychologist who counsels patients traumatized by the constant barrage of Kassam rockets from Gaza, said whereas Sha'ar Hanegev residents were helping to maintain Israel, Diaspora Jews are helping to maintain Judaism.

Being Jewish "in Israel, for us, it is natural, like the landscape, the fields, the mountains. What you do is very important -- a kind of heroism," he said.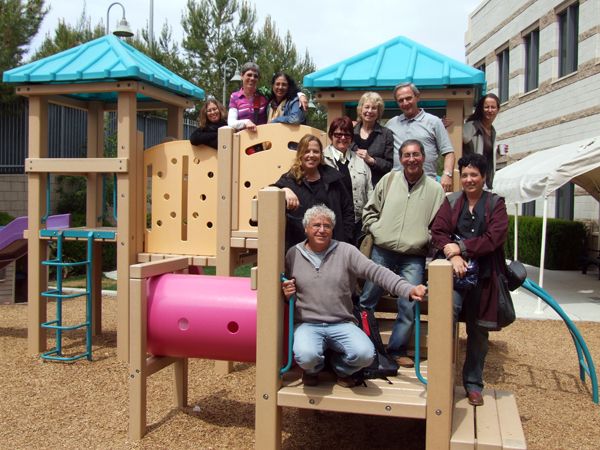 RECESS—Above, with Nadine Finkel of the United Jewish Federation in their midst (fourth row, left), delegation from Sha'ar Hanegev poses happily on preschool playground at Beth Israel.
Below, Zvi Fajerman, a psychologist who serves the Sha'ar Hanegev population, compliments
American Judaism, and, at right, Aviva Saad, standing among senior clients, welcomes the delegation to the Jewish Family Service Senior Center at Beth Israel.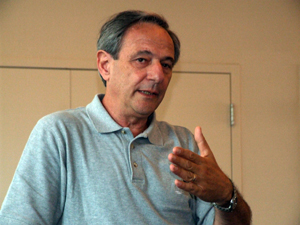 .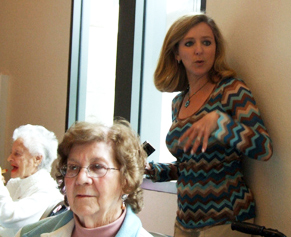 Other stops on the Beth Israel tour were the preschool and a senior center operated in leased space by Jewish Family Service where the Israelis and the seniors were served a kosher lunch and were briefed by program director Aviva Saad. The center is open Tuesdays, Wednesdays and Thursdays, with a typical day including exercise at 10 a.m., a lecture at 11 a.m., lunch at noon, and entertainment or another lecture at 1 p.m.

Saad led the seniors in singing a chorus of H'nai Matov to welcome the delegation, whose members were asked to introduce themselves. They included the psychologist, a social worker, an elementary school teacher and school administrator, a sports director, a college staff member, a librarian, a computer specialist and two community managers.

One who said his kibbutz of Nir Am has suffered a lot of damage as a result of being hit by 700 rockets fired by Hamas terrorists in Gaza, said he and his neighbors try to take a philosophical view.

"In our kibbutz, we live 23 hours a day in Paradise, and one hour a day we have hell, but we have hell every day," he said.

Saad responded for the seniors and herself that "we all share your pain. … We know we are lucky to live in San Diego. We pray every day for peace and shalom for every body
Harrison is editor and publisher of San Diego Jewish World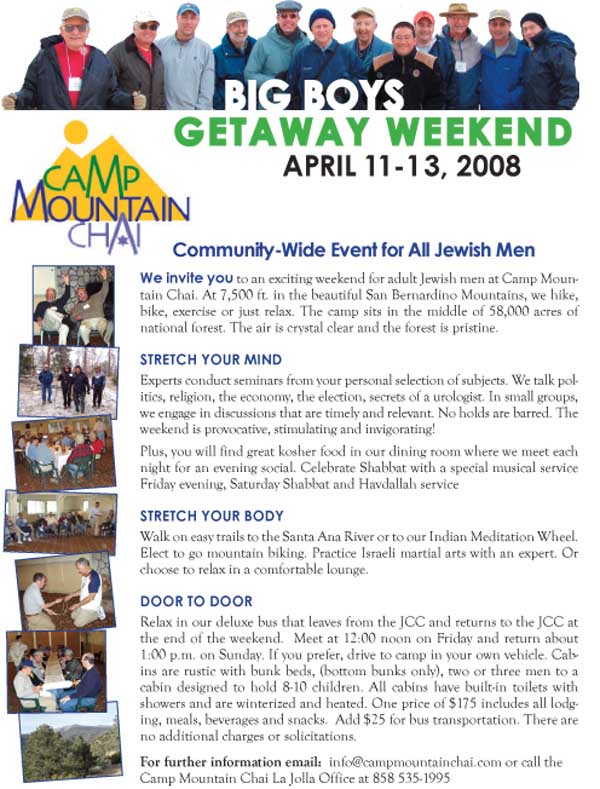 Rabbi Herbert Friedman, founder of Wexner Heritage Foundation, dies at 89

By Dr. Alex Grobman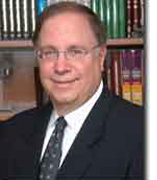 ENGLEWOOD, New Jersey—Rabbi Herbert A. Friedman (at right), a former CEO, executive vice-chairman and lay leader of the United Jewish Appeal (UJA) and the founding president of the Wexner Heritage Foundation died in New York City on March 31 at age 89. Articles will be written about his pioneering work in Jewish philanthropy and Jewish education; few know the extent of his critical role in assisting the survivors of the Shoah in post-war Europe.

Friedman was a 27 year-old Reform rabbi serving as an American chaplain in the American Army stationed at Headquarters Berlin District when Rabbi Philip S. Bernstein, then Advisor on Jewish Affairs U.S. Zones, Europe, asked him to serve as his assistant. The Jewish Displaced Persons (DP) required an advocate to explain their needs to the military, and Friedman was recruited to help them.

The Allies assumed that like the other refugees at the end of the war, the Jews wanted to return to their former homes. They did not appreciate that for a significant number of them, this was no longer a realistic option. Failure to understand the need for Jews to be given legal status as refugees, or to provide them with adequate shelter, clothing, kosher food and a way to re-institute contact with family and friends, caused the military many problems. In July1946, Friedman was assigned to visit the DP camps throughout the American Zones of Occupation to interpret the survivors needs to them.

As thousands of Jews fled Poland into the American zone of Germany and Austria in the wake of the Kielce pogrom of July 4, 1946, when 47 people were killed and more than fifty injured, the American Army decided to ease the crowding in the camps by moving Jews to less crowded facilities. On September 30, a trainload of survivors arrived at Babenhausen, a former prisoner of war camp near Frankfurt.

When the survivors saw the inferior condition of the site with barbed wire still surrounding parts of the installation, they refused to disembark. After Lt. General Geoffrey Keyes, commanding general of the Third Army came to assuage their fears, most agreed to enter the camp. Friedman, who was there when the survivors arrived, remained to ensure they received the food, shelter and care the general had promised.

Even before Friedman became Assistant Advisor for Jewish Affairs under Bernstein, he was intimately involved with helping the Jews. He arrived in Berlin during the first week of April, 1946 and immediately began working with Brichah, the organized and spontaneous illegal movement to smuggle Jews out of Europe and into Palestine. He furnished the Palestinian Jews, who were members of the Jewish Brigade, with trucks, gasoline, false papers, clothing, housing, cigarettes, and a cover story to justify their presence in the city. Established in September 1944, the Brigade worked with survivors in Italy and later with those in Germany.

Cigarettes were especially important since money had no value in post-war Europe. A carton of American cigarettes was valued at 1,500 marks or 150 dollars. Friedman and other Jewish chaplains used cigarettes to bribe Russian soldiers to smuggle Jews into the American Zone of Berlin. With one package, you could smuggle one Jew into the city. Jewish soldiers and other chaplains gave Friedman cigarettes; his father sent him 500 cartons every couple of days.

Friedman's illegal activities almost resulted in him being court-martialed. Only Bernstein's intervention saved him. At the end of the war, the Allies found huge amounts of books stolen from Jews randomly strewn in "makeshift depots." To protect and restore this enormous collection, they established the Offenbach Archival Depot in a vast five-story warehouse, across the river from Frankfurt. Fearing that these priceless books might not be properly cared for or might disappear altogether, he arranged for 1100 of the most valuable books to be shipped to the Hebrew University in Jerusalem.

After the military discovered how Friedman had appropriated these books without their approval, his services were no longer required. He left Germany in May 1947, ostensibly to be discharged upon arrival in the states. When he landed inthe U.S., Henry Morgenthau, Jr., former secretary of the treasury, asked that he speak at an emergency UJA conference. His talk went so well that Morgenthau, then national chair of the UJA, had him speak around the country for the next month.
When Friedman reported to be discharged, he was arrested for being absent without leave. He spent four days in military prison until Morgenthau's cable arrived explaining that Freidman had been authorized to speak for the UJA. After leaving the army on July 18, 1947, he became executive director of the UJA.

Grobman is the author of Rekindling the Flame: American Jewish Chaplains and the Remnants of European Jewry, 1944-1948. His latest book is Nations United: How The UN Undermines Israel and the West.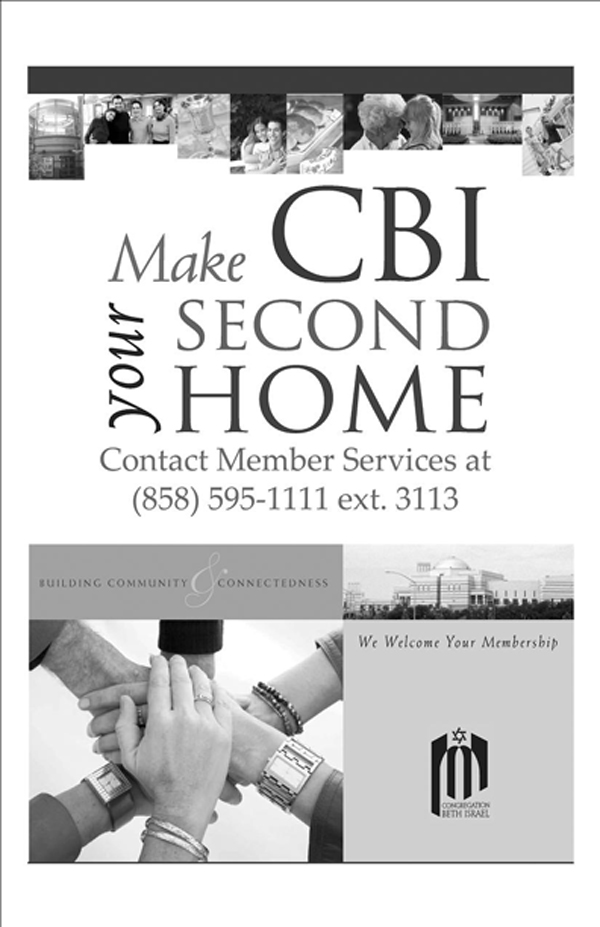 So, how will a nice Gentile boy help to
restore Jewish learning in Lithuania?

By Wyman Brent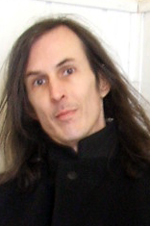 VILNIUS, Lithuania—How does one get from L in V to V in L? The L and V happen to be Lynchburg, Virginia. The V and L refer to Vilnius, Lithuania. 1962 was the year of Camelot and limit less possibilities. Not that I remember anything about that time as I was in my crib probably sucking my thumb the day Camelot crumbled. There are days when one can long for being back in the safety of a crib without a care in the world other than when feeding time is. These days I settle for some quality time with a good book and some relaxing music.
Lynchburg was a good place to be a kid. It was a real city though not so large that one felt anonymous. Funny how I can think these things now because of course that is not what goes through a child's mind at the time. At the time I would think about being with the other kids and going over to grandma's house for milk and cookies. There was summer to look forward to and winter as well. There was either fun in the sun or throwing snowballs, either way a good time was guaranteed.
Now I live in San Diego, California and far from my family and birthplace. I was going to say hometown but after having lived in sunny San Diego for twenty years it has become my hometown. Living in California does not explain how one ends up working to create a Jewish library in the Jerusalem of Lithuania. Neither does it explain how I ended up being the final speaker at a ceremony in Vilnius held May 12, 2008 to honor those who rescued Jews during the war. Actually, it does but requires some explanation.
The year 1994 saw me heading off to Lithuania for the first time after having previously visited Scandinavia and Russia and Yugoslavia. The thing about visiting Russia was that it was the Soviet Union at the time and I was staying far from Moscow. Making a trip north to Moscow and finding books in English required a 24 hour train journey each way. I was reading good commie and socialist literature along with classics translated into English. One book I read, though who is to say if it will ever be a classic, was titled, The Hills of Vilnius. It described Vilnius in such a way that I knew I would have to visit one day. 1994 was that year.
August, 1994 was the month and year I first met a person who not only became my best friend ever and my roommate but also the inspiration for the Vilnius Jewish Library. The thing is that a Gentile from Italy inspired a Gentile from San Diego to move to Lithuania to create the first real Jewish library in the Baltic countries since the war. It was the first day ever in Lithuania for both of us. Three years later and we end up roommates in San Diego. 2004 was the year Carla decided to write an article on Jews in Tijuana, Mexico.
It is funny how things can change your life. After going with Carla to meet with the rabbi and the members of the synagogue, it just seemed as if something came together in my life. I have always enjoyed reading thanks to my mother and father. I fell in love with Vilnius the first time there. Then the fascination with Jewish culture seemed to grow exponentially after those meetings. So why not have a non-Jew with an English and Irish background create the first Jewish library in Lithuania since before the war? It all makes sense when you think about it. Doesn't it?
There have been so many meetings and so much warmth from the Jewish community in Vilnius that it overwhelms at time. How can I express the feeling that knowing my dream (which seemed far out in the beginning) has made so many newfound friends? To know that the Vilna Gaon Jewish Museum and the Jewish Cultural and Information Center not only like the idea but have also written letters expressing their support. To know that young and old here are taking an interest. To know that the local media has taken notice with various interviews has been amazing.
Vilnius will be the cultural capital of the European Union for 2009. That means the city where I now sit shall have a spotlight shined on it for an entire year by every country in the union. I am asking everyone to work with me to bring the world of Jewish culture back to reality in the Jerusalem of Lithuania.
So many of us have either seen or read about what was done during the Shoah. How many of us have wished something could have been done to avert the worst tragedy ever to befall not only Jews but the world? How many wish that the life of the shul and shtetl were unchanged? I wish the same after walking the streets of Vilna and seeing only a few street names and statues to memorialize what was. Vilna is remembered as a city which was. I want it to once again be a city which is.
Will you help me to return Jewish education and learning to this once great center? By all working together, we can open a new place of Jewish learning in 2009 even if it is only a temporary facility. Then in 2010 on the Jewish New Year, we can open the permanent Vilnius Jewish Library. The choice is yours. Will you let those who sought to demolish Jewish culture over 60 years ago win? I am asking all of us working side by side to rebuild what it took so many to destroy. I am dedicating the rest of my life to this project. What are you willing to do?

If you care to help change the world for the better, the library needs books in new or like new condition. As long as the books are by Jewish authors, it does not matter if the books have a Jewish theme or not. There is a list of the books the library already has on my website. The library also needs DVDs and CDs. Please visit my website and feel free to contact me with any questions. The other thing you can do is to let everyone know about this project and also to let them know about the wonderful website where you read this story. I have added it to my favorites and hope you will do the same.
Here are the urls for my websites: http://vilniusjewishlibrary.wordpress.com/ and
vilniusjewishlibrary@yahoo.com

Brent resides in San Diego and travels frequently to Lithuania.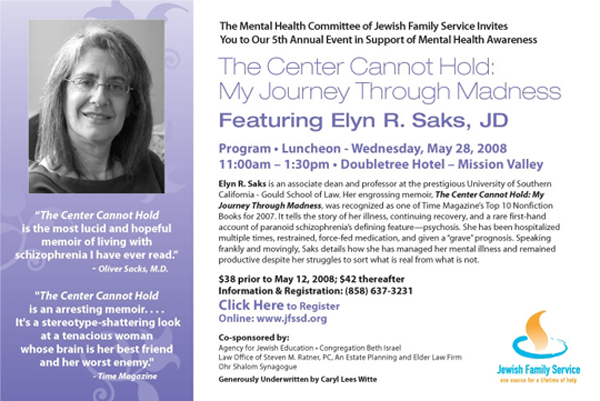 A Jew and Muslim to make music together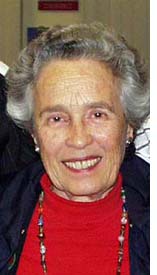 SAN DIEGO—We have heard about music's ability to bring diverse, even hostile people together. Daniel Barenboim has brought young Israeli and Palestinian musicians to play together in a symphony orchestra. Joseph Eger has done similar things with adult musicians through his SUN (Symphony of the United Nations). Lorin Maazel recently led the New York Philharmonic in a concert in North Korea, and on April 10 in San Diego, Yale Strom and his klezmer band Hot Pstromi will share the stage at SDSU's Smith Recital Hall with Pakistani Salman Ahmad, founder of the internationally acclaimed Sufi rock group JUNOON. Their program, entitled Common Chords, will be a musical celebration exploring the common roots of Muslim and Jewish music.

Strom, world renowned klezmer artist and ethnographer, maintains that
listening and moving to music releases endorphins in our brains that create a
natural euphoric feeling. Consequently, people respond to music in a positive way. Strom has traveled throughout Eastern Europe with his violin as a magnet, drawing people to him. .

He delights in performing with people of diverse backgrounds. The energetic violinist has collaborated with Rom, African-Americans, Poles, Germans, Slovaks, Latinos and now, with a Pakistani Muslim. Strom believes that music is an elixer for bringing people together. "I think our brains are hard-wired from primordial times to respond in a positive fashion when we hear music," Strom asserted. "I have learned so much from my experiences of playing music with different groups of people. I am excited to be a part of Common Chords where Jews and Muslims come together and share the same stage, playing their respective folk musics."

The klezmer violinist, his wife, vocalist Elizabeth Schwartz, and a Rom accordionist have just returned from a 16 day tour of Germany, France, Denmark and Sweden, bringing klezmer music to Western Europe.

Salman Ahmad and Yale Strom were introduced in New York by a mutual friend, history professor Mark Rosenblum from Queens College, New York. Although trained as a medical doctor, Ahmad decided to heal through his music. He founded the band Junoon where he plays guitar and sings. Junoon means "passion." Time Magazine described it as "Junoon-rock and Sufi rapture!"

As one of the leading rock bands of Southeast Asia, Junoon specializes in Sufi rock, Ahmed's creation, which blends conventional rock and the traditional music and imagery of Sufi, the mystical branch of Islam.. Ahmed has performed with Junoon in the US and last year, was featured at the Nobel Peace Prize Award Ceremony in Oslo.

When asked what his collaboration with Strom means to him, Ahmed responded, "It means that music is the best cultural dialogue to have between people. It transcends religion and politics and makes you dance and sing."

Thus, Salman Ahmad, a Pakistani of the Sufi Muslim faith, and Yale Strom, a Jewish-American of Eastern European extraction, find friendship through their music, through their common chords, despite the current political schism between Jews and Muslims in the world at large.

The free program, beginning at 7 p.m. is sponsored by San Diego State University's Center for Islamic and Arabic Studies, the Religious Studies Department-Many Paths Fund, the Cross-Cultural Center and the Jewish Studies Program where Strom is currently artist-in-residence.

Wingard is a freelance writer and a retired San Diego Symphony Orchestra violinist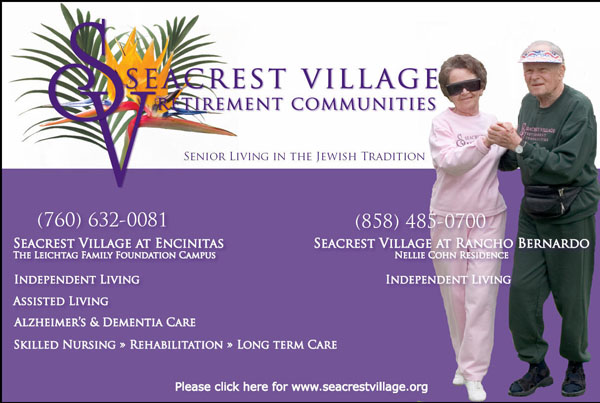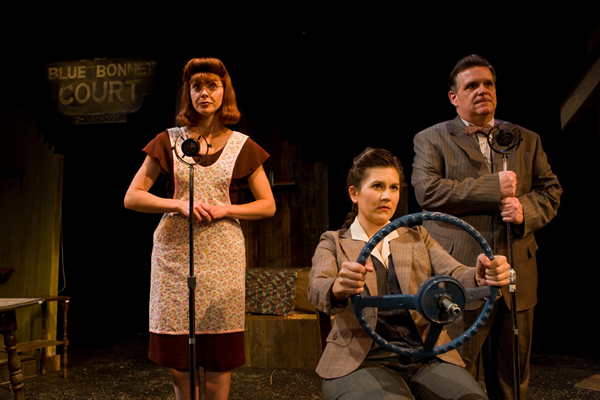 RADIO DRIVING—Fred Harlow and Leslie Gorell-Getz broadcast in the background as Wendy Waddell drives her car in Blue Bonnet Court, now at the Diversionary Theatre


ARTS IN REVIEW

Racism, anti-Semitism, sexism combine in lesbian love story at the Diversionary

By Carol Davis



SAN DIEGO—It's a good match, Diversionary Theatre and Moxie Theatre; Diversionary catering to Gay Lesbian Theatre and Moxie Theatre whose mission is to "expand the idea of what is feminine …" presenting plays by women playwrights and founded by an amazing team of strong women who are both performers and directors. They are bound together again with Zsa Zsa Gershick's Blue Bonnet Court directed deftly by Moxie's artistic director and founder, Delicia Turner Sonnenberg and playing out in Diversionary's space in Hillcrest on Park Blvd.

The time is 1944, the place, Austin, Texas, specifically, The Blue Bonnet Court Motel. It's here that Helen Burke, make that Berkowitz but don't tell anyone, (Wendy Waddell) finds herself, after her car veered off the road and slammed into a tree. She was on her way to California; make that Hollywood, to hook up with her movie star lover, Laura and to do some free lance writing for a New York publication.
Over the next few days or so, while waiting for her car to be repaired, she spends what seems like a lifetime in this run down motor court which is owned by the Webbs: Roy Glenn Webb (Christopher Buess) is a recovering, well let's just say he's recovering; his wife Lila Jean Webb (Jo Ann Glover); their 'colored girl' Orla Mae Bird (Monique Gaffney), and the town's librarian Nanalu Branch (Leigh Scarrit), who is Orla Mae's mentor and friend. Rounding out the cast are the Radio Woman (Lisel Gorell-Getz) and Radio Man (Fred Harlow).
When Helen Burke wandered into the Blue Bonnet Court, she got more than she bargained for. Not only was she the only guest of this establishment but also she had three strikes against her from the get go! She was Jewish, (Roy could tell she was a Jew Girl from her 'Roman Nose' and she looked suspicious in pants and a vest) she was a lesbian (something that no one ever talked about, but…) and she was friendly toward Orla Mae. (What was wrong with Orla Mae sitting in the balcony when she and Lila Jean went to the movies together?)
Nothing passed the smell test at Blue Bonnet. It wasn't just another shabby motel off the beaten track like so many others. There was too much lurking just under the surface. No one talked about it, but all the baggage Helen carried with her, came to the surface in the form of suppressed sexuality, racial inequality and religious bigotry. Some of it was so casual that conversations sprung up like they were talking about the weather. In one case Roy and Lila Jean discussed how much to charge Helen. "She's a kike", he said. "Then she should have some money." Lila Jean ran the motel almost alone since her husband, who had recently come home from the war, was shell-shocked and non-functioning. He was a drunk and a lazy wastrel who slept when he wasn't guzzling down Jim Beam. But that wasn't all that was bothering either of them. He refused to have sex with her, and when he did embrace her he wished it were her dead twin brother.
With sounds from the radio waves of "Long Ago and Far Away," "Lay That Pistol Down, Babe" and "Paper Doll" which was the only consistent form of entertainment, save for the ranting of the Bible Belt Preachers, (Fred Harlow and Lisel Gorell-Getz) this outstanding cast creates a most believable picture of those 'long ago and faraway days,' most would like to forget.
Wendy Wadell's Helen is true to character. Both her New York accent and her pronunciation of most of the Yiddish words that made it into the vernacular have a ring of authenticity. Her directness and brisk manner are typical of the east coast aloofness and brashness so many of us are accused of having. Yet as she softens toward Orla Mae and accepts the inevitability of their relationship, a change comes over the bold exterior giving way to a more gentle side. Monique Gaffney's Orla Mae is perfectly underplayed as the Negro maid who is used to taking orders yet continues to show a sense of pride at who she is. Both want only to have what everyone else has.
Joanne Glover and Christopher Buess couldn't have been more convincing as the perfectly acceptable looking 'southern couple. She with her effervescence and optimism and he in his drunken stupor, barely a survivor of the war with a chip on his shoulder; both miserable underneath the masks they wore, but always hoping to keep up the pretences that 'all is OK'. Each is looking for something that resembles a relationship but both are poverty stricken in that department. When she reached out to Helen, a collective gasp ran through the audience. So lonesome, it seems, that any port in the storm will do. Not so with Roy, who just buries himself in liquor to forget his war experiences and sexual encounters while in Germany, while yearning for someone other than Lila Jean to satisfy his needs.
Leigh Scarrit is at her all time best as Nanalu, the sexy librarian who caters to the boys who come home from the war a little more lonesome than when they left. Her character, while heartbreaking is also true to life. One doesn't need a roadmap to follow her exploits, but it does take some understanding of the character to recognize the outcome of her fate. Both Harlow and Gorell-Getz are the personification of an almost bygone era of the radio and Hollywood days and how much they meant to the stranded and ignorant bliss of a whole population. They strike a great balance between the heavily laden suppression of each of the characters with the lightheartedness of the music of the 40's, the commercials so many of us came to recognize and the rantings of the high velocity preachers all wanting to save souls.
Gershick, who is both Jewish and a lesbian, told me was thrilled to be able to have her show presented by such an outstanding cast. Kudos as well, from yours truly, for the directness, humor and pathos that was brought to the fore through these characters from the imagination of their creator. Every detail from period clothing (Jennifer Brown Gittings) to the choice of music (Rachel LeVine) to the stage and off stage lighting (Mia Bane Jacobs and Jason Bieber) to the run down looking Blue Bonnet Court (Bret Young and Delicia Turner Sonnenberg adaptation of Joel Daavid original) is a plus for both Diversionary and Moxie.
Blue Bonnet Court, a comedy/drama, which won the GLADD Media Award for outstanding Los Angeles Theatre and two NAACP Awards for Theatrical Excellence, will continue through April 13th.
See you at the theatre.
Davis is a San Diego-based theatre critic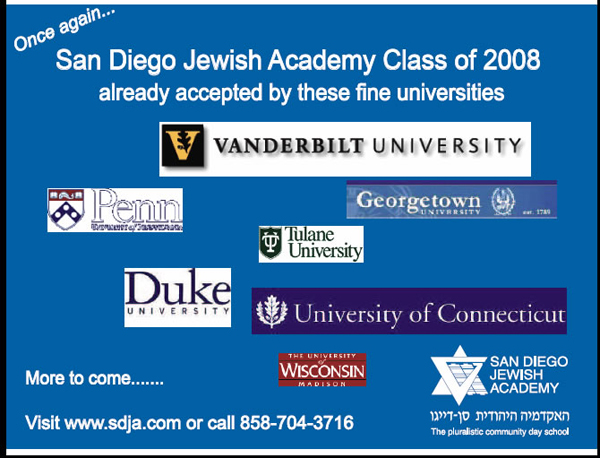 Please click on the schools' ads to visit their respective websites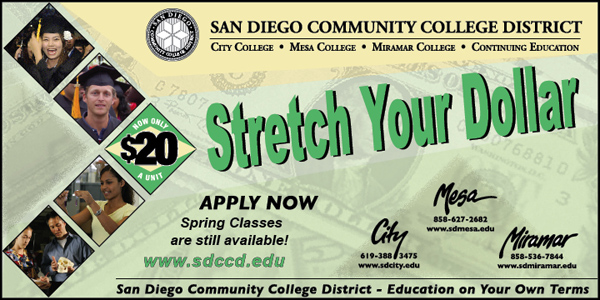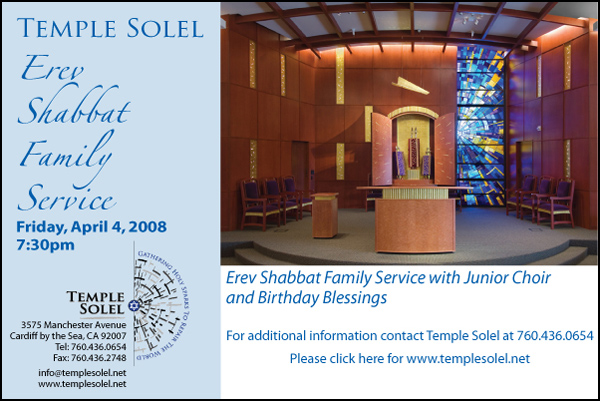 SAN DIEGO JEWISH WORLD THE WEEK IN REVIEW

Tuesday, April 1, 2008 (Vol. 2, No. 79)

Donald H. Harrison in San Diego: Fictional Israeli P.I. fails 'memorable' test
Sheila Orysiek in San Diego: What music performance means
Gary Rotto in San Diego: My, how San Diego AIPAC has grown
Dorothea Shefer-Vanson in Mevasseret Zion, Israel: Britain's descent into anti-Semitism
From SDJA Student Quarterly, reviews by students:
Harry Doshay in San Diego: Anthology's linup thrills jazz fans
Alexa Katz in San Diego: Mesquite Restaurant: A gem in Scripps Ranch
Michelle Rizzi in Del Mar: Pannikin: The Anti-Starbucks


Monday, March 31, 2008 (Vol. 2, No. 78)

Shoshana Bryen in Washington, D.C. South America's growing terrorist threat
Cynthia Citron in Los Angeles: Production celebrates Albert E, musically
Kathi Diamant in San Diego: My quest to solve a literary mystery
Donald H. Harrison in San Diego: Sha'ar Hanegev seeks rocket-proof school
Rabbi Dow Marmur in Jerusalem: Some advantages to a peace with Syria
Sheila Orysiek in San Diego: Miller's needle: Revenge in a tailor shop


Sunday, March 30, 2008 (Vol. 2, No. 77)

Shoshana Bryen in Washington, D.C.: U.S. must lend support to Colombia as it fights narco-terrorists tied to Hezbollah
Charly Jaffe in San Diego: A teen's guide to Old Ladies
Rabbi Baruch Lederman in San Diego: The honor of service to veterans
Rabbi Dow Marmur in Jerusalem: Anti-Israelism: The new anti-Semitism
Rabbi Leonard Rosenthal in San Diego: On Post Bar/ Bat Mitzvah Letdown
Ira Sharkansky in Jerusalem: Why cynicism abounds in Middle East
And:
From the archives: We reprint from the 1953 Southwestern Jewish Press a trailblazing two-part series by Alice Craig Greene that exposed La Jolla's discriminatory housing policies against Jews


Friday-Saturday, March 28-29, 2008 (Vol. 2, No. 76)

Carol Davis in San Diego: Sondheim's 'Night Music' a Cygnet success
Peter Garas in Canberra, Australia: So maybe Eden wasn't where we thought
Donald H. Harrison in San Diego: Lessons from historical preservationists
Rabbi Dow Marmur in Jerusalem: Israel's confounding aliyah problem
Gary Rotto in San Diego: Puzzling through the divestiture debate
From SDJA Student Quarterly, a publication of San Diego Jewish Academy: Will Bohannon, Jordan Dubin and Charly Jaffe, all in San Diego: SDJA seniors tell presidential choices
And:
Sheila Orysiek: Reluctant Martyr, Chapter One (novel serialization)


Thursday, March 27, 2008 (Vol. 2, No. 75)

Lawrence Baron, PhD in San Diego: No respite from racism: 1936 in the evolution of German racial politics
Rabbi Dow Marmur in Jerusalem: Requiem for the Winograd Report
Sheila Orysiek in San Diego: Advice for Obama: In life and in politics we are judged by the friends we keep
Gary Rotto in San Diego: Obama's 'race' speech showed leadership
From SDJA Student Quarterly, a publication of San Diego Jewish Academy:
Eitan Frysh in San Diego: Litter, mice force snack bar to close
Alexa Katz in San Diego: Students help honor Israel at 60


Link to previous editions

< BACK TO TOP

Copyright 2008 - San Diego Jewish World, San Diego, California. All rights reserved.