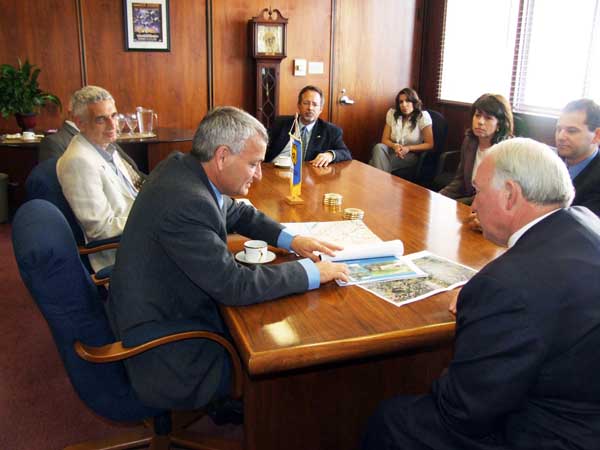 TWO MAYORS--Mayor Jerry Sanders, at head of table, looks as Mayor Alon Schuster of Sha'ar Hanegev shows him materials about his city in the northwestern corner of the Negev. Also sitting at the conference table, clockwise from Schuster, are Shimon Keren-Zvi, treasurer of Sha'ar Hanegev; Tibi Zohar (hiden from view); Michael Rassler, chief executive officer of the United Jewish Federation, Tina Friedman, UJF community relations director; and Eyal Dagan, Israel community shaliach in San Diego. (Photos by Donald H. Harrison)

THE JEWISH CITIZEN

Sha'ar Hanegev seeks rocket-proof school

By Donald H. Harrison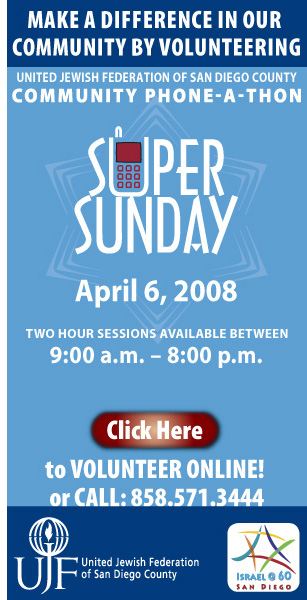 SAN DIEGO—Mayor Alon Schuster and treasurer Shimon Keren- Zvi of the embattled Israeli municipality of Sha'ar Hanegev have spent the last several days in San Diego rallying support for building a new and protected school in their rocket-scarred region in the northwest corner of the Negev Desert.

Sha'ar Hanegev enjoys a special relationship with the United Jewish Federation of San Diego County which annually contributes $750,000 for the upkeep and development of Ibim, a village in Sha'ar Hanegev created for the absorption of immigrant students who made aliya to Israel without their parents.

Moreover, Jewish communal workers and educators from San Diego County exchange visits with their counterparts from Sha'ar Hanegev, while students from both areas join with Israeli Arabs on an annual summer trip to Spain and Israel exploring eras of cooperation and confrontation between Arabs and Jews.

Schuster and Keren-Zvi had a busy public schedule in addition to private meetings with San Diego philanthropists who are considered potential donors to a $30 million project to construct a Kassam- rocket-proof school campus adjacent to Sapir College. The college is located in Sderot, a city that is surrounded by the Sha'ar Hanegev municipality.

The two Israeli officials, accompanied by ranking UJF staff members, were greeted at City Hall by San Diego Mayor Jerry Sanders, who presented Schuster with a ceremonial key to the city. They also met at San Diego Jewish Academy with representatives of a variety of Jewish communal agencies, as well as at the United Jewish Federation building with the UJF staff. On Friday night and Saturday morning, they attended Shabbat services respectively at Congregation Beth El and Congregation Beth Israel.

At both congregations Schuster told of the impact regular bombardment by Kassam missiles fired by Hamas terrorists in Gaza has on the school children of Sha'ar Hanegev. Whenever the red alert sounds, the students are required to immediately stop what they are doing and scramble within 15 seconds to a rocket-proof area of the school. As "red alerts" signaling an incoming rocket are sometimes sounded frequently throughout the day, the constant interruptions take their toll on the students both educationally and psychologically.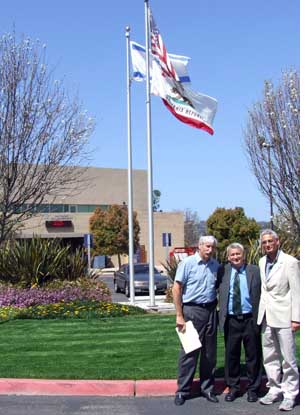 On Sunday, Schuster and Keren- Zvi were among more than 1,100 attendees of an off-the-record brunch of the American-Israel Public Affairs Committee (AIPAC) held at the Sheraton Harbor Island Hotel and were among the more than 300 attendees at the Lawrence Family JCC of an evening concert given the youth symphonic band and choir of the northern Israel city of Afula. That city's mayor, Avi Elkatbetz, also was in attendance.

In between those two events, Schuster and Keren-Zvi met in Balboa Park with officials of the House of Israel and, by coincidence, with officials of the newly organized House of Lebanon, which served as this week's sponsor of a program featuring the foods, music and dance of their country.

At the House of Israel, president Amnon Silberger and former president Seymour Teitelbaum conferred with the Sha'ar Hanegev officials about the possibility of their city providing materials of interest to the large number of tourists who visit the House of Israel. Outside, on the communal

Larry Acheatel, left, executive director of
San Diego Jewish Academy greets Alon
Schuster and Shimon Keren-Zvi at SDJA's
binational flagpoles

lawn, Schuster also met and chatted amiably with House of Lebanon president Camil Saab and board member Gisel Abouchacra. They exchanged the wish that there could be a lasting peace between the two countries which fought a war only two years ago.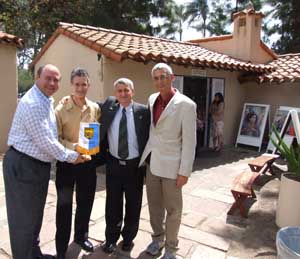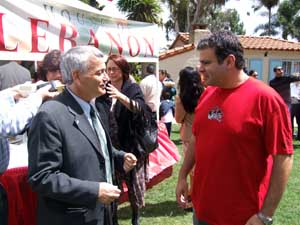 TWO MEETINGS—Mayor Alon Schuster, second from right in first picture, poses with pennant
from his city held by Tibi Zohar, at left and Amnon Silberger. Sha'ar Hanegev treasurer
Shimon Keren-Zvi is at Schuster's right. In photo at left, Schuster says hello to Camil Saab, president of the House of Lebanon which hosted a program on Sunday in Balboa Park. Tami
Zohar is in the background.

In his talk to worshipers at Beth Israel, Schuster emphasized that although his elementary school age children have known nothing but rocket attacks in their short lives, he doesn't want them to associate the word "Arab" with the word "enemy." He recalled there once was a time when his community alongside the Gaza Strip enjoyed friendly cross-border relations—so much so that excursions to Gaza City from Sha'ar Hanegev were not uncommon.

With Gaza now under the control of Hamas belligerents, such bilateral relations are no longer possible, but Schuster said he wants his children to know that peace and friendship with Arabs on both sides of the border are desirable.

He also told communal workers and rabbis who lunched with him at San Diego Jewish Academy that his region's response to the rocket attacks must be a strong demonstration to the terrorists that "we are not going anywhere."

Currently many of the buildings of Sha'ar Hanegev's school complex cannot be used because their roofs are likely to collapse if hit directly by a rocket. Accordingly classes are crowded into buildings with sufficient structural reinforcement and that are within 15 seconds distance for students and teachers.

The plan is to build a new school capable of serving more than the current 1,100 students and that can also serve as an afterschool learning and cultural center. The school which will be reinforced on the three sides closest to Gaza will be built next door to the current facility, which, in turn, will be deeded over to Sapir College to use as it deems appropriate, Schuster said.

The Israel government will provide approximately one-third the funds for the school project, worldwide ORT will provide more, and the balance will come from philanthropy not only in San Diego, but in Europe and in Israel, itself. Schuster said he discussed with the United Jewish Federation the possibility of San Diego Jewry making a sizable commitment to this program. Michael Rassler, the UJF chief executive officer, acknowledged such discussions are being held but said they have not been finalized.
Although the school project was uppermost on Schuster's agenda, at Mayor Sanders' office he raised the possibility of building relations not only with San Diego's Jewish community but also with the overall city. Although there is a great difference in size between the two municipalities—San Diego having approximately 1.3 million residents within its city limits compared to 6,000 for Sha'ar Hangev—Schuster asked Sanders to keep his city in mind if ever San Diego goes through a crisis in which a high percentage of the population is traumatized by events out of their control. He explained that as a result of many students and their families feeling traumatized by the incoming rockets, the city had developed a good reputation for the quality of its psychological counseling.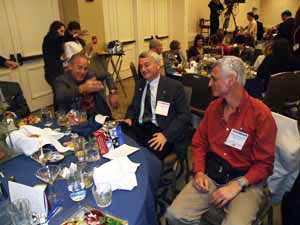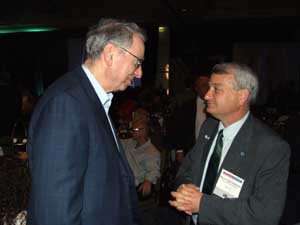 AIPAC BRUNCH—At right, United Jewish Federation president Kenneth Polin gestures as
Alon Schuster and Shimon Keren-Zvi listen; at right, Qualcomm co-founder Irwin Jacobs and
Schuster have a brief conversation between speeches.

Tibi Zohar, a co-chairman with his wife Tami of San Diego's "Israel at 60" celebrations, suggested to Sanders that if, for example, San Diego were to be unfortunate enough to suffer another fire or other calamity, Sha'ar Hanegev's expertise might prove valuable.

After hearing of Sha'ar Hanegev's situation, Sanders told the officials, "I respect very much what you have done."

Schuster said his city believes that the best answer to Hamas terror is to build not only a school that is of reinforced construction, but one which also offers the highest quality public school education in Israel. With the help of San Diego Jewish Academy, the High School of Jewish Studies and other institutions, he said, creating a high-achieving school physically protected from rocket attack will demonstrate his citizens willingness to protect and enhance the Jewish homeland.

Harrison is editor and publisher of San Diego Jewish World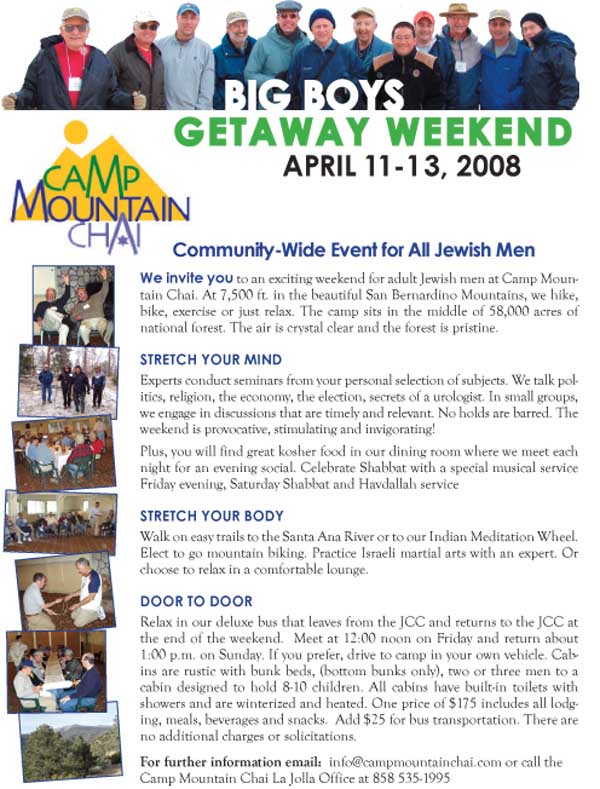 FROM THE SIDELINES

Some advantages to a peace with Syria

By Rabbi Dow Marmur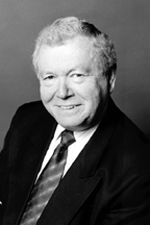 JERUSALEM—Israel's Prime Minister is reported to have sent twenty messages to Syria's President about peace talks. So far he appears to have been rebuffed. Why is Ehud Olmert so keen? Several answers come to mind.

1. He knows that if Israel can make peace with Syria, it will also have dealt with Hezbollah in the north and Hamas in the south, both being the clients of Iran that's using Syria as its front.

This in turn means that if Syria ceases to be a threat, Iran is no longer that much of an issue. If it no longer threatens Israel through its terrorist stooges, the need to wage war against it will have greatly diminished. The concessions Israel would have to make to Syria are likely to be much less painful than the cost of war with Iran.

2. As long as Olmert can keep up the image of peace maker, his government, despite all its internal problems, remains reasonably safe while the stance of the opposition to his right, as articulated by its leader Binyamin Netanyahu, becomes more and more hollow. And staying in power is as important to Olmert as is keeping Netanyahu out of it.

The image of Olmert as peace maker also takes the sails out of the opposition from the left. Though it's not as much a threat as is the opposition from the right, Haim Oron, the newly elected leader of Meretz, may make more of a splash in the next general election than his predecessor Yossi Beilin ever could. In order to bring Meretz into the proverbial tent, Olmert – through the leader of the Labor party, for whom Meretz is a serious rival – has invited Oron to join the government. The latter refused. He could have quoted the Yiddish adage that with a healthy head you don't lay down in a sick bed.

3. Making peace with Syria would sit well with the Americans. Insurgents often find their way to Iraq from Syria, where they're being trained and equipped together with other terrorists. To have Syria pacified by Israel would be good news for the United States and Olmert likes bringing good news to the United States. He goes out of his way to make nice to the many visitors from the American administration whom he receives in Jerusalem. He must be upset that Condoleezza Rice isn't happy with Israel's pace at the negotiations with the Palestinians.

4. Peace with Syria would probably make it easier to negotiate with the Palestinian Authority as it would weaken Hamas and thus allow for greater courage on the part of Abu Mazen and his team. Perhaps then Annapolis could become a reality.

5. Abu Mazen didn't speak nicely about Israel at the Arab League summit in Damascus. But that wasn't important as the fact that most major players – the leaders of the so-called moderate Arab states – stayed away. They would be grateful to Israel because a tame Syria may take her dirty hands off Lebanon, which would be good for all.

Despite the official grandstanding on both sides, there're those who say – among them at least one Israeli cabinet minister - that negotiations with Syria are, in fact, already underway. This may be good news for us peaceniks. But those for whom the land of Israel is more important than the peace of Israel are likely to be nervous. For, in addition to much American cash, the price that Israel would have to pay is bound to be the Golan Heights, even if that's a less bitter pill to swallow than war with Iran.

Dow Marmur is the Rabbi Emeritus of Holy Blossom Temple in Toronto, Canada. He divides his time between Toronto and Jerusalem.



South America's growing terrorist threat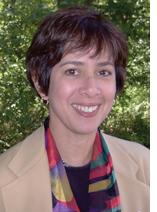 WASHINGTON, D.C—US policy toward South America has varied from benign neglect to "oops." The 2005 cutoff of military aid to countries that would not exempt American military personnel serving in their countries from the jurisdiction of the International Criminal Court was an "oops." The then-commander of the US Southern Command (SOUTHCOM), told Congress, "There will be unintended consequences, that we lose contact, engagement, the opportunity to learn from them and teach them about the values and ideals and beliefs in democratic institutions... and others will fill that gap." In March 2005, JINSA asked:

Who? Indigenous anti-American politicians, of course, and drug lords, but also terrorists looking for a home since we chased the Taliban out of Afghanistan. And the Chinese military... Chinese defense officials made 20 visits to Latin American and Caribbean nations last year, while nine high-level delegations from Latin America visited China. All of which makes the region a swamp of potentially tragic proportions. (JINSA Report #479, March 2005)

A JINSA delegation visited SOUTHCOM this month to be updated on the ways in which terrorist organizations and terror-supporting countries have taken advantage of weak governments to undermine democratic states and free-market, pro-American policies.

China has taken full advantage of our lessened presence. According to SOUTHCOM officials, "This used to be our region; now we share it with the Chinese" who aim to become the "partner of choice" for Latin American countries. They are providing economic and military aid as well as joint training and hosting delegations in China. The quick payoff - last year three countries switched recognition from Taiwan to Beijing.

Furthermore, there is a nexus between terror and criminal organizations, cooperating on piracy, fundraising, communication fraud, arms trafficking, document forging, money laundering, alien smuggling and support networks. Evidence indicates that Venezuela, Cuba and Iran play a role, and Ecuador was providing sanctuary for the FARC until Colombia raided the camp.

Iran, bolstered by high oil prices, invested millions in Chavez's Venezuela in 2006. Since Venezuela is also benefiting from $100/bbl oil, can we assume the money is going elsewhere? Iran now has nine embassies in the region, an increase of four since 2004, and there are weekly flights between Caracas and Tehran via Syria. No visas required. Who are they putting in our hemisphere and why?

The US has to get in the game and get in fast. We believe the people of South America have seen enough dictators and dirty wars to last a lifetime. We cannot believe they are indifferent to the trouble Iran, Cuba and Venezuela can cause, with China looking on approvingly. We believe they want trade and prosperity. But they can't do it alone and they can't do it without strong American backing for those democratically elected governments trying to stem the tide of left-leaning, socialist dictators who permit, if not endorse, terrorist groups among them.

Passage of the proposed Free Trade Agreement with Colombia would be an important way to ensure that our friends to the south know that the United States has not abandoned them.

Bryen is special projects director for the Jewish Institute for National Security Affairs (JINSA)

My quest to solve a literary mystery

"As long as you keep climbing there will be stairs, they will magically appear under your climbing feet." —Franz Kafka

By Kathi Diamant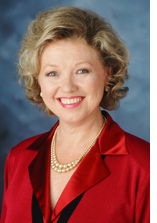 SAN DIEGO—In "Three Cups of Tea," the One Book/One San Diego pick for 2008, author Greg Mortensen comes to a pivotal moment in his quest to build schools for girls in Pakistan and Afghanistan. Returning down the mountain after completing part of his mission, he arrives at the place on the trail where he had taken the wrong path many years earlier, which led to a promise that changed his life forever. He realizes that if he had gone the right way, his life might have been easier, but certainly much less interesting and meaningful.
I know what he means. Ever since I embarked on my own mission almost three decades ago, I have gained first-hand knowledge of the importance of the road not taken. I have discovered the magic of getting lost, and the beauty of going the wrong way, which leads to "success, unimagined in usual quarters." My quest to solve a mystery has not been easy. But it has granted me the brightest moments of my life and created the occasions that define me. And it is teaching me to leap again and again into the void, to live my life with passion, taking risks and praying for miracles and divine intervention to fulfill a promise.
My first call to adventure came in 1971, in a college German language class, when my professor interrupted our attempts at translating Franz Kafka's short story, "The Metamorphosis." Lost and confused in Kafka's nightmare of a story, it took a moment before I realized he was speaking to me. "Are you related to Dora Diamant," he asked again. The only reason I was in class that beautiful spring morning was because of him, my young and handsome German Lit professor. Kafka, at that time, I could do without.
I had never heard of Dora Diamant. My teacher wrote her name on the blackboard. Spelled just like mine! Until that moment, I had never heard of anyone with the same spelling of my last name. Who is she? I asked.
"Dora Diamant was Franz Kafka's last mistress" he said. "They were very much in love. He died in her arms." He added gravely: "And she burned his work." The class was silent.
Was she Jewish? I asked.
The professor stared at me. "Kafka was Jewish," he answered slowly. His eyes lit up, and he grinned, roguishly, I thought. "Oh, yes, Dora was definitely Jewish!"
Well then, I said, Yes, we are probably related. I promised to find out for sure and let him know. Ironically, after all I have discovered about Dora—her own missing papers, diaries, letters, her forgotten unmarked grave and lost family members—I still haven't learned the answer to his original question. But along the way, it ceased to be the point.
I am half Jewish. Not the half to be really Jewish, as I learned on my first visit to Israel in 1985, on my first mission to find what became of Dora after Kafka's death. I have always felt at the very least half Jewish. I grew up in Germany in the 1950s. When I was a child, my parents took me and brother to Dachau. I was keenly aware that if I had been born ten years earlier, I could have shared the fate of millions who were murdered. As a teenager, I deeply identified as a person of Jewish heritage. I went to Friday night services and learned Hebrew, trading lessons from the Rabbi for babysitting his children.
But not until I learned about Dora, and began my long journey to find what became of her, retracing her—and Kafka's—search for the highest purpose and expression as a human being, that I began to grasp the depth and complexity of what it means to be a Jew. The example of Dora's extraordinary story of survival and Kafka's passion and joy for living, until his last moment, despite excruciating pain, served as powerful teachers of faith. They have been my guides in the practice of never giving up, despite all reason and logic.

Born shortly before the dawn of the 20th Century, Dora Diamant ran away from her pious Hassidic home in Poland at the end of the First World War with Zionist dreams to settle in Eretz Yisroel. In her daydreams, she saw herself working in the fields of Galilee. An excellent Hebrew student, Dora attended the Jewish Academy in Berlin where she studied the laws, forbidden to a woman at that time in Poland. In 1923, she was working with Jewish refugee children on the Baltic Sea when she met and fell in love with Franz Kafka.

Today, Franz Kafka, who died at the age of 40, penniless, in Dora's arms, is considered one of the most influential—and profoundly misunderstood—writers of the 20th Century, as important to our age as Dante, Shakespeare and Goethe were to theirs. Everything Kafka ever wrote, including his letters, diaries and notebooks, even scraps of paper on which he scribbled his last words when he could no longer speak, has been published and translated into every major world language. Even so, his entire extant oeuvre fills perhaps a dozen large volumes. On the other hand, as of twenty years ago, more than 85,000 volumes have been written about him, wide-ranging theories on his meaning and intent.
Dora knew Kafka could never be understood by those who didn't know him. It was impossible to understand him, she said, unless he was there to explain, with a look in his eye or a touch of his hand. Kafka never sought publication for his work, and in fact, left explicit instructions that all of his unpublished novels and personal writings were to be burned after his death. His writings, he said, were a form of prayer to him.

When I began to research Dora in 1971, the public record of her life had disappeared with Kafka's death. She had slipped into obscurity and her fate remained unknown. Inspired by Dora's sense of adventure, and haunted by the coincidences that connected us, I began the search to discover what became of Dora, and in 1985 I traveled to Prague, Vienna and Jerusalem. Since then my research has taken me on many more trips retracing Dora's steps from Poland to Germany, Russia, France, England and the Isle of Man, as well as back to the Czech Republic and Israel many times.

Despite my professor's pronouncement, Dora did not burn Kafka's work. She lied. She said she had burned everything in her possession in order to protect Kafka from publication. She kept her secret treasure of thirty-five letters and twenty notebooks, representing his last and happiest year of life, until 1933. Living in Berlin, working as an agitprop actress for the German Communist Party, she was targeted by the Gestapo who raided her flat, confiscating every scrap of paper, including her cache of Kafka's writings.

Hysterical and filled with remorse, she confessed her lie to Kafka's literary executor, Max Brod, but it was impossible to recover the papers at that time. After the war, Brod conducted a second search in the mid-1950s, and found a trail that led to the former Silesia. But the Iron Curtain made further research impossible. Until their deaths, neither Max nor Dora gave up hope that Kafka's missing papers—a literary treasure—might someday be found.

It wasn't until the mid-1990s, working on the screenplay, one of many versions of Dora and Kafka's love story I wrote on the path to writing her biography, the real possibility arose that his lost papers could be recovered. Following collapse of the Soviet Union, warehouses, bunkers and other repositories were uncovered in former satellite territories, filled to the ceilings with bundled and boxed papers dating back to the Third Reich, papers which had remained untouched for almost half a century. In a confluence of events, it became possible for the first time to petition the German government for the return of Holocaust-era assets stolen from Jews by the Nazis.
In 1998, I established the Kafka Project at San Diego State University, and filed the claim in Germany for the return of Kafka's stolen papers on behalf of the Kafka Estate of London, England. During my four month-long Kafka Research Project in Nazi archives in Berlin that year, I learned that it is often the obstacles, the Great Walls, the uncertainty that we must circumvent, overcome and even embrace, which create openings for divine intervention. In fact, this is the lesson I am learning anew, with my current leap into the void.
This summer I am leading a "Magical Mystery Literary History Tour" to Prague, Berlin and Krakow, as a fundraiser to kick off the renewed Kafka Project's research I intend to conduct in Eastern Europe this June and July. (seats are still available.) At the conclusion of my 1998 research project in Berlin, German archivists told me not to give up, that it would take eight to ten years before the location of the repositories would be uncovered and the cataloguing of the unknown contents begun. It's been ten years. The time has come. And off I go, answering yet another call to adventure.
Indeed, we are looking for a needle in a haystack. This could be a wild goose chase, and the odds are wildly against finding papers stolen seventy-five years ago. Over the years, I have been likened to Don Quixote, called obsessed and even haunted. I know this latest research trip is impractical and perhaps even irresponsible—taking six weeks off work, asking my husband to do the same, to head into unknown territory, without any idea of how to pay for it, without any guarantee of success.
On the other hand, I know that this particular search—or any quest for truth or justice—is never wasted or lost, regardless of outcome. What I have gained from my work to restore Dora's place in history is faith; faith in myself and in what Kafka called "The Indestructible." Overcoming fear and doubt, I have witnessed miracles too perfect and numerous to count. As long as I keep climbing, the magical stairs keep appearing under my climbing feet.


REFLECTIONS
Miller's needle—revenge in a tailor shop

By Sheila Orysiek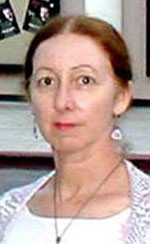 SAN DIEGO—It doesn't take many sessions in Torah Study to get the message that "Thou Shalt Not Steal" is one of the Big Ten and implicit in that is thou shalt not use false weights; i. e. cheat. But is cheating always stealing or is stealing back from the thief in a separate category?
Isidore Miller was one of the millions of Russian Jews who walked down a gangplank in New York City with nothing but the clothes on his back and the skill in his hands. That skill had already saved his life. He was born in a small shtetl in Russia, unluckily rounded up for forced service in the Russian Army; a sentence of life or death, with a minimum twenty years. He was hauled away as a young teen as he walked home from Chedar (Hebrew School), and never saw his family again. However, his father had already taught him all he needed to know to survive; he was learning to be a tailor. Even at so young an age he was a gifted tailor.
Unfortunately, he was impressed into the Russian Army at the height of the Russo-Japanese War and found himself as quickly as it takes to get to a distant battle field, lined up for action. Though forces beyond his control had taken away his choice of where he wanted to be, his mind did give him a choice of what to do about where he found himself.
This young Jewish man (he was past Bar Mitzvah age) noticed a small tear in the otherwise impeccable uniform of his commanding officer and he volunteered his services to repair it. The officer saw more value in having a personal tailor than any possible military advantage of keeping Miller on the frontlines. His talented needle ended up saving his life and he eventually retreated back to Russia just behind "his" officer.
I don't know how he came to leave Russia, he eventually married into my family but as a child I didn't hear that part of the story. However, upon landing in America in the 1920's he swiftly betook himself to Philadelphia which had a large Jewish immigrant community. He joined the hundreds of others who sat on benches by dust-covered windows and spent their days stitching. Because he was talented, in addition to factory work, he gained employment in several tailor shops in Philadelphia.
Over time, through hard work and cautious planning, Miller was able to save enough money to buy his own pedal driven sewing machine, tailor's scissors, pins, needles, iron and ironing board and the other accoutrements of the tailoring trade. By the time my family knew him, he had opened his own small shop on South Street in South Philadelphia.
A quick trip to Google tells me that South Street has now been very much gentrified; it used to be where the gentry went slumming – when they dared. However, before the "gentry slumming" era of the 1960's or the gentrification of today, the reality of the street in the 1940's was that it had become the home of the newest immigrants from the Deep South when they came to Philadelphia to fill the factories which supplied the United States military during the Second World War.
South Street was always busy: busy with commerce, busy with idlers lurching around in drunken brawls and busy with crime. Miller couldn't afford a shop of his own in a nicer part of the city, but he could afford one on South Street. He bought second hand men's suits, repaired them and sold them to the inhabitants in the neighborhood; an honest suit for an honest dollar.
But some people were not content with that code of ethics and instead made a point of stealing from this small, kind, stooped, hard working, bald, unassuming, immigrant Jew. It was not unusual for him to be robbed at gun point in broad daylight. So, whether they bought a suit from him, robbed him of cash in the daytime or came back during the night to break the windows of his store and steal his merchandise, they called him to his face – or left signs calling him – "Jew Boy."
This man whose quick thinking had saved him from almost certain death on a battlefield in Siberia, whose skill and perseverance had earned him a small shop, was indeed a Jew, a devout Jew, but he was no boy. He was a husband, a father, a grandfather, a friend, and a decent grateful citizen of the United States.
One snowy cold winter night he was called at home by the police and roused out of bed with the message that his shop windows had once again been smashed and a thief had stolen a suit which was on the manikin in the window display. Though it was only one suit, it left the windows wide open and the police couldn't guard the store all night. Miller got dressed and rode the subway and a bus or two through the city and arrived at his store at midnight. Bundled in his winter coat, with no heat in the store because of the broken windows, this now elderly man sat through the rest of the frosty night guarding the shop with nothing but his body and his fortitude. His only weapon was his mind.
Some weeks later a customer entered the shop and wanted to try on suits. Miller at once noticed two things: the customer, though ambulatory was more than slightly inebriated and that he was wearing the stolen suit. Miller hastened forward and instead of accusing the man of the theft, he welcomed him into the shop and assiduously helped him. He helped him out of the suit he was wearing, helped him try on several others and then helped him back into the stolen suit which he had been wearing when he entered the shop. He led him to the mirror, praised the cut of the suit, how well it fitted, how wonderful the customer looked in the suit. The customer agreed; all this was true.
Then Miller suggested he wear the suit out of the shop – no need to alter it in any way since it fit so well. Miller wrote out a sales slip and happily pocketed the several dollars the satisfied customer paid (including an extra bit for window repair) – for the suit he had stolen.
Is it cheating to charge for something that was originally stolen from the "cheater?" The customer was happy, the tailor was happy. What would the Rabbis say?
L.A. BEAT

Production celebrates Albert E, musically

By Cynthia Citron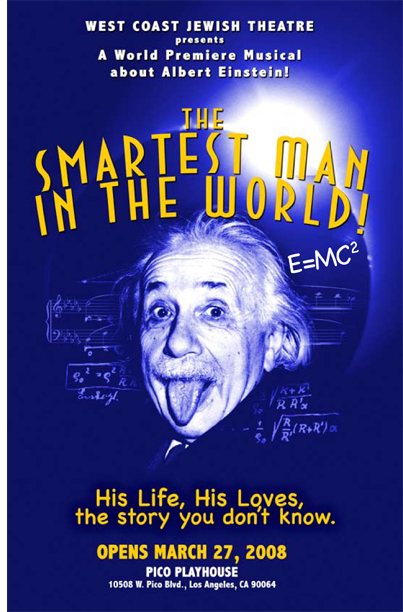 LOS ANGELES—So what can you sing about Albert Einstein?

M C squared rhymes with bushy-haired? Advances in the sciences lead to nuclear appliances?
Well, fortunately, I'm not the one writing the songs for The Smartest Man In The World!, the new musical now having its world premiere at the Pico Playhouse in Los Angeles. Russ Alben wrote them and his lyrics are Gilbert and Sullivan clever and as brightly surprising and convoluted as the best of Sondheim or Cole Porter. And certainly better than Cats!
What's more, Jerry Hart has written some beautiful music: old-fashioned, melodic, and passionate. Songs that would make the Hit Parade, if we still had one.
The story itself, told from the perspective of an elderly man looking back on his life, is a bit saccharine---the warts it reveals are discharged as the unintended repercussions of the actions of an absent-minded genius, rather than those of a wilful, self-indulgent and very human individual. ("He knows everything there is to know about quantum mechanics, but he can't read a street map!" his wife laments). Yet he is fully cognizant of his extraordinary impact as he sings "It Isn't Always Easy Being Einstein," a sentiment reprised by the significant women in his life, who sing "It Isn't Always Easy Loving Einstein."
Among other things, Einstein (played impishly by Alan Safier) was a womanizer. His first wife, Mileva (Gail Bianchi), was a mathematician who is often credited with (and as often denied) having played a significant role in the development of his earliest theories. She bore him three children: a daughter who subsequently disappeared into history, and two sons. (The daughter is cryptically referred to in the play as "the other one," leaving the implication that she was conceived and born before they were married). Einstein divorced Mileva after 16 years to marry his first cousin, Elsa (played by Terri Homberg-Olsen, an elegant blonde with a staggeringly beautiful voice), but not before Mileva had extracted his promise that "when you win the Nobel Prize, the money will come to me." It was a gamble on his future, but it paid off two years later, in 1921, when he won the Prize and honored his promise.
In 1933 Albert and Elsa and her two daughters, whom he had adopted, moved to Princeton, where he became a U.S. citizen. Then, after Elsa's death in 1936, he took on as a companion a Czech woman whom he had known in Europe, Johanna Fantova (a buxom Susan Brindley). Known as "Einstein's last girlfriend," she was nearly always in his company, from the advent of World War II until his death in 1955. It was she who wrote a daily journal chronicling the last year and a half of his life which remained undiscovered until 2004.
And finally, there was Helen Dukas (played by Dani Shear) who came with Albert and Mileva from Germany and remained his faithful and adoring secretary and caretaker for 27 years. To these four women Einstein sings "Women Were Made For Love" while his secretary Helen ruefully sings "It Isn't Always Easy Being Helen."
The major milestones of Einstein's life are all there: his horror at having his theories exploited in the making of the atomic bomb, his philosophical ruminations about God and religion and being Jewish, his ardent Zionism and support for the state of Israel, and the FBI's distrust of him during the dreadful McCarthy era. A marvelous song and dance number involving the entire ensemble, called "Investigate," parodies this period. And the number he sings with John Combs, who plays a reporter from The Jewish Daily Forward, titled "You Can't Be a Little Jewish" is a delightful take on the dilemma of the secular Jew.
All the music in this lively musical is marvelously rendered. The 10-member cast is uniformly excellent, well-served by Herb Isaacs' warm direction and music director and arranger Gerald Sterbach's use of their strong and well-trained voices. The only slightly weak link is Safier, who plays Einstein with an uncertain and wobbly voice, a peculiarly inappropriate accent that he adopts in the middle of the first act (switching over from German-Jewish to faux British), and a ludicrous fright wig that wig designer Judi Lewin should be thoroughly ashamed of. Safier manages to overcome these handicaps, however, by emanating charm, limitless energy, and a lovable mischievousness that demonstrates, as book-writers Russ Alben and John Sparks intended, that Einstein was not only the smartest man in the world, but a man who, inherently was "just like us."
In the end, Einstein's theories of time and relativity become the crux of this musical drama as he ruminates about what it would be like "If I Had My Life to Live Over Again." Makes you think that maybe, 40,000 light years from here, he might be doing just that.
The Smartest Man In The World is a production of the West Coast Jewish Theatre. It will run Thursdays through Saturdays at 8 p.m. and Sundays at 2 p.m. through Sunday, May 11, at the Pico Playhouse,10508 W. Pico Blvd. in Los Angeles. For tickets call (323) 860-6620 or visit the website at www.westcoastjewishtheatre.org.

Citron is Los Angeles bureau chief for San Diego Jewish World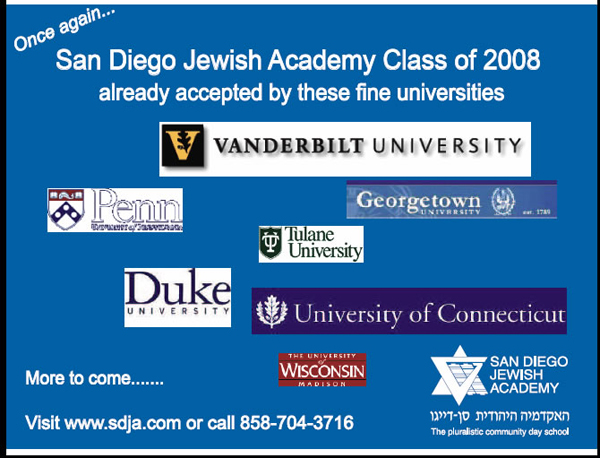 Please click on the schools' ads to visit their respective websites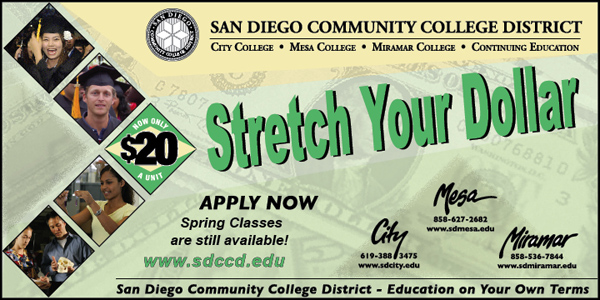 SAN DIEGO JEWISH WORLD THE WEEK IN REVIEW



Shoshana Bryen in Washington, D.C.: U.S. must lend support to Colombia as it fights narco-terrorists tied to Hezbollah
Charly Jaffe in San Diego: A teen's guide to Old Ladies
Rabbi Baruch Lederman in San Diego: The honor of service to veterans
Rabbi Dow Marmur in Jerusalem: Anti-Israelism: The new anti-Semitism
Rabbi Leonard Rosenthal in San Diego: On Post Bar/ Bat Mitzvah Letdown
Ira Sharkansky in Jerusalem: Why cynicism abounds in Middle East
And:
From the archives: We reprint from the 1953 Southwestern Jewish Press a trailblazing two-part series by Alice Craig Greene that exposed La Jolla's discriminatory housing policies against Jews


Friday-Saturday, March 28-29, 2008 (Vol. 2, No. 76)

Carol Davis in San Diego: Sondheim's 'Night Music' a Cygnet success
Peter Garas in Canberra, Australia: So maybe Eden wasn't where we thought
Donald H. Harrison in San Diego: Lessons from historical preservationists
Rabbi Dow Marmur in Jerusalem: Israel's confounding aliyah problem
Gary Rotto in San Diego: Puzzling through the divestiture debate
From SDJA Student Quarterly, a publication of San Diego Jewish Academy: Will Bohannon, Jordan Dubin and Charly Jaffe, all in San Diego: SDJA seniors tell presidential choices
And:
Sheila Orysiek: Reluctant Martyr, Chapter One (novel serialization)


Thursday, March 27, 2008 (Vol. 2, No. 75)

Lawrence Baron, PhD in San Diego: No respite from racism: 1936 in the evolution of German racial politics
Rabbi Dow Marmur in Jerusalem: Requiem for the Winograd Report
Sheila Orysiek in San Diego: Advice for Obama: In life and in politics we are judged by the friends we keep
Gary Rotto in San Diego: Obama's 'race' speech showed leadership
From SDJA Student Quarterly, a publication of San Diego Jewish Academy:
Eitan Frysh in San Diego: Litter, mice force snack bar to close
Alexa Katz in San Diego: Students help honor Israel at 60

Wednesday, March 26, 2008 (Vol. 2, No. 74)

Rabbi Dow Marmur in Jerusalem: Christian liturgy profoundly impacts Jews
Ira Sharkansky in Jerusalem: U.S. economy, Mideast tensions respond to their own cycles of emotion and excesses
From SDJA Student Quarterly, a publication of San Diego Jewish Academy:
Will Bohannon in San Diego: What is SDJA like for non-Jewish student?
Emma Tuttleman-Kriegler in San Diego: Overseas anti-Semitism stuns student

Tuesday, March 25, 2008 (Vol. 2, No. 73)

Cynthia Citron in Los Angeles: Harry Boychick has a raucous bar mitzvah every Sunday in interactive Hayworth play
Peter Garas in Canberra, Australia: Israeli historian's theory on origins of Jewish people has important implications
Donald H. Harrison in San Diego: 'Brain Death Bill,' conversion to Judaism highlights in life, career of Dixon Arnett
J. Zel Lurie in Delray Beach, Florida: Obama's speech on race compares with John Kennedy's talk on his Catholicism
Rabbi Dow Marmur in Jerusalem: The plight of Christians in Arab states
David Strom in San Diego: Chabon's latest is a fast-moving mystery that raises troubling quesitons for Jews

Link to previous editions

< BACK TO TOP

Copyright 2008 - San Diego Jewish World, San Diego, California. All rights reserved.