FRIDAY, APRIL 11Zamru Shabbat at Ohr Shalom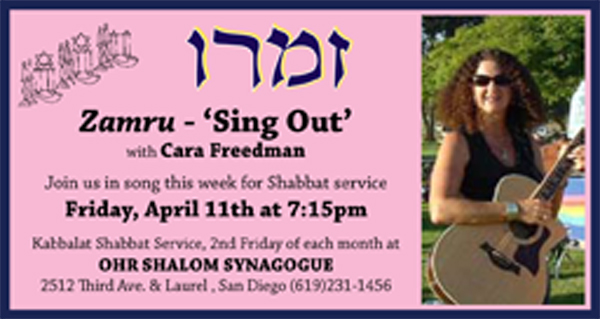 Friday-Sunday, April 11-13 Mountain Chai~Big Boys Getaway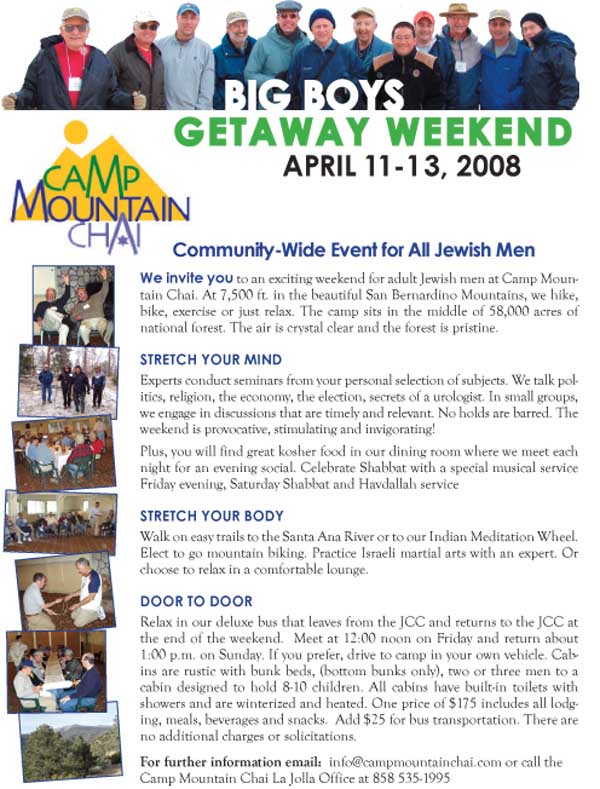 SUNDAY, APRIL 13 Beth Israel~Israel at 60 photo exhibit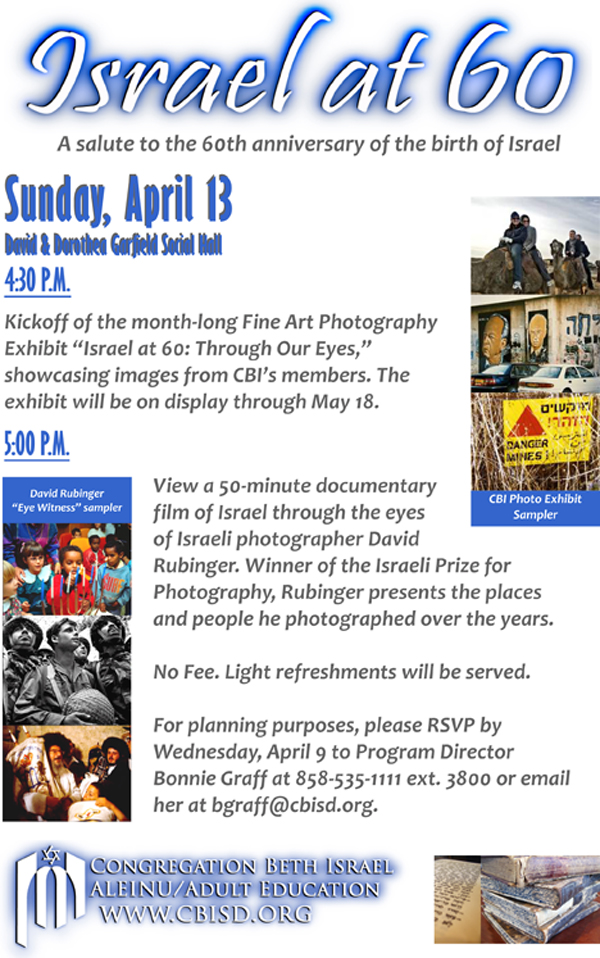 Sunday, April 20 Beth Am~Second Night Seder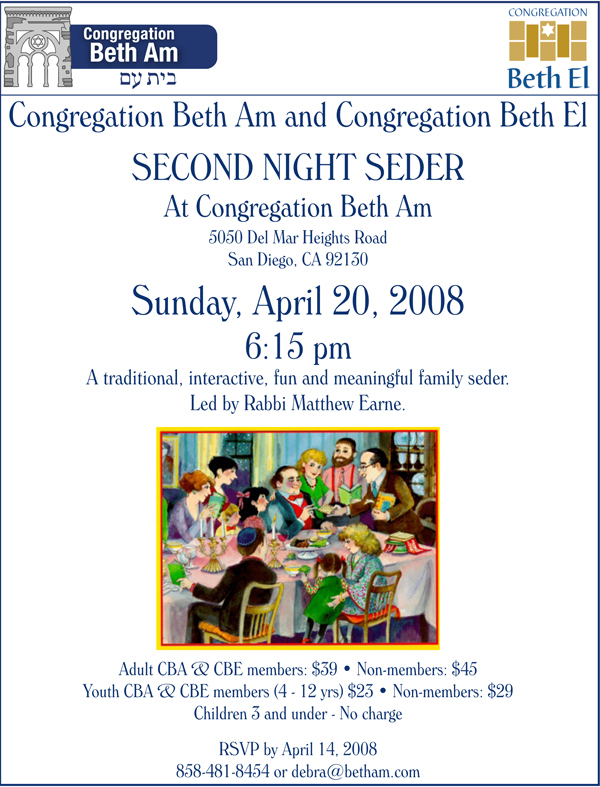 Sunday, April 20 Second Night Seder at Ohr Shalom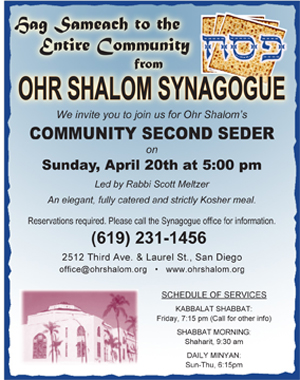 Sunday, May 18 Community Israel Independence CelebrationWednesday, May 28 JFS~Ellen Saks lecture on mental illness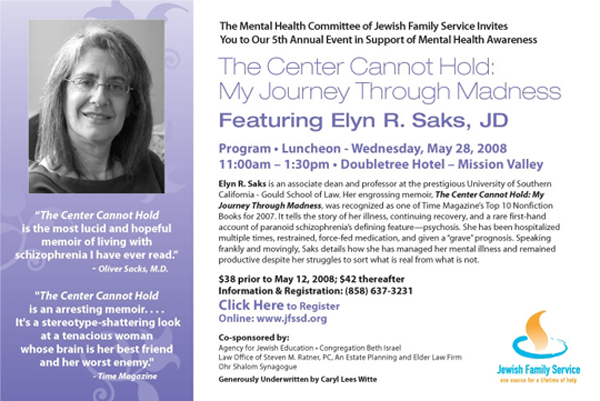 FROM THE SIDELINES

Jews must recognize the new Poland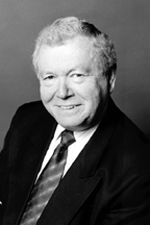 JERUSALEM—Poland can never be less than a graveyard for Polish Jewry, but it's not only a graveyard. Though Poles cooperated with the Nazis during the Holocaust, they were not the only ones to do so. Moreover, many Poles have been honored by Yad Vashem as righteous gentiles for rescuing Jews and risking their own lives in the process.

However, many, perhaps most, Jews today only see the graveyards. Even the many students from Israeli schools who visit the country are often programmed to remember the crematoria and the ghettos, which is as it should be, but not to interact with Polish peers who would show them a different, new, Poland. That's a pity.

This is even more in evidence in the annual "March of the Living" when young Jews come from all over the world to Poland to commemorate Yom Hasho'a, the Holocaust Memorial Day, and then move on to Israel for Yom Ha'atsmaut, Independence Day. The message is simplistic: the destruction of Polish Jewry reflects the degradation of Diaspora existence; Israel assures redemption. The truth, however, is more nuanced.

In recent years the negative image of Poland has been supported by two books by the American historian Jan T. Gross. Gross left his native Poland in 1968 when government sponsored Communist anti-Semitism set out to remove the Jewish remnant from its home country, thus trying to finish what the Nazis left undone. His first book, Neighbors, described the massacre of Jews by Poles in the village of Jedwabne during World War II, the second, Fear, documents Polish anti-Semitism after the war.

These are important books but they don't tell the whole story about Poland today. You only have to visit a bookstore in Warsaw or Krakow to be impressed by the number of books showing Judaism and Jews in a positive light. Many Poles have a genuine interest in things Jewish. Anti-Semitism in today's Poland is still a menace. It's strongest, however, among simple country folk where it's fuelled by right-wing Catholic clergy. Sophisticated urbane people think differently and their stance is gaining ground.

Donald Tusk, Poland's new Prime Minister currently on a visit to Israel, is a case in point. When President Shimon Peres received him, Peres spoke warmly of the new Poland, which, together with Germany, is today Israel's most vocal advocate and trusted friend in the European Union. Peres stressed the need for the many young Israelis who visit the country every year to establish links with their Polish peers to see Israeli-Polish relations in their proper perspective and, together, work for a better future.

I'd like to hope that our teenage Israeli grandchildren, with whom Fredzia and I just visited Poland, got something of that more nuanced impression. We traveled with them and their parents to show them where we were born and how we lived, and to visit the places of destruction where many of their forbears perished. But we also tried to put the contemporary situation in perspective and stress, in the liberal fashion in which they were reared, that people should be judged as individuals, not as relics of history.

Professor Anthony Polonsky, the historian of Polish Jewry, has said that when Poland lost its Jews, a limb was cut off from its body. After years of neurotic and damaging denial, the country is now beginning to feel the phantom pains. Though much of that work Poles will have to do by themselves, it behooves us Jews to help them – and thus also ourselves - to heal. Prime Minister Tusk's visit is part of the process.

Dow Marmur is the Rabbi Emeritus of Holy Blossom Temple in Toronto, Canada. He divides his time between Toronto and Jerusalem.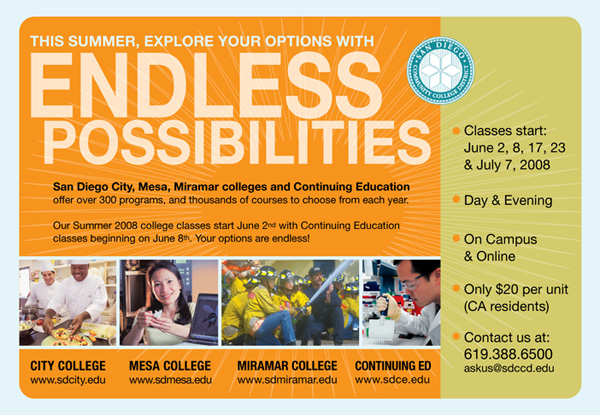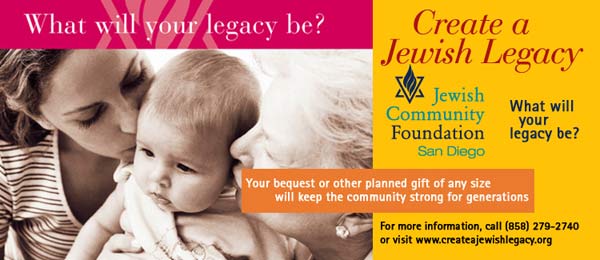 TORAH ON ONE FOOT


Ridding ourselves of spiritual chametz

By Rabbi Leonard Rosenthal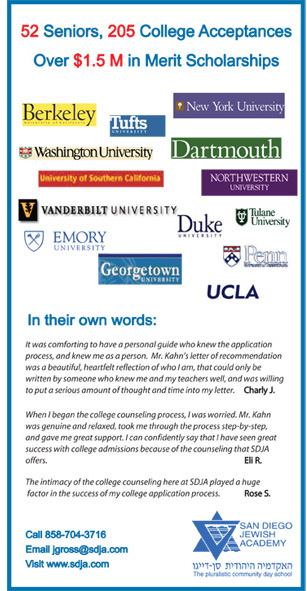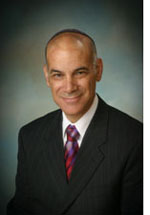 SAN DIEGO—At recen Minyan services Sol Minsberg suggested that we all hold garage sales before Pesach.

He explained that on the day before Pesach (on Thursday night this year, because of Shabbat) we are supposed to go through our homes and rid ourselves of chametz (leavened or fermented grain products). This is in fulfillment of the Torah commandment: "Seven days you shall eat unleavened bread; on the very first day you shall remove leaven from your houses, for whoever eats leavened bread from the first day to the seventh day, that person shall be cut off from Israel." (Ex. 12:15) On the day before Pesach we give away our chametz, throw it out, and sell it to a non-Jews. During the holiday we only matza and foods which are Kosher L'Pesach.

Don Isaac Abarbanel (15th century Spain and Italy) wrote: "the obsessive search and destruction of chametz from our homes has spiritual as well as ritual overtones. Yeast came to symbolize arrogance because the bread raised itself above the level of matza though it was only filled with pockets of hot air. Yeast is also a catalyst that symbolizes the restless force of the evil inclination (yetzer ha-ra). Just as yeast causes fermentation in bread and wine, it also turns them sour when not controlled. Similarly, the instinctual forces, desire and ambition, can contribute to progress but also to discontent and corruption. On Pesach, which celebrates the rejection of Egyptian civilization and a new pristine beginning of Jewish freedom, the matza is more appropriate fare than bread." (Translation: A Different Night Haggadah, p. 15)

Sol suggested that just as we remove all chametz from our homes before Pesach so should we remove all arrogance, hostility, and discontent from our lives before the holiday. One can only appreciate physical freedom if one's heart and soul are also clean of negativity, envy, prejudice, and hatred.
In other words, the week before Pesach we should hold spiritual garage sales and rid the "garbage" from our lives! Better, yet, let's just throw it away and make sure it does not creep back.
Rabbi Rosenthal is spiritual leader of Tifereth Israel Synagogue in San Diego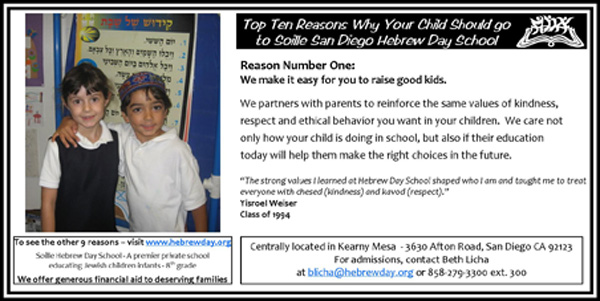 AJC PERSPECTIVES


Gaza terrorists apparently want to make their own people absolutely miserable

Editor's Note: San Diego Jewish World, with this issue, will carry regular reports from American Jewish Committee experts and lay leaders from a variety of venues including Jerusalem, New York and San Diego.

By Eran Lerman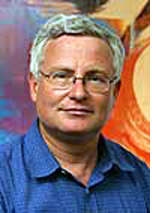 JERUSALEM—There are moments, even in the bizarre political landscape of the Israeli-Palestinian conflict, when nothing seems to make sense anymore—unless "sense" is what we in our world would call utter senselessness. Wednesday's attack by four terrorists—apparently members of Palestinian Islamic Jihad—on the oil and gas depot near Kibbutz Nahal Oz, the one entry point for these vital supplies into the Gaza Strip, is one such moment. Two Israeli civilians, contract workers, were killed; rapid and effective response by soldiers and tanks in the area prevented further carnage and perhaps a planned abduction. Two of the attackers were killed immediately; the other two got back into Palestinian territory, but at least one may have been hit by an Israeli air attack on the vehicle that was waiting to pick them up.

This was clearly more than a run-of-the-mill terror action, and not only because such penetrations into Israel are relatively rare. The target, the timing, and the typical and total disregard for the real needs of their own people—all of these bear the markings of a strategic attack, aimed by PIJ and its Iranian masters to ensure that the Gaza Strip sinks ever deeper into the abyss. In a strange way, it is the attack that might finally put an end to what might be called "the anomaly of normality." Amid the ongoing conflict, the drizzle of Qassam rockets falling on the northern Negev (albeit much reduced in recent weeks), and the more recent problem of sniper fire, which almost claimed the Israeli minister of internal security, Avi Dichter, when he toured the border fence, Israel was nevertheless engaged in a complex, ongoing (but indirect) attempt to reduce tensions with Hamas in Gaza. And, in addition, through various channels, Israel was seeking to negotiate for the release of Gilad Shalit. At the same time, the government, working through a private company, Dor Energy, continued to provide the population of Gaza not only with electricity from the Ashkelon power station (which is regularly shelled by the recipients of its own product), but also with oil and gas to sustain the population.

Terror may be blind, but even so, it cannot be quite as blind as not to realize what might happen now. The Israeli response is not entirely predictable: There may even be a benefit in trying to act as if nothing has happened, so as to demonstrate to the terrorists that they cannot set the agenda, in the midst of an intensive effort to revive the peace talks with Mahmoud Abbas's government. But even so, it is difficult to imagine that civilians would be willing to show up tomorrow at the depot, operating it for the benefit of all Gazans. A major disruption is bound to occur, driving up the prices already made exorbitant by the habit of the Hamas authorities of appropriating some half of all oil imports for their own use. It must be the conclusion, then, that it is precisely such a disruption of life in Gaza, already on the verge of disaster, that the terrorists sought to achieve, deliberately to bring misery upon their own people.

Why do so?

• One possible reason would simply be to generate a chain of reactions and counter-reactions that would serve their political purpose—namely, at any cost, to delay or destroy the newly energized Israeli-Palestinian talks. Iran has a long history, going back to the mid-1990s, of doing just that through its proxies. Back then, it was largely their work that instigated the terror campaign that broke up the government of Shimon Peres and led to the rise of Binyamin Netanyahu to power. They may reckon this could happen again.

• There may also be an element of subversion aimed at the Hamas leadership itself, given that the latter did, in fact, reduce the level of attacks—not least, because they acutely felt the effects of the mini-war in March, and had lost some of their appetite for another large-scale Israeli operation. Still, they were reluctant to impose their will on PIJ, when the latter took the opportunity to upstage their bigger competitors, and thus Hamas must still bear full responsibility for what comes next.

They will again, in response, try to fall upon the tender sentiments of the world, as they did last time when Israel contemplated a limited reduction in energy supply. Indeed, a well-orchestrated and largely manipulative campaign, using the Western and Arab media as their foils, enabled Hamas to create a false image of a catastrophic humanitarian crisis and deterred Israeli decision-makers from using such tactics—until now. There may be people in Gaza who still believe that the free provision of Western gullibility—and Israeli generosity—is inexhaustible, come what may. But with this last act of bringing suicidal ruin upon their own society they just may have gone a step too far.
Eran Lerman is executive director of the American Jewish Committee's Israel/Middle East Office in Jerusalem. Linda Feldman, coordinator of AJC's San Diego regional office, may be reached via email at feldman@ajc.org or by phoning (858) 278-5943.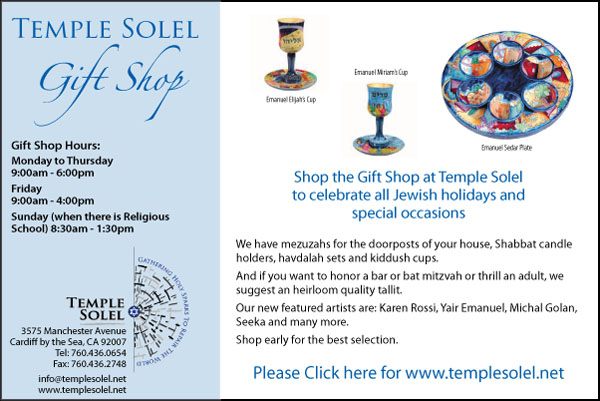 THE JEWISH CITIZEN

Stop trying to turn Obama into Foxman

By Donald H. Harrison

SAN DIEGO—Even though I voted for Hillary Clinton in the California presidential primary election, I don't agree that Barack Obama—whom Jimmy Carter appears to favor—must reject Carter's super-delegate vote at the Democratic National Convention as a way of registering protest against Carter's planned meeting with Hamas leader Khaled Meshal in Syria.

I think I understand why the Republican Jewish Coalition made the suggestion: it was a partisan ploy to gum up the Democratic works and get Jewish Democrats to consider switching their allegiance to the Republicans. I can't blame them for trying.

I felt uneasy when people asked Obama to repudiate his pastor, Rev. Jeremiah Wright Jr., because Wright supported Nation of Islam Minister Louis Farrakhan, and now I feel even more uneasy when Obama is being asked to repudiate a former president of the United States from his own political party.

Of course, I deplore the views of Wright honoring Farrakhan. I similarly denounce President Carter's anti-Israel distortions and bias in his book Palestine: Peace Not Apartheid, all of which is about to be compounded by Carter's apparent willingness to legitimize Hamas terrorism against Jews.

So, let Obama firmly disagree with Carter on Middle East Policy, but he need not further escalate the controversy by snubbing the former U.S. President. If Obama is ever to become the President he hopes to be—a unifier—then I think it is important that he not alienate large sections of people who respect Carter both because he is an ex-President and because in other areas of the world—Africa, for example, where he has helped to fight disease—he has done considerable good.

Furthermore, I think that if we Jews attempt to make every candidate hew to all our views of the world as the price for our support, then we may make that price too expensive. True, we Jews are high-propensity voters in key Electoral College states, and yes, we contribute financially to political campaigns, but let us not forget how tiny a percentage of the American electorate we really are. We need to be a little more modest in our expectations; our hubris could well be our undoing.

What we want with any candidate is not that he or she suddenly becomes a mirror image of Abraham Foxman, the outspoken national director of the Anti-Defamation League, but rather that she or he be a person of good will, open to reason, and one who will fairly evaluate Jewish community concerns and not act from any anti-Semitic bias once in office. Foxman asserts Jewish concerns on a variety of topics very well; he doesn't need a clone in the White House.

I don't know Obama personally, but many people I admire do, and they indicate that Obama passes the kishkes test—the feeling that you get in your gut that someone is sincere.

As a voter, I am a registered independent—a member of neither party. The California Democratic party invited independents to vote in its recent presidential primary, while Republicans closed their primary to anyone but registered Republicans. Hillary Clinton is a known quantity—and I appreciate the obvious love that she and former President Bill Clinton had for the slain Israeli Prime Minister Yitzhak Rabin. Clearly the Clintons are friends of Israel, so I felt comfortable with her on that score. As Obama was an unknown quantity, I chose Clinton.

Now Obama is becoming better known to all of us—and if it should develop that he is the Democratic party's nominee, I think we Jews will have a tough decision between two good candidates. The presumptive Republican nominee, Senator John McCain, as his recent visit to Israel clearly showed, is a good friend of Israel's. Obama seems to be more friend than adversary of Israel—but I am sensing that his positions on the Middle East are more nuanced than McCain's.

What I and the rest of the electorate will have to decide is whether his nuanced stand is good or bad. Will Arabs—believing he is more "fair minded" than his predecessors—try harder to win his support? And if so, will he be able to persuade them that the true way to America's heart is agreeing to a true compromise with Israel?

There is plenty of time before the November election for the differences between McCain and the eventual Democratic nominee to be sharpened. In the meantime, let's not be in a rush to judge.
Indian Chief Gives Pro-Nazi Talk in S.D.

From Southwestern Jewish Review, Thursday, July 6, 1939, page 1

Cloaking the real subject of his address with the title "Americanism," a Portland, Ore., Indian who calls himself Chief Red Cloud last Friday night in San Diego delivered a violently pro-fascist, anti-Semitic talk, during which he referred to the President as "Franklin D. Rosenfeld, that Sephardic Jew," boasted that every Indian reservation is training little Hitlers, and praised the German Fuehrer as the same type of leader as Washington and Lincoln.

The lecture was attended by about 50 persons, most of them middle-aged or elderly. A large part of the audience conversed before and after the lecture in German.

The chairman of the meeting, a tall bespectacled individual who said he was no coward, while refusing to reveal his name ("I have a family of six to watch out for") dispelled any doubt that Chief Red Cloud spoke under Nazi auspices when he admitted that the Indian had asked the local German-American Bund to hire the hall. The talk was given in Hawthorne Hall, 3756 28th St., where Silver Shirt meetings were held several years ago.

Chief Red Cloud wore all the trappings of an Indian Chief, from head-dress down, and the swastika was very much in evidence. It was, he explained, an ancient good luck emblem of the Indians which he was "glad to see Mr. Hitler has adopted."

He described a very curious and convenient brand of Indian theology, in which the Great Sprit centuries ago was supposed to have warned the Indians of the coming, with the white man, of the Jews—sons of Satan, who operate in the dark, and worship Gold." Hs listeners heartily applauded a statement that the American Indian form of government was based on Christianity, without stopping to consider that the whites introduced Christianity to North America and made it prevail over the extremely vigorous opposition of the red-men.

Other wild statements such as "17,000 Jewish refugees are landing in New York every week to take away the jobs of Americans," and "The Indians, who lost 5,000 out of the entire 50,000 killed in the A.E. F. during the World War, did not enlist to fight Germany; they went to learn modern methods of warfare to be ready for the Great Conflict when all the Jews will be driven out of North and South America" , were swallowed whole by the audience.

The talk on "Americanism" became a two-hour marathon of slander against he Jews. Democracy was branded as "Jewish" and "rule by the rabble." The depression was engineered by the international Jews, according to Chief Red Cloud. Jews started all wars in the past 200 years, and they sent Trotsky to Russia to murder "50,00,000 white Russian Gentiles," he yowled. "Every Russian commissar is a Jew," he whooped.

And so are "Franklin D. Rosenfeld" and Mrs. Perkins, the Secretary of Labor, he assured the crowd.

"Fascism is a super brand of patriotism, in which the real leaders will give orders to the rabble," he rcried. And he listed every "super patriot" in the contry—Father Coughlin, Gen. Moseley, Winrod, Edmondson, True, Pelley, Kuhn and Schwinn, among others—as the type of men to admire. He wound up with the advice to his listeners to join the Silver Shirts or the Bund.

Three detectives and a naval intelligence officer were on hand.


S.D. to Welcome B.B. Delegates
From Southwestern Jewish Review, July 4, 1940, page 1

Plans to welcome hundreds of delegates from all parts of western United States are being completed by officials of San Diego's Lasker Lodge, B'nai B'rith, host chapter to the 77th annual convention of District Grand Lodge No. 4 in the U.S. Grant Hotel July 14 to 17

Advance registrations indicate a record-smashing attendance from the 66 lodges in California, Oregon, Washington, Idaho, Montana, Nevada, Utah, Arizona and British Columbia.

One of the convention's outstanding features will be elevation of Henry Weinberger, long an active Ben B'rith, from first vice-president to president of the District Grand Lodge.

The organization is expected to meet in practical fashion the demands of the day for a broadened program of Americanism, extending its already large schedule of activities in this field.

President David Goldman will open the conclave Sunday morning, July 14, with a joint meeting of the Men's and Women's Grand Lodges.

Scores of new members will be initiated in special Conention Class during the first day, with the ceremony occurring in Wegeforth Bowl, Balboa Park, with Dr. Abram L. Sachar, national director of the B'nai B'rith Hillel Foundation, guest speaker. His subject will be "Some Challenges of Jewish Living."


$23,000 Pledged to Fund; Needs Greater

From Southwestern Jewish Review, July 4, 1940, page 1

To date, approximately 423,000 has been subscribed to the local campaign of the united Jewish Fund. The task of maintaining the flow of refugee immigration into Palestine and North and South America, despite the closing of the Mediterranean, has placed an additional burden on the resources of the Joint Distribution Committee.

The desperate situation of tens of thousands of refugees in France who must be helped to escape the fate of nazi concentration camps represents a major problem. Greater resources far large-scale relief in France are an immediate necessity.

ALL the refugees abroad would be only too happy to pay an additional tax or make a contribution—if they could. Come forward Subscribe now! Call Main 4213.

Our "Adventure in San Diego Jewish History" series will resume on Sunday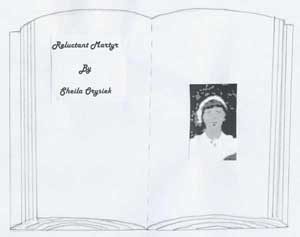 Editor's Note: This is the third chapter in our serialization of Reluctant Martyr, a historical novel by our columnist Sheila Orysiek. It is based on the experiences of her aunt. In each Friday-Saturday edition of San Diego Jewish World, we will run another installment of the 21-chapter book until its conclusion. We thank Sheila for granting us first publication rights to her book. Comments are welcome at sdheritage@cox.net
Chapters 1 2 3 4 5 6 7 8 9 10 11 12 13 14 15 16 17 18 19 20 21
Reluctant Martyr—Chapter Three
The countryside around Kiev was as beautiful as it was bountiful. Hannah's paternal grandparents owned large tracts of forest lands and a prosperous lumber mill. When their eldest son was born he was betrothed to the daughter of an equally wealthy family. Each family was meticulous in its observance of Judaism and placed great store on the educational attainments of their children. The bride, Sharona, Hannah's mother, was literate not only in Yiddish which was spoken in the household, but also in Hebrew and Russian and Polish. As a concession to "modern" ideas the bride and groom were allowed to meet once before the wedding.
It was also the custom for a bride to have all of her hair cut off just before the ceremony and to spend the rest of her life wearing a wig. Sharona had known of course what was in store for her, but when the time actually came, she resisted strenuously and was quite hysterical. She cried until her parents feared for her health and so they relented and Sharona was married with her beautiful hair securely on her head. It was another concession to modern ideas.
On the day Hannah's parents were married, the entire small town closed its commercial doors and came to celebrate with both of the families. In the gardens around the house large tables were covered with white cloth and huge amounts of food were served. After sundown bonfires were lit and the dancing and celebrations continued through the night.
The groom, Asaf, was a quiet man. He accepted the betrothal arrangement as he accepted the traditional way of life into which he had been born. The bride, Sharona, however had a mischievous streak in her nature that was not to be denied; she was a tease and was not about to let tradition and religious observance spoil her fun.
Initially the couple took up residence in the home of the groom's parents. The place was large and rather forbidding; the parents were old and nothing much had changed in that household for a very long time. Each part of the day and every activity were constrained by religious law or a family tradition that had become a law unto itself. It was a difficult role for a new, cheerful, young bride to wear; she was only sixteen.
In all outer aspects Sharona conformed to the traditional role expected of her, but she also opened up a more playful avenue for her husband. Early in the evening when the household following the habits of the old parents retired to bed, Sharona teased and bullied her young husband to escape with her out of a window to join a group of other young people in a wagon filled with hay. They spent the night under a full moon, singing and laughing, but were sure to return before the household awoke in the morning.
Sharona's parents owned a large commercial venture dealing in fabric, yardage of all kinds, with both wholesale and retail stores. Both the bride and groom's parents contributed to ensure the financial health of the newlyweds and a fine, large house was built for them. Servants were hired to tend the kitchen, laundry and gardens so the young couple's days were spent either in entertaining friends or religious study. Every year Sharona went for several weeks to visit relatives and friends for many miles around. A cook taught her the finer points of baking and pastry and a gardener shared some of his knowledge with her. There were vegetable and flower gardens and a wonderful orchard; it was a fine way of life.
Eventually, a child was born, a daughter, Hannah, and then a couple of years later a son, Yarosh. Three more children came, but these three died within the first year of life. And, last another daughter, Etah.
In that small town, in that small corner of the world, life seemed endlessly good. Except for the danger around Easter when Jewish families were at risk and spent the week in hiding, the daily routine moved evenly along its path. But far away things were changing, exploding, and the blast from that far off explosion would completely destroy the life of this small town and change all of its people forever.
As Uncle Joseph had foreseen, the war drew closer. In cities far away revolution began in earnest and partisan armies formed. This state of affairs presented some people with an opportunity for settling ancient vendettas and jealousies. As each partisan group swept through the town where Hannah's parents lived, the violence grew until one particular group ordered all of the Jewish men to the town square. They were told that they were to be organized and taught to defend themselves and their homes. One of Sharona's brothers, Saul, distrusted this summons. He met with as many of his co-religionists as possible and tried to dissuade them from going.
"I think this is not right," he said to the group. "Why are they asking us all to meet with them? I don't understand that!"
"It is a good idea, Saul. They're trying to help us," replied one.
"We'll be able to defend ourselves," offered another.
"Yes, maybe they'll give us some arms," said a third.
"But," Saul asked the group, "why have only the Jewish men of this town been summoned?"
"We're being hurt the most and need the help," answered yet another.
"I don't trust them at all," Saul said. "Not at all." Then after hesitating a moment he told them, "I'm not going."
Asaf walked up to him, "Saul it will not look good if everyone is not there. I'm sure it will be all right."
But, Saul was determined. "No, I don't trust them." He caught a hold of Asaf's sleeve and pleaded with him. "Please don't go. Let's at least wait and see what happens. Please, I beg of you, don't go."
"What are you going to do?" Asaf wanted to know.
"You are going then?" Saul asked him sadly.
Asaf lowered his eyes and said, "I want to be with the others."
As the group walked down the dusty road, Saul called after them one last time. "Asaf, please don't go. Asaf....!" The dust from their feet swallowed them up and Saul was left standing alone in the road. He had already picked out his hiding place. The obvious would not do, it must be absolutely perfect. He headed toward the public outhouses and without any hesitation lowered himself into the filthy pit.
As the day wore on, the rest of the men walked confidently to the town square. They were going to be organized for their own defense, they told themselves, and the partisan army would help and lend them its expertise. In exchange they would make themselves valuable to this army, they would show their gratitude. The center of town square was empty except for the normal mid-day comings and goings; carts rattled by and people crossed through the square. Then, true to their word the group of army officers approached and the Jewish men were gathered together as if to begin a discussion of what they were to do next. There were no shots; swords were drawn and every man was beheaded.
Saul was the only adult Jewish male to survive in that town on that day. He emerged from the toilet pit at night and ran for the woods. Because he had foiled the partisan army his life was in danger if he should be captured and so he continued running. Eventually he arrived in another town where Sharona's son, Yarosh, was in school and he took the boy with him. In time Saul could not save his own life but he was able to send Yarosh to Uncle Joseph in America.
Sharona became a widow as she sat in her home. The armed men fanned out and began burning Jewish property. When Sharona saw the flames coming closer she grabbed the baby, Etah, and ran through the dining room as fire started on the roof of the house. As she ran she gathered several pieces of heavy silver eating utensils and wine cups and headed for the woods. Silver could always be exchanged for food.
Sharona had only the clothes on her back, the silver tableware, the wine cups and the six month old baby. The next months were spent running, hiding and looking for food. The basic daily necessities of life, which were so easily had before, took on a new deadly earnestness. Many times the simple farmers and villagers supplied hiding places and food. One farmer granted Sharona and a group of other refugees a night's stay in the hay loft of his barn though this put his own life at risk. The luxury of this night's stay turned into a nightmare as horsemen of the partisan army surrounded the farm the next morning.
Quickly and quietly the refugee group sleeping in the hay gathered in the back of the loft as the soldiers entered the barn. The frightened people heard the farmer deny knowledge of anyone hiding there. Somehow as Sharona carried Etah, the baby's head struck a heavy wooden beam and everyone held their breath since surely the child would cry out and they would all be discovered. Though tears came to her eyes, miraculously the child remained silent. The soldiers left and the group realized they were safe for the moment but the military was infiltrating all through the towns and woods and would probably return.
Since the refugees faced spending the foreseeable future on the run, a baby was an obvious liability to the safety of all. One of the men in the group approached Sharona after the soldiers had left. "Mrs. Samuel, please excuse me, but the others have asked me to speak to you," he began. Sharona was sitting in a corner of the loft examining the bump on Etah's head. "We are very lucky the child did not cry out."
"Yes," she said, "the bump is quite large and sore already."
"Perhaps next time we will not be so fortunate. She is only a baby, she could endanger all of our lives and she, too, would be killed."
"What can I do? I can't just leave her!"
"The survival of many people is at stake, Mrs. Samuel. Please try to understand. We don't......"
"But do you have any ideas....something I can do?"
"Someone has suggested perhaps you can get a family to take care of her, at least for a while, Mrs. Samuel."
"Give her to a stranger?" Sharona cried, "Suppose they don't give her back?"
"But at least she would survive," he pointed out.
Sharona had to concede and so she began to look for a solution. Though no one in the area would help her, perhaps they would shelter the child. With great fear she walked up the steps of the town church and as she stood there shaking in the beautiful foyer a priest approached her. She told him of her plight and since he seemed sympathetic she confided her plan to him.
"I need to leave this place and I can't take my baby with me."
"Do you have somewhere you can leave her?" he asked.
"Please, I was hoping that perhaps I could leave her here with you, just for a while. Until I get back."
"What happens if you don't return?"
The mother paused a long while and then with resigned determination said, "You may keep her to raise as a church orphan."
"And baptize her too?"
"Yes." And then looking at him very directly she asked, "If I do return, will you give her back to me?"
With equal sincerity he replied, "Of course I will."
Sharona wrapped Etah carefully and gave the baby to him. He took the beautiful golden haired child and held her against his breast while he placed a large silver cross around her neck. Later the soldiers did indeed return and when they asked about the child the priest claimed she was a church orphan and thus he saved her life.
While the priest was caring for Etah, Sharona took the opportunity to try to gather some money that was due to her late husband's business. She was still in the vicinity of where they had lived, so she walked to a nearby village and was able to collect on the debts. People paid her quickly and were anxious for her to leave since her presence might attract the local roving bandits. She carefully tied the money in a piece of cloth around her waist and prepared to walk back to the village where she had left Etah at the church. Luckily, as she was leaving the town, a wagon with several people aboard offered her a ride that she gladly accepted. The heavy farm horses pulling the wagon plodded along very slowly, but it was better than walking. The day was hot and the sun was strong.
Up ahead they could see that the road would soon run through a wooded stretch and they were looking forward to the shade. The horses were pulled up to allow them to breathe and at that moment a group of men on horseback detached themselves from the shadows of the trees. The wagon was quickly surrounded and the terrified people ordered off. The bandits were a particularly rough looking lot and several flasks were passed from hand to hand as they anticipated events to come. Their leader walked around and around the captives striking his boots with the end of his whip; even the horses shied. Then he ordered all of the people, young and old, men and women, to remove all their clothes. The group naturally hesitated but was quickly goaded to action by the whip. First a jacket, then a shirt, soon a blouse, and slowly the pile of clothing grew.
Though the bandits watched the women with evident relish, their primary interest was robbery. They collected every piece of jewelry they could see. They searched through the clothes for more and a large kerchief was laid upon the ground to hold the stolen items. Of course, Sharona's money was seized. When the leader was satisfied that all had been found that was worth stealing, he tied up the kerchief and put it in his saddlebag. Suddenly he turned and with the handle of his whip began to beat the victim nearest him. It was a signal for a general beating to begin.
Clubs and pistol handles flew in the faces and on the bodies of the naked people. They began screaming and tried to run, but it was no use. Sharona threw up her arms as the first blows landed. A man beat her head and shoulders and her upraised arms were soon bloody. Through cut and bleeding lips she begged for mercy but the blows continued and forced her to the ground. She rolled in the dirt, instinctively trying to evade the club, but the man got angrier and beat her all the harder. As she thrashed on the ground her face passed over his boots and she kissed them in a desperate effort to elicit some compassion. It was to no avail. Somewhere within the terrible pain and terror her mind still functioned and concluded he meant to beat her to death and so she pretended to die.
Her body went limp, but the beating continued and only gradually, almost reluctantly, stopped. He reached back with his booted foot and kicked hard and then laughingly announced her death to the others. Sharona held her breath. The pain was all, everywhere, her universe. She could hear the others still screaming and then the silence as they died. Through the living pain and terror her mind held. She heard the bandits unhitch the horses and then mount and ride off. She never moved. As the day advanced she was no longer in the shadows of the trees and the hot sun bore down on her battered body and large flies landed on the blood filled wounds. She never moved. The sun slid on and the day waned, a chill breeze came up and only then did she open her eyes.
A horrifying sight surrounded her; bodies lay all about and the earth was bloody. She could barely see through her swollen eyelids and the pain when she tried to move was unbearable. But move she must, and did. Ever so slowly she got up and dressed in some of the clothes left on the ground. One other man got up and he too, dressed. They went around to each of the others, but all were dead.
The other survivor started back to the village they had left that morning, and Sharona limped on down the road. She was at the very end of her strength when a wagon load of women came by going home from their work in the fields. They stopped and crowded sympathetically around, impressed by the brutality of the beating she had endured. Sharona told them what had happened and they decided she needed to have the most visible of the dirt and blood removed so as to attract as little attention as possible upon entering the village. There was no water available and so a few of them urinated on a rag and Sharona was washed with this. They gave her a ride to just short of the village as they were going home in another direction.
Sharona walked to the church and true to his word the priest gave the child back into her mother's arms. "Here is the child," he said as he took the crucifix from around Etah's neck. "You look terrible! Your eyes are all swollen. Come inside and I'll give you some cold water to put on your face."
"Thank you very much," she replied keeping her gaze down, "but I have to leave."
"Where will you go? Do you want to stay here?"
"No, my thanks, no. I have friends waiting."
Then he peered even closer at her face and arms that were covered with bruises. "What happened to you?" he asked sympathetically.
"I fell off of a horse...a big horse. Please, I thank you for caring for my daughter," and she quickly left. The priest stood in the church doorway and watched as she walked painfully down the dusty road.
Eventually, Sharona rejoined the group of refugees and they in turn merged with other groups along the southern border of Russia. They camped in the woods, and were sometimes hidden in the homes or dry wells of sympathetic villagers. A cadre of men had sprung up who had knowledge of the area and the river that must be crossed to leave the country. On each moonless night only one group at a time was safely led across the river border.
Sharona and the baby found themselves part of one of these refugee groups. She was a good looking woman and the leader of the border guides noted her beauty and took an interest in her safety. "There are many groups waiting to go over the river," he told her as she sat with Etah inside the doorway of an old barn. "Here, I've brought you some fresh bread."
"I am most grateful. My child has not had anything to eat today."
"Tonight I will be standing on that hill over there," he said as he pointed toward the river, "and when I think it is safe I will signal for one of the groups to cross. Usually the first one has the best chance before the soldiers come. Are you afraid?"
"Yes, but only for my daughter. For me it would be worse to stay. I have lost everything. No, I am not afraid for myself." Then after a pause she asked him, "How do you decide which group of people to send?"
"Look up to the hill tonight and see how I choose...who I choose. I like a woman who is not afraid!" He patted Etah's head and walked away.
"Thank you for the bread," she called after him.
That night as several groups huddled at the edge of the woods, the leader chose Sharona's group to cross. At his signal they began crawling through the dark, flattening themselves as much as possible against the grassy slope that dropped down to the water's edge. Holes had been cut in a barbed wire fence and one by one the people crawled through.
The sky was full of stars, bright with starlight, but there was no moon. This escape could only be accomplished on moonless nights. If a storm enraged the river, a crossing could not be undertaken and so only on particular nights, when conditions were right, was this attempted. The fleeing people were silent, but each heard a throbbing almost as if they could hear their collective heart beats. Capture meant death; across the river were safety and a chance for life.
Etah was the only child in the group and as they made their way inch by inch to the river's bank, a curious zipping noise was heard above their heads. Etah eagerly reached up to grab at the passing objects. A man nearby quickly pulled her down and whispered to Sharona "Bullets!"
At last they reached the river's edge and each person, as quietly as possible, was pulled up onto a small flat boat. The barge was allowed to float into midstream before wrapped, muffled paddles steered for the other side. On the opposite shore the people quickly scattered and Sharona and Etah were free.
Romania at that time was a haven for such refugees. Sharona and her daughter were lucky that they had cousins in the country. Only a couple of days later Sharona was able to contact these cousins and found herself sitting at their table sharing their food. It seemed an entire lifetime had past since that first terrible day when she had grabbed the baby, some silver and fled her burning home.
The ultimate goal was America; her daughter, son and brother were already there. Of course there was a quota system for immigration to the United States and refugees marked time by filling out forms and trying to keep body and soul together. Sharona, as an immigrant alien in Romania, had to register with the local police in the town in which she lived. Every week at the same time she joined the long line outside of the police station to renew the registration. On hot summer afternoons, in the rain, on the coldest day, and in the snow, they stamped their feet to keep warm and stood in line.
Sharona and Etah lived in one tiny room in the basement of an apartment building. They slept in a single bed that rested against one wall. Against another wall were a very small table and two chairs. This was the extent of their furnishings. A small round stove was lit on only the coldest days of winter. The kitchen was across a courtyard and it was shared with several other families. The bathroom facility was an outdoor closet at the other end of the courtyard and it, too, was shared by all of the other tenants. Chamber pots filled the need on cold, snowy nights.
Sharona wrote immediately to Hannah but it took two years for communication to be established and after that at intervals a letter from Hannah would arrive and in it some precious money that allowed Sharona and Etah to survive. In one letter came the welcome news that Yarosh had arrived safely in America and Sharona cried with relief. Every Sabbath evening the tiny table in the little room was laid with whatever food she had been able to buy. The Sabbath blessing was recited and then inevitably Sharona would dissolve in tears. She cried for her murdered husband, for her scattered family and a way of life that was gone forever. She remembered how the Sabbath had been celebrated in her beautiful home, the crisp white tablecloth, the shining silver and china, the platefuls of food and most of all the family that had rejoiced around that table. She remembered the peace and joy of the day.
Etah grew to dread the Sabbath and knew it only as a day of sadness when her mother cried. The child had no memory of her father nor her sister and brother, the beautiful house and large extended family was not part of her remembered past. She didn't know what she had lost, so Sharona was careful to tell Etah often about her family.
"Where are your brother, Yarosh, and your sister, Hannah?" she would ask.
"In America! And I'm going there too!" The child's face lit up with happiness.
"Yes, someday. First your big sister has to work very hard and save her money to buy tickets for the ship. We must never forget what she is doing to help us."
"Mama, what does Hannah look like?"
"She's very beautiful and you must love her a lot. When we get to America you have to help her and let her know how grateful you are. Will you do that?"
"Yes, I'll love her."
"And listen to her?"
"Yes, mama. But why do you cry when you get a letter from Hannah?"
"Because I miss her very much."
"I miss her too!"
As time went by Etah entered kindergarten and joined in the activities and play of a normal Romanian child. Only snatches of her native Russian language survived.
..................................................
Though the Russian expatriates were grateful for the haven extended to them by Romania, they were never allowed to forget that they were barely tolerated as aliens. Except for the mandatory registration with the police, the refugees' main endeavor was to remain out of sight as much as possible and to leave the country as soon as possible. The authority vested in the bureaucracy was absolute; there was no appeal for a resident alien. Sometimes this crept into their lives on an everyday basis.
Several houses down the street from where Sharona and Etah lived were the headquarters of a colonel in the Romanian army. It was a busy place, officers and staff were constantly going in and out. The streets in front of the houses were unpaved and after a rain the area was a sea of mud. Etah and a group of playmates reveled in the mud, but one day they playfully decided to wipe their muddy shoes on the steps of the colonel's house. They were seen by an aide on his staff and this aide noted each child's face. Several days later he surprised them in their play and tried to catch them, but all of the children managed to run away. Etah ran around to the back of the house in which she was living. After getting inside she peeked out a window and saw the soldier pacing up and down the street, a horsewhip in his hands. Had he caught an unlucky child, there would have been no appeal from his punishment.
Life went on, stretching from letter to letter that came from America and one day the money and tickets arrived for passage. Sharona and Etah had altogether waited six years for their turn to immigrate to America.
There were tearful good-byes to the Romanian cousins who had helped them, but of course Sharona was glad to go. The trip led across post war Europe to the port of Cherbourg to board the passenger ship "Majestic." Hannah had bought passage for her mother and sister aboard this beautiful ship and she paid for second class as she didn't want her family to travel in steerage.
As soon as the ship left the dock, Sharona was immediately ill and remained seasick for the entire journey. Etah, however, spent her time exploring the ship and enjoying the passage. There was more food than she had ever seen and she was totally fascinated by the elevator. The operator got her a small chair and she sat upon it and rode the elevator endlessly.
As the Statue of Liberty came into view, Sharona forced herself out of bed and up on deck. She pointed it out to Etah. "Do you see that big statue over there?"
"Yes."
"It means we are in America. We are free. No more Russia, no more Romania!" Etah nodded albeit a little doubtfully. "It's like being reborn." Sharona explained, "A new country and new things to see and learn. You have to learn the language."
"What language?"
"English, Etah. Here everyone speaks English, and you must too. No more singing songs from your school in Romania. You'll go to school here and...."
"I will? Here?"
".....and learn new songs. Better songs."
It seemed a very long while before the ship actually docked. The émigrés immediately went to Ellis Island and much time was spent in long lines. There were huge crowded waiting halls, and then, the greatly feared physical examination. When they finally walked down the ramp and stepped onto free earth it was a moment in their lives they would never forget.
Hannah, Yarosh and Joseph were waiting for them and after greetings full of tears and smiles they began the trip to Philadelphia.
(c) 2008 Sheila Orysiek








SAN DIEGO JEWISH WORLD THE WEEK IN REVIEW

Thursday, April 10, 2008 (Vol. 2, No. 87)

Ulla Hadar in San Diego: A new correspondent introduces herself
Donald H. Harrison in San Diego: Mayor envisions Lindbergh-Rodriguez solution for future San Diego air travelers
Rabbi Dow Marmur in Jerusalem: Israeli news diet: peace, democracy, sex
Janet Tiger in San Diego: Salute to Rosentals goes tricultural
Adventures in San Diego History: We conclude our series of stories from 1922 in which members of San Diego's Jewish community looked at their past, present and future.


Wednesday, April 9, 2008 (Vol. 2, No. 86)

Donald H. Harrison in Rancho San Diego, California: Searching for the 'Lost Tribes of Israel' at the Heritage of the Americas Museum
Sheila Orysiek in San Diego: Tales From My Garden:The Third Day...
Adventures in San Diego History: Members of San Diego's Jewish community in 1922 looked at their past, present and future. Our series continues.

Tuesday, April 8, 2008 (Vol. 2, No. 85)

J. Zel Lurie in Delray Beach, Florida: Israel again promises checkpoint removal
Rabbi Leonard Rosenthal in San Diego: Welcome strangers to our congregations
Ira Sharkansky in Jerusalem: Ultra-Orthodox face challenge of policing deviants and miscreants
Adventures in San Diego History: Members of San Diego's Jewish community in 1922 looked at their past, present and future.


Monday, April 7, 2008 (Vol. 2, No. 84)

Donald H. Harrison in San Diego: Congresswoman offers some Super Sunday advice to those who solicit by telephone
Dov Burt Levy in Salem, Massachusetts: Why Israel @ 60 is a big deal
Lloyd Levy in London: Is British anti-Semitism just a bad dream?
Sheila Orysiek in San Diego: Stay the Hand envisions peace
Adventures in San Diego History: Members of San Diego's Jewish community in 1922 looked at their past, present and future.


Sunday, April 6, 2008 (Vol. 2, No. 83)

Shoshana Bryen in Washington D.C.—Why is the U.S. sanctioning the arming of Palestinians; who will be the beneficiary?
Cynthia Citron in Los Angeles: Survivor Mitzvah Project brings help, caring to elderly Jews in Eastern Europe
Donald H. Harrison in San Diego: American Jewish POW, held by Nazis, brings history alive for SDJA students
Rabbi Leonard Rosenthal in San Diego: Lingering over seder: A sign of freedom
Alan Rusonik in San Diego: Educating our students about Israel
Adventures in San Diego History: Members of San Diego's Jewish community in 1922 looked at their past, present and future.

Link to previous editions

< BACK TO TOP

Copyright 2007-2008 - San Diego Jewish World, San Diego, California. All rights reserved.