Sunday, April 20 Beth Am~Second Night Seder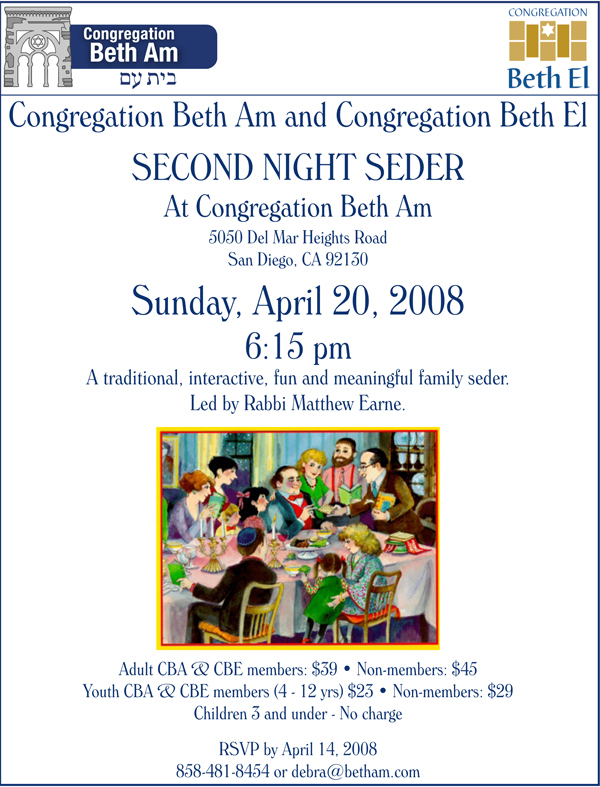 FRIDAY, MAY 9Shabbat service celebrating Israel at 60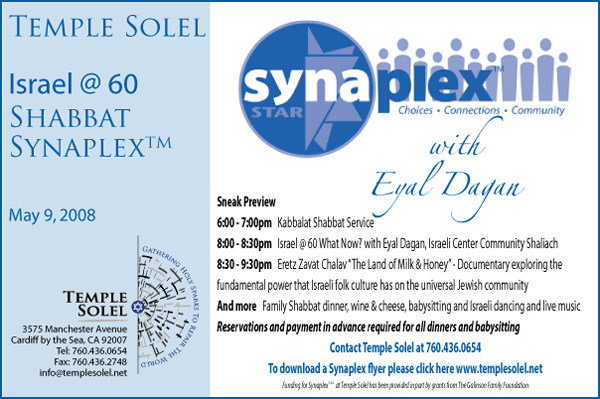 Sunday, May 18 Community Israel Independence CelebrationWednesday, May 28 JFS~Ellen Saks lecture on mental illness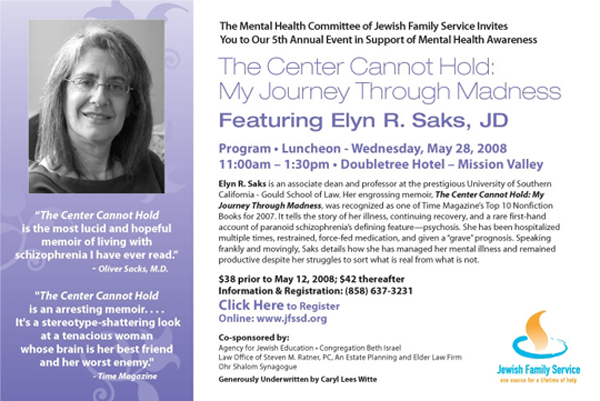 THE GATES OF THE NEGEV


Battle to bring, keep water in the Negev

Editor's Note: Correspondent Ulla Hadar covers Sha'ar Hanegev for San Diego Jewish World. There is a special relationship between the community of 10 kibbutzim and one moshav surrounding Sderot and the United Jewish Federation of San Diego County. Black and white photos are from the historic archives of Kibbutz Dorot and the Palmach; color photos are by Rafi Hadar

By Ulla Hadar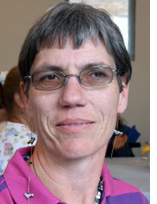 KIBBUTZ RUHAMA, Israel—Recently a temporary elementary school was erected in Kibbutz Ruhama pending the construction of a new elementary school in the Sha'ar Hanegev school area which is to be fully protected against Kassam missiles fired from Gaza.

The school in Ruhama is scheduled to function for approximately two years.

During the process of building the temporary school, the workers came across the old water pipelines of the Negev. The National Water Company - in Hebrew 'Mekorot' - was contacted, and they decided to preserve several sites where the pipelines pass by.

This is a walk through some of the sites and the story: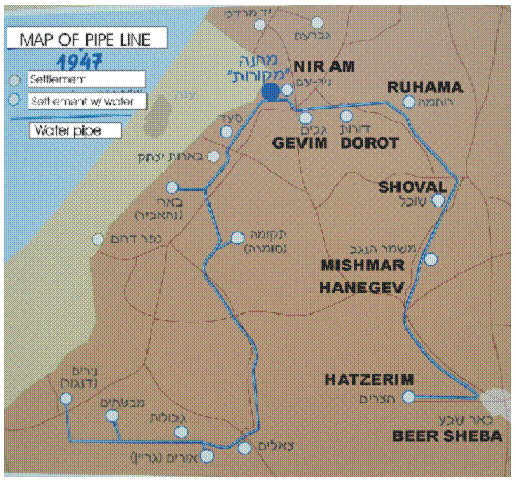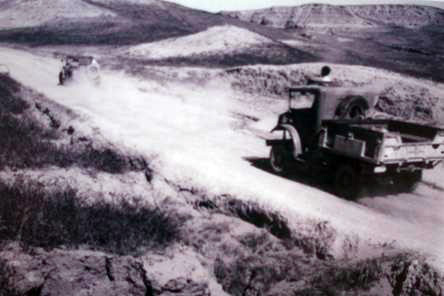 The story of Ruhama and the connection with water goes all the way back to the beginning of modern settlement at Ruhama, in the start of the 20th century.
In 1912 a well was dug to provide water to the farm established on the place.
As new settlers arrived in 1944 to start the kibbutz, the well was cleaned and the kibbutz members enjoyed the water from the well. When the water pipes were laid down in 1947, Ruhama was also included.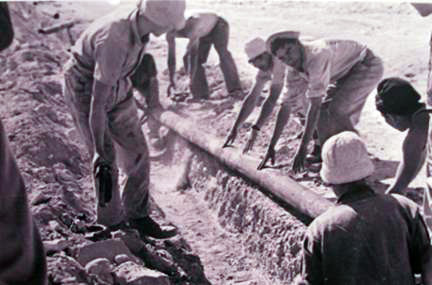 The neighboring kibbutz Dorot was connected first, then Ruhama, with the pipeline reaching the kibbutzim from Nir Am where water was pumped from underground. From Ruhama, the pipeline continues to kibbutzim further east and south, as far as Hatzerim.

A second Negev line was built to serve kibbutzim and outposts in the western Negev.


The water was brought in two separate pipelines made of pipes 6 inches in diameter in order to bring more pressure.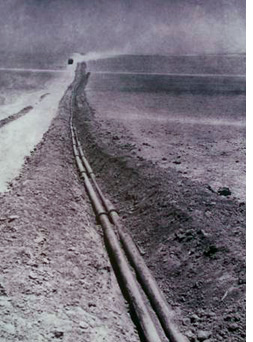 The story is told that these pipes were brought from London, England and that they were used during the Blitz in London during the 2nd World War.
Some say they were used to extinguish fires, and some that they were part of the ventilation system for London's underground railway stations, which were used as shelters during the war. Whichever story is true, they were certainly part of civilian defense during the London Blitz.

In 1947 the pipeline was the main artery for the lives of the settlers in the Negev before the existence of the State of Israel. Also during the war of Independence the water pipes were of great importance.
The Pump, in Hebrew translated as a "Booster," on the Eastern part of the pipeline was built in two stages.

First, there was one building that included two pumps and later an additional pump was placed inside a two-story building.

The roof of the building was used as a lookout and defense post.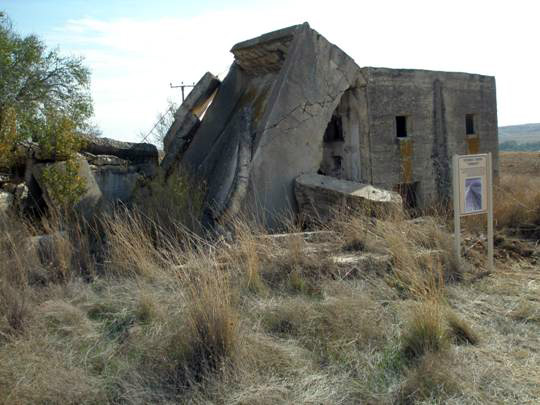 The defense post
The defense and the guarding of the waterline and the pumps on the line were of great importance.

In the beginning it was necessary to defend against local Arab residents. These residents saw the waterline as a threat to them and as a symbol that the Jews were gaining control of the wide open space of the Negev. The tasks of guarding and defending were shared by the settlers of the area as well as by workers from Mekorot and workers who were hired to lay down the pipes.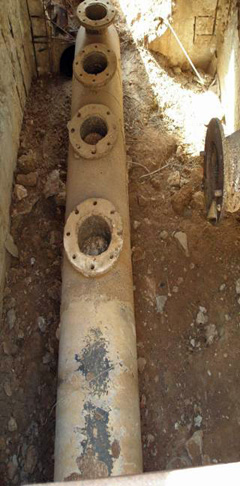 After the beginning of the War of Independence , guard duty turned out to be a more serious job and the task was handed over to the special forces from the Palmach and later to the IDF (Israel Defense Force).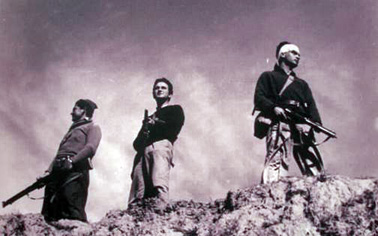 The water pool
A 1000 cubic meter water pool was built next to the pump house. This pool was the main source of water to the Eastern part of the waterline.
The Eastern line runs from kibbutz Nir Am through Kibbutz
Dorot, Kibbutz Ruhama and then continues to Kibbutz Shoval, Kibbutz Mishmar Hanegev and Kibbutz Hatzerim.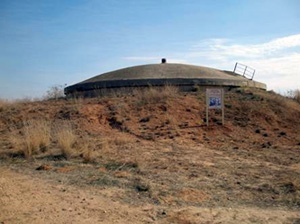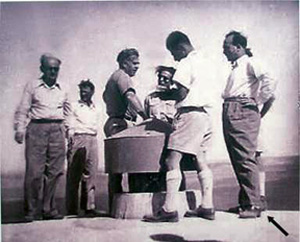 In the Summer of 1948 in the middle of the War of Independence the workers of Mekorot slept here in order to supply isolated areas with water. From here they activated the pumps and took care of the maintenance of the Eastern waterline.
At the end of the war in 1948 the whole Negev area was included in the State of Israel. Mekorot established new and stronger waterlines in order to supply more water to the area and there was no more need for the Eastern waterline which then was abandoned.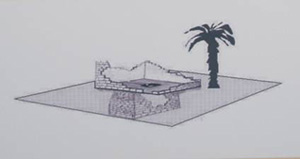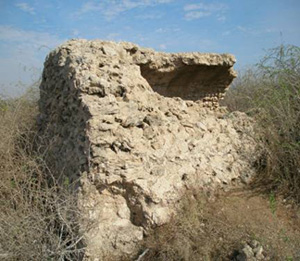 The Byzantine pool
This antique building stands right next to the pool of Mekorot. It was built approximately 1500 years ago - 400-600 C.E.

An underground pool used to collect rainwater. The pool was built underneath a public building. The water would run from the roof and the tiled floors into the pool. The walls were plastered in order not to lose any precious water drops.

The pool is now totally revealed. It is at ground level due to the erosion of the soil over the years.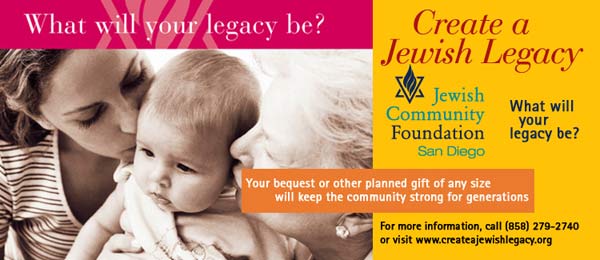 A miraculous report from Sderot

By Dov Burt Levy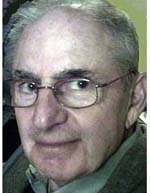 PEABODY, Massachusetts—I witnessed a small miracle right here in our part of the world last month at Temple Ner Tamid. After I tell you what happened, you can decide how miraculous it was.

Jeremy Maissel, a kibbutznik from Israel and a representative of the Melitz Centers for Jewish Zionist Education, had arrived in the country just a few hours earlier. A tall man with a short beard, he was dressed in well-worn jeans, as if he had just come from the dining hall on Kibbutz Alumim, a mile or so from the Gaza border, where he lives with his wife and children. He wore a knitted kippa and carried a laptop. He made aliyah from England as a young man, and his British accent proved it.

He had come that March 30 to describe the situation in Sderot and the surrounding kibbutzim, all being pounded by rockets and mortars from Gaza. He illustrated his talk with pictures and film clips. And he opened a discussion of the related issues.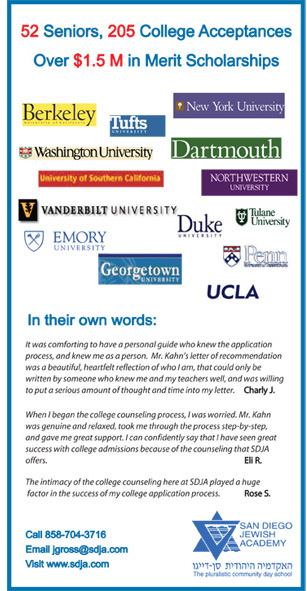 The evening had two basic themes: First, what exactly is happening in the Sderot area, how does it look and feel? Second, what are the possible and proposed solutions, and what are the tactical and moral issues and contradictions built into the solutions?

Some facts: Gaza is an area of 139 square miles, about twice the size of tiny Washington D.C. With a population of 1.4 million Arabs, it is as crowded and poor a place as any on earth.

The Israeli town of Sderot lies just two miles from the border. Before the bombardment, 27,000 people lived there; now 20,000 remain.

Kibbutzim line the border, some a scant 100 yards from Gaza. Others are within a mile or two of the border and bombs fall there as well.

Before the first intifada in 1987, kibbutz members and others went freely into Gaza, made purchases, and enjoyed the beaches. All that is finished.

Maissel showed pictures of the destruction of homes and businesses and video clips of families who had miraculously survived the rockets' impact. And while most have been spared, there have been deaths and injuries on the Israeli side.

The Israel siren warning system gives 15 seconds to find shelter. That's not much time if you have a couple of kids to get out of bed and into a safe-room bomb shelter.

Among the defensive and military options discussed were: making every house in Sderot bomb proof; developing weapons systems to destroy the missiles en route; shutting down fuel and electricity to Gaza; targeting terrorist leaders; large scale invasion to seek and destroy hidden weapons; and negotiations with Hamas on a cease fire.

The list of possibilities is long but all are fraught with negative consequences, moral and humanitarian issues, and would have to compete for available funds. The discussion in the Peabody temple moved calmly and reasonably.

Maissel offered at the end a one-page handout listing steps the audience might take to help Sderot cope with its situation and improve the citizens' morale. They included the hope that we would keep informed by reading the English-language Israeli press, visit Sderot on our next trip to Israel and keep the situation alive in the minds of other people in our communities. Very modest.

So, you ask, what is the miracle?

Maissel didn't try to inflame the audience, excoriate the Israel government for being too weak or too strong, too cowardly to invade Gaza, or too stubborn to negotiate with Hamas. He was here to inform, discuss, contemplate and commiserate. And, guess what? He did it.

That's the miracle. Too many Israeli and American politicians and organizational leaders come to us with bombastic speeches telling us their way is the only way, that to head off Jewish or Israel extinction, we should embrace their militant analyses. Plus, a financial contribution would also be welcome.

If a man living in the war zone with his family can be rational and analytic, that's a good lesson for those pontificating from the safety of Jerusalem, Tel Aviv, New York or Washington.

Maissel did not ask for donations. At the end, he just thanked us for attending and participating and wished us all Shalom.

Dov Burt Levy is a columnist for the Jewish Journal Boston North. Contact: dblevy@columnist.com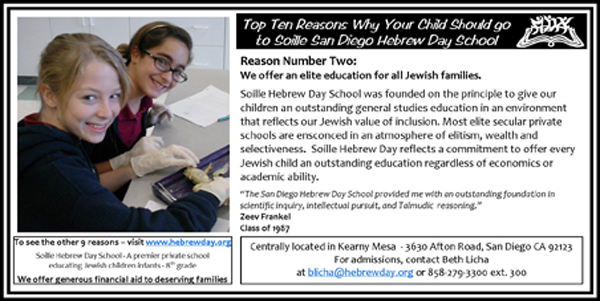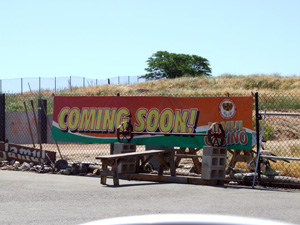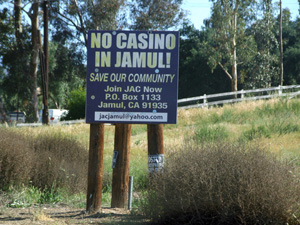 THE JEWISH CITIZEN
On the land-use warpath in rural Jamul
By Donald H. Harrison


JAMUL, California—There is a battle of road signs along a portion of Highway 94 that rolls through farmland and big estate homes in this unincorporated area of San Diego County. One sign tells that a new Jamul casino is coming soon. Other signs argue just as insistently that casinos don't belong in Jamul.

Land use battles are the stuff from which political careers are made in this independent-minded, predominantly Republican backcountry area of San Diego. I remember that nearly 30 years ago, there was a group of highly motivated real estate developers who wanted to build luxury homes in an area of Jamul named Honey Springs.

They held a design charrette to which they invited esteemed architects who lived on and studied the property, examining its contours and exposures before proposing the construction of luxury homes that would take advantage of the very latest thinking in environmentalism.

At the time, I was a partner in the public relations agency of Harrison & Cella, and we relished the dream account. L.J. Cella in later life would become a renowned, San Francisco area collector of architectural drawings, which have been exhibited around the country. I was excited that two principals in Presenting Jamul Inc. were fellow Jews—Damon Sisskind and Jack Felton—who believed in tikkun olam, the idea of making the world a better place. Bill Press, an alumnus of Jerry Brown's gubernatorial administration who became an environmental and political activist, was another principal in the venture.

The homes at Honey Springs would be solar-powered, and even built into hillsides so as to maximize insulation and minimize the impact on the topography. It was an imaginative , newsworthy project that I'm happy to say captured the favorable attention of journalists and planners who believed that while growth was inevitable, there was no reason why San Diego County couldn't insist on projects with beneficial qualities.

However, already-established Jamul residents wanted nothing to do with the project—as it might increase traffic on State Highway 94 and force them to share their bucolic paradise with others. The most determined of the opponents was a community leader named Dianne Jacob. She and the group she led doggedly pursued every angle they could to frustrate the builders' plans—whether it be before governmental boards or in the courts. Finally, the developers had to throw in the towel. Jacob went on in 1992 to be elected to the San Diego County Board of Supervisors, where she has become almost a permanent fixture, winning reelection in 1996, 2000, 2004.

If Jacob was opposed to the environmental development at Honey Springs, she is even more determined to prevent construction of a casino at the six-acre Jamul Indian Village. In her October 2006 newsletter, she wrote: "The Jamul Casino is not about creating financial freedom for Village families. The Village already receives $1.1 million through revenue sharing. Instead the proposal is about greed. It's about making money for an out-of-state company that doesn't care about Jamul or its rural way of life. Blinded by easy money, Village members are proposing to sell out their neighbors and sell their town and that's a shame."

The out-of-town company villainized by Jacob is Lakes Entertainment, Inc, a casino development firm based in Minnesota. According to information the company has posted on-line, its principals include chief executive officer Lyle Berman, whose family-owned Berman Buckskin evolved into Wilson's The Leather Experts. Berman was honored in 1995 with a B'nai B'rith Great American Traditions Award. The same year Berman was involved in the creation of the World Poker Tour.

Another board member is Morris Goldfarb, who besides being associated with Berman in the leather business and Lake Entertainment sits on the board of the School of Law of Yeshiva University.

Yet another board member is Larry Barenbaum, chairman of the board of Christopher & Banks Corporation, a specialty retailer of women's apparel.

These members of the Jewish community signed an agreement in 1999 with some 51 members of the Jamul band of Kumeyaay Indians to develop a casino on their sovereign land. Tribal chairman Leon Acebedo contradicts the assertion that tribal members are already financially secure through federal revenue sharing. He said the $1 million paid for the upkeep of the tribe amounts to less than $25,000 per person. "This is the United States of America. It was built on a capitalistic society" he told reporter Rob Davis of the Voice of San Diego in 2007. "Is 25,000 a year enough … ? To pursue personal wealth and security is ohh-kay."

Around the same time that I was involved in promoting the proposed architecture of Honey Springs, I was asked by the Barona Band of Indians to help defend their image in the public media against all kinds of attacks. Local charities were angry at the Indians because local bingo games were being put out of business by "Big Bucks" Indian bingo games—shielded by the reservation's sovereignty from monetary limits on prizes imposed on charities by the state of California. Assertions that Indian gaming casinos were run by greedy outsiders—perhaps even by organized crime—were commonplace.

But the Indians at Barona, Sycuan and Viejas reservations persevered, building not only casinos, but hotels, golf courses, and even an outlet mall on their reservations and investing in businesses off the reservations. Sycuan, for example, purchased the U.S. Grant Hotel in San Diego—named for the 18th President of the United States by his son. Ulysses S. Grant Jr.—and spent millions of dollars to refurbish the 1910 landmark into the luxury hotel it once was. It was a symbolic gesture as it was President Grant who had set aside reservations for the Kumeyaay Indians, rescuing them from homelessness.

All three gaming bands of Indians today are heavy donors to San Diego area charities, and accolades regularly come their way from civic groups and politicians. Investors who helped these Indian tribes reach financial success—and there were members of our Jewish community among them—deserve to be credited with helping the Indians to make better lives for everyone—for sharing in tikkun olam.

There is no reason to believe that the Jamul Casino will be any different: if and when it is built, Jamul Indian Village leaders will first take care of their own, by insuring every member of the tribe a good education, and then they will begin to share their good fortune with the surrounding community.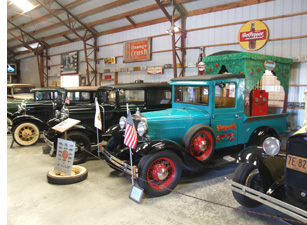 I drove around Jamul over the weekend, visiting Simpson'S "Garden Town" Nursery, where entrepreneurs Lee and Cathy Smith operate a 25-acre nursery that draws not only plant lovers but antique automobile lovers. They have a museum showcasing both old autos and trucks. Smith told me that over the years he has had land taken from him by eminent domain for such purposes as highway and bridge construction, and that he understands that. But he said if Indians or any one else have projects that "fall within the proposed guidelines and rules, I do believe folks should be able to proceed with their dreams. Just think we might not have a nursery in Jamul or Disneyland in Anaheim." The Indians, whose property is approximately one mile east of his on Highway 94, are a sovereign nation under U.S. law and have the right to build a casino, he said. Jamul residents should let them be.

With kind-hearted people like Smith favorable to the residents of Jamul Indian Village, I feel there is hope for their dreams being realized. But my optimism for them must be tempered. As an opponent, Dianne Jacob is very formidable.

Harrison is editor and publisher of San Diego Jewish World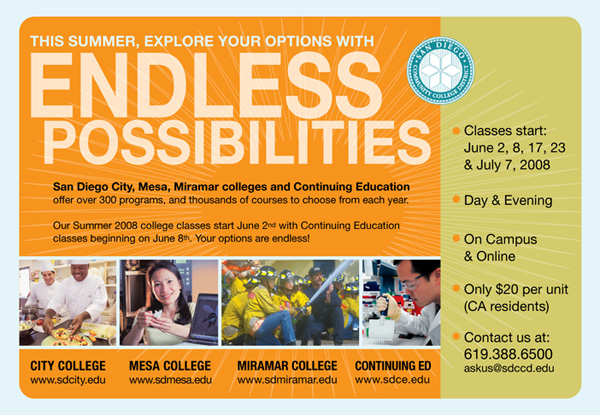 TORAH ON ONE FOOT

Do free people have to attend a seder?

By Rabbi Leonard Rosenthal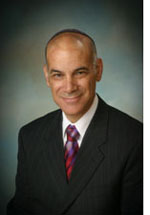 SAN DIEGO—On Thursday evening I led a class in which I offered various suggestions to enliven Passover Sedarim. In discussing the Four Children I asked how parents might respond to the refusal of the Rasha, the wicked or rebellious child (depending upon one's translation!), to participate in the Passover Seder.
One of the young participants said: "If the entire point of this holiday is freedom, how can you justify making someone who doesn't want to be at a Seder be there? Shouldn't he be free to make his own decisions?" It seems to me that he had asked an excellent question!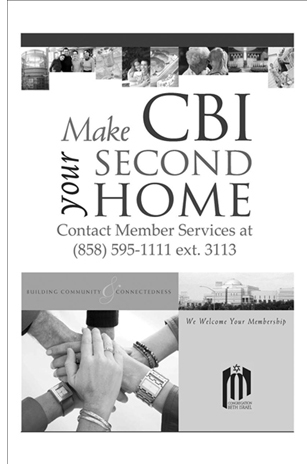 My immediate response was: "You have to stay here because I'm the parent and you're the child and I said so!" Fortunately, there were many more thoughtful and compelling responses. One of the best was: freedom does mean doing whatever one chooses without limitations, borders, or repercussions. Freedom, for example, does not mean that one can cry "fire" in a crowded theater or help one's self to a neighbor's belongings. Both of these actions impinge on the freedom and rights of others. Someone else pointed out that freedom without responsibility leads to anarchy and chaos.
It is important to note that the Israelites first major stop in the desert on the way to Eretz Yisrael was at Mt. Sinai. At Mt. Sinai Israel received the Torah which contains God's rules for our daily lives. When the Israelites left Egypt they were free from Egyptian tyranny but they were not free to act in any way they chose. In the Torah God set limits on their behavior so that they would become a holy people.
One class member said they would say to the rebellious child who did not want to remain at the Seder that they needed to remain nonetheless. Ultimately the child might choose to reject Judaism, the Jewish community, and Jewish life. However, before they did so they needed to know what it was all about, what they were rejecting, and perhaps through their participation and study they may change their mind and reassert their commitment to Judaism and the Jewish People.
Judy and I wish all of you a Chag Sameach v'Kasher, a Happy and Kosher Pesach.
Rabbi Rosenthal is spiritual leader of Tifereth Israel Synagogue of San Diego

Balloon Utopia

Sandi Masori
619 339 8024


!




OBITUARY

Rav Henoch Leibowitz dies at 92 in Queens

By Rabbi Baruch Lederman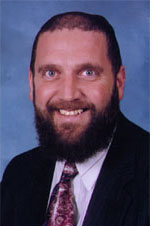 SAN DIEGO—The Rosh Yeshiva, HaGaon HoRav Alter Chanoch Henoch Leibowitz ztz"l in Queens, N.Y., returned his soul to his creator on 10 Nissan 5768 (April 15, 2008). Rav Henoch, born 1916, was the only child of HaGaon HaRav Dovid Leibowitz. Rav Dovid came to America in 1926 where he served as Rosh HaYeshiva of Yeshiva Torah Vodaas. In 1933, he opened his own Yeshiva, the famous Yeshivas Rabbeinu Yisrael Meir HaKohen Baal Chofetz Chaim, named after his great uncle - the Chofetz Chaim. Being a talmid muvhak of the Alter of Slabodka and of Rav Naftoli Trop, Rav Dovid succeeded in bringing the Torah of Radin and the mussar of Slabodka to the barren shores of America. With the untimely passing of Rav Dovid in 1941, his son Rav Henoch resumed the leadership of the Yeshiva at the young age of 24. For over 65 years Rav Henoch taught and developed hundreds of talmidim, transmitting the mesorah of his Rebbi and father, Rav Dovid.

He was the Rebbe/teacher to thousands of students. His brilliant Talmudic mind was only surpassed by his humility and incredible compassion for others. His concern and love was deeply felt by all who knew him. With his vision, unswerving bitachon, and belief in the power of Torah and the Jewish soul, Rav Henoch built a network of Torah institutions across the United States and Eretz Yisrael. His talmidim span the globe, dedicated to teaching and serving Klal Yisrael.

Rav Henoch zt"l meticulously preserved the unique approach of mussar and the mussar shmuez, developed by the Alter of Slabodka and transmitted to him by his father Rav Dovid. It is in this vain that Yeshiva Chofetz Chaim has become the hallmark of Slabodka today. May his memory be a blessing.

Rabbi Yair Hoffman in an article published in the Five Towns (NY) News, reported that "Slowly but surely, Rav Henoch Leibowitz shaped and molded his Talmidim to be Talmidei Chachomim as well as Mentchin. He imbued them with a sense of mission to do for Klal Yisroel. The greatest achievement for one of his Talmidim was to merit to be a Marbitz Torah in Klal Yisroel.

"And Harbotzas Torah they did. Rav Henoch Leibowitz's Talmidim opened up high schools across the nation and beyond; Miami, Los Angeles, Rochester, Milwaukee, San Diego, Ottawa, just to name a few. Rav Leibowitz nurtured his Talmidim and the mosdos that they set up. Soon, Chofetz Chaim became a major force in American Judaism. Entire Torah communities were to spring up around the Chofetz Chaim branches. These communities yielded fruit. Many graduates of the Chofetz Chaim schools entered Harbotzas Torah themselves in each and every capacity.

"The attitude of Rav Henoch's Talmidim created a major turning point and shift in the field and in the public perception of Jewish education. It affected all other Yeshivos as well. This career of Harbotzas Torah was now a lofty profession - something that the elite should aspire to achieve.

Rav Leibowitz focused his efforts on developing his students in three major areas. He felt that Mechanchim, indeed, everyone should strive to achieve the highest level of Iyun possible. Toward this end, Rav Leibowitz spent countless hours with his students teaching them how to unfold the latent processes of reasoning in a Talmudic text. He taught them to highly esteem the words of the Maharsha and to hone in on the essence of an argument between the Maharam and the Maharsha. He taught them to focus very closely on the shift between a text's initial supposition and the turning point in its final conclusion. "What is the shift between the Hava Aminah and the Maskana?" was a question he often asked.

"Most importantly he taught his students the notion of Muchrachism- each and every piece of Torah that they said had to be both textually and logically compelling. He eschewed the methodologies of unbased Chakiros and the standard use of "reid" when understanding Torah texts. Often the Yeshiva was at the receiving end of jokes precisely because they were so thorough in the manner in which they examined texts. Shiurim were no just heard once - they were worked on for days and sometimes weeks to understand and appreciate every nuance. He taught his Talmidim to appreciate the Achronim and not to dismiss.

"The second area in which Rav Leibowitz 'grew' his Talmidim was in the area of Mussar thought and texts. Talmidim were taught how to develop a genuine Mussar insight, either in psychology or midos or some other area of Torah growth. The insight of course also had to be logically and textually compelling. The true 'Slabodka Shmuess' was not a drush filled exposition of any Torah thought that comes into the Talmid Chochom's mind. No, it had to be derived from a previous Torah text, a Ranban, a Seforno, a Rashi or a Midrash. Otherwise, the integrity of Torah could be compromised if people's own ideas were put into the text and represented to the world as Torah…

"He personified the Middah of Emes as well. Once, for example, a wealthy individual gave a ten thousand dollar donation that was met by his corporation's matching funds program. The problem was that the donor's check did not clear. Rav Leibowitz promptly refunded the corporation's money. Any behavior otherwise was sheer anathema to him. He was a genuine Torah sage in every way and would never countenance any form of dishonesty chalilah…."

Dedicated anonymously on the occasion of the Yahrtzeit of the Rabbi's father Ozer Yisroel ben Shlomo Zalman, Irving I Lederman, o.b.m.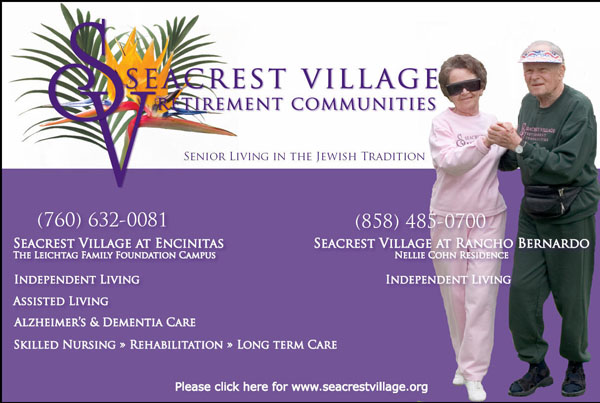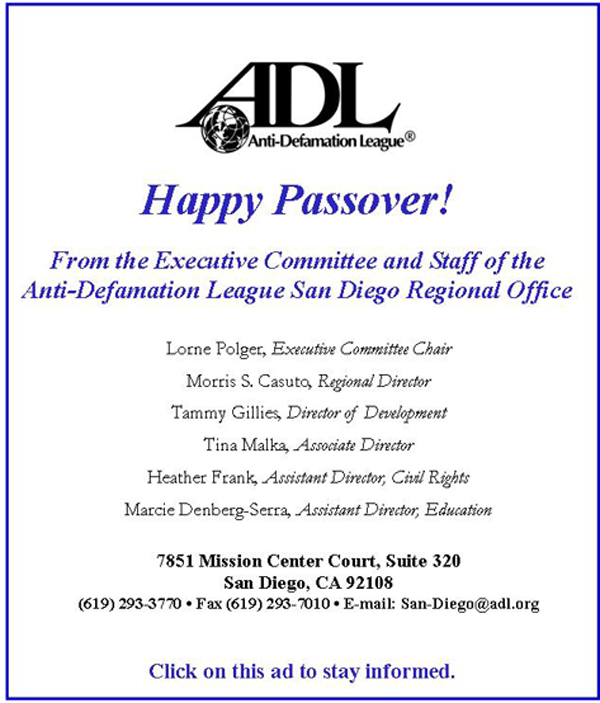 ARTS IN REVIEW

33 Variations probes Beethoven obsession

By Carol Davis



LA JOLLA, California—When Moisés Kaufman was growing up in Caracas, Venezuela, attending yeshiva and taking lessons on Talmudic scholarship, I wonder if it ever occurred to him that he would some day become a noted playwright whose works would reflect the detail of his early study patterns. I rather doubt it. Kaufman's father was a Holocaust survivor who fled from Romania to Venezuela where he met his Venezuelan born mother. His maternal family were Eastern European Jews who immigrated before the war. It was in this setting that the Orthodox parents sent their son to yeshiva. He would later stop practicing the Orthodox Judaism of his youth, but it certainly proved its worth in this current work.
Fast forward to the present and we now meet Moisés Kaufman the playwright whose claims to fame are The Laramie Project (he and other members of Tectonic Project), I Am My Own Wife (he directed on Broadway and won the Tony), Gross Indecency; The Three Trials Of Oscar Wilde which he wrote and now 33Variations, his latest project which is currently in a beautifully framed and directed (by Kaufman) production at the La Jolla Playhouse in association with Tectonic Theatre Project and Arena Stage. It is in its West Coast Premiere through May 4.
33Varations had its world premiere in 2007 at the Arena Stage in Washington, DC. Kaufman was quoted as saying "It's about the desire for knowledge as a vital quest. The belief that sometimes in our pursuit for knowledge, our investigation of the past can provide us with very useful tools to deal with our own daily life".
With this as a backdrop and in this search or obsession for answers, Kaufman's play or 'compositional journey' as he calls it, musicologist Katherine Brandt (Jayne Atkinson) is on a journey both personal and professional, to unravel the mystery of why Beethoven (Zack Grenier) spent four years writing dozens of variations of a minor work by Anton Diabelli (Don Amendolia) which as it turns out, has been noted to be one of the longest and the most important works in variation form.
Diabelli was a music publisher who, in 1819 invited all the major musicians in Vienna, to compose a variation of a waltz he wrote. It was a minor piece of work. It took Beethoven thirty three times before he was satisfied that he had finally finished what Diabelli had started. Brandt's mission was to unravel Beethoven's thinking process before her diagnosed illness; ALS or Lou Gehrig's disease ravaged her own body. She travels to Bonn to study his notes and there is forced to come to grips with her own life now, and as she once knew it as well.
For the next two or so hours, (it could be shorter) Kaufman's characters go back and fourth, weaving and jibing, connecting and fading between then and now as the two protagonists move, either together or separately, finally to merge, separate and connect again before coming to their logical conclusions but not before mysteries are unraveled, lives and personalities are made whole and we can understand the genius and magic of the moments in and of the music both Kaufman and Beethoven created.
With a top notch cast, excellent acting, fascinating staging and the extraordinary Diane Walsh at the keyboards in concert with each variation, seen in the pit and heard from backstage, there is no doubt audiences will eat this show up.
Jayne Atkinsons' Katherine's scholarly head on dive into Beethoven's notes and diaries to her slow and painful slide into no man's land with her disease progressing to Zach Grenier's Beethoven's boisterous and on target portrayal of a master whose own faculties were diminishing (he went deaf at an early age) are masterful. Both, head strong in their own right, they show a vulnerability only available with this level of skilled acting.
Laura Odeh plays Clara, Katherine's daughter, the one who never finishes anything she begins with a longing to be more accepted by her 'perfect' mother. She's the ideal foil, struggling to prove her worth. As the play wears on we see the relationship continually softens as both mother and daughter realize the frailties of life. She is as delightful as she is exasperating. Ryan King is handsomely suitable as the nurse boyfriend who travels to Germany to support both mother and daughter.
Susan Kellermann is Dr. Gertie Ladenburger, the no nonsense German scholar/librarian who becomes colleague, friend, and advisor. It is she who works with Brandt through all the variations and helps interpret or tries to climb into Beethoven's brain to figure out the "WHY?" of his obsession. Both become super sleuths of sorts. Erik Steele plays Anton Schindler, Beethoven's secretary and biographer with the steely look (no pun intended) of someone who knows a secret but won't tell all and Don Amendolia is Diabelli, the instigator of this whole process. He is confident, domineering, yet patient enough to wait for Beethoven's last waltz.
Zach Grenier is as confident and convincing a Beethoven as any I've seen. He is bigger than life as just as self-assured. His presence is more than a portrayal and is most telling when he walks around waving his arms as he composes in his head or shouting back at something he missed or holding his 'hearing horn' to his ear or…just ignoring someone. It's a variation on his own theme.
Derek McLane's scenic design of wall to ceiling sheet music and stacks of files bearing Beethoven's diaries along with lighting designer David Lander's subtle lighting set the mood on the large stage of the Mandell Weiss Theatre. It's about as full-scale as Beethoven's life and works have become. Janice Pytel's costumes are right on target, both period and modern and Andre Pluess' sound design is a dream for music lovers.
I highly recommend seeing it.
See you at the theatre.




ADVENTURES IN SAN DIEGO JEWISH HISTORY Historical Stories Index

Editor's Note: We are reprinting a series of articles that the Southwestern Jewish Press ran in July 1949 providing the history and purpose of numerous Jewish organizations in San Diego. If you have historical topics about the San Diego Jewish community you would like us to explore, please e-mail your suggestions to editor Don Harrison at sdheritage@cox.net

Hadassah
From Southwestern Jewish Press, July 1949, pages 1, 3

Culminating a successful and progressive year of activity, the San Diego Chapter of Hadassah closed is 1948-1949 season with their Donor Luncheon held at Imig Manor Hotel in June. On that occasion, the re-elected President, Mrs. Gabriel Berg, gave a comprehensive report of all of the activities of the local Chapter for the closing year.

The guest speaker, Mrs. David Halpern, National Vice President, told of the broad scope of the work of Hadassah in the new state of Israel, which has become so extensive that space permits only a brief reference to some of the most important projects. Outstanding among these is their hospital and medical functions. With the bombing and destruction of the major part of their Mount Scopus Hospital, the "health arm" of Palestine, as Hadassah is frequently referred to, reached out into other sections, establishing new medical units and hospitals. One of the most daring ventures in this field was the establishment of a hospital in the barren Negev, and another outstanding part of this work was the opening of a Medical School. Referring to the later, Dr. Chaim Weizman, Israeli President, said: "Hadassah and the Hebrew University have shown an unerring sense of history in opening the first medical school in Israel to coincide with the first university of its independence."

To help relieve Israel's terrific housing crisis, Hadassah has set up a program of Youth Aliyah Housing. The settlements selected so far are those which have sustained the heaviest damage in the war and which have the greatest need to house younger children. Another important project of Hadassah is "Child Welfare." The spiritual and physical dren (sic, missing words) brought into Israel is inestimable.

The vocational guidance; the school lunches and other training projects are preparing these young one (sic, ones) to assume their responsibilities as the future citizens of the new state. The latest phase under this project is the "American camps for Camping in Israel," which will foster camping and recreation for Israeli youth and the establishment of fraternal bonds between Jewish campers in the United States and in Israel.

The planting of thousands of trees and the purchasing of lands has been, and continues to be of vital importance to the State of Israeli (sic, Israel). This function has been carried on since the inception of Hadassah—35 years ago, and can be said to be the foundation upon which Hadassah built its all-important organization in Palestine.

The San Diego Chapter is an important link in this National organization. How important was evidenced by its selection as the Pacific Southwest Regional Convention meeting place in 1948, which hundred of delegates from the Southwest part of the United States attended. Members of the San Diego chapter have been selected to serve on the Regional Board. Delegates have also been sent to the National Conventions and November will doubtless see a number of delegates to the 35th Annual Convention which will be held in San Francisco this year.

The two major fund-raising functions of the closing season were the Hawaiian trip raffle and luncheon which was attended by one of the largest groups of women in the Jewish community, and the Third Annual Premiere Night at the ballroom of the Coronado Hotel, featuring the Borschcapades of Los Angeles, crowding the hall with an overflowing attendance.

The overall quotas for the San Diego Chapter of $8,500, which represents the highest amount yet pledged in its history, were fully met by those and other means.

On the local level, this organization is destined to extend itself even farther this coming season. The caliber of the newly elected officers bespeaks an outstanding year of Hadassah in San Diego Hadassah.


Junior Section of Senior Hadassah

From Southwestern Jewish Press, July 1949, pages 1, 3

"The Junior Section of Senior Hadassah is comprised of girls who are unable to attend afternoon meetings because of business or home responsibilities. The group holds regular meetings in the evenings under the chairmanship of Mr. Harvey Steinman. The group is endeavoring to educate themselves in Hadassah work and Zionism.

The Junior Section of Senior Hadassah's first annual dinner dance promises to be one of the outstanding affairs of the summer season," states Mrs. Harvey Steinman, president of the junior group. The gala event is going to be held on Sunday, July 17th at Café El Morroco (sic Morocco) at 6:30 p.m.

According to Mrs. Harold Lehrer, dance chairman, all proceeds from the dance are going toward the Child Welfare program in Israel, buying lunches for the needy children in Palestine.

School lunches and nutrition education were instituted by Hadassah in 1923; 30,000 children are served hot lunches daily for which they pay according to their means. Classroom studies in nutrition and practical work in planning meals, in cooking and sewing are part of Hadassah's educational program. The public is educated in nutrition through exhibits, demonstrations, radio broadcasts, and food columns in the press.

Early reservations for the dinner dance are advised and may be made by calling Mrs. Eugene Janoff at T. 1-2890 or Mrs. Robert White at J 9826.

Our "Adventures in San Diego Jewish History" series will be a daily feature until we run out of history.





SAN DIEGO JEWISH WORLD THE WEEK IN REVIEW


Friday-Saturday, April 18-19, 2008 (Vol. 2, No. 94)

Carol Davis in San Diego: Speaking of Pharaoh's Egypt: Aida is back
Eran Lerman in Jerusalem: Israel has domestic political chametz which
it would be well to sweep out before Pesach
Rabbi Dow Marmur in Jerusalem: In Israel, water is an issue that is of both technological and theological concern
Sheila Orysiek in San Diego: Chapter Four in the serialization of her novel, Reluctant Martyr
William Propp in La Jolla: David Noel Freedman: an appreciation
Adventures in San Diego History:We begin a series of stories from the 1949 Southwestern Jewish Press in which each Jewish organization was asked to tell its history and activities.

Thursday, April 17, 2007 (Vol. 2, No. 93)

Carol Davis in Coronado, California: If your family made its fortune by theft, would you willingly return the money?
Dow Marmur in Jerusalem: Jimmy Carter's unwelcome benevolence
Ira Sharkansky in Jerusalem: Notes from ever-changing Haggadot
Adventures in San Diego History: San Diego's Jewish community focused in 1949 on the resettlement of refugees in Israel and on aid to needy Jews in San Diego and abroad

Wednesday, April 16, 2008 (Vol. 2, No. 92)

Shoshana Bryen in Washington, D.C.: Welcome back, welcome back Berlusconi
Larry Gorfine in San Diego:Jews play prominent roles in S.D. politics
Gary Rotto in Angelus Oaks, California: Debating a professional at a 'big boy' retreat for Jewish leaders at Camp Mountain Chai
Adventures in San Diego History: In 1947, the Jewish community in San Diego was alive with fresh beginnings: A new softball leage, a CARE office, groundbreaking in North Park for Tifereth Israel; a new sefer Torah in Tijuana, and the installation of a Hillel unit at San Diego State


Tuesday, April 15, 2008 (Vol. 2, No. 91)

Judy Lash Balint in Jerusalem: 20 ways you know it's Pesach in Jerusalem
Shoshana Bryen in Washington, D.C.: Iran becomes increasingly frustrated in Iraq
Donald H. Harrison in La Jolla, California: Congregation Beth Israel's exhibit shows Israel that American visitors photograph
Rabbi Dow Marmur in Jerusalem: Christian Peacemaker Teams (CPT) provide necessary peace presence in Hebron
Adventures in San Diego History: In 1947 the community was focused on helping survivors of the Holocaust and on establishing such new institutions as Hillel at San Diego State University and a Jewish summer camp.


Monday, April 14, 2008 (Vol. 2, No. 90)

Donald H. Harrison in Spring Valley, California: Bancroft probed then dismissed 'Lost Tribes of Israel' origin for Native Americans
Lloyd Levy in Eilat, Israel: Eilat: Both a historical and tourist gem
Sheila Orysiek in San Diego: Way it was—a Jewish innocent strikes out
Adventures in San Diego History: Some items from 1947 include a refugee family reunited in San Diego; a new Conservative rabbi takes his post; and a seder is conducted for the residents of the San Diego Hebrew Home for the Aged




< BACK TO TOP

Copyright 2007-2008 - San Diego Jewish World, San Diego, California. All rights reserved.