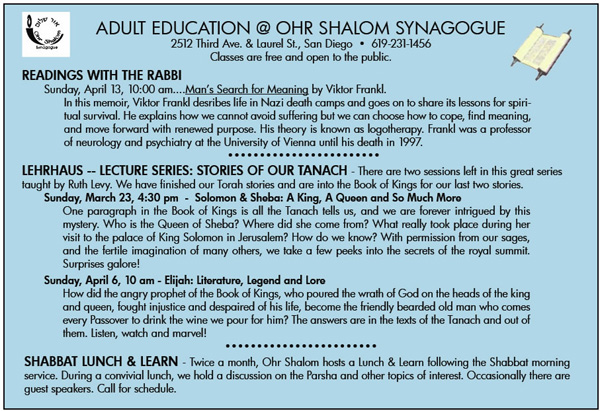 Issues in the wake of terror last forever

By Dov Burt Levy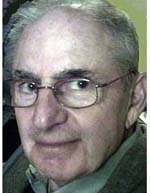 SALEM, Massachusetts—When eight students were gunned down by an Arab shooter in the library at the Mercaz Harav rabbinic college in Jerusalem, the ramifications went beyond the grief of the families, fellow students and yeshiva teachers. It always does. The point of this column is this: when terror strikes in Israel, the consequences extend well beyond the end of shiva.

Eight families will be devastated forever. It's trite but true; nothing is worse than having to bury your child. Yet, you'd have trouble finding anyone among the five million Jews in Israel who is not within one or two circles of people who have lost children as soldiers or terror victims. That is, if they have not endured such deaths within their immediate families.

Just to put it into perspective, 7,000 Israelis died in the 1948 War of Independence, one percent of the 750,000 citizens of the nascent Jewish state. One percent of the current United States population, 300 million, is three million. Imagine.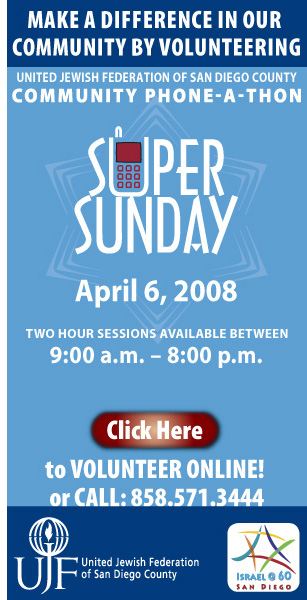 That is why politics, especially questions of war and peace, relationships with neighboring states, whether the land gained in the 1967 war is something to give back or something to be held forever, all that and more comprise a great debate with emotion and personal loss and worry about the future. Almost everybody is talking, not just the paid pundits, professors and politicians.

Now eight teen-age students studying in a library have been murdered. I want to discuss the ramifications of this single event, the large and the small, the questions and consequences. I don't offer advice or solutions; that would be chutzpah for a guy living outside of Israel.

First, the question arises as to how well the yeshiva was guarded and why the guard on duty did not respond more aggressively against the shooter. What happened, according to press reports, was that the guard chose to keep people from entering the room of the shooting, rather than bursting in himself and shooting the assailant. It remained for someone else to take that step. Hired guards, who could be a 21-year-old recently released soldier or an old-timer over 60 earning about $7 to $9 an hour — that's hardly a salary to entice the best people to risk their lives, although many such guards have bravely died in the line of duty.

Second, an effort will be made to trace the movement of the shooter, his cohorts and collaborators and the terrorist organization that sent him. Not easy in a place where organizations take credit for horrific deeds that they didn't commit – and vice versa.

Third, for decades Israel demolished the homes of terrorists with blood on their hands. Then, in 2005 a police panel found the practice did not stop terrorism and may have contributed to it. In this case, Israel's Public Security Minister has told the police to demolish the house of the shooter. The legalities are being examined. Whatever decision is reached, a public row and court appeals will surely ensue.

Fourth, what about the larger question of whether the yeshiva killings should delay, postpone or shut down the peace talks now underway between Prime Minister Olmert and Palestinian President Abbas?
Those who have opposed the peace process and resisted President Bush's stated goal of reaching a signed agreement in 2008 are urging cessation of negotiations.

Those who have supported the establishment of a Palestinian state say that the only way to stop murder of civilians is to have a strong Palestinian state that can control its people and its borders.
Fifth, after every vicious attack against Israel, those who call for direct action against Arabs come to the fore. A group of extreme-rightist rabbis, self proclaimed vigilantes, uses posters and advertisements to call on Jews to take revenge, "to imagine what the enemy is plotting to do to us, and to match it measure for measure." The police have already arrested a group of activists making their way to destroy the shooter's house in an Arab village close to Jerusalem. A few days later another group vandalized the house and they were not stopped.

And to those Americans of all stripes who spout their answers for Israel with absolute certainty, I say, "Be modest, it's more complicated than you think. The Israelis will work it out. Or, they won't."

Dov Burt Levy is a Jewish Journal Boston-North columnist. Contact: dblevy@columnist.com.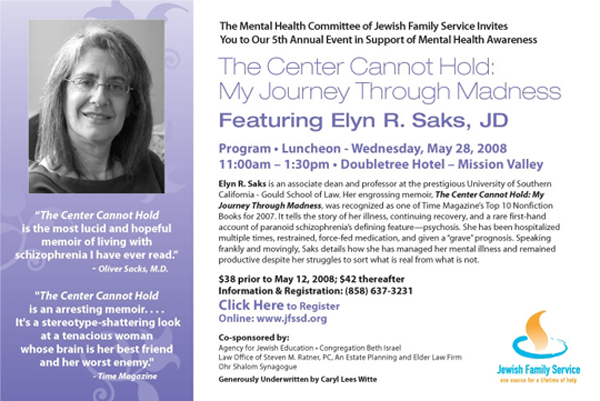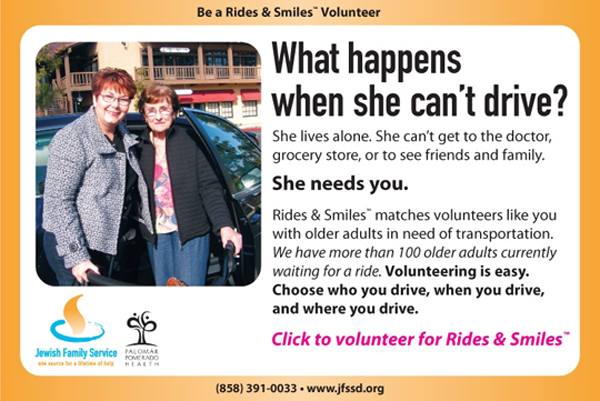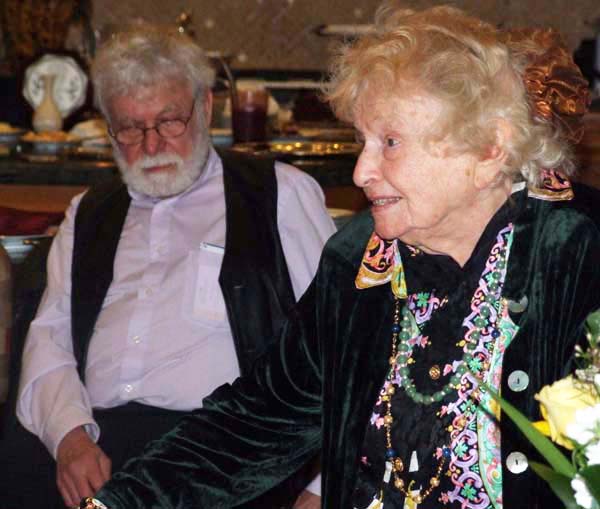 MOTHER AND SON—Laura Simon, 102, tells her pride as her son, the Academy Award-winning screenwriter, Mayo Simon (listening in background), reaches his 80th birthday.


THE JEWISH CITIZEN

Mom, 102, helped arrange surprise party for her 80-year-old son, the writer

By Donald H. Harrison


RANCHO SANTA FE, California—Academy Award winning film writer Mayo Simon had a surprise 80th birthday thrown for him during what he thought was an ordinary visit to the home here of Andrew and Diane Benedek, whose daughter is married to his son. Surprise! The party was arranged by Mayo's mother, Laura, who at 102, not only is "still here" but is dispensing advice.

"You live through a lot before you see your son or your daughter be 80 years old and you can hardly believe it," said the matriarch. "It is what we want for children; we want them to live, forever, if possible, but then you see them aging as you are aging, and then you know what they have to face in our world and in American culture."

Asked by host Andrew Benedek to reveal the secret to longevity, Laura, who published the memoir I'm Still Here two years ago, responded: "When I was writing my book I was looking for that secret. And when I began the book, I went back into my life to write it…. we lived in a ghetto… I know what poverty is…I grew up on the streets…. Adversity is what makes you strong; if you survive it, you become very strong."

Concerning Mayo, who with director and co-writer Saul Bass won the Oscar in 1968 for best documentary for Why Man Creates, Laura said: "when he went to high school, he used to write his notes on his corduroy pants. Somy husband and knew he was going to be a writer, and we would cry. Mayo was going to be living in an attic, and would be starving like writers do. But Mayo has won awards, and I guess we can't prophesize the future."

Mayo also wrote the screenplays for such movies as I Could Go on Singing (1963); Marooned (1969); Phase IV (1974) and Future World (1976) before he decided to leave Hollywood to become a playwright.

Before Mayo was permitted to speak, various guests at the party provided fillips of information about him—including the fact that his mother gave him his first name in honor of the famous clinic where he was born. One gentlemen in the religiously mixed gathering noted that he had met Mayo at a birthday celebration for Laura that was held at the Chabad House in the University City neighborhood of San Diego, where Laura is a regular worshiper. The man praised how Mayo explained Jewish ritual to him, thereby helping him to navigate his way through the Shabbat service.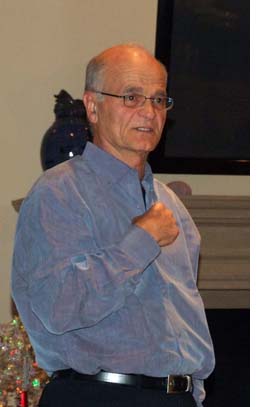 Benedek (at left) said that before visiting Mayo in New York City, he visited a museum (he didn't say which one) and enjoyed it so much, he purchased the guide book. Discussing the museum later with Mayo, he soon realized that his daughter's father-in-law was more knowledgeable "than the man who had written the guide." When conversation changed to another topic, again Mayo proved himself incredibly well informed.

Mayo's plays have been produced around the world, and include Walking to Waldheim; L.A. Under Siege; Elaine's Daughter; A Rich Full Life; The Twilight Romance; These Men; Happiness and The Old Lady's Guide to Survival. More than one, he has said, was influenced by his mother's lifetime experiences.

"Although it is true I am a writer, first-draft words really don't come easily to me," said Mayo, when at last his turn came. "I'll do the best I can—"

"—Stand over here!" suggested his mother in an audible stage whisper.

Andrew Benedek

"No, I think I'll stay right here," responded the playwright.

In the gated Rancho Santa Fe estate of his machatunim, one of Mayo's comments at first seemed incongruous: "The best thing I learned from my mother was when I got to be 65 and she said, 'always ask if they have something off for seniors'" He went on to add: "By God, there is always something off for seniors. I have no idea why there is something off for seniors. Amtrak gives you 15 percent off, the airlines give you something off; hotels, even restaurants some times. I don't really understand it, but it really was very good advice."

You see, when he switched from a career as a Hollywood film writer to that of a New York playwright, "I decided I would see if I could take a zero off my income, and then I managed to do that pretty well. And then I started writing poetry, so I am working on taking off another zero. I just started working on a novel, which is new for me."

On aging, Mayo suggested "I think everyone has the same feeling; You don't sense yourself as being old. I think we have a secret age. We wake up in the morning and we think what our secret age is. My secret age has gone from about 26 to 34 now. I don't look my (chronological) age; I don't feel it. I think that secret age dominates your life."

And besides, he said, looking at Laura: "When I come out here and stay with my mother— one always feels about 10 years old with your mother." To gales of laughter, he reenacted a scene between an 80-year-old man and his 102-year-old mom.

"Wear a hat!"

"I don't have to have a hat."

"Take my hat!"

"No, it's a girl's hat."

"No, take the hat and wear your sun glasses and your sun block.... And you're wearing that shirt?"

In such circumstances, the playwright told the gathering, "It's hard to feel old."

Harrison is editor and publisher of San Diego Jewish World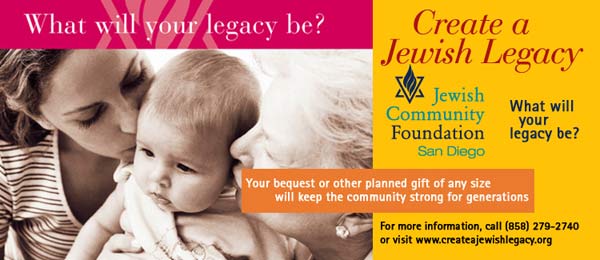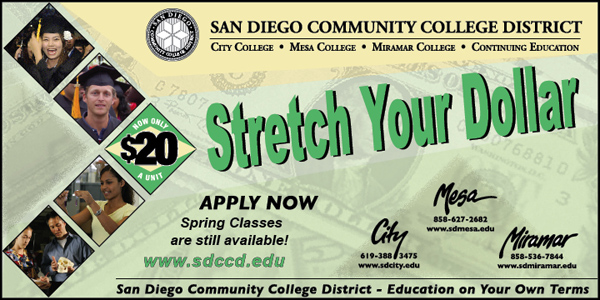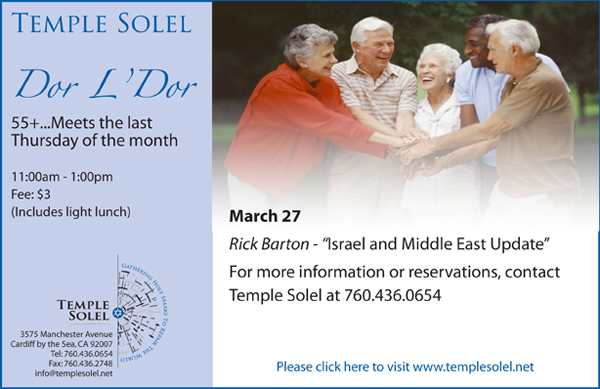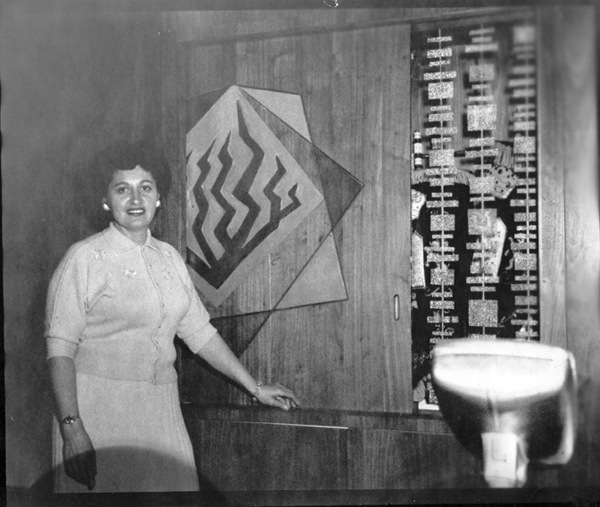 Shirley Lichtman (1917-2008)


Sculptor Shirley Lichtman becomes subject of JCC art exhibit a day after her death


By Janet S. Tiger



LA JOLLA, California—For those who knew award-winning sculptor Shirley Lichtman, her life was as much a work of art as her work was the art of life. And so it is especially fitting that on March 19, the day following Shirley's death - her sculptures were featured at the Gotthelf Art Gallery at the Lawrence Family JCC in a show aptly titled - Jewish Women, a Lifetime of Art. It is a lovely show, and Shirley would be proud.

Shirley's daughter, Myla Lichtman-Fields, commented that, "It is so fitting that this show is running at this time," adding that, "I cannot think of a better way to honor my mother's memory."

For people who didn't know Shirley's lovely smile personally, her sculptures were seen in almost every synagogue in San Diego - and dozens more nationally and internationally. From Adat Shalom in the North County to Tifereth Israel to the East to Ohr Shalom (3rd and Laurel - the old home of Beth Israel) in downtown San Diego, Shirley's work has been the centerpiece for many sanctuaries
and in collectors' homes throughout the world.

Below are Myla's words (the obituary that has been in the San Diego Union-Tribune) with information about Shirley's life- -and a chronology of Shirley's work -but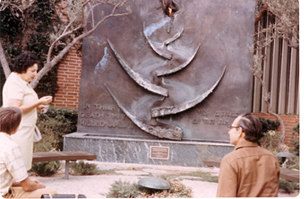 I would like to focus on one of Shirley's dreams: to have the Holocaust Memorial she designed - originally for the JCC at 54th St - to be viewable and available again in a public place. (Although the memorial is currently at Chabad Hebrew Academy Sculpture Garden in Poway, parties interested in helping to have her masterpiece restored to its original condition and installed properly please contact Myla at MylaProds@aol.com )

Through her beautiful creations that grace the synagogues, through her family and friends, Shirley Lichtman will live on in San Diego.

As Shirley said so eloquently - "Life and art have always gone hand-in-hand for me. Responding to the wonders of the world around me through the creations of my hands has enriched my life experience and has helped me to document my life's journey."

Goodbye, Shirley, we will miss you.


Shirley H. Lichtman, sculptor/teacher

Born in Chicago in 1917, Shirley Hoffman-Lichtman's elementary school teachers recognized Shirley's artistic gifts and arranged for Shirley to receive a scholarship to attend The Chicago Art Institute's academy. Shirley received training there from elementary through high school. She received another scholarship for post-high school training at Chicago's Art Institute.

Shirley married Samuel W. Lichtman in 1941. She studied at The Pennsylvania Academy of Art. Shirley also studied at The Corchoran School of Art in Washington, D.C. Her sculpture teacher, Heinz Warneke, encouraged her to enter her male wooden torso in The 1949 International Sculptors' Exhibition at The Philadelphia Museum of Art. Shirley was one of 70 international sculptors--that included Henry Moore, Alexander Calder, Jacques Lipschitz, among others (her photo appeared in LIFE magazine's article on the exhibition)-- whose works were selected for that show. The exhibit toured to the N.Y. Metropolitan Museum, and to the Corchoran Gallery in Washington, D.C. Shirley's work was also exhibited at The Baltimore Museum of Art.

Shirley moved to California with in 1952. She continued to teach, exhibit, and received numerous commissions. Shirley has worked in numerous mediums: wood, stone, and metal. She traveled to Pietra Santa, Italy with her students and worked there using the same marble from Mt. Altisimo that Michaelangelo and leading sculptors have used throughout the years. There, she mastered the use of air hammers and martelos.

Shirley moved to San Diego in 1968. Her welded bronze memorial sculpture commissioned by Holocaust survivors was located in front of the former East County J.C.C. It has been stored for several years at Chabad's Scripp's Ranch location. It has been the artist's hope that the sculpture will be reassembled and erected beside the synagogue in Heritage Park in Old Town where it can be experienced by the public again.

Throughout the country Shirley Lichtman's architectural sculptures are found in religious and commercial institutions, her smaller works in prestigious private collections. A short documentary film, The World Through Her Hands by the artist's daughter Myla Lichtman-Fields, presents an overview of the tremendous range and wealth of work created by Shirley over the course of her lifetime in art. Shirley's passion for art and her positive approach to living have enriched the lives of all who have been privileged to have known her.

Shirley is survived by her children Myla (Donald) Fields and Howard (Ilene) Lichtman and five grandchildren--Joshua, Aaron, Andrea, Julia, and Alex--and by her sister Mildred Moore, and also by many wonderful students and friends.

Those wishing to honor Shirley's memory may donate to The Enamel Guild, West, Balboa Park, Studio 5, S.D. 92101 for The Shirley Lichtman Award to be given in the semi-annual National Enamel Guild Show at Studio 21 in Balboa Park, or to San Diego Hospice 4311 Third Ave., S.D. 92123.

A sampling of her works includes:

* Bust of Adlai Stephenson for Choate Prep School, CT commissioned by Democratic Party.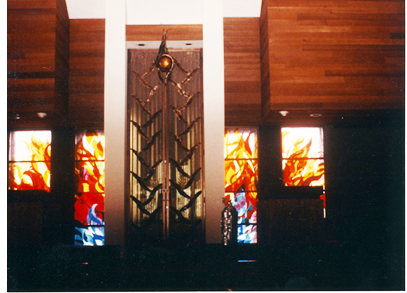 *Designed and built 16' Ark Doors and Eternal Light for Tifereth Israel Synagogue, San Diego. (Right)

*Ten Commandments in sanctuary of Temple Beth Israel (now Ohr Shalom).

*Eternal light, menorah, and copper enamel work at Adat Shalom (Poway) Numerous copper enamel works for Seacrest (moved from S.D. Home for the Aged)

*First place in sculpture Del Mar Fair for "Genesis" (white marble); 1st prize Madonna Festival (L.A.); Enamel Guild National Show award-winner.
Tiger is a playwright and freelance writer based in San Diego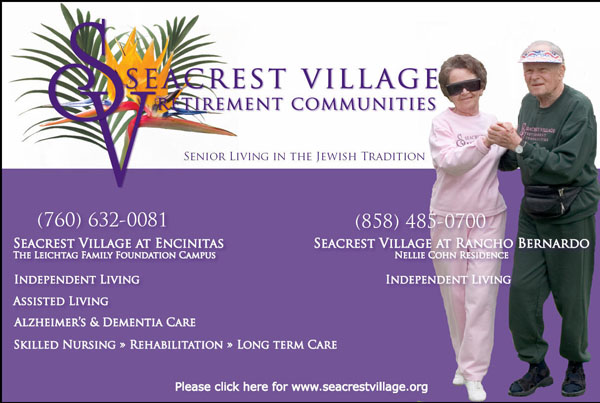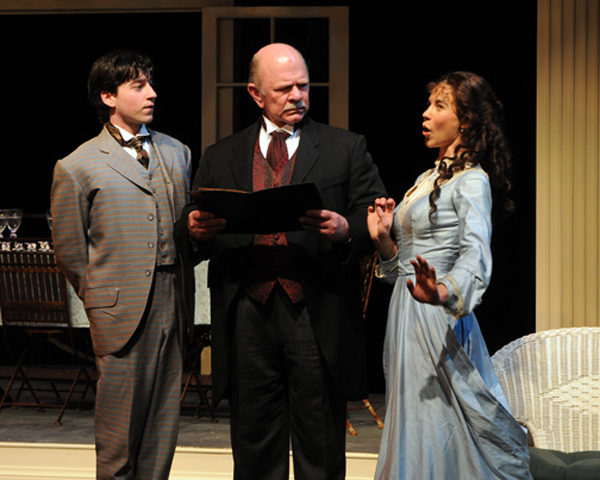 SHAW ENOUGH—Mr Crampton (Jim Chovick) finds himself between twins Phillip (Tom Zohar),
and Dolly (Rachael Van Wormer) in George Bernard Shaw's play You Never Can Tell.

ARTS IN REVIEW

You never can tell... or should you?

By Carol Davis

VISTA, California—In George Bernard Shaw's comedy of errors You Never Can Tell, now in a fun filled production at the Avo Theatre in Vista through March 23., anything and everything that can happen and then gets reconciled, happens. It's a story so convoluted that just thinking about the circumstances, boggles the mind. I'm sure in his own inimitable way and in his wonderful storytelling mechanics, he intended for it to be as confusing as amusing. And so it is. If it takes three acts to sort things out, so be it. The fun is in the disentanglement and how we get there as much as the characters involved. Just check out their names and you should get a clue as to where he is going.

The story takes place in 1896 in England in a seaside town. After an eighteen-year stay in Madeira, Mrs. Clandon (Jill Drexler) and her three children, twins Dolly and Phillip (Rachael VanWormer and Tom Zohar) and Gloria (Christy Yael) move back to their native England. They are just getting acquainted with their new housing accommodations. The children have no memory of their father since they were so young when the parents separated, but after a visit to the dentist's office and a chance meeting of the landlord of the house in which the dentist has his office (Dolly needs a tooth pulled), they latch on to the idea that the blustering landlord, Mr. Crampton (Jim Chovick) might just be their long lost father.
After meeting Cramton, they invite him and the dentist to a family lunch. Complicating things, the dentist Mr. Valentine (Jason Maddy), after pulling Dolly's tooth, falls head over heels for her. Dolly, however, takes after her mother in thinking that she is a 'modern woman' and has made up her mind that she has no interest in romance or being romanced. Added to the mix are the all knowing waiter, whom the twins call Shakespeare because he knows so much (Walter Ritter), Mr. McComas (Danny Campbell) Mrs. Clandon's lawyer and Bohun (John Garcia) the waiter's son and Barrister who is supposed to help with the legal wrangling of child custody and you have a stew about to brew.
Director Jason Heil, who is making his directorial debut with this production, is no stranger to San Diego Stages as an actor/singer. He made his local acting debut at this very theatre several years ago in Neil Simon's The Goodbye Girl. Hats off to Jason, whose casting of Zohar and VanWormer is somewhat of a streak of genius. It is like watching Frick 'n Frack as they finish each other's sentences, outshout each other for their opinion to be heard (although it is usually a mirror image of the other) and just monopolize each scene they are in. Both extremely talented in their own right, they recently played together in New Village Arts critically acclaimed, This is Our Youth.
Drexler and Chovick, as the parents, do look like the odd couple but as they say opposites do attract (sometimes). Both give convincing performances. The Crampton and the Clandon sound alike names is enough to make your head whirl while they play it straight to the vest. Danny Campbell has just the right look as solicitor to Drexler's Clandon. With a swagger that gives off an air of confidence, he fits the bill. Walter Ritter is perfect as the know-it-all waiter. His always-pleasant-looking face and amenable look put him in all the right places, at the right times. Ritter has one of the most pleasant, lilting baritone-speaking voices I've heard in some time. John Garcia, who plays his son Bohun, is a not quite a good fit for this show, however incidental he may appear.
Shaw's classic trademarks zoom in on social problems like education, marriage, religion, government and class privilege. He found that in criticizing these institutions through comedy he could get his point across in a more subtle way than if he shouted it from the rooftops. He was a firm believer in equal rights for both sexes and detested abuse of the working classes. So it wasn't unusual for him to make Gloria a woman of independence, as was her mother. Yael tackles her role with verve, understanding and a tad bit of vulnerability. She digs her feet firmly in while Valentine woos her as she stands up for her convictions. His Valentine (Maddy), all the while, can't figure out how to handle this woman so he bumbles his way through the romance. Both play well off each other and seem to have much fun at it. Maddy has just the right reactions and look to her actions or not, as the case may be.
As one comedy of errors leads to another; angry accusations are thrown about; every situation has a double meaning; no one is ready to concede to anything, and every side story leads us down the primrose path until the waiter, who seems to have an inside track to everything 'in the know' waits to the very end of all the shenanigans and in all his wisdom, sums it up to Valentine: "Cheer up, sir, cheer up: every man is frightened of marriage when it comes to the point; but it often turns out very comfortable, very enjoyable and happy indeed, sir---from time to time. I never was master in my own house, sir: my wife was like your young lady: she was of a commanding and masterful disposition, which my son has inherited. But if I had my life to live twice over, I'd do it again, I'd do it again, and I assure you. You never can tell, sir: you never can tell."
Jeanne Reith's period costumes are up to their usual high level of quality and Mike Buckley's set design of a dentist's office, restaurant and lounge is on target with Paul A. Cantaletti, Jr. lighting to set the mood for a grand evening or afternoon of fun.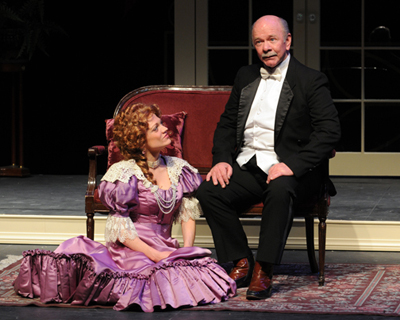 As a side note Christy Yael (at right), wife of Steve Lipinsky, is a Jew by choice who finished her conversion in 2003 after she met Lipinsky. She trained and graduated from the American Academy of Dramatic Arts. You may have seen her most recently at the North Coast Repertory Theatre's production of String of Pearls and Dracula and for the San Diego Rep. she appeared in the Donald Margulies play, Brooklyn Boy. Her repertoire is as versified as is her life. As a new mom she told me that she balances a career with her motherly duties with a little help from Steve who is also busy teaching acting at Hebrew High. When she gets home from the theatre she takes off her thespian hat and puts on her mommy hat. She loves it.
Christy's next two projects are Three Days of Rain by Richard Greenberg at 6th@ Penn and Madagascar by T.J. Rogers at the North Coast Repertory Theatre in Solana Beach to be directed by artistic director David Ellenstein. She does manage to keep herself busy. And as an FYI 'Yael' means, "to ascend". It's a fitting name for a beautiful young woman who found new roots in Judaism; and embraces them.
See you at the theatre.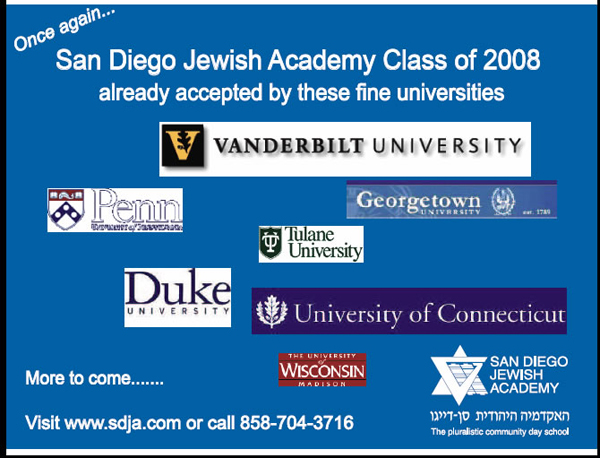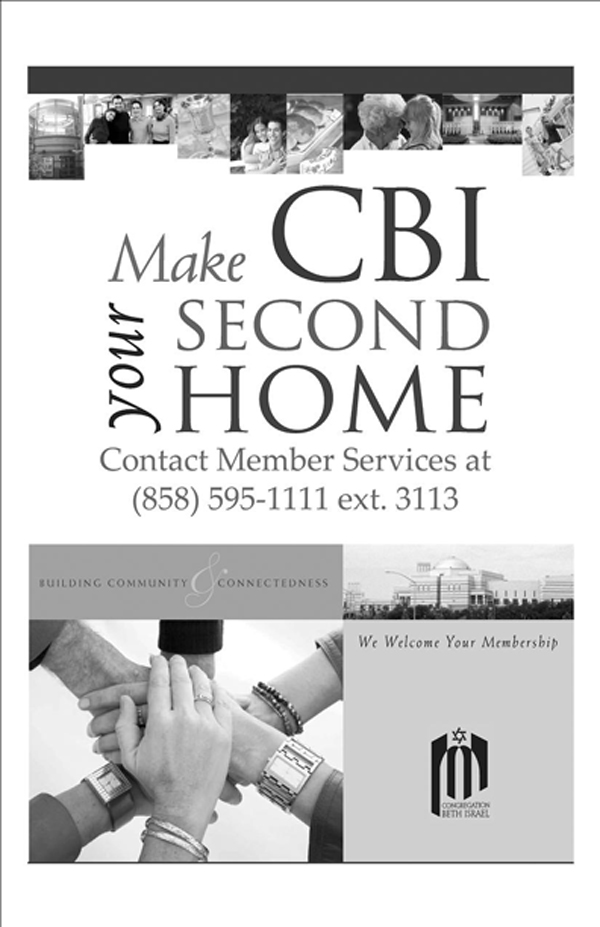 FROM THE HALLS OF ACADEMIA


Pig's Testimony: Why Jews don't eat pork


Editor's Note: From time to time, San Diego Jewish World will republish articles sent to us by scholars previouslypublished in academic journals. These articles, with footnotes and bibliography, may also be read in PDF format.

By Gidi Yahalom


KIBBUTZ BEIT-ALFA, Israel—Archeological excavations in Israel have revealed a succession of sites from the end of the Late Bronze Age to the end of the Iron Age II (from the middle of the 13th century BCE to 586 BC), which have been defined by archeologists as Israelite. One of the characteristics of these sites is the unique zoo-archeological evidence. In some of the settlements archeologists found a very small amount of pig bones, while at other settlements they found none whatsoever. The picture differs in sites defined as non-Israelite, such as the Philistine settlements. In these pig bones reach 5 to 18 percent of the total, compared to zero to a few tenths in Israeli settlements. Assuming that these findings indicate that the eating of pork was abstained from in Israelite settlements, I will discuss the following questions: Why did the Israelites abstain from eating pork? What can this custom indicate regarding the Israelites' origins?

Accepted explanations concerning abstinence from pork

The Torah commanded the people of Israel to abstain from eating pork: "And the swine, though he divides the hoof, and is cloven-footed, yet he chewed not the cud; he is unclean to you.Of their flesh shall ye not eat, and their carcass shall ye not touch; they are unclean to you." (Leviticus 11, 7-8)

The medieval Jewish scholar Maimonides (1135-1204) wrote: "… I say, then, that to eat any of the various kinds of food that the Law has forbidden us is blameworthy. Among all those forbidden to us, only pork and fat may be imagined not to be harmful. But this is not so, for pork is more humid than is proper and contains much superfluous matter. The major reason why the Law abhors it is its being very dirty and feeding on dirty things…With reference to the signs marking a permitted animal – that is, chewing the cud and divided hoofs in the case of beasts…know that their existence is not in
itself a reason for animals being permitted nor their absence a reason for animals being prohibited; they are merely signs by means of which the praised species may be discerned from the blamed species."

Even today, many think that pork was forbidden because it caused diseases. Yet, if that belief were true, we would find that Jews and Muslims are healthier than believers of other religions who eat pork. Others developed a theory according to which the Israelites did not raise pigs because of the hot climate which prevails in Israel. This theory disregards the fact that pigs have been raised in the Middle East by other nations throughout various periods (including in the mountainous areas inhabited by the Israelites at first.) Pigs were and are still raised in tropical countries, such as Indonesia and India.

The anthropologist Marvin Harris tried to find an economic-environmental explanation for the prohibition of pork. He relied on the fact that pigs like to eat acorns. Harris claimed that at the Israelite settlement areas on the highlands there were no forests, a fact which prevented them from raising pigs. This claim is no longer acceptable, for, although the presence of an oak forest can be of much assistance when raising pigs, it does not present an exclusive condition. Furthermore, Harris relied on outdated information. As shown by research conducted by Nili liphschitz and Gideon Biger, we know today that the central mountain area was covered with the Israeli forest, and oak was one of its main trees.

In a recent book Israel Finkelstein and Neil Asher Silberman write: "A ban on pork cannot be explained by environmental or economic reasons alone. It may, in fact, be the only clue that we have of a specific, shared identity among the highland villagers west of the Jordan. Perhaps the proto-Israelites stopped eating pork merely because the surrounding people –their adversaries– did
eat it. [...] Half a millennium before the composition of the biblical text, with its detailed laws and dietary regulations, the Israelites chose –for reasons that are not entirely clear– not to eat pork."
Finkelstein and Silberman, however, do not clarify the reason why the pig was chosen to serve as a symbol of differentiation. The Israelites could have also chosen differentiation by banning the eating of other animals, e.g. sheep.

The entry on pig raising in the Anchor Bible Dictionary emphasizes all of the animal's economic advantages, its digestive problems, and the fact that it's unsuitable for a nomadic way of life. And yet, this information did not prevent the author from writing: "Archaeological excavations show that during certain periods, in areas where pork is now prohibited because of Jewish or Islamic law, pigs were once raised in substantial numbers, a fact which suggests that the prohibition
of pork is more a matter of culture than of environment."

"A matter of culture" leads us to the assumption that there was a communal decision process which ended with the public's agreement.

Brian Hesse dedicated long years and much effort to solving the riddle of the pig. In a study dedicated to the subject of pork production in ancient Israel, he mentions that the reason for the ban on pork stems from the Israelites' nomadic origins Yet, he treats this idea with a certain amount of skepticism and concludes that the reason for the ban remains unknown.

All the explanations mentioned above are insufficient. They are based on the problematic assumption that the ideological-religious ordainment of some leader or the other could prevent an entire nation from eating an important meat. They assume that this rule can prevail for a long period of time, even though the pig is a profitable animal for the meat economy. Apart from Harris, who tried to find an explanation, researchers assume that this was an act of choice, and not an imposition.

Abstention from pork as a result of environmental conditions

Unlike the various explanations above, I assume that ancient societies abstained from eating certain foods because these were inaccessible. In other words, if certain people did not eat pork, it was due to the fact that they could not raise pigs in the environmental-economical conditions in which they lived.

An ancient custom should be examined by identifying its foundations. There are cultural customs which grew from a cultural environment and they express the world view of the inhabitants of that society. Yet, there are customs which derive from the economic environment and with time
have become customs with cultural characteristics. Abstinence from pork is a cultural custom. However, the inabilityto raise pigs is an economic circumstance enforced upon a society by environmental conditions. The custom of pork abstinence stems from these conditions. Most scholars, believers and nonbelievers, misunderstood the anthropological "stratigraphy" and examined the custom of pork abstention only from a later stratum, when it was already embedded as a cultural custom. The only way to study the custom's origin is by going down to the deepest stratum from which the first economic reality grew.

A society that cannot raise pigs due to its environmental-economical constraints is the society of desert nomads. The pig simply is not built for desert life. It is unable to walk continuously for long distances, and the food available in the desert is unsuitable for its stomach. In order to digest dry and sparse grass the animal needs a ruminant's digestive system. Thus, sheep, goats, and cattle are able to survive in desert conditions while the pig does not.

I would like to suggest that the abstinence from pork among the Israelites indicates their origins as nomads who arrived from the desert. Although they inhabited a country that enabled them to raise pigs, they maintained their earlier customs and nutrition habits.

Finkelstein and Silberman assume that pork abstinence was the Israelites' reaction to their encounter with the Philistines, who consumed a large amount of pork. This claim is hardly acceptable since the Philistines of the Early Iron Age lived along the southern coastal plain, while the main Israelite settlement was in the highlands. The meeting between the two populations was limited to the frontier areas and certainly did not encompass the entire Israelite population.

Already in 1922 Otto Antonius wrote: "Let us look at one piece of evidence, the absence of pigs with the nomads. The pig, as opposed to other mammals, cannot travel long distances to pasture. Therefore, its existence in the livestock of some tribes testifies that they are sedentary. Nomads, real herdsmen, never raised pigs. Because they saw themselves as superior to sedentary tribes, they also scorned the pig as a domestic animal of such people. As a result they rejected the pig itself and
declared it to be impure. Herodotus described such a situation with relation to the Scythians. But this phenomenon is well-known especially among shepherds who were nomads, Semitic and Hamitic. Those tribes overlaid a religious framework onto their relation to the pig, even when the nomads became sedentary themselves […]. The religious prohibition on eating pork is a result of the nomads' loathing of sedentary farmers" (translated from German by G. Eilat).

This unambiguous opinion was also supported by Simon Bodenheimer: "It is important to mention that all nations who loathe the pig are nomads or descendants of nomads. In contrast, the pig is the domestic animal of settled tribes who have always practiced agriculture. […] Antonius was absolutely right when he contradicted the opinion that the so-called hygienic rules influenced pig prohibition. Neither a defect in its flesh loved by so many residents of hot climates, nor the prevention of trichinosis, served as a significant incentive for its ban. It's obvious that the nomads despised an animal which proved useless for them during their long wanderings. Antonius assumes– and it is
accepted by many scientists – that at every place that we'll find a ban on pigs, such as in Sumer, Canaan and Egypt, as well as with all the Semites, Hindus, etc. –there was an ancient agricultural, pig-raising population rejected by the nomadic invaders."

Zeuner also supported the opinions of Antonius and Bodenheimer, long before the decisive archeological discoveries.And yet, Hesse, who was well acquainted with the archeological findings, rejected this opinion. As a result, the discussion surrounding the environmental and economical reasons came to a halt and the scholars continued searching only for religious reasons for the prohibition.

Pork abstinence as a religious command

Let's return and rethink the assumption that it is possible to force a large public to refrain from their eating habits for a long period of time. In Leviticus 1, 1- 3, among the rules of kashrut, there is an interesting reference to insects ("flying creeping things"): "Yet these may ye eat of every flying creeping thing that goeth upon all four, which have legs above their feet, to leap withal upon the earth; even these of them ye may eat; the locust after his kind, and the bald locust after his kind, and the beetle after his kind, and the grasshopper after his kind. But all other flying creeping things, which have four feet, shall be an abomination unto you."

The law-giver forbids eating insects, although does allow the locust, the bald locust, the beetle, and the grasshopper. These were different than others because eating them was accepted when the rules of the Bible were written. Here as well, we return to the desert. Wherever food is sparse and unattainable, man "compromises" with nature and eats things that he would not have eaten if he were in a place with food in abundance. The locust is common in the desert, and when it arrives in large swarms, it is difficult to ignore its nutritional advantages. The custom of locust eating spread to the sedentary tribes and is also accepted in certain modern day societies. It seems as if the lawgivers knew that they would not be able to prevent locust eating, and therefore they permitted it. Thus, we can assume that the lawgivers could not force people from eating a certain food solely because of a
religious outlook.

Examining how Christianity and Islam, both stemming from Judaism, have approached pork abstinence can also help us comprehend the matter.

Christianity began among Jews, who indisputably abstained from pork. Yet, after Jesus was rejected by the Jews, his followers turned to the non-Jewish sector. This community was ready to receive the new religion, yet, it was not ready to give up pork. Thus, the new religion adapted itself to the eating habits of its believers and did not insist upon pork abstinence.

Islam approached a population that consisted mostly of nomadic tribes (Bedouins), or city dwellers who were the descendents of desert nomads. In this group, the raising and eating of pigs was not customary, so that the ban passed easily. On the other hand, the Muslims are allowed to eat camel, while in Judaism, the camel is considered non-kosher. The reason is obvious: the Bedouins used to eat camels, and it was impossible to enforce camel abstinence on them.
Pork abstinence turned into social segregation
The Israelite political entity was not the only one established in the ancient near East by nomadic tribes. The Aramites established several states before and after the crystallization of the Israelite entity. Yet, unlike others, the Israelite entity survived until the roman period and the cultural-religious setting survived until this day. This fact, and the close acquaintance with the Bible and the history of Israel, enables us to attempt to write a tentative reconstruction of the history of pork prohibition, from nomadic necessity to the ingredient that is the trademark of the Jewish culinary culture.

First of all, zoo-archeology teaches us that the Israelite settlers, even as they established permanent settlements, abstained from pig-raising. From this we may assume that they were not in a hurry to learn from the Canaanites how to raise pigs for food purposes. We can find an explanation for their reservation in the traditional relationship between the farmer and the nomad (and in modern times, between the Bedouin and the Arab peasant), as described by Antonius.

In order to clarify this, let us re-emphasize that we are discussing desert nomads who could not raise pigs under any circumstances. Nomads from inhabited lands, just like Bedouins within a settled country, were closely acquainted with pigs. These, while settling for the winter, tend to sow a crop and then they may also raise one generation of pigs or purchase pork for food purposes. This was not an option for desert nomads. Therefore, Finkelstein and Silberman's claim, that the Israelites were the descendants of nomads from inhabited lands, provides only a partial and ambivalent answer.

Antonius wrote that in the first stage the settlers did not want to raise pigs in order to maintain their
separatism from the farmers. This was not an ethnic or religious separatism, but rather a cultural one. The Israelites accepted the situation as it was, as part of their identity and ideology. Violation of this custom was perceived as the violation of the existing order and as a drastic change of the ancient customs. One could expect that hostility and contempt would diminish with time and the new farmers would get used to the local economy and adapt themselves to the pig. Yet, zoo-archeology teaches us that this is not what happened. Perhaps this expected process would have occurred after a long period of assimilation. Perhaps, it occurred in other countries, a possibility which demands a different study altogether. Yet, the facts teach us that in Israel and Judah pork abstinence dominated, meaning, that the customs of the former nomads, became a custom imposed on the Canaanites who assimilated with the Israelites and together they created the Israelite entity. This fact calls for a study of
models of domination based on the relationship between archeological and zoo-archeological findings.

The Bible testifies that pork was indeed not eaten in Israel. The prophets complained that the Israelites and their kings committed the sin of idolatry to the Canaanite gods and various other sins of morality. Yet they never complained of the people consuming pork. The revulsion to pork remained so intense that there was no need for prophetic preaching. Most probably, people no longer remembered the origin of pork prohibition during the kingship period. At a certain stage, perhaps during the days of Josiah or possibly even before, the prohibition of pork was inserted into the religious codex. From that time onwards, it was considered unclean and aversion to it was considered sacred.

The pork ban was not invented or chosen in order to segregate Israel from the rest of the nations. Yet, it became the Israelite culture's trademark. It can be assumed that the Jewish exiles in Babylon, who preserved the Jewish tradition until their return to their homeland, were the first ones who used it to actively and symbolically announce their separation from other groups.

Conclusions

We have archeological evidence regarding the ancient tradition of pork abstinence. The analysis of this custom, with the aid of environmental and economic means, enables us to suggest a likely explanation regarding its evolution.

This explanation is preferable to the attempts to ascribe the abstinence to climatic or medical restrictions. The pig can grow in various weather conditions and the health of pork eaters remains intact. Pig abstinence did not have a religious origin. Yet, with time, it was included in the Jewish religious codex and as a result it became as holy as the rest of the religious Jewish elements. It is unlikely that the residents of Judah and Israel were familiar with the source of the prohibition. However, they were bound by their ancestral commandment, which they accepted even before it became a written law.

Without the archeo-zoological evidence it was possible to develop the "Canaanite origins" theory which conceives of the Israelites as being of Canaanite origins. Yet, this important new evidence on pig farming proves that the Israelites were originally desert nomads. Revulsion of the pig could not evolve in a group which separated from the autochthonous Canaanite population and not even among the nomads who lived west of the Jordan River.

Therefore, if we accept the explanation that the pig laws stem from a nomadic lifestyle, we cannot
accept the "Canaanite option" for Israel's origins.

SAN DIEGO JEWISH WORLD THE WEEK IN REVIEW
Friday, March 21, 2008 (Vol. 2, No. 70)

Judith Apter Klinghoffer in Cherry Hill, New Jersey: McCain's foreign policies score with Jews
Rabbi Baruch Lederman in San Diego: Harry S Truman: The American Cyrus
Rabbi Dow Marmur in Jerusalem: John McCain: A true friend of Israel
Sheila Orysiek in San Diego: The Four Big Questions; One Great Answer
Rabbi Leonard Rosenthal in San Diego: Purim riddle: Did Tanakh predict baseball?
Ira Sharkansky in Jerusalem: Palestinian-Israeli friction points range from cell phones to the right of return

Thursday, March 20, 2008 (Vol. 2, No. 69)

Carol Davis in San Diego: Music, dance numbers overcome tedious plot lines in Globe's Dancing in the Dark
Garry Fabian in Melbourne: Australia's role in Israel's creation recalled
Donald H. Harrison in San Diego: As Israel absorbs its olim, so too should the U.S. have program to absorb its homeless
Rabbi Dow Marmur in Jerusalem: Pragmatic reasons to release Barghouti

Wednesday, March 19m, 2008 (Vol 2, No. 68)

Shoshana Bryen in Washington, D.C.: Barak unhappy with U.S. military advisors
Donald H. Harrison in San Diego: Secrets of synagogue and shaving rituals
Sheila Orysiek in San Diego: The boychik and the leprechaun, a poem


Tuesday, March 18, 2008 (Vol. 2, No. 67)

Shoshana Bryen in Washington, D.C.: Is U.S. impinging on Israeli sovereignty with three generals assigned to Mideast?
Cynthia Citron in Santa Monica, California: Dietrich, Chevalier subjects of new musical
Donald H. Harrison in San Diego: An Irish shpiel for St. Patrick's Day
Fred Reiss in Winchester, California: Kugel explores scholars' biblical criticism


Monday, March 17, 2008 (Vol. 2, No. 66)

Judy Lash Balint in Jerusalem: Israel's 60th Anniversary celebration will highlight Nigerian Christian tourists
Donald H. Harrison in San Diego: A Purim shpiel: how Esther was changed back into the queen she was meant to be
Sheila Orysiek in San Diego: Two cities: two different rains


Link to previous editions

< BACK TO TOP

Copyright 2008 - San Diego Jewish World, San Diego, California. All rights reserved.