Friday, May 9 Israel at 60 talk by Eyal Dagan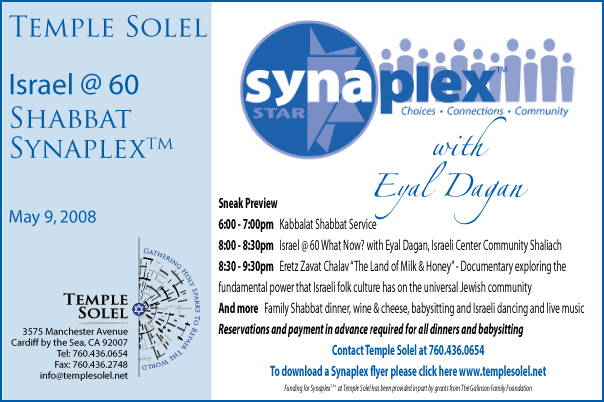 Saturday, May 17 Tifereth Israel Synagogue—Dizengoff Night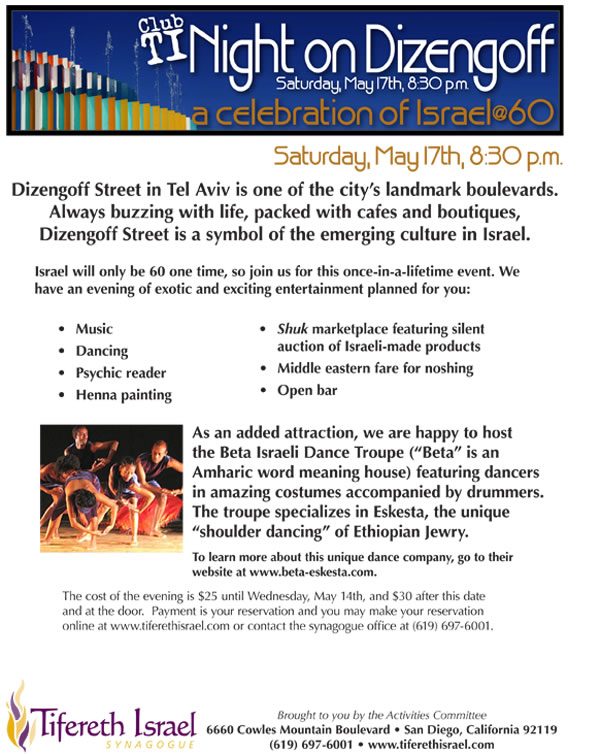 Sunday, May 18 Community Israel Independence CelebrationWednesday, May 28 JFS~Ellen Saks lecture on mental illness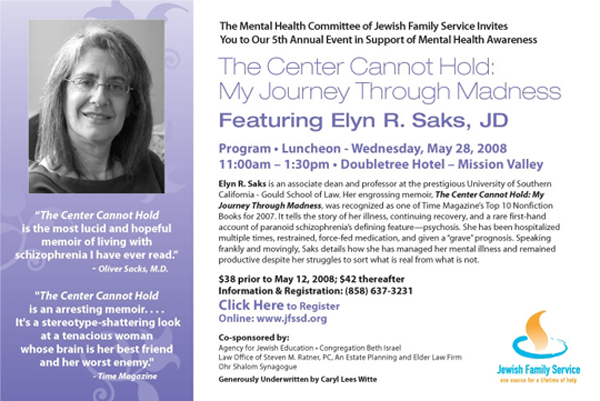 Tuesday, June 3 Guardians Golf & Tennis Tournament






Friday-Saturday, June 6-7 JFS~Judaism on the Wild Side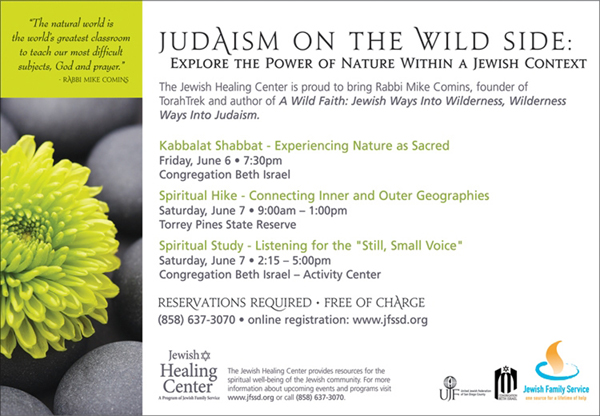 'Smitten Zionist' tells of Israel love affair

By Dov Burt Levy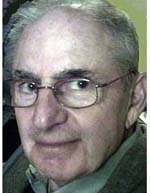 SALEM, Massachusetts—"Why did you become a Zionist, take on Israel citizenship, and make your home in Israel for half your adult life?
That is the question I have been asked most during the six years I have been writing this column. I answer now as we celebrate Israel's 60th birthday.
When I graduated Revere High School in 1952, I knew nothing, and I mean nothing, about Israel or much else. My childhood experience was defined by the poolroom, racetracks, and working on Revere Beach, not AZA or BBYO, organizations that might have taught me something. (Revere borders Boston on the north, has the first public beach in America, plus two race tracks.)

My parents had begun high school when the 1929 Great Depression hit, never finished and worked their lives at minimum wage or a few pennies more.
I joined the United States Air Force in November 1952, the day after my 18th birthday. After training, I spent a year in Greenland where I read my first book from cover to cover, explored Jewish and American subjects and took classes at the University of Maryland Overseas Program.
On that slim basis, my Zionist odyssey had begun.
The next year I was stationed in Frankfort where I met survivors who had hidden during the war or escaped the horrors and returned to Germany. I also had a sobering, two-day visit to Dachau.
My final 18 months in the Air Force were spent at Orly Air Base in Paris. There, I met French Jews and received part of an education from two close American soldier friends, both knowledgeable about Judaism and Israel.
My 24-day furlough in Israel in June 1956 was the high point of my life to that date.
The country was beautiful, the people kind and helpful. So many of those I met invited or implored me to settle in Israel. I visited kibbutzim, cities, small towns, the seacoast and the mountains. I went to an open-air performance of the British Sadler's Wells Ballet in Tel Aviv and heard my first symphony performance in Jerusalem.
I was a smitten Zionist.
For the rest of my time in the service, when anyone asked me "what are you?" I replied, "Israeli." I didn't even know the difference between belonging to a religious group and being a citizen of a state, or that you could be both.
My request to be discharged in Paris (so I could go directly to Israel) was denied. I returned to Boston where I had enlisted. I decided to enroll at Boston University and as often happened in college, marriage and two daughters followed.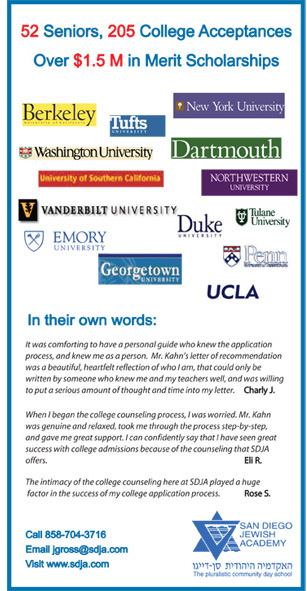 The next 25 years made up my American life. BS degree in high school teaching, Ph.D. in political science, wonderful jobs with the Anti-Defamation League, the Michigan Civil Rights Commission, the Justice Department and United States Environmental Protection Agency, professorships, and two political candidacies.
The next 23 years was my Israel life, working in a kibbutz, hospital and university.
Now I am a citizen of both the United States and Israel and love both countries with great passion. America was open and key to fulfilling my potential as an educated and liberal human being; Israel was welcoming and helped me fulfill myself as a member of the Jewish people.
In return I have given both countries my best work effort and loyalty. And as it turned out, one daughter and family lives in America, the other in Israel. With grandchildren in both countries, my fondest dreams have come true.
When people ask what I think of the Birthright-Israel program to send young American Jews to Israel to learn and see the country, I give high praise. I know that what they get in Israel is the present-day equivalent of my own initial experience.
Even though the poverty, prejudice and discrimination suffered by American Jews when I grew up has been replaced by opportunity and accomplishment, l think it is crucial to have young American Jews know and love Israel, visit often and for some to choose to make a life there.
Amazing, isn't it, how a personal encounter with the Holocaust, some study, plus a three-week visit, could plant a Massachusetts seed in the rocky, fertile soil of Israel.

Levy's column appears in the Jewish Journal-North Boston






Nancy Harrison
cruise & tour specialist

(619) 265-0808








Not only better prices, but excellent, caring service!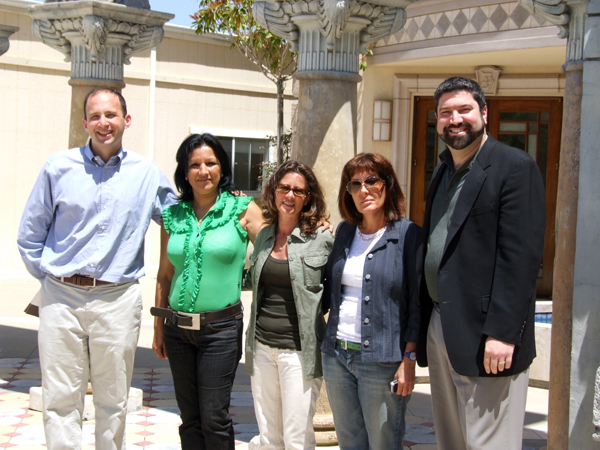 WELCOMED—Rabbis Matthew Earne (left) and David Kornberg flank Israeli terror victims
Nechama Biton (2nd from left) and Rachel Koren (2nd from right) , who stand on either side
of Carine Chitayat, a co-chair of Congregation Beth Am's 'Adopt A Family' program. The group
stands in the Conservative congregation's courtyard, where a free-standing arch is modeled
on a structure from Roudnice, Czech Republic, from which the Holocaust Torah it uses on
special occasions originated.

THE JEWISH CITIZEN

Terror survivors hosted at Beth Am

By Donald H. Harrison


SAN DIEGO—Rachel Koren of Haifa, Israel, and Carine Chitayat of Rancho Santa Fe, California, have a friendship forged from several exchange visits and countless e-mails and phone conversations. Meanwhile, Iris Pearlman, co-chair with Chitayat of Congregation Beth Am's "Adopt-A-Family" program, is building a similar relationship with Nechama Biton of Moshav Gadish, who currently is enjoying her first visit both to San Diego and to the United States.

Koren and Biton, along with their surviving family members, have become very special to the membership of the Conservative congregation in San Diego's Carmel Valley neighborhood, where they spoke during Erev Shabbat services Friday evening, May 2. And although Koren and Biton did not know each other prior to this visit, they share an important distinction: Both were suddenly widowed as a result of terrorist violence against Israeli civilians.

Koren lost not only her husband, Shimon, but also two sons, Ran, 18, and Gal, 14, in the March 31, 2002 suicide bombing of the Matza Restaurant in Haifa. Biton's husband, Eli, a security officer for the Gilboa Local Council, was on a routine patrol January 12, 2003 when he was murdered by a terrorist sniper.

Both women traveled with family members to San Diego to enjoy some home hospitality this week: Koren came with her married daughter Dana, and granddaughter Shira, 4, and Biton with her son Yakir, 16, the youngest of her four children.

About five years ao, Chitayat had heard a plea for Diaspora-Israel family solidarity by Sharon Evans, mother of a young woman who was critically injured February 14, 2001, when a Palestinian bus driver deliberately plowed into a mixed group of soldiers and civilians at the Azor Junction south of Tel Aviv. In response, Chitayat decided to organize at Beth Am an Adopt-A-Family program that could reach out to other terror victims even as congregations in Los Angeles had provided aid and comfort for Evans' daughter Monique Goldwasser.

Besides the Koren and Biton families, Beth Am has also forged a bond with the Pinto family of Jerusalem, whose son, Avi,, sustained a serious head injury Nov. 21, 2002 when an ambulance rushing to a suicide bus bombing slammed into the taxi cab in which Avi, then 20, was a passenger. More recently, Beth Am has "adopted" the family of Natan Gelkowitz of Kibbutz Bror Chail in the Sha'ar Hanegev region, whose daughter, Dana, was killed in a rocket attack on Netiv Ha'asara from Gaza on July 15, 2005. Sha'ar Hanegev is the partnership region of the United Jewish Federation of San Diego County.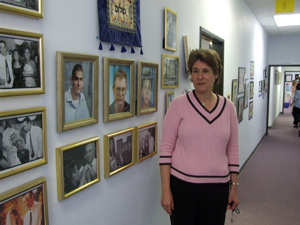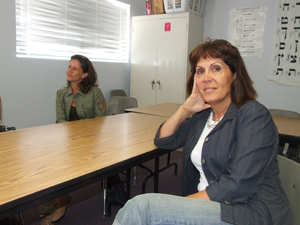 MEMORIES—Harriet Wolpoff, education director of Congregation Beth Am, stands in a hallway
of the congregation's Jewish Learning Center, where Koren family photos are on permanent display. At right, Rachel Koren (foreground) and Carine Chitayat discuss the Adopt-A-Family program.

Koren's husband, an economist for Zim shipping line, decided to take their two boys out for lunch. "I said 'okay it is a good idea;' they used to go together, only the men. They talked about computers and stuff I didn't have time for." Rachel Koren recalled during an interview Friday afternoon. The Koren men and 12 other people were killed and another 40 were wounded by a suicide bomber.

Koren said that her daughter Dana was driving home from the university when the attack occurred.
"She called me, she heard the news," Koren related. "I couldn't understand what was going on because they didn't answer the phone. She said to me 'I am on the highway.' I said 'slow down, and just wait, don't drive, just wait, and we will see, and maybe we can find them in the hospital.' All the time they are practicing, but they are not used to it; how to handle a terror attack... It is so hard. You see children... children coming in a plastic bag. And then I don't remember even, who came to meet her. I found her at the hospital, and I told her 'we are left alone; we have to survive.'"

Shimon Koren had been born in a Displaced Persons camp in Europe, the child of a Holocaust survivor and a Russian soldier, who were married as the war ended. Ran was soon to begin his compulsory military service and Rachel had felt relieved that he had been accepted into the Israeli Navy, considered less dangerous than a ground unit of the IDF. Gal, still a high school student, had hoped to be assigned when his turn came to a radio unit, intercepting and interpreting Arab messages--another relatively safe assignment.

"And after this tragedy, I realized you can't plan," Koren said. "You try to protect everything, and all of a sudden, it is completely different. He (Ran) died in two minutes without going to the army, without fighting. Some time when I think there is a God, I think maybe it is good for them to be together –to be with their father, so that all three of them are together. And I have my place, I bought a place (at a special cemetery for terror victims), and I will be there—I hope soon. I miss them so much."

Since the suicide bombing, Koren said she has thrown herself into her work in the shipping department of a Haifa oil refinery, often working more than 10 hours a day. Her daughter lives near Netanya, where she and her husband are busy raising Shir and twin babies, Yiftach and Itai.

Besides telling her own story, Koren also translated for Biton, who does not speak English. Her husband Eli had worked a long day, came home for an afternoon nap, then went back on patrol prior to two terrorists attacking their moshav in the Mount Gilboa area. The army rallied, killing the terrorist intruders.

Biton's oldest son, Liraz, previously had sustained a serious head trauma during a traffic accident, never quite recovering. When Eli was killed, Liraz lost the one who was the main source of his emotional support, Biton said.

The two women offered different opinions on whether peace with the Arabs is possible. Saying that there had been numerous incidents of stealing by Arabs at her moshav, Biton suggested there never would be peace between the two peoples. Koren, on the other hand, was more upbeat.

"Not all the Arabs are terrorists, some of them are the same as you and me," she said. "They have children, they go to school, they do the same thing. They are not monkeys, they are people, but the terrorists, it is a different thing, it is a fundamentalism--I cannot explain it...

"I don't hate them; I don't have anything against Arab people… and peace is something that everyone hopes will come every day," Koren added. "I am not Orthodox, (who say) 'I am not giving Jerusalem, Golan Heights.' For me, I think if we can have peace and share even the city together, it is okay. Some people in Israel— if they will hear me saying it—they will think me completely mad."

Rabbi Earne, the congregation's assistant spiritual leader, was instrumental in developing the relationship with the Gelkowitz family of Bror Chail. He suggested that the "Adopt-A-Family" program provides as many benefits for congregants as it does for the families of terror victims.

"They make the books come alive," he said of the Israeli families. "You can teach out of a textbook, but their being here, their coming to the Jewish Learning Center, their coming to our services, telling their stories, makes what we try to teach much more real, much more tangible."

Earne said that American Jews often have either too rosy or too gloomy a view of Israel, depending on their limited experiences with that country.

"On one hand, Israel is like 'Hebrewland – a Hebrew Disneyland—you go on Birthright for ten days, or you go on your bar mitzvah trip for a week and a half or two weeks, and it is this fun magical world where everybody speaks Hebrew, where you are welcomed everywhere on a tour bus— 'oh welcome to our restaurant'— and it is just this beautiful, perfect place. And the other hand, there are people who don't go through that trip and see Israel through the news and see Israel as a wasteland, constantly in chaos, and many ways negatively."

Meeting people like Rachel Koren and Nechama Biton provides a balance to those equally distorted pictures, he said.

Koren made a similar observation about person-to-person contact: "The only message that I can say is to be connected with Israel. It is better to know the people, not from the television but to visit, to see people and then you can maybe understand... One week, two weeks— it is not enough to explore what is going on in Israel, but at least it is better than to hear news on the television and to read a newspaper. You can really understand what is going on."


Harrison is editor and publisher of San Diego Jewish World




Balloon Utopia

Sandi Masori
619 339 8024


!




THE POLITICAL GROTTO

After several toe-dips, Block takes the dive

By Gary Rotto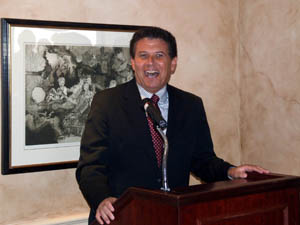 SAN DIEGO—Sometimes candidates have to wait for the right time to run. Sometimes, they are lucky enough to have many such occasions. And some times they frustrate their best friends and supporters over and over again, until they are truly ready to run.
Marty Block is pictured in the photograph at the right. His is a name that has a certain ring to it. He's a guy who has been seemingly on the verge of running for higher office for over a decade. Marty has served as president of the County Board of Education and the San Diego Community College Board of Trustees. And Marty has been active in the Jewish community serving as a president of the American Jewish Committee (when I was its executive director). He has been a fixture at Democratic events, serving as a "high energy" MC for many events.
He's finally running for the State Assembly, in the 78th District which will be vacated by the termed out Republican incumbent Shirley Horton this Fall. But Marty had been seen as our local Mario Cuomo – should I or shouldn't I run – for many years. First there was the San Diego City Council seat that was opened by the retiring Judy McCarty. After lining up endorsements and putting together a steering committee, Marty did an honest evaluation and decided that he really didn't love the local issues – including land use – that the City Council deals with.

Most aspiring electeds would have run and used the seat as a platform for running for another office. Then there was an Assembly race in 1994. Marty intended to run but so did Susan Davis The Assembly Speaker and the Assembly Democratic Caucus felt that Susan would be a better fit for keeping the district in Democratic hands as this was just after the "year of the woman." For party unity, Marty was very willing to step aside – too willing. We talked about how he could position himself for running in the future, for creating a chit to be redeemed later or securing another promise. So we waited at lunch at the Westin Hotel for the Speaker to call and personally ask Marty to step aside. And Marty would use the chance to ask consideration to be on the State Board of Education if a position came open. Deal done. Of course, if Kathleen Brown would have run a better campaign and become governor, Marty would have been appointed to that board. But history did not allow that.

Then two years ago, the Democratic Caucus really, really wanted Marty to run for the Assembly. But at the last minute, he declined. So to many observers, Marty was continually dipping his toe in the water and deciding to wait for the waters to become calmer and warmer.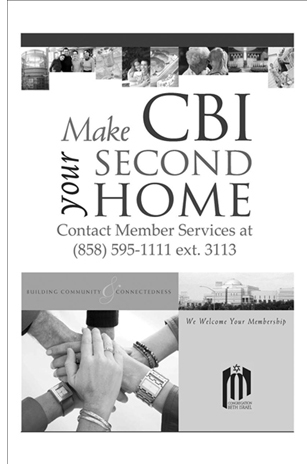 So now in 2008, Marty is "all in" as they say in poker. He has retired from his position with San Diego State, devoting his full energies to running for this open seat. A campaign cabinet has been in place for many months. Fundraising continues and the precinct operation is in full force.
It will be a tight and contested race with four candidates on the Democratic side. Marty has the endorsement of the four most recent Democrats who have held this seat: Howard Wayne, Dede Alpert, Mike Gotch and Lucy Killea. (Note: Lucy was a Democrat when first elected to this position though she is now an independent.) He will have sufficient funds to wage a good campaign though he will not be the best funded. One of his opponents, Auday Arabo, is the former director of a group of small grocery stores which have profited from cigarette and alcohol sales in poorer communities. While Marty has refused funds from the tobacco and alcohol industries, they have poured money into his opponent's campaign.
Smart, well versed in the issues, and a long time San Diegan, Marty would be a great representative in the legislature. He'll be an advocate for public education and higher education, a voice for preserving religious freedoms while not entangling the state in religion, and a reasonable person in regards to closing the budget gap. Marty understand the concept of building bridges with diverse groups, communities and organizations. He has found the right match in terms of time to run and the office for which to run. The voters will tell if this dynamic and polished community leader will be able to share his knowledge and abilities in Sacramento.

Rotto is an activist in political and Jewish causes in San Diego
TORAH ON ONE FOOT


Can you love your neighbor as yourself?


By Rabbi Leonard Rosenthal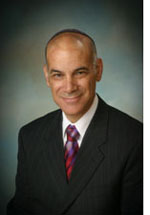 SAN DIEGO—In this week's parasha appears what Rabbi Akiba called the "greatest principle in the Torah": "Love your fellow as yourself." (Lev. 19:18)
This commandment is so fundamental that the founder of Chabad Chasidism, Rabbi Shneur Zalman of Liadi, wrote in his Siddur: "It is appropriate before one prays to say: 'I now commit myself to the positive commandment of "love your fellow as yourself."' The mitzvah of loving one's fellow Jew is the gate through which one must enter in order to stand and pray before God."
Nevertheless, loving one's fellow is a very difficult mitzvah to follow. Sometimes one's neighbor is not even likeable, much less lovable. Furthermore, how can you love a person who does evil or is perpetually angry or sour?
Some Jewish sages recognized the problem and tried to interpret the mitzvah accordingly. The Yehudi HaKadosh ("Holy Jew") asked: "How is it possible to unconditionally follow the mitzvah of 'Love your fellow as yourself?' How can one love everyone equally? And why shouldn't you love the righteous more than the wicked?"
He answered his own question by drawing an analogy between society and the human body. Although all of one's organs and limbs are important, it is possible to "love" some of them more than others. For example, the heart and the brain are much more important organs than the hands or feet. One can live without hands or feet. One cannot live without a heart or brain. So, he concluded, one has to love one's neighbors as one loves one's own body: just as some parts of our body are more deserving of our love and support than others, so are some members of society more deserving of our love and support than others. In one fell midrashic swoop, the Yehudi HaKadosh modified the Torah's unequivocal charge. One is commanded to love one's neighbor, but only to the degree that they deserve that love.
The commandment of "Love your fellow as yourself" is a difficult one both philosophically and practically. Perhaps this is why Hillel did not teach this verse to the pagan who came to him demanding that Hillel teach him the entire Torah while he was standing on one foot. Hillel told the pagan, "What is hateful to you, do not do to your neighbor. That is the entire Torah. The rest is commentary. No go learn!"
Chiddushei ha Rim explained that Hillel realized that at the beginning of the pagan's exploration of Judaism it was too difficult for him to observe the positive commandment of "Love your fellow as yourself." It was beyond his intellectual and moral grasp. However, the nonbeliever could easily follow: "What is harmful to yourself, do not do to your neighbor." Even if he could not love his neighbor, he could still refrain from doing him harm.
Hillel confirmed that not everyone is capable of fulling the mitzvah of loving one's neighbor as yourself. But perhaps Hillel thought that if one refrains from harming one's neighbors it may eventually lead to tolerating and loving them. But even if this never happens, taught Hillel, you are still your "brother's keeper." Even if you don't love your neighbors you are still responsible for them.
(Sources quoted from Iturei Torah)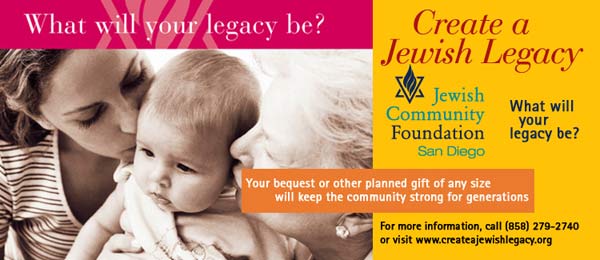 AMAZING STORIES OF JUDAISM
When it's not as plain as the writing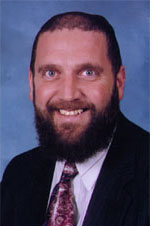 SAN DIEGO—Rabbi Michoel Peikes currently serves with great distinction as the Dean of Torah High of San Diego. Back when he was in the Chofetz Chaim Yeshiva in New York, he was the appointment secretary for the Rosh Yeshiva Moreinu V'Rabbeinu HoRav Alter Chanoch Henoch Leibowitz zt"l. Whenever someone wanted to ask a shailah (question) to the Rosh Yeshiva, they would ask the question to Rabbi Peikes who would relay it to the Rosh. Sometimes the Rosh Yeshiva would give the answer to Rabbi Peikes who would relay it
back to the individual. Sometimes the Rosh Yeshiva would need to speak to the questioner in person and Rabbi Peikes would set up the appointment.

In any event, when the person first asked the shailah, Rabbi Peikes would grill the person for all pertinent details. That is, he was trained to anticipate any follow up questions the Rosh Yeshiva might ask the questioner, so that he could present the shailah clearly and not have to go back and forth several times clarifying details.

It once happened that a talmid of the yeshiva had a shailah for the Rosh. He told it over to Rabbi Peikes in detail. He also wrote down the shailah for the Rosh Yeshiva to read. This was a standard policy because by this time, the Rosh Yeshivas was wearing a hearing aid and had trouble hearing people, so he requested that shailos be written down.

Rabbi Peikes went over the shailah with the Rosh who proceeded to give an answer to be relayed to the talmid. Rabbi Peikes said to the Rosh Yeshiva with surprise, "Rebbi, that does not answer the question. That answer answers a different question, but not the one he was asking."

The Rosh Yeshiva retorted, "No, if he meant what you are saying, he wouldn't have said this," pointing to a line in the fax. "But Rebbi, the talmid told me what his question was. I heard it with my own ears."

The Rosh Yeshiva and Rabbi Peikes were now arguing over the fax as if it were a page of Talmud. Although there was good logic to what the Rosh Yeshiva was saying, Rabbi Peikes knew that this couldn't be, because he had actually spoken to the talmid and knew what the question was.

The Rosh Yeshiva was not swayed. He was thoroughly convinced that he was right and despite Rabbi Peikes' protestations, gave the answer as he saw fit.

Rabbi Peikes called the talmid to tell him the Rosh Yeshiva's answer, fully expecting the talmid to be disappointed and confused that the answer didn't match his question. Rabbi Peikes even apologized for this.

The talmid then replied sheepishly, "The question the Rosh Yeshiva answered actually was my real shailah."

Because of the delicate nature of the shailah, the talmid in his embarrassment slightly couched the real shailah when speaking in to Rabbi Peikes. He didn't spell it out explicitly in the fax either, but the Rosh Yeshiva was able to detect it from the "clues."

This incident is reminiscent of all the times in shiur (class) in yeshiva that everyone was looking at the same words in a Tosfos or a Maharsha, but the Rosh Yeshiva saw something in those words that nobody else saw and that led him to the true pshat. The Rosh Yeshiva applied that same brilliant analysis to the fax of a talmid and saw what even Rabbi Peikes couldn't see.

It is difficult to comprehend the genius and the caring sensitivity of this great gadol we have lost, who could grasp the Chochmas HaTorah and apply it perfectly to the world we live in. (The foregoing true story was told to me by Rabbi Michoel Peikes.)

Dedicated by Akiva Lichtner in honor his Eishes Chayil Shoshana, and their children Nosson Tzvi and Nachama Bracha.

Rabbi Lederman is spiritual leader of Congregation Kehillas Torah in San Diego

ADVENTURES IN SAN DIEGO JEWISH HISTORY

Editor's Note: We are reprinting news articles that the Southwestern Jewish Press ran in 1950. If you have historical topics about the San Diego Jewish community you would like us to explore, please e-mail your suggestions to editor Don Harrison at sdheritage@cox.net



Refugee Shows Way in Fund Drive

From Southwestern Jewish Press, February 24, page 1

One of the first contributions in the 1950 campaign arrived in the United Jewish Fund office the other day with an enclosed check for $50 from Adek and Stan Firestone.

What is important and heart warming about this contribution is that these brothers, who arrived through the Displaced Persons Act and the Community Assurance, have been in America and San Diego only four months. They still have a brother and his family in Italy, whom they hope to be able to assist in coming to the United States in the near future.

In their letter in which they enclosed their contribution, they write: "It is indeed painful to us to be unable to contribute more, but we trust that in the future we shall be in a position to meet the growth of the United Jewish Fund's responsibility with more adequate means. Please accept our best wishes for the continued effectiveness and success of forthcoming UJF campaigns, and with sincere hope that all newcomers in San Diego be returned to the position they were accustomed to in the days before the complete 'world was torn by a Madman.'"

This is real giving with a heart and with an understanding of the problems and the needs involved.


"New Americans" in San Diego

By Julia Kaufman

From the Southwestern Jewish Press, March 10, 1950, page 2

While living with displaced persons in Austria and Germany I often wondered, when I completed arrangements for their emigration to America, how they would adjust to their new country.

Most of these people had experienced years of hardships. The younger children had known no other life but that in Displaced Persons Camps. Through ORT schools and the workshops set up by the American Jewish Joint Distribution Committee, an effort was made to train and give opportunities to thousands of men and women. To what degree would this service given in Europe aid the emigrants in this country?

With this question in mind, I made inquiries and the following examples show adjustments made by some of the "New Americans" who have come here and have received aid through the sponsorship of our local Émigré Committee of the United Jewish Fund.

Young handsome Gary Phillip, expelled from Germany at the age of 13 years, is now at your service at the Balboa Hairdressers as a licensed operator. When he entered the United States he joined the Army and, upon completion of his service, attended the Tate & Coleman School for Hair Stylists in Los Angeles and also the Broadway School, in San Diego.

Only nine months in San Diego, but Joe Baumgarten has already established a reputation as an expert tailor. He learned his trade well as a boy apprentice in Poland. Joe now is employed by Lou Pollock, in Coronado. Add to this fact that he is also the star of the Jewish Community Center Soccer team and you'll agree that Joe is a good boy to have around.

If you want to know the type of work Fanny Schauder turns out we refer you to the Ratner Mfg. co. They think she is tops. Besides she is the mother of two sons, one in his second year college and the other in the second year high.

Julius and Kaethe Mansbacher and their daughter, Hannah have all found a groove in San Diego life. Mr. Mansbacher is a caretaker for Tifereth Israel and Hannah I employed as a secretary.

Accountant Paul Jacoby I employed by Goodrich-On-Main. His wife, Margot, and his young daughter, Irene, have also adjusted to life in San Diego.

The family of Bell and Sam Zaks are kept busy building up a future for themselves. Father works for the San Diego Apron Co. as a truck driver and another son, Henry, works for the Tufford Motor Co. as a mechanic. A daughter, Manya, lives with her son, David, at the Zaks home.

Jacob Rosenbaum, a skilled wood worker, is at present free oancing. He has done work for Moorsteen Furniture and Max Rabinowitz.

Vito and Rifka Tolentino came from Italy to spend their remaining years in a free world. Their daughter, Sarah, is wed to San Diegan Zel Slayen. Mrs. Tolentino is attempting to earn a living by baking pastries and sewing.

Adek and Severin Firestone, two young men, are both employed as salesmen, one for Sam Cohn and the other for Harry Klaskin. Adek has also written several articles for the Jewish ress.

Young David Grossman works for Douglas Tire as a helper.

Mrs. Margaret Lachman and her 18 year old daughter, Elfrida, are two more workers in our "Beehive." Mrs. Lachman is a seamstress for the Pacific Surpuls and Elfrida is attending Beauty Culture School, with the aid of the Émigré Committee.

Berek Ehrenfried works for Max Rabinowitz while his wife, Agatha, takes care of their two year old son, David.

Life begins in San Diego for the Winkler family, Landau and Elka and their son Boris, aged two years. MR. Winkler is employed by M.S. Berlin.

The above proves that "New Americans" not only are eager to make a rapid adjustment but that their skills are needed. Credit must also be given to the many San Diegans who have given these people a start in their new life. Thanks to the work of the Émigré Committee and the United Jewish Fund who gave them the chance, these people cannot help but make good.

Our indexed "Adventures in San Diego Jewish History" series will be a daily feature until we run out of history.







SAN DIEGO JEWISH WORLD THE WEEK IN REVIEW

Friday-Saturday, May 2-3, 2008 (Vol. 2, No. 106)

Shoshana Bryen in Washington, D.C.: Kuwait-Syria connection; Iraq's cell phones
Carol Davis in San Diego: Backyard's dumbed-down female show
Donald H. Harrison in San Diego: Students, survivors jointly commemorate Shoah at San Diego Jewish Academy
Lloyd Levy in Eilat, Israel: Holidays of despair, struggle and salvation
Sheila Orysiek in San Diego: Chapter Six in the serialization of her novel, Reluctant Martyr
Adventures in San Diego Jewish History: What was the Jewish community news in 1950? Archives of the Southwestern Jewish Press provide some of it.


Thursday, May 1, 2008 (Vol. 2, No. 105)

Yvonne Greenberg in San Diego: Catholic university honors a rabbi for her career pursuing social justice, tikkun olam
Ulla Hadar in Kibbutz Ruchama, Israel—Sha'ar Hanegev aids SDJA's Shoah project
Donald H. Harrison in Poway, California: $11,500 reward offered for capture of vandals of Ner Tamid Synagogue's marker
Vicki Raun in La Jolla, California: 'God was in the boxcars'—Lou Dunst
Hal Wingard in San Diego: Three songs: "Kindness," "Ruth's Song" and "Bar Mitzvah"
Adventures in San Diego Jewish History: What was the Jewish community news in 1950? Archives of the Southwestern Jewish Press provide some of it.


Wednesday, April 30, 2008 (Vol. 2, No. 104)

Shoshana Bryen in Washington, D.C.: Could Mohammed ElBaredei have a bias?
Carol Davis in San Diego: Gaviota: hacienda tale in Porfirio's time
Donald H. Harrison in San Diego: Filner turns spotlight on veterans' suicides
Adventures in San Diego Jewish History: What was the Jewish community news in 1949? Archives of the Southwestern Jewish Press provide some of it.


Tuesday, April 29, 2008 (Vol. 2, No. 103)

Donald H. Harrison in San Diego: 'Dreamcoat': A cup for Judaism's candle
Rabbi Dow Marmur in Jerusalem: Shas leaders: so 'religious,' yet so corrupt
Lynne Thrope in San Diego: Liz Bartell ambiance, Paul Murphy cuisine are perfect mother's reward at Humphrey's
Adventures in San Diego Jewish History: What was the Jewish community news in 1949? Archives of the Southwestern Jewish Press provide some of it.

Monday, April 28, 2008 (Vol. 2, No. 102)

Donald H. Harrison in La Mesa, California: La Mesa developer saw 'Promised Land' from the heights of his own Mount Nebo
Rabbi Dow Marmur in Jerusalem: How Israel at 60 differs from Israel at 50
Sheila Orysiek in San Diego: Klezmer—Jewish music for your soul
Ira Sharkansky in Jerusalem: Palestinian choice: delusions or own state
Adventures in San Diego Jewish History: What was the Jewish community news in 1949? Archives of the Southwestern Jewish Press provide some of it.




< BACK TO TOP

Copyright 2007-2008 - San Diego Jewish World, San Diego, California. All rights reserved.