Friday, May 9 Israel at 60 talk by Eyal Dagan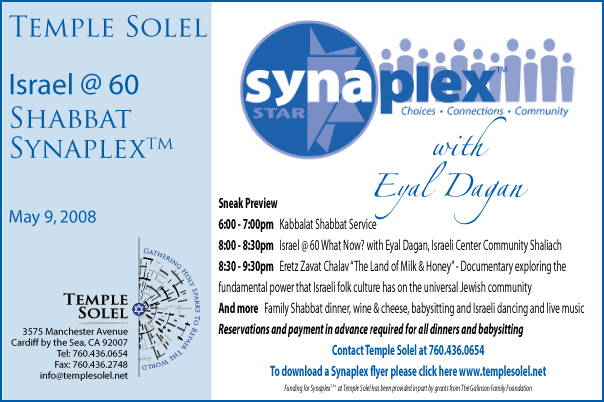 Sunday, May 18 Community Israel Independence CelebrationWednesday, May 28 JFS~Ellen Saks lecture on mental illness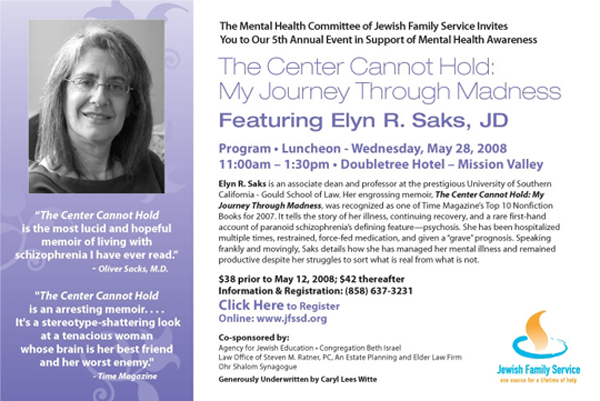 THE VIEW FROM JINSA


Could Mohammed ElBaredei have a bias?

By Shoshana Bryen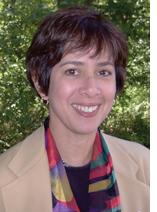 WASHINGTON, D.C.—Following CIA testimony to Congress regarding the North Korean/Syrian project in the desert, Mohammed ElBaradei, Director of the IAEA, is furious! Not with North Korea and Syria for what they were doing, but with Israel and the United States for not telling him about it. "The director general deplores the fact that this information was not provided to the agency in a timely manner, in accordance with the agency's responsibilities under the nuclear Non-Proliferation Treaty, to enable it to verify its veracity and establish the facts... [and] "The director general views the unilateral use of force by Israel as undermining the due process of verification that is at the heart of the non-proliferation regime."
Even if ElBaradei could indeed "verify veracity and establish facts," which would be a generous thought given the IAEA's track record, it would hardly suffice. While Iran is making very public progress toward nuclear capability, complete with provocative rhetoric and the deliberate flouting of the IAEA, the international community has been demonstrating collective disregard of the threat and/or impotence to deal with it. We conclude, as we assume Israel did, that actual non-proliferation, NOT "the due process of verification" is "the heart of the non-proliferation regime."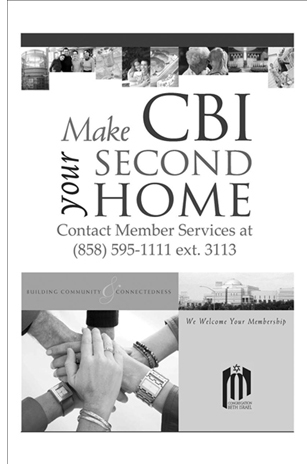 "Process," as in the "peace process" is code for talking around existing threats to Israel's safety and indeed, given the possibilities of a nuclear threat, Israel's continued existence. If Israel steps outside the "process" to engage in actual security measures - checkpoints, targeted killings, sweeps or the destruction of a nuclear-related facility - it is condemned for not offering the political niceties due the countries or organizations that would destroy it. The United States is condemned for generally supporting Israel's right to self-defense.
A similarly threatening situation is growing again in Lebanon. It turns out that UNIFIL has been concealing information about Hezbollah activities south of the Litani River, according to Ha'aretz, "to avoid conflict with the group... In the last six months there have been at least four cases in which UNIFIL soldiers identified armed Hezbollah operatives, but did nothing and did not submit full reports on the incidents to the UN Security Council." Indeed, according to the paper, there was a clash between armed Hezbollah operatives and a UNIFIL force which did not return fire, as its mandate requires, but rather left the area - and then filed a report with the Security Council skipping the part about the shooting and the running away.
At the same time, according to the UK Observer, "Hezbollah... is now sending hundreds, if not thousands, of young men into intensive training camps in Lebanon, Syria and Iran to ready itself for war with Israel... The initial training and selection of recruits is done in Lebanon, with Iran preferred for training on specialities - use of certain weapons, RPGs and anti-tank missiles."
Since the bad guys are unwilling to turn themselves in, the international agencies are easily misled, and the presumed good guys are too timid to make waves, what is the option for the intended target, other than to watch the threats grow?
This is not only a question for Israel.



Nancy Harrison
cruise & tour specialist
(619) 265-0808



Not only better prices, but excellent, caring service!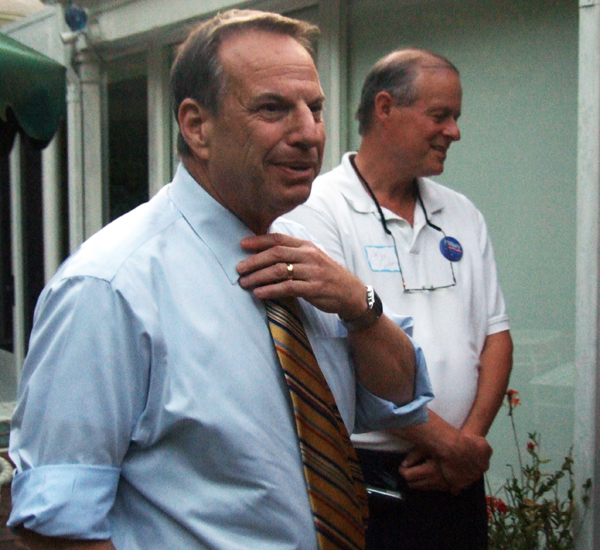 WELL ADJUSTED—Congressman Bob Filner, a member of our Jewish community, checks his
tie as he addresses the Democratic Professional Club in San Diego. Behind him is John A.
Gordon, a volunteer for the Hillary Clinton presidential campaign who has been assigned the
duty of keeping track of uncommitted super-delegates in the presidential race. Filner, saying
he wants to stay uncommitted in order to draw Clinton's and Barack Obama's attention to
veterans issues, joked that as a "super delegate," he "usually wears a cape."


THE JEWISH CITIZEN The Political Scene

Filner turns spotlight on veterans' suicides

SAN DIEGO—U.S. Rep. Bob Filner, chairman of the House Veteran Affairs Committee, said on Monday night his committee has scheduled hearings May 6 into allegations that the Bush administration is trying to cover up a high number of suicides among veterans of the Iraqi and Afghanistan Wars.

The San Diego Democrat said that approximately the same number of Vietnam War veterans committed suicide as were killed in that conflict—roughly 58,000—and now there is evidence that the pattern is being replicated in the Afghanistan and Iraq conflicts.

He added that such evidence was developed in a federal class action suit brought against the Veterans Administration by families in Washington State who contend the VA neglected the mental health of veterans, including those suffering from post-traumatic stress disorder.

Furthermore, said Filner, "emails came out of that in which you have the V-A mental health director talking to his boss, the undersecretary for health, about statistics that prove that almost everything people have been saying about suicide is right, and how should they cover it up?"

The emails were divulged on April 21 by CBS News.

The author of the controversial e-mails, Dr. Ira Katz, deputy chief for patient care services of the VA's Office of Mental Health, is expected to testify before the committee. According to a witness list published by the committee, he is expected to be accompanied by such other V.A. officials as Dr. Robert Rosenheck, the director of the division of mental health services and outcomes research; Dr. Lawrence Adler, director of the Mental Illness Research Education Clinical Center; Dr. Frederick Blow, director of Serious Mental Illness Treatment Research and Evaluation Center, and Dr. Kara Zivin, a research health scientist.

Veterans Administration spokesman Phil Budahn said the VA will refrain from commenting in the media about the allegations growing out of the federal lawsuit, but said Katz would address the questions at the Veterans Affairs Committee hearing

In general, Boudahn said, it should be noted that "the VA operates probably the largest mental health care system in the country. This year we expect to spend about $3 billion on mental health out of a budget of over $90 billion. We have 9,000 people whom we consider front-line mental health professionals, more than 3,200 of them hired within the last three years."

The VA will treat approximately 5.5 million individuals this year, including "about one million who carry a psychiatric diagnosis of some kind," the spokesman said. "We are reaching out aggressively to the latest generation of combat vets. We have learned long ago that not all the wounds of war are visible. We think we are an international leader in the treatment and research of PTSD. We believe we provide world-class health care for our veterans."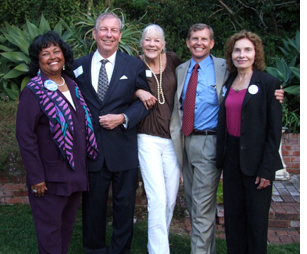 Filner speech in San Diego was given at a gathering of the Democratic Professional Club at the home of Janed Casady (center in photo) in the Mission Hills neighborhood. The meeting also attracted Vickie Butcher (left) and Mike Lumpkin (second from right), competing Democratic candidatesfor the 52nd Congressional District seat that unsuccessful Republican presidential candidate Duncan Hunter is vacating, and two Democrats who seek to replace Republican incumbents. They are 49th C.D. candidate Bob Hamilton (second from left), who will face Republican incumbent Darrell Issa in November, and 50th Congressional District aspirant Cheryl Ede (right), who seeks to unseat U.S. Rep. Brian Bilbray.

"The war is chewing up our young people so badly… physically and psychologically," Filner said. "It is amazing, our advances in medicine: I have been to Iraq and Afghanistan and I've seen these incredible people flying the planes, doing the Med-Evacs, doing the operations, they are so professional. I just wish our policy makers were worthy of their sacrifices. But thanks to their expertise, there is a wounded-to-dead ratio higher than any other time in the history of mankind, that is 17- or 18-to-1, compared to 3-to-1 in Vietnam, and 1-to-1 in World War II. So if you survive the battlefield, you have a 95 percent chance of living, which is incredible. But that also means that they have incredible wounds from which before they would have died. We have to take care of them."

Turning to Lumpkin, a retired Navy commander of a SEAL unit and Iraq War veteran, Filner added: "I don't care if it amputation, brain injury, and of course this PTSD—Post-Traumatic Stress Disorder—you can't go to war without being affected by it, right?

"Absolutely true," agreed Lumpkin.

"In fact," Filner continued, "virtually every young man or woman has a brain injury or PTSD. I want a system that says 'you prove to me that you don't have it,' rather than the case now in which they have to come in to get diagnosed. Now, you get 20 percent of the people coming in and there are 80 percent not even coming in for diagnosis. That lets ticking time bombs, in my opinion, into the society."

Filner noted that he had opposed the Vietnam War back in the 1960s and 1970s, and expressed regret that Americans "didn't honor" the veterans of that conflict when they returned home. "We should have differentiated between the war and the warrior," he said. "Because we didn't, half the homeless people on the streets tonight are Vietnam War veterans."

He noted a series of stories that ran in the New York Times dealing with problems of veterans who have returned from the Iraq and Afghanistan War. "A third of those who have been diagnosed with PTSD—and, as I said, that's only a small percentage of those who might have it—already have committed felonies, including 200 homicides, most of which were family members.

"We send these kids off to war and then don't take care of them when they come home," Filner said.

Filner told the Democratic party group that the Bush administration will be asking for $100 billion in supplemental funds for the Iraq and Afghanistan Wars. "We know the cost of veterans care will be $60 billion a year for the next ten years. At least, put in the money now for the warrior," he said.

Nobody in the Bush Administration "wants us to think about that," he said. "They don't want us to see the kids coming back in caskets. They don't want us to see the wounded. They are lying about the suicides…. Everyone wants to help, but they say, 'hey, we don't need your help.'"

The congressman said that the people of television's Sesame Street program for children have recognized that there are numerous children in the country—perhaps as many as one million—whose fathers have or may be coming home from Afghanistan or Iraq in a wheel chair or with PTSD. "So with the Muppets, they are going to have a DVD that we are going to give out to the kids of every combat soldier," he said. "Every employer, every teacher, every minister should know about PTSD so we can help them."

The congressman said the Bush Administration has been doing "everything they can to stop us from doing good. I will give you just one case: About 20,000 young people who tried to get out of the service for PTSD…were diagnosed, probably through direct orders from above…with personality disorders. That begs the question of why we (the military) took you in. If you have a personality disorder, it seems to me we are obligated to deal with you. But like your HMO says if you have a preexisting condition (it is not covered), a personality disorder is preexisting, so you are not entitled.

"So we chew you up and then you get out in a way in which we don't have to be responsible for your medical care, and then, by the way, if you didn't serve your full time that you might have a signing bonus for, you get a bill for $13,000 to $15,000. This is what these guys are doing; it is incredible. Anyway, we are going to fight that fight in behalf of the veterans…"

Filner also said that in a few weeks his committee hopes to report out a "GI Bill for the 21st Century."

"Everybody has heard about the GI Bill of World War II," he said. "I am here because of that. My dad was able to get some education when he came back from World War II, and more important we bought our first house for a few thousand dollars. I always lived with relatives in apartments; all of sudden we are middle class. It changes who you are and eight million veterans got that opportunity. We haven't done that for veterans since then. The Vietnam GI Bill had nothing comparable. So we want to update education benefits to meet the real cost of college; housing benefits to meet the true cost of what is going on, and we want to give the National Guard, who are doing half the fighting, access to those benefits."
Balloon Utopia

Sandi Masori
619 339 8024


!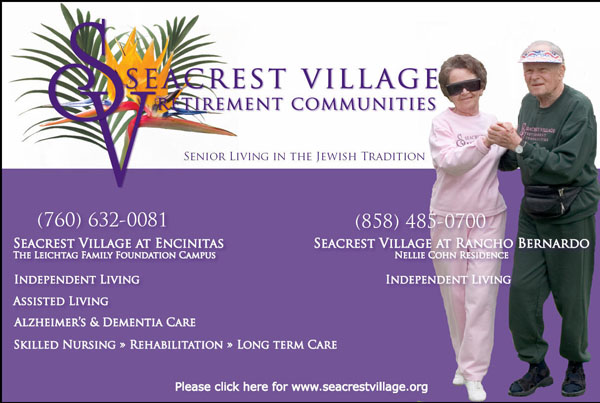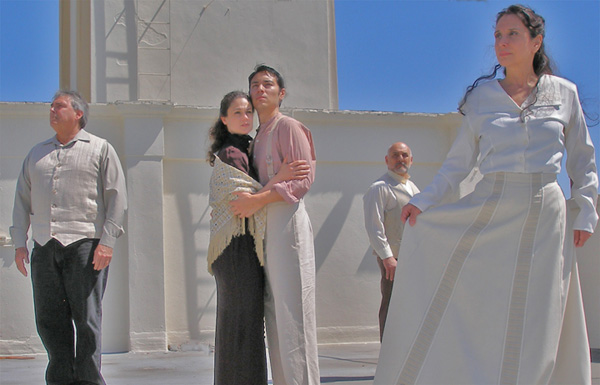 LA GAVIOTA—Bernard Baldan, left, Sara Beth Morgan, Steve Lone, John Padilla and Linda
Castro perform at the Ion Theatre in the Grantville area of San Diego


ARTS IN REVIEW

Gaviota: hacienda tale in Porfirio's time

By Carol Davis


SAN DIEGO—The Ion Theatre located in a small suite just below the Grantville Trolley Line is 'The Little Theatre That Could." It thinks big, puts on productions that look big and in the scheme of things has been doing amazing works for a small theatre company; Pillowman; tick… tick Boom and Punks to name a few. And if living up to the 'B' word is their goal, La Gaviota (the Seagull) their latest production by one of its founders and executive artistic director Claudio Raygoza, is their response.
Raygoza's work is an adaptation of or inspiration from Chekhov's The Seagull. But instead of the Russian characters, places and mentality, characteristic of Chekhov's Russia, Raygoza frames his piece in Veracruz, Mexico 1910 because… "He was inspired to write the piece by, in part, the experience of his mother's side of the family – Russian Jews who emigrated to Mexico."
With a large ensemble of twelve capable and staunch supporters of Ion, Raygoza's epic, which takes place during the Mexican Revolution, lasted a little over three hours on opening night. That's long! But that's my only criticism. It's appealing, well done and holds your interest from beginning to end. It was in much need of editing then, and I'm guessing it already has begun.
The first thing that draws you in is the beautifully authentic looking set (Matt Scott and Raygoza), consisting of the front portion of a Hacienda with pavers on a porch leading into the main house, lots of potted plants and hangings symbolic of the territory. The Hacienda is set on a beachfront property with real sand covering more than half the stage. A huge tree with a lone branch reaches out across the backdrop. I was impressed.
Not to be out done by the set, the cast is nothing less than excellent from the top down. Linda Castro, who had been a main stay actor on San Diego stages but left for personal reasons, is back again as Irene, (Irene Isabel Morado y Aguilar) and she is just what the doctor ordered. She is full of vim, piss and vinegar as the actress/mother (some refer to her as a Diva) who returns to her homestead with her beau of the hour, celebrated novelist, Alejandro Gabriel Romero (Raygoza) who follows her around like a puppy dog until… well.
Her son, Nicolas Manuel Aguilar, or Nico (Steven Lone) is an aspiring young filmmaker who is in love with his prime star Nina Andrea Zaragozo (the beautiful Sara Beth Morgan). Together they expect to set the world on fire with their revolutionary new medium, the motion picture. In a melodramatic moment set to impress his mother, they stage a scene (she in back of a curtain like screen) mouthing words as she comes dripping wet from the water in back of her. Nico has written an end of the word script. It's sadly comical and inventive, but fails to impress Irene.
Others in their world include Delfina Esther Morado (Trina Kaplan) as the matriarch of the Hacienda; Pedro Guillermo Morado (Bernard Baldwin) owner of the Hacienda; Irene's brother, Juan Carlos Garcia (coincidentally, John Garcia); Hacienda foreman, Armida Garcia (Estrella Esparaza-Johnson); the foreman's daughter, Paula Elena Garcia (Catalina Maynard); housekeeper and the foreman's wife, Sergio Manuel Diaz (John Padilla), the country doctor and Paula's former lover; and Simon Michael (Matt Scott) a French Medic and Armida's wanna be lover.
Nothing really happens in "La Gaviota." Families argue, lovers tangle and triangle, mother and son have their day and relationship (oedipal though it may be), small talk occupies most of their free time and every now and then something of small importance happens like the government has confiscated all the horses so Irene and Alejandro can't go on their vacation riding off into the sunset, or the roads are barricaded, or Irene isn't impressed with her son's new project and he throws a hissy fit, or Armida doesn't want to marry Simón Michael.
While the revolution against Porfirio Díaz's rule is being fought in the background, life goes on at the hacienda. And as it raises a few eyebrows and inconveniences some there are more interested in their own little closed world with idle concern for the arts rather than in other worldly problems.
Colliding with all the small talk of the family and revolution Nico, who by this time had become a famous movie producer, comes to grips with the fact that the love of his life Nina will never be his. She still pines for Alejandro (the two ran away together earlier on). He has reconciled that he will be with Irene. In a touching if not horrifying moment we see Nico in shadow tossing a rope up over the branch of that magnificent tree, and while the rest of his family chats idly away, he hangs himself.


If you're familiar with The Seagull, you will see more parallels in this world premiere showing of La Gaviota.

I can't tell you how impressed I was with the overall acting from the entire company. Ms. Castro, as noted is at the top of her mark. When she is on stage, all eyes are on her and she never disappoints our expectations. As her son Nico, Steve Lone is young, handsome and vulnerable, spoiled and coddled at the same time and plays it to perfection. The love of his life Nina as played by Sara Beth Morgan, is not only beautiful but intensely believable. The two are a wonderful together.
Trina Kaplan plays Delfina, the grandmother with a twinkle inn her eye and an unspoken knowledge that she is well aware of her family's foibles. Bernard Baldan as her son Pedro is virile and convincing. John Padilla, Catalina Maynard, Matt Scott and Estrella Esperaza-Johnson…the list goes on and on and not one weak link among them. Credit director Glenn Paris for his sensitive and even-paced production and hats off to Raygoza, who not only wrote the adaptation, but his performance as Alejandro is consistent throughout.
Judy Watson's costumes range from the beautiful and sophisticated gowns and dresses for Irene to the period and proper class costumes for both working class and family members. Raygoza and Brylan Ranscht designed the lighting; Raygoza is also credited for the film/video/sound designs. He is one busy man. Hats off to Ion and Raygoza for this huge undertaking.
La Gaviota continues through May 17th at the The Lab, 4580-B Alvarado Canyon Rd. San Diego.
See you at the theatre.

J.W.B.-U.S.O Closes San Diego Office

From the Southwestern Jewish Press, December 30, 1949, page 1.

Henry Weinberger, chairman of the Jewish Welfare Board Armed Services Committee of San Diego, announced the re-organizational plans, effective December 31, 1949, whereby the services rendered to Jewish servicemen will be handled directly out of the Los Angeles office of the Jewish Welfare Board. This announcement was made after a luncheon meeting of the JWB Committee held at the San Diego Club on December 22, 1949.

Joachim Hammer, Director of the San Diego Area for JWB-USO, in making his report to the committee, indicated that this decision was mutually agreed upon by the Natonal office of JWB and USO Headquarters in New York City. The move was dictated purely on the basis of economy. The program of retrenchment was made necessary by the lack of support of USO by the Community Chests throughout the country. Plans are now underway whereby in every county of the United States a USO Council is being organized and the indications are that with the more intensive interpretation of the needs for services to the men in the Armed Forces that this financial support will be forthcoming. Continuing his report, Hammer announced that a Jewish Chaplain, on active duty was being assigned by the Navy for duty in the 11th Naval District Headquarters in San Diego. This assignment will probably become effective very early in 1950. A request was made for the Armed Services Committee to remain intact to act as a liaison between the Jewish Chaplain and the San Diego community, and to serve on the city wide USO Council when this Council is created.

Hammer expressed his sincerest and deepest thanks for the very fine cooperation that the JWB Committee had given him in the performance of his duties on behalf of the Jewish servicemen. He further commented that the Committee's potential for service had barely been tapped and that it was certain that the Jewish community in San Diego would rise to any demand made upon it.

Albert A. Hutler, director of the United Jewish Fund nd member of the Committee, expressed he Committee's appreciation for the fine service that Hammer had rendered since his assignment in San Diego in March of this year. He stated, on behalf of the Committee, its regrets at his transfer.

Hammer's new destination is unknown but the indications are that his new assignment will take him overseas.

Mr. Louis Breslow, representative of JWB in Los Angeles, under whose attended territory the San Digo Area has been reconsolidated, attended the meeting.


Daughters of Israel

By Sophie Gaber

From Southwestern Jewish Press, December 30, 1949, page 6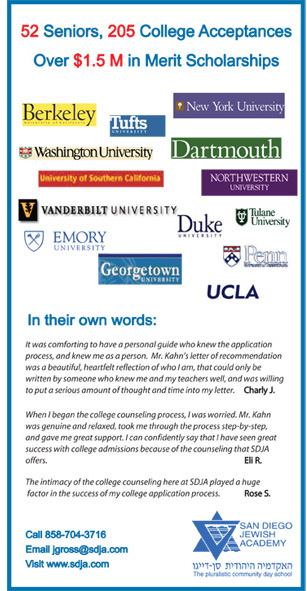 Rewarded and respected his efforts be
Attentive to duty and conscientious is he
Best sermons are his aim; his congregation to please
Blessings be upon him for his sincerity and good deeds
Inspiring and interesting his sermons you'll find

Making a wonderful impression on his listeners' minds
On any occasion as the case may be
Naught but food facts he'll make us see
Remarkable is the place
ON 30TH AND Howard
Enthusiastically he is greeted by a wonderful crowd

Life long happiness be his share
Enriched with good health and never care
Very best of luck we wish him always
Enlightened are we since his stay
Never absent is he, rain or hail
Surely with such a leader our Shule will not fail.

Honors Come to Professor Nasatir

From Southwestern Jewish Press, January 13, 1950, page 1

A singular honor has been accorded Dr. A.P. Nasatir. He has been informed that he has won the Fulbright grant, which will take him to Europe for a year's study and research. Much of his time will be spent in the archives in Paris, where he will be working filling in many of the present gaps in the Library of Congress, Washington, D.C. The results of his work in Paris will enrich American research history. This will be Nasatir's third trip across the Atlantic in the interest of United States history.

Dr. Nasatir took all his academic training at the University of California, at Berkeley. When he was ready to take his examinations for the degree of Doctor of Philosophy, the University faculty members frowned upon the idea, for they thought he was too young—not yet 20.
He first went to Europe in 1924-25, after winning a Native Sons of the Golden West travel fellowship. But one year of research was not enough for him. In 1930-31, he returned to Paris to continue his studies under the Social Research council's working fellowship, which enable him also to study in Madrid and London. He brought back 72,000 sheets of transcription to be translated here—a herculean task. Stack on stack of documents still to be translated from French and Spanish explorations, stare at him from the crowded desks, drawers and closets in his offices at college andat home.

Dr. Nasatir's prolific work has reaped a harvest that includes many important articles in the California Historical Society's quarterly and a gigantic work of 1000 pages that is a calendar, or catalog, of all materials in the French archives relating to California before it became American territory. This book is called "French Activities in California," and it was published in 1945 by the Stanford University Press.

It is regarded as a highly valuable key to a romantic part of California history. Anothr monumental volume, called "Imperial Osage" is ready for release, this work dealing with the development of the Mississippi Valley.

Recently, Dr. Nasatir was commissioned by a ST. Louis historical society to edit at least two other volumes of documents for publication this year, adding to his long and distinguished list of research historical works.

Dr. Nasatir has established a national reputation in the field of history. As a winner of the Fulbright Award (he was selected as one of twenty, though there were many hundred of applicants from American Universities). Dr. and Mrs. Nasatir will leave San Diego for Paris at the end of this academic year.

Our indexed "Adventures in San Diego Jewish History" series will be a daily feature until we run out of history.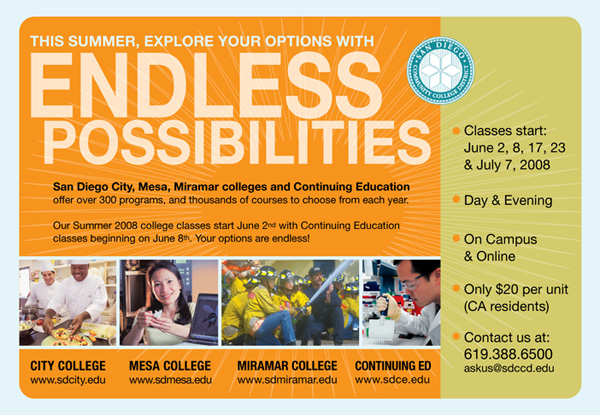 SAN DIEGO JEWISH WORLD THE WEEK IN REVIEW

Tuesday, April 29, 2008 (Vol. 2, No. 103)

Donald H. Harrison in San Diego: 'Dreamcoat': A cup for Judaism's candle
Rabbi Dow Marmur in Jerusalem: Shas leaders: so 'religious,' yet so corrupt
Lynne Thrope in San Diego: Liz Bartell ambiance, Paul Murphy cuisine are perfect mother's reward at Humphrey's
Adventures in San Diego Jewish History: What was the Jewish community news in 1949? Archives of the Southwestern Jewish Press provide some of it.

Monday, April 28, 2008 (Vol. 2, No. 102)

Donald H. Harrison in La Mesa, California: La Mesa developer saw 'Promised Land' from the heights of his own Mount Nebo
Rabbi Dow Marmur in Jerusalem: How Israel at 60 differs from Israel at 50
Sheila Orysiek in San Diego: Klezmer—Jewish music for your soul
Ira Sharkansky in Jerusalem: Palestinian choice: delusions or own state
Adventures in San Diego Jewish History: What was the Jewish community news in 1949? Archives of the Southwestern Jewish Press provide some of it.

Sunday, April 27, 2008 (Vol. 2, No. 101)

Judy Lash Balint in Jerusalem: A Jerusalem sight not to be passed over
Shoshana Bryen in Washington, D.C.: Why is Olmert discussing Golan Heights?
Rabbi Baruch Lederman in San Diego: Chofetz Chaim Yeshiva leader Rabbi Henoch Leibowitz, ztzl, had spiritual magnetism
Rabbi Dow Marmur in Jerusalem: Is Kadish kaddish for Pollard's freedom?
Rabbi Leonard Rosenthal in San Diego: Minyan prayer for 3 kidnaped soldiers
Ira Sharkansky in Jerusalem: Political smoke in the Israeli winds
Adventures in San Diego Jewish History: The Southwestern Jewish Press in July 1949 printed articles detailing the histories and purposes of various Jewish organizations in San Diego. We reprint some of them here.


Shoshana Bryen in Washington D.C.: Syrian-Korean nuclear program mysteries
Gerry Greber in Carlsbad, California: Is afikomen needed if end-product near?
Rabbi Dow Marmur in Jerusalem: Syrian-Israeli peace: genuine offer from President Assad or just a cynical ploy?
Sheila Orysiek in San Diego: Chapter Five in the serialization of her novel, Reluctant Martyr
Adventures in San Diego History: The Southwestern Jewish Press in July 1949 printed articles detailing the histories and purposes of various Jewish organizations in San Diego. We reprint some of them here.

Carol Davis in Carlsbad, California: A 'Kiss' that completely shook their world
Donald H. Harrison in San Diego: And what if you are wrong, Jimmy Carter?
Sheila Orysiek in San Diego: Confidence counts; kindergarten counts
Hal Wingard in San Diego: Two songs--'Oh, Jerusalem' and 'The Wisdom of Chelm'
Adventures in San Diego History: The Southwestern Jewish Press in July 1949 printed articles detailing the histories and purposes of various Jewish organizations in San Diego. We reprint some of them here.

Wednesday, April 23, 2008 (Vol. 2, No. 98)

Shoshana Bryen in Washington, D.C.: Hamas made a goat of Jimmy Carter
Donald H. Harrison in San Diego: Book on Golda Meir trashes Shimon Peres
Rabbi Dow Marmur in Jerusalem: Israel's brightening diplomatic picture
Adventures in San Diego History: The Southwestern Jewish Press in July 1949 printed articles detailing the histories and purposes of various Jewish organizations in San Diego. We reprint some of them here.



< BACK TO TOP

Copyright 2007-2008 - San Diego Jewish World, San Diego, California. All rights reserved.