Friday, May 9 Israel at 60 talk by Eyal Dagan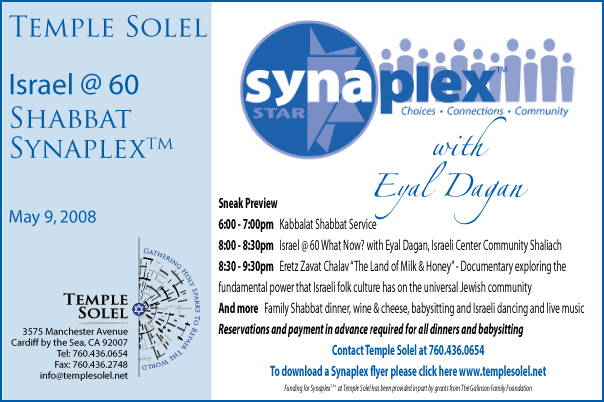 Saturday, May 17 Tifereth Israel Synagogue—Dizengoff Night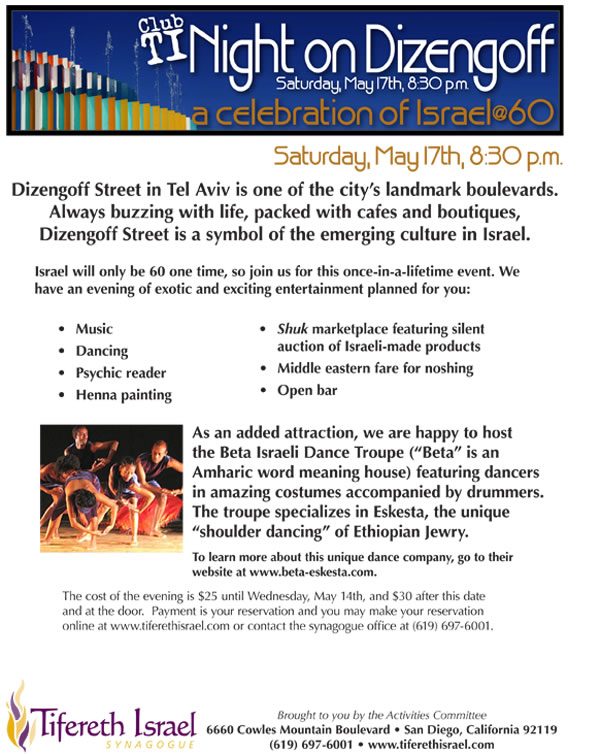 Sunday, May 18 Community Israel Independence CelebrationWednesday, May 28 JFS~Ellen Saks lecture on mental illness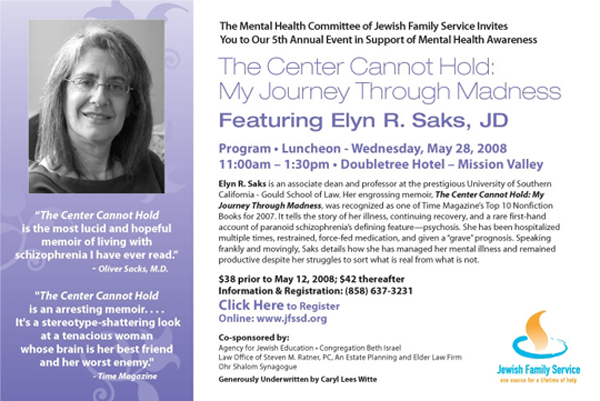 Tuesday, June 3 Guardians Golf & Tennis Tournament






Friday-Saturday, June 6-7 JFS~Judaism on the Wild Side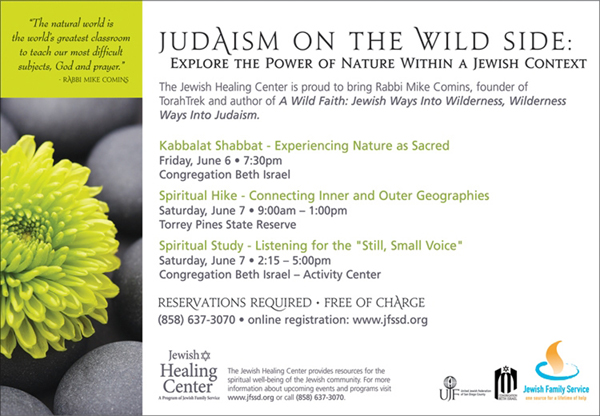 THE VIEW FROM JINSA

Kuwait-Syria connection; Iraq's cell phones

By Shoshana Bryen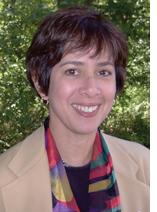 WASHINGTON, D.C—Some developments worth noting:

• The Iraqi Oil Ministry reported that Iraq increased crude oil exports by 3.3 million barrels in March over February, resulting in revenues of nearly $15.5 billion. Total crude oil exports for March were 59.4 million barrels; February's exports were 56.1 million barrels, netting slightly more than $15 billion.

• Kuwait, a close Gulf ally of the United States, hosting 15,000 American troops as well as logistics facilities, has sent officers for military training in Syria, and has conducted joint exercises and exchanged visits. Middle East Newsline reports that Kuwaiti officials said "Syria, with weapons and doctrine from China, Russia and North Korea, was helping develop the sheikdom's military... the cooperation with Damascus was approved by the highest levels in Kuwait's military and government."

• Iraq lives by its cell phone connections - so do U.S. troops and government employees. A Kuwaiti company called Zain Group owns the license in Iraq. To secure 1,300 cell towers, Zain hired BESC, an Iraqi company with 7,000 local employees. Owing to a dispute, Zain has stopped paying its BESC personnel and has plans to lay them off on 13 May. Without security, it is beyond doubt that both terrorists and opportunists will undertake to destroy the towers.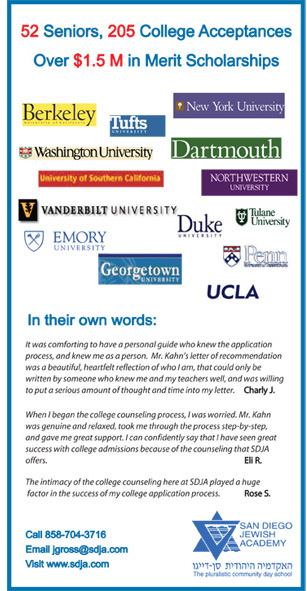 We have been among those who believed "the surge" would produce the security necessary to allow the people of Iraq and its government to take additional steps toward stability and progress. We were pleased by the entry of Iraqi troops into Basra. [Read Deborah Haynes and Ali Hamdani in the UK Times Online or Fred Kagan in The Weekly Standard for the effects of the ongoing effort to undo the Iranian-sponsored mess the British allowed to grow there.] We were more pleased by the return of the Sunni parties to the Iraqi government - the sign of reconciliation that Democrats in Congress have been demanding - largely ignored in the press.
But now, with a specifically timed security threat on the way, the government of Iraq has a chance to prove to its critics that a) it understands that the role of government is to serve the people of Iraq and b) it is able to serve in a visible and meaningful way with sovereign money and without the assistance of the United States.
The government of Iraq should announce that it will pay BESC, which would enable its personnel to continue securing the cell phone towers that make commerce more productive, security more durable and life in general more comfortable - no small thing in Iraq. Rare is the opportunity for any government, let alone one under the stresses in Iraq, to demonstrate in such a visible way that the government is sovereign, that the people are the priority, and that it will do what it takes to keep the country and its assets secure.1
As for Kuwait, surely there must be something for the United States to say to an "ally" that finds Syrian military equipment, tactics and training superior to those we provide.
1And while it's standing up for its people, the Iraqi government might consider why a Kuwaiti cell phone company has the license for Iraq before Kuwait has an Ambassador in Baghdad.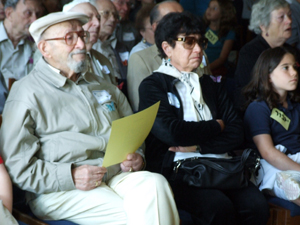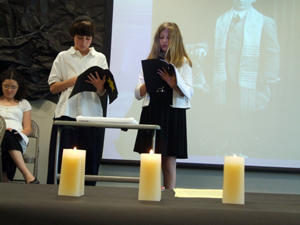 SURVIVORS AND STUDENTS—Manny Flaster and Sofie Maio Merdinger were brought close to
tears during dramatic readings by 5th grade students at San Diego Jewish Academy, including
one comparing the experiences of 13-year-old Jewish boys today and during the Holocaust,
which was read, at right, by Dan Gorodezky and Danielle Viterbi. Candles in the foreground
were lit in memory of those who died in the Shoah.


THE JEWISH CITIZEN

Students, survivors jointly commemorate Shoah at San Diego Jewish Academy

By Donald H. Harrison


SAN DIEGO—Can your heart be "warmed" and "broken" at the same time? Ask about 50 survivors of the Holocaust who on Thursday, May 1, attended dramatic Yom Hashoah readings by the fifth-grade class at San Diego Jewish Academy. Some told me that the stories and poems brought back to them memories of unspeakable pain and torment, yet at the same time they proved to be the source of great comfort. They said they felt assured that the 11-year-old pupils really know about the Holocaust, and that the young generation won't let the rest of the world forget.

As the service and the luncheon that followed progressed, there were numerous indelible moments. Diane Marks Schachat, SDJA's marketing director, prompted by noticeable tears on the faces of many in the audience, carried a box of tissues down the aisle. Students Anya Shikman, Lindsey Aiello and Sari Lurie presented to New Life Club founder Gussie Zaks a bracelet of small butterflies--symbolic of the school's effort to place 1.5 million ceramic butterflies on its walls in memory of the Jewish children slain by the Nazis. Fourth-grade students such as Lou Tauber served as escorts for the survivors visiting the campus, including Norman and Sally Scheinok, who were young Lou's personal responsibility.

Additionally, SDJA's Executive Director, Larry Acheatel, announced that Martin Kornfeld and his family had endowed a fund at the school for the continuation of SDJA's memory and hope project, which not only includes ceramic butterflies and survivor-student meetings but also includes SDJA participation in European Holocaust commemorations. Even as the school gathering was occurring, SDJA's senior class was in Poland, having just visited the concentration camp at Majdanek. Acheatel did not tell the size of the Kornfeld gift, but in order to have named endowment funds such as the Kornfelds, donors contribute a minimum of $100,000.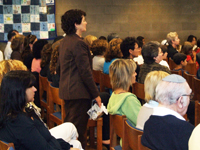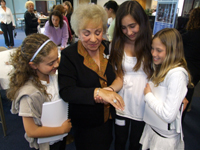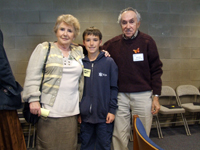 SPECIAL MOMENTS—Top row: Diane Marks Schachat carries facial tissue through audience:
Gussie Zaks admires butterfly bracelet presented her by Anya Shikman, Lindsey Aiello and
Sari Lurie; survivors Sally and Norman Scheinok pose with their escort Lou Tauber. Bottom
photo: The family Kornfeld, including grandfather Martin Kornfeld (seated, second from
right); his two sons, daughters-in-law and grandchildren, endowed a fund for SDJA's ongoing
Holocaust remembrance project.

Many students had parts to read or sing in the service that began with the lighting of candles in
memory of the victims of the Holocaust, and also featured chanting by survivor Manny Flaster of El Moley Rachamim, a traditional prayer of mourning, as well as recitation of the Kaddish. With photos from the Holocaust projected on a back screen, and students singing such songs as "Ani Ma'amin"; "The Partisans Song,"and "Eli, Eli," the somber event overcame some parents and faculty members, among them Debbie Kornberg, head of Judaic Studies for SDJA's Golda Meir Lower School. For a moment at the ceremony's conclusion, Kornberg found herself too moved to speak.

The students, who had been studying the Holocaust for the last two months, seemed to have an easier time of it, perhaps not fully aware how poignant the juxtaposition was for adults to hear this generation's own healthy, happy children memorialize the sadness, suffering and death of those who had been their same age 70 years earlier.

"When I was 13, my teachers taught me to put Tefillin on my arm," read Dan Gorodezky. "When he was 13, his teachers taught him to throw a hand grenade with his arm," responded Danielle Viterbi, about a boy growing up in the Holocuast. "When I was 13, I studied the pathways of the Bible and roadway of the Talmud," continued Dan. "When he was 13, he studied the canals of Warsaw and sewers of the Ghetto..."responded Danielle.

In addition to such readings as that, which many congregations include in their martyrology services during Yom Kippur as well as at Yom Hashoah commemorations, 5th-grade students wrote their own compositions about the Holocaust.




PRIVATE READING—Holocaust survivors Beno Hirschbein and Hannah Marx listen as Aaron
Perez and Elan Lotzof (right) read their poems at luncheon following Yom Hashoah service
Elan Lotzof and Aaron Perez sat during the luncheon near Holocaust survivors Hannah Marx and Beno and Hadassah Hirschbein. At one point during the luncheon, they gave a private reading of their Holocaust poems to people who actually had gone through it.

Elan collaborated with Alan Sherman on a poem juxtaposing a Jewish cattle car train with a Nazi luxury train.

I transport Jews to die in concentration camps; I transport Nazis to concentration camps to kill Jews.

My heart is filled with cries and tears of Jews; Men Women Children Babies; My heart is filled with anti-Semitism...

I am about to reach my destination: I pray the Jews will survive; I am about to reach my destination: I pray the Jews will perish...

Aaron teamed with Jessica Shapp in another poem for two voices juxtaposing a Jew's glasses with a Nazi's glasses:

Jew's Glasses: .... I see those compelled to work for their lives. Digging... Starving, Starving... Digging
Nazi's Glasses: I see those who worship Adolf Hitler.

Jew's Glasses: All the Jews I see suffer because of the dictator of their nightmares, Adolf Hitler
One of the most loathed men in Jewish history
Nazi's glasses: I see Nazis saluting Hitler.

Both: I see the gas chamber lights flash....

Elan told me that in pursuit of their studies, fifth grade students visited the Museum of Tolerance in Los Angeles, and had other opportunities to hear Holocaust survivors speak at the school. "It makes me sad that it happened, but I feel grateful that it is not happening now. I think it's a miracle they survived."

Perez said that their study "leaves us with the feeling that what they went through was tragic; it was hard for them, the starvation.... but today, we live in an amazing country. We have a good government and we have security that nothing like the Holocuast will happen here." He added that can't be said about other places in the globe, among them the Darfur region of the Sudan.

Marx, who listened with admiration, said she felt it was "so important that the children know" what the Holocaust was and of what evil people in the world are capable. Up to the point that she was 8 or 9, she too had a normal childhood, said Marx. But her parents' generation had no idea of what could come or how to protect their children. "I am so very proud of the Academy," she said.

Survivor Mike Zaks, his eyes starting to brim again, said the ceremony was "so moving—it makes my whole year."

Harrison is editor and publisher of San Diego Jewish World




Balloon Utopia

Sandi Masori
619 339 8024


!




THE HISTORY MAN

Holidays of despair, struggle and salvation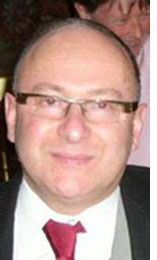 EILAT, ISRAEL—Yom Hashoah in Israel is an authentic Jewish occasion with the main ceremony being at Yad Vashem in Jerusalem. This contrasts with Holocaust Day in the UK , which has been turned into a generalised anti-discrimination occasion, which is in my opinion a dilution of the uniqueness of the Jewish element of the Holocaust.
When Israel was established in 1948, three public holidays were created, all within a period of a week, and all in deliberate progression.The first is Holocaust Day. Next week is Remembrance Day for the fallen soldiers, and the day after that is Independence Day.

The idea is that we move from despair, to struggle, to salvation. Such indeed is the historical cycle of the Jews.

Yet often, all three elements, despair, struggle, and salvation, are evident at the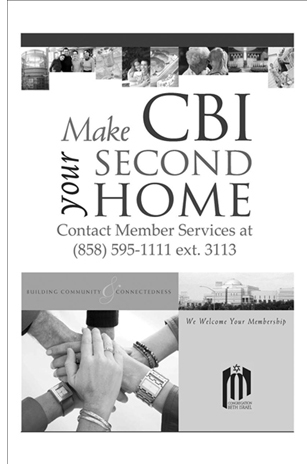 same time, and when we feel despairing we are often on the cusp of salvation. Pessimism is in our DNA, even when events don't warrant it. I have been reading Josephus' Jewish Antiquities, in which he describes in Chapter 4, the triumphal scene when the Jews were celebrating the rebuilding of the Second Temple, on their return from Babylonian Exile. Josephus then recounts "then the priests and the Levites, remembering how much greater the old temple had been, say how much inferior the new one was, on account of their poverty. They were disconsolate, and not able to contain their grief, and proceeded so far as to lament and shed tears."
The situation in modern Israel is often similar- we Jews quite often can only see the downside, and the worse culprits are our leaders. Maybe on Yom Hashoah that is understandable. The people are pessimistic, and the Israeli Government itself often seems defeatist and forgetful of the Zionist dream. Yet in reality I don't think Israel has ever been stronger. Its economy is booming, at the cutting edge of technological advances of world wide impact. Its currency is strengthening when most others are falling. The world's most important leaders are more pro-Israel than has ever been the case previously, with supporters including Bush of the United States, Sarkosy of France, Merkel of Germany, and Brown of UK. The Arab States are divided and worried about the threat from Iran, and have become fed up with the immaturity and incompetence of the Palestinians.
Thus I do believe that Israel enters its 60th Birthday in tremendously good shape, which is certainly a miracle after an absence of 2000 years.
Levy, a London businessman, has a Masters Degree in Zionist History. He also lives in Eilat where he leads historical tours of the area.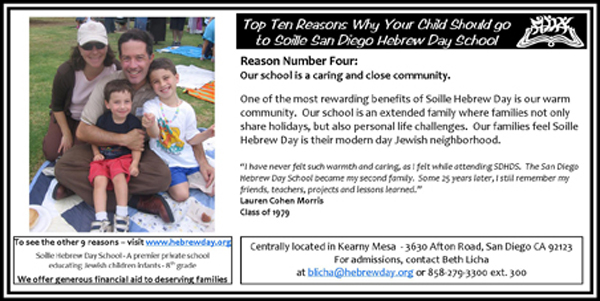 ARTS IN REVIEW

Backyard's dumbed-down female show

By Carol Davis


SAN DIEGO—Laura Cahill's Hysterical Blindness should read "The Blind Leading the Blind." That came to me in a flash of light after attending the 80 or so minute production put on by Backyard Productions in the Cygnet Theatre space at Rolando. Backyard Productions is returning from a two-year hiatus. Company founders Jessica John, Darren Scott and Lauren Wilson (formerly Zimmerman) came to San Diego nine years ago with the goal of producing plays critically, acclaimed ones at that, by playwrights of our generation. Over the years, they had done just that.
Somewhere along the way the founders got sidetracked and John and Scot became associated with The New Village Arts Theatre in Carlsbad and over the years, both acted and John costumed many shows there while Zimmerman, well I don't know.
Now the company has resurfaced with John acting as Executive Artistic Director and along with Francis Gercke, (he's directing) another NVA artist no longer associated with that theatre company, are mounting Cahill's one-part funny, one-part tragic (not as in the great American Tragedy) one part over- the-top and one part a slice of a vanishing (I hope) stereotype of the dumbed down female, show. The action takes place in the '80's. Cahill started writing it in 1993.
The good news is the top-notch cast. It makes a case for mounting this particular show as they take Hysterical Blindness along with the audience on a rollercoaster ride into a place some have never known nor would care to go. The story takes place in Bayonne, New Jersey where the accents are so heavy that it's almost difficult to follow some of the conversation, yet talk is cheap and talk and 'tawk' they do about men, men and men; and sadly, they reminisce about their youth (they are only in their 20's) when their hearts were young and gay.
Debby (Jessica John,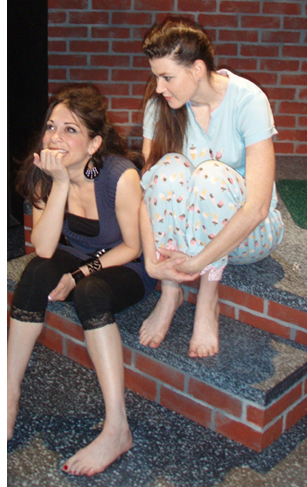 on lower step) and Beth (Amanda Sitton, upper step) are the two gals on the prowl. They register zero in the class or dignity categories on the Richter scale and seem to have a full-time preoccupation looking for guys to either date or… you fill in the blanks. Unfortunately for Debby, she' so needy, it's a turn off for most of the guys she meets in Oliver's Bar, their nightly hangout. Beth has her own set of problems; she's a single mom for starters.
On first meeting with Debby we learn that she was rushed to the emergency room (from work where she is in 'public relations') and she was diagnosed with hysterical blindness, a condition where her sight fades in and out and is most likely caused from tension. My guess is the tension comes from boredom and complete vacuum in her life and/or the disconnect she has with reality.
Beth is a young mother who would rather be out drinking and picking up guys than being home with her kid. Debby lives at home with her mother Virginia (Jill Drexler, one of our Jewish stars) whose husband took it on the lam years before leaving her to waitress at a Denny's. She's met a new beau, Nick or Nicky as she likes to call him, (Dale Morris) who is somewhat of an anomaly to the other guys we've met from Bayonne. He's kind, considerate, a little bit of a schlump, but seemingly, a nice guy who doesn't want anything but a genuine friendship and some companionship.
Life doesn't have much promise for these working, middle class blue-collar stiffs. Unfortunately, they don't know any better. Their little slice of life story unfolds in a series of vignettes that go back and forth between the bar, Beth's house and Debby's house. It was almost too painful for me watch these women whose only worth seems to be in their relationships with men. They primp, dress or almost, strut, fluff their hair until it won't back comb any more and they look like Martians about to take off. Their skirts are up to their, well, and the height of their stilettos would be enough to propel them into flight or send me flying right on my nose!
Cahill's little comedy is more tragic than funny. Unfortunately, the girls are so wrapped up in their own little worlds, that they don't see the light of day. They are in the bars all night. When Debby finally does get the attention of Rick (Dylan Seaton) they have a one nighter, which she blows up into a permanent relationship in recounting their activities to Beth. Rick is bored to tears about everything and anything. She thinks their tryst is love. He could care less and when he finally dumps her because she's making a drunken nuisance of herself, she still doesn't get it.
Both Jessica John and Amanda Sitton, great actors that they are, are most believable, sad as the situations are. Sitton's Beth isn't quite as pathetic as John's Debby. For some reason, she seems a little more grounded. Maybe it's on quicksand, but for those moments, her character doesn't seem as frantic, just more anxious. That doesn't excuse her hanging out all night and leaving her kid at home but does she know any better?
Both Drexler and Morris add some sanity to the overall picture with their sincere and rather tender relationship, simple, as it may seem. For Drexler's Virginia, who has been waiting years for something to happen, and it finally does in the form of Nicky, she shines. The two are a soothing and calming contrast to the bluster going on around them. Morris is quietly convincing.
On the other hand Jonathan Sachs as the bartender and object of Beth's affections and Dylan Seaton, the trash collector and would-be love of Debby's life are so bland that one would really have to be literally blind to find anything interesting about them.
At least we know that Rick, a cad, a bore and a jerk is simply looking for a one-night stand. He's supposed to be detached, but I would have liked to have seen him a little more animated, just a smidge. Even showing some emotion might make some of the times they are in the same scenes together appear somewhat natural. He's pretty boring.
Sachs, a fine actor in his own right, just marches off and on, back and forth to tend bar. When all else fails Beth drools all over him, hangs over the bar and stares. It's distraction and doesn't make sense. His advice is often off set by her bored looks and he might as well not even be there for all the good he does. Maybe, just maybe these women had a right to be depressed and desperate if that's all they had to choose from. Hmm.
Looking for Mr. Right isn't all that easy when all is said and done especially in this situation, when we see the 'blind is leading the blind'. But it looks as if both Debby and Beth realize, at some point, they may have to be more careful in choosing their date/mates and that in the end they need to count on each other more as friends than depending on guys. But still they continue to struggle for some stability in their lives.
Sitting on the steps (Tim Wallace designed the set) in front of Beth's house, a favorite place since they were young girls, they dream of better things to come in their future. From this reviewer's perspective, it still doesn't look promising, sadly.
Francis Gercke directs this cast. M.Scott Garbau designed the verrrrry loud sound design, Eric Lotze's lighting is perfect and Jessica John's costumes are right out of an 80's scrapbook. When I think back to those days and clothes, I shudder.
It's great having Backyard Productions back up and running. Here's looking forward to more shows with a little more meat and less hysteria.
Hysterical Blindness continues through May 11.
See you at the theatre.
Davis is a San Diego-based theatre critic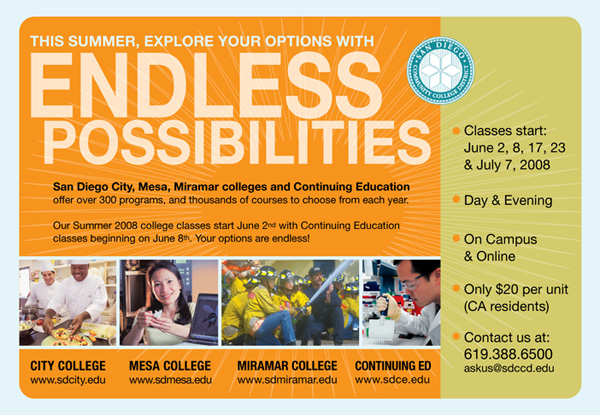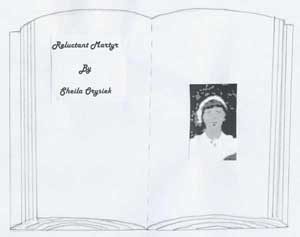 Editor's Note: This is the sixth chapter in our serialization of Reluctant Martyr, a historical novel by our columnist Sheila Orysiek. It is based on the experiences of her aunt. In each Friday-Saturday edition of San Diego Jewish World, we will run another installment of the 21-chapter book until its conclusion. We thank Sheila for granting us first publication rights to her book. Comments are welcome at sdheritage@cox.net
Chapters 1 2 3 4 5 6 7 8 9 10 11 12 13 14 15 16 17 18 19 20 21
Reluctant Martyr—Chapter Six
Spring in the big city has its own unique beauty. The air has a soft freshness that stirs the new green leaves as it stirs the human heart. On just such a spring day Jahn and Hannah took a trolley to downtown Philadelphia. They walked through the city hall courtyard; the huge Italianate walls rose above them, topped by the statue of Philadelphia's founder, William Penn. Workers sat on benches in the courtyard as they ate lunch from pails and bags. Along the street, side by side with small shops, were the big department stores; and vendors pushed carts as they cried their wares, each with his own special singsong.
Jahn and Hannah entered Gimbel's Department Store at 8th and Market Streets and were overwhelmed by the merchandise spread before them. Large wooden counters were neatly arranged, row after row, a clerk behind each one ready to help. The store covered more than an entire city block and on the inside one could not see the walls; it was nine floors of wonders. A dozen elevators took the customers up and down, each manned by a uniformed operator calling out the floor numbers as they approached. Hannah and Jahn spent the afternoon enjoying all the store had to offer. As they walked from one end to the other, Hannah ran from counter to counter.
"Jahn, look at this!" She held up a tiny carousel that was a music box.
"Here's the key," he said, "turn it, Hannah." Her face lit up with delight as the notes tinkled out a tune. After putting it down carefully, she went over to the tables of lady's hats.
"Oh, I would look so lovely in this!" She put on a small red velvet hat with a long iridescent feather.
"No," he said, shaking his head, "it's for an old woman! Here's one for you," and he handed her a big straw hat with a wide pink ribbon. She liked it very much but as the saleslady approached Hannah quickly put it back.
"Here are the chocolates! This is my favorite counter so far!" And she stood like a child with her face pressed close to the glass case.
"Would you like a chocolate?" he asked. She immediately retreated. It embarrassed her that he might think she had been hinting for one.
"No, please....thank you....they are not good for me," she stammered. She increased her pace every time they passed counters holding lingerie or men's underwear, but came to a complete halt at the sight of hundreds of racks of dresses. Hannah had never seen so many in her entire life.
As they walked around the 7th floor, they found themselves in the music department. There were musical instruments of all kinds, sheet music and then spaciously set out, the grand pianos. Not many other people were about. Jahn stood by a particularly beautiful piano and almost lovingly he touched the smooth polished wood. He sat down and reverently, as if in a dream, felt the keys. First he pressed one and then another and the beautiful tones vibrated and surrounded him.
Slowly a melody formed itself into the theme from Mozart's twenty-first piano concerto. Hannah was completely surprised, he had never spoken of his abiding love for music nor his ability to play violin and piano. His eyes, though open, were unseeing; the music had carried him away. People stopped and turned to look. Mr. Gimbel, himself, (he often wandered through his store) came over. Jahn, as if suddenly awakened, stopped abruptly in the midst of the soaring melody and quickly excused himself and walked away.
Hannah hurried after him, "Jahn! Jahn, I did not know you could play like that! Why didn't you tell me? So beautifully! So wonderfully!"
"I was at a music conservatory, when my parents were killed. I never went home again. I came to America from there."
"Ah, Jahn," she sighed, "somehow you must be able to play again. Perhaps..."
He interrupted her, "Well, actually I do." And with a smile he said, "I play the violin for the chickens every night."
She looked at him, at first incredulously, and then began to laugh. They could hardly contain their laughter as they entered the crowded elevator. The thought of playing the violin for the chickens was too much and they giggled all the way home on the subway.
Spring gave way to the heat and humidity of summer. The pavements of the city steamed in the hot sun and were still very warm at night. The red brick row houses stored the heat and at night were veritable ovens. It was almost impossible to remain indoors. People lived on the sidewalks. In the relative cool of the evening the children played in the street while neighbors sat in groups outside. The gas lamp lighter came around. Fireflies twinkled. Sometimes the children caught the fireflies and put them on their fingers pretending it was a ring that lit up or put them in jars. People placed burning incense beside their folding cloth chairs and hoped that it would discourage the ravenous mosquitoes. It was simply too hot to go indoors and everyone stayed up much later than usual and even slept outside.
On such an evening Jahn came over to spend time in front of the house where Uncle Joseph, his family, Hannah and the two sisters lived. On this particular night he brought a case from which he took his violin and while the fireflies twinkled and the incense burned, Jahn played the sad songs of his native land. The music rose on the warm night air and pulsed through their hearts. Tears ran down the wrinkled faces of the two old sisters and even the children stopped to listen. Then Hannah and Jahn sat on the still warm step just a couple of feet apart from the rest of the group.
"Jahn, that was wonderful," she said, "the chickens are very lucky." The evening ended with laughter.
............................................
Philadelphia has sometimes worn its role as the birthplace of the nation a bit too lightly. The areas around Independence Hall were a shambles and half rotted buildings sat next to irreplaceable historic monuments. This old section of the city sits like a jewel inside the larger city that surrounds it. The early colonial homes and buildings are mostly of red brick and even the streets are paved with this same bright red brick.
At the conclusion of the semester on American history that they had enrolled in at the benevolent association, Jahn and Hannah spent a day walking through the maze of narrow streets and alleyways and stepped on the actual brick pathways trod by the founders of the nation. Every day the citizens of the city pass to and fro as they go about their business almost oblivious to the historic environs on every side. But to two young immigrants just completing a course in American history, it was a very special place.
They entered Independence Hall, the old State House when Pennsylvania was a colony, and stood in the doorway of the very room where the Declaration of Independence had been signed. The chairs of the delegates were scattered about and at the foot of the stairs in the main hall was the Liberty Bell. Approximately one hundred and fifty years before a few patriots had accomplished something that enabled these two immigrants to save their lives. The history seemed very personal. On the Fourth of July people from miles around crowded on and around the Girard Avenue Bridge to watch the fireworks on the Schuylkill River. It was an impressive sight.
In the year that Hannah was twenty she was able to quit working at the sewing factory and begin an office job at the benevolent association. The passage money for her mother and sister had been accumulated. And, Jahn proposed marriage.
One evening Aunt Nora took Joel to the movie house and left Uncle Joseph alone in the house. Promptly at seven Jahn knocked on the door. He was dressed in his best suit; his only suit. The two men greeted one another formally, asking after the health of each and the health of the family. Only then did Jahn state the reason for this call though, of course, Uncle Joseph was fully aware of it.
"First, Mr. Rubins," Jahn began, "let me assure you that I care very much for your niece, Hannah Samuel. As you know I have no family and so being quite alone I am forced to speak to you myself..."
"I understand, I understand, of course." Joseph nodded.
"As you know I have been seeing her for a time now, but it is only recently that I have been able to consider marriage possible, I mean that I have been in a position to assure you that I am able to care for her."
"You have worked hard, Jahn."
"I have saved every penny that I could and now it is possible."
"Your family was known to my family in the old country and I know them to have been honorable people. I have watched you work hard to establish yourself. As Hannah's oldest male relative here I give you my permission to marry her, if she will have you." A sense of relief flooded both men now that the formalities were over and Uncle Joseph went to a closet and brought out a bottle of wine and the two of them toasted each other several times.
When Jahn walked home that night he never felt the pavement under his feet. The very city was not there. "If she will have me, if she will have me" was all he heard.
This interview had taken place at the end of the December. New Year's Day was cold, but bright with sunshine. Hannah and Jahn went to the center of the city for the Mummer's Parade. It is rather perverse, but rather typical of Philadelphia to have such a long, colorful event on what is often one of the coldest days of the year. The city seems to make it a point to test the mettle of its citizens. Hannah and Jahn joined the throngs on Broad Street.
"I have read this is the oldest parade in the country," Jahn said, as he stamped his cold feet against the ice on the sidewalk trying to maintain some feeling in them. "And, the longest," he added.
"Oh, this music is strange!" Hannah exclaimed. "What is it called?"
"It's a string band. See all the instruments are strings."
"This is not a serious parade like in Europe. There all the ones I've seen are with soldiers. These people dance. It's much more fun to watch." Hannah loved the costumes and colors. The crowds cheered, not willing to be cowed by the cold and their collective breath rose in the icy air. Jahn bought some big soft German pretzels from a street vendor. "Jahn, how am I supposed to eat this? I can't take off my gloves! And you put mustard on too!" She wiped some mustard off from her lips and then looked ruefully at the soiled glove.
"But, Hannah," he protested, "these are good!" They watched as the groups of colorful musicians, dancers and clowns strutted by, until at last they were forced by the cold to run to a nearby cafeteria to buy some hot cocoa. Hannah nursed the warm cup in her cold hands.
"Why can't this be done in the summer?" she wondered. "It would be so much easier!" They finally gave up as the light of day faded. But, the parade continued on till almost midnight.
The next day it snowed. It snowed all day and the city came to a halt. Most businesses did not open and the schools were closed, so in the evening Jahn came over and they went out for a walk. No one was about though it was not late. With a full moon on the fallen snow that night the effect was almost as bright as daylight. Ice had formed on top of the snow and it glistened like diamonds and as they walked there was the muffled crunch of their footsteps. The world was so very still and magical.
Jahn said very little at the outset, he walked with his eyes down, deep in thought. How to ask, he wondered. What does one say? What if she says.... He couldn't even think it. She is all I have - all I really want. She is so beautiful, she could have anyone. Why me? Why would she want me?
Suddenly Jahn stepped in front of Hannah and stopped. She had one gloved hand covering the lower part of her face against the cold. He could only see her eyes as she looked up at him in surprise. They were bright, intelligent eyes, and he loved them. There was no doubt in his mind. He loved her very much.
"Hannah, your Uncle Joseph has given me permission to ask you....Hannah, will you marry me?" She looked away and his heart sank.
"Jahn, I will have to write to my mother."
"But you, Hannah, you, will you marry me?"
She barely whispered her answer, "I would like to marry you, Jahn, with my mother's permission."
His heart sang.
Not much more was said the rest of the way home. Both the cold of the night air and the import of what had just happened muted them. When they reached Hannah's front door, Jahn took her hand and kissed it. She went in through the dark parlor to her room, and could hear his footsteps receding in the crunchy snow. She was almost bewildered by what had happened. A young woman deciding for herself whom to marry? She was the first in her family to do so. But this was a new country with different ways and if she wanted to be a part of it...Marriage! She wondered if she really loved him. But when she pictured those hazel eyes, the answer came loud and clear. She took the small soft leather bound poetry book out of a drawer and approached the window. The full moon on the snow indeed made it bright enough to read, but she didn't read, she just stood there and held the book.
Letters from her mother were intermittent; even so Hannah wrote regularly hoping that some would get through. The next day she sat at the kitchen table with pen, ink and paper before her. How to tell her mother? Would Sharona understand that in America a young man and woman met many times before marriage? With a deep sigh she tried to sort out the thoughts in her head. Slowly the words formed themselves on the paper explaining who Jahn Perris was, that his family was known to Uncle Joseph, and to the Rubins and Samuel families in Europe. She related that his parents had been killed and therefore he had to act for himself. She carefully noted that he had spoken to Uncle Joseph and had his approval. Then she described him as best she could and asked her mother's permission to marry.
When Uncle Joseph came home he gave her a letter with his recommendation to include in the envelope to Sharona. Uncle Joseph also gave her a note written by Jahn to the mother. Jahn had left his open, merely folding the paper, so that Hannah might read it. In his letter he formally introduced himself and assured the mother of his care for Hannah and his desire to marry her. All the letters went together and with a prayer in her heart, Hannah took them to the post office.
Jahn and Uncle Joseph both found life good in America. Jahn had been able to open a small office for himself, his business accounts were growing. He continued to live in the basement of the butcher shop so as to save his money toward marriage. He dreamt of Hannah quitting work and keeping house after they were married. Uncle Joseph was doing well, too. He was able to move his family a couple of blocks away to Union Street and there they bought a house; it even had a front porch. Nora loved that porch and never failed to mention it conspicuously in any description of the house.
Every Friday night, Hannah, now with Jahn at her side, would come to Sabbath supper with Uncle Joseph and his family. Occasionally brother, Yarosh, would come too. He was busy setting up his own window cleaning business in another part of the city. When all were present, they filled the tiny dining room in the house on Union Street. Aunt Nora loved to preside over these suppers. She would bless and light the Sabbath candles. Though none of them were very strict in religious observance, on that one night of the week she would put out a white tablecloth and set the table in a more orderly fashion. When everyone was seated she would have a captive audience. "Hannah," she began, "perhaps somewhere your mother has a dowry for you? Jahn," she continued without waiting for an answer, "dowries are a good way to get a marriage off to a nice start, don't you think?" Until a letter was received from Sharona, not much more would be said of the marriage proposal; except for Nora, she could not resist.
"I know nothing of dowries, Mrs. Rubins," he answered, aware of Hannah's instant discomfort.
"It makes a girl feel better to bring something to the marriage," Nora continued. "I know that for a fact. I had a dowry, don't you remember, Joseph?"
"This is America, Nora, dowries are not necessary here."
"Well, at least some family jewelry would be nice," she insisted.
"Mrs. Rubins, if G-D permits, it is my intention to provide for Hannah," Jahn said.
"And how about you, Yarosh, how about a girl for you?" Yarosh looked very sorry that he had come, but he answered, "Aunt Nora, I am busy with my business. It occupies all my time."
After supper they usually sat in the parlor and listened to the new radio Uncle Joseph had just bought and of which Aunt Nora was very proud. Yarosh left quickly after eating.
....................................
Spring came late that year, it continued to snow in early May. Twice the tissue thin letters came from Romania and Sharona detailed her life of misery in that country. She and Etah were harassed by the police as were all the refugees. The cousins in Romania were having a hard time too, and Sharona said she feared her health was failing. Etah, on the other hand, was in school and doing well. Not a word about the permission to marry.
Just as Hannah was preparing to write again, thinking that her mother might not have gotten the letter, an answer arrived; two answers. One, Sharona wrote to her brother, Joseph, telling him that she was relying upon his judgment in this matter. To her daughter, she wrote of this conditional approval. Almost as importantly, she counseled Hannah to find her way in this new country by adapting to its culture as much as possible. If young men and women chose their own marriage partners, so be it. It was valuable advice.
....................................
Winding through the City of Philadelphia is the beautiful Schuylkill River. It is the background landscape of many colonial portraits. Steep cliffs rise from its banks, while gentle falls speed it along and wonderful old homes grace its path through the city. On each side are river walks that run much of its length and on almost any day people can be found walking these paths, sometimes in a misting rain; even in the snow. Boat houses of old English architecture line one side and the art museum crowns a hill. On a sunny warm day it is crowded with families having picnics; lovers walk here and never seem to tire. It was a favorite spot for Hannah and Jahn. They passed vendors selling pretzels, lemonade, shaved ice and balloons. Children ran along the river's edge as they flew kites in the summer breeze. Hannah was almost breathless as she looked at the sweep of the river. "Jahn, this is such a beautiful place! I could walk here forever!"
He pointed to several fragile boats rowing by. "Those are called shells," he said. "They practice for races here."
"Look at the houses on the hills! Such big places. Who do you think lives there?"
"Some of them are very old, I think. Would you like a drink?" And then before she could decide whether to say yes or no, he bought two lemonades over ice and they sat down.
Hannah had in her purse the letter from her mother and as they sat under a huge maple tree sipping their drinks, she handed Jahn the letter. He knew immediately that this must be the answer. He held it a moment in his hands and then looked at Hannah and could see from her eyes that the answer was "yes."
September. They chose to be married in September. That would give them the summer to acquire the odds and ends to make up a household. Also, that summer Hannah began the paperwork preparation for citizenship. Naturalization entailed working with authorities, always a frightening experience for immigrants. In Hannah's case, as with so many others, she had no certificate of birth or citizenship. It meant several trips to the governmental center of the city and an eternity of waiting in lines.
Even though the city was laid out on a grid, it still had many small side streets that were fun to explore. It was always an added pleasure and surprise to suddenly come across a hidden courtyard or garden. Walnut Street was known for its antique shops and Hannah and Jahn enjoyed looking in the windows that were often artistically decorated. In one window Jahn saw, in the very back corner, a strand of beautiful old pearls lying in a small box lined in red velvet. He made up his mind that he would come back and buy them as a betrothal gift for Hannah.
It wasn't until a week later that he was able to make the return trip to the store. Jahn brought with him all of the money that he could possibly spare from his savings. He hadn't been able to look at the price tag while Hannah had been with him and so he had no idea of the cost of the pearls. As he entered the store the shopkeeper was sitting in a large stuffed chair behind the counter reading a book. He barely looked up at Jahn as he had already determined that this customer probably could not afford any of his merchandise. "Please," Jahn said, "could you let me see the pearls you have for sale that are in the window?"
"Ah, pearls," the man breathed, "pearls he wants to see." He slowly lifted himself out of the chair and most reluctantly waddled his fat body from behind the counter and over to the window display. He had a great deal of difficulty reaching the pearls and let it be known with many sighs that he thought all of his effort was for naught. He brought the pearls and placed them on the glass counter top. Jahn looked carefully but the price tag was upside down and so he still could not see the cost.
After several moments of looking at the pearls Jahn asked, "What are you selling these for?" Without a word the man turned the price tag over and watched smugly as just as he had foreseen, this customer was without merit or means. Jahn was surprised by the price but he was only lacking two dollars. He shifted his weight from foot to foot and then admitted his lack. Again, without a word the shopkeeper closed the small jewelry casket, put it on a shelf behind the counter, sat down in his chair and picked up his book.
Jahn was embarrassed but he was not deterred. He walked all the way from 9th and Walnut to his room behind the butcher shop on 40th Street. He was lost in thought. How, he wondered, could he raise two more dollars? When he arrived at home he looked carefully all around the small room and his few possessions. There was simply not much he could sell. Certainly nothing that would quickly bring two more dollars. And then his eyes fell on the violin lying next to its case. No! Not his violin. But it was the only thing. Without further hesitation he picked up the violin, put it inside the case and walked to the nearest pawn shop. To convince the pawn shop dealer of the worth of the instrument, Jahn played it and the beautiful tones filled the store. His hand gently caressed the satiny wood as he handed it to the pawnbroker. Jahn pocketed the money and walked out.
The next day he returned to the shop on Walnut Street. The owner was still sitting in the chair reading his book as if he had never left. He was most displeased to see Jahn again. "They are still the same price," he declared. "Don't bother me if you don't have the money." Jahn stood in front of the counter and carefully counted out the dollar bills on the glass top. The man handed Jahn the box of pearls and Jahn left. Again he walked all the way home but this time he was whistling a tune with happiness. Hannah would love the pearls, he was sure of that.
Jahn wanted to give them to Hannah when they were alone. He wanted it to be special so he chose his favorite spot. They walked across the river on the Girard Avenue Bridge and along the east side all the way down past the colonial homes on the bank, past the old boat houses and up to the art museum. The very wide stone steps led up and up to the imposing facade of the columned building. When they had reached the top they sat down on the steps. Spread out below them was the river, the park, the fountains and in the near distance, the buildings of city center and the dominating statue of William Penn.
Hannah had not seen Philadelphia from this perspective. "This is a big city, Jahn! Look how clearly the statue stands out. We can almost see the house I live in. Well, it seems like it anyway! I am glad you brought me up here."
"This is my favorite place," he said, his eyes never leaving her face.
"Do you come here often?" She was sorry as soon as she asked the question; he might think she was prying, so she hurried on before he could answer. "If I had a camera I would take a picture from this hill."
While Hannah was feasting her eyes upon this cityscape, Jahn handed her the small velvet lined casket containing the pearls. "Jahn," she whispered. She was crying as he fastened them around her neck.
Slowly during that summer, Hannah bought some of the basic necessities they would need: towels, sheets, pillow cases, table cloths, and all manner of household goods. Whenever she had a spare moment she embroidered upon each the initials "HPJ". But she thought that was not quite enough, so she also surrounded the monogram with sprigs of greenery and flowers, especially the pillow cases.
They decided they could only afford to purchase one gold ring for the ceremony. To buy it they went to Sansom Street, which is known as the "street of jewelers" and there they found store after store, some small, some large, dealing in jewelry of all kinds. They sat at a counter, a row of gold rings upon red velvet before them. As they sat there, in the midst of a sunny August day, a tiny summer rainstorm appeared and it rained even as the sun continued to shine. A plain gold band was chosen for Hannah's very small hand and they had their initials engraved inside. By the time they left the shop the rain had ended with only the wet pavements and a rainbow as evidence of its passing.
Hannah saw a house for rent that was well within the neighborhood. It was also close to Uncle Joseph and his family. On an early summer evening in August, they went to see it. The street, like all the others in the neighborhood, was very narrow. A row of red brown brick homes, already old, lined either side of State Street and the house fronts opened directly off the sidewalk. The landlady met them in on the sidewalk and let them in. The front door opened to a narrow, short hall. A doorway on the right led through an archway to a tiny parlor with a front window looking directly into the street.
"Jahn, look this room has a nice big window. I can sit here and sew." Hannah looked at him, her eyes shining.
"The floor needs a new oil cloth," Jahn said as he pointed out to the landlady the worn, patched floor covering.
"The price I'm asking for the rent doesn't include that," she told him. There was the usual light fixture in the center of the ceiling with a pull string hanging down. An arched way led into a dining room, along one wall of which that was a gas stove and a sink with separate faucets for hot and cold water.
Hannah stood in the center of the empty room. "I have enough room to cook here and it'll be convenient because the dining table will be so close. What do you think, Jahn, do you like it?" He didn't answer because he had walked behind the kitchen area to a room that had once been a porch but was now enclosed. The hot water heater was here and some shelves and storage space.
"This," said the landlady pointing to the back of the dining room, "is the cellar door. The furnace is down there." They trooped down and saw the coal furnace, an ash can and a small pile of coal left from last winter. Each room in the house was heated by a radiator fed by pipes from the furnace.
After returning to the front hall they went up narrow, steep stairs to the second floor. Hannah walked by the surprisingly spacious bathroom after giving it a cursory glance. There were two bedrooms, the front one slightly larger with a window that looked directly out on to the street.
"Well, Hannah, what do you want to do? Do you like it?" Jahn asked.
"Oh yes!" And then lowering her voice, "Can we afford this? I mean...."
He turned to the landlady, "We would like to rent this house." The landlady was glad to take their money but she said that they could not move in until the first Monday in September. They were to be married on the first Sunday in September and so would have liked it a day earlier, but they were too happy to argue.
Aunt Nora was not only happy to have the wedding take place in her home, she was ecstatic. It would be a wonderful opportunity to show off her house and new furnishings. She would arrange everything; she loved that idea too. She gave the young couple the old bedroom furniture she no longer needed as well as all the bits of odds and ends that she didn't want. Her house looked wonderfully fresh and new. Since she was arranging everything and the ceremony was taking place under her roof she did not hesitate to also choose the guest list. She oversaw every detail: food, decorations, everything. In addition, Aunt Nora chose the wedding dress, her own. She was a lot larger than Hannah, but that didn't stop her. The lace had turned yellow; Aunt Nora didn't mind that either. Hannah gave up trying to interfere with all of her aunt's arrangements.
Hannah had something else on her mind. She didn't know that Jahn had sold his violin for the betrothal pearls, but she knew of a piano that stood idle at the benevolent association. It had been pushed back against a wall after a new piano had been purchased and had not been played in years. Hannah paid one entire week's wages to buy the old piano, and also to have it delivered to the house on the Monday after the wedding. It was to be her gift to Jahn.
The wedding day was warm and humid. Aunt Nora and Hannah had cleaned the house non-stop for days. They spent the morning and early afternoon setting out dishes, covering tables, and preparing food. Finally, in the late afternoon, Hannah went upstairs to dress. Somehow it didn't matter that the dress did not quite fit, or that the lace was yellowed. When she looked out through the window of her uncle and aunt's bedroom, she could see Fairmount Park in the distance; the leaves on the large trees had darkened as the summer had advanced. However, there was an empty place in Hannah's joy; her mother and father were not present. Her father never again, her mother perhaps soon. And, so on her wedding day she felt guilty at her own happiness.
Downstairs she could hear the men putting up the nuptial canopy. Joel burst into the room and seemed surprised to see Hannah in a white dress. She hugged and kissed him. Then from below came the voices of the guests as they arrived. My wedding day, she thought, today I shall turn a corner. Life will never be the same again.
Uncle Joseph and the rabbi came for her signature on the wedding documents. Jahn had already signed; she could see his fine handwriting. Her hand shook as she wrote her name. "Are you ready, Hannah?" Uncle Joseph asked.
"Yes, Uncle, I'm ready."
"You look so beautiful! Your mother would be very proud of you."
"Thank you, Uncle, but I wish so much she was here. And my father."
"This is a day to be happy, Hannah, no tears! You hear me?" She nodded as he took his handkerchief and brushed one away. He kissed her cheek and then placed her hand on his arm and led her down the stairs.
Through her veil Hannah could see what appeared to be a sea of smiling faces. It all seemed very confused until she stepped under the wedding canopy and found herself standing beside Jahn and when he looked at her, the dream became a reality. The ring was placed on her finger and she lifted her veil to sip some wine. After Jahn drank his portion, he placed the wine glass beneath his heel and firmly stamped upon it.
The celebration lasted well into the warm night. Guests spilled out of the house, across the sidewalk and into the street. Someone had brought an accordion and soon people were dancing in the street; even neighbors not officially invited joined in. Food, people, wine and music flowed from the house.
There was no wedding trip, it was beyond their means and the next day, Monday, Jahn had to return to work. The house they had rented was not available to them until the day following the wedding so Jahn spent his wedding night in his room at the butcher shop. The rest of the wedding celebration would have to wait.
On her first night as a married woman Hannah found herself in her small room lying on the same bed, a gold ring on her finger. The house was quiet; the two old ladies were asleep. On the floor about her were boxes of gifts and items she had bought for her new life in the house on State Street. Hannah Perris, Hannah Perris, she kept repeating to herself. My name is Hannah Perris. She could not sleep at all. Somewhere in the distance a mocking bird sang its lonely song.
The next day Hannah was up very early. Aunt Nora joined her and they filled Joel's old baby carriage with the gifts and went to Hannah's new house on State Street. Three young men carried Aunt Nora's used bedroom furniture through the neighborhood and up the stairs into the front bedroom of the house. The two old sisters had given the wedding couple a table and two chairs they no longer needed. And, then, finally the piano arrived and Hannah had it placed in the enclosed porch behind the kitchen. By early evening everything had been put away; there wasn't much. The parlor and second bedroom remained empty except for books. Neighbors brought in food and Hannah set the table for their first meal together as husband and wife. Everyone had left by the time Jahn came home. For him it was strange and exciting for him to walk up to this house, his wife waiting inside.
They went from room to room together. He appreciated all the obvious effort that had gone into making the house a home. When he saw the little room with the piano, he was overwhelmed. It was out of tune and many of the old yellow ivory keys were chipped, but it didn't matter. It was a piano, in his house, his very own.
"Hannah," his voice suddenly hoarse, "this is so...."
"Oh Jahn, do you like it? Really? We can get it fixed up."
"I like it just the way it is." His eyes were misty as he pressed a key. "I like it just the way it is - after we get it tuned!" They both laughed and then he put his arms around her, "I love it, Hannah. I love you, Hannah."
Hannah put supper on the table and they sat down; but supper was not important that night.
(c) Sheila Orysiek 2008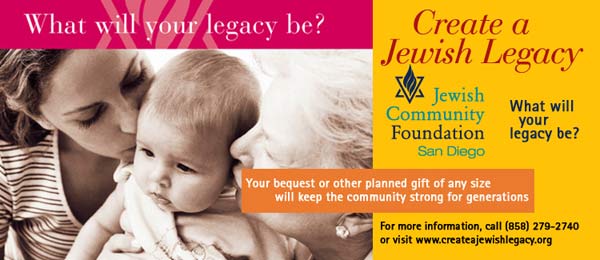 ADVENTURES IN SAN DIEGO JEWISH HISTORY Historical Stories Index

Editor's Note: We are reprinting news articles that the Southwestern Jewish Press ran in 1950. If you have historical topics about the San Diego Jewish community you would like us to explore, please e-mail your suggestions to editor Don Harrison at sdheritage@cox.net


Congregation Beth Jacob Inaugurates National Torah-Tour

From Southwestern Jewish Press, February 10, 1950, page 1

Upon the initiative of Rabbi Baruch Stern, spiritual leader of Congregation Beth Jacob, San Diego has been chosen for the opening of the Western section of the National Torah-Tour of the Rabbinical Council of America, which will take delegations of Rabbis to large and small communities throughout the United States.

Three prominent spiritual leaders will present a panel discussion on what Orthodox Judaism has to offer the individual Jew, the Jewish community, and the future of Israel.

Through arrangements made by Rabbi Stern and Dr. A.P. Nasatir, Dean of Adult Education Institute, a large meeting will be held at the Temple Center, 3rd and Laurel Streets on Wednesday evening, February 22nd at 8:30 p.m. Speakers will be Rabbi Isaiah Rackovsky President of the Rabbinical Council of California; Rabbi Simon A. Dolgin and Rabbi Jacob Levine of Los Angeles. Following the presentation of the panel, an open forum will be conducted to which the public is invited. Dr. Nasatir will be the moderator of the evening.

A public reception for the team will be held at the Beth Jacob Congregation Center at 3206 Myrtle Street after the forum.

Rabbi Israel Takab, President of the Rabbinical Council of America, a national organization of over 400 Orthodox Rabbis ordained at Yeshivah University of New York, the Hebrew Theological College of Chicago, and other seminaries in America, said in announcing this year's Torah-Tour: "The purpose of the Tour is to put Orthodoxy on the march so that Jewish communities throughout the land may learn that the full colorful Jewish life offered by traditional Judaism when properly understood, can thrive in every Jewish community of the United States.

Rabbi Emanuel Rackman of Far Rockaway, New York, and Rabbi Simon A. Dolgin of Los Angeles, are co-chairmen of the National Torah-Tour. The cavalcade has been arranged to start simultaneously in the East and West, so that teams will meet in Chicago in the Spring.

Following the San Diego meeting, the western team will go on to Long Beach.


Visits San Diego
From Southwestern Jewish Press, February 10, 1950, page 1

Anna A. Abelow, National President of Jewish War Veterans Auxiliaries, is making a nationwide tour, with San Diego her first stop on the West Coast. Nixie Kern, President of Jewish War Veterans Post 185 Auxiliary, and her reception committee will greet Mrs. Abelow Saturday morning, February 18th. Luncheon at the El Cortez Hotel has been arranged and will be followed by a complete tour of the U.S.Naval Hospital to show President Abelow the work done by the local chapter. Mrs. Abelow will speak Saturday evening at 8:30 p.m. over Radio Station KFMB

Sunday morning, February 19, the auxiliary will sponsor a Lox and Bagel Bruch at Exchange Hall, Meade at 30th, at 10:30. President Abelow has a vital message and all are invited to attend. A nominal charge will be made for the brunch. Call R-6555 for reservations.

The National President brings with her a wealth of experience and knowledge in veterans activities. She was chairman of S.O.S., National Vice President of Region No. 2 in 1947, Chief-of-Staff in 1948. Prior to National work, Mrs. Abelow presided in numerous executive capacities for the Kings County Council in New York, Chairman of Daughters chapter for three years, County President during 1942-43. She presided at a mass installation of twenty-two Auxiliaries, with 2500 present.

Mrs. Abelow's activities were not completely confined to Jewish War Veterans work. She served with AEF in France during World War I, received a citation from the Masons in France, Catholic Fund Drive, U.S. Selective Service and other national activities.

A dynamic and unusual personality, Mrs. Abelow's message is a must for everyone. Remember the date, Sunday, February 19. See you there.


National Commander J.W.V. Honors San Diego by Visit

From Southwestern Jewish Press, February 10, 1950, page 5

Jackson J. Holtz, newly elected National Commander of the Jewish War Veterans, spoke at the Temple Center on Monday, February 6, and electrified an audience of close to 200 listeners. The youthful Vet leader devoted his address to the main issues facing the United States today, political, religious and national maturity.

He stressed that the Brotherhood of man must be made a reality, if the United States wishes to extend democracy to the world. He also stated that the Civil Rights program must be carried out as promised by both political parties in their platforms. He further challenged the United States on the D.P. program and its failure to solve this problem to date.

Mr. Holtz held his audience spellbound by the brilliance of his talk and his clear thinking. The young commander is a native of Boston where he practices law.

Harry Apelman introduced the many visiting War Veterans of other American Legion Posts in the county. The bad weather kept the attendance down. It was regretted that a larger audience did not have the rare privilege of hearing this outstanding personality.

Refreshments were served following the meeting.

Our indexed "Adventures in San Diego Jewish History" series will be a daily feature until we run out of history.







SAN DIEGO JEWISH WORLD THE WEEK IN REVIEW

Thursday, May 1, 2008 (Vol. 2, No. 105)

Yvonne Greenberg in San Diego: Catholic university honors a rabbi for her career pursuing social justice, tikkun olam
Ulla Hadar in Kibbutz Ruchama, Israel—Sha'ar Hanegev aids SDJA's Shoah project
Donald H. Harrison in Poway, California: $11,500 reward offered for capture of vandals of Ner Tamid Synagogue's marker
Vicki Raun in La Jolla, California: 'God was in the boxcars'—Lou Dunst
Hal Wingard in San Diego: Three songs: "Kindness," "Ruth's Song" and "Bar Mitzvah"
Adventures in San Diego Jewish History: What was the Jewish community news in 1950? Archives of the Southwestern Jewish Press provide some of it.


Wednesday, April 30, 2008 (Vol. 2, No. 104)

Shoshana Bryen in Washington, D.C.: Could Mohammed ElBaredei have a bias?
Carol Davis in San Diego: Gaviota: hacienda tale in Porfirio's time
Donald H. Harrison in San Diego: Filner turns spotlight on veterans' suicides
Adventures in San Diego Jewish History: What was the Jewish community news in 1949? Archives of the Southwestern Jewish Press provide some of it.


Tuesday, April 29, 2008 (Vol. 2, No. 103)

Donald H. Harrison in San Diego: 'Dreamcoat': A cup for Judaism's candle
Rabbi Dow Marmur in Jerusalem: Shas leaders: so 'religious,' yet so corrupt
Lynne Thrope in San Diego: Liz Bartell ambiance, Paul Murphy cuisine are perfect mother's reward at Humphrey's
Adventures in San Diego Jewish History: What was the Jewish community news in 1949? Archives of the Southwestern Jewish Press provide some of it.

Monday, April 28, 2008 (Vol. 2, No. 102)

Donald H. Harrison in La Mesa, California: La Mesa developer saw 'Promised Land' from the heights of his own Mount Nebo
Rabbi Dow Marmur in Jerusalem: How Israel at 60 differs from Israel at 50
Sheila Orysiek in San Diego: Klezmer—Jewish music for your soul
Ira Sharkansky in Jerusalem: Palestinian choice: delusions or own state
Adventures in San Diego Jewish History: What was the Jewish community news in 1949? Archives of the Southwestern Jewish Press provide some of it.

Sunday, April 27, 2008 (Vol. 2, No. 101)

Judy Lash Balint in Jerusalem: A Jerusalem sight not to be passed over
Shoshana Bryen in Washington, D.C.: Why is Olmert discussing Golan Heights?
Rabbi Baruch Lederman in San Diego: Chofetz Chaim Yeshiva leader Rabbi Henoch Leibowitz, ztzl, had spiritual magnetism
Rabbi Dow Marmur in Jerusalem: Is Kadish kaddish for Pollard's freedom?
Rabbi Leonard Rosenthal in San Diego: Minyan prayer for 3 kidnaped soldiers
Ira Sharkansky in Jerusalem: Political smoke in the Israeli winds
Adventures in San Diego Jewish History: The Southwestern Jewish Press in July 1949 printed articles detailing the histories and purposes of various Jewish organizations in San Diego. We reprint some of them here.



< BACK TO TOP

Copyright 2007-2008 - San Diego Jewish World, San Diego, California. All rights reserved.